---
Newt Gingrich Web Address: Vote To Protect Marriage in North Carolina
ElectAd -- YouTube ^ | April 23, 2012 | Newt Gingrich


Posted on 04/24/2012 3:09:26 AM PDT by Cincinatus' Wife

4:38 video -- Newt Gingrich Web Address: Vote To Protect Marriage in North Carolina
---
TOPICS: Constitution/Conservatism; Culture/Society; Editorial; Government
KEYWORDS: constitution; gingrich2012; gopprimary; marriage



---
To: All
November 27, 2011:
N.H. Union Leader backs Gingrich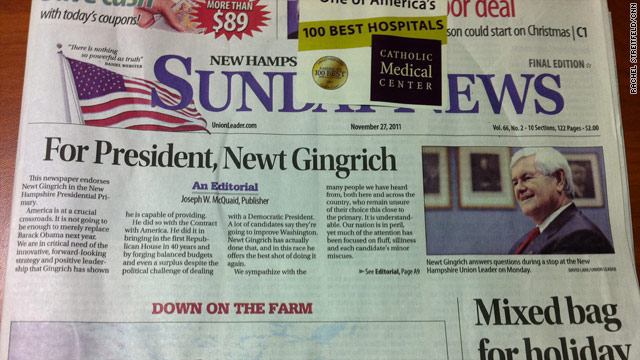 April 24, 2012: Newt May Score Upset Win in Delaware

---
To: Cincinatus' Wife
Your efforts are appreciated, and even more so the courteousness, dignity, professional-grade discipline and thoroughness, and even-handedness you've demonstrated throughout this cycle.
Unfortunately, as the Good Book says, to every thing there is a season, and now is the season of the mob, of the demagogue, of the greedy, the power-mad, the insane, and at the top of them all, the evil.
All that said, we must keep fighting the fight, because it is the right thing to do.
---
FreeRepublic.com is powered by software copyright 2000-2008 John Robinson