---
Neville Chamberlain's letter to the Hitler Youth
Neville Chamberlain


Posted on 03/12/2013 9:18:10 AM PDT by ProgressingAmerica

Glenn Beck just talked about this on his show, I managed to find it online. Here is the full text:
I welcome the intention of the German Youth Movement to devote a special issue of their Magazine to the subject of England, and I gladly accept the invitation to contribute to a project which I regard as a sign of the growing desire for mutual understanding between our two countries.

In writing to you, the young manhood and young womanhood of Germany, I need to remind you that you are, in the words of the poet Shakespeare, "The expectancy and rose of the fair State". A great responsibility lies upon you - the responsibility for your country's future. All the hopes of Germany are set upon you; to your care is committed your national heritage and traditions, your national honour and your national prosperity. All this is entrusted to you for safe keeping, and I am confident that you will prove worthy of the trust.

But your responsibility does not end there. You have a responsibility for the future of your country: But you have also, in common with the youth of other nations, a joint responsibility for the future of the world. It is already and in the future will be still more the happy fortune of the organisations of youth now flourishing in many lands to foster - by means of mutual interchange of visits and otherwise - that understanding between nations which is so essential to the settlement of differences and the appeasement of the world. The admirable motto "The Year of Understanding", which you have chosen for the year 1938, shows the part that you are playing in this work.

(Signature) Neville Chamberlain
I'm actually a little surprised I was able to find this, but I'm glad I did. It took a few minutes to go digging through some of the auction sites to find it, but here is the listing.
This is something that has never been on the internet before these auction sites posting the images, and now, my blog posting which transcribes it. It is my suggestion that you make a copy of these images for yourself, copy the transcript, I don't mind if you don't reference my blog either. Just get it out there. There is a whole lot of information out there which is not yet on the internet, and we need to change that whenever the opportunity arises. Now is one of those opportunities. Especially if you have your own blog. I hope you will post this on your own so it can't be removed from the internet.
(Click for larger)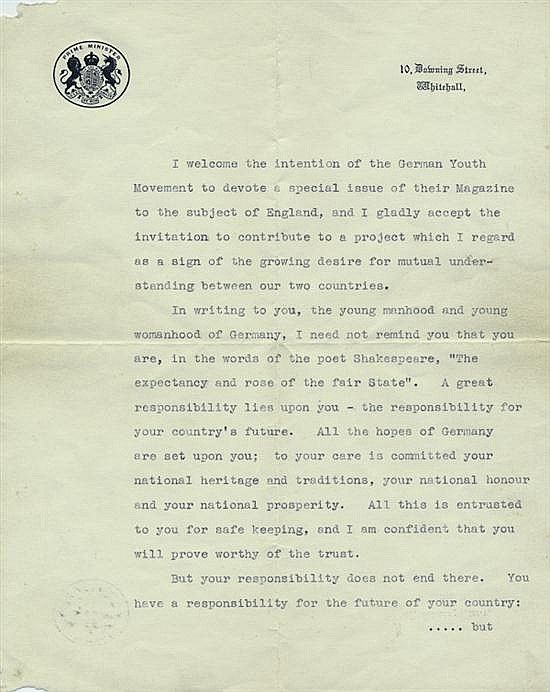 ---
TOPICS: Miscellaneous
KEYWORDS: chamberlain; hitler; hitleryouth; neville; nevillechamberlain; tories; youth
---
Navigation: use the links below to view more comments.
first 1-20, 21-30 next last
---
---
---
---
---
---
---
---
---
---
---
---
---
---
---
---
---
---
---
---
---
Navigation: use the links below to view more comments.
first 1-20, 21-30 next last
---
---