---
To: FredZarguna
If this is for domestic consumption, I think we're going to have to reexamine the popular wisdom that East Asians are smart.
I don't know about that. The second guy from the left appears to be struggling to avoid a burst of laughter. The first guy from the left looks like he may be thinking something that may not be so positive about Fat Boy's inexperience.
---
To: tsowellfan
"Okay everyyyyboddyyy - do it again from the top; a onea and a twoa...."
52
posted on
03/29/2013 3:25:36 AM PDT
by
21twelve
("We've got the guns, and we got the numbers" adapted and revised from Jim M.)
---
To: tsowellfan
"This is where we are going to build my coat factory and make lots of pea coats - just like the one I am wearing"
53
posted on
03/29/2013 3:31:38 AM PDT
by
Perdogg
(Sen Ted Cruz, Sen Mike Lee, and Sen Rand Paul are my adoptive Senators)
---
To: tsowellfan; fieldmarshaldj; Hot Tabasco; Chong
Banana Nut Sunday Supreme Kim Jong Un [far right] addresses his generals as they begin their meticulous, super secret plans to invade the mainland United States [Reuters.]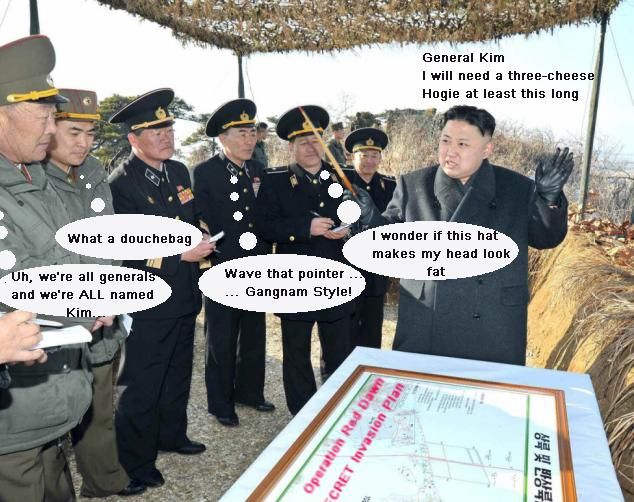 140
posted on
03/29/2013 12:56:11 PM PDT
by
FredZarguna
(I ride around nights mostly...subways, buses...If I'm gonna do that I might as well get paid for it.)
---
FreeRepublic.com is powered by software copyright 2000-2008 John Robinson