---
To: Jim Robinson
---
To: All
Only the deranged twisted mind of a progressive could have dreamed up the h'care mess.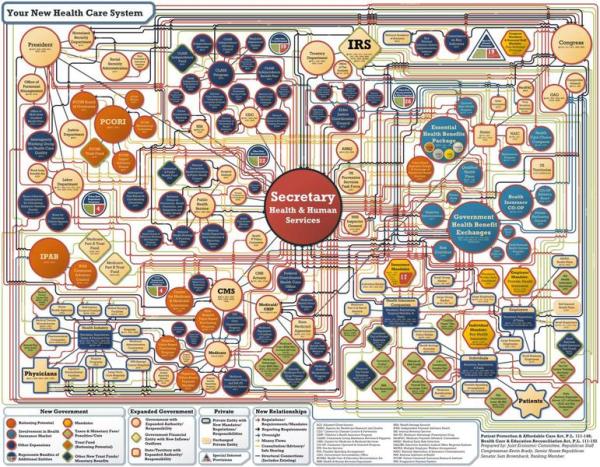 As FReeper Lou L wrote: Shows the mess Ohaha created, and why the WH apparatchiks cannot make it work more than three years after its passage.
Each "box" represents huge organizational beauracracies with people stumbling over themselves; each "arrow" represents hundreds and thousands of information requests and transfers. Those interfaces will have some common calls, but they'll have to be customized to fit each carrier's system and customizations. It seems as though a lot is being left off the "health plan" -- all the costs, all the restrictions, have to be passed along as well.
The thousands of "Navigators"---govt-issue clerks--will offer you "guidance/" And that online calculator...does it tell you how much you're being soaked now, rather than before the saving grace of O'care?=======================================================
Amazingly the lower Rube Goldberg chart is supposed to "simplify and explain" O'care......designed by a consultant group paid to assist in the process of getting states to create exchanges (the ones that interface with 60,000 IRS agents, the strongarm HHS, and an assortment of know-nothing snoopy federal agencies).

---
FreeRepublic.com is powered by software copyright 2000-2008 John Robinson