---
To: KC_Lion
EAGLES UP!!!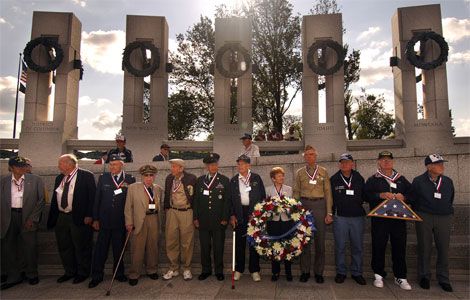 WWII MEMORIAL


MARINE CORPS WAR MEMORIAL


ARLINGTON NATIONAL CEMETERY

These Memorials stand to honor the millions of brave American men and women who, by dint of their service and sacrifice, built this great Nation. They belong to us, not to the Executive Branch of the Government.

FOR THIS WE FIGHT!!









EAGLES UP! Sunday 13 October 2013 at 0900 – WWII Memorial on the National Mall!

Genuflectimus non ad principem sed ad Principem Pacis!

Listen, O isles, unto me; and hearken, ye people, from far; The LORD hath called me from the womb; from the bowels of my mother hath he made mention of my name. (Isaiah 49:1 KJV)
10
posted on
10/12/2013 5:59:47 PM PDT
by
ConorMacNessa
(HM/2 USN - 3/5 Marines RVN 1969 - St. Michael the Archangel defend us in Battle!)
---
To: ConorMacNessa
I wish I could be there with you all, Conor. But I'll be with you in spirit.
12
posted on
10/12/2013 6:01:56 PM PDT
by
laplata
(Liberals don't get it .... their minds are diseased.)
---
To: ConorMacNessa; svcw; RedMDer; onyx
Such a Beautiful Graphic!
Nothing short of Par Excellence.

14
posted on
10/12/2013 6:07:42 PM PDT
by
KC_Lion
(Build the America you want to live in at your address, and keep looking up.-Sarah Palin)
---
To: ConorMacNessa
God bless and keep you!
Please stand for all of us.
I can think of no finer representative than you, dearest ConorMacNessa!
17
posted on
10/12/2013 6:14:20 PM PDT
by
onyx
(Please Support Free Republic - Donate Monthly! If you want on Sarah Palin's Ping List, Let Me know!)
---
To: ConorMacNessa
Thank you for posting this wonderful tribute to our soldiers.
---
FreeRepublic.com is powered by software copyright 2000-2008 John Robinson