---
To: PghBaldy; Allegra; big'ol_freeper; Lil'freeper; shove_it; TrueKnightGalahad; Cincinatus' Wife; ...
Re:
Last month Amos Yadlin, a former head of Israeli military intelligence, told a conference in Sweden that if Iran got the bomb, "the Saudis will not wait one month. They already paid for the bomb, they will go to Pakistan and bring what they need to bring."
Gadzooks, that Obama is a clever fella, he's going to have...
the Saudis take out Iran for us and Israel!
"Survival kit contents check. In them you'll find: one forty-five caliber automatic; two boxes of ammunition; four days' concentrated emergency rations; one drug issue containing antibiotics, morphine, vitamin pills, pep pills, sleeping pills, tranquilizer pills; one miniature combination Farsi phrase book and Koran; one hundred-thousand dollars in Rials; one hundred-thousand dollars in gold; nine packs of chewing gum; one issue of prophylactics; three lipsticks; three pair of nylon stockings--

"Allahu Akbar! A fella could have a pretty good weekend...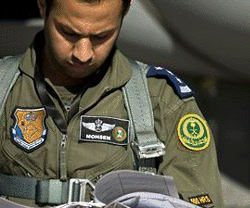 in Dubai with all that stuff."

18
posted on
11/06/2013 7:54:15 PM PST
by
Bender2
("I've got a twisted sense of humor, and everything amuses me." RAH Beyond this Horizon)
---
To: Bender2
LOL!
Dr. Strangelove. A cult favorite. I recognized the lines. :)

42
posted on
11/06/2013 11:14:46 PM PST
by
sauron
("Truth is hate to those who hate Truth" --unknown)
---
To: Bender2
Dr. Strangelove, 1964, right?
---
FreeRepublic.com is powered by software copyright 2000-2008 John Robinson