---
To: Fee
If the US can back Jewish claims to Palestine (after it ceased to exist after 1700+ years) how are we going to tell other countries that their claims (substantially lesser time in historical past) are invalid??!!
Bad example. It was Israel's land, and the original nations no longer exist, and there was no Palestine state, and the British gave land for a Jewish state, and the Muslims refused a deal that would have given them this: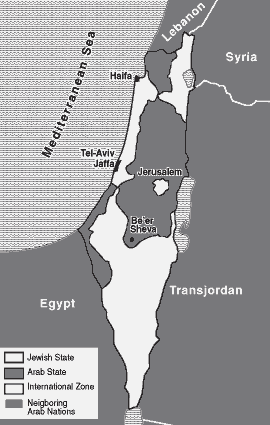 https://www.jewishvirtuallibrary.org/jsource/History/partition_plan.html

42
posted on
03/01/2014 9:23:49 PM PST
by
daniel1212
(Come to the Lord Jesus as a contrite damned+destitute sinner, trust Him to save you, then live 4 Him)
---
To: daniel1212
Let me get this straight. The Brits take the lands from the Ottoman Empire, and then decides to give it to the Jewish refugees from the Holocaust without asking the Arabs living on it if they want that? It would be akin to the UN/IMF taking over the US after a financial collapse and then decide to return TX, AZ. NM, CA to Mexico without asking the Americans living in those states. Recipe for trouble recipe for trouble. The last 60 plus years affirmed it. Brits screw up and we are dumb to assume the mantle along with all the headaches.
---
FreeRepublic.com is powered by software copyright 2000-2008 John Robinson