---
To: McGruff
I think I'm turning into an isolationist.
Are you of Russian origin? If so, I understand the tribal reflexes. For anybody else who follows geopolitics closely, it's clear that the Russian seizure of the Crimea has the potential to become the second iteration of the German seizure of the Sudetenland. Like many of the old and large imperial powers (including China and Iran), Russian has its native tradition of "mission civilisatrice" - a world-conquering tradition to bring civilization to the benighted heathens, while drenching the Russian state/sovereign in martial glory. Man does not live by bread alone, and this was why Germany embarked on WWI and WWII at a time when Germany was the most productive, on a GDP per capita basis, major country in Europe.

36
posted on
03/10/2014 6:34:00 PM PDT
by
Zhang Fei
(Let us pray that peace be now restored to the world and that God will preserve it always.)
---
To: Zhang Fei
Crimea 's pro-Russian prime minister assembles 'his own army' in response to "the presence of illegal armed groups...... pro-Russian 'self defence unit' take an oath to Crimea government.
The problem from the get go is Journalists and citizens alike cannot tell one group from the other....and there are many active in Ukraine...they just assume it's Putins Russian Military or The Ukranian Military when in fact it's often neither..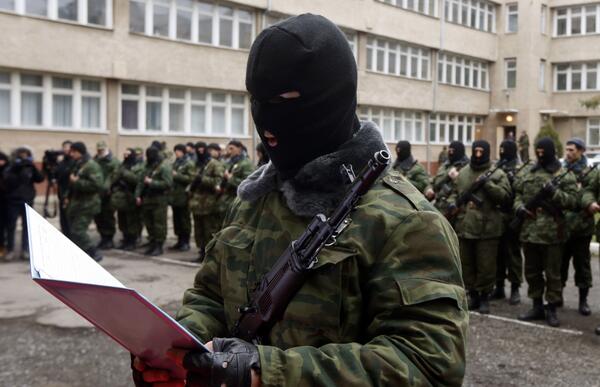 ---
FreeRepublic.com is powered by software copyright 2000-2008 John Robinson