---


Murrieta after action report and videos. [FReepathon, Murrieta special edition]
Click here to pledge your support via secure server ^ | July 9, 2014 | Jim Robinson, reporting from the belly of the beast


Posted on 07/09/2014 1:21:32 PM PDT by Jim Robinson

I don't know who shot this video, but blueplum posted a link to it last night:

You tube video of Murrieta skirmish line

This took place after the main action and after the street was reopened. We drove the freepermobile up to the top of the hill and staked out a position on the high ground directly across the street from the Murrieta Border Patrol Station. We had decided to wait awhile and see if they tried to sneak a bus in after the crowds dispersed.

At first, our van was the only vehicle there and there were only two small bunches of protesters present. After awhile a few pro-illegal alien "Brown Power" people drifted in. And then more. Then some on the American side. Then our van was suddenly surrounded by media trucks. A local news outfit setup behind us and and Al Jazeera la Jihad truck beside us and a FOX News satellite truck parked down the hill from us. A cheer went up when FOX arrived.

A little later the Al Jazeera la Jihad lady reporter asked Syncro if we would move our van so they could get a better shot of the action. Syncro politely declined. Then an Al Jazeera la Jihad male reporter came over and again asked us to move our van. Syncro again declined and told them they can set up their camera on top of their truck and get great shots. The guy said he couldn't do that. Syncro told them then they'll have to improvise. At any rate, we held our high ground position (it's the principle of the matter).

About that time, we got another call from Greta's producer. She had originally told us (the day before) that Syncro's interview was going to be a phone in. They had called me the day before we went down there and asked me if we were the group taking an armed militia to Texas to secure the border. Have no idea how they came up with that crazy idea.

I told her we were going to Texas in a couple weeks to urge Governor Perry to call out the Texas State Guard and or Texas State Militia to secure the Texas border as it's obvious our usurper in chief was leading a foreign invasion and insurrection against America and was therefore not going to secure the border. State and federal law gives the governor the power to call out his state guard units and or militia under his authority to repel invasions or put down insurrections and that's exactly what we have here.

And then I told her that's a couple weeks out, but "tomorrow" we're going down to Murrietta to join the protesters there because we had just learned that Obama was going to escalate the confrontation by deploying a federal riot squad against the citizens. She said she had not heard about that. Then she asked if I'd be available to do a call-in interview on Greta's show. I declined because I am the world's worst interviewee, but I volunteered Syncro to do it and he nodded yes.

I guess they were loving the idea of a possible riot there if Obama follows through on his threat of sending in a federal riot squad to break up the citizens free speech protest, because the next day they called us back and told us we'd be live on TV and that's why they sent the satellite truck.

Thank God Obama backed off and did not send the riot squad in. He'll hold that one back in his fascist arsenal.

And then more of the la Raza Brown Power masked forces showed up and a skirmish line developed immediately in front of our van. We american patriots were in front of the freepmobile and the la Raza brownshirts were lined up about ten yards in front of us. We squared off and the shouting commenced.

Coincidentally, the third-party video linked above starts out with Syncro's back to the camera (grey shirt, white hat) and he's shouting at the insurgents. They were shouting something about the U.S. stole the land from the Indians and "which coyote brought you in?"

So Syncro chimed in with, "Obama is now the Coyote-in-Chief!"

I'm positioned in this video in front of our van and in front of the patriots on the street side. My chair is visible in a few shots near the animated guy in the green shirt. He's an Hispanic American but a patriot. Was taunting them in Spanish. We asked him what he was saying, but he shrugged his shoulders and indicated he didn't speak English.

FOX News set up their camera behind the leftists and conducted their on air interview with Syncro and it opened LIVE on Greta's show.

VIDEO: National Guard and Militias Needed to Secure the Border?

http://gretawire.foxnewsinsider.com/video/video-national-guard-and-militias-needed-to-secure-the-border/

"Watch our interview with Gary Dunn of the Free Republic from tonight's ON THE RECORD at 7 and sound off!"

The la Raza brownshirt insurgents started a loud chant during the interview. And they kept inching closer and closer to our patriot side. Eventually some of them were face-to-face with our guys and trying to shout each other down. They were trying to incite violence but our side was determined to hold their ground without throwing the first punch. Eventually the border patrol and Murrietta police stepped in and separated the groups and put up yellow-tape "barricades." The shouting continued but cooler heads prevailed.

More third-party videos of the day's action here: https://www.youtube.com/channel/UCtA_Cxy1ccHhkVEiQmtODtQ
By the way, here's Syncro in his official capacity as an unofficial independent unit of the "Bolinas Border Patrol." Pic was shot at the "Bitch in the ditch" protest in Crawford Texas a few years ago.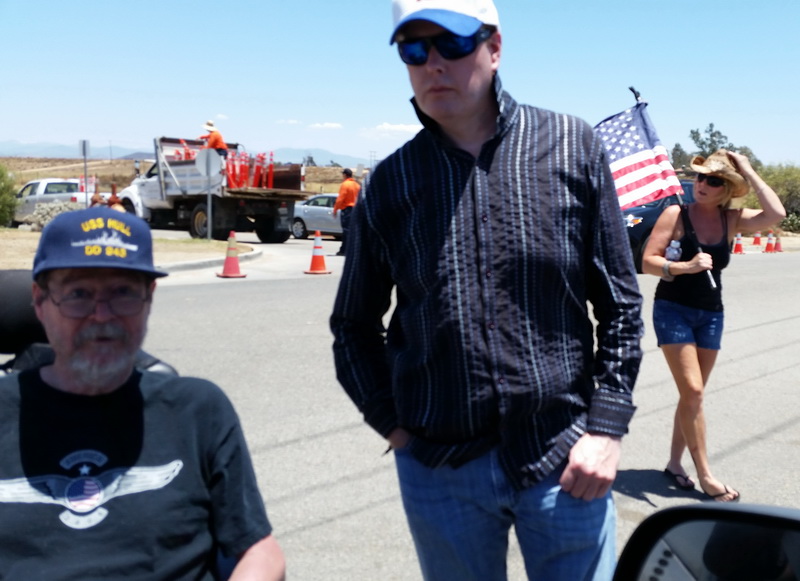 And here's a shot in Murrieta of some independent units of the "Central Valley Citizens militia." The militia is comprised of all able-bodied male citizens between the ages of 17 and 45. Well, I fudged a bit on the age and soundness of body. But I can bear and fire arms if need be.
---
If you like FR and would like to help keep it going, please click the secure server link above and send in a few bucks.
Thank you all very much.
God bless.

---
TOPICS: Activism/Chapters; Breaking News; News/Current Events
KEYWORDS: afteraction; aliens; coyoteinchief; freepathon; greta; murrieta; videos
---
Navigation: use the links below to view more comments.
first previous 1-20, 21-40, 41-60, 61-80 ... 241-258 next last
---
---
---
---
---
---
---
---
---
---
---
---
---
---
---
---
---
---
---
---
---
Navigation: use the links below to view more comments.
first previous 1-20, 21-40, 41-60, 61-80 ... 241-258 next last
---
---