---
Roots of Pro-Russian Separatists in Russia's Ultranationalist Groups (Nazis/Stalinists)
The Interpreter Magazine ^ | 08/04/2014


Posted on 08/04/2014 12:53:48 PM PDT by Greetings_Puny_Humans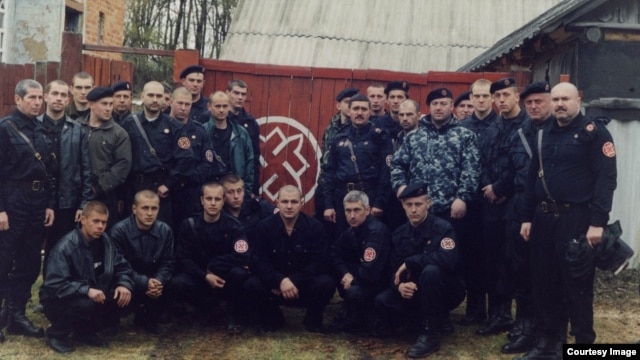 Roots of Pro-Russian Separatists in Russia's Ultranationalist Groups
16:25 (GMT)
Vladimir Pribylovsky, a well-known Russian researcher of extremist movements in Eurasia, co-author with Yuri Felshtinsky of The Putin Corporation: The Story of Russia's Secret Takeover has documented the relationship between the separatist leaders fighting in the southeast of Ukraine and ultranationalist groups in Russia.
Svetlana Pavlova of Svoboda.org (the Russian-language service of the US-funded Radio Free Europe/Radio Liberty) published an interview with Pribylovskky about these connections in June and Pribylovsky added some details in a recent Facebook post.
....
The Interpreter has provided a summary translation of the pieces:
Aleksandr Boroday, the "prime minister of the Donetsk People's Republic" is an associate of Konstantin Malofeyev, an Orthodox businessman and supporter of nationalist causes. He wrote for the ultranationalist newspaper Zavtra, published by Aleksandr Prokhanov.
Pavel Gubarev, "people's governor of Donetsk" is a member of the neo-Nazi Russian National Unity (RNE), founded by Aleksandr Barkashov, a karate trainer and bodyguard, in the 1990s. There is a photo of him at an RNE training wearing the group's uniform with its swastika-like insignia. Gubarev has not denied his membership in the RNE, but is said not to have held a leadership post in it. Gubarev was also involved in the Ukrainian Progressive Socialist Party led by Nataliya Vitrenko and ran in local elections. RNE is waning in Russia, but appears to have members fighting in southeastern Ukraine.

---
TOPICS: Foreign Affairs; Front Page News; News/Current Events; Russia
KEYWORDS: nazis; putin; russia
---
Navigation: use the links below to view more comments.
first 1-20, 21-40, 41-58 next last
---
---
---
---
---
---
---
---
---
---
---
---
Comment #12 Removed by Moderator
---
---
---
Comment #15 Removed by Moderator
---
---
---
---
---
---
Navigation: use the links below to view more comments.
first 1-20, 21-40, 41-58 next last
---
---