---
---
To: A.A. Cunningham
Too many look at the abortion issue as a "pro choice" type of issue, and some politicians say they oppose abortion, but also don't want to impose moral views on someone else.
Some young people think of abortion as a form of birth control, so that they will do whatever they want, with whomever, and if "accidents" happen, they think that abortion is the solution.
I think you have to deny that the fetus is an actual life to have a pro choice position. If people thought that the fetus was a life, then how could they justify killing it?
A woman who is pregnant normally talks about her unborn baby. She calls it a baby, not a fetus, not a cell clump, not a potential life, but a real life.
As tragic as the legacy of Roe vs. Wade has been, it's good in a way that we're still debating abortion 35 years later. The liberals of the time thought that this court decision would end the debate once and for all. How wrong they were. And that fact that we still debate it means that the issue is not settled law as far as many Americans are concerned.
---
To: A.A. Cunningham; antonius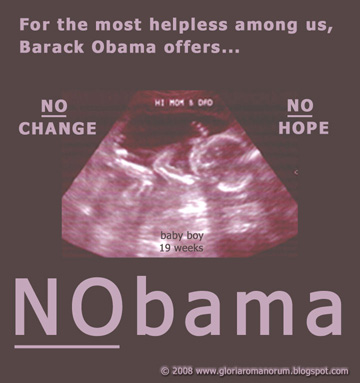 ---
FreeRepublic.com is powered by software copyright 2000-2008 John Robinson