---
To: All
BRING US CLOSER AS ENOCH TO YOU AND FINISH US \o/ Bring us closer as Enoch to you , Send us the chariot (Merkabah & Chayot) that Elijah knew , Reuban(eagle) , Mannaseh(ox) , Judah(Lion) , Dan(man) , Surrounding The Great "I AM" , That through your eyes we may see , The Father's will for all humanity , Not my will but yours be done , For The Father's will is the Kingdom Come , Not the building but The Glue /8\ , Your loving kindness flowing through me to the chosen and few , Those obedient to see ,Your forgiveness the forgetful sea , Not walking in guilt or self righteousness , But through us bring only your very best , Your undying love for all mankind to see , That all might partake if they choose to be , A lamb of God chosen and true , That in them all might see only you , An image of Christ standing in the middle of humanity , Speaking your words " Trust in me " , The very fabric of your love , Chastened , molded , finished and "Beloved" , The Hebrew word Merkabah (מרכבה "chariot", derived from the consonantal root r-k-b with general meaning "to ride") is used in Ezekiel (1:4-26) to refer to the throne-chariot of God, the four-wheeled vehicle driven by four "chayot" (Hebrew: "living creatures"), each of which has four wings and the four faces of a man, lion, ox, and eagle.

---
To: Jedediah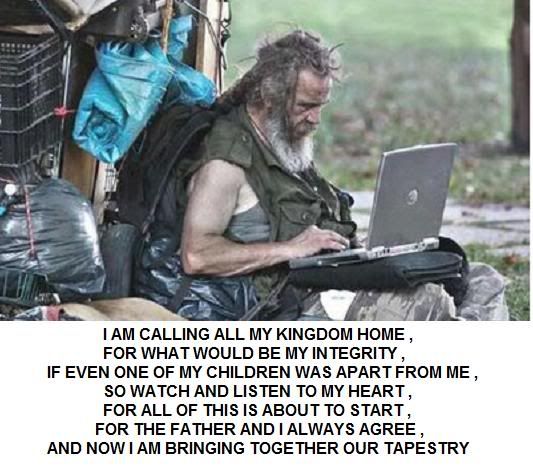 ---
To: Jedediah
You remind me of that time me and Glen Frey from the Eagles had lunch in Manhattan. He had the ox-tail soup and I had a grilled reuben. I was glued to every word.
Thanks for the reminder, because I'm forgetful, see.
58
posted on
11/12/2009 3:55:26 PM PST
by
Petronski
(In Germany they came first for the Communists, And I didn't speak up because I wasn't a Communist...)
---
FreeRepublic.com is powered by software copyright 2000-2008 John Robinson