---
Christmas, Christians, and Christ
Catholic Lane ^ | December 20, 2011 | Fr. Frank Pavone


Posted on 12/21/2011 4:08:07 PM PST by NYer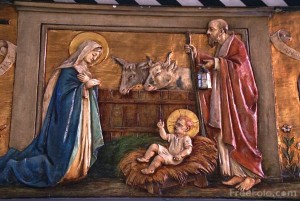 Some years ago, a class of students was asked to write about the meaning of Christmas. One student wrote, "Christmas is when Christians celebrate Christ." The teacher liked the paper, but asked the student to change that one line to "Christmas is when people celebrate love."
What, some may wonder, is the difference? After all, Christians are people and Christ is love.
Yet there is a difference – and the difference is so profound that if we miss it, we have missed the meaning of Christmas and Christ.
Of course, Christians are people. But not all people are Christians. To be a Christian is much more than to be a good person. It's about becoming a new person, sharing a new kind of life – the life of God himself. Christmas is not just about the birth of a child; it's about the birth of a whole new humanity. In Adam, all die; in Christ, all come to life again. We are made sharers, by faith and baptism, in the Divine Nature. At every Mass, as he pours a few drops of water into the wine, the priest prays, "By the mystery of this water and wine, may we come to share in the Divinity of Christ, who humbled himself to share in our humanity." That's what Christmas is all about. St. Augustine put it this way: "God became man that man might become God."
Preaching today too often loses sight of this fundamental dimension of the Gospel. And people therefore risk seeing Christmas as being just about good cheer, giving, family, and peace on earth. It is about those things, but only because it is first about God reconciling humanity to himself in Christ and opening the way for humanity to share divine life. Christmas is a Christian feast.
And then there's the meaning of "love." Yes, people celebrate love at Christmas, but it is only in Christ that we fully learn the nature of love and find the power to practice it. "Love one another as I have loved you," he commanded us. The love we are called to live is a love that is revealed in the Christ who gives himself on the cross, and a love that requires us to give our lives for one another. It is a love shaped by the first and greatest commandment: Love the Lord your God with all your heart, mind, soul, and strength. Without the love of God, we cannot find the strength to love one another. And without Christ, we do not see the full revelation of God.
Love has a content, and that content is defined by the Gospel of Jesus Christ. Love is not simply the good intention, or the context, in which we do whatever we think is best. Love always requires certain actions and always prohibits certain actions.
At Christmas, God calls all people to celebrate the love that took flesh in Christ, by believing in him and following him in the new, eternal life he brings.

---
TOPICS: Catholic; Current Events; Ministry/Outreach; Religion & Culture
KEYWORDS: christian



---
To: netmilsmom; thefrankbaum; Tax-chick; GregB; saradippity; Berlin_Freeper; Litany; SumProVita; ...
Yes, people celebrate love at Christmas, but it is only in Christ that we fully learn the nature of love and find the power to practice it. "Love one another as I have loved you,"
I would like to share with all of you, just such an example of Christ's love. Over the past 2 days, a small group of us have accompanied our pastor in visiting the shut-ins. Today, we visited 3 women. We began by praying before the Tabernacle in Church, for the intentions of those we were about to visit. Father Georges asked the nun to carry the chrism and each of us in turn to carry the Eucharist.
At each residence, we greeted the family and Father Georges took photos of the shut-in to post to our Facebook page. While we prayed for the intentions of the family, Father anointed the shut-in, family members and us with chrism. He then distributed communion to the shut-in, after which we joined together in singing Christmas hymns and giving each one a small gift. I can't begin to describe the joy on the faces of each person we visited today. These individuals are members of the parish but cannot attend because of their situation. These were the faces of Christmas; each one "laying in a manger", totally dependent upon others to provide for them.
Our final stop was at the rehabilitation center of a local catholic hospital, that has a chapel. This woman, a parish trustee, is recovering from a broken hip. We reversed the order, singing carols and taking pictures first. Father then wheeled her to the chapel for chrism and communion. When we entered the chapel, we noticed a man hunched over in his wheel chair. Father began by chanting a hymn in Arabic. Suddenly, the old man began singing Silent Night at the top of his lungs. After he had completed administration of the sacrament, Father approached the old man. When he raised his head, we could see his roman collar and recognized that he too was a priest. Father Georges then anointed the priest and explained everything to him.
Today brought back a flood of memories from childhood. In 6th grade, my elementary school teacher, a nun, challenged us to serve others, especially at Christmas. That year, I met the challenge and asked my step father to drive me to a local hospital where I met another classmate. Together, dressed in our catholic school uniforms and bearing baskets filled with candy canes, we walked the halls singing Christmas hymns and distributing the candy to those who could not be home for Christmas. We sought to bring a bit of Christmas cheer into their lives. Today, we brought the love of Christ into the lives of those who have entrusted their faith in Him. What a humbling experience!

2
posted on
12/21/2011 4:11:58 PM PST
by
NYer
("Be kind to every person you meet. For every person is fighting a great battle." St. Ephraim)
---
To: NYer
Merry Christmas from Santa Paws!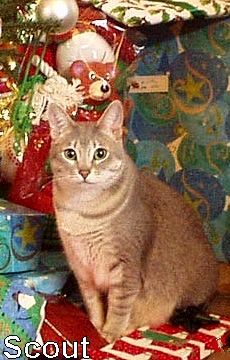 ---
To: Young Werther
4
posted on
12/21/2011 5:48:03 PM PST
by
Biggirl
("Jesus talked to us as individuals"-Jim Vicevich/Thanks JimV!)
---
To: NYer
Thank you for this tidbit from Father Frank.
Merry Christmas
---
To: NYer
Thank you for this post.
A blessed Advent and Blessed Christmas to you and yours. :-0)
---
FreeRepublic.com is powered by software copyright 2000-2008 John Robinson