Some ABC schmuck quoted Sam Donaldson ("as genuine as the carpet on his head") making that hateful crack that "he's so nice you like him even as he cuts your grandmother's Social Security".
To emend the record, Sam Clymerson, it was traitorrapist42 who taxed Social Security.
The measure of the smallness of the so-called "journalists" is their Pygmy cheapshot vendetta--
Reading of the Nazi sinking of an Allied hospital ship I am reminded of ABCNNBCBS, the fifth column working ceaselessly for the enemy du jour, be it world Communism or world terrorism.
President Reagan destroyed the Evil Empire and set free millions.
I don't think a copy of The Black Book of Communism would fit in, say, Dan Rather's mouth--but I've got an all-steel sledge hammer, and I never leave home without it.
~~~
The Medal of Honor is awarded in the name of the congress to each person who, while an officer, noncommissioned officer, or private of the Army, in action involving actual conflict with an enemy, distinguishes himself conspicuously by gallantry and intrepidity at the risk of his life above and beyond the call of duty.
In order to justify an award of the Medal of Honor, the individual must perform in action a deed of personal bravery or self-sacrifice above and beyond the call of duty, so conspicuous as clearly to distinguish him for gallantry and intrepidity above his comrades, involving risk of life or the performance of more than ordinarily hazardous service, the omission of which would not justly subject him to censure as for shortcoming or failure in the performance of his duty. The recommendations for the decoration will be judged by this standard of extraordinary merit and incontestable proof of the performance of the service will be exacted. (Act of 9 July 1918, 40 Stat. 870; 10 U.S.C.1430; M.L. 1939, sec 903).
Recipients of the Medal of Honor
ANZIO Campaign
Sgt. Sylvester Antolak - 3rd Div.
T/Sgt. Van T. Barfoot - 45th Div.
Pvt. Herbert F. Christian - 3rd Div.
T/Sgt. Ernest H. Dervishian - 34th Div.
PFC John W. Dutko - 3rd Div.
PFC Lloyd C. Hawks - 3rd Div.
2nd LT. Thomas W. Fowler - 1st Armd Div.
Capt. William W. Gault - 34th Div.
T/5 Eric Gibson - 3rd Div.
S/Sgt. George J. Hall - 34th Div.
Cpl. Paul B. Huff - 509th Para. Inf. Bn.
Pvt. Elden H. Johnson - 3rd Div.
PFC William H. Johnson - 45th Div.
PFC Patrick L. Kessler - 3rd Div.
PFC Alton W. Knappenberger - 3rd Div.
Pvt. James H. Mills - 3rd Div.
1st LT. Jack C. Montgomery - 45th Div.
1st LT. Beryl R. Newman - 34th Div.
Sgt. Truman O. Olson - 3rd Div.
PFC Henry Schauer - 3rd Div.
Pvt. Furman L. Smith - 34th Div.
PFC John C. Squires - 3rd Div.
~~~
280mm German "Leopold" K5 railroad gun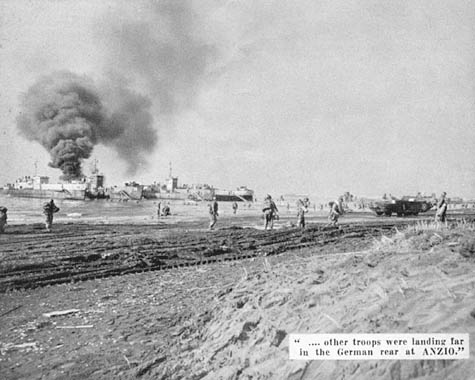 Anzio from Fifth Army Antiaircraft WWII Unit History
James "Red" Dunn Jr., MM1/c. Served on Mayo:27 December 1940 to 24 January 1944. Dunn was killed in action in the After Engineroom when Mayo was damaged during the Anzio Invasion, presumably from a mine. He was at his station in the After Engineroom maintaining the "heart" of the ship.
And that's about all I have to say tonight, except for one thing. The past few days when I've been at that window upstairs, I've thought a bit of the `shining city upon a hill.' The phrase comes from John Winthrop, who wrote it to describe the America he imagined. What he imagined was important because he was an early Pilgrim, an early freedom man. He journeyed here on what today we'd call a little wooden boat; and like the other Pilgrims, he was looking for a home that would be free. I've spoken of the shining city all my political life, but I don't know if I ever quite communicated what I saw when I said it. But in my mind it was a tall, proud city built on rocks stronger than oceans, windswept, God-blessed, and teeming with people of all kinds living in harmony and peace; a city with free ports that hummed with commerce and creativity. And if there had to be city walls, the walls had doors and the doors were open to anyone with the will and the heart to get here. That's how I saw it, and see it still.
And how stands the city on this winter night? More prosperous, more secure, and happier than it was 8 years ago. But more than that: After 200 years, two centuries, she still stands strong and true on the granite ridge, and her glow has held steady no matter what storm. And she's still a beacon, still a magnet for all who must have freedom, for all the pilgrims from all the lost places who are hurtling through the darkness, toward home.
We've done our part. And as I walk off into the city streets, a final word to the men and women of the Reagan revolution, the men and women across America who for 8 years did the work that brought America back. My friends: We did it. We weren't just marking time. We made a difference. We made the city stronger, we made the city freer, and we left her in good hands. All in all, not bad, not bad at all.
And so, goodbye, God bless you, and God bless the United States of America.