---
To: expat_panama
3
posted on
02/01/2012 7:58:11 AM PST
by
WilliamofCarmichael
(If modern America's Man on Horseback is out there, Get on the damn horse already!)
---
To: All
Here is the aforementioned NY
Times
article.
What other kind of technology is there in Red China other than stolen? When the Nytimese publish an article agreeing that one of their favorite countries has problems you know it's true!
The Real Problem With China "For the United States, the No. 1 problem with China's economy is probably intellectual property theft. Technology companies, for example, continue to notice Chinese government agencies downloading software updates for programs they have never bought, at least not legally . . . China's leaders have reason to be nervous about all the barriers they have built. China's elite, in government and business, are deeply concerned that their companies remain unable to create truly innovative products."
China calls us a paper tiger. Red China is carbon paper -- and they had to steal the carbon paper!
.. and when Red China kicks U.S. investors out with NOTHING! don't go begging Congress for another TARP, guys -- or we'll go asking Congress to go after you for treason!

4
posted on
02/01/2012 8:08:29 AM PST
by
WilliamofCarmichael
(If modern America's Man on Horseback is out there, Get on the damn horse already!)
---
To: WilliamofCarmichael
...A recent NY Times article said that China recognizes that it does not even have the capability to do its own development and until it does it will continue stealing or doing what ever it takes.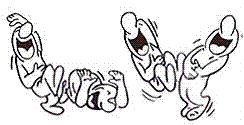 Right, and the PRC government announcement of its official theft policy was published when, last year? Please share a link to that one if you could...

---
FreeRepublic.com is powered by software copyright 2000-2008 John Robinson