---
To: wardaddy; wrencher; Travis McGee; Squantos; Pelham; chasio649
White Pride is justifiable in this hostile environment where we are expected to feel guilt for the actions of that eight percent 148 years ago. Multiculturalism and the worship of diversity has replaced Family and the worship of God - especially in government and in the hearts of "low information voters".
Unfortunately the term White Pride itself has been hijacked by skinhead Neo-Nazis,
mixed martial arts fighters of dubious sanity,
crappy punk bands...
and some just unclear on the concept.
It's folks like that who make this fella look downright acceptable.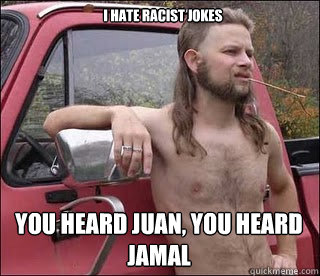 ---
To: N-R-T
Great images of white pride losers. When will an ADL party start here, like the UK's EDL. The piss poor govt. USA now has is the culmination of years of Affirmative Action policies and disproportionate hiring and promotion of less capable people based on their race.
Could it be any plainer that the USA govt is racist and is trying to oppress white people and also impose sharia rules to benefit Muslims over Christians. It's working, both are a smaller and smaller part of the population.
---
To: N-R-T
The crowd in those pics certainly are a credit to us, lol!
---
FreeRepublic.com is powered by software copyright 2000-2008 John Robinson