"AND NOW WE ANSWER TO THOSE THAT CONFUSE THE ASPIRATION TO THE PEACE WITH THE GIVING UP TO THE BARBARISM AND THE SERVITUDE." G. Pascoli, Italian Poet
"my mom always used to say: 'Bobby if you get lost on the way home, have no fear. Look at the towers and remember that we live ten blocks away on the hudson river". Well, now the towers are gone. Evil people wiped them out with those who were inside. So, for a week, I asked myself: Bobby, how do you get home if you get lost now? yes, I thought a lot about this, but then I said to myself: Bobby in this world there are good people too. If you get lost now, some good person will help you instead of the towers. The important thing is to have no fear'..." Bobby, a newyorker child
"Now she stands, tall and immovable, lighting the way of dreams, that symbol of hope, that STATUE OF LIBERTY." NY Governor, George Pataki, RNC 2004
I am Italian. Those idiots who now consider me American are wrong. I have never requested American citizenship. When the American Ambassador in Rome Maxwell Rabb asked me why I didn't take it on the basis of Celebrity Status, I answered as follows. (And I still see his piercing eyes intensely observing me while I'm talking, his forehead that frowns, his lips that smile now sadly and now amusedly). "Mister Ambassador, Sir: I am profoundly liked to America. I am so even trough I often quarrel with her. Even trough I condemn her flaws and mistakes and faults. Her too frequent oblivion of the noble principles on which she was born and grew up, to begin with. Her childish cult of opulence, her inconsiderate waste of richness, her moral hypocrisies, her bullish arrogance in her financial and military field. (An arrogance that inevitably emerges and has always emerged from a country arrived at her level of power and supremacy, by the way). Also her paucities in education, I mean the gaps that impoverish her knowledge because let's admit it: scientifically and technologically her knowledge is superb. In the humanistic domain, instead, it is kind of inadequate. Also her constant glorification of violence and brutality, a glorification that especially through the movies poisons her rescued but unlearned plebes and contaminates the rest of the world. Also her sordid and obsessive exhibition of sex, her boring deification of homosexuality, her immoderate and boundless hedonism. All faults that contributed a lot to the fall of the Roman Empire and one day will lead to her fall: remember. Nevertheless, I am profoundly liked to her. America is for me a husband, a lover, to whom I will always remain faithful and loyal. ( And provided he does not cuckold me with some unforgivable betrayal). I care for my husband, my lover. I like his imprudence, his courage, his optimism. I adore his geniality, his ingenuity, his trust in himself and in the future. I compliment the respect he has for common people and for the wretched, the ugly, the dejected. I envy the infinite patience with which he bears the offences and the slanders. I praise the marvellous dignity and even humility with which he faces his incomparable success, I mean the fact that in only two centuries he has become the absolute winner. The archetype that both in the Good and in the Evil we all want to follow or imitate. The life buoy to which we all resort or ask for help. I will never forget that if he had not bothered to go to war with Hitler and Mussolini, today I would be speaking German. I will never forget that had he not kept the Soviet Union in check, I would be speaking Russian… Finally, I admire is undisputed and indisputable generosity. I like for example that when I arrive in New York and give my passport with my residency status, the guard says to me with a smile: welcome home. It seems like such a generous, affectionate gesture. Furthermore, it reminds me that America has always been a refuge for sinners for those without a country. Without a patria, without a home, without a mother. But I already have a country, dear Ambassador Rabb. I already have a patria, a home, a mother. My patria, my home, my mother is Italy. I love my mother more than I love my husband and it would seem like negating my own mother if I were to become an American citizen". I also replied that my language is Italian, I write in Italian, and am translated in English, in the same manner as I am translated in French, in other words, experiencing it as a foreign language. Further I told him that when I hear the Italian National Anthem I get teary eyed. Hearing that "Fratelli d'Italia, l'Italia s'è desta, parapà, parapà, parapà...." , I get a knot in my throat. I am not even aware that as a National Anthem, ours is rather ugly. I only think: it is the Anthem of my Mother Land. The knot in my throat also is present when I look at a white, red, green flag waving. Of course not taking account of the hoodlums of the soccer stadiums.
ORIANA FALLACI, THE RAGE AND THE PRIDE
LOVE YOUR COUNTRY AND LOVE YOUR PARTY. LOVE THE NEW YORK STATE OF MIND. I STAND WITH FREEDOM, I STAND WITH WHO DEFENDS FREEDOM, I STAND WITH YOU! GOD BLESS YOUR PRESIDENT.
GOD BLESS AMERICA AND GOD BLESS ITALY
Claudia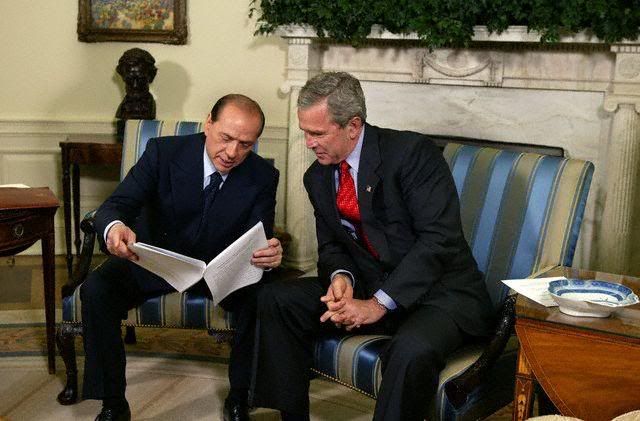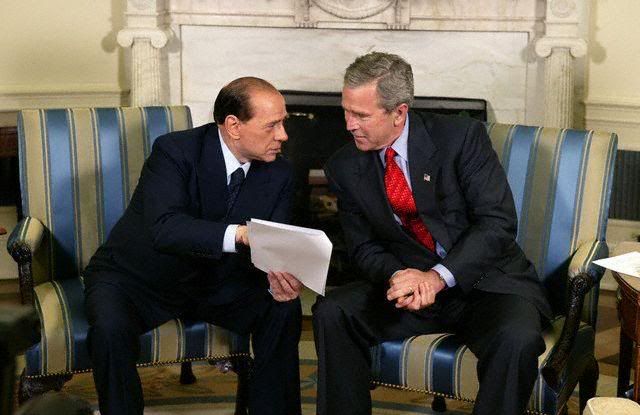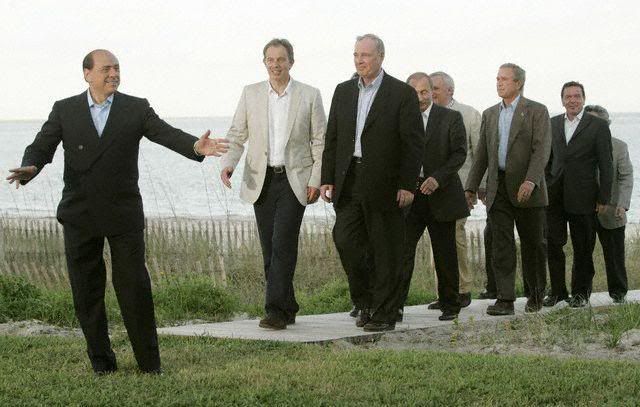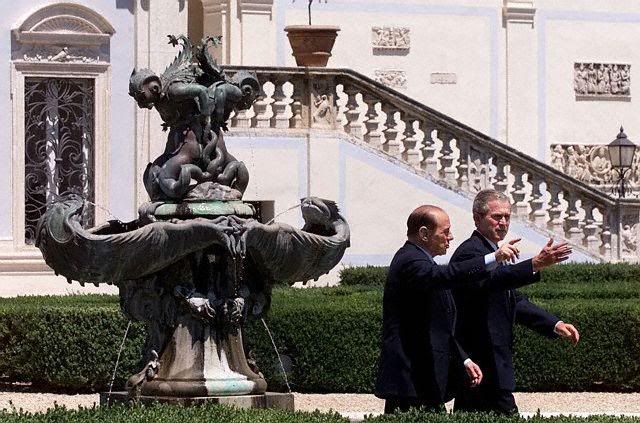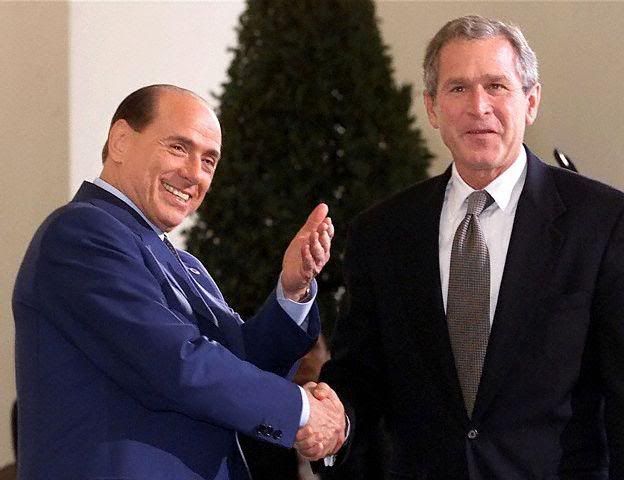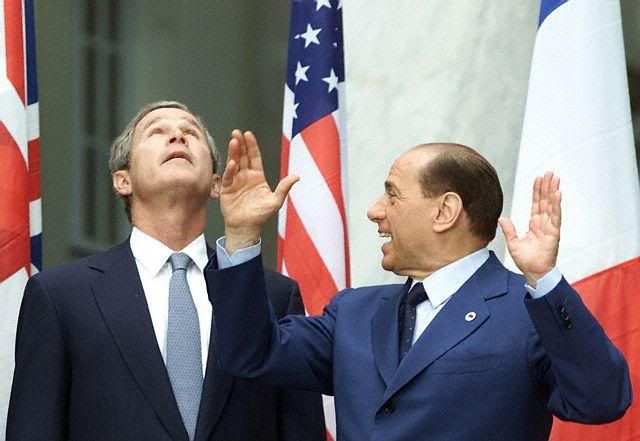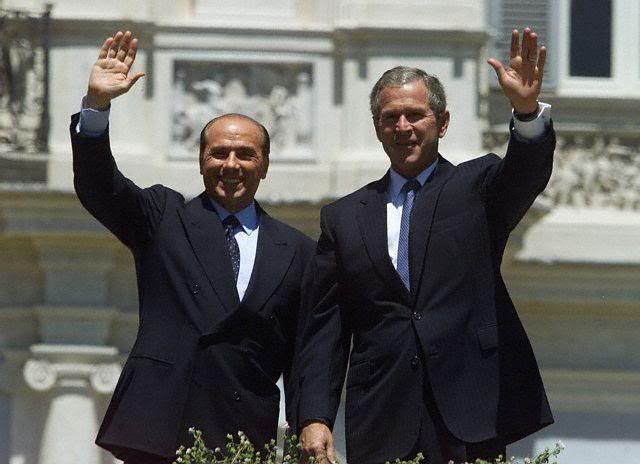 God bless all the B in the world: Bush, Berlusconi and Blair!!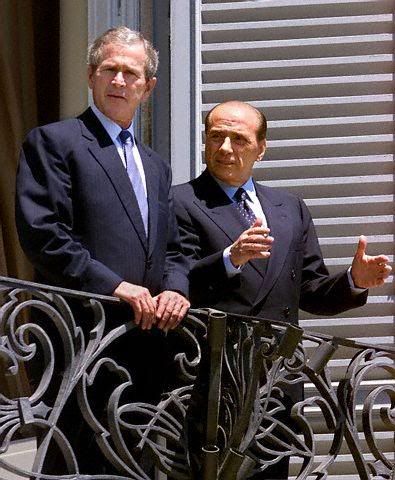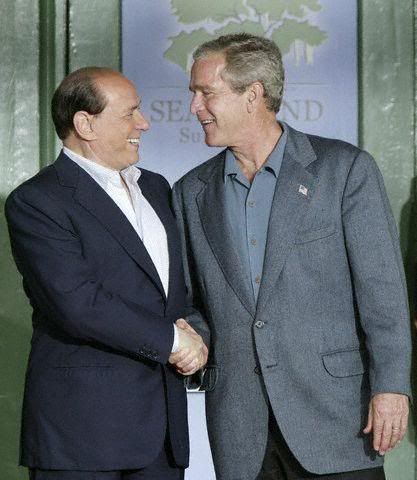 I'M AN ITALIAN YOUNG LADY (19) THAT SUPPORTS YOU AND YOUR PRESIDENT. AND I WILL DO IT UNTIL MY LAST DAY!!!
A PROUD ITALIAN NEO-CONS...
I LOVE YOUR PRESIDENT!!!!!!!!!!!!


this is me...
And that's what I think of America. It's a thread I posted some days ago, when I was just come back home.
"Last July I went to America, just for vacation. (Actually it was my "maturity vacation"… I've just finished my high school and I took this trip before to start university next October). I've already posted some threads about my trip, but some of you asked me more. And that's exactly what I'm gonna do. I spent more than a mount in America. I stayed in New York City and Washington D.C. Two very beautiful cities, very different, but so interesting. What can I say about America? Your land is a wonderful one. I felt home there. People were always so kind with me, I mean with an Italian young lady who is a little bit shy: they always tried to make me friend. I love America. I liked America before my trip, but now I really love Her. Her way to live, her way to face matters. When I arrived in New York City I was, of course, a little bit scared of terrorism because of September 11th… But if you spend ten minutes (just ten minutes)in the Big Apple you forget who Bin Laden is. NewYorkers are really brave people: they live and smile and laugh and go on. Yes, at the World Trade Center the atmosphere is not happy, but you can breathe air of Patriotism there. And that's touching. One Sunday I went to a game at the Yankee Stadium (it was the match New York Yankees versus Texas Rangers and, unfortunately for Texas, Rangers lost… Poor Dubya!) and at the beginning they played the American National Anthem. There was a little girl sitting next to me, she was no more than six years old and she was there with her grandpa (or at least I suppose that). When she heard the notes of the Star Spangled Banner she immediately stood up, took of her Yankee hat and, with a hand on her heart, she sung. Without her grandfather told her a world. That was the first time I saw that such of things and it was so… Great. I was standing next to her, my hat took away but without a hand on my heart (it was not, after all, my anthem) and only then I realize I really was in America. What a great country you have! And what a great President you have now! (Thank God George Bush is still your President… If Kerry had won last November, probably I would have not came to Washington…). I supported President Bush yesterday, I support President Bush today and I'll support President Bush tomorrow. As an Italian I'm proud of what my Government is doing standing by your side today. Please, do not misunderstand me: I love my land. I'm Italian, not American (see my home page and you'll know).
I'm proud to be an Italian, but America has a special place in my heart.
That's all, more or less. I hope I've not bored you. I apologize for my bad English. God bless you."
if you wanna contact me:
my mail: ilovedubya@hotmail.it
my msn nick: ilovedubya
my skype nick: ilovedubya