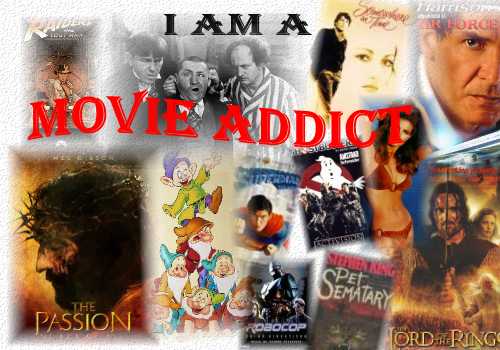 Movies are one of my many interests. And about any type -- domestic as well as foreign -- Independents as well as big studio -- Documentary as well as Historical Fiction., Sci Fi, Fantasy, Horror, Mystery, war, Comedy, Have loved them since quite young attending with friends as a child to matinees and often to drive in with my parents growing up. My brother & I would be in back seat & quickly fall asleep after the drinks & gobbling up the large bags of popcorn mom would prepare. In High school & college movies were a reasonable & enjoyable date! My dates quickly learned that drive ins were okay, BUT we would be watching the movie!!!

Not currently being into TV (understatement) many of my evenings are spent at theater. I have a large DVD & video collection & great equipment to view them, but to me one cannot match, yet alone beat the quality picture, sound and comfort of a Cinemark or similar theater.

Granted, I don't agree with the politics of many of the stars that I support with movie attendance, BUT I also don't agree with the politics of my dentist, auto mechanic, restraunteers and other professions that I patronize.

Rotten Tomaotes Site where I hang out a lot!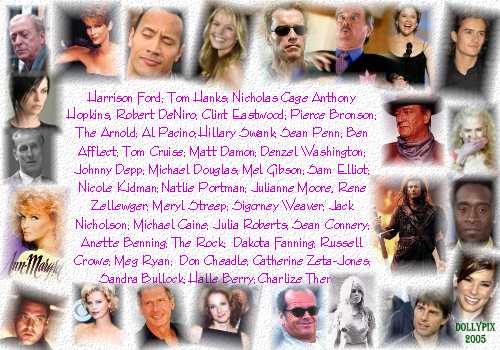 Old movies & the older" classic" stars are fun.. WAY back to the silent & Charlie Chaplain. BUT, the new wave of stars offer a great deal of talent & I LOVE the special effects and all that our technology can make happen on the theater screen. To those who miss the movies of the past with lots of dialog, no effects etc, there IS LIVE THEATER. And there are videos and there are some filmmakers who do some things in the older (word would be cruder) manner. At the theater or with DVDs there is truly a movie for everyone!

I don't really care if each "historical" movie is accurate to the diddle. Or scientifically feasible. Or politically acceptable…. I go to be entertained. I have found some of the movies I have enjoyed the most the past couple years, were critically trashed (Luther, The Passion of the Christ, Million Dollar Baby, Flightplan, Transporter(both), The Great Raid.. Just to give a few - or pooh, poohed by Conservatives here at FR.. Those things do not defer me!!!!

Now, I do have some limits. MICHAEL MOORE is one I do boycott. After his "little Oscar speech" he became a hero to MANY but a slob to me.. And a slob whom I will NOT patronize.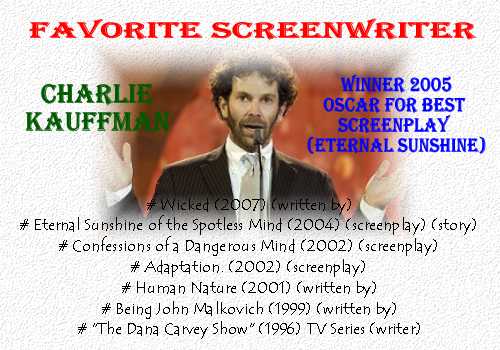 There are many great screenwriters but I truly like the quirky way that Charlie "does his stuff". And I have a very LONG list of favorites for movies. To make it a fav movie??? Well, they would be ones that I would see again & no doubt saw SEVERAL times on big screen & prolly also have either a video or DVD.



2012, 3:10 to Yuma, 8MM, 7 Years in Tibet, 2001: A Space Odyssey, 21 Grams, A River Runs Through It, Air Force One, Apollo 13, An American Carol, An American President, Absolute Power, About Schmidt, A Summer Place, Adaptation, A Few Good Men, Alien (all), A Beautiful Mind, Across the Universe,Alice in Wonderland, Almost Famous, AI, Antz, Airplane, Atonement, Appaloosa, Armored, August Rush, Avatar, Babel, Batman(all), Bank Job, Bolt, Before the Devil Knows You Are Dead, Bend it Like Beckman, Being There, Big Fish, Bella, Beowulf, Black Hawk Down, Book of Eli, Bugs Life, Birdcage, Back to Future, Babe, Ben Hur, Borat, Bridges of Madison County, Bravehart, BurnAfter Reading, Bonnie and Clyde, Bill and Ted's Most Excellent Adventure, Big,Blind Side, Bourne Identity, Bourne Supremacy, Brothers, Being John Malkovich, Bucket List, Butterfly Effect; Calendar Girls, Catch Me if You Can, Chicago, Changing Lanes, Charlie Wilson's War, Chaplin,Charlie and the Chocolate Factory , Cinderella man, Cloverfield; Coach Carter,Children of Men, Crash,Cop Out, Coraline, Crouching Tiger, Hidden Dragon, Cast Away, Confessions of a Dangerous Mind, Curious Case of Benjamin Button,





Dan in Real Life, Darjeeling Limited, DarkKnight,Dear John, Dial M for Murder, Driving Miss Daisy, Dead Man Walking, Darkwater, Day the Earth Stood Still, Departed, Defiance, Doctor Zhivago, District 9, Dirty Dozen, Die Hard, Dirty Harry, Dances with Wolves, Dr. No, DOA, Dragnet, Dressed to Kill, Dick Tracy, Dreamgirls, Doubt, Deliverance, Duplicity, Dutchess, Drag me to Hell, ET, Enemy of the State, Earth,Erin Brokovich, English Patient, Eyes Wide shut, Evita, Emma, Elephant Man, Enchanted April, Enchanted, Ever After, Escape from Alcatraz, Ever After: A Cinderella Story, Exorcist, Extreme; Flightplan, Frida, Fairytales, Finding Neverland,Flags of Our Fathers, Flyboys, Friday Night Lights, Frost/Nixon,Face Off, Frequency, Fargo, Field of Dreams, Far From Heaven, From Paris with Love, Four Brothers, Fred Claus, Fried Green Tomatoes, Full Monty,





Gone Baby Gone, Green Mile, Gaslight, Ghost, Girl Interrupted, Groundhog Day, Ghostbusters, Grumpy Old Men, Gran Torino,Guess Who's Coming to Dinner?, Gladiator, Gangs of NY. Golden Compass, Good Shepherd, Great Raid,Green Zone, Hairspray, Hitman; Hangover, Happy Feet, Harry Potter(all), Hours, Head of State, Hide and Seek, Hollywoodland, Howard's End, Haunting, I am Legend; I'm Not There, In-laws, Invictus,Inglourious Bastards, Informant, It's Complicated, Journey to the Center of the Earth, Howl's Moving Castle , Insomnia, Into the Wild; Italian for Beginners, Indiana Jones, Iron Man, Insider, In The Bedroom, Juno,Julie & Julia, La Vie en Rose, Leatherheads, Lilo & Stitch, Lord of Rings(all), LA Confidential, League of their Own, Little Princess, Lorenzo's Oil, Lawrence of Arabia,Last King of Scotland, Last Dance, Legends of the Fall, Little Children, Longest Yard, Love Story, Les Miserables, Lethal Weapon, Last of the Mohicans,Lemony Snicket's A Series of Unfortunate Events , Little Miss Sunshine,Legion, Lovely Bones,





Mama Mia, Margot at the Wedding; March of the Penguins, Matrix (all), Monsters, Inc., Midnight Cowboy, Mars Attacks, Magnificent Seven, Master and Commander; Michael Clayton, Monster House, Mr. Bean's Holiday, Mr. and Mrs. Smith, Mullhuland Drive, Mutiny on the Bounty, Million Dollar Baby,` Moulin Rouge, Mystic River, Nine, Noelle, No Country for Old Man, Ocean's Eleven, Ocean's Twelve, Pet Semetary, Patriot, Piano, Pirates of the Caribbean(both); Prince of Egypt, Precious, Prince of the Tides, The Pianist, Pearl Harbor, Pursuit of Happiness; Psycho, Phantom of Opera, Quiet American, Radio, Rainman, Rushmore, River Runs Through It, Reversal of Fortune, Robocop, Robots, Rosemary's Baby, Raiders of the Lost Ark, Rules of Engagement, Remains of the Day, Rocky, Rocky IV, Reader,Real Women Have Curves, RainMaker, Ratatouille, Redeye; Revolutionary Road, Road to Perdition,Rocky Balboa, Royal Tannenbaums, Rookie, Remember the Titans, Rudy, Runaway Jury, Quantum of Solace,





Seabiscuit; Serious Man, Shrek, Sherlock Holmes, Shutter Island, Sixth Sense, The Sisterhood of the Traveling Pants , Sling Blade, Sky Hight;Snakes on a Plane, Spartacus, Strictly Ballroom, Shrek, Shining, Serpico, Six Degrees of Separation, Scent of a Woman,Single Man, Sleepless in Seattle, Shawshank Redemption, Sense and Sensibility, Splendor in the Grass, Summer of 42, sister Act, Sneakers, Sideways, Somewhere in Time, Sleepers, Schinlinder's List, Silence of the Lambs, Shadowlands, Saving Private Ryan, Secondhand Lions, Spirited Away,Star Trek,Slumdog Millionaire, Superman (all but esp the first couple), Somewhere in time, Sweeney Todd: The Demon Barber of Fleet Street, Syriana, The Kite Runner, There Will be Blood; The Great Debaters, The Island, Tropic Thunder,The Others,The Queen,The Devil Wears Prada, The Savages, The Illusionist, Transporter (all), The Missing; This Christmas, Titanic, Talented Mr. Ripley, The Lake House, The Kingdom The Interpreter, The Passion of Christ; Toy Story,The Aviator, Twilight (both), Road,





Traffic, A Time to Kill, Twister, The Game Plan, The Graduate, The Guardian, The Last Samurai; The Truth About Cats and Dogs, The Kite Runner, There Will be Blood, Terminator, Tombstone.The Holiday, Terms of Endearment, To Kill a Mockingbird, The Natity Story, To Sir With Love, Troy, This is it, Triplets of Bellville, True Grit, Untouchables, Unfaithful, Up, Up in the Air, Valentine's Day, Volver, Wag the Dog, Walking Hard: The Dewey Cox Story,; Waking Ned Divine, Where the Wild Things Are, Wizard of Oz, Wayne's World, Whale Rider, When Harry Met Sally, Wanted,What's Eating Gilbert Grape, War of the Roses, Wall-E, War of the Worlds, War Games, Water Horse: Legend of the Deep, Wedding Crashers, Whatever Happened to Baby Jane?, What About Bob?, Witness,Wolfman, Wrestler, World Trade Center,Young Victoria, Zombieland,


List updated: April 2010.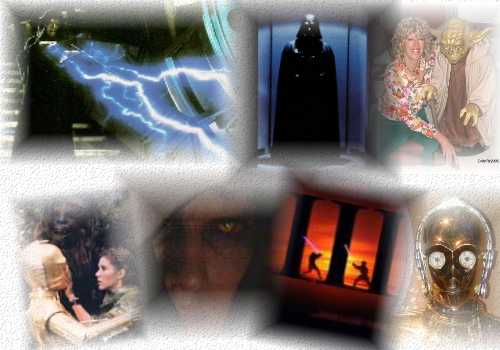 Star Wars. If I had to give a favorite movie(series) this would no doubt be top, but followed closely by Lord of the Rings. I do enjoy fantasy and special effects.

Here is a link to a thread I did here at FR when the last movie was released in spring of 2005. There are a lot of graphics & links for star war fans. Star Wars Thread

and I like about everything that Mel does!