I'm writing this from my daughter's point of view.
Hi everyone, I'm now retired military,
my parents raised me
as a conservative,
I joined the army after 9-11.


I'm now a vet, going to college and raising 2 kids.


My husband is home from his 5th deployment, YEAH!!!! 4 in Iraq, one in Afghanistan.
Please pray for our military.
We love America!
---
Photos of my soldier in Iraq, enjoy......
6-10-05

Posted on 06/10/2005 5:08:33 PM CDT by Indy Pendance

As many of you know, my daughter is in Iraq. Here's a 2005 photo essay detailing some of her activities there. I hope you all enjoy......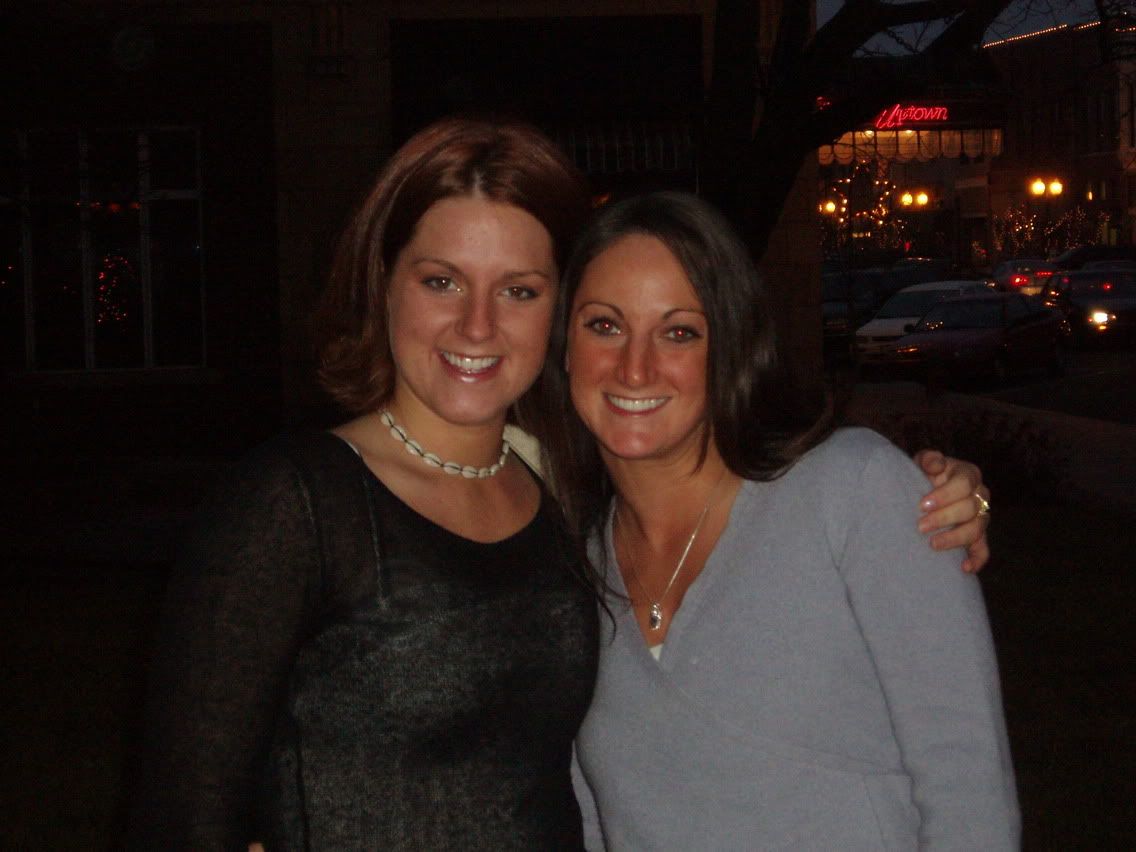 My daughter, left, and her Iraqi roommate before they left for Iraq. They are in the same platoon.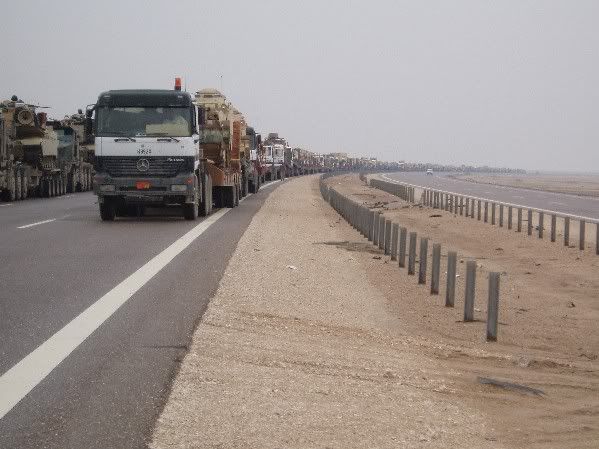 A convoy...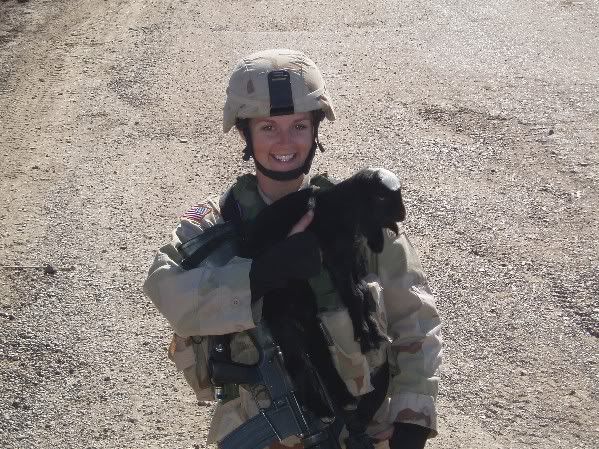 A baby goat...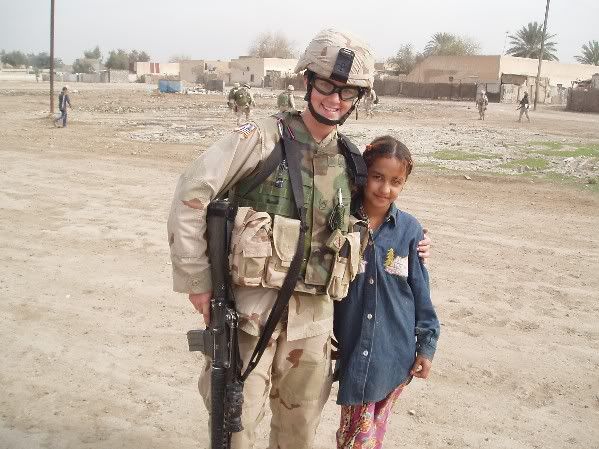 Nora, her 10 year old buddy...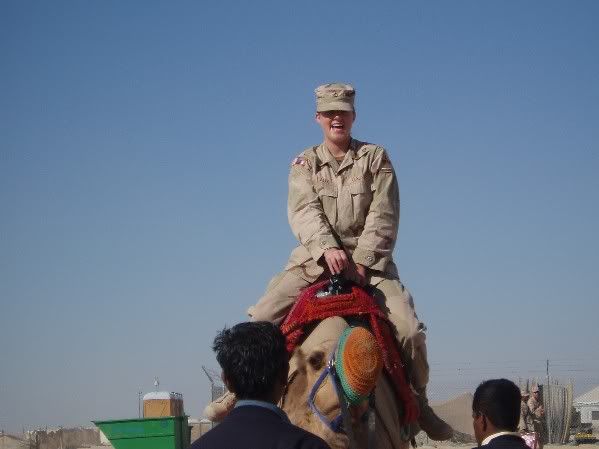 Riding a camel...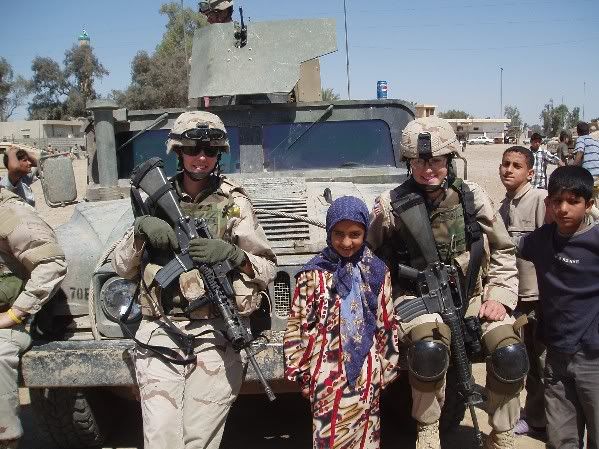 Iraqi children... (right soldier)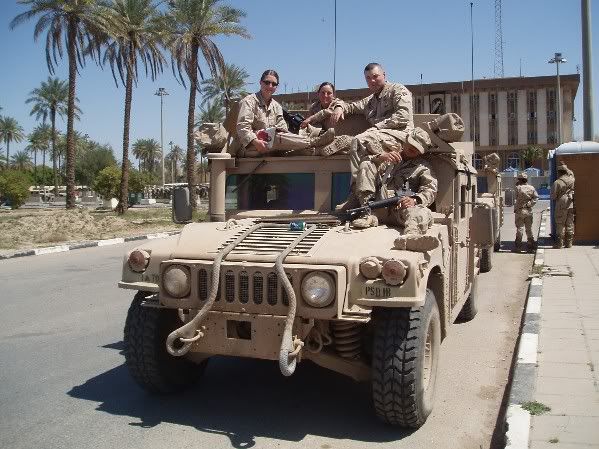 Her humvee... (left on top)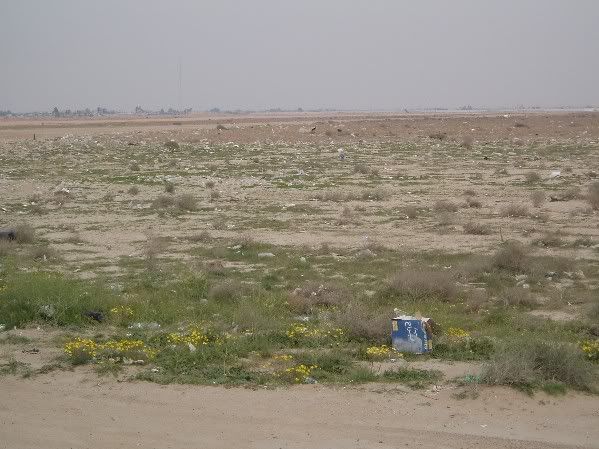 The Iraqi countryside near Baghdad....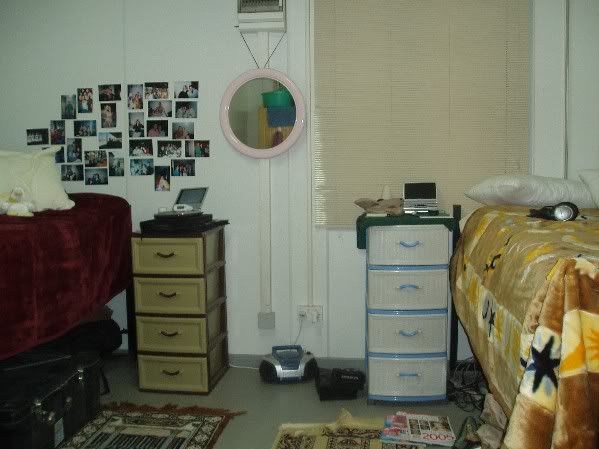 Her room....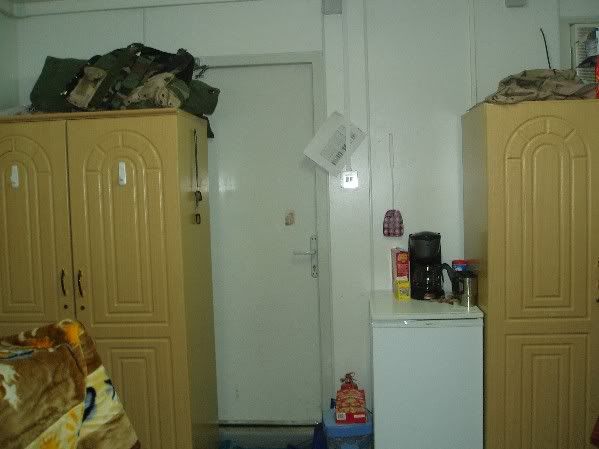 The other side of her room...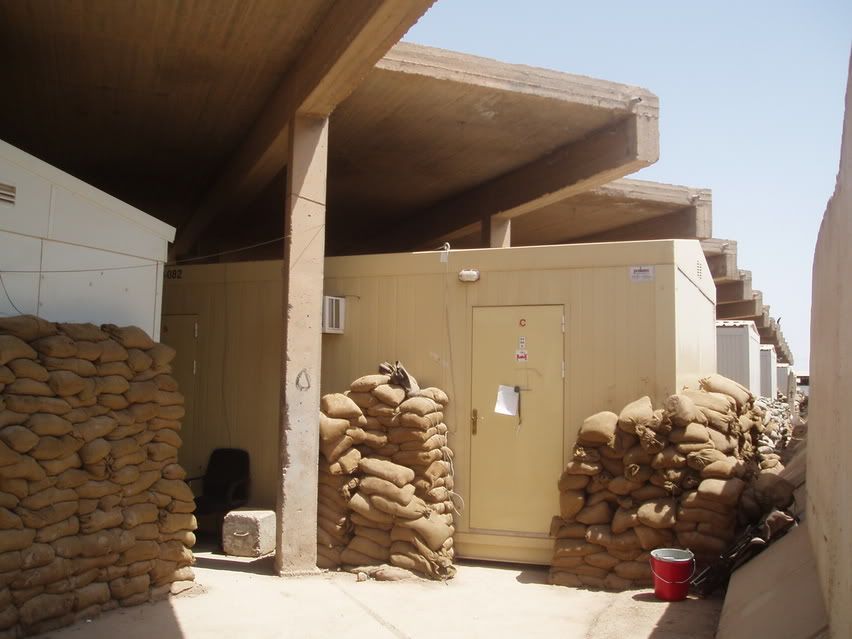 The outside of her room (door on left).....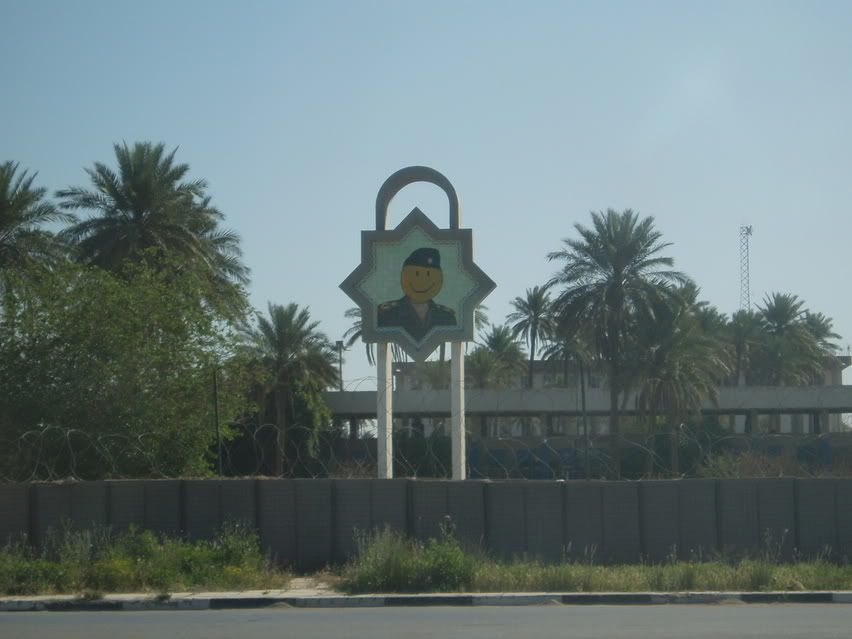 Picture of Saddam :)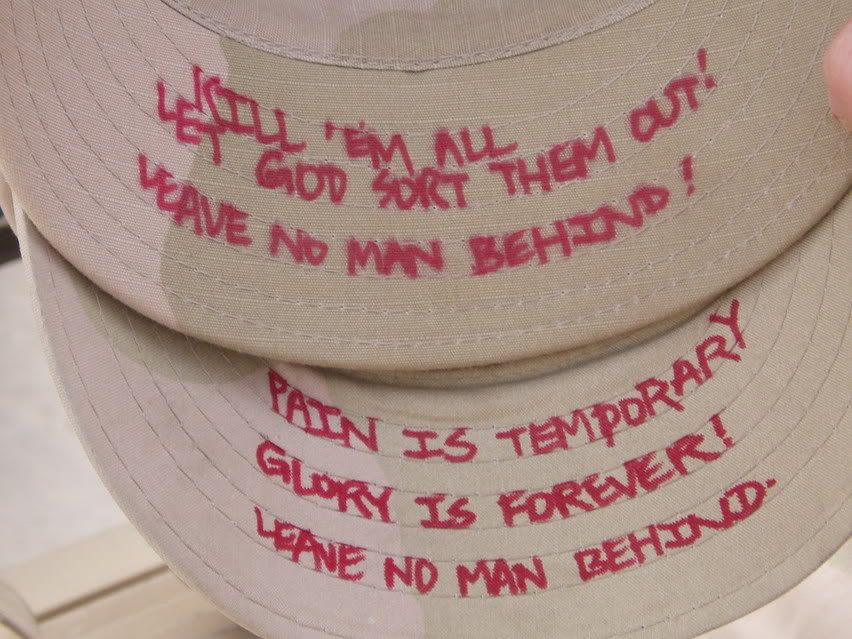 A couple hats...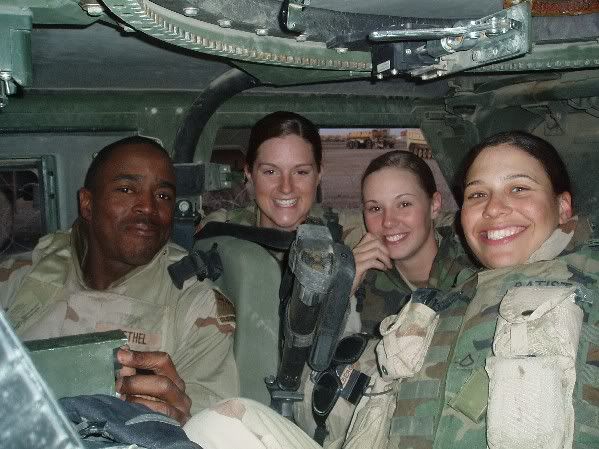 Inside a humvee...(2nd left)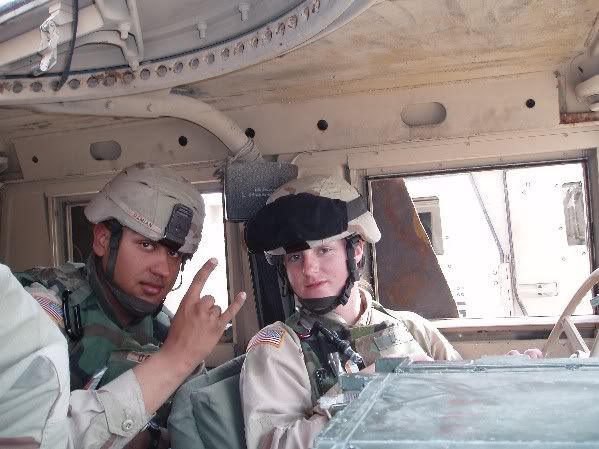 Checking things out.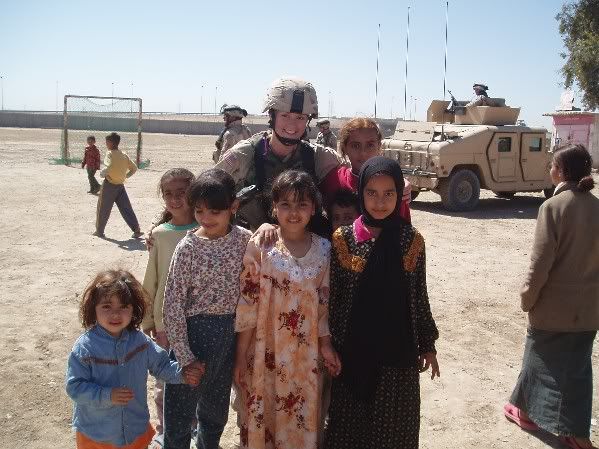 More Iraqi children.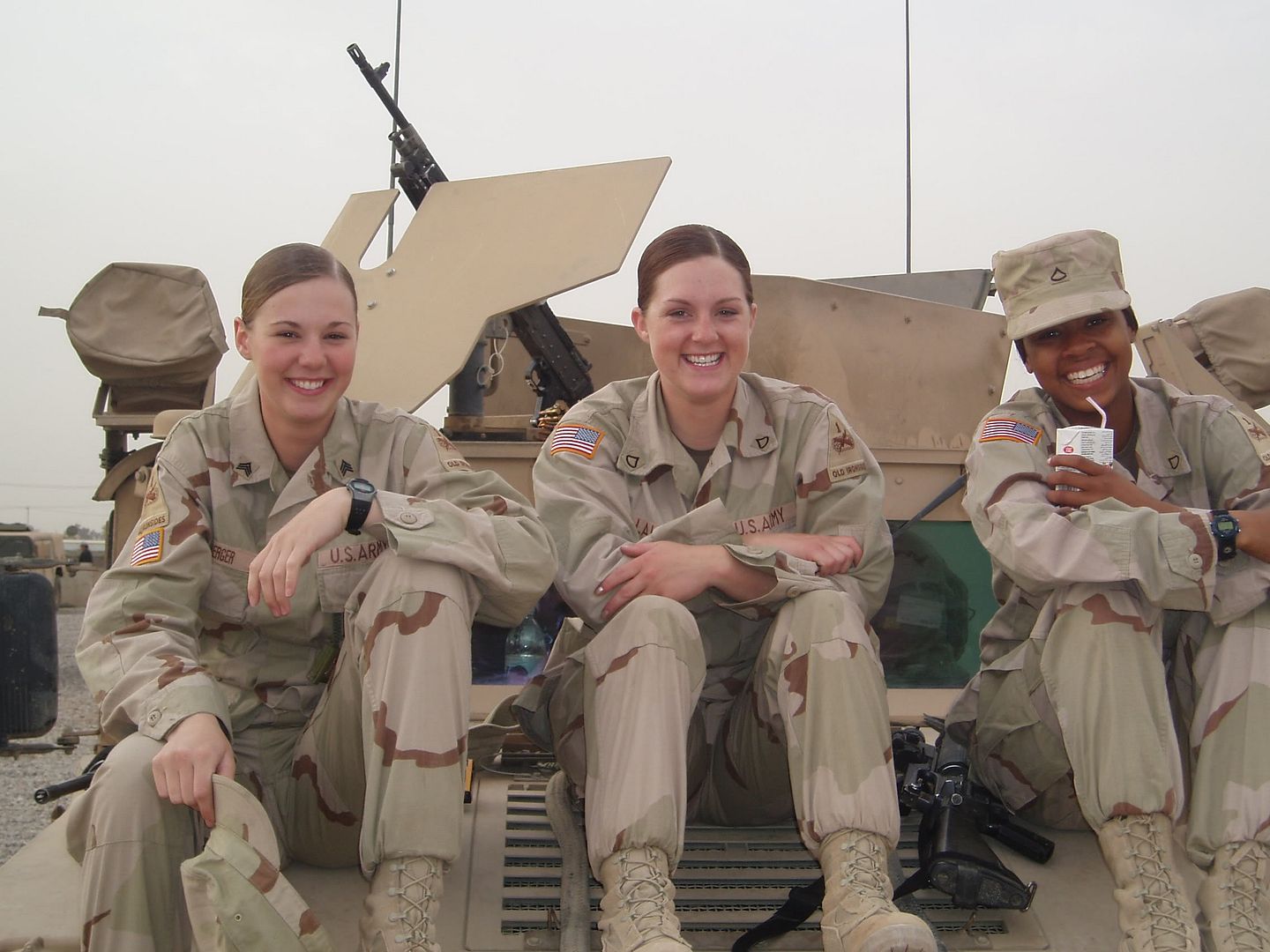 In the center....
Her and her group are doing very good, there have been a couple casualities, but they are positive and keep to their mission. Since they've been patrolling 24/7 in their section, IED's have dropped to zero! Whoo hooo! It's tiresome, it's dirty, it's long, it's their job. Your prayers and support mean the world to all of them. She often talks about FR and all the folks here who support them. The next report I'll post is will be from the Toby Keith concert at the Baghdad International Airport.... So far, her leave is scheduled for August, her sister's wedding, looks like it will happen, unless something dramatic happens, so, we're all looking forward to her coming home in the next month or so.... Pray for our military, they are the backbone of this country!

More Photos of my soldier in Iraq (Lots of photos)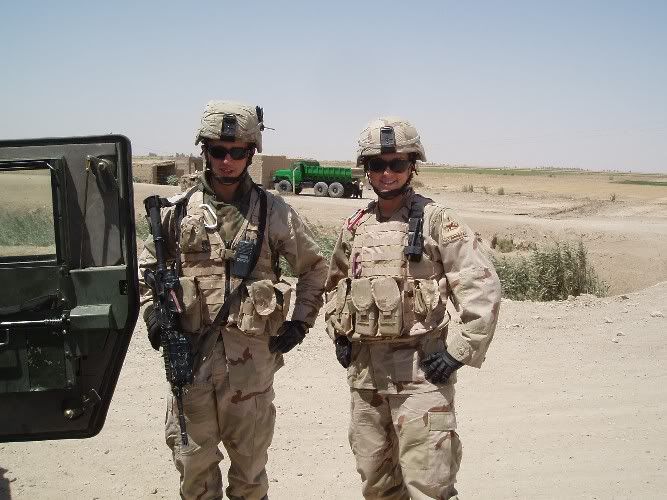 On the right.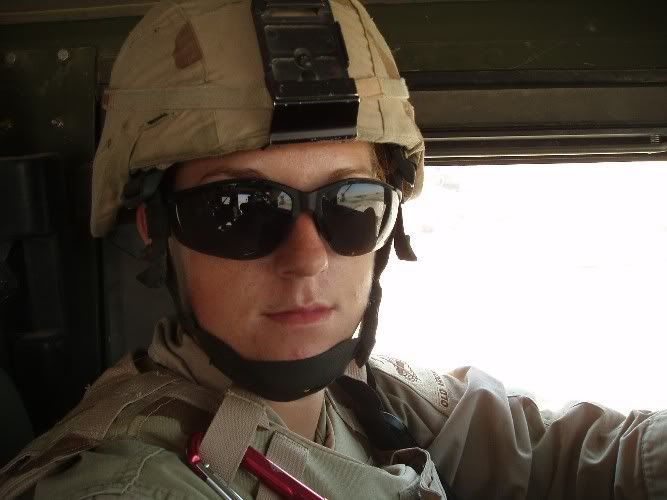 Bad Ass Chick.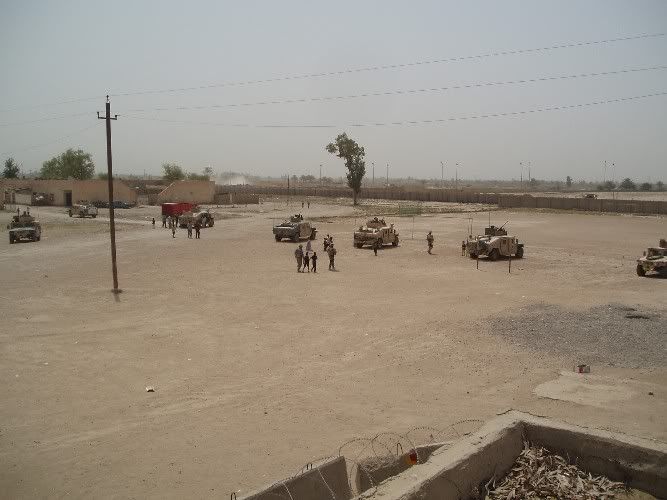 On patrol.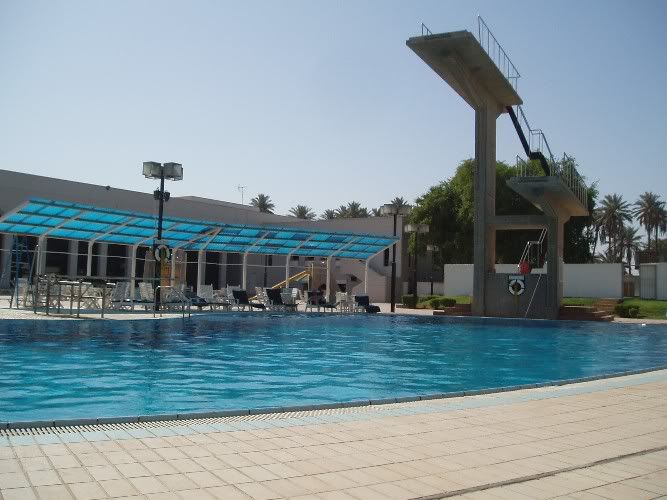 The pool at Freedom Rest, an old Republican Guard palace in Baghdad.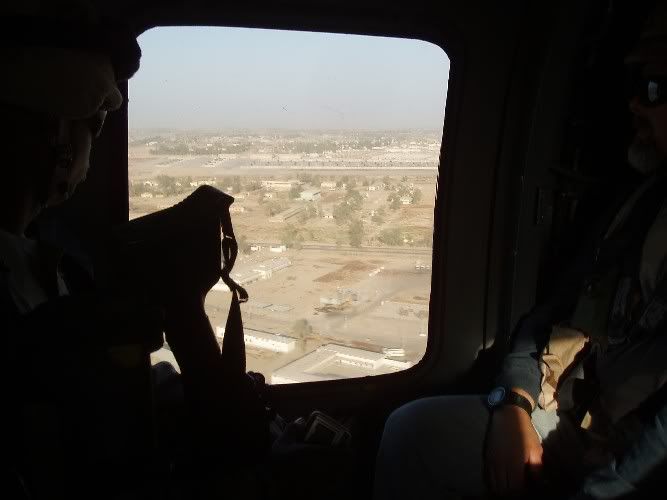 Aerial view.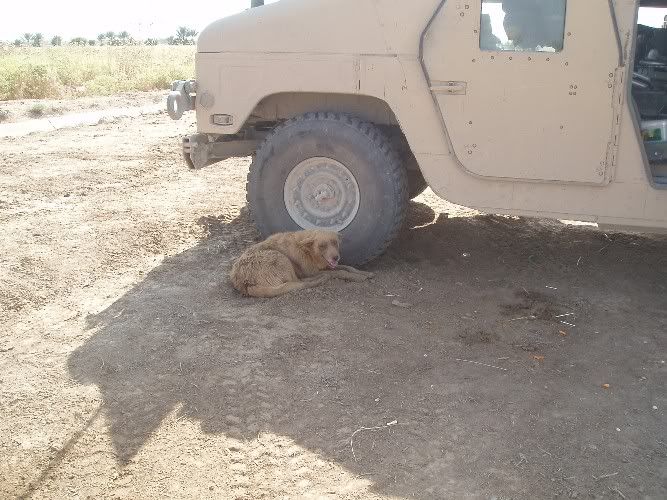 Craig, their adopted dog.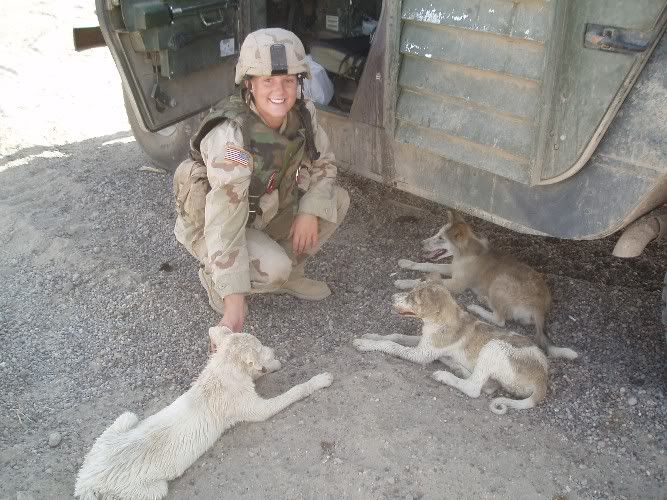 Stray dogs.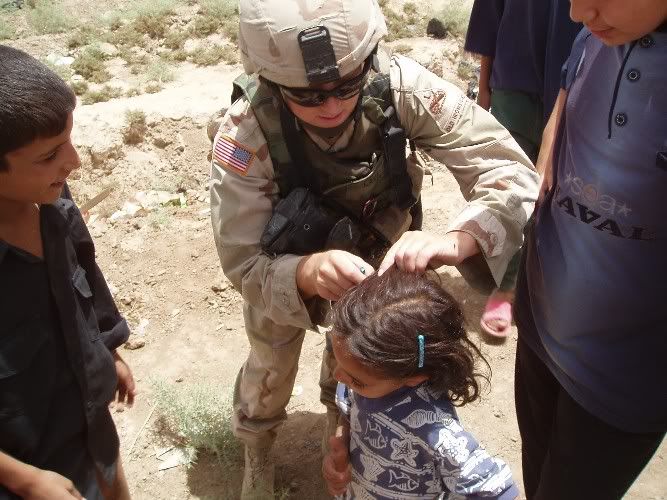 Putting barrettes in a little girl's hair.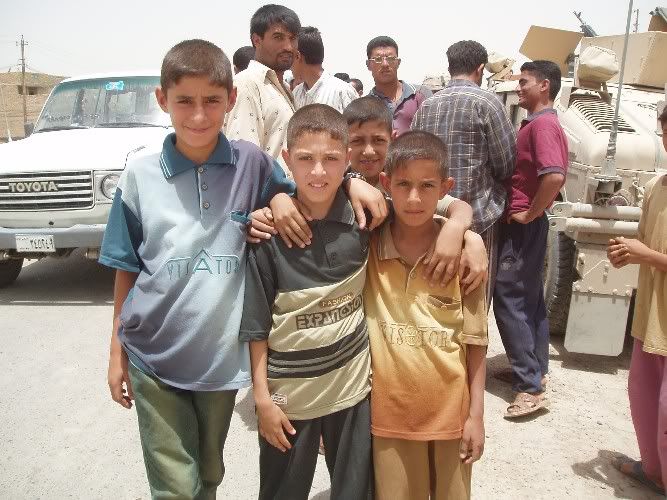 Her 'boyfriends'.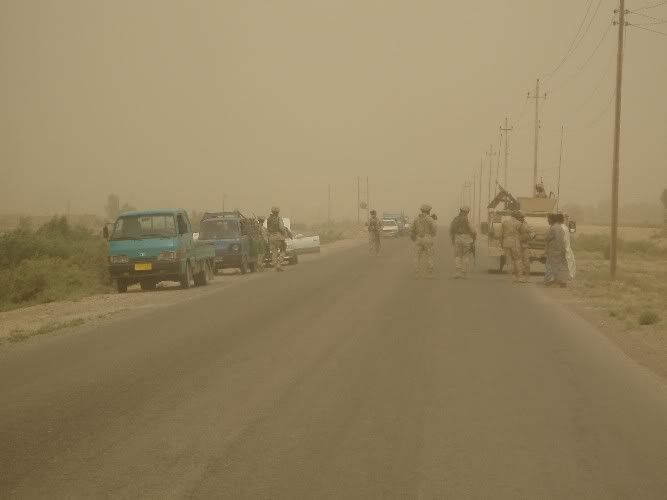 A sandstorm.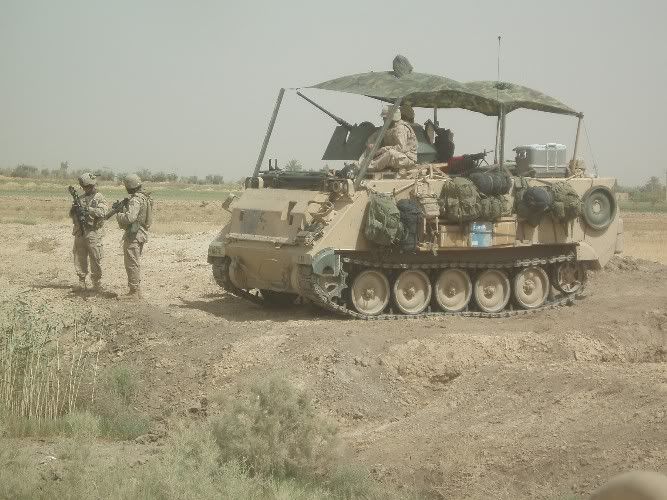 Home sweet home.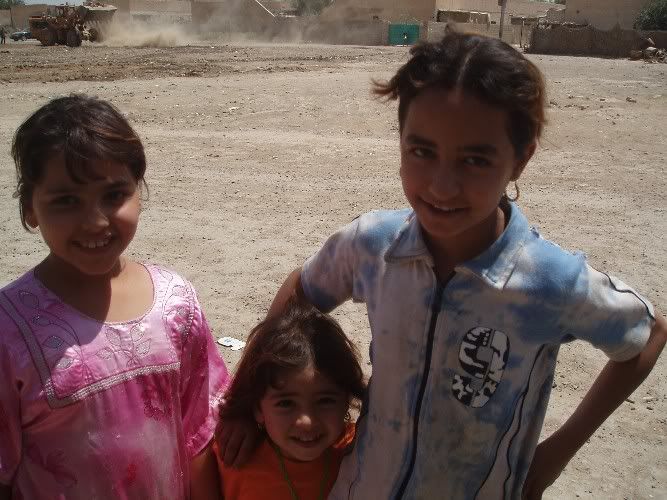 Nora, right and other girls.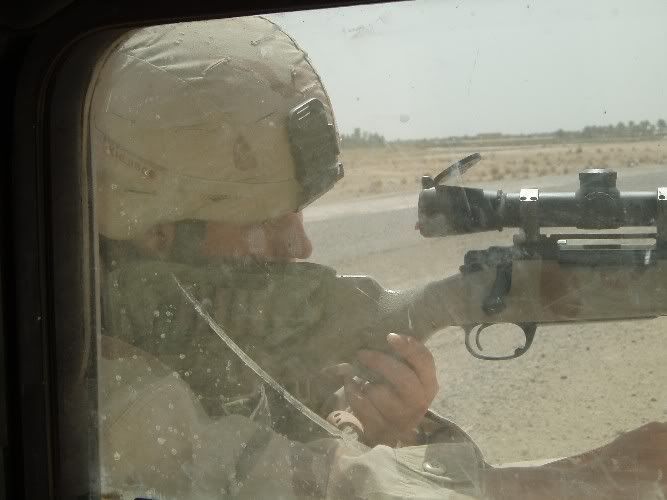 Checking weapons.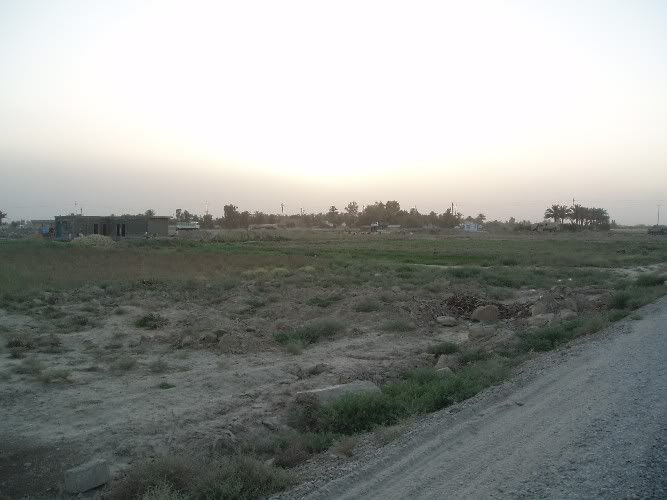 A village.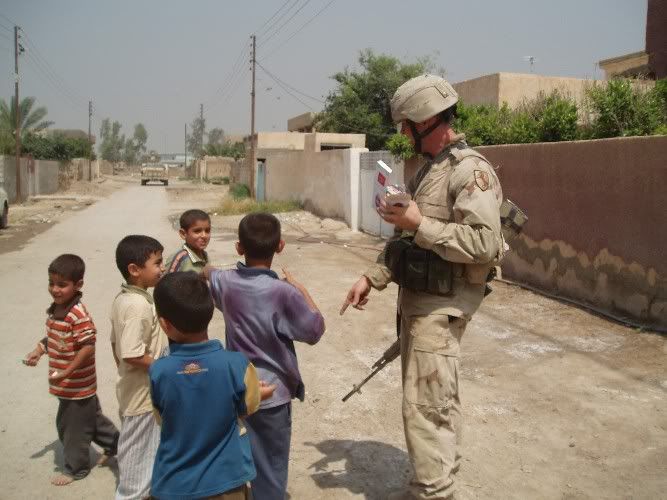 Soldier handing out chalk to boys.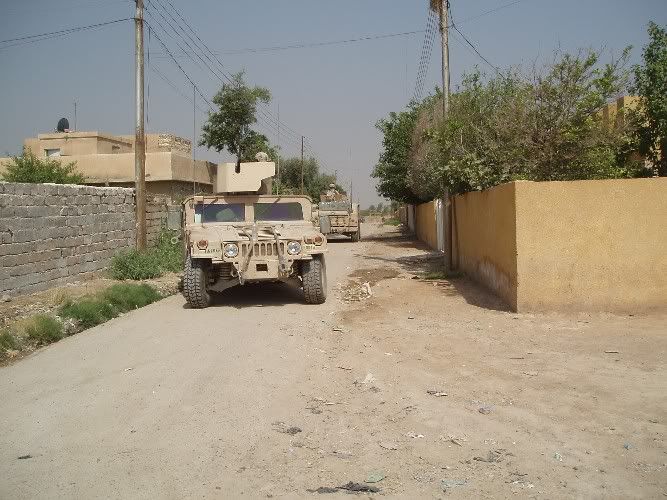 On patrol.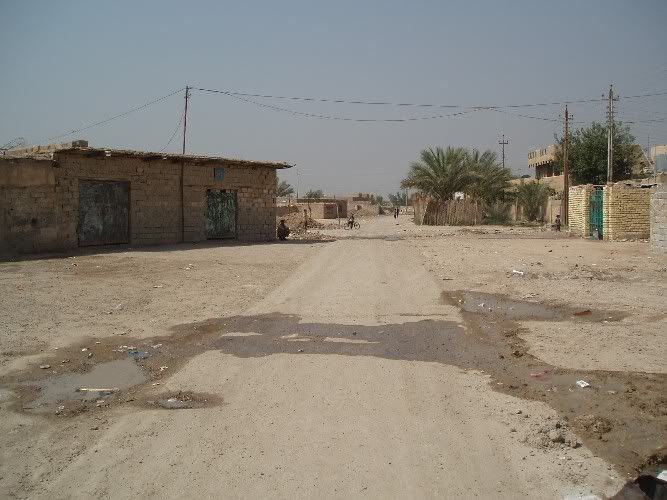 Another village.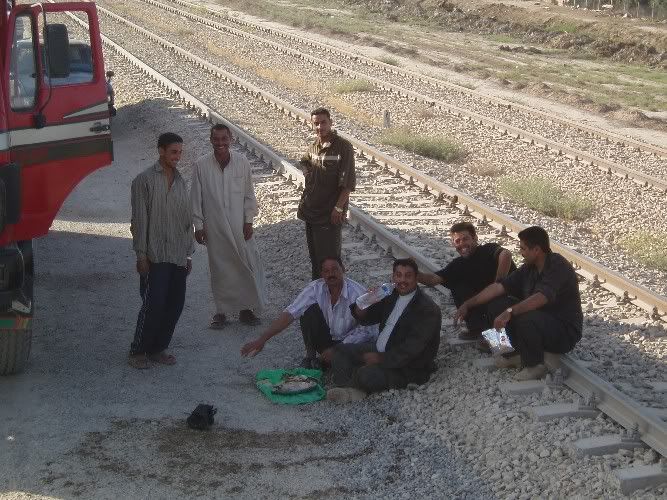 Iraqi's waiting to leave. They were stuck here for 10 hours. My daughter got food poisoning from that food.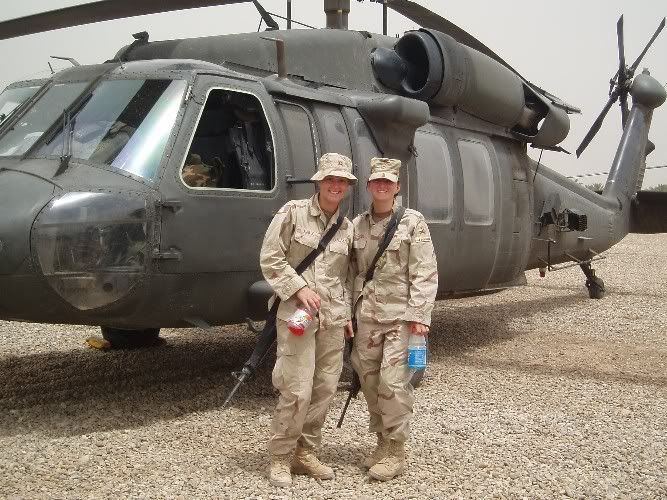 Going to the Toby Keith concert in Baghdad. (on left)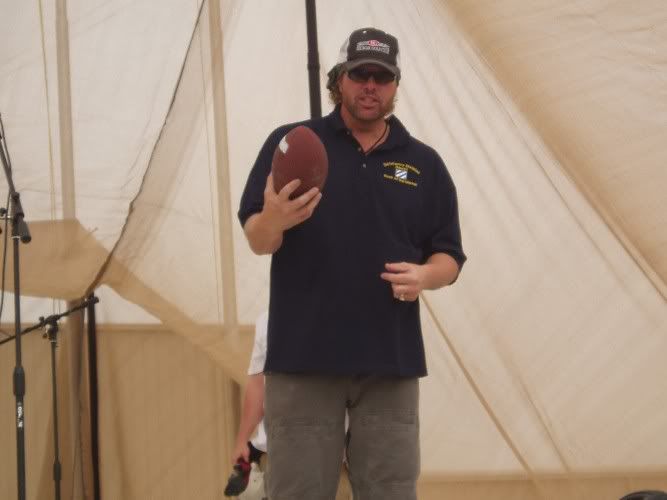 Toby Keith holds an autographed football signed by the six soldiers from her platoon who went to the concert.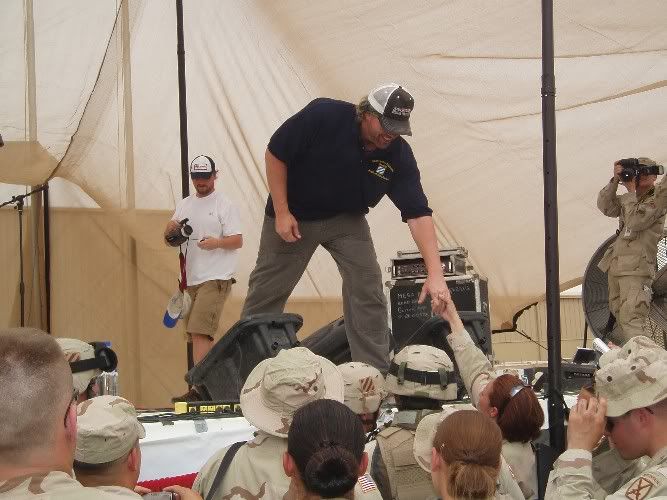 Toby Keith shakes hands with soldiers.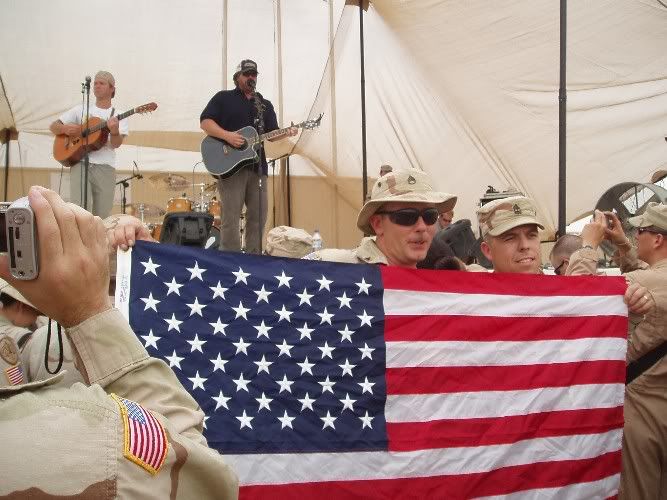 Toby Keith concert, nice seats.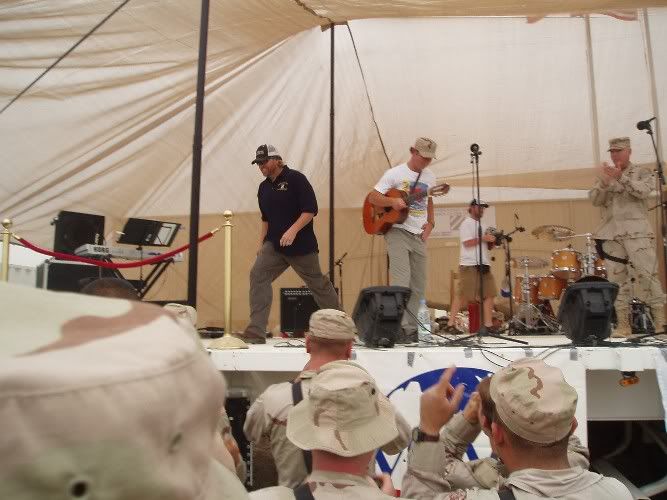 Toby Keith concert.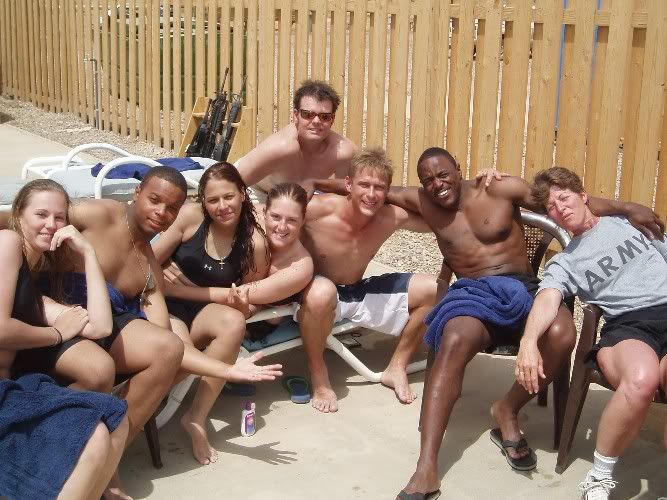 Hanging out at the pool on base (4th from left). The two white guys are from the Australian army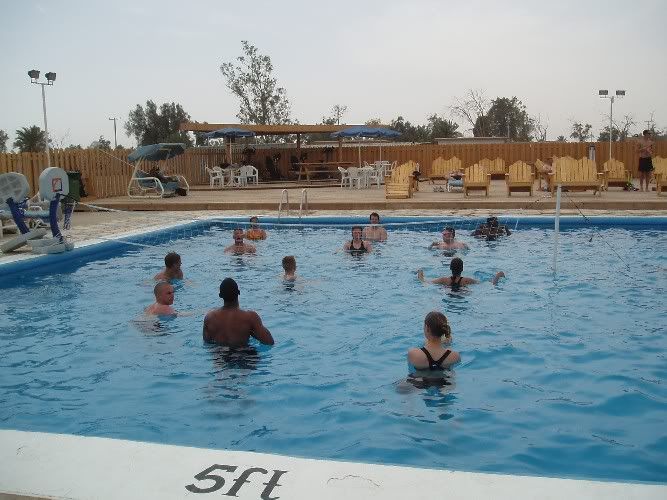 Taking a break from a long day's work.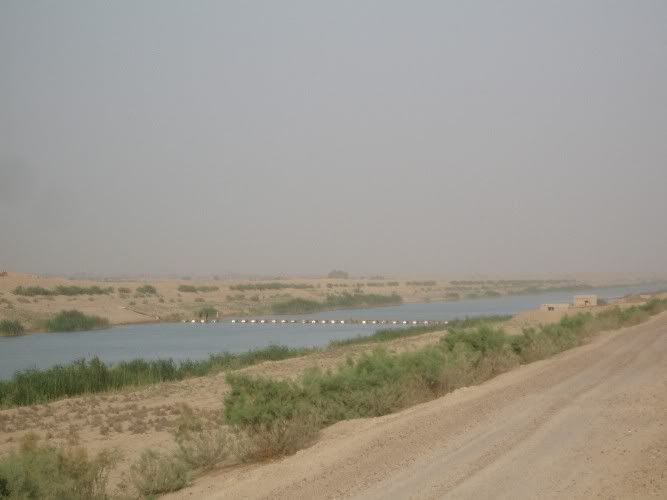 A canal. See the people crossing the bridge, it's the Grand Canal that irrigates the area.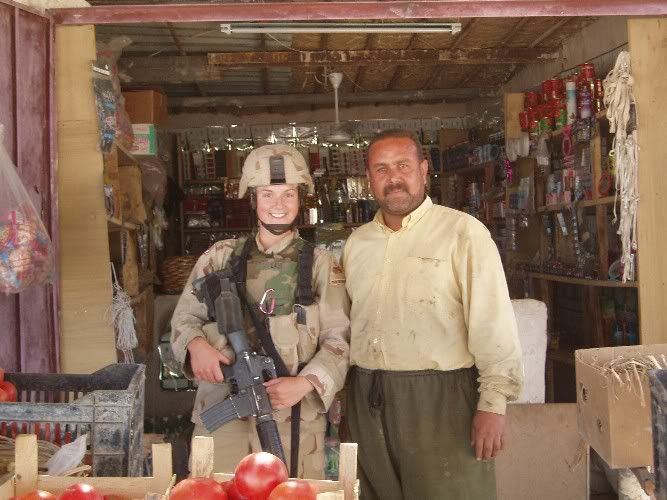 At a market.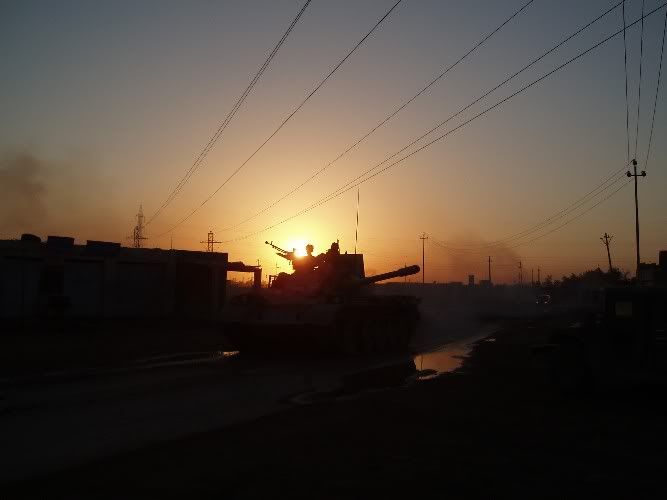 This is just a cool photo of her group.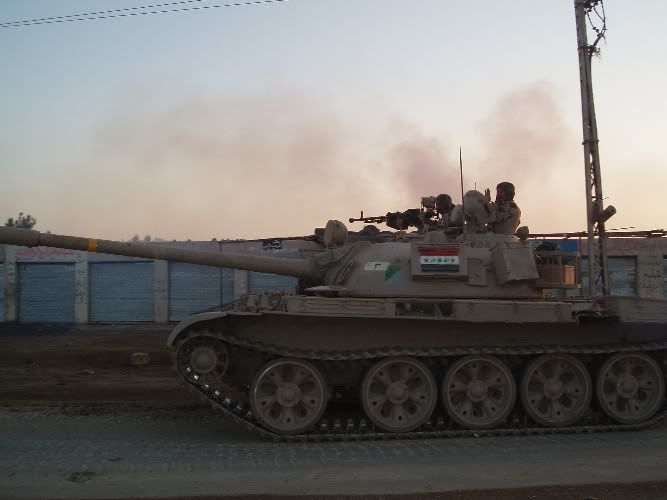 Iraqi's on patrol with her group.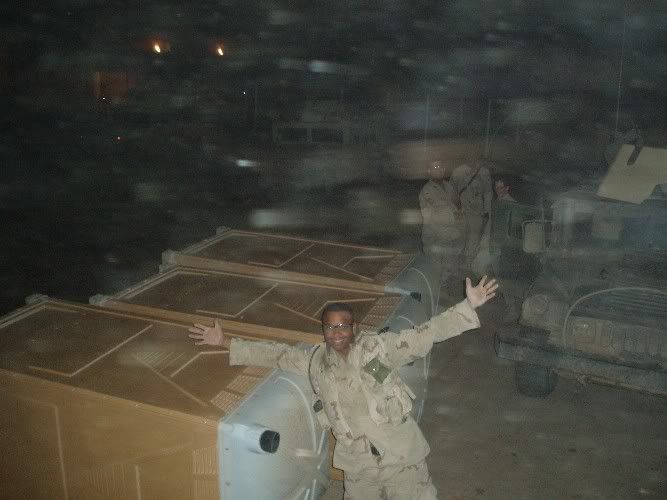 Sandstorm blew the porta-potties over.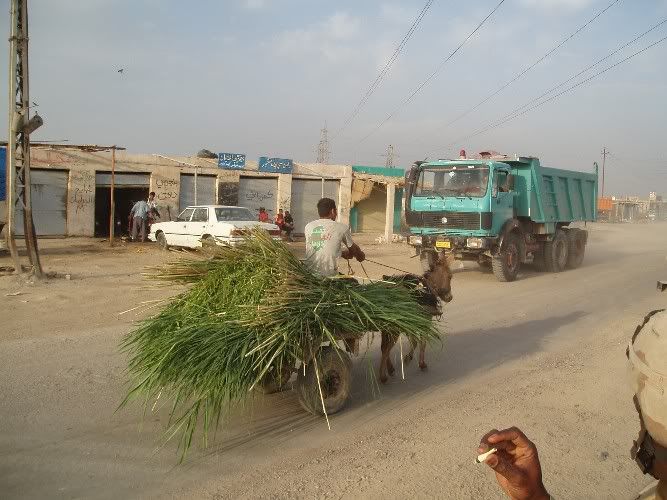 In a village.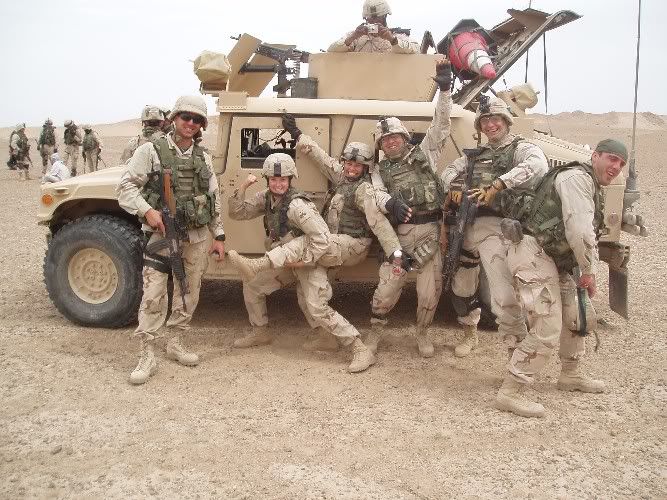 Just some wild and crazy soldiers. See the red cone?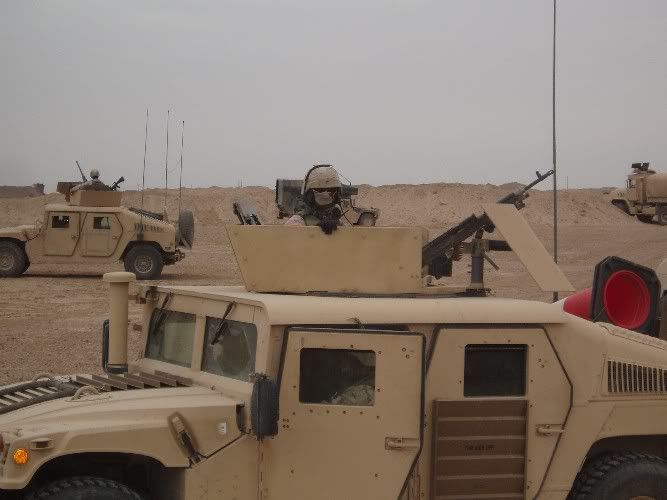 In the turret. Another shot of the red cone. Highly visible target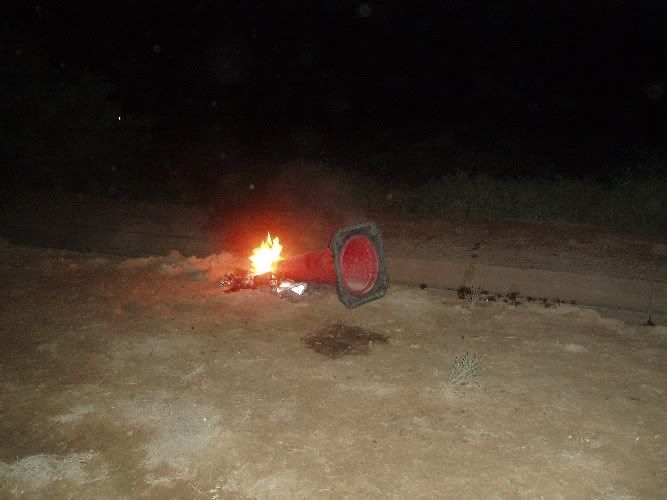 Tired of dragging the 'target' cone everywhere, they decide to burn it.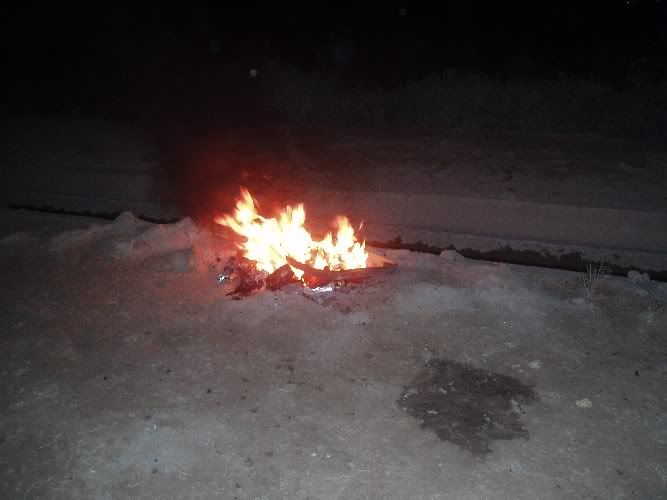 Cone on fire.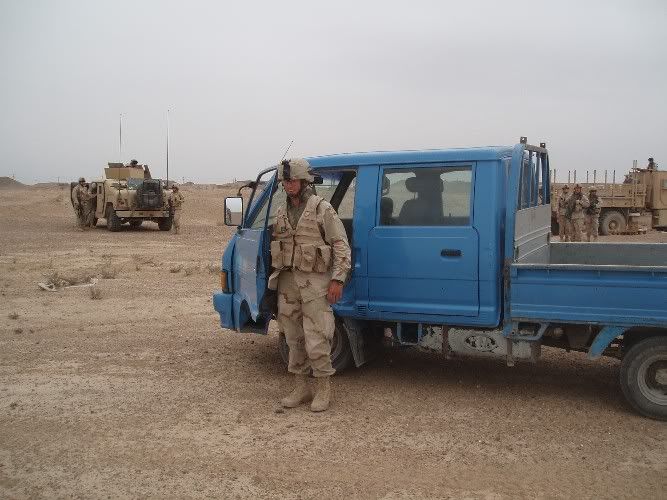 A captured truck. They call them Bongo's.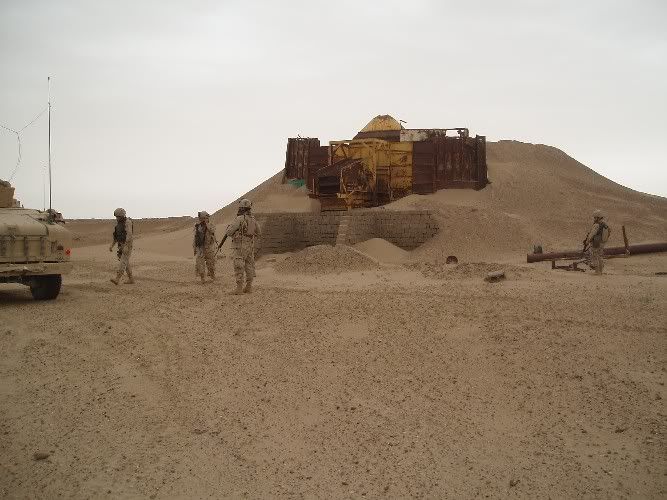 A quarry.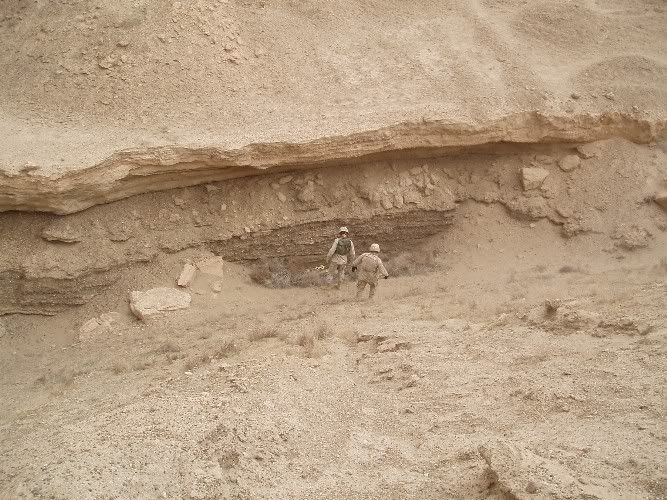 Inspecting the quarry.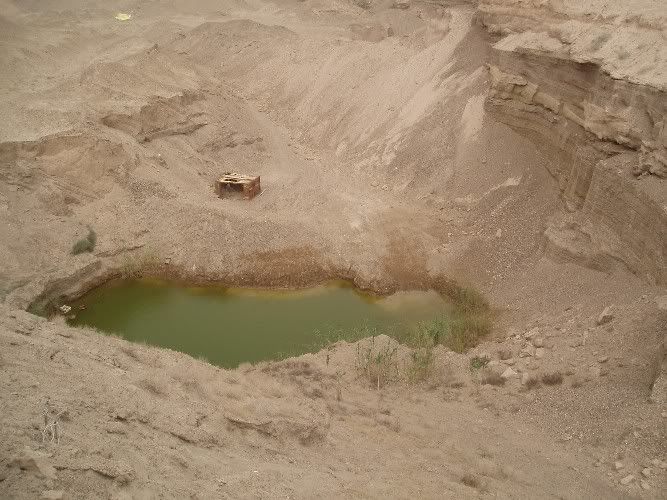 Weapons cache found buried in the water.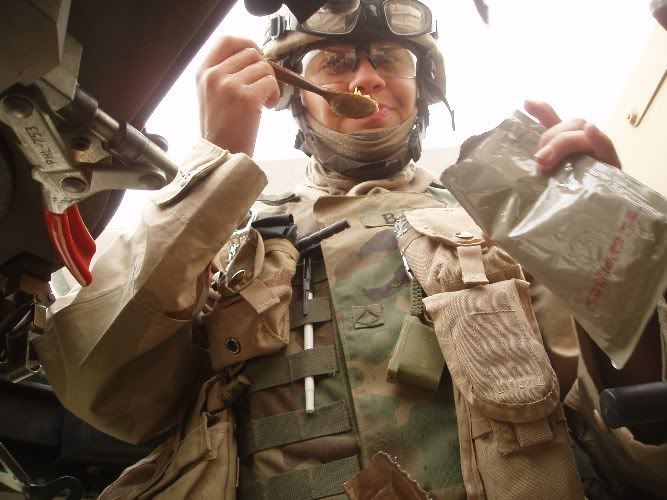 Eating dinner.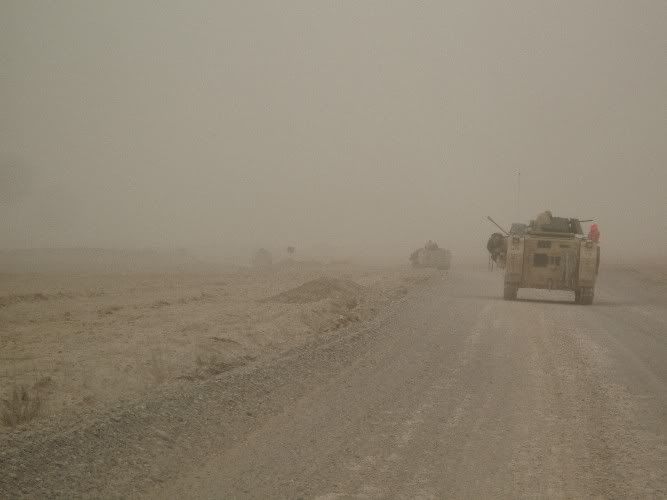 Another sandstorm.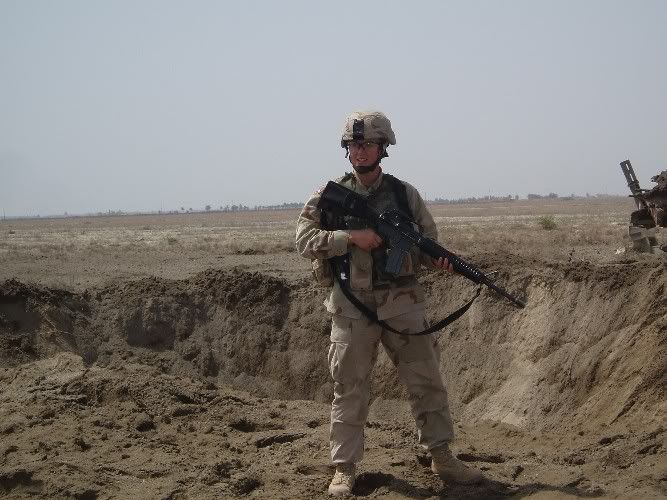 A bomb crater.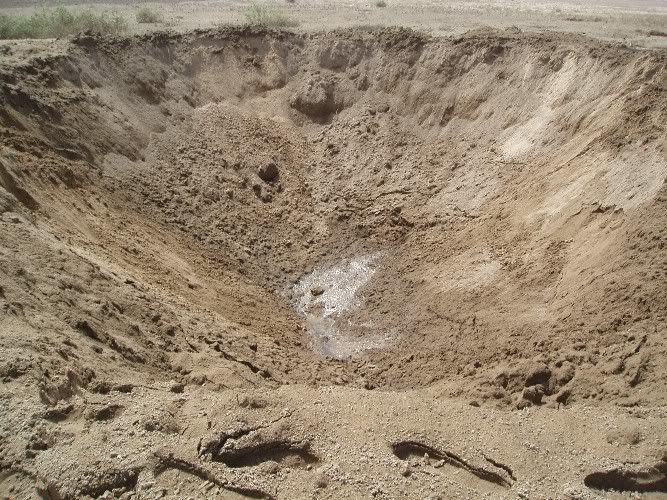 The crater was so deep, it drew water.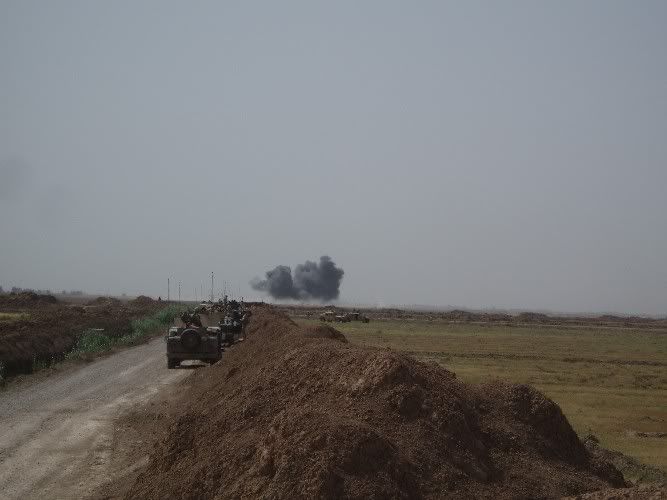 Air support.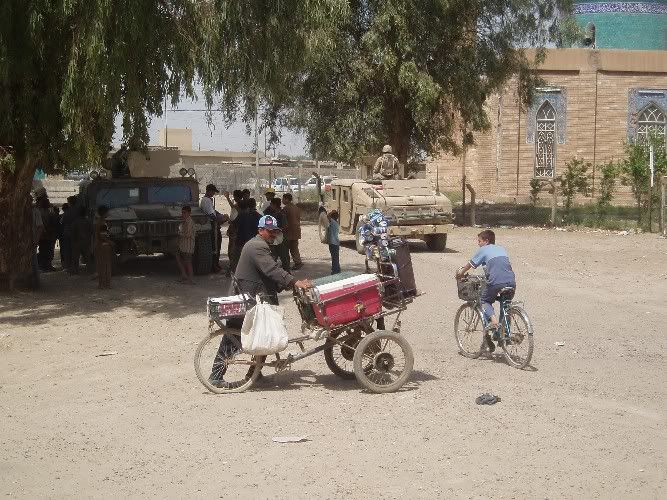 The Iraqi who sells cold sodas to the troops in one village.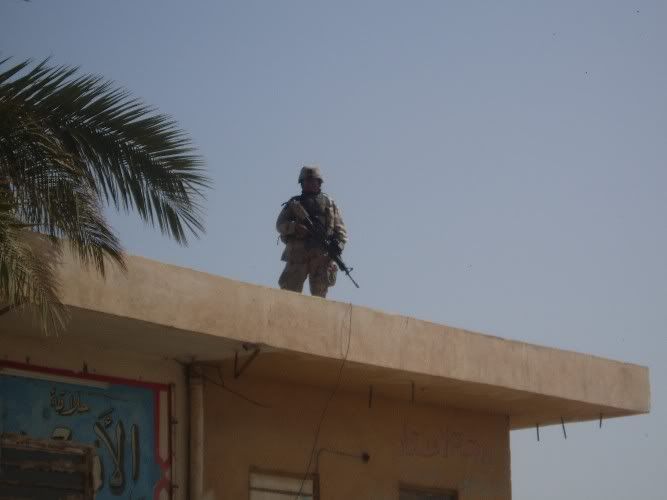 Standing guard.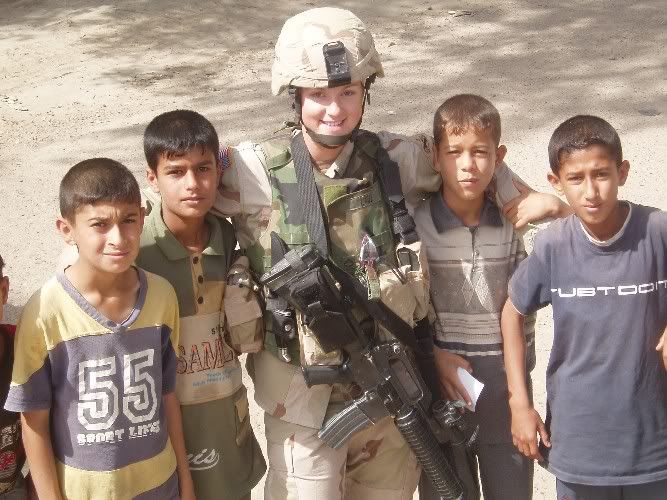 Her 'boyfriends'.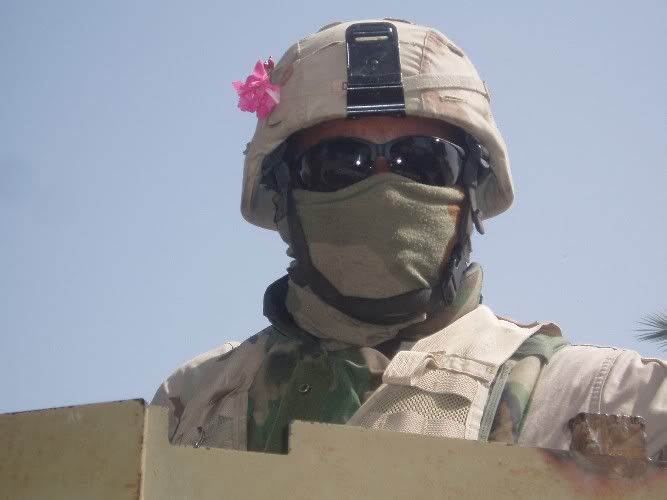 The softer side of men.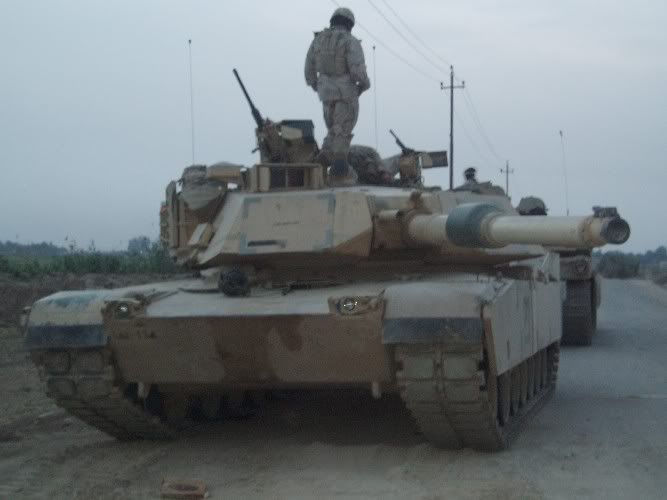 Just a photo of a tank.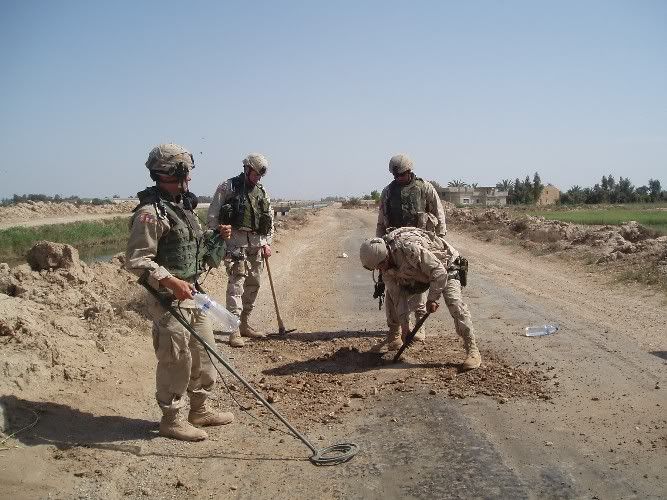 IED patrol.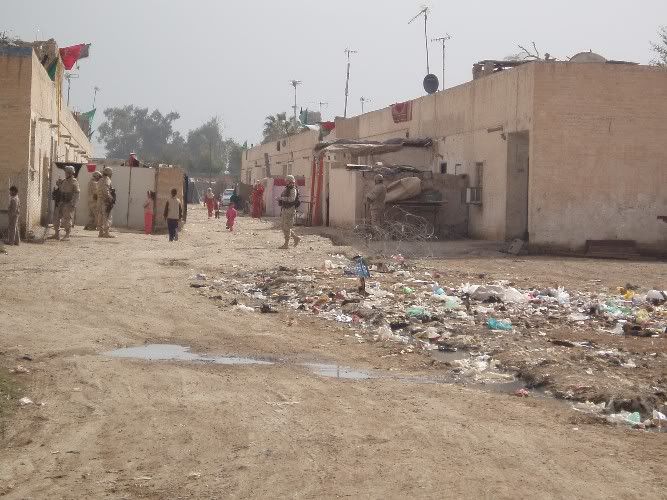 A village.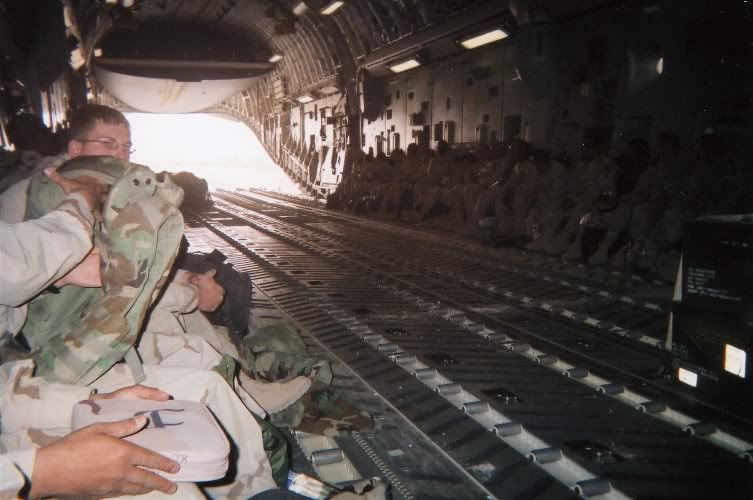 Heading home for leave.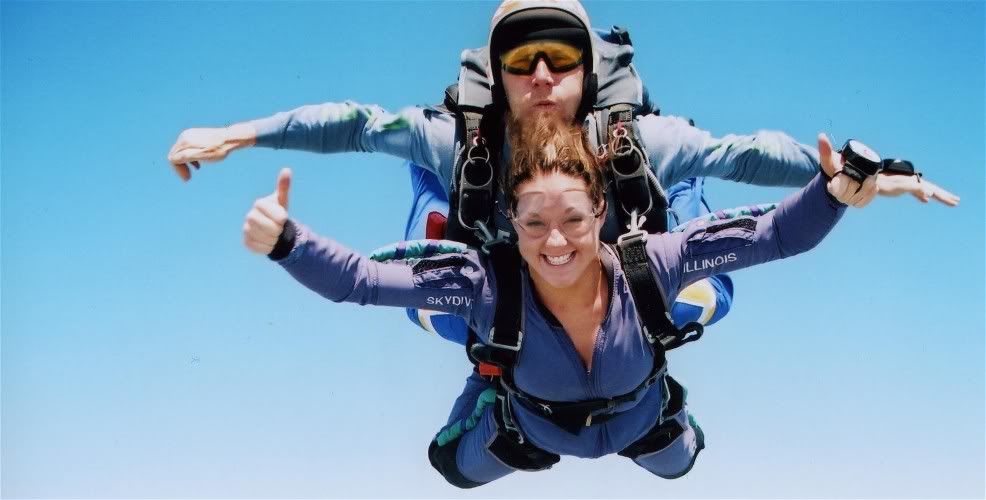 On leave.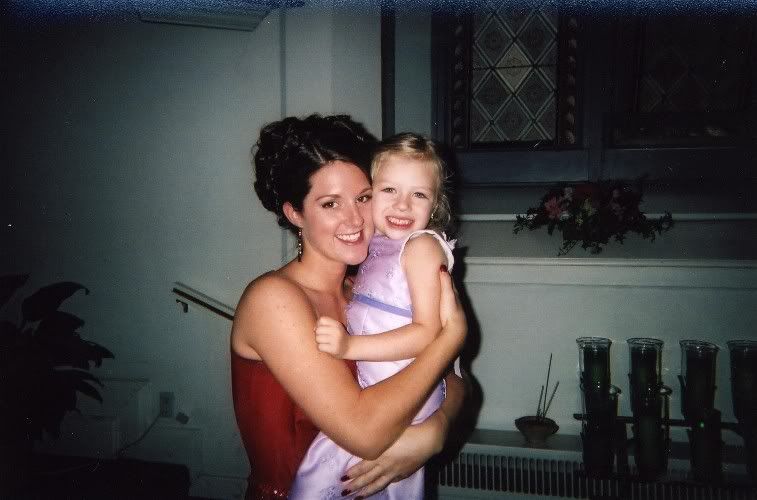 Her sister's wedding. She cleans up nice (her niece).


---

visited 45 states (90%)
Create your own visited map of The United States or jurisdische vertaling duits?

visited 8 states (3.55%)

Create your own visited map of The World