An American living in Tainan, Taiwan ROC.
US Army Vet., RLTW!. Sort of semi-retired, but do work here in the Pac Rim as a business consultant. That is pretty much a full-time job dealing with clients all over the world.
I am halfheartedly learning to speak Mandarin Chinese and Taiwanese (Yes, there is a Taiwanese language - its a form of a mainland Chinese dialect)... at least conversationally.
I'm married and we have a Son who is a good guy.(Takes after his Mother.)
I am not an english teacher.
And no...I'm not a "newbie" here on Free Republic.

Politically, Fiscally and Culturally I am a Conservative.
Also, I am a strict Constitutionalist. They got it right;its still works when correctly applied. I see great advantage with States rights over centralized power.

If you have any questions about Taiwan in general or doing business with a Taiwanese company, either as a manufacturer or as a source for parts or finished product, give me a PM or email, I'll help if I can or try to point you in the right direction if I can't.

Shameless Commerce Section: Some my current clients:

Eco-Friendly Paper Products.
Paper that is NOT made from trees, does not use the 'bleaching process' and is environmentally friendly in its manufacture. Currently in use for food packaging - synthetic thermoform, Ink-Jet applications - Wide format, adhesive and photo paper, Press work - paper and board form. The uses are still being discovered for this excellent product. Contact me for further details.

LED light manufacturer.
Latest patented technology eliminating the heat-build-up problem. Industrial and commercial units.

Wallcover Manufacturer.
High quality maker of wall covering. Absolutely Beautiful offerings for commercial and residential use. Made to the highest standards by a 35 + yr old company here on Taiwan. Designers, Distributors and decorators will love this companies Offerings.


Where I live.
I live in the historic and somewhat lovely city of Tainan. It is located on the southwest coast of the island. Its not a bad place to live and have a family...which I do. The city is the former capital, a noted center of 'culture,' is widely known for its food - especially various 'snack foods' - and is the site of one of the first outposts of the 'wai guo' (foreigners) who established themselves here on the island for trade and 'religious' reasons. They were Dutch. They didn't last all that long. But their presence is still regarded today. Mostly as a 'curiosity' thing...they wore a lot of fur clothing and it gets really hot and steamy here for a large part of the year. They eventually upset the local Chinese warlord, himself a refugee from a failed coup attempt on the mainland. The Chinese, who were invaders themselves, surrounded their fort at An Ping, a suburb of the city directly on the water, and through attrition by disease and desertion, smooth talking and the occasional cannon fire forced the remaining Dutch troops to give up. The Chinese warlords, in a smart move, allowed the established merchant traders to stay.
In one of the numerous city parks here there is a large and well-known statue of the Dutch Generals kou touing (kow towing, bowing in penitence - Taiwanese politicians caught embezzling do it a lot on TV today) in formal surrender to the Chinese warlord. Its a featured stop on school tours. A lot of Taiwanese have their picture taken at the statue I'll post a photo of it some time.

Traditional Markets...the place for fresh food!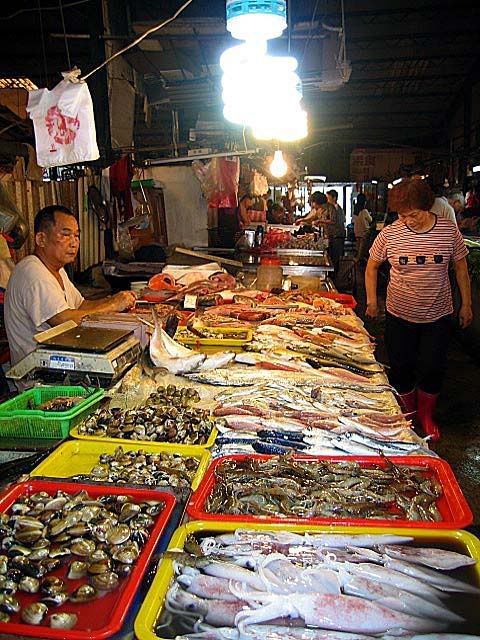 Good food and good prices. Shopping is almost a daily thing. After a few years folks are friendly and we also catch up on the local 'gossip.'.


Tainan is famous for its 'snack' food shops & stands.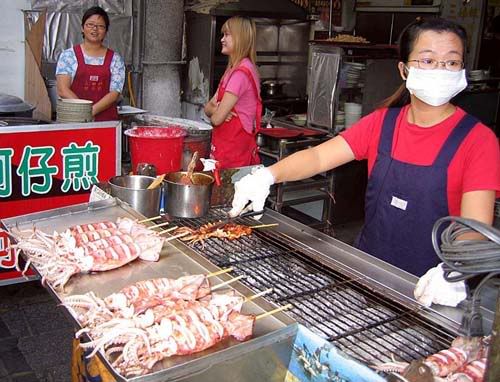 ...and the wind...cried...Mary...


James Marshall Hendrix




After much searching, once again I find myself. And for this, I am thankful.