---
Donna Brazile Plays the Race Card. Again.
Politico ^ | 9-17-08 | Roger Simon


Posted on 09/17/2008 1:42:33 PM PDT by Pagan Power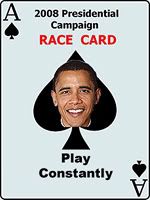 In an interview with Roger Simon of Politico, Donna Brazile once again states that the reason there is hesitation to support Obama is because of his race. Shamelessly throwing her cards on the table, Brazile refuses to accept that many Americans just don't like Obama. Not because of his race but because he is an elitist, sexist politician, out of touch with the majority of ordinary Americans.
Like you and me.
She said that at times "Obama's voice is strong and articulate, but people don't feel attached to him, and they have got to feel attached to him. That would answer some racial aspects that simmer below the radar and sometimes percolate over the top."
So our not feeling attached to Obama is because those of us that do not support him are all secretly racists. Isn't that nice? I thought the time for racial politics was over. Frankly they sicken me. Every time Obama slips in the polls the knee-jerk response from Obama surrogates is that this is due to him being half black.

What utter, hateful nonsense.

I think it is about time that we all stood up and said enough is enough. The Democratic party is trying to mask the obvious fact that Obama is an unprincipled, unqualified candidate with accusations that the reason we don't buy into his bullshit is because we have racial issues. It is beyond disgusting, it is divisive. And UnAmerican.

Earth to Donna Brazile and all the rest of her DNC hacks: The reason we don't support Obama doesn't have a frickin thing to do with his race. And trying to make this campaign into a referendum upon race is exactly the opposite message that Obama himself claimed his campaign represents. It is an insult to the American people and it is exactly the "old" kind of politics that he claims to decry. According to Donna, if Obama isn't elected it is because the American electorate isn't ready for racial equality and healing.
"He has had some moments where he seems unsure of his own voice," Brazile said, "but I still think he can pull this off."

And if he doesn't?

"If he doesn't, then Obama didn't lose," she said. "The country just wasn't ready."
Uh excuse me Donna, didn't you just attribute some of Obama's problems to himself in one sentence? And then in your next sentence you seem to blame this on the American people? Which is it? For a minute there I could have sworn that you were placing some of the blame on your guy Barky. No way!
I demand an end to these attempts to start racial wars. Maybe all Donna can see is black and white. That is unfortunately quite possible. But the vast majority of Americans judge people based upon the content of their character. And Donna's, as well as Obama's, character is quite lacking.
Interviews like these only strengthen my resolve to work against Obama. And I ROAR proudly.
NObama! NO DEAL!

---
TOPICS: Politics
KEYWORDS: brazile; democrats; obama; racecard; racism
---
Navigation: use the links below to view more comments.
first 1-20, 21-33 next last
---
---
---
---
---
---
---
---
---
---
---
---
---
---
---
---
---
---
---
---
---
Navigation: use the links below to view more comments.
first 1-20, 21-33 next last
---
---