---
Obama's Dangerous Naivete Is Showing On Secrecy, Energy
Start Thinking Right | April 14, 2009 | Michael Eden


Posted on 04/14/2009 10:10:36 AM PDT by Michael Eden

Our Liar-in-Chief is at it again.
Obama Administration Maintains Bush Legal Argument for Terrorist Surveillance Secrecy President Obama's most liberal supporters are dismayed and disgusted ... because this administration is invoking the "state secrets" privilege.

FOXNews.com Monday, April 13, 2009

President Obama's most liberal supporters say they are dismayed and disgusted because this administration is invoking the "state secrets" privilege -- just as former President George W. Bush did -- to shield eavesdropping programs from public exposure.

"I wasn't happy when George Bush asserted that he could do these things and I'm not happy that President Obama is now agreeing with George Bush," said Jane Hamsher of Accountability Now.

"Other than being flat wrong, the Obama administration's position is seriously disappointing to those Americans who listened to candidate Obama's promises of a new era of government accountability and transparency, said Kevin Bankston, senior attorney at the Electronic Frontier Foundation.

EFF sued the government claiming that AT&T and perhaps other telecommunications companies cooperated with it to allow access to people's phone and Internet records -- a so-called dragnet in a search for terrorist communications.

Obama criticized the cooperation during the campaign, calling it an abuse of authority and arguing that the Bush administration "undermined the Constitution."

Now, the Obama administration is trying to have that same lawsuit dismissed.

"For the Obama administration now to try to have our lawsuit dismissed based on the exact same state secrecy arguments is quite a turnaround and very disappointing," Bankston said.
Let's go back to June 21, 2008 in a CBS story boldly entitled, "Obama: I'll Fight To Strip Telecom Immunity From FISA."
(CBS/AP) - Sen. Barack Obama, D-Ill., issued a statement in support of the House's update of the Foreign Intelligence Surveillance Act, but said he would try to strip a provision granting immunity to telecommunication companies when the bill comes to a vote in the Senate next week....

Obama said there is "little doubt" that the Bush Administration, with the cooperation of major telecommunications companies, "has abused [its] authority and undermined the Constitution by intercepting the communications of innocent Americans without their knowledge or the required court orders."
The notion that Obama criticized the policy on the campaign trail and only after assuming office discovered how necessary it truly was is an insult to reality: he is either a liar for going back on his commitment, or he is a naive fool for not understanding something that anyone but a naive fool would have known on its face. Either way he is not fit to be president of this country.

"I simply had no idea that the United States might actually need to monitor international conversations from or to identified international terrorists. Who could possibly have known something like THAT?"

As terrible as it is when Obama twists his promises into a pretzel and repeatedly breaks his word, it's generally even worse when he actually tries to keep it - such as his shockingly terrible cap-and-trade idea that he abandoned when even Democrats said, "That's just too crazy even for us." Obama promised that, "Under my plan of a cap and trade system, electricity rates would necessarily skyrocket. "

Even ardent Obama supporter, West Virginia's Democrat Governor Joe Manchin was forced to say of Obama's plan:
"It's far reaching and I think it has detrimental effects to our economy, not just West Virginia. I think the United States of America's economy cannot take that shock of artificially increasing the price much higher than what we can compete."
Burning coal creates half the nation's electricity. It's cheaper than solar, which costs 20 cents to produce one kilowatt hour. And its cheaper than wind, which costs 14 cents per kilowatt hour. Coal costs only three cents. Which means that coal is almost five times cheaper than wind, and nearly seven times cheaper than solar. Bankrupting a vital energy producing industry during a time of recession, while imposing "skyrocketing" cost increases on politically correct energy alternatives is nuttier than anything Planters ever came up with.

A Washington Times title says it all: "Obama climate plan could cost $2 trillion." As in 2 trillion more dollars in unnecessary taxes in the name of a debunked theory. At a time when our economy can least afford stupidity.

This stuff isn't just stupid; it is dangerously stupid. More than anything else, we need our president to be a man of sound judgment; and Barack Hussein - who freely chose to remain in a Marxist, racist, anti-American church for 23 years - is a man of dangerously unsound judgment.

You have to wonder why Obama supporters are Obama supporters. Maybe because he didn't promises to deliberately bankrupt them, as he essentially did with coal-rich West Virginia. But on many issues, Barack Hussein either has been so dangerously naive that he has to go back on his own promises or else he continues to be so dangerously naive that his own fellow Democrats have to prevent him from implementing his dangerous and destructive policies.

The simple question is, liar, fool, or both? And I say he's both.

---
TOPICS: Business/Economy; Government; Politics; Society
KEYWORDS: capandtrade; naive; obama; secrecy



---
To: Michael Eden
And, all the while I thought it was his inexperience shining through.
2
posted on
04/14/2009 10:13:42 AM PDT
by
Puppage
(You may disagree with what I have to say, but I shall defend to your death my right to say it)
---
To: Michael Eden; All
to remain in a Marxist, racist, anti-American church for 23 years - is a man of dangerously unsound judgment.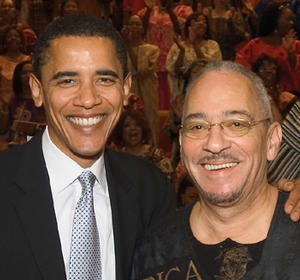 For all you'll ever need or want to know about
Wright's "Black Liberation Theology",
see my FR Home page:
http://www.freerepublic.com/~etl/
_______________________________________________________
The Real Story Behind Rev. Wright's Controversial Black Liberation Theology Doctrine
Monday , May 5, 2008
FoxNews/Hannity's America
[special Friday night edition--original airdate May 2, 2008]
(some key excerpts)
["(Jose) Diaz-Balart is the son of Rafael Diaz-Balart y Guitierrez (a former Cuban politician). He has three bothers, Rafael Diaz-Balart (a banker), Mario Diaz-Balart (a US Congressman) and Lincoln Diaz-Balart (also a US Congressman). His aunt, Mirta Diaz-Balart, was Fidel Castro's first wife."
http://en.wikipedia.org/wiki/Jose_Diaz-Balart]
JOSE DIAZ-BALART, TELEMUNDO NETWORK: "Liberation theology in Nicaragua in the mid-1980's was a pro-Sandinista, pro-Marxist, anti-U.S., anti-Catholic Church movement. That's it. No ifs, ands, or buts. His church apparently supported, in the mid-'80s in Nicaragua, groups that supported the Sandinista dictatorships and that were opposed to the Contras whose reason for being was calling for elections. That's all I know. I was there.
I saw the churches in Nicaragua that he spoke of, and the churches were churches that talked about the need for violent revolution and I remember clearly one of the major churches in Managua where the Jesus Christ on the altar was not Jesus Christ, he was a Sandinista soldier, and the priests talked about the corruption of the West, talked about the need for revolution everywhere, and talked about 'the evil empire' which was the United States of America."
REV. BOB SCHENCK, NATIONAL CLERGY COUNCIL: "it's based in Marxism. At the core of his [Wright's] theology is really an anti-Christian understanding of God, and as part of a long history of individuals who actually advocate using violence in overthrowing those they perceive to be oppressing them, even acts of murder have been defended by followers of liberation theology. That's very, very dangerous."
SCHENCK: "I was actually the only person escorted to Dr. Wright. He asked to see me, and I simply welcomed him to Washington, and then I said Dr. Wright, I want to bring you a warning: your embrace of Marxist liberation theology. It is contrary to the Gospel, and you need, sir, to abandon it. And at that he dropped the handshake and made it clear that he was not in the mood to dialogue on that point."
Source: The Real Story Behind Rev. Wright's Controversial Black Liberation Theology Doctrine:
http://www.foxnews.com/story/0,2933,354158,00.html
_______________________________________________________
"Their founding document [the Weather Underground's] called for the establishment of a "white fighting force" to be allied with the "Black Liberation Movement" and other "anti-colonial" movements[1] to achieve "the destruction of US imperialism and the achievement of a classless world: world communism."..."-Berger, Dan (2006). Outlaws of America: The Weather Underground and the Politics of Solidarity. AK Press, 95.
http://en.wikipedia.org/wiki/Weatherman_Underground#cite_ref-Berger_0-0
Outlaws of America: The Weather Underground and the Politics of Solidarity (Paperback) by Dan Berger
http://www.amazon.com/Outlaws-America-Underground-Politics-Solidarity/dp/1904859410
_______________________________________________________
From the New York Times, August 24, 2003
"they [the Weather Underground] employed revolutionary jargon, advocated armed struggle and black liberation and began bombing buildings, taking responsibility for at least 20 attacks. Estimates of their number ranged at times from several dozen to several hundred."
Article: Quieter Lives for 60's Militants, but Intensity of Beliefs Hasn't Faded
http://query.nytimes.com/gst/fullpage.html?res=9F04E4DE1539F937A1575BC0A9659C8B63&sec=&spon=&pagewanted=2
_______________________________________________________
Obama's Church: Gospel of Hate
Kathy Shaidle, FrontPageMag.com
Monday, April 07, 2008
In March of 2007, FOX News host Sean Hannity had engaged Obama's pastor in a heated interview about his Church's teachings. For many viewers, the ensuing shouting match was their first exposure to "Black Liberation Theology"...
Like the pro-communist Liberation Theology that swept Central America in the 1980s and was repeatedly condemned by Pope John Paul II, Black Liberation Theology combines warmed-over 1960s vintage Marxism with carefully distorted biblical passages. However, in contrast to traditional Marxism, it emphasizes race rather than class. The Christian notion of "salvation" in the afterlife is superseded by "liberation" on earth, courtesy of the establishment of a socialist utopia.
http://www.frontpagemag.com/Articles/Read.aspx?GUID=30CD9E14-B0C9-4F8C-A0A6-A896F0F44F02
_______________________________________________________
Catholics for Marx [Liberation Theology]
By Fr. Robert Sirico
FrontPageMagazine.com | Thursday, June 03, 2004
In the days when the Superpowers were locked in a Cold War, Latin America seethed with revolution, and millions lived behind an iron curtain, a group of theologians concocted a novel idea within the history of Christianity. They proposed to combine the teachings of Jesus with the teachings of Marx as a way of justifying violent revolution to overthrow the economics of capitalism.
The Gospels were re-rendered not as doctrine impacting on the human soul but rather as windows into the historical dialectic of class struggle. These "liberation theologians" saw every biblical criticism of the rich as a mandate to expropriate the expropriating owners of capital, and every expression of compassion for the poor as a call for an uprising by the proletarian class of peasants and workers.
http://www.frontpagemag.com/Articles/Read.aspx?GUID=460782B7-35CC-4C9E-A2C5-93832067C7CD
_______________________________________________________
From "45 Communist Goals":
#27. Infiltrate the churches and replace revealed religion with "social" religion.
http://www.uhuh.com/nwo/communism/comgoals.htm

3
posted on
04/14/2009 10:17:28 AM PDT
by
ETL
(ALL the Obama-commie connections at my FR Home page: http://www.freerepublic.com/~etl/)
---
To: Puppage
And, all the while I thought it was his inexperience shining through.
- - - - - - - -
The only thing worse than a fool is a fool who never had any of his ideas actually tested against reality.
And then there are your hard-core, die-hard fools. Most of our entrenched Democrats, of course, but think of great fools of history such as Neville Chamberlain. This guy was an experienced career politician.
Overall, experience bounces off true fools like water off a ducks back.
4
posted on
04/14/2009 10:21:04 AM PDT
by
Michael Eden
(Better to starve free than be a fat slave. Semper Vigilanis)
---
FreeRepublic.com is powered by software copyright 2000-2008 John Robinson