---
To: Travis McGee
Today at the "prayer breakfast" Obama read his teleprompter speech, and prounounced Navy Corpsman as "corpse man" not once, but twice.
Sean Hannity is ripping Obama to pieces tonight on the Corpseman comment. Actually Obama said Corpseman three times in his speech! He has aired Obama saying it about 5 times now in each segment.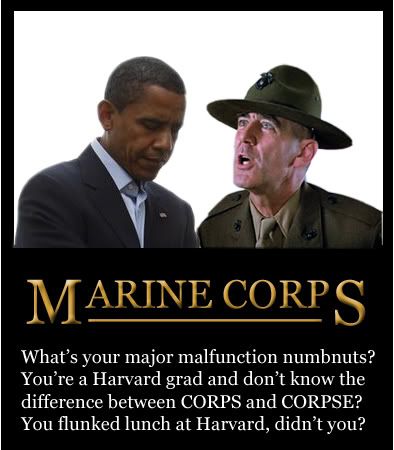 17
posted on
02/04/2010 6:53:53 PM PST
by
missnry
(The truth will set you free ... and drive liberals Crazy!)
---
To: missnry
LOL! Great graphic! Didn't the numbnut make the same mispronunciation last year at some speech?

24
posted on
02/04/2010 6:58:19 PM PST
by
Just A Nobody
( (Better Dead than RED! NEVER AGAIN...Support our Troops! Beware the ENEMEDIA))
---
To: missnry
Next time they'll have to spell it COREMAN on the teleprompter so he'll at least pronounce it right.
25
posted on
02/04/2010 6:58:20 PM PST
by
cripplecreek
(Seniors, the new shovel ready project under socialized medicine.)
---
To: missnry
---
FreeRepublic.com is powered by software copyright 2000-2008 John Robinson