---
Over a Million hits on Islamic Hitler: "Ahmadinejad Hitler"
Posted on 12/02/2010 7:56:33 PM PST by Milagros
When searching http://www.google.com/search?q=ahmadinejad+hitler, you get: About 1,060,000 results on Google.
Among the most popular searched terms:
ahmadinejad hitler

mahmoud ahmadinejad hitler

ahmadinejad hitler comparison

ahmadinejad hitler of our time

ahmadinejad hitler 2009 elections

ahmadinejad hitler parallel

ahmadinejad hitler youtube
_____________
http://www.google.com/search?q=ahmadinejad+hitler
You can also search him in books (of course not connected to latest wikileaks revelation): http://www.google.com/search?hl=en&q=ahmadinejad%20%20hitler&um=1&ie=UTF-8&tbo=u&tbs=bks:1&source=og&sa=N&tab=wp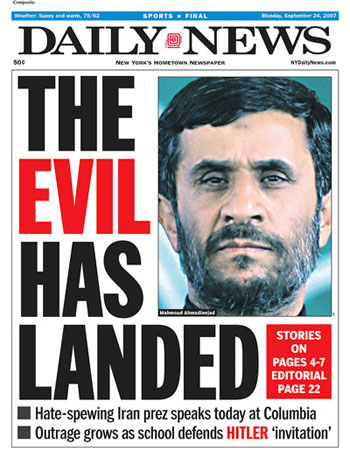 ,/p>
---
TOPICS: Politics
KEYWORDS: ahmadinejad; hitler; islam; islamofascism



---
Der Spiegel: US officials called Ahmadinejad 'Hitler' - Israel ...Nov 28, 2010 ... News: German paper releases info from WikiLeaks ahead of time while Netanyahu assures public Israel has nothing to worry about, ...
http://www.ynetnews.com/articles/0,7340,L-3991029,00.html
John Hagee calls Ahmadinejad the 'Hitler of the Middle East' Mar 9, 2010 ... Pastor reaffirms unwavering support for the Jewish state and Jewish people during his group's annual Night to Honor Israel in J'lem.
http://www.jpost.com/IranianThreat/News/Article.aspx?id=170528
During visit, Berlusconi draws parallel between Ahmadinejad and Hitler
Published 02:17 02.02.10 Latest update 02:17 02.02.10 During visit, Berlusconi draws parallel between Ahmadinejad and Hitler
By Nir Hasson
Italian Prime Minister Silvio Berlusconi drew a connecting line yesterday between his visit to the Yad Vashem Holocaust Museum in Jerusalem, the Iranian nuclear program, and Iranian President Mahmoud Ahmadinejad's denial of the Holocaust and calls for Israel's destruction.
"We must watch out," the visiting premier said. "We've already had one such madman in history."
http://www.haaretz.com/print-edition/news/during-visit-berlusconi-draws-parallel-between-ahmadinejad-and-hitler-1.262576
From Hitler to Ahmadinejad: CEOs You Can Rely On
R. A. Cooper
Posted: January 29, 2010 11:32 AM
http://www.huffingtonpost.com/rabbi-abraham-cooper/from-hitler-to-ahmadineja_b_432739.html
Peres to Obama: No choice but to compare Iran to Nazis - Haaretz ...May 5, 2009 ... "If Europe had dealt seriously with Hitler at that time, ... and [Iranian President Mahmoud] Ahmadinejad is dividing the Muslim world." ...
http://www.haaretz.com/news/peres-to-obama-no-choice-but-to-compare-iran-to-nazis-1.275427
Iran as bad as Nazis: Merkel - Times Online Feb 5, 2006 ... THE German chancellor, Angela Merkel, compared President Mahmoud Ahmadinejad of Iran to Adolf Hitler yesterday as Tehran vowed to resume the ...
http://www.timesonline.co.uk/tol/news/world/article727156.ece
---
To: Milagros
George Bush is the new Hitler!
My liberal friends told me so!
3
posted on
12/02/2010 8:37:43 PM PST
by
GaltMeister
(All that is necessary for the triumph of evil is that good men do nothing.)
---
To: GaltMeister
---
FreeRepublic.com is powered by software copyright 2000-2008 John Robinson