---
The Coupon Whisperer: SPECTACULAR eBay Gift Card Deal!!!
The Coupon Whisperer ^ | March 30, 2011 | PJ-Comix


Posted on 03/30/2011 3:47:30 PM PDT by PJ-Comix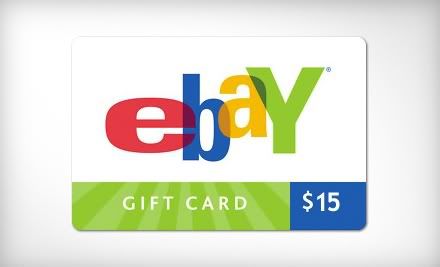 How would you like to pay just $7 for a $15 gift card? In effect you are being GIVEN $8. Well, that is exactly what is happening right now with eBay OFFERING you this spectacular gift card deal. Yes, you pay only $7 but you get to buy up to $15 worth of anything you want from eBay with this card. If you buy more than $15 then the first $15 is charged to this eBay Gift card for which you pay only $7 and the remainder is charged to your PayPal account.
I've used these eBay gift cards many times. Simple to use. At payment checkout for your eBay item, you will see a box for entering your gift card Promotional Code. That will charge your gift card. In this case you will be sent via email a link to print out your online gift card which contains your specific promotional code.

(Excerpt) Read more at couponwhisperer.blogspot.com ...
---
TOPICS: Business/Economy
KEYWORDS: ebay; giftcard
---
---
---
---
---
---
---
---
---
---
---
---
---
---
---
---
---
---
---