---
To: MestaMachine; Joe Brower; Nachum; marktwain
"Unfortunately for the Department of Justice, the higher level of collusion between different federal law enforcement agencies that report to the attorney general make it even more unlikely that Eric Holder and other senior DOJ personnel were unaware of the real goal of the operation."
I wonder how long until NBC-Pravda makes ANY mention of Fast and Furious?
Anybody seen Kevin O'Reilly lately?
20
posted on
10/11/2011 5:09:08 AM PDT
by
Travis McGee
(www.EnemiesForeignAndDomestic.com)
---
To: vette6387; MetaThought; 60Gunner; XHogPilot; FreedomPoster; Josephat; Prince of Space; ...
First up: Gunwalker: Issa reveals DEA involvement.
---
To: Travis McGee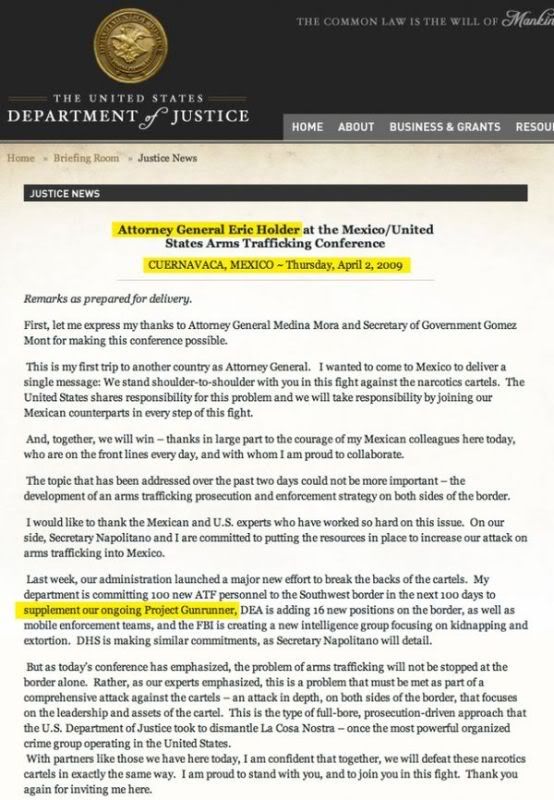 38
posted on
10/11/2011 7:08:39 AM PDT
by
mojitojoe
(WH says potus didn't feel the earthquake. No worries. Another is scheduled for November 2012)
---
To: Travis McGee
With how far and wide this recipe is going...
This batch of gumbo I think I'm going to pass on...
39
posted on
10/11/2011 7:34:07 AM PDT
by
stevie_d_64
(I'm jus' sayin')
---
To: Travis McGee
noting that one effort involved the shipment of 700 guns to the Sinaloa cartel.
700 guns. That's enough to arm 2 entire Marine Corps Battalions.
This is life in Federal prison stuff, folks.

44
posted on
10/11/2011 8:04:05 AM PDT
by
Lurker
(The avalanche has begun. The pebbles no longer have a vote.)
---
FreeRepublic.com is powered by software copyright 2000-2008 John Robinson