---
To: Ernest_at_the_Beach
For me, this is scary. I trade stocks and options for my income in retirement. I have a tower with 4 monitors right now. I just can't do what I do on a laptop or tablet. If I were trapped at a hospital and had to trade one option or a single stock, maybe I could get it done in an orderly manor, but to try and watch 7-10 stocks with options streaming and streaming charts to match, it just can't be done on one screen. I guess I can collect trash from the dumpster to keep my system running, but I don't want to. I do have many used parts in my system right now, but that was just to save money from buying new parts. If I can't even get them, I will be stuck in the '80's forever.
---
To: chuckles
They make USB video cards. Just plug them in and hook an HDMI monitor to them.
I use a 42" VISIO HDMI screen for my monitor...they are cheap and it's got a lot of space on it.
32
posted on
11/26/2012 10:59:04 AM PST
by
Bobalu
(It is not obama we are fighting, it is the media.)
---
To: chuckles
36
posted on
11/26/2012 11:16:39 AM PST
by
Ernest_at_the_Beach
((The Global Warming Hoax was a Criminal Act....where is Al Gore?))
---
To: chuckles
And at microcenter:
H8SGL-F Socket G34 ATX AMD Motherboard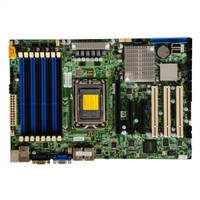 And :
38
posted on
11/26/2012 11:28:08 AM PST
by
Ernest_at_the_Beach
((The Global Warming Hoax was a Criminal Act....where is Al Gore?))
---
FreeRepublic.com is powered by software copyright 2000-2008 John Robinson