Selections from West Point Atlas for the Second World War
North Africa, 1941: Pursuit to Tunisia, November 1942-February 1943
Tunisia 1942: Axis Initiative-Situation 14 February 1943, and Operations Since 1 January
Southwest Russia, 1942: Soviet Winter Offensive, Operations, 13 December 1942-18 February 1943
The Far East and the Pacific, 1941: Status of Forces and Allied Theater Boundaries, 2 July 1942
India-Burma, 1942: Allied Lines of Communication, 1942-1943
---
January 5, 1943
:
"The Vught, Holland, concentration camp is established.
"Thousands of Jews are murdered at Lvov, Ukraine."
" 'One wants to live,' wrote Salmen Lewental.
Those words are part of a notebook buried and found near the ruins of Birkenau's crematorium III.
Selected for labor when he entered Auschwitz on December 10, 1942, Lewental was put in the Sonderkommando a month later and condemned to work in the gas chambers and crematoria.
He lasted long enough to join the Sonderkommando uprising on October 7, 1944.
The date of his death is unknown.
"At one point in Lewental's notebook, he imagines someone asking him, 'Why do you do such ignoble work?'
Beyond answering that 'one wants to live,' there is no good reply, for what good choices did Lewental have?
"Nazi power repeatedly forced defenseless people to make what Holocaust scholar Lawrence L. Langer calls 'choiceless choices.'
Such choices, he says, do not 'reflect options between life and death, but between one form of 'abnormal' response and another, both imposed by a situation that was in no way of the victim's own choosing.'
"Such was Lewental's miserable situation.
He did not volunteer for the Sonderkommando any more than he chose deportation.
Lewental was like millions of Holocaust victims.
In Auschwitz his 'choices' --dying by suicide, dying by resisting, or dying as a Sonderkommando--were essentially 'choiceless.' "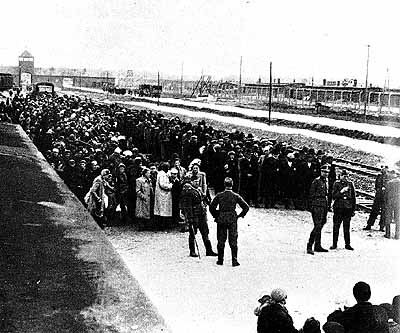 ""People lived and vanished overnight in this place," wrote Holocaust survivor Elie Wiesel.
Polish people call that place Oswiecim, but it is better known as Auschwitz, its German name.
That place is synonymous with the Holocaust itself.
"The town of Oswiecim, whose prewar population of 12,000 included 5,000 Jews, stands 40 miles west of Kraków in Upper Silesia, a southwestern Polish province that the Nazis annexed to the Third Reich.
Situated on major railroad lines and near the confluence of the Sola and Vistula rivers, Oswiecim was also the site of former Polish military barracks.
They became the nucleus of Auschwitz, the Nazis' most notorious network of concentration, forced-labor, and death camps.
"On April 27, 1940, Heinrich Himmler, head of the Nazi SS, ordered the establishment of a concentration camp at Oswiecim.
Under the command of Rudolf Höss, the early Auschwitz inmates were mostly Polish political prisoners.
Soon, as its territory and population expanded, Auschwitz became several camps in one.
On March 1, 1941, Himmler called for a second section--Auschwitz II--and constructon began in October.
By the end of 1941, a third expansion was under way.
Auschwitz III was known as Buna-Monowitz, taking its name from the Buna synthetic-rubber factory at Monowice, which slave laborers built for I.Gi. Farben, the German industrial firm.
"When it came to the destruction of human life, no part of Auschwitz could compare to Auschwitz II, also known as Birkenau, the German name for Brzezinka, the Polish village near the site.
Located 1.5 miles from the Stammlager (Auschwitz I, the "main camp"), Auschwitz-Birkenau became the Third Reich's top killing center.
By early summer 1943, it had one small gas chamber built two years earlier, plus four state-of-the-art gas chamber-crematoria installations, whose chief purpose was to murder Jews and others on an assembly-line basis.
"German engineers estimated that these four crematoria could incinerate 4,415 bodies a day.
That number, though, was less than the gas chambers' daily capacity.
Thus, efforts were made to double the rate of corpse disposal by reducing the incineration time and increasing the number of bodies that could be burned at once.
Pushed beyond capacity, Birkenau's killing machinery periodically malfunctioned.
Nevertheless, it destroyed hundreds of thousands of Jews in 1943 and especially in 1944. "In all of its dimensions, Auschwitz spelled suffering and death.
If not murdered in the gas chambers, prisoners died of starvation and disease.
Slave laborers worked in hideous conditions until they perished.
Deportees came from every European region and included German 'undesirables,' Soviet prisoners of war, Gypsies, Polish priests and nuns, French Resistance members, and--most of all--Jews.
Between 1.1 and 1.5 million men, women, and children--90 percent of them Jewish--perished in that place."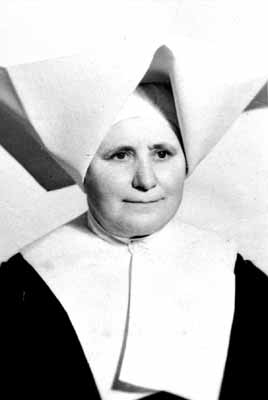 "Sister Marejanna Reszko was the head of the convent of St. Anthony in Ignacow, Poland. **
She rescued numerous Jewish girls by hiding them in her orphanage.
When asked if one of her charges, Frida Aronson, was Jewish, her reply was that she did not care--she assisted all those who needed it."
---
**
For those who imagine that Holocaust Chronicles is "anti-Christian", please consider this item.