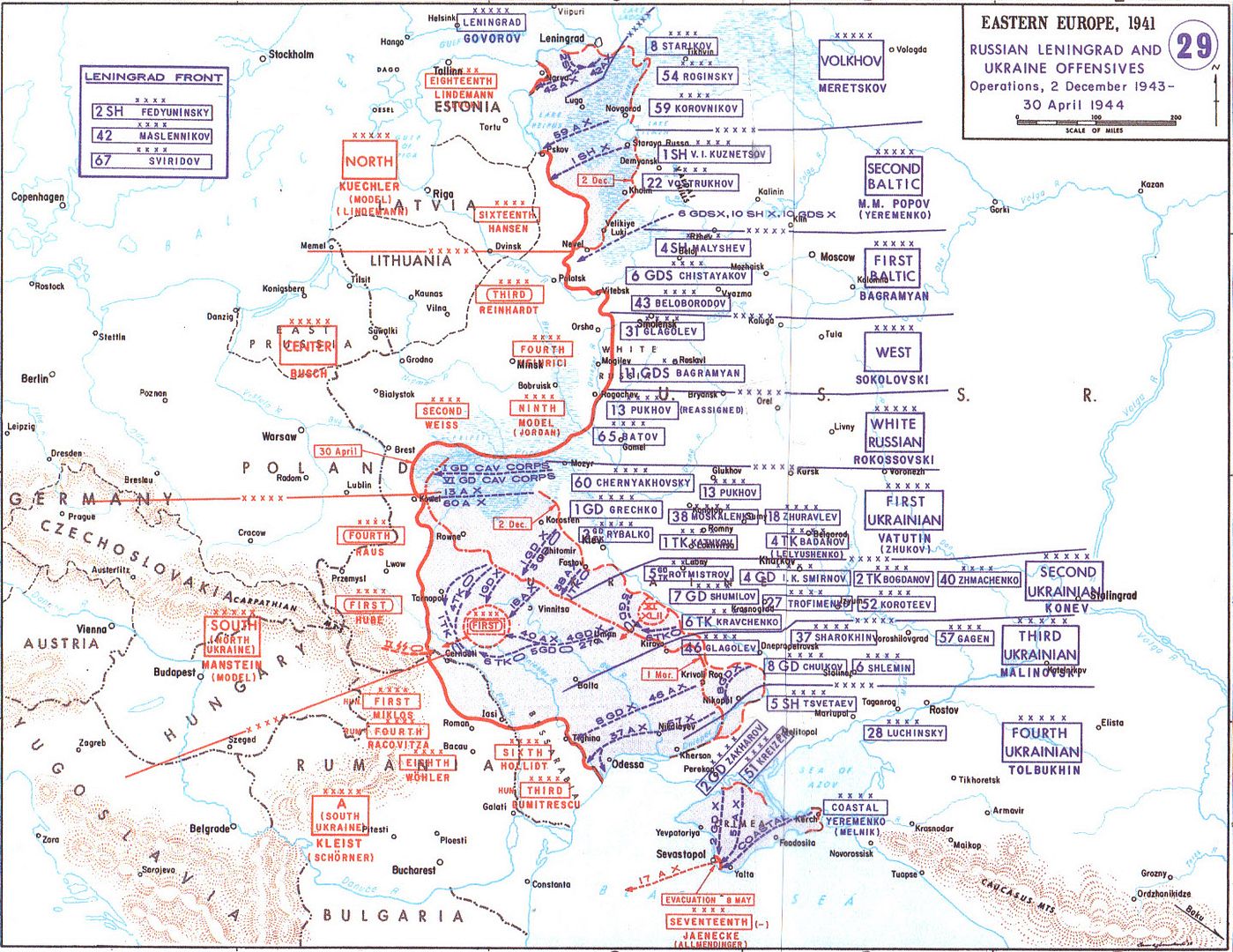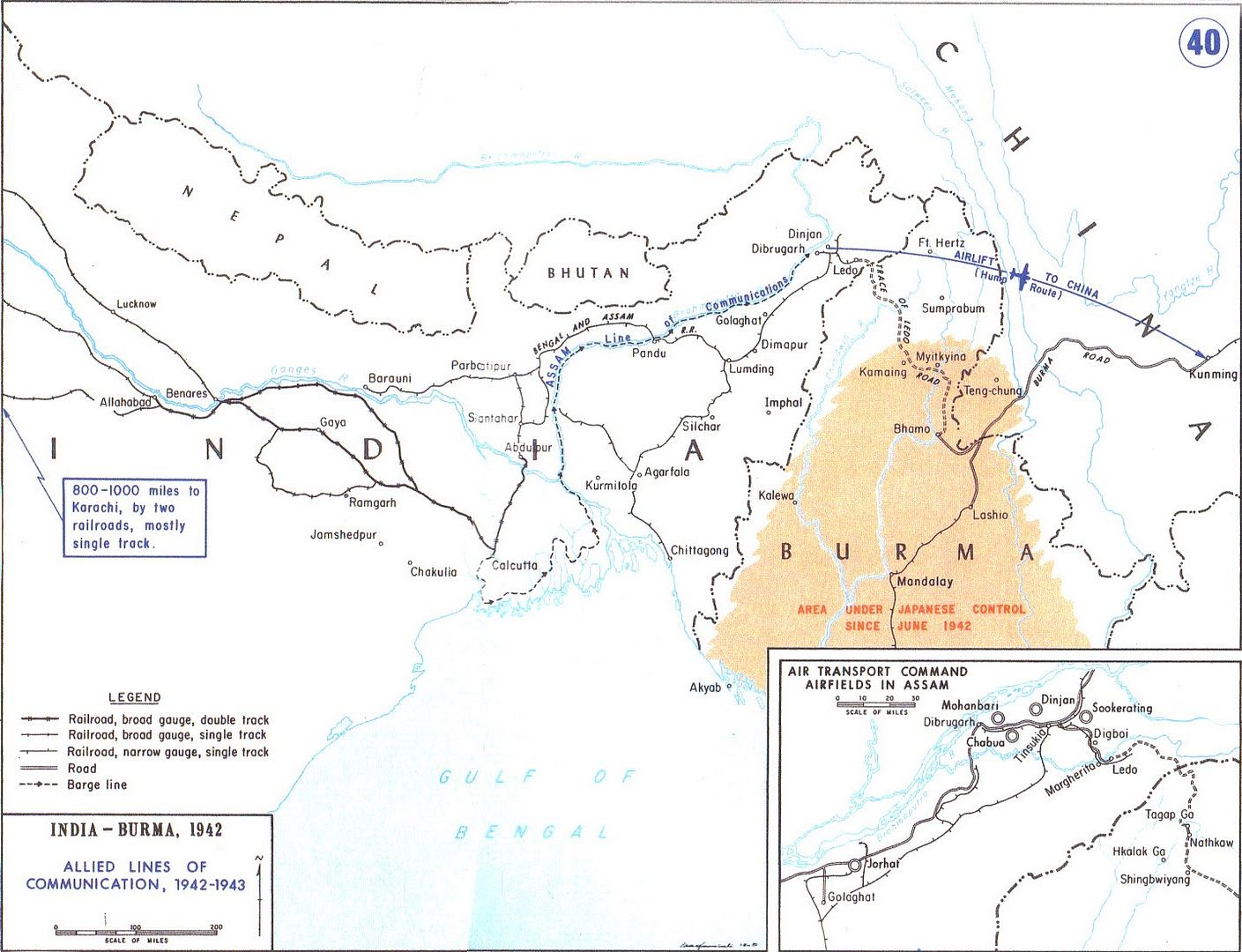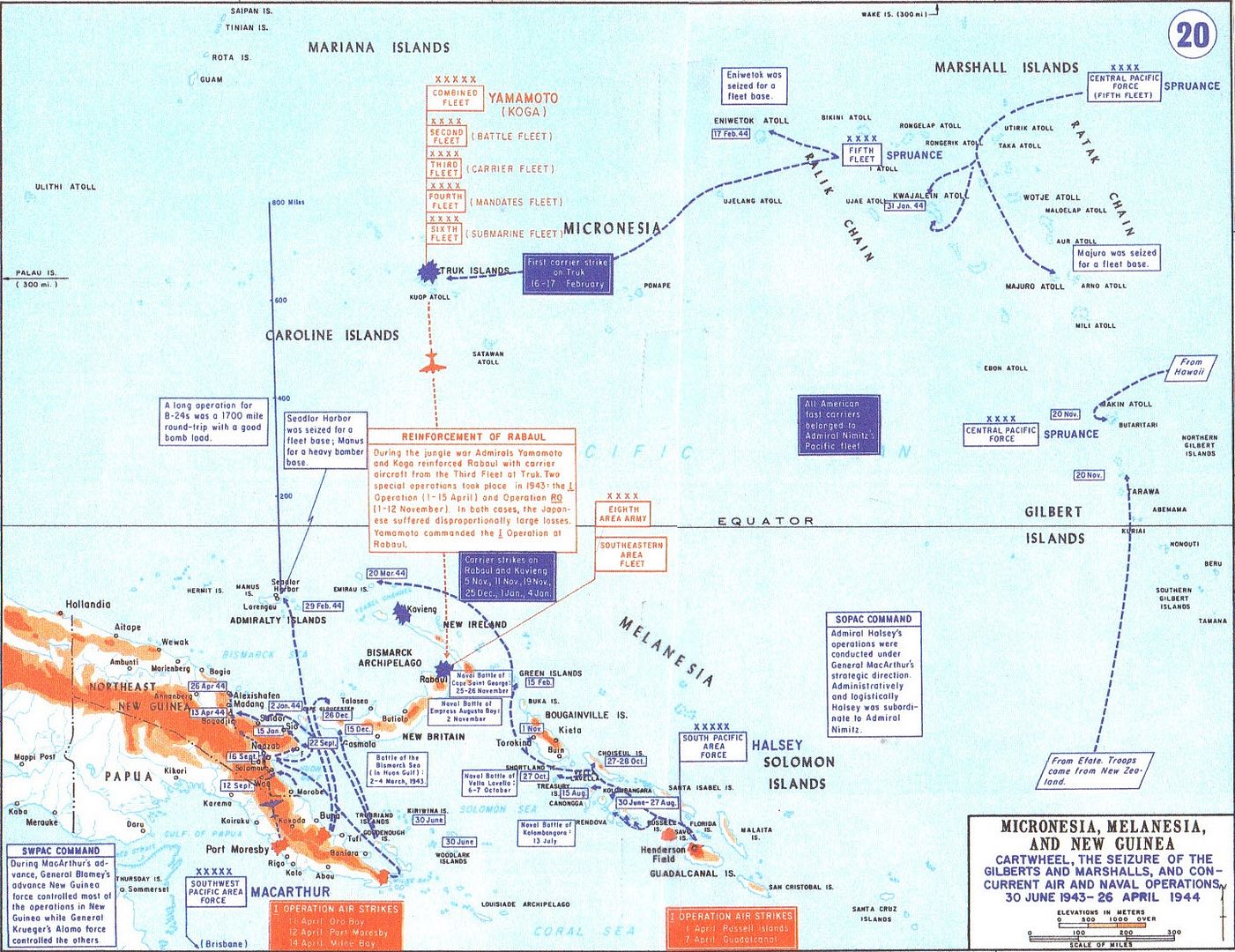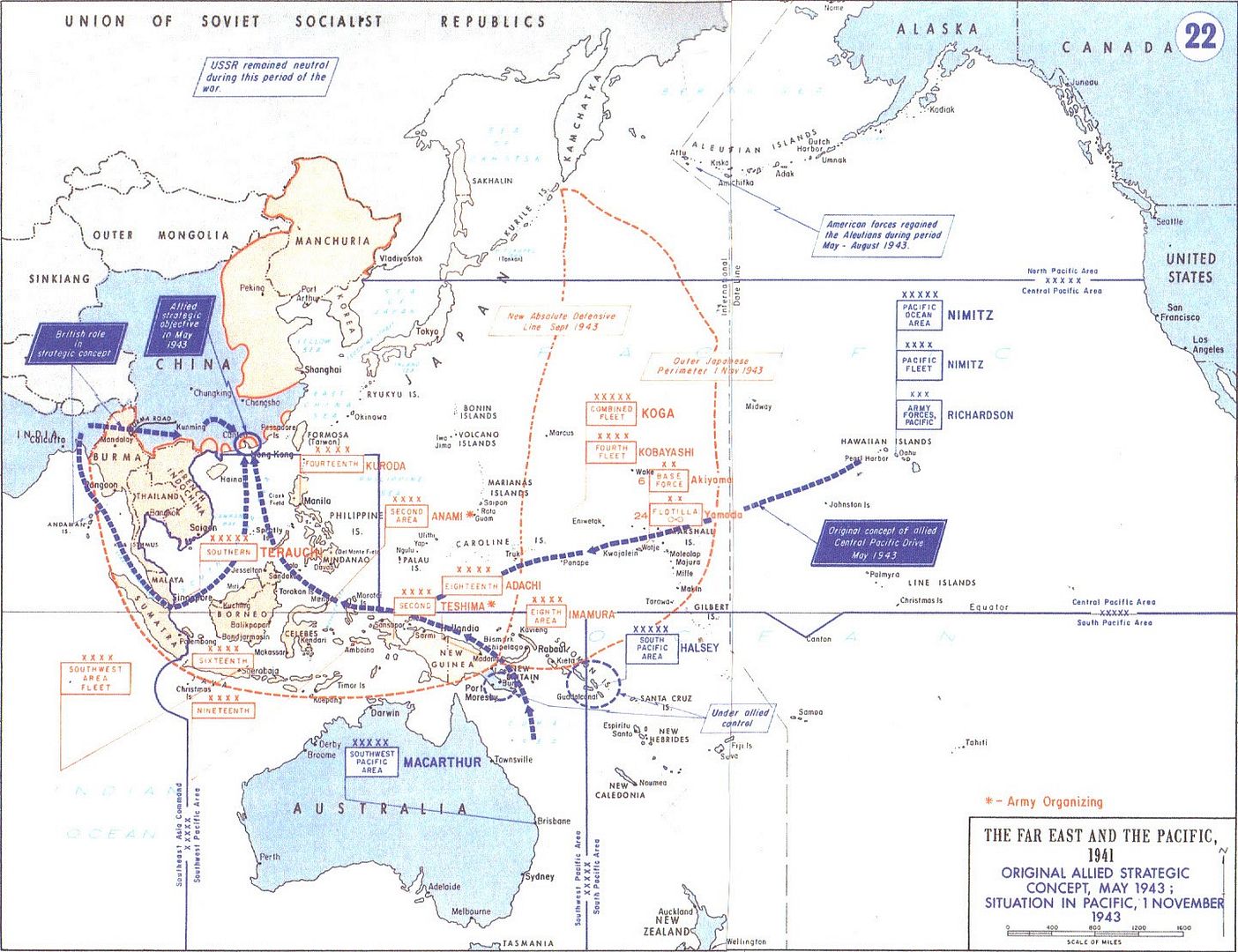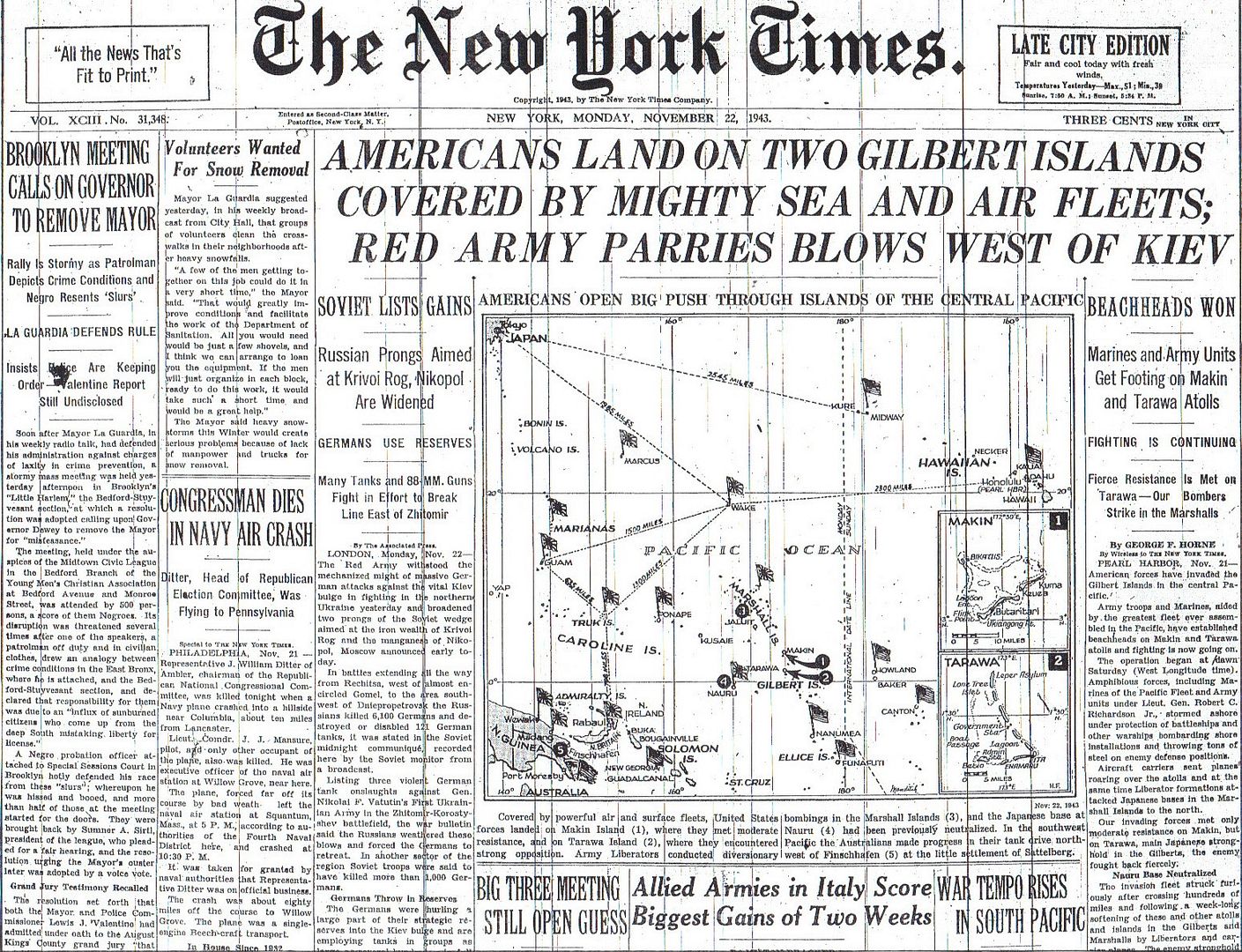 WORLD WAR II PLUS 70 YEARS: Seminar and Discussion Forum
Course Description: Expand and share your knowledge of the defining event of the twentieth century. Read daily newspaper articles and excerpts from a variety of history books. Exchange views with our international student body. Drive the discussion or just audit the course or anything in between.. Everyone is a student and everyone is an instructor. We welcome especially seasoned students who have personal recollections of the war they are willing to share. Likewise the children and grandchildren of those who served during the period.
Fall Quarter, 2013 Topics: The Battle of the Atlantic, The Air War in Europe, The War in the East, The Battle for Italy, Operation Cartwheel, a Landing in the Gilberts
Prerequisites: Can't be banned.
Tuition: Give 'til it hurts, here: Finance Dept.
Course may be repeated 25 times for credit.
I frequently post excerpts from historical accounts to supplement the contemporary newspaper coverage. So far I have excerpted from the following books:
William L. Shirer, The Rise and Fall of the Third Reich, Touchstone, 1988. Original copyright 1959. First Touchstone Edition 1981.
Winston S. Churchill, The Second World War: Volume I – The Gathering Storm, Houghton Mifflin Company, 1948
Winston S. Churchill, The Second World War: Volume II – Their Finest Hour, Houghton Mifflin Company, 1948
Winston S. Churchill, The Second World War: Volume III – The Grand Alliance, Houghton Mifflin Company, 1948
Winston S. Churchill, The Second World War: Volume IV – The Hinge of Fate, Houghton Mifflin Company, 1948
Winston S. Churchill, The Second World War: Volume V – Closing the Ring, Houghton Mifflin Company, 1948
Barbara W. Tuchman, Stilwell and the American Experience in China, 1911-45, Grove Press, 1970
Gordon W. Prange, At Dawn We Slept: The Untold Story of Pearl Harbor, Penguin Books, 1981 Thomas E. Griess, Series Editor, West Point Atlas for The Second World War: Europe and the Mediterranean, SquareOne, 2002
Thomas E. Griess, Series Editor, West Point Atlas for The Second World War: Asia and the Pacific, SquareOne, 2002
Herman Wouk, The Winds of War, Little, Brown and Company, 1971
Herman Wouk, War and Remembrance, Little, Brown and Company, 1978
B.H. Liddell Hart, History of the Second World War, Konecky & Konecky, 1970
Michael Korda, With Wings Like Eagles: The Untold Story of the Battle of Britain, Harper Perennial, 2009 Michael Korda, Ike: An American Hero, HarperCollins, 2007 John Toland, The Rising Sun: The Decline and Fall of the Japanese Empire, 1936-1945, Random House, 1940 Carroll V. Glines, The Doolittle Raid , Schiffer Publishing Ltd., 1991
Richard Tregaskis, Guadalcanal Diary, Random House, 2000
I will add to this list as we go along. Suggestions for additional sources are welcomed.
Class Roster
r9etb;PzLdr;dfwgator;Paisan;From many – one;rockinqsranch; 2banana;henkster;meandog;Ciexyz;investigateworld; Poundstone;Mr.Dough;kanawa;GodBlessRonaldReagan;MdPoke;TheSarce; neverdem;Joe 6-pack;HereInTheHeartland;goldstategop;Domandred; Lucius Cornelius Sulla;DeaconBenjamin;BroJoeK; Michael81Dus;red devil 40;CatoRenasci;agere_contra;headsonpikes; the scotsman;Moose4;stefanbatory;CougarGA7;Billthedrill; Christopher Lincoln;indcons;HOYA97;Sherman Logan;J Aguilar;Marak; snowsislander;KeyesPlease;Eaker;samson1097;SJackson;Esther Ruth; Gay State Conservative;mick;JDoutrider;PeterPrinciple;Madison Moose; Ron Jeremy;PAR35;GreenLanternCorps;rotstan; nw_arizona_granny; word_warrior_bob;RabidBartender;aynrandfreak;freedom9; mwilli20;gridlock;Zuben Elgenubi;abb; beebuster2000;paltz;mmanager;Ronin;PureSolace;o2bfree; Islander7;NYC Republican;phil_t;jmc813;Former Proud Canadian;rxh4n1;VictoryGal;snippy_about_it;autumnraine;albie; Tamzee;libertarian27;gramcam;IMissPresidentReagan;stubb; Loyal Buckeye;idontchat;EDINVA;Think free or die;Nea Wood;steelyourfaith;Sparko;Marie Antoinette;sauropod;ellery;Loud Mime;SamAdams76;whershey;cagey;Squat;mowowie;Scottinoc; DouglasKC;tje;Wagglebee;Gatún(CraigIsaMangoTreeLawyer); Peter W. Kessler;bronxboy;bradthebuilder;Tallguy;Larry Lucido;TFine80;Mrs.Liberty; Cardinal4;HungarianGypsy;Travis T. OJustice;mrs tiggywinkle; conservative cat;Mikey_1962;DCPatriot;DAVEY CROCKETT;unkus; KingOfVagabonds;BelegStrongbow;Zechariah_8_13;Conservateacher; EverOnward;gargoyle;freemama;Mr. K;Cathy;usshadley;SteamShovel; Mike Bates;MichaelTArchangel;JLS;Mike Darancette;fellowpatriot;Warlord; Mainestategop;MinuteGal;Lancey Howard;Colonel_Flagg; ODC-GIRL;Alice in Wonderland;DBrow;sharkhawk;Eagle50AE; flaglady47;bamahead;The KG9 Kid;Chesterbelloc;Ca3ey3;EdReform;Perdogg; gbscott1954; bluejay;SomeCallMeTim;tom h;glide625;Pagey;txroadkill; sonofstrangelove;Restore America;tcrlaf;TADSLOS;Ready4Freddy; Northern Yankee;Renegade;Zeppelin;Lorica;tajgirvan;steveyp;rdl6989; LibertyRocks;AliVeritas;freedumb2003;Stonewall Jackson;ichabod1;sport;strings6459; TonyInOhio;Vermont Lt;Cheap_Hessian;benldguy;deadmenvote;Lupulox;xvq2er; TooBusy;magslinger;agrace;William Tell 2;Western Phil;Dominick; gangplank73;bd476;toddausauras;4everontheRight;ken5050;texanyankee;Mr. Mojo; bigbob;iowamark;beef;Vendome;sayuncledave;Tank-FL;Explorer89;Enchante;AU72;ex-snook;EyesUnclouded;Mr. Silverback;KoRn; Iron Eagle;FreeReign;Seizethecarp;jjm2111;Alistair Stratford IV; Rebelbase;Naplm;fso301;21twelve;GeronL;kdcot;doubled;starlifter;RedMonqey; Getsmart64;vicar7;PA Engineer;colorado tanker;Squantos;llmc1;tubebender;NEMDF; Springman;QualityMan;Prov1322;ProtectOurFreedom;joyce11111
INDEX BY AUTHOR
To help readers find the articles indexed the links below lead to CougarGA7's year-end reviews, which contain links to all the threads for that year.
Index last updated on 12/1/13 through 12/31/43.
L = Lead Article
C = Regular Column
W = News of the Week in Review
B = Book Review
Abend, Hallett
10/10/38, Shanghai, Japanese Go up Yangtze
3/22/39, Shanghai, Millions in China Wander Homeless
3/22/39, Shanghai, Japanese Report Widespread Gains
3/23/39, Shanghai, Moves for Peace Gain in China War
10/3/39, Shanghai, Soviet Reported Pouring Men Into China, Menacing Either British India or Japan
11/4/39, Shanghai, New Regime is Pushed
12/23/39, Shanghai, Chinese Claims Denied
12/29/39, Shanghai, Tokyo Fliers Bomb Lanchow 3d Day
1/11/40, Shanghai, Japanese Deliver Secret Ultimatum to French in China
2/3/40, Shanghai, Japanese Tighten Vast Trap in China
2/4/40, Shanghai, Japanese Report Gains on Vast Line
2/11/40, Shanghai, Japan's Army Meeting with Heavy Resistance (W)
2/17/40, Shanghai, Shanghai Accord Reached on Police
3/2/40, Shanghai, Japan Keeps Rule in Shanghai Pact
3/26/40, Swatow, China, Japanese Control in Swatow Feeble
5/15/40, Shanghai, Shanghai Doubts Italy will Fight
7/1/40, Shanghai, Britain to Resist Southward Move b the Japanese
7/9/40, Shanghai, Japan Complains that Our Marines Insulted Her Army
7/10/40, Shanghai, Sentiment is Inflamed
7/21/40, Shanghai, Shanghai Guards American Writers
8/5/40, Shanghai, Indo-China Falling under Tokyo Rule; Indies Plans Near
9/23/40, Shanghai, Critical Position for U.S.
9/25/40, Shanghai, Hitler is Said to be Forcing Japan into the Axis for Attack on Britain
9/28/40, Shanghai, Stalin's Demands Said to Be Large
10/13/40, Shanghai, Value of Burma Road to China is Cut Down (W)
2/16/41,Asiatic Powers Prepare for Japan's Thrust (W)
3/16/41, Washington, Chiang and Communists Shelve Fight (W)
5/17/41, Washington, Japan is Seen Aiding Chinese Communists, Letting Them March into 3 Coast Provinces
5/30/41, Washington, Halifax Says Lesson of Crete Will Deter Nazis from Invasion
6/6/41, Washington, Japan Asking U.S. for No-War Pact
6/8/41, Washington, Japan's Overtures Stir Washington's Suspicion (W)
6/16/41, Washington, Nazis Reported Pressing Soviet to Turn Over Warships to Japan
7/25/41, Washington, Japanese Action in Burma is Seen
8/3/41, Washington, France is Warned
8/6/41, Washington, U.S. Aid to Soviet is Snag for Japan
10/18/41, Auckland, New Zealand, Japanese Upset Alarms Antipodes
10/30/41, Honolulu, Honolulu Expects Two-Ocean War
11/2/41, Honolulu, Japan's Warships Pry in U.S. Waters
Adams, Frank S.
10/18/38, New Orleans, President's Eucharistic Message Bases Peace on Sermon on Mount
2/11/40, Washington, Youth Told Stand (L)
2/12/40, Washington, First Lady Balks at Advising Youth to Uphold Finland (L)
6/27/41, St. Paul, Minn., Pope Pius Warns 'Black Paganism' is World Menace
10/2/41, Indianapolis, 'Distant War' Best (L)
9/7/43, Philadelphia, 8 Cars Jump Rails (L)
Adams, J. Donald
10/20/40, For Whom the Bell Tolls, by Ernest Hemingway (B)
Aldridge, James
12/20/39, With the Finnish Forces, Russian Advance Made at High Cost
12/25/39, Rovaniemi, Finland, Battle is Marked by Frozen Bodies
12/29/39, With the Finnish Arctic Army, near Kemijaervi, Finns Cut Russian Patrol to Bits in Fierce Battle amid Arctic Snow
1/3/40, With the Finnish Forces, on the Petsamo Front, Cold Rivals Finns as Russians' Foe; Weather Kills as many as Bullets
2/6/40, Helsinki, U.S. Finns fighting North of Ladoga
2/12/40, With the Finnish Army, North of Lake Ladoga, U.S. Finns in War Led by 'Tough' New Yorker; Roosevelts' Ex-Chauffeur is Proud of Unit
2/16/40, Helsinki, Battle Climax Held Near
3/26/40, Stockholm, Soviet's Air Force Held Strong; Bombers and Fighters Effective
4/15/40, On Norwegian-Swedish Border, Need of Allied Aid Obvious in Norway
4/17/40, On the Norwegian-Swedish Border, Ill-Armed Norse Face Deadly Fire
8/2/40, With the British Forces on the Egyptian-Libyan Border, Besieged Capuzzo is Battered Daily
8/10/40, Cairo, Alexandria Drive Foreseen
8/20/40, Cairo, R.A.F. in Egypt Wins High Ratings; 90 Per Cent Efficiency is Claimed
9/18/40, Cairo, R.A.F. 'Pours Hell' on Italian Forces
9/19/40, With the British Army in Egypt, Britons in Desert Harass Italians in a Series of Swift Flank Thrusts
11/14/40, With the Greek Forces in Northwestern Greece, Greeks Mopping Up after Big Battle
11/29/40, With the Greek Forces on the Albanian Border, Greek Unit Surprises the Italians and Walks off with Machine Gun
12/3/40, With the Greek Forces in Southwestern Albania, Greeks Hold Foe in Mountain Trap, but Terrain Makes the Gains Slow
12/14/40, With the Greek Forces, north of Argyrokastron, Albania, Italians Drop Guns in Hasty Retreat
1/2/41, Northeastern Front, Albania, Cold is Worst Enemy in Albania; Fight in Northeast Now Desultory
Allen, Edward Frank
2/9/41, Squadrons Up! A Firsthand Story of the R.A.F., by Noel Monks (B)
Allen Jay
8/6/41, Released Writer Sees Failure of Nazis in Creating New Order
Allen, Larry
9/6/40, With the British Fleet, Somewhere in the Mediterranean, British Shell Isle in the Dodecanese
12/14/40, Aboard a British Destoyer, off Egypt and Libya, Fleet's Guns Rout Italians in Desert
1/16/41, Aboard Aircraft Carrier Illustrious, With British Mediterranean Fleet,40 Stukas Clawed at the Illustrious; Bombs Rocked Her
1/19/41, Valetta, Malta, Morale on Malta High
5/28/41, Alexandria, Egypt, Bomb Showers Off Crete Fail to Shake British Fleet
12/17/41, Aboard a British Cruiser Off Libya, [Untitled Dispatch]
7/5/42, Alexandria, Egypt, Reinforcements Crowd Highway En Route to British at El Alamein
Anderson, F. David
11/8/40, London, London Raid Heavy but is Over Early
11/18/40, London, Ports Pounded Steadily
12/3/40, London, Germans Pounding at English Cities
12/24/40, London, Big Textile Center Ravaged by Nazis
12/25/40, London, London Officials Silent
1/6/41, London, Fire Bombs Foiled, Britons Cry 'More'
1/9/41, London, Third Quiet Night in Row for London
1/20/41, London, U.S. Plane 'Defeats' Nazi in R.A.F. Test; Altitude Needs Urged on Designers Here
2/6/41, London, 7 Nazi Planes Lost in Raids on Britain
2/13/41, Roosevelt Said to See Victory by Britain in Six Months if She Holds Till Summer
2/18/41, London, R.A.F. 'Raids' Poland in 1,800-Mile Flight
3/10/41, London, Armed Fascist Ship Caught by Cruiser in Indian Ocean
3/14/41, London, Defenses Add to Score
3/20/41, London, Big Fires Started
3/31/41, London, Rome Sea Loss Big
4/17/41, London, London is Pounded
4/23/41, London, Tripoli is Shelled
4/30/41, London, Bombed Plymouth Begins Evacuation; Dover is Shelled
5/4/41, London, Fight is Spreading
5/5/41, London, British Raid Bases of Forces in Iraq
5/6/41, London, London Sees Gains
5/7/41, London, R.A.F. Hammering at Iraq's Forces
5/8/41, London, Iraqi Siege Broken by British Assault
5/9/41, London, Iraqi Premier Reported Fleeing Baghdad; Capital Being Bombed as Troops Fall Back
5/23/41, London, Candia is Captured (L)
5/26/41, London, Planes Hit Crete
5/30/41, London, Bar to New German 'Misdeeds' Pledged by Foreign Secretary
5/31/41, London, Rashid Ali Flees
6/1/41, London, British in Baghdad (L)
6/2/41, London, War in Iraq Ends
6/29/41, London, Shipyards Blasted
7/7/41, London, Italian Cruiser Sunk, British Say
7/10/41, London, Air Raids on Reich Widened by R.A.F.
7/17/41, London, Hopkins at Session of British Cabinet
7/28/41, London, Russo-Polish Pact Deemed Imminent
7/31/41, London, Soviet and Poles Sign Agreement
8/9/41, London, British Confidence in Russians Grows
9/6/41, London, Italian Cruiser Torpedoed; Big Liner, 3 other Ships Hit
9/9/41, London, U.S.-Made Plane Captures U-Boat by Bombs and Guns
9/12/41, London, Churchill Denies Aide is Soviet Foe
9/17/41, London, Iran's Shah Out; Allies Advancing
10/4/41, London, London Stresses Raid Cost to Foe
10/20/41, London, British Workers Demand Invasion
11/9/41, London, Berlin is Hard Hit
11/10/41, London, Victors Unharmed (L)
11/13/41, London, Russia Replaces War Industries
12/10/41, London, British Say Japn Can Last One Year
12/14/41, London, British Bag Ships
1/8/42, London, British Raid Norway Again; Sink 3 Vessels and Shell Plant
2/25/42, London, Burma's Defenders Driven Across Last River Barrier
2/26/42, London, Burma Peril Rises (L)
3/9/42, London, Indies Isle Cut Off
3/10/42, London, Indies Still Silent
3/18/42, London, Chinese Defeat Enemy in Burma
3/25/42, London, Chinese Turn Back Foe
4/1/42, London, Burmese Aid Foe (L)
4/2/42, London, Prome is Imperiled
4/14/42, London, British Pressed in Burma; Japanese Try to Split Allies
4/16/42, London, New Burma Front
4/19/42, London, Foe is Hit in Burma
4/20/42, London, Chinese Reinforce Britsh in Burma
4/21/42, London, Oil Town Retaken
4/22/42, London, Oil Town is Held (L)
4/23/42, London, Battles in 3 Areas
4/27/42, London, Chinese Retake East Burma City
4/29/42, London, Japanese Drive for Lashio with 5,000 Men; City Afire
4/30/42, London, Foe Nears Hsipaw (L)
5/3/42, London, British Fall Back (L)
5/4/42, London, A.V.G. Raids Lashio (L)
5/6/42, London, Foe Enters China Across Burma Line
5/17/42, London, Japanese Attack Along the Mekong
5/25/42, London, Stilwell in Delhi to Help Defense
5/31/42, London, Desert Tide Shifts (L)
6/22/42, London, Nazis Near Egypt (L)
6/28/42, London, Rommel Pushes On
6/29/42, London, Lunge into Desert (L)
7/5/42, London, Desert Guns Duel
7/16/42, London, Britain's Output of Arms Defended
7/17/42, London, Commons Debates Shipping in Secret
7/27/42, London, U.S. Fliers Active
8/18/42, London, British Deem Our Heavy Bombers Unsuited for Raids on Continent
8/24/42, London, New Command South of Caucasus is Set Up by British to Meet Nazis
10/20/42, London, Japan is Punishing Seized U.S. Fliers
10/27/42, London, Desert Army Firm
10/30/42, London, Allies Strike Heavy Blows from Air in African Battle
11/2/42, London, British Push Ahead in African Battle
11/6/42, London, British Move Westward
11/12/42, London, Tunis Clash Near
11/15/42, London, Rout of Rommel is Laid to Timing (W)
11/30/42, London, Turin Hammered with Giant Bombs
12/2/42, London, Raid Port 24 Hours (L)
12/4/42, London, Allies Reveal Loss of 16 Ships in North African Landings
12/5/42, London, Censor's Gag Held Danger to Allies
12/7/42, London, Bombers Hit Nazis
12/11/42, London, Britain to Unchain Nazis Tomorrow
12/15/42, London, Madagascar Given to Fighting French
6/11/43, London, Eisenhower is Held Likely Choice for Commander of Allied Invasion
8/14/43, London, No Blackout Lift in Britain Likely
9/16/43, London, 15,000 Britons Quit to Aid Jailed Boy
10/2/43, London, Striking Britons Rebuked by Bevin
10/7/43, London, German Pillaging of Rome Reported
10/12/43, London, Reich Battleship Damaged in Norway Fjord by Raiders
10/29/43, London, Churchill Finds Oblong Commons Greatly Favors the Party System
11/30/43, London, American Planes Batter Reich Port
12/25/43, London, Record Air Blow
12/30/43, London, Allies Sink Three Destroyers and Reich Blockade Runner
Archambault, G.H.
9/4/39, Paris, Reich 'Blitzkrieg' is Now Ruled Out
9/5/39, Paris, 'Contact' in West
9/6/39, Paris, France Attacking to the Northeast
9/7/39, Paris, Communiques Issued
9/9/39, Paris, Objectives Being Won
9/10/39, Paris,Wood Won in West
9/11/39, Paris, Allies Make Gain
9/12/39, Paris, Gained Areas Held
9/13/39, Paris, Gain Made in West
9/15/39, Paris, French Push Nazis Back Upon Forts
9/16/39, Paris, Saar Drive Goes On
9/17/39, Paris, Germans Set Back
9/18/39, Paris, Germany Shifting Troops Westward
9/19/39, Paris, Guns Roar in West
9/21/39, Paris, Threat to Neutrals
9/23/39, Paris, Allies' Flank Aided (L)
9/24/39, Paris, Nazis Hurled Back (L)
9/26/39, Paris, Fire on New Front (L)
9/27/39, Paris, French Artillery Pounds Westwall
9/29/39, Paris, German Attacks in West Repulsed
10/2/39, Paris, Planes to Play Role
10/3/39, Paris, French Advances Mapped in Detail
10/5/39, Paris, German Attack Expected
10/7/39, Paris, Nazi Force in West is Put at 1,400,000
10/9/39, Paris, Patrols Increase Pressure in West
10/13/39, Paris, First-Line Fighting is Intense in West
10/17/39, Paris, Assault in West
10/18/39, Paris, French Fall Back (L)
10/21/39, Paris, West Front Active near Luxembourg
10/23/39, Paris, Off German Soil (L)
10/27/39, Paris, Nazi Troops Mass on 650-Mile Front
11/3/39, Paris, Patrols are Active on Western Front
11/7/39, Paris, Reports Nazi Rout
12/13/39, Paris, Nazis Renew Drive at Forbach Sector
12/15/39, Paris, Nazis Push Again East of the Saar
1/16/40, Paris, Strain in Paris Eased
1/21/40, Paris, Men at Front Never Idle (W)
2/4/40, Paris, Finnish War Seen as Cue for West
2/5/40, Paris, Skirmish Victory Claimed by French
2/6/40, Paris, Paris Thinks Reich is Advising Soviet
2/7/40, Paris, Anxiety Reported in Near East; Big Allied Armies Ready There
3/2/40, Paris, Active War Plans Under Way in West
3/8/40, Paris, Nazi Spur in West Seen if Finns Fail
3/23/40, Paris, Liaison Post Urged in French Cabinet
3/26/40, Paris, Paris Now Doubts Hitler Offensive
3/31/40, Paris, 'Violent' Nazi Fire Pounds Key Points
4/12/40, Paris, West Drive Feared
4/16/40, Paris, Nazi Line Pierced by French Scouts
5/11/40, Paris, Aid is Sent at Once
5/13/40, Paris, Nazis Skirt Forts (L)
5/14/40, Paris, Paris is Confident (L)
5/15/40, Paris, Meuse Clash is On
5/16/40, Paris, New Paris Tactics (L)
5/17/40, Paris, Air Fights Raging (L)
5/18/40, Paris, Gamelin in Appeal
5/19/40, Paris, French Retard Foe (L)
5/20/40, Paris, Action Seesawing (L)
5/21/40, Paris, Germans Slowed
5/22/40, Paris, Weygand on Battlefield
5/23/40, Paris, Battle is Raging (L)
5/24/40, Paris, Allies Make Gains (L)
5/25/40, Paris, French in Attacks (L)
5/26/40, Paris, Paris Claims Toll
5/27/40, Paris, 4 Attacks Launched (L)
5/28/40, Paris, Allies Press Battle
5/29/40, Paris, Allies Take to Air (L)
5/30/40, Paris, Coast Fight Rages (L)
5/31/40, Paris, Retreat Orderly
6/1/40, Paris, End of Battle Near
6/2/40, Paris, French Hold River
6/3/40, Paris, Allies Stand Firm
6/4/40, Paris, New German Blow Awaited by Allies
6/6/40, Paris, 3 Drives Launched (L)
6/7/40, Paris, French Admit Loss (L)
6/8/40, Paris, Nazi Drive Intense (L)
6/9/40, Paris, Tanks Pierce Line (L)
6/10/40, Paris, Rouen is Reached (L)
6/14/40, Tours, France, Nazis Pour over Bridgeheads
6/15/40, Tours, France, French Note Lull
6/22/40, Bordeaux, France, "Fatal News" Awaited
6/25/40, Bordeaux, France, France to Mourn
7/13/40, Clermont-Ferrand, France, British 'Hesitation' Cited
9/23/40, Vichy, France, Daladier Testifies in War Guilt Court
11/6/40, Toulouse, France, Petain is Acclaimed in Southern France; Inspires Hope in Talks with Common Folk
11/8/40, Riom, France, No Date Yet Set for Trials at Riom
11/10/40, Vichy, France, New African Fight
12/16/40, Vichy, France, Ambition Caused Downfall
1/6/41, Vichy, France, Leahy Gets Gala Welcome at Vichy; Streets are Lighted for U.S. Envoy
1/20/41, Vichy, Petain Sees Laval in Railway Coach
2/4/41, Vichy, Petain Acquiesces (L)
2/6/41, Vichy, Price Laval Asks Too High for Vichy
2/8/41, Vichy, Moslem Influence Held With Britain
4/9/41, Toulon, France, Leahy Assures U.S. on Red Cross Food
6/4/41, Vichy, Weygand Consults with Vichy Cabinet as War Moves East (L)
6/9/41, Vichy, Big French Force is Ready in Syria
6/16/41, Vichy, Invaders Push On (L)
6/25/41, Vichy, Dentz Held Beaten (L)
6/28/41, Vichy, Soviet Tactics Studied
7/24/41, Vichy, Temporary Move Seen
7/25/41, Vichy, Vichy Justifies Indo-China Move
7/26/41, Vichy, Nazi Hand Indicated
7/29/41, Vichy, Nazis Ease Curbs on French Mails
8/8/41, Vichy, Weygand's Role Deemed Growing
8/14/41, Vichy, Petain's Appeal Held Misjudged
8/29/41, Vichy, 3 Frenchmen Guillotined; Purge of Anti-Nazis Begins
10/27/41, Vichy, Stay is Expected in French Killings
10/29/41, Vichy, Strain on Nazis Grows in Russia
11/18/41, Vichy, Speed in Axis Deal is Denied by Vichy
1/16/42, Berne, Switzerland, Nazi 'Defense' Significant
1/21/42, Berne, Switzerland, Nazi 'Winter Line' Key to War Issues
1/30/42, Berne, Switzerland, Labor Continues Big Nazi Problem
2/2/42, Berne, Switzerland, Test Seen Soon of Red Strength
2/24/42, Vichy, France, Important Rulings Due at Riom Today
3/16/42, Berne, Switzerland, Axis Food Battle Surges in Europe
4/9/42, Berne, Switzerland, Material Massed for Soviet Battle
5/16/42, Berne, Switzerland, Line Stabilization is Seen in Russia
6/14/42, Berne, Switzerland, Free French Face Nazi Death Threat
1/26/43, Berne, Switzerland, Move Linked to Axis Defeats
1/30/43, Berne, Switzerland, 25 Nazis Wounded by Bomb in Lyon
4/4/43, Berne, Switzerland, Fortress of Europe Prepares to Stan Siege (W)
4/11/43, Berne, Switzerland, Europe Trying to Guess How Invasion Will Come (W)
5/11/43, Berne, Switzerland, Fears of Axis Rise
5/12/43, Berne, Switzerland, 'Fortress' Facing Test
6/27/43, Berne, Switzerland, French Peasants Flout Vichy Rule
7/5/43, Berne, Switzerland, Vichy Emphasizes Antagonism to U.S.
11/22/43, Berne, Switzerland, Petain Remains Secluded in Vichy
12/27/43, Berne, Switzerland, Rommel to Strive for French Chaos
Armstrong, Hamilton Fish
5/28/40, Paris, Editor Asks Unstinted U.S. Aid for France; Planes, Food and Medicine Immediate Needs
Arvad, Inga
7/14/43, Willkie Wins Stalin's Help for Cupid; Soviet Lifts Ban on U.S. Writer's Romance
Atkinson, Brooks
9/26/41, Groucho Marx Confirms the Rumor that His Knock-About Team of Foolish Brothers has Broken Up for Good – To Act in Own Show Smooth Shaven (C)
4/25/42, Victor Moore, Bill Gaxton, Hildegarde and the Hartmans in a New Variety Show
11/25/42, Somewhere in Africa, With Alarm Clock and but 4 Cents, the Sergeant Soars Away to War
12/11/42, A United States Army Air Base in Central China, General Chennault is Optimistic on China's Prospects of Victory
12/15/42, At a United States Army Base, in Central China, Writer in Bomber's Nose Finds Raid Pleasant as a Tennis Batch
1/11/43, Chungking, China, Stilwell is Eager for the Offensive
1/17/43, Chungking, Transport is Key to China's Future (W)
1/29/43, Chungking, T.V. Soong Praises Casablanca Talks
3/4/43, At a United States Air Base in South China, American Bombers Fail in Hunt to Silence Lone Japanese Gunner
4/2/43, Paoshan, China, Our Burma Bombs Gave Indians Glee
5/2/43, At a United States Air Base in Southern China, Fourteenth Air Force Men in South China are 'Hopping Mad' at News of Coal Tie-Up
5/6/43, A United States Air Base in Southern China, Big U.S. Bombers in Action in China
5/21/43, Chungking, Waning Confidence Reported in Japan
5/23/43, Chungking, Huge Loot Seized by Japan's Forces
5/24/43, Chungking, Chungking is Calm as Usual in Alert
5/30/43, Chungking, China's War Strength Put to Severest Test (W)
6/1/43, Chungking, Chungking's Anxiety Lessens
6/6/43, Chungking, Chinese Give New Proof of Power in Offensive (W)
6/8/43, Chungking, All Chungking Takes Half Holiday for Dragon Boats Race on River
7/24/43, Chungking, Chinese Answers Military Analyst
8/1/43, Chungking, Heat in Chungking is Likened to Hell
8/17/43, Chungking, China Communists Firm in Demands
8/20/43, Chungking, Chungking's Mood Kindles New Hope
9/10/43, Chungking, Tokyo Impressed with U.S. Air Might
10/7/43, At the United States Air Base in Southern China, U.S. Air Strength in China Grows but a Gigantic Force is Needed
11/20/43, Foochow, China, Wang Troops Seen Turning to Chiang
11/30/43, Foochow, Foochow Smuggles with Pirates' Aid
12/7/43, Foochow, China, Treaty-Port Life Wanes in Foochow
Augur
10/14/38, London, Reich would Bind Britain to Inferiority in Air Force
2/23/39, London, Hitler Conveys to Chamberlain Pained Surprise at British Arming
5/4/39, London, Polish Issue Stressed
5/21/39, London, Russian Aid Expected if Germany Opens War (W)
8/11/39, London, Reich Aim to Get Hungary Now Seen
8/21/39, London, Four Reich Submarines Reported En Route to Attack Martinique
9/15/39, London, Stalin Triumph Seen in Nazi Pact; Vast Concessions Made by Hitler
11/3/39, London, Nazi Winter Drive in West Foreseen
11/22/39, London, British Regard Hitler as Outlaw Who has Broken All Rules of War
4/16/40, London, London Hears Nazi Plot to Kidnap Dutch Queen
10/23/40, London, Weygand Held Tricked by Nazis to Agree to France's Surrender
Axelsson, George
6/18/39, Antwerp, 907 Refugees End Voyage in Antwerp
1/20/40, Stockholm, Sweden More Optimistic
2/22/40, Helsinki, Snow Brings a Respite to Finland; Red Drive Lags, Air Raids Dwindle
2/24/40, Helsinki, Viborg Holds Out
2/25/40, Helsinki, Reds Hurled Back at Some Points as Isthmus Defense is Stiffened
2/27/40, Helsinki, Viborg 'Key' Taken
2/28/40, Helsinki, Reds Pound Viborg Islands
2/29/40, Helsinki, Finns Bomb Gulf Objectives
3/2/40, Helsinki, City Not Yet Lost, Finns Say
3/3/40, Helsinki, Ladoga Tank Unit Crushed
3/4/40, Helsinki, Finns Still Claim Viborg
3/5/40, Helsinki, Finns Remain in Viborg
3/6/40, Helsinki Finns Repulse Attack on Gulf Ice; 100 Die as Rusians Bomb Hospital
3/8/40, Helsinki, Finns Stand Firm (L)
3/9/40, Helsinki, Finns Repulse Foe in the Viborg Zone
3/11/40, Helsinki, Finns Remain Skeptical
3/12/40, Helsinki, Helsinki Cemetery Bombed
3/13/40, Helsinki, Shock in Helsinki
3/14/40, Helsinki, 'Nation Too Small' (L)
4/6/40, Berlin, Airmen Seen Blasting Polish Cities in Film Shown in Berlin and Rome
4/22/40, Berlin, Germans Stress Gains
5/6/40, Berlin, Berlin Sees 'End' of Britain at Sea
5/10/10, Berlin, Ribbentrop Charges Allies Plotted with the Lowlands
5/11/40, Berlin, Border Resistance Broken, Nazis Say
5/12/40, Berlin, Berlin Lists Gains (L)
5/13/40, Berlin, Reach Dutch Coast
5/14/40, Berlin, Nazis Claim Liege
5/15/40, Berlin, Nazis Bomb Ships as Armies Push On
5/16/40, Berlin, Berlin Lists Gains
5/17/40, Berlin, Nazi Claims Mild
5/18/40, Berlin, Nazis Report Rout (L)
5/19/40, Berlin, Nazis Race for Sea
5/20/40, Berlin, Nazis Add to Gains
5/21/40, Berlin, Nazis Claim Laon (L)
5/22/40, Berlin, 500,000 'Isolated' (L)
5/23/40, Berlin, Nazi Claims Mild; Push Slows Down
5/24/40, Berlin, Berlin Says Gains are Made Slowly
5/25/40, Berlin, Fighting in Ghent
5/26/40, Berlin, Ring is Tightened (L)
5/28/40, Berlin, Nazis Drive Wedge
5/29/40, Berlin, Nazi Thrusts Gain
5/30/40, Berlin, Nazis Tighten Trap
5/31/40, Berlin, Nazis Praise B.E.F.
6/5/40, With the German Army in Belgium, Dunkerque Siege a 'Hell's Concert'
6/16/40, Berlin, Reich Flag Raised over Versailles
6/17/40, Berlin, Nazis Closing Trap on Fortified Zone
7/24/40, Berlin, Nazis are Infuriated by Halifax; Threaten an Immediate Invasion
7/29/40, Berlin, Attack Intensified (L)
8/2/40, Berlin, Hanover is Bombed (L)
9/12/40, Paris, Paris Sees Doriot Seeking Vichy Role
11/3/41, Berlin, Advance in South
11/4/41, Berlin, New 'Dunkerque' Seen by Germans in Crimea Drive
11/5/41, Berlin, Port Near Kerch Claimed by Nazis in Crimean Push
11/6/41, Berlin, New Nazi Thrust Parcels Crimea
11/7/41, Berlin, Germans Report Capture of Tula
11/8/41, Berlin, Nazis Find Task in Crimea Stiff
11/9/41, Berlin, Nazis Claim Gain in Drive on Kerch
11/12/41, Berlin, Germans Reticent (L)
11/13/41, Berlin, Nazis Claim Grip at Kerch Straits
11/14/41, Berlin, Nazis Report Kerch is Menaced in Drive Up Coast of Vital Strait
11/15/41, Berlin, Nazis Admit Raid on Eastern Reich
11/16/41, Berlin, Malaya Damage Claimed by Nazis
11/18/41, Berlin, Nazis Take Kerch, Aim at Caucasus; Repulsed at Tula
11/19/41, Berlin, Nazis Spur Push as Roads Harden
11/20/41, Berlin, New Nazi Drives Test Soviet Line
11/22/41, Berlin, Twin Nazi Drives Claim Progress
11/23/41, Berlin, Germans Pushing Southward Drive
11/29/41, Berlin, Lag in Nazi Push is Seen in Berlin
12/4/41, Berlin, Hard-Won Gains Claimed by Nazis
12/8/41, Berlin, Axis on Defensive over Soviet Front
2/10/42, Stockholm, Sweden, Todt's Death Seen as Help to Goering
3/17/42, Stockholm, Sweden, List and Staff in Helsinki
3/20/42, Stockholm, Sweden, Suez Viewed as Objective
4/5/42, Stockholm, Sweden, Hitler Exploits Fears of the German People(W)
5/5/42, Stockholm, Sweden, Bomb Toll Goes Up
5/22/42, Stockholm, Sweden, Phone Ban Caused by Goering Speech
6/4/42, Stockholm, Sweden, Havoc in Essen Bad as Cologne; Rescue Trains Off to Bombed Cities
6/7/42, Stockholm, Sweden, Shock of Big Air Raids Felt Throughout Reich (W)
6/14/42, Stockholm, Sweden, 258 Jews Reported Slain in Berlin for Bomb Plot at Anti-Red Exhibit
6/20/42, Stockholm, Sweden, Hitler Expected to Tell of Losses in Speech on Invasion Anniversary
7/19/42, Stockholm, Sweden, 'V Armies' Cut Down Nazi Strength (W)
8/19/42, Stockholm, Sweden, Nazis to Move Farbenindustrie to Norway from Region Heavily Bombed by the British
9/23/42, Stockholm, Sweden, Von Bock's Recall in Row Indicated
10/7/42, Stockholm, Sweden, Nazis Kill 10 Hostages in Norway after Proclaiming an Emergency
12/27/42, Stockholm, Sweden, Nazi Plan to Levy Troops Reported
12/28/42, Stockholm, Sweden, Workers in Rich Called Apathetic
1/17/43, Stockholm, Sweden, Goebbels 'Explains' Reverses (W)
2/15/43, Stockholm, Sweden, Close Race Seen in Finnish Voting
3/29/43, Stockholm, Sweden, Nazis Execute 3 Munich Students for Writing Anti-Hitler Pamphlets
4/5/43, Stockholm, Sweden, Saboteurs Smash Frankfort Bridge
4/18/43, Stockholm, Sweden, Nazi Slur Stirred Students' Revolt
6/30/43, Stockholm, Sweden, Cathedral Ruined, Germans Assert
7/1/43, Stockholm, Sweden, Berlin Evacuation Reported Planned
7/14/43, Stockholm, Sweden, Berlin Concedes Allied Victories
7/24/43, Stockholm, Sweden, Nazis Scent Blow at Danish Jutland
7/30/43, Stockholm, Sweden, Wild Rejoicing in Rome's Streets Hailed End of Mussolini Regime
8/2/43, Stockholm, Sweden, Berlin Evacuation Ordered; Hamburg's Fate Stirs Fears
8/30/43, Stockholm, Sweden, Martial Law Set (L)
10/6/43, Stockholm, Sweden, Germany Painted as Land of Gloom
11/14/43, Stockholm, Sweden, 'Suicide' Air Units in Reich Reported
11/24/43, Stockholm, Sweden, 'Doomsday' Scene in Berlin Painted
11/25/43, Stockholm, Sweden, Zoo Animals Roam Berlin Streets; Heat of Fires Fells Pedestrians
12/20/43, Stockholm, Sweden, Goebbels Charges 2 with Defeatism
Bager, Brita
11/26/43, Stockholm, Sweden, Hitler's Collapse Held Still Remote
Baldwin, Hanson W.
12/11/38, Big Armament Program to Go Before Congress (W)
4/14/39 Sea Power and Air Power Contend for the Control of a Continent (W)
4/24/39, Air Power Tries Again in a War on Sea Power (W)
5/21/39, Steel Rings Change War Strategy (W)
5/25/39, Portsmouth, N.H., Rescue Bell Jams (L)
5/26/39, Portsmouth, N.H., Swiftly Engulfed (L)
8/2/39, Wright Field, Dayton, Oh., Huge Army Plane Sets Speed Mark
8/27/39, First Army Headquarters, Plattsburg, N.Y., Serious Deficiences in the Army are Revealed in Plattsburg Games
9/4/39, First War Forces Relatively Small
9/7/39, Nazi Army's Speed Seen as a Surprise
9/10/39, German Gains in Poland Add to Task of Allies (W)
10/1/39, U-Boat Score is Cut by Convoy of Ships (W)
10/2/39, New Data Clarify Westwall Layout
10/22/39, "The Defense of Britain," by Liddell Hart (B)
11/7/39, 7 Invasion Routes Indicated in West
11/12/39, Low Countries Attack a Gamble for Germany (W)
12/10/39, Russia Gives New Turn to Course of the War (W)
12/17/39, Naval Batle Lifts Tempo of the War (W)
12/23/39, Move May Be Routine
1/7/40, Hore-Belisha Fall Linked to Tactics
1/7/40, Factors are Forming to End War Deadlock (W)
1/14/40, Big Defense Problem is in Lap of Congress (W)
2/18/40, Red Drive Ushers In New Phase in Finland (W)
2/25/40 Army and Navy Map Record War Games
3/10/40A Navy Second to None, by George T. Davis (B)
4/14/40, Armada of the Skies (NY Times Magazine)
4/21/40, Campaign in Norway Nears its First Climax (W)
5/1/40, German Gains Laid to Air Superiority
5/4/40, The Norway Retreat (C)
5/5/40, Battleship and Bomb (C)
5/5/40, Can Germany be Stopped? Lessons of the War (W)
5/8/40, Britain's Air Arm (C)
5/11/40, Meeting the Invasion (C)
5/12/40, Hitler Strikes for Quick Victory (W)
5/13/40, German Army Tactics (C)
5/15/40, Battle of the Meuse (C)
5/16/40, The Decisive Factors (C)
5/17/40, French Army Tactics (C)
5/18/40, A Second Marne? (C)
5/19/40, Meeting Tank Attacks (C)
5/23/40, The Nazi Fuel Problem (C)
5/24/40, Allies Strike at Pincers (C)
5/25/40, Railroads in the War (C)
5/26/40, The Decisive Hour? (C)
5/29/40, The Allies Lose a Battle (C)
5/30/40, A Fight to the Death (C)
5/31/40, They Have Not Died in Vain (C)
6/1/40, The Influence of Air Power (C)
6/2/40, If Italy Fights (C)
6/3/40, The Poles Fight Again (C)
6/5/40, Terrain of Western Front (C)
6/6/40,The New German Bid (C)
6/7/40, Anti-tank Defense Used in World War
6/8/40, Struggle for a Ridge (C)
6/9/40, Factors which Count in 'Battle of France' (W)
6/11/40, Italy Enters the War (C)
6/12/40, Mediterranean Strategy (C)
6/14/40, If Paris Falls (C)
6/15/40, Can the British Help? (C)
6/16/40, Can the French Fight On? (C)
6/17/40, North Africa (C)
6/19/40, Can Britain Win? (C)
6/21/40, British and Nazi Planes (C)
6/23/40,The German Gains (C)
6/23/40, The Battle of Britain; How Will it be Fought? (W)
6/24/40, What Air Raids Mean (C)
6/26/40, Sea Power Uncertainties (C)
6/28/40, British and Nazi Armies (C)
7/3/40,Trouble in the Balkans (C)
7/5/40, The Balance of Power at Sea (C)
7/7/40, The Battle of Britain Still is in First Phase (W)
7/8/40, The Toll of Casualties
7/10/40, Washington, Blockade of Britain (C)
7/12/40, Washington, The Battle of Bombs (C)
7/13/40, Washington, Engine Bottleneck Slows Planes for Britain; 70 to 100 Held up at Curtiss Buffalo Plant
7/14/40, Washington, Britain Under Siege (C)
7/15/40, Washington, Guns against Britain (C)
7/17/40, The Mediterranean War (C)
7/19/40, A Nazi Raider at Large? (C)
7/21/40, U.S. in Pacific Held to be Impregnable (W)
7/22/40, Gibraltar Still Formidable (C)
7/31/40, War Across the Channel (C)
8/4/40, Invasion or Atttrition? (C)
8/5/40, The Time Element (C)
8/6/40, With the First Army in the Field, Ogdensberg, N.Y., Troops Fill Up-State 'War' Area; Arms Shortage Stirs General Drum
8/7/40, With the First Army in the Field, Ogdensberg, N.Y., Units in 'War' Led by Green Officers
8/10/40, Headquarters of Air Defense Command of the First Army, Watertown, N.Y., Secret Plane Detector is Tested by Air Defense in Manoeuvres
8/12/40, With the Seventh Corps in the Field, Little Falls, Minn., 'Enemy Forces' Move in Mock War; 36,000 Take Part in Minnesota
8/17/40, Camp Beauregard, La., Battle of Britain Near Peak (C)
8/18/40, Camp Beauregard, La., Britain Looks to Balkans (C)
8/19/40, Nazi Purpose Seen as Air Supremacy
8/20/40, Somaliland Evacuation (C)
8/21/40, Britain's Air Defense (C)
8/22/40, Tactics of Defense (C)
8/23/40, Long Range Guns (C)
8/25/40, The Weakness of Greece (C)
8/25/40, Campaign of Britain Entering a Third Phase (W)
8/26/40, Britain's Balloon Barrage (C)
8/28/40, Bombers Widen War Havoc (C)
8/30/40, The War of Bombs (C)
9/1/40, First Year of 'Totalitarian War' has Taught New Type of Strategy (W)
9/2/40, The Defense of Britain (C)
9/6/40, War of Attrition? (C)
9/8/40, The Mosquito Fleets (C)
9/11/40, Weakness is Seen in Moves by Nazis
9/12/40, Prelude to Invasion? (C)
9/13/40, The Drive by the Axis (C)
9/15/40, Arming of the Nation is Now in Full Swing (W)
9/16/40, Air-Raid Shelters (C)
9/18/40, Desert Warfare in Africa (C)
9/19/40, The Influence of Weather (C)
9/20/40, The Egyptian Terrain (C)
9/22/40, War Theatre Expands as Britain Holds Fast (W)
9/23/40, The War Use of Gas (C)
10/2/40, The Need for Pilots (C)
10/4/40, New Plane Types (C)
10/9/40, Moves in the Balkans (C)
10/16/40, The Far Eastern Problem (C)
10/18/40, The Winter War (C)
10/21/40, Defense of the West (C)
10/25/40, If Gibraltar is Attacked (C)
10/26/40, Strategy of Change (C)
10/29/40, Turning Point? (C)
10/30/40, Britain's Difficulties
10/31/40, The Assault on Greece (C)
11/2/40, The Italian Planes (C)
11/3/40, Greeks Play Star Role in the Mediterranean (W)
11/7/40, Losses in Tonnage Serious to Britain
11/9/40, The Sea Raiders Strike
11/10/40, Japanese Withdrawal a Milestone in China (W)
11/14/40, Britain's Fleet Strikes (C)
11/15/40, Washington, Italians Must Try Again (C)
11/17/40, Washington, Both Sides Strike Hard in a Grim War at Sea (W)
11/19/40, Washington, The War Tomorrow (C)
11/22/40, San Antonio, Tex., British Need Bombers (C)
11/26/40, Fort Benning, Columbus, Ga., 259 Tanks Slither over Georgia Mud
11/27/40, Fort Benning, Ga., The Italo-Greek War (C)
12/1/40, Washington, Goal of 40,000 Planes by 1942 Seems Too High (W)
12/2/40, Washington, Marines Creating New Striking Units
12/6/40, The Amazing Greeks (C)
12/7/40, Italy's Difficulties (C)
12/8/40, War is Becoming a Race for Victory at Sea (W)
12/13/40, British on the March (C)
1/8/41, Washington, Engine Shortage for Navy's Planes to Last 18 Months
1/9/41, The Italian Defeats (C)
1/16/41, Nazis in Mediterranean (C)
1/19/41, War's Climactic Phase May Come in the Spring (W)
1/20/41, The Mediterranean Battle (C)
1/23/41, The Fall of Tobruk (C)
1/24/41, Types of Aerial Missiles (C)
1/26/41, New British Giant (C)
1/26/41, British Wearing Down Weak End of the Axis (W)
1/27/41, Tactics of Desperation (C)
1/30/41, British Air Fighters (C)
1/31/41, Events on Two Fronts (C)
2/3/41, An Old Sea Fighter Returns (C)
2/5/41, Invasion in Reverse? (C)
2/7/41, Our Men Under Arms (C)
2/8/41, A Startling Conquest (C)
2/9/41, Japan Moves Warily Toward Her New Goal (W)
2/10/41, An Air Offensive? (C)
2/13/41, Desert Fighters (C)
2/16/41, Our Gibraltar in the Pacific (NY Times Magazine)
2/24/41, Puzzle of the Balkans (C)
2/26/41, The Menace at Sea (C)
2/28/41, African War Unfolds (C)
3/2/41, Bulgaria is Taken Over (C)
3/6/41, The World's Navies (C)
3/7/41, Germans in Libya (C)
3/9/41, The Planes of Britain, Part I (C)
3/9/41, Top Soldier of America's New Army (NY Times Magazine)
3/10/41, The Planes of Britain, Part II (C)
3/12/41, Britain's Burden at Sea (C)
3/14/41, Washington, The Balkan Puzzle (C)
3/17/41, Washington, Balkans on the Brink (C)
3/19/41, Washington, Britain's Need for Ships (C)
3/21/41, Washington, The German Strategy (C)
3/23/41, Washington, 'Bridge of Ships' to Britain a Vital Factor in War (W)
3/24/41, Trail of the Raiders (C)
3/27/41, The Yugoslav Surrender (C)
3/28/41, Upset in the Balkans (C)
3/30/41, Yugoslav Coup Points to New Phase of War (W)
4/2/41, Italian Pride Shrinks Again (C)
4/4/41, A Mountain Fortress (C)
4/7/41, The Great Gamble (C)
4/8/41, The Opening Balkan Battle (C)
4/9/41, Nazis Repeating Tactics (C)
4/10/41, Navy Commissions Mightiest Warship
4/10/41, A Mountain Blitzkrieg (C)
4/11/41, The British Position (C)
4/12/41, Strategy in Greece (C)
4/13/41, Nazis Make Their Bid for Near East Victory (W)
4/14/41, The Aspect of Rumanian Oil (C)
4/15/41, The Threat to Suez (C)
4/16/41, Prologue in Egypt (C)
4/17/41, The Influence of Sea Power (C)
4/19/41, Gambles for High Stakes (C)
4/20/41, Germany Makes Gains in First Spring Moves (W)
4/22/41, The War at Sea – II (C)
4/23/41, The War at Sea – III (C)
4/24/41, The Greek Tragedy (C)
4/25/41, Hitler's Next Move (C)
4/26/41, The Problem of Convoys (C)
4/27/41, Germany in a Position for Near East Thrust (W)
4/28/41, Balance Sheet in Greece (C)
4/29/41, The Pattern of Bombing (C)
4/30/41, A Battle for Crete? (C)
5/1/41, Moral Victory in Greece (C)
5/2/41, The Position of Britain (C)
5/3/41, New War Front in Iraq? (C)
5/4/41, Middle East Campaign Fought for Big Stakes (W)
5/5/41, The Battle of the Air (C)
5/6/41, New Terror in Old Weapons (C)
5/7/41, Three Vital war Issues (C)
5/10/41, The Great Question Mark (C)
5/12/41, The War in the Air (C)
5/14/41, The New Storm Gathers (C)
5/16/41, Tanks and Planes (C)
5/17/41, Wavell Reorganizes (C)
5/18/41, Storm in Middle East Seems About to Break (W)
5/19/41, Strategy of West Africa (C)
5/21/41, An Invasion Rehearsal? (C)
5/22/41, New Test for Air Power (C)
5/23/41, Crete Now in Balance (C)
5/24/41, The Nazi Sinking Claims (C)
5/25/41, The Fate of the Hood (C)
5/25/41, Air Power Makes Bid for First Place in War (W)
5/26/41, The Eastern Mediterranean (C)
5/27/41, The Aerial Torpedo (C)
5/28/41, End of the Bismarck (C)
5/29/41, A Strategic Pattern? (C)
5/30/41, The Atlantic Fleet Grows (C)
5/31/41, The Oil of Iraq (C)
6/1/41, Lessons of the Bismarck (C)
6/2/41, The Shipbuilding Emergency (C)
6/3/41, After Crete and Iraq (C)
6/4/41, Syria – Key to the East (C)
6/9/41, Battle for the Near East (C)
6/11/41, The Fight for Syria (C)
6/14/41, Washington, The Atlantic Struggle (C)
6/15/41, Washington, Time Factor in Syria (C)
War at Double Crisis (C)
6/18/41, Washington, No Easy Victory at Sea (C)
6/19/41, Washington, Army is Ordering Big Reserve of Planes, Tanks and 'Anti' Guns
6/20/41, Washington, Britain's Losses at Sea (C)
6/23/41, Manchester, Tenn., German Strength Estimated
6/24/41, Field Headquarters, Second Army, Manchester, Tenn., Weak Points Seen in Battle of Tanks
6/25/41, Terrain Key to Strategy (C)
6/26/41, Claims in East Conflict (C)
6/27/41, Blitz Pattern Once More (C)
6/28/41, Soviet Tested at Minsk (C)
6/29/41, Army is Far Short of War Efficiency after Year Effort
6/29/41, Nazis Try the Blitz on Russians (W)
6/30/41, Nazi Gains Not Decisive (C)
7/2/41, Soviet Debacle is Seen (C)
7/3/41, Soviet Fleet Menaced (C)
7/5/41, Nazis Face Crucial Test (C)
7/6/41, Tactics of Blitzkrieg Shown on Vast Canvas (W)
7/7/41, The Nazis' Rate of Speed (C)
7/8/41, Military Sideshows (C)
7/9/41, Iceland's Occupation (C)
7/10/41, A White Flag in Syria (C)
7/11/41, Battle of the Behemoths (C)
7/12/41, Goals of Two Offensives (C)
7/13/41, Germans Try their Greatest Coup (W)
7/14/41, German River Tactics (C)
7/15/41, Toward 'Shooting' War (C)
7/16/41, Invasion's Second Phase (C)
7/17/41, R.A.F. Counts Its Gains (C)
7/18/41, Russia in the Crucible (C)
7/20/41, Hitler is Slowed Up by Russian Resistance (W)
7/20/41, American in Arms: The Experience of the United States with Military Organization, by Brig. Gen. John McAuley Palmer, U.S.A. (Retired). (B)
7/21/41, Potential U.S. Bases (C)
7/22/41, Potential U.S. Bases-II (C)
7/23/41, Potential U.S. Bases-III (C)
7/24/41, Japan's Military Moves (C)
7/25/41, Washington, 'Pockets' Retard Nazis (C)
7/26/41, Washington, Japan Gets in Position (C)
7/27/41, Washington, Japan Takes a Fateful Step in Eastern Asia (W)
7/28/41, Russia's Fight in the Air (C)
7/29/41, Winter Looms as Red Ally (C)
7/30/41, Britain is Gaining at Sea (C)
7/31/41, Far Eastern Tinderbox (C)
8/1/41, The War in Russia – I (C)
8/2/41, The War in Russia – II (C)
8/3/41, The War in Russia – III (C)
8/4/41, War at Sea and in Air (C)
8/5/41, The Russian Winter (C)
8/6/41, British Lead in the Air (C)
8/7/41, New Phase in Russia? (C)
8/8/41, Japan is Eying Siberia (C)
8/9/41, Analyis of War Claims (C)
8/10/41, World Problems Weigh on Britain and the U.S. (W)
8/11/41, Casualties in Russia - I (C)
8/12/41, Casualties in Russia - II (C)
8/13/41, Darlan's Axis 'Victory' (C)
8/14/41, Vichy 'Chooses Sides' (C)
8/15/41, What Aid for Russians? (C)
8/16/41, Twofold Allied Program (C)
8/17/41, Longer Army Service Acts as Spur to Reform (W)
8/18/41, The Russian Infantry (C)
8/20/41, Middle East Situation (C)
8/22/41, Russia's Steel Cavalry (C)
8/24/41, The War at Sea-I (C)
8/25/41, The War at Sea-II (C)
8/26/41, Middle East Strategy (C)
8/27/41, Russian Winter Nears (C)
8/29/41, 'Two-Front' War in Air (C)
9/1/41, Aboard U.S.S. North Carolina at Sea, 'Two-Front' War in Air
9/2/41, Two Years of War-I (C)
9/3/41, Two Years of War-II (C)
9/4/41, Two Years of War-III (C)
9/5/41, Russian Campaign-I (C)
9/6/41, Russian Campaign-II (C)
9/7/41, Our Atlantic Defenses Expand Vastly in Year (W)
9/8/41, Winter in Russia (C)
9/9/41, Germany's Oil Supply (C)
9/10/41, Washington, Russian Guerrillas' Role (C)
9/11/41, Washington, Spitsbergen as a Symbol (C)
9/12/41, Washington, 'Fluid' Russian Front (C)
9/13/41, Charlottesville, Va., Japan is Still a Problem (C)
9/14/41, New Orleans, Army's Shake-Up Gets Under Way
9/15/41, Headquarters, Third Army, Lake Charles, La., Gale Holds Back War Game Start
9/16/41, Field Headquarters, Third Army, Lake Charles, La., Tragedy Marks Army Field Game
9/17/41, Field Headquarters, Third Army, Lake Charles, La., Red River 'War' Hangs in Balance
9/18/41, Field Headquarters, Third Army, Lake Charles, La., 'Chutists' Drop into War Game
9/19/41, Field Headquarters, 3D Army, Lake Charles, Headlong Clash by Two Big Armies
9/20/41, Field Headquarters, Third Army, Lake Charles, La., Invaders Crush 'Reds' in South
9/21/41, Lake Charles, La., Hard Russian Campaign Brings Many Surprises (W)
9/21/41, The Navy Clears for Action(NY Times Magazine)
9/22/41, Lake Charles, La., Army Planes Flee Hurricane Peril as Troops Shift for New Tactics
9/23/41, Shreveport, La., Bombers Thrill War Game Troops
9/24/41, General Headquarters, Camp Polk, La., Says War Games Show Two Flaws
9/25/41, Field Headquarters, Second Army, Somewhere in Louisiana, Storm Increases War Game Risks
9/28/41, Field Headquarters of the Second Army, Shreveport, La., Forces in 'Battle' Near Shreveport
9/28/41, Shreveport, La., Manoeuvres Show Army's Faults and Virtures (W)
9/29/41, Field Headquarters, Second Army, Shreveport, La., War Games Over; Blues Near Goal
9/30/41, Shreveport, La., War Games Show Army Still Lags
10/1/41, Shreveport, La., M'Nair Deplores 'Weak Discipline'
10/3/41, Fort Benning, Ga., The Needs of Russia (C)
10/8/41, Washington, Hitler's Big Push (C)
10/10/41, 'The Decisive Battle' (C)
10/12/41, Hitler Goes 'All-Out' to Beat the Russians (W)
10/13/41, Hazards Against Invasion (C)
10/14/41, The Arming of Our Ships (C)
10/15/41, Nazi Strategy at Moscow (C)
10/16/41, Germans Still Moving (C)
10/18/41, World Climax Nearer (C)
10/19/41, Hitler Has Won Much but Not All in Russia (W)
10/20/41, U.S. Maps Vast War Aid (C)
10/21/41, Middle East Clash Looms (C)
10/22/41, Russia's Will to Fight (C)
10/23/41, South Atlantic Guard (C)
10/24/41, Germans Edge Forward (C)
10/26/41, New Turn May Be at Hand in the War at Sea (W)
10/26/41, Our Own Skytroops (NY Times Magazine) 10/27/41, Sea Power is Dominant (C)
10/29/41, Middle East Strategy (C)
10/31/41, Middle East Stage Set (C)
11/5/41, British in Middle East (C)
11/12/41, Progress on U.S. 'Front' (C)
11/19/41, Washington, Nazis Suffer Defeats (C)
11/22/41, Montgomery, Ala., Britain's 'Second Front' (C)
11/23/41, Camden, S.C., Winter Balks Nazi Plan for an Early Knockout (W)
11/24/41, Spartanburg, S.C., The Progress in Libya (C)
11/28/41, Field Headquarters of the First Army, Somewhere in the Carolinas, War Game Tanks Locked in 'Battle'
11/29/41, Field Headquarters, First Army, Wingate, N.C., War Games Halt in the Carilinas
11/30/41, Struggle for Moscow Crucial Point of War (W)
12/1/41, Monroe, N.C., Sees Big Losses for Army in War
12/1/41, Washington, Japan's Eyes on Libya (C)
12/5/41, History at Rostov (C)
12/7/41, Big Forces are Massed for Showdown in Pacific (C)
12/8/41, War of the World (C)
12/9/41, Japan's War Pattern (C)
12/10/41, Winter Tips War Scales (C)
12/11/41, Air Power Pacific Key (C)
12/12/41, Japanese Begin to Pay (C)
12/13/41, Philippines Delaying Foe (C)
12/14/41, War Must be Fought on Two World Fronts (W)
12/15/41, The War After a Week (C)
12/16/41, Reich's New Air Defense (C)
12/17/41, The Threat to Singapore (C)
12/18/41, The Events at Hawaii-I (C)
12/19/41, The Events at Hawaii-II (C)
12/20/41, The Events at Hawaii-III (C)
12/21/41, The Events at Hawaii-IV (C)
12/21/41, Japanese Gain Quick Successes in Far-Flung War of the Pacific (W)
12/22/41, Plight of Hong Kong Force (C)
12/23/41, Home Defense Problems (C)
12/24/41, Germany Tastes Defeat-I (C)
12/25/41, Germany Tastes Defeat-II (C)
12/26/41, The Philippines-I (C)
12/27/41, The Philippines-II (C)
12/28/41, Battle of Philippines a Struggle for Time (W)
12/29/41, Three Weeks in Pacific (C)
12/30/41, Germans' War Potential (C)
12/31/41, What Navy is Doing (C)
1/1/42, Corregidor's Value to Manila (C)
1/2/42, Air Power Wins Again (C)
1/3/42, A War We Can Lose (C)
1/4/42, Grand Strategy of World War Covers Action on Two Vast Fronts (W)
1/5/42, The Battle for Luzon (C)
1/6/42, A Heartening Sign (C)
1/7/42, The German Retreat (C)
1/8/42, Libya and Sea War (C)
1/9/42, Threat to Singapore (C)
1/10/42, Singapore Crisis Near (C)
1/12/42, The Enemy Drive against Singapore (C)
1/14/42, The Japanese in Malaya (C)
1/15/42, The Varied War Picture (C)
1/16/42, U-Boats Off Our Coasts (C)
1/17/42, Crimea Bars Nazi Push (C)
1/18/42, Campaign in Far East Now at Critical Point (W)
1/19/42, Netherlands Indies-I (C)
1/20/42, Netherlands Indies-II (C)
1/21/42, Why Tankers are Sunk (C)
1/22/42, The Home Front-I (C)
1/23/42, The Home Front-II (C)
1/24/42, The Home Front-III (C)
1/26/42, War Approaches Crises in the Week (C)
1/27/42, Securing Orient Aid is Navy Job (C)
1/28/42, Naval Blows in Orient (C)
1/29/42, Pearl Harbor's Lessons (C)
1/30/42, Toll of Capital Ships (C)
1/31/42, Singapore Crisis at Hand (C)
2/2/42, The Gains by the Japanese (C)
2/3/42, MacArthur Delaying Foe (C)
2/4/42, Prelude in the Snow (C)
2/5/42, Battle in Orient Crucial (C)
2/6/42, Thin Red Line of Empire (C)
2/7/42, Lessons of Winter War (C)
2/8/42, Japan is Making Most of Limited Air Strength (W)
2/9/42, Japan's Bases in the Mandated Islands (C)
2/10/42, Assault on Singapore (C)
2/11/42, Washington, Artillery 'King' in Snow (C)
2/12/42, Washington, Defeat at Singapore (C)
2/13/42, Washington, U.S. Blimps Reply to U-Boats (C)
2/14/42, Washington, Unity of Command Needed (C)
2/15/42, Washington, 10 Weeks of Pacific War Show Japan Unchecked (W)
2/16/42, Washington, Naval Developments (C)
2/17/42, Threat to Suez Returns (C)
2/18/42, The Need for Reform-I (C)
2/19/42, The Need for Reform-II (C)
2/20/42, Our Strategy in the Pacific (C)
2/21/42, Britain's Fighting Men (C)
2/22/42, Japanese Tide Flows to Three Big Fronts (W)
2/23/42, War Nears a Climax (C)
3/4/42, Outlook on Four Fronts of War (C)
3/6/42, India Takes the Spotlight (C)
3/8/42, Four Continents Become Vital Battlegrounds in War of the World (W)
3/9/42, The War on U-Boats (C)
3/11/42, Washington, World Battle Variants (C)
3/13/42, Storm Rises Off Norway (C)
3/15/42, Battle of the Java Sea (C)
3/15/42, U.S. Army, Navy Staffs Streamlined for Action (W)
3/16/42, Crucial Spring is Near in Russia (C)
3/18/42, MacArthur of Australia (C)
3/20/42, Total Effort for Victory (C)
3/22/42, Defense of Australia is an Air-and-Sea Task (W)
3/23/42, The Middle East in Focus (C)
3/25/42, Washington, Air Raids on U.S.-I (C)
3/27/42, Washington, Air Raids on U.S.-II (C)
3/29/42, Washington, Japan's War Advantage Based on Simpler Needs (W)
3/30/42, Washington, Australia and the War (C)
4/1/42, Our Army in the Making (C)
4/3/42, Crisis Nears in Bataan (C)
4/5/42, War at Sea Rises to a New Peak of Intensity (W)
4/5/42, We Can Win the War, IF- (NY Times Magazine)
4/6/42, A Decisive Stage of War (C)
4/7/42, The Battle for Burma (C)
4/8/42, Bataan's Eleventh Hour (C)
4/9/42, Air Power in the War-I (C)
4/10/42, Bataan's Epic of Valor (C)
4/11/42, Air Power in the War-II (C)
4/12/42, Offensive Actions by Both Axis and United Nations are Indicated (W)
4/13/42, Air Power in the War-III (C)
4/14/42, Need for a War Strategy (C)
4/15/42, Air Power in the War-IV (C)
4/16/42, Air Power in the War-V (C)
4/17/42, Ships and the War (C)
4/18/42, Is French Fleet Usable? (C)
4/20/42, Moral Effect of Raids (C)
4/21/42, Mystery in Tokyo Raid (C)
4/22/42, Importance of Burma (C)
4/23/42, Air Offensive in Euorpe (C)
4/24/42, Russia's Ominous Lull (C)
4/25/42, Malta's Epic Near Crisis (C)
4/26/42, Planes Herald the Coming Summer Offensive (W)
4/27/42, 'Second Front' Prospects (C)
4/29/42, Japan's Peril from Air (C)
5/1/42, Madagascar's Role (C)
5/3/42, Loss of Burma Means a Big Setback in Asia (W)
5/4/42, A Vital Month of War (C)
5/6/42, Problems at Madagascar (C)
5/7/42, End of Philippine Campaign (C)
5/8/42, Navy Scores on the Foe (C)
5/9/42, Battle in the Pacific (C)
5/10/42, The Coral Sea Battle (C)
5/13/42, Foe's Next Blow Awaited (C)
5/15/42, Navy Bureau Shifts Reflect War's Lessons on Carriers
5/17/42, Prelude to Big Battle is Sounded in Russia (W)
5/18/42, A Week of World War (C)
5/20/42, United Nations Problems (C)
5/21/42, The War at Sea-I (C)
5/22/42, The War at Sea-II (C)
5/24/42, German Drive and 'Second Front' Loom Larger (W)
5/25/42, Naval Changes in War (C)
5/27/42, Two Main War Problems (C)
5/29/42, War Plans Being Revised (C)
6/1/42, Doolittle's Raid on Japan (C)
6/3/42, Portent of R.A.F. Raids (C)
6/4/42, Raids on Dutch Harbor Assessed (C)
6/5/42, War's New Pacific Phase (C)
6/7/42, Japan Challenges Us to Battle for Pacific (W)
6/9/42, Midway 'Surprise' Failed (C)
6/10/42, The War in Libya (C)
6/11/42, The Air Offensive-I (C)
6/12/42, The Air Offensive-II (C)
6/13/42, Japan's Fleet Hurt (C)
6/14/42, Our Naval Air Arm (C)
6/14/42, Crucial Summer Battles Flame on Russian Front (W)
6/15/42, The Air Offensive-III (C)
6/16/42, The Air Offensive-IV (C)
6/17/42, U.S. on New Air Front (C)
6/18/42, Ship Losses Serious (C)
6/19/42, Sevastopol Upsets Axis (C)
6/20/42, War Decisions Loom (C)
6/21/42, Rommel's Libya Victory May Loose a New Drive (W)
6/22/42, Ships in U-Boat Fight (C)
6/23/42, British Defeat in Libya (C)
6/24/42, Aleutians as a Key (C)
6/26/42, The Battle of Egypt (C)
6/28/42, Germans' Drive in Egypt Menace to Middle East (W)
6/29/42, Egypt Holds Spotlight (C)
6/30/42, The Battle of Egypt (C)
7/1/42, Threat to Egypt (C)
7/2/42, July is Critical Period for Allies, Axis (C)
7/3/42, The Battle of El Alamein (C)
7/4/42, Africa Hangs in the Balance (C)
7/5/42, Egypt Holds Fate of a Vital Area (W)
7/6/42, The Russian Campaign (C)
7/7/42, China After Five Years (C)
7/8/42, Three War Arenas Viewed as Crucial (C)
7/10/42, Mr. May's Prediction (C)
7/12/42, Germans Make Headway in Gigantic Offensive (W)
7/13/42, Action Shifts in Battle for Egypt (C)
7/15/42, Arms in Battle of Egypt (C)
7/16/42, Midway Battle's Lesson (C)
7/17/42, The Anti-Tank Gun (C)
7/18/42, Japanese Naval Losses (C)
7/19/42, Hitler Striking Hard to Knock Out Russia (W)
7/20/42, Artillery of the Air (C)
7/22/42, Washington, Leahy's Role in War (C)
7/23/42, Russia's Battle at Crisis (C)
7/24/42, Need for Toughness-I (C)
7/25/42, The Navy Bureau System (C)
7/26/42, 'Second Front' Areas Considered Possibilities (W)
7/27/42, Need for Toughness-II (C)
7/29/42, Red Army's Crucial Test in Caucasus (C)
7/30/42, Need for Toughness-III (C)
7/31/42, Need for Toughness-IV (C)
8/1/42, Russia Still a Bulwark (C)
8/2/42, Air Raids Must Serve as Second Front Now (W)
8/3/42, Cargo Planes-I (C)
8/5/42, Cargo Planes-II (C)
8/6/42, Cargo Planes-III (C)
8/7/42, Cargo Planes-IV (C)
8/13/42, Fayetteville, N.C., Offensives in Solomons and Russia (C)
8/15/42, At Sea with the Inshore Patrol, Sinkings by U-Boats Cut Sharply under Navy's Coastal Convoying
8/16/42, Difficult Battle Tasks Executed in Solomons (W)
8/19/42, Leesville, La., War's Season of Crisis (C)
8/21/42, Temple, Texas, Tactical Action by Allies at Dieppe (C)
8/23/42, Allied Strategy Links Russia and Middle East (W)
8/25/42, Palm Springs, Calif., Air Initiative in West (C)
8/27/42, San Francisco, Calif., Battle of the Solomons (C)
8/30/42, Russia's Plight Serious Under German Pressure (W)
8/31/42, San Francisco, Bombers' Role in War (C)
9/3/42, San Francisco, Tokyo Submarine War (C)
9/4/42, San Francisco, Days of Decision Near (C)
9/20/42, Somewhere in the Pacific, Pacific Power Balance Now Delicately Poised (W)
9/21/42, Aboard a U.S. Navy Transport Plane, Somewhere in the Pacific, Navy Air Trip to Far Pacific Isles Finds Our Outposts Poised, Alert
9/22/42, Somewhere in the Pacific, Russian Army Intact (C)
9/27/42, Guadalcanal, Solomon Islands, Solomons Action Develops Into Battle for South Pacific
9/28/42, Guadalcanal, Solomon Islands, Three Isles in Solomons Devastated Before Landing by U.S. Marines
9/29/42, Somewhere in the South Pacific, U.S. Marines' Song Used Against Them
10/4/42, Honolulu, South Pacific War Develops on a Vast Scale (W)
10/4/42, Somewhere in the South Pacific, The Story of Two Marines [Reprint from 9/29/42] (W)
10/7/42, Allies' Balance Sheet (C)
10/11/42, Fighting for Outposts in Pacific is Prelude to Greater Struggle (W)
10/18/42, Nazis' Gains in Russia are Offset by Losses (W)
10/23/42, Japan's Hold on West Pacific Not Broken in Almost a Year
10/24/42, Lessons of the Solomons Campaign
10/25/42, Friction Marring Pacific Team-Work
10/25/42, Washington, Solomons Operations a Magnet for Navies
10/26/42, Divided Command in Pacific War Gives Australia a Secondary Role
10/27/42, Plane Superiority Won in the Pacific
10/28/42, U.S. Navy is Using Big Army Bombers
10/29/42, 750,000 Tons Sunk by Our Submarines
10/30/42, Naval Superiority is Goal in Solomons
11/1/42, A Crucial Winter in the Global Struggle: The Situation Appraised (W)
11/2/42, The Offensive in Egypt Develops (C)
11/3/42, U.S. Hold in Solomons Bolstered (C)
11/4/42, Nazis Shift Tactics in Caucasus (C)
11/5/42, War of Manoeuvre Begins in Africa (C)
11/6/42, Marshal Rommel's Predicament (C)
11/8/42, Pattern of Victory is Seen in Egypt (W)
11/9/42, Allies Hold Initiative (C)
11/10/42, A Triumph for Preparation (C)
11/11/42, Rommel Not Eliminated (C)
11/12/42, The Strategic Importance of French Tunisia (C)
11/13/42, The Race For Tunisia (C)
11/15/42, Allies Prepare the Base for Mediterranean Drive (W)
11/16/42, Showdown in Solomons (C)
11/17/42, Fleets in Mediterranean (C)
11/18/42, Victory in First Phase (C)
11/19/42, Within Yugoslavia-I (C)
11/20/42, Within Yugoslavia-II (C)
11/23/42, Handling of the News of the War (C)
11/24/42, The Russian Offensive (C)
11/25/42, Weapons of the Tunisian Fight (C)
11/26/42, Thanksgiving in War (C)
11/27/42, The Problem of Mines (C)
11/28/42, Toulon: End of an Era (C)
11/29/42, Naval Balance Not Upset (C)
11/30/42, A Long Road-I (C)
12/1/42, A Long Road-II (C)
12/2/42, The Military Scene in North Africa (C)
12/3/42, The War in Russia-I (C)
12/4/42, The War in Russia-II (C)
12/6/42, Fleet's Recovery Marks War Year
12/6/42, Great Distances Slow Allied Drives in Africa (W)
12/8/42, Our Advantage in Shipbuilding (C)
12/9/42, Allies Have Net Gain (C)
12/10/42, A Balanced Ship Plan (C)
12/11/42, Atlantic Convoy Needs (C)
12/13/42, Nazi Counter-Move Awaited (W)
12/14/42, The Week of War (C)
12/15/42, Washington, British Wary on Libya (C)
12/16/42, Washington, Army Medical Teams (C)
12/17/42, Washington, Ominous Lull on War Fronts (C)
12/18/42, Washington, Our Air Superiority (C)
12/20/42, Washington, How Big an Army? The Basic Factors Weighed (W)
12/21/42, The War in the Week (C)
12/22/42, The Pacific Campaign-I (C)
12/23/42, The Pacific Campaign-II (C)
12/24/42, The Pacific Campaign-III (C)
12/25/42, The Pacific Campaign-IV (C)
1/6/43, Red Army Feat Grows (C)
1/8/43, Conquest of Tunisia is Still Distant (C)
1/10/43, Russians Now Promise to Better Their Campaign of Last Winter (W)
1/11/43, Germany's War Fuel (C)
1/13/43, The Growing Strength of Our Navy (C)
1/15/43, Russia's Gains in Winter Drive (C)
1/17/43, War Scales in Pacific in an Uneasy Balance (W)
1/18/43, Germany's Synthetic Oil (C)
1/19/43, The War in Russia (C)
1/20/43, Fighters Fly Seas (C)
1/21/43, Our Submarine War (C)
1/22/43, Rommel Fleeing Libya (C)
1/24/43, Hitler 'Fortress' Feels Impact of Allied Blows (W)
1/26/43, Axis Crisis in Russia Raises Issues (C)
1/27/43, Annapolis, Md., Annapolis Fills War Role (C)
1/28/43, Newport, R.I., Submarine Menace Emphasized (C)
1/29/43, Northampton, Mass., U-Boats Attacked in Lairs (C)
1/31/43, Offensive Strategy Laid Down at Casablanca (W)
2/4/43, Motor Torpedo Boat Squadrons' Training Center, Portsmouth, R.I., PT Boat Experts Carefully Chosen
2/5/43, Test Near in Tunisia (C)
2/7/43, Germany is Shaken by Her Worst Defeat (W)
2/8/43, Germany's Casualties (C)
2/9/43, Foe Busy in Pacific (C)
2/10/43, Bold Counsel is Urged on Allies (C)
2/11/43, The Submarine War-I (C)
2/12/43, The Submarine War-II (C)
2/13/43, The Submarine War-III (C)
2/14/43, The Submarine War-IV (C)
2/15/43, Manpower Problems-I (C)
2/16/43, Manpower Problems-II (C)
2/17/43, Manpower Problems-III (C)
2/18/43, Manpower Problems-IV (C)
2/20/43, Manpower Problems-V (C)
2/21/43, Manpower Problems-VI (C)
3/31/43, On the Tunisian Front, Allies' Tunisian Air Margin Gives Hope of Early Victory
4/2/43, Allied Headquarters in North Africa, New York Division at Front in Tunisia
4/12/43, London, Battle of Tunisia Seen in Last Stage
4/20/43, London, Reich is Now Inferior in Air Though Using All Its Planes
4/25/43, London, March, 1918, Stage is Reached in World War II (W)
5/4/43, Americans' Victory Opens Prospect of Splitting Foe
5/9/43, The Tunisian Victory (C)
5/11/43, Tour of War Areas Swells Pride in American Soldiers
5/12/43, Tunisia's Lessons Aid Allies' Power
5/13/43, Defeats in Tunisia Laid Victory Basis
5/14/43, North Africa Test for Europe Entry
5/15/43, Political Pitfalls of African Landing
5/16/43, Operational Unity Gained in Tunisia
5/17/43, Tunisia Re-Forges Forces of France
5/18/43, Stage in Air War Held By the Allies
5/19/43, Western Europe Still Air Theatre
5/20/43, Foe's War Power in Europe Scanned
5/21/43, Germany Fighting War of Man-Hours
5/22/43, Allies' Next Blow May Hit Axis Isles
5/23/43, A Tour of the Road to Victory (N.Y. Times Magazine)
5/26/43, Pacific Strategy Opens (C)
5/28/43, Axis Trial by Bombs (C)
5/31/43, War in Political Phase (C)
6/2/43, Europe's Crisis at Hand (C)
6/4/43, Pantelleria a Fortress (C)
6/6/43, Trend of Sea War Now Favors the Allies (W)
6/7/43, Factors in a Pacific Offensive (C)
6/9/43, The Invasion Riddle (C)
6/11/43, Soldiers' Amity is Vital (C)
6/12/43, A Step on Way to Italy (C)
6/13/43, Beyond the Mediterranean Isles Lies Italy (W)
6/14/43, Fort Riley, Kan., Cavalry Seeks New Car (C)
6/16/43, The Monsoon and War (C)
6/18/43, Storm Clouds in Pacific (C)
6/21/43, 'Cockpit of History' (C)
6/23/43, The Ruhr Bombings (C)
6/25/43, Turkey in Spotlight (C)
6/27/43, Trend Toward Victory is Visible in All Theatres of the Global War (W)
6/28/43, Pantelleria-I (C)
6/29/43, Pantelleria-II (C)
6/30/43, Pantelleria-III (C)
7/2/43, Pacific Strategy Tested (C)
7/4/43, Big Campaign Started to Win Pacific Bases (W)
7/5/43, Major Shift Seen in Nazis' Strategy
7/7/43, The War in the Air-I (C)
7/8/43, The War in the Air-II (C)
7/9/43, The Problem of Sicily (C)
7/12/43, Radar-I (C)
7/13/43, Radar-II (C)
7/14/43, Allies Gain on 3 Fronts (C)
7/15/43, Sicilian Gains Widen (C)
7/16/43, Pacific Gains Growing (C)
7/18/43, Axis Feels the Weight of a Three-Way Attack (W)
7/19/43, Home Front Lag (C)
7/20/43, Review of the Chinese Situation (C)
7/21/43, Issue in Sicily Sure (C)
7/22/43, Kuriles Vulnerable (C)
7/23/43, Chips Down in Russia (C)
7/25/43, Collapse in Sicily Spurs Axis Fears of Invasion (W)
7/26/43, Propaganda Warfare (C)
7/27/43, The Situation in Italy (C)
7/28/43, Some Italian Questions (C)
7/29/43, New Phase in Air Blitz (C)
8/1/43, Air Front in Europe (C)
8/2/43, The War Situation (C)
8/3/43, Tanks' Vital Role in War (C)
8/4/43, Nazis in Sicily in Peril (C)
8/5/43, Maxton, N.C, Ploesti Raid Worth Cost (C)
8/8/43, Allies in Sicily Knock at Gateway to Europe (W)
8/9/43, Trap Threatens Nazis (C)
8/11/43, Lag in Output Perilous (C)
8/12/43, Russia-I (C)
8/13/43, Russia-II (C)
8/15/43, Ring of Guns and Ships Tightens About Europe (W)
8/16/43, Portents on Two Fronts (C)
8/17/43, U-Boat Problem Passes (C)
8/18/43, Sicily, a Job Well Done (C)
8/19/43, Nazi Evacuation of Sicily (C)
8/20/43, Allied Air Blitz Studied (C)
8/22/43, Where to Strike Next, the Question at Quebec (W)
8/23/43, Encircling Japan (C)
8/24/43, The War in the Air-I (C)
8/25/43, The War in the Air-II (C)
8/26/43, The War in the Air-III (C)
8/27/43, The War in the Air-IV (C)
8/28/43, The War in the Air-V (C)
8/29/43, European War Centers (C)
8/30/43, Far East Forecast (C)
8/31/43, Taganrog Victory Vital (C)
9/1/43, Lessons for the Future (C)
9/2/43, Two Blows at Axis (C)
9/3/43, The Invasion of Italy (C)
9/4/43, The Italian Campaign (C)
9/5/43, Nazis Are Now Pledged to Hard Defensive War (W)
9/6/43, Wary Campaign Likely (C)
9/7/43, Puzzle of Italian Fleet (C)
9/8/43, Nazi Withdrawal in East (C)
9/9/43, One Down, Two to Go (C)
9/10/43, Rumors Befog Situation (C)
9/12/43, Hitler's Europe Shaken by Surrender of Italy (W)
9/13/43, Fruits of Italy's Defeat (C)
9/14/43, The Outlook in Burma (C)
9/15/43, Climax Near at Salerno (C)
9/16/43, Nazi Grip on Italy Firm (C)
9/17/43, Italian Fleet a Prize (C)
9/19/43, Allied Offensives Jar Hitler's Fortress Europe (W)
9/20/43, Gains on All War Fronts (C)
9/21/43, Sea Power-I (C)
9/22/43, Sea Power-II (C)
9/23/43, Sea Power-III (C)
9/24/43, Sea Power-IV (C)
9/29/43, 'Father Draft' Mis-Called (C)
9/30/43, Secret Weapons-I (C)
10/1/43, Secret Weapons-II (C)
10/4/43, The Italian Campaign (C)
10/5/43, The U-Boat Warfare (C)
10/6/43, Russia-I (C)
10/7/43, Russia-II (C)
10/8/43, Tactical Air War Shift (C)
10/10/43, New Blows in Pacific Suggest Major Attacks (W)
10/11/43, Pacific Strategy-I (C)
10/12/43, Pacific Strategy-II (C)
10/13/43, Pacific Strategy-III (C)
10/14/43, Pacific Strategy-IV (C)
10/15/43, Pacific Strategy-V (C)
10/16/43, Aberdeen Proving Ground, Md., Monster Tanks and Light Rifles Among Arms Tested at Aberdeen
10/17/43, Aberdeen Proving Ground, Md., Rigorous Training Given at Aberdeen
10/18/43, Aberdeen Proving Ground, Md., Aberdeen Studies Enemies' Weapons
10/20/43, Norfolk, Va., Amphibious Troops Get Training on Beaches of Chesapeake Bay
10/21/43, Fort Benning, Ga., Leaps Minor Study for Paratroopers
10/22/43, Fort Jackson, S.C., Tough Training Given to Soldiers in Modern Camp at Fort Jackson
10/23/43, Fort Benning, Ga., Fort Benning School Emphasizes Realism in Training the Infantry
10/24/43, Naval Air Station at Jacksonville, Fla., War-Wise Pilots Train Navy Fliers
10/26/43, Orlando, Fla., U.S. Air Force Goes Under New System
10/27/43, Fort Worth, Tex., War Training Cuts Air Accident Rate
10/29/43, Fort Sill, Okla., Fort Sill Trains Mighty Artillery
11/3/43, Fort Leavenworth, Kan., Leavenworth Tops Schools of Army
11/4/43, Wright Field, Dayton, Ohio, Wright Field Holds Great Air Secrets
11/7/43, Moscow Set the Stage for War's Final Phase (W)
11/8/43, U.S. Lags in Some Arms (C)
11/9/43, Fort Knox, Ky., Tank Corps Improved (C)
11/10/43, The Battle of Rabaul (C)
11/12/43, Invasion Our Main Goal (C)
11/14/43, 'Retreat from Moscow' Must Go On for Hitler (W)
11/15/43, Offensive in Pacific (C)
11/16/43, A Balkan Campaign (C)
11/17/43, Problems in Russia (C)
11/18/43, Beating Germany by Air Power (C)
11/19/43, Value of Central Pacific Islands (C)
11/21/43, Big Pacific Offensive Opens in Small Islands (W)
11/22/43, Mid-Pacific Push Begins (C)
11/23/43, Two Allied Set-Backs (C)
11/24/43, Our Obstacles in Italy (C)
11/26/43, Germans May Attack (C)
11/29/43, A Political Turn in War (C)
12/1/43, Our Pacific Battle (C)
12/2/43, Effect of Statement (C)
12/3/43, Reefs Menace Troops (C)
12/6/43, Washington, Secrecy is Still Problem (C)
12/8/43, Washington, A Year of Decision (C)
12/10/43, Washington, New Crisis for Turkey (C)
12/12/43, Washington, Grand Strategy for 1944 Settled (W)
12/13/43, Italy-I (C)
12/14/43, Italy-II (C)
12/15/43, Russian Air Bases (C)
12/17/43, Washington, Marshall Not Going to London; Eisenhower Likely to Lead Drive
12/19/43, Washington, Red Army is Poised to Open Winter Drives
12/20/43, Washington, New French Army (C)
12/22/43, Washington, The Invasion Command (C)
Barkley, Frederick R.
11/24/40, Washington, Food Stamp Program Spread Across Nation (W)
1/2/41, Washington, For a Firm Dollar (L)
3/9/41, Washington, Income Tax Revenues Rising to a New High (W)
8/13/41, Washington, Vote is 203 to 202 (L)
9/10/41, Washington, Movies Feed Propaganda, Nye Charges at Inquiry
12/8/41, Washington, Winter and War Fall on Capital
2/4/42, Washington, Sharp Senate Talk over Pearl Harbor
7/5/42, Washington, Japanese Bombed (L)
10/15/42, Washington, Army Age Too High
1/7/43, Washington, In Effect at Noon (L)
4/7/43, Washington, Better Teaching of History Sought in Resolution before Senate Body
5/23/43, Washington, Fighting Near End
Beattie, Edward W.
9/10/39, Bucharest, Main Polish Force Held Not Used Yet
2/14/43, Allied Headquarters in North Africa, Allies in Tunisia Called Still Raw
4/13/43, Kairouan, Tunisia, Kairouan Populace Strews Flowers on Allied Deliverers
Belair, Felix Jr.
11/24/38, Warm Springs, Ga., Roosevelt is Gratified by Report Palestine will Take More Refugees
1/13/39, Washington, Quick Action Urged
9/2/39, Washington, Roosevelt Pledge
9/9/39, Washington, 100,000 More Men
10/14/39, Washington, President is Firm (L)
10/21/39, Hyde Park, N.Y., Roosevelt Warns Our Sea Frontier Expands with Need
11/2/39, Washington, Early Criticizes Molotoff
2/6/40, Hyde Park, N.Y. Says Debt is Less
2/10/40, Washington, U.S. Plan Revealed (L)
3/2/40, En Route with President Roosevelt to Washington, President's Train Speeds to Washington
3/3/40, Washington, Office Takes Toll of the President (W)
4/26/40, Warm Springs, Ga., War Zone Widened
5/22/40, Washington, States 3-Point Plan
6/8/40, Washington, For Gun 'Trade-ins'
6/11/40, Charlottesville, Va., Our Help Pledged
6/13/40, Washington, 80 Army Bombers Released to Allies in 'Full Speed' Aid
6/15/40, Washington, Hitler is Doubted
6/19/40, Washington, Roosevelt Proposes Training for Youth in Vast Program
Bellaire, Robert T.
7/24/42, Lourenco Marques, Portuguese East Africa, 14,457-Ton Japanese Liner Sunk by U.S. Submarine, 780 Drowned
7/25/42, Lourenco Marques, Portuguese East Africa, False News Lifts Morale in Japan Amid Hardships
7/26/42, Lourenco Marques, Portuguese East Africa, Japan's War Plans Last Fall Related
Berger, Meyer
11/8/39, About New York (C)
12/16/39, Atlanta, Atlanta is Won by Film of South
9/26/41, Brooklyn Roars 'We're In!' as Pennant Victory Paean
10/6/41, Casey in the Box - 1941
5/23/42, Fog Blanket Aids in Blackout Test of All Manhattan
8/3/42, London, American Soldiers Like London; Jeep Drivers Have Many Dates
8/4/42, London, Fouls and Erratic Base Running Win British at Service Ball Game
8/9/42, The Lizzie Border Case (NY Times Magazine)
8/18/42, London, Bill Selby, Over Beer in London, Announces His Return to Army
8/20/42, London, U.S. Rangers in Dieppe Raid Were Pupils of Commandos
8/23/42, At a United States Bomber Station, Somewhere in Great Britain, Hurt Pilot Saved Crippled Fortress
8/29/42, London, Allied Offensive Grows
6/11/43, Zoot Suit Originated in Georgia; Bus Boy Ordered First One in '40
12/13/43, Aboard an Army Hospital Train, New York to Ohio, Hope Reborn in Wounded as Hospital Train Goes West
12/17/43, Baltimore, Md., Widow Sponsors the Byron Darnton
Berrigan, Darrell
4/29/42, With British Army in Burma, Weary British Retreat in Burma, Knowing that They Face Disaster
Bettany, Guy
5/18/43, London, Exile Gave Advice for Dam Blasting
Birchall, Frederick T.
5/7/38, Rome, Mussolini Shows His Army
6/5/38, London, Europe's Swing 'Not So Hot'
6/13/38, London, Mid-Europe Strain Expected to Grow
6/25/38, London, France May Check Seizure by Japan
8/26/38, Berlin, Horthy Sees Flower of Army
9/8/38, Nuremberg, Henlein Goes Home
9/13/38, Nuremberg, Hitler Warns of Action
9/27/38, Berlin, Benes is Assailed
9/30/38, Munich, Powers Make Accord (L)
10/1/38, Munich, Britain and Germany Agree (L)
10/9/38, Berlin, Germans Occupy 5th Sudeten Zone
10/12/38, Berlin, Berlin Seeks Rule of Czech Railways
3/22/39, New Delhi, Gandhi Exhorts World to Disarm
7/5/39, Danzig, Armed Forces Put at 10,000 in Danzig; Free City is Calm
8/21/39, London, Peace Hopes Wane
9/1/39, London, British Children Taken from Cities
9/2/39, London, London Threatens (L)
9/4/39, London, Britain is Determined
9/5/39, London, British Raid Fleet (L)
9/9/39, London, Confusion in City (L)
9/10/39, London, Pledge at London
9/11/39, London, Westwall Break is Held Possible
1/26/40, Ottawa, Parliament Ended (L)
2/14/40, Ottawa, Ottawa Mourns Lord Tweedsmuir
2/29/40, Ottawa, Canada Will Raise Aluminum Output
4/26/40, Amsterdam, 2-Day India-to-England Air Service is Feat of U.S. Plane on Dutch Line
7/5/40, Toronto, Kinship of Britain and U.S. is Hailed
7/8/40, Ottawa, Canada Confident British can Resist
Bird, Robert S.
5/24/39, Portsmouth, N.H., Rescue Ships Huddle Helplessly over Spot where Squalus Lies
Blair, William M.
1/10/43, Philadelphia, Non-Stop Air Armada of Allies Flew 1,400 Miles to North Africa
Bledsoe, Samuel B.
6/27/43, Washington, House Ban Backed (L)
Bloch, Kurt
9/4/38, Japanese Drives Bog Down in China (W)
Boone, Anne
5/24/42, Guide to Our Mighty Army (NY Times Magazine)
Boyle, Harold V.
2/20/43, With United States Forces, in Tunisia, That Tunisia Punch Bodes Ill for Foe
8/3/43, With United States Infantry, Sicily, Capture of 'Bloody Ridge' in Sicily Like Victory of Hill 609 in Tunisia
Bracker, Milton
1/1/40, 1940 Born in Wild Revelry; Good Year for Nation Seen
12/12/40, Miami Beach, Duchess Improves; Return is Delayed
10/11/42, Boston, Girl from Kokomo Finds Navy Niche
1/21/43, At a Fighter Station, England, R.A.F. Flier Tells How to Fell Them
1/22/43, London, Toll Mounts to 47 at Bombed School
1/27/43, London, 250 Slain Resisting Nazis in Marseille
1/28/43, London, Child Raid Victims Buried in England
2/6/43, London, Andrews Assumes Command of A.E.F. in European Zone
2/9/43, London, Many 2-Ton Bombs Blast U-Boat Base
2/17/43, London, Olympics Planned by United Nations
3/5/43, Commando-Ranger Training Station, Somewhere in Scotland, Speed March Tops Rangers' Course
3/6/43, Commando-Ranger Training Station, Somewhere in Scotland, Rangers Toughen, but Are Still Boys
3/9/43, London, Guerrillas Kill 23 Nazi Officers in Opposing French Labor Draft
3/19/43, A United States Army Base, Somewhere in Central England, Jeeps Pull Plows on Yanks' Farms
3/31/43, London, Churchill Warns of Overoptimism
4/5/43, London, Renault Unit Hit (L)
4/18/43, London, Vast-Scale Raids (L)
5/6/43, London, U.S. Flier, Minus Leg, Back in War; Loren Hillsinger Ends Tradition
5/11/43, London, New P-47 Fighters Now in War Action
6/11/43, On a Country Racecourse, Somewhere in England, Yanks Live Cozily on Old Race Track
6/15/43, A Town in England, Yanks in England Pose Social Issue
7/1/43, London, U.S. and British Staff Officers Overcome Language Difficulties
7/21/43, London, British Boys Face Coal Mining Draft
7/23/43, London, Giraud Disavows Pro-Nazi Leaning
7/27/43, London, Polish Executions Put at 3,200,000
8/4/43, Allied Headquarters in North Africa, Axis Line Broken (L)
8/5/43, Allied Headquarters in North Africa, Allies Push Ahead
8/6/43, Allied Headquarters in North Africa, Sicilian Key Falls (L)
8/7/43, Allied Headquarters in North Africa, Severe Fighting at Troina
8/8/43, Allied Headquarters in North Africa, Eighth Army Gains (L)
8/9/43, Allied Headquarters in North Africa, Foe Flees in Sicily (L)
8/10/43, Allied Headquarters in North Africa, Sant' Agata Taaken (L)
8/11/43, Allied Headquarters in North Africa, Allies' Pace Slowed
8/12/43, Allied Headquarters in North Africa, 8th Army in Sight of Southern Italy
8/13/43, Allied Headquarters in North Africa, Air, Sea Guns Cover New Sicily Landing
8/14/43, Allied Headquarters in North Africa, Foe Flees in Sicily (L)
8/15/43, Allied Headquarters in North Africa, Riposto Captured
8/15/43, Allied Headquarters in North Africa, Allies Find Lesson is Sicily (W)
8/17/43, Allied Headquarters in North Africa, Italy in Gun Range (L)
8/18/43, Allied Headquarters in North Africa, Isle Won in 38 Days (L)
8/19/43, Allied Headquarters in North Africa, General Hails Men
8/20/43, Allied Headquarters in North Africa, South Italy Raked
8/21/43, Allied Headquarters in North Africa, Aeolians Occupied
8/22/43, Guyotville, Algeria, Beaches in Africa Offer Few Girls
8/30/43, Allied Headquarters in North Africa, Allies Pound Italy from Rome to Tip
9/1/43, Allied Headquarters in North Africa, Foe Strikes Back at Allied Raiders Over Italy but Fails to Stop Them
9/3/43, Allied Headquarters in North Africa, Dawn is Zero Hour (L)
9/4/43, Allied Headquarters in North Africa, Advance Reported (L)
9/5/43, Allied Headquarters in North Africa, San Giovanni Falls (L)
9/5/43, Allied Headquarters in North Africa, Italy is Being Wrecked by Strategic Bombing (W)
9/6/43, Allied Headquarters in North Africa, British Take 2,000 (L)
9/7/43, Allied Headquarters in North Africa, Allies Drive 10-Mile Salient into Calabrian Mountains
9/8/43, Allied Headquarters in North Africa, Palmi is Captured
9/9/43, Allied Headquarters in North Africa, Gen. Eisenhower Announces Armistice (L)
9/10/43, Allied Headquarters in North Africa, Fighting Shrouded (L)
9/11/43, Allied Headquarters in North Africa, Fifth Army Gains
9/12/43, Allied Headquarters in North Africa, Roma Goes Down Fighting as First Battle Ends Career
9/12/43, Allied Headquarters in North Africa, Vast Job is Left in Italy (W)
9/13/43, Allied Headquarters in North Africa, Catanzaro Falls (L)
9/14/43, Allied Headquarters in North Africa, Allies Push Inland (L)
9/15/43, Allied Headquarters in North Africa, Tanks Lash Allies (L)
9/16/43, Allied Headquarters in North Africa, Ships Pound Enemy Forces
9/17/43, Allied Headquarters in North Africa, Push to Naples On (L)
9/18/43, Allied Headquarters in North Africa, Germans Give Way
9/19/43, Allied Headquarters in North Africa, Allies Driving On (L)
9/19/43, Allied Headquarters in North Africa, Our Big Job in Italy to Drive Out Germans (W)
9/20/43, Allied Headquarters in North Africa, Island Joins Allies (L)
9/21/43, Allied Headquarters in North Africa, Patriots Assisted (L)
9/22/43, Allied Headquarters in North Africa, French Troops and Patriots Clear West Side of Corsica
9/23/43, Allied Headquarters in North Africa, More Towns Taken
9/24/43, Allied Headquarters in North Africa, Retreat Reported (L)
9/25/43, Allied Headquarters in North Africa, 5th Army Strikes
9/26/43, Allied Headquarters in North Africa, Fifth Army Gaining
9/27/43, Allied Headquarters in North Africa, British Peril Base
9/28/43, Allied Headquarters in North Africa, 5th Army Slowed
9/29/43, Allied Headquarters in North Africa, Foe in Dual Peril (L)
9/30/43, Algiers, Allies Race Ahead (L)
10/1/43, Algiers, Drive Past Pompeii (L)
10/2/43, Algiers, Final Drive Hard (L)
10/3/43, Algiers, British Drive Far (L)
10/4/43, Algiers, Benevento Taken (L)
10/5/43, Algiers, Eighth Army Gains (L)
10/6/43, Algiers, 2 Airfields Taken (L)
10/7/43, Algiers, Allies Advance across Italy against Fierce Resistance
10/8/43, Algiers, British Halt Tanks
10/9/43, Algiers, 5th Army at River
10/10/43, Algiers, Caserta Captured
10/10/43, Allied Headquarters, Algiers, Hard Lessons Learned in Salerno Campaign (W)
10/11/43, Algiers, Planes from Africa Bomb Greece, Crete and Rhodes
10/12/43, Algiers, Fifth Army Gains (L)
10/14/43, Algiers, Reich's Acts Cited
10/15/43, Algiers, Nazis Reel in Italy
10/16/43, Algiers, Clark Batters Foe (L)
10/17/43, Algiers, 5th Army Strides (L)
10/18/43, Algiers, Fierce Battles Rage in Italy as Germans Resist Squeeze
10/19/43, Algiers, Clark Wins Height (L)
10/20/43, Algiers, Volturno Cleared
10/21/43, Algiers, Both Ends Advance (L)
10/23/43, Algiers, Rome Area Lashed
10/24/43, Algiers, 5th and 8th Armies Smash Attacks, Take High Ground
10/25/43, Algiers, British Span River
10/26/43, Algiers, Allies Capture Sparanise, Flank Nazis on Regia Canal
10/28/43, Algiers, Few Gains in Italy
10/29/43, Algiers, Eighth Army Takes Six Towns in Italy
10/30/43, Algiers, Nazi Line Menaced
11/1/43, Algiers, 5th Army Grinds On
11/2/43, Algiers, 2 Armies in Italy Gain Despite Mud
11/3/43, Algiers, Fifth Army Cracks Foe's Line in Italy
11/4/43, Algiers, Allies in Control of Massico Ridge
11/5/43, Algiers, Isernia Captured
11/6/43, Algiers, 5th Army Strides
11/7/43, Algiers, Venafro and Vasto Captured by Allies
11/9/43, Algiers, 5th Army Slowed
11/12/43, Algiers, Giraud Denies Ties with Vichy Regime
11/14/43, Algiers, Ships Shell Coast
11/14/43, Algiers, Allies Make Rome Their Next Goal (W)
11/15/43, Algiers, Atessa is Captured
11/16/43, Algiers, Railways Targets
11/22/43, Algiers, Allied Armies in Italy Score Biggest Gains of Two Weeks
11/23/43, Algiers, Eighth Army Takes Two More Towns
11/24/43, Algiers, Patton Struck Ailing Soldier, Apologized to Him and Army
11/25/43, Algiers, Eighth Army Takes Alfedena and Key to Two Rome Roads
11/26/43, Algiers, 'Winter Line' is Cut
11/28/43, Algiers, 8th Army Extends Sangro Bridgehead
11/29/43, Algiers, Americans in Italy Drive Two Miles
11/30/43, Algiers, New Drive in Italy (L)
12/1/43, Algiers, British Merge Bridgeheads on 14-Mile Line on Sangro
12/2/43, Algiers, Germans Hold On
12/3/43, Algiers, 'Full Retreat' is On (L)
12/4/43, Algiers, 8th Army Drives 6 Miles Up Coast Toward San Vito
12/5/43, Algiers, Two-Mile Gains Made
12/5/43, Algiers, Allies Progress on Roads to Rome (W)
12/6/43, Algiers, Offensive Goes On (L)
12/7/43, Algiers, Battling in Italy
12/8/43, Algiers, 5th Army Takes More Peaks as 8th Crosses River in Italy
12/9/43, Algiers, Allies at Gate to Rome Valley; 8th Army Beats Off All Blows
12/11/43, Algiers, U.S. Troops Score (L)
12/12/43, Algiers, 8th Army Sets Up New Bridgehead
12/13/43, Algiers, 8th Army Widens Moro Bridgehead
12/15/43, Algiers, German Counter-Blows Fail to Lessen Peril to Ortona
12/16/43, Algiers, Fortresses and Liberators Smash Airfields Near Athens
12/18/43, Algiers, French in Action on Front in Italy
12/19/43, Algiers, Two Allied Armies Advance in Italy
12/20/43, Algiers, San Pietro Taken
12/21/43, Algiers, 5th Army Batters San Vittore Gates
12/23/43, Algiers, British in Ortona
12/24/43, Algiers, Americans Storm Mountain in Italy
12/25/43, Algiers, 8th Army Wins Town near Ortona; Americans Take a Hill, Lose One
12/26/43, Algiers, Battle in Streets
12/27/43, Algiers, U.S. Troops Seize Peak Near Cassino
12/28/43, Algiers, Eisenhower Sure of Victory in 1944
12/29/43, Algiers, Americans Mop Up Mount Sammucro
12/30/43, Algiers, Canadians Seize Ortona and Go On
12/31/43, Algiers, 8th Army Pushes Toward Pescara
Brigham, Daniel T.
10/25/40, Berne, Switzerland, Vichy in War Role (L)
12/16/40, Berne, Switzerland, Coup d'Etat Sought (L)
12/26/40, Berne, Switzerland, Balkan Blow Near (L)
12/27/40, Berne, Switzerland, Balkans on Alert
3/18/41, Berne, Switzerland, Generals to Meet (L)
4/6/41, Berne, Switzerland, Nazi Troops March (L)
4/8/41, Berne, Switzerland, Yugoslav Drive On (L)
4/11/41, Berne, Switzerland, Nazis at Belgrade
4/12/41, Berne, Switzerland, Yugoslav Strength Shown
4/14/41, Berne, Switzerland, Serbs Slow Nazis
6/15/41, Berne, Switzerland, Clash is Expected Soon
6/23/41, Berne, Switzerland, Russians Hit Back (L)
6/24/41, Berne, Switzerland, Russians Raid Prussia
6/25/41, Berne, Switzerland, Nazis Push Two Drives
6/26/41, Berne, Switzerland, Heavy Fight Reported
6/27/41, Berne, Switzerland, Salient in Poland (L)
6/28/41, Berne, Switzerland, Minsk Push Gains (L)
6/29/41, Berne, Switzerland, Fighting is Fierce (L)
6/30/41, Berne, Switzerland, Counter-Blows Struck
7/1/41, Berne, Switzerland, Soviet Line Dented (L)
7/2/41, Berne, Switzerland, Germans Drive On (L)
7/3/41, Berne, Switzerland, Nazis Held, Moscow Says, in Stiff Battle Near Minsk
7/4/41, Berne, Switzerland, River Battle Line
7/5/41, Berne, Switzerland, Withdrawal Orderly
7/6/41, Berne, Switzerland, Nazi Thrust Smashed
7/7/41, Berne, Switzerland, Soviet Lines Firm (L)
7/8/41, Berne Switzerland, Baltic Battle On
7/14/41, Geneva, Switzerland, 3 Fronts Aflame
7/17/41, Berne, Switzerland, Stern Test for Red Army
7/18/41, Berne, Switzerland, Russians Hit Back
7/19/41, Berne, Switzerland, Reich Troops Gain (L)
7/20/41, Berne, Switzerland, Red Defense Firm
7/21/41, Berne, Switzerland, Soviet Lists Gains (L)
7/22/41, Berne, Switzerland, Fight at Smolensk
7/23/41, Berne, Switzerland, New Fight Rages Above Leningrad
7/24/41, Berne, Switzerland, Smolensk Drive is At Standstill
7/25/41, Berne, Switzerland, Soviet Lines Firm
7/26/41, Berne, Switzerland, Soviet Hits Back
7/27/41, Berne, Switzerland, Soviet Holds Fast
7/28/41, Berne, Switzerland, Moscow Confident (L)
7/29/41, Berne, Switzerland, Red Army Attacks (L)
7/30/41, Berne, Switzerland, Big Nazi Loss Claimed
7/31/41, Berne, Switzerland, Smolensk Fight Costly for Nazis; Red Army Presses On in Ukraine
8/2/41, Berne, Switzerland, Duels on Leningrad Front
8/4/41, Berne, Switzerland, Kiev Drive Checked
8/6/41, Berne, Switzerland, Russians Report Foe Halted in His Twin Drives on Kiev
8/7/41, Berne, Switzerland, Russians Report Repulse of Nazis
8/8/41, Berne, Switzerland, German Thrusts Balked
8/9/41, Berne, Switzerland, Russians Battle Fierce Nazi Push
8/11/41, Berne, Switzerland, Russians Still Holding
8/12/41, Berne, Switzerland, Red Army Holds, Russians Report
8/14/41, Berne, Switzerland, Retirement in Good Order
8/15/41, Berne, Switzerland, Key Points Given Up
8/19/41, Berne, Switzerland, Nazis in Kingisepp
8/20/41, Berne, Switzerland, Red Army Hits Back
8/21/41, Berne, Switzerland, Act Laid to Stalin (L)
8/23/41, Berne, Switzerland, Nikopol is Yielded (L)
8/24/41, Berne, Switzerland, Red Army Strikes (L)
8/25/41, Berne, Switzerland, Gomel Drive Gains
8/26/41, Berne, Switzerland, Novgorod Given Up
8/26/41, Berne, Switzerland, Russians Regain Area Near Gomel
9/2/41, Berne, Switzerland, Attack is Pressed
9/3/41, Berne, Switzerland, Nazis on Defensive
9/4/41, Berne, Switzerland, 22 Towns Retaken (L)
9/5/41, Berne, Switzerland, Moscow Claims New Gain in Push
9/6/41, Berne, Switzerland, Russian Thrusts in Center Gaining
9/7/41, Berne, Switzerland, Russian Marines Land
9/8/41, Berne, Switzerland, Combat Rages On (L)
9/11/41, Berne, Switzerland, Russians Pursue Enemy in Center
9/12/41, Berne, Switzerland, Smolensk Wedge Cut Down
9/13/41, Berne, Switzerland, Kiev Threat Increased
9/14/41, Berne, Switzerland, Offensive is Reported
9/24/41, Berne, Switzerland, Red Army Attacks
9/26/41, Berne, Switzerland, Red Forces Firm (L)
9/27/41, Berne, Switzerland, Russians Attack (L)
10/3/41, Berne, Switzerland, Nazis' Lines Cut, Moscow Reports
10/4/41, Berne, Switzerland, Leningrad Battle Continues
10/6/41, Berne, Switzerland, Advance Above Crimea
10/7/41, Berne, Switzerland, Huge Push Opens(L)
10/9/41, Berne, Switzerland, Soviet Hard Pressed
10/10/41, Berne, Switzerland, Russians Hit Back
10/11/41, Berne, Switzerland, Soviet Gaps Filled (L)
10/14/41, Berne, Switzerland, Nazi Advance Delayed
10/15/41, Berne, Switzerland, Germans Checked (L)
10/16/41, Berne, Switzerland, Russians Retreat (L)
10/17/41, Berne, Switzerland, Nazi Push Slowed
10/18/41, Berne, Switzerland, Defenders' Hopes Rising
10/19/41, Berne, Switzerland, Invaders Checked (L)
10/20/41, Berne, Switzerland, Germans Thrust Back
10/22/41, Berne, Switzerland, Soviet Army Firm 10/23/41, Berne, Switzerland, Moscow Line Held (L)
10/24/41, Berne, Switzerland, Nazi Claims Denied (L)
10/25/41, Berne, Switzerland, Reds Strike Hard
10/26/41, Berne, Switzerland, Russians Give Ground
10/27/41, Berne, Switzerland, Germans in Crimea
10/28/41, Berne, Switzerland, No Big Break-Through
10/29/41, Berne, Switzerland, Russian Attacks and Mud Turning Tide at Moscow
10/31/41, Berne, Switzerland, Nazis Pierce Line Below Moscow
11/3/41, Berne, Switzerland, Red Army Front in Crimea Bends
11/4/41, Berne, Switzerland, New Battles On in Soviet Center
11/5/41, Berne, Switzerland, Red Army Attacking
11/6/41, Berne, Switzerland, Red Army Halts Push on Moscow
11/7/41, Berne, Switzerland, Premier Confident
11/8/41, Berne, Switzerland, Nazis Pressed at Volokolamsk
11/10/41, Berne, Switzerland, Gap in Line Closed
11/11/41, Berne, Switzerland, Moscow's Army Beats Back Nazis
11/12/41, Berne, Switzerland, Red Army Holds on All Sectors
11/14/41, Berne, Switzerland, Russians Report New Tula Gains; Retire in Crimea
11/15/41, Berne, Switzerland, Russians Claim Leningrad Break
11/19/41, Berne, Switzerland, Moscow's Army Again beats Off All Nazi Blows
11/24/41, Berne, Switzerland, Vichy Going Ahead
11/26/41, Berne, Switzerland, Donets Units Move
11/28/41, Berne, Switzerland, New Moscow Peril
11/30/41, Berne, Switzerland, Don Port Retaken (L)
12/3/41, Berne, Switzerland, Pressure on Moscow Grows
12/4/41, Berne, Switzerland, Nazi Rout Widens
12/5/41, Berne, Switzerland, Debris Fills Roads
12/6/41, Berne, Switzerland, Russians Drive On
12/7/41, Berne, Switzerland, Russians Advance
12/9/41, Berne, Switzerland, Russians Launch Attack on Crimea
12/10/41, Berne, Switzerland, Link to Leningrad Retaken by Soviet
12/11/41, Berne, Switzerland, Wide Soviet Gains Listed by Moscow
12/13/41, Berne, Switzerland, Germans Smashed
12/14/41, Berne, Switzerland, Blows by Red Army
12/16/41, Berne, Switzerland, Russians Take Klin
12/17/41, Berne, Switzerland, Kalinin is Retaken in Russian Sweep
12/18/41, Berne, Switzerland, New Soviet Drive Opens in Far North
12/21/41, Berne, Switzerland, Russians Go Ahead
12/22/41, Berne, Switzerland, Brauchitsch is Out
12/24/41, Berne, Switzerland, New Russian Gains Smash Nazis' LInes
12/31/41, Berne, Switzerland, Kerch Recaptured
1/1/42, Berne, Switzerland, Nazis Hurled Back
1/2/42, Berne, Switzerland, Russians Smash On
1/7/42, Berne, Switzerland, Reich Units Cut Up
1/8/42, Berne, Switzerland, Nazi Line Smashed
1/9/42, Berne, Switzerland, Ring in Crimea Cut (L)
1/10/42, Berne, Switzerland, Russians Near Vyazma Line; Leningrad Siege is Eased
1/12/42, Berne, Switzerland, Nazis' Bryansk Line Broken By Seizure of Key Rail Point
1/16/42, Berne, Switzerland, New Soviet Drive Cuts Deep in Lines
1/18/42, Berne, Switzerland, Marshal von Reichenau is Dead; Berlin Gives Apoplexy as Cause
1/21/42, Berne, Switzerland, Red Army Scores
1/24/42, Berne, Switzerland, Nazis Swept Back
1/25/42, Berne, Switzerland, Russian Battle Picture Changes (L)
1/30/42, Berne, Switzerland, Red Army Drive in Ukraine Menaces Dnieper River Bend
1/31/42, Berne, Switzerland, Nazi Sees Victory
2/11/42, Berne, Switzerland, Reich Trade Fairs Canceled for Year
2/14/42, Berne, Switzerland, Red Army Smashes into White Russia
2/20/42, Berne, Switzerland, Smolensk in Peril of Soviet Pincers
2/21/42, Berne, Switzerland, Red Army Batters Kharkov Defenses
2/22/42, Berne, Switzerland, Soviet Fans Hopes for Victory News
2/24/42, Berne, Switzerland, Red Army Pinching Smolensk Salient
2/27/42, Berne, Switzerland, Soviet Seizes Japanese Holdings, Masses Troops Opposite Sakhalin
3/1/42, Berne, Switzerland, German Power Sapped as Red Army Drives On (W)
3/14/42, Berne, Switzerland, Red Army Pushes Deeper in Ukraine
3/16/42, Berne, Switzerland, Kharkov Victory Near, Says Soviet
3/17/42, Berne, Switzerland, New Soviet Drive Dents Donets Line
3/18/42, Berne, Switzerland, Fight for Kharkov is Reported Raging
3/20/42, Berne, Switzerland, Hitler Calls Back Ousted Aids; Drive for Suez Held Likely Aim
3/21/42, Berne, Switzerland, Red Army Drives Wedges Deeper into Nazi Defenses
3/23/42, Berne, Switzerland, Soviet Reports 12,000 Nazis Slain, Much Booty Taken in Kalinin Area
3/29/42, Berne, Switzerland, Spring Outlook Favors Russians (W)
3/30/42, Berne, Switzerland, Russians Gain in South
4/6/42, Berne, Switzerland, 40,000 Nazis Slain, Soviet Announces
4/27/42, Berne, Switzerland, Nazi Sees Victory (L)
4/29/42, Berne, Switzerland, Russians Capture Key Donets Points
5/2/42, Berne, Switzerland, Axis Reports Unity (L)
5/9/42, Berne, Switzerland, German Cardinal Indicts Nazi 'War on Christianity'
5/10/42, Berne, Switzerland, German Catholics Fight Nazi Tenets
5/12/42, Berne, Switzerland, Offensive Starts (L)
5/13/42, Berne, Switzerland, Nazis Pierce Lines (L)
5/14/42, Berne, Switzerland, Kerch Line Broken (L)
5/15/42, Berne, Switzerland, Donets Drive Gains (L)
5/17/42, Berne, Switzerland, Kharkov Reported Burning
5/24/42, Berne, Switzerland, Crimean Tip Lost(L)
5/28/42, Berne, Switzerland, Heydrich of Gestapo Hurt; Big Reward Up for Assailant
5/29/42, Berne, Switzerland, 6 in Czech Family Executed by Nazis
5/30/42, Berne, Switzerland, Heydrich is Expected to Die; Nazis Slay 12 More Czechs
6/1/42, Berne, Switzerland, 18 More Czechs Executed by Nazis
6/5/42, Berne, Switzerland, Heydrich is Dead; Czech Toll at 178
6/12/42, Berne, Switzerland, Nazis Kill 34 More in Two Czech Cities
6/13/42, Berne, Switzerland, Sevastopol Forts Dented, Nazis Say
6/19/42, Berne, Switzerland, Heydrich Killers Slain, Say Nazis, as Ultimatum to Czechs Expires
6/25/42, Berne, Switzerland, Nazi Rear in Peril (L)
6/26/42, Berne, Switzerland, Germans Widen Offensive
6/27/42, Berne, Switzerland, Russians Stem Foe (L)
6/28/42, Berne, Switzerland, Russians Retake Positions
7/2/42, Berne, Switzerland, Nazis Claim Port (L)
7/9/42, Berne, Switzerland, Red Army Attacks (L)
7/10/42, Berne, Switzerland, Russians Brighter
9/7/42, Berne, Switzerland, Nazi Army Claims Novorossiisk Base
9/20/42, Berne, Switzerland, Pope Has Long Talk with Taylor; Move to Aid Jews in France Seen
10/1/42, Berne, Switzerland, Nazi Sees Victory (L)
10/4/42, Berne, Switzerland, Shaposhnikoff in Command
11/12/42, Berne, Switzerland, France is Overrun (L)
1/27/43, Berne, Switzerland, Liquididation Day Set for France's Jews
2/4/43, Berne, Switzerland, Reich in Mourning for Volga Debacle
2/6/43, Berne, Switzerland, Il Duce Takes Over
2/13/43, Berne, Switzerland, Mussolini Ousts 6 More Officials
3/26/43, Berne, Switzerland, Allied Bombing Said to Cut German Plane Output 30%
4/1/43, Berne, Switzerland, 400 Die in Naples Arsenal Blast; Witnesses Call Port a Shambles
4/18/43, Berne, Switzerland, Vidussoni Resigns High Italian Post
5/12/43, Berne, Switzerland, 'Toe' of Italy Put in State of Alert
5/16/43, Berne, Switzerland, Italian Fascisti on 24-Hour Duty
5/19/43, Berne, Switzerland, Italians Examine Peace Chances and Quid Pro Quo for Surrender
6/14/43, Berne, Switzerland, Pius Warns Labor to Shun Violence; Denies Aiding War
7/20/43, Berne, Switzerland, Noted Church Hit, Italians Report
7/21/43, Berne, Switzerland, Hitler and Mussolini in North Italy While Bombers Were Over Rome
7/22/43, Berne, Switzerland, Pius Tells of Plea
7/26/43, Berne, Switzerland, Arrests Reported (L)
7/27/43, Berne, Switzerland, Italians Rejoicing (L)
7/28/43, Berne, Switzerland, Vatican Role Seen (L)
7/29/43, Berne, Switzerland, Fascists Besieged (L)
7/30/43, Berne, Switzerland, Badoglo Showdown Near on Breaking with Germans
7/31/43, Berne, Switzerland, Riot Releases 200
8/6/43, Berne, Switzerland, Germany Claims Allegiance of Badoglio as Cabinet Meets
8/13/43, Berne, Switzerland, Open Resistance to Badoglio Rises; Paper Sees Revolt if War Goes On
8/15/43, Berne, Switzerland, Allies Are Wary (L)
8/15/43, Berne, Switzerland, Nazis Try to Use Italy (W)
8/18/43, Berne, Switzerland, 19 German Divisions Apply Martial Law in North Italy
9/22/43, Berne, Switzerland, Germans Seize Church Dignitaries Entering Territory of Vatican City
10/7/43, Berne, Switzerland, 'Kidnap' Plot Reported
10/9/43, Berne, Switzerland, Pope Surrounded by German' Guns
Brock, H.I.
9/6/42, Front Royal, Va., The WAAGs (NY Times Magazine)
Brock, Raymond (Ray)
3/23/41, Belgrade, Yugoslavia, Serbs' Defiance is Told in Song (W)
3/25/41, Belgrade, Yugoslavia, Yugoslavs on Way
3/26/41, Belgrade, Yugoslavia, Serbs Stir Risings Against Axis Deal
3/28/41, Belgrade, Yugoslavia, Belgrade is Calm (L)
3/29/41 Belgrade, Yugoslavia, Reich 'Reassured' (L)
4/2/41, Belgrade, Yugoslavia, Belgrade is Firm (L)
4/3/41, Belgrade, Yugoslavia, Cabinet Convenes
4/6/41, Belgrade, Yugoslavia, Yugoslavia Fights
5/11/41, Budapest, Nazis Held Ready to Crush Serb Guerrillas and Jews
6/8/41, Adana, Turkey, Act to Oust Foes
6/17/41, Ankara, Turkey, Nazi-Soviet Talks on Rift Reported
6/27/41, Istanbul,Rumania Said to Shift Capital
7/2/41, Ankara, Turkey, Red Army Prepared to Lure Nazis Far into Interior, Says Strategist
7/23/41, Ankara, Turkey, Nazis Execute 80,000 Serbs, Turkey Hears; Guerrillas Continue to Harry Conquerors
8/2/41, Ankara, Turkey, Nazi Steps Hinted to Hold Bulgaria
8/6/41, Ankara, Turkey, Nazi Ouster Urged Upon Afghanistan
8/7/41, Ankara, Turkey, Reich Peace Drive Pushed in Turkey
8/8/41, Ankara, Turkey, Berlin Said to Threaten Rupture with Iran if Germans are Ousted
8/9/41, Ankara, Turkey, 2 High Nazi Agents Dispatched to Iran
8/12/41, Ankara, Turkey, Stiff Soviet Note Said to Warn Iran
9/16/41, Ankara, Turkey, Shah's Abdication Expected
9/17/41, Ankara, Turkey, Iran is Regarded as Allied Bastion
9/30/41, Ankara, Turkey, Spy Scare in Sofia
10/11/41, Ankara, Turkey, German Threats to Turks Detailed
10/26/41, Ankara, Turkey, Stalingrad Held New German Goal
11/15/41, Ankara, Turkey, Caucasus Chalenges German Might
11/29/41, Ankara, Turkey, Nazis Reported Speeding Forces to Africa; Units Sent from East Front, Austria, France
12/28/41, Istanbul, Turkey Awaits Nazi Drive to East (W)
2/28/42, Ankara, Turkey, Rommel Reported Called to Berlin, Possibly to Go to the Russian Front
9/10/42, Ankara, Turkey, Rommel Reported as Seriously Ill
10/15/42, Smyrna, Turkey, Axis Troops Leave Aegean Islands; Peril of Near East Invasion Ends
10/24/42, Istanbul, Germans Moving Oil Refineries from Western Europe to Russia
10/30/42, Istanbul, Hitler Said to Aim for Mid-East's Oil
11/2/42, Ankara, Turkey, Turkish President Finds War Nearer
1/12/43, Ankara, Turkey, Sofia Said to Get Nazi Defense Plan
1/24/43, Istanbul, Turkey, Arabs Swing Toward Allies (W)
3/15/43, Ankara, Turkey, Wallace Speech Hailed in Turkey
3/21/43, Ankara, Turkey, Reich is Suppliant for Turkish Trade
5/24/43, Istanbul, Turkey, Guerrilla Blows Spread in Balkans
5/30/43, Istanbul, Turkey, Japanese Experts Help Germans to Fortify Their Conquered Islands
Brown, Francis
12/31/39, The News and Trends of the Year in Review (W)
12/29/40, Main Currents of the Year (W)
Bullard, F. Lauriston
9/10/39, Boston, New England is Anti-Nazi (W)
12/10/39, Boston, Food Stamps Work in New England (W)
6/29/41, Boston, New England Stands Firm on Aid (W)
9/21/41, Boston, New England Backs F.D.R. (W)
12/14/41, Boston, People of Six States Act as One Man (W)
3/22/42, Boston, New England Girds to Do 'a Tough Job' (W)
5/3/42, Boston, New England Wants All-Out Effort (W)
Burgess, Arthur
8/29/43, With Advanced American Infantry on New Georgia, Reporter Enters Bairoko
Byas, Hugh
4/18/38, Tokyo, Serious Concern in Tokyo
5/17/38, Tokyo, Chinese Escaping from Enemy Trap
12/23/38, Tokyo, Tokyo Conditions for Peace Stated
1/19/39, Tokyo, Japan Will Offer U.S. Gains in China
4/1/39, Tokyo, 7 French Islands Annexed by Japan; Naval Push Seen
5/30/39, Tokyo, New Border Clash Reported by Tokyo
7/7/39, Tokyo, Japanese Assail Britain as Enemy
8/27/39, Tokyo, Japan's Arm Men Back Policy Shift
10/4/39, Tokyo, Tokyo Admits Defeat by Soviet; Calls Mongol Battle 'Disastrous'
11/15/39, Tokyo, Worried Over U.S. Stand
11/19/39, Tokyo, Japan Faces a Decision (W)
12/9/39, Tokyo, New Tokyo Budget Highest in History
12/23/39, Tokyo, Japan Welcomes U.S. Reply to Bid
12/29/39, Tokyo, Japanese Cabinet Refuses to Resign
1/14/40, Tokyo, Tokyo Cabinet Out; Premier is Sought Among Generals
1/22/40, Tokyo, Britain Takes 21 Nazis off Japanese Ship; Cruiser's Shot Halts Vessel Near Japan
1/24/40, Tokyo, Shipping Reprisal Debated in Tokyo
3/26/40, Tokyo, Japan's Envoy to Wang to Shun Inaugural; Abe Must Keeop Army Content with 'Peace'
4/5/40, Tokyo, Japan Sees No Change
4/7/40, Tokyo, Manchukuo Orders Conscription in 1941; Soldiers will be Placed in Japanese Army
5/13/40, Tokyo, Japanese Talk of Acting in the East Indies; Cite Allied Landings at Caribbean Points
5/30/40, Tokyo, Japan is Stressing Interest in Indies
6/30/40, Tokyo,Japan Demands Vast Sphere in East Asia and South Seas
7/9/40, Tokyo, Burma Road Reply Rejected by Japan
7/10/40, Tokyo, Japan Welcomes Roosevelt Stand
7/17/40, Tokyo, Japanese Cabinet Forced to Resign
7/21/40, Tokyo, Japan Girds to End Her War (W)
8/2/40, Tokyo, 'Internal Reconstruction'
8/4/40, Tokyo, Tokyo Studies 'Retaliation'
8/5/40, Tokyo, Indies Policy Expected Soon
9/28/40, Tokyo, Warning to U.S. is Seen in Tokyo
9/29/40, Tokyo, Japanese Premier Asks for Sacrifice
9/29/40, Tokyo, War Bears Down on Japanese Life (W)
10/5/40, Tokyo, Japan Warns U.S. to Bow to the Axis
10/18/40, Tokyo, Japan Aroused by Hong Kong Plan to Allow More Supplies into China
10/26/40, Tokyo, Japanese Bid High to Russia for Amity, Seeing War with Us
11/26/40, Tokyo, Nomura Selected as Envoy by Tokyo
12/1/40, Tokyo, Japan Now Plays for Time (W)
12/10/40, Tokyo, Matsuoka Doubts Conflict with U.S.
1/5/41, Tokyo, Japan is Not Anxious to Fight for the Axis (W)
1/24/41, Tokyo, Tokyo Press Sees Little Chance for Better Relations with U.S.
1/27/41, Tokyo, Matsuoka Accuses Hull of Distorting Case of Manchuria
1/30/41, Tokyo, Japan Would Keep U.S. Out of the War
1/31/41, Tokyo, Japanese Bill Asks Death in Spy Cases
2/2/41, Tokyo, Japan Draws the Map of a Vast 'Lebensraum' (W)
2/9/41, Tokyo, Japan Sends Us an Admiral as Envoy (NY Times Magazine)
2/13/41, Tokyo, Tokyo is Relieved by Roosevelt 'No'
2/18/41, Tokyo, Policy to be Peaceful
2/22/41, Tokyo, New Warning by Matsuoka
2/23/41, Tokyo, Japan's Push South is Held Up by Russia (W)
2/27/41, Tokyo, Japanese and Nazis Discuss Strategy; Tokyo Held Ready
2/28/41, Tokyo, Concede 10 Per Cent of Claims
3/6/41, Tokyo, Japanese Stress 'Peaceful' Policy
3/25/41, Tokyo, Good-Will for Soviet Voiced
Calhoun, C.H.
10/20/41, Panama, Neighbors Back Action of Panama
2/17/42, Balboa, C.Z., Aruba is Shelled (L)
Callender, Harold
9/11/38, London, Advisers Influence Hitler (W)
7/16/39, London, Britain Posts Warnings for the Nazis to Read (W)
7/30/39, London, Appeasement Falters in a 'War of Nerves' (W)
8/13/39, London, Now They Listen to Churchill (NY Times Magazine)
9/10/39, London, Sea Action Key to Strategy (W)
11/12/39, London, Britain Tightens Her Air Defenses (W)
1/7/40, London, Allies Watch Far-Flung Arc (W)
1/14/40, London, Chamberlain's Grip Firm after Shake-up (W)
1/21/40, London, Low Counries Are Alert (W)
3/7/40, Stockholm, Finns Weigh Truce
3/12/40, Stockholm, Peace Hopes Fall (L)
3/29/40, Bergen, Norway, Norway Interns Stranded U-Boat; Netherlands Downs British Bomber
4/5/40, Narvik, Norway, Nazi Sailors Meet British at Narvik
4/6/40, Narvik, Norway, Narvik Faces Flood Tide of War at Peak Month of Its Ore Trade
4/7/40, Narvik, Norway, Richer Ore Makes Narvik Vital Port
4/7/40, Bergen Norway, The Watch on the fjords (NY Times Magazine)
4/8/40, Narvik, Norway, Germans Pushing Narvik Shipments
4/10/40, Asbisko, Swedish Frontier, Nazis Sink 2 Ships in Seizing Narvik
4/13/40, Northern Swedish-Norwegian Frontier, Fighting Along Railway Lines
4/18/40, Stockholm, German Foreces Spread
4/22/40, Stockholm, Allies at Hamar, Help in Defense, Norway Reports (L)
4/26/40, Stockholm, Roeros is Reached (L)
5/5/40, Stockholm, Reich Raises Prestige by Trimph in Norway (W)
9/13/40, Honolulu, Defense is Pushed at Base in Hawaii
8/19/40, Auckland, N.Z., New Zealanders Follow Closely Developments in Battle of Britain
10/1/41, Mexico City, Mexico Friendly, Avila Assures Us
2/1/42, Mexico City, Rio Exposes Fifth Columns (W)
9/25/42, Washington, Nazi Radio Finds Russia Let Down
9/26/42, Washington, 'New Europe' Rises in Nazi Word Drive
10/10/42, Washington, Soviet-Allied Rift is Nazi Radio Aim
10/11/42, Washington, Reich's Defensive Talk Hints Shift in Strategy
1/14/43, Washington, British Military Backs Eisenhower; Government Said to Push de Gaulle
1/22/43, Washington, Peyrouton's Role Approved by Army
1/27/43, Washington, Capital Sees Plan
2/9/43, Washington, Turkey is Inclined to Side of Allies
2/20/43, Washington, Mareth Line Guns Replaced by Nazis
2/27/43, Washington, Soviet Seen Firm for Gain Since '39
3/26/43, Washington, U-Boat Toll Bars Feeding of Europe
3/29/43, Washington, Eden's Trip to U.S. Held Exploratory
4/27/43, Washington, Washington Voices 'Regret' at Break
5/8/43, Washington, Invasion Spurred by Tunisia Victory
7/21/43, Washington, Open City Status by Rome Doubted
7/30/43, Washington, Hull Hopes Italy Will Heed Offer
8/27/43, Washington, A Quebec Decision (L)
12/21/43, Algiers, Deep U.S. Attack Pounds Augsburg
Camp, Edwin
6/29/41, Atlanta, Southeast Sees Britain Gaining Vital Time (W)
12/14/41, Atlanta, Youth of Southeast is in Fighting Mood (W)
3/22/42, Atlanta, Any Lag in Effort Angers Southeast (W)
5/3/42, Atlanta, Southeast Responds to President's Aims (W)
Camp, Raymond R.
9/4/40, Wood, Field and Stream (C)
9/16/40, Wood, Field and Stream (C)
9/15/41, Wood, Field and Stream (C)
10/6/41, Wood, Field and Stream (C)
Campbell, Kenneth
5/19/39, Harlan, Ky., Gunfire Rattles in the Hills of Harlan
8/12/40, With the First Army in the Field, Ogdensburg, N.Y., Manoeuvres Area Set for 'Air Raid'
8/20/40, With the First Army in the Field, Ogdensburg, N.Y., Armies in 'Battle' 'mid Up-State Rain
8/21/40, With the First Army in the Field, Ogdensburg, N.Y., Blues Halt Blacks in Up-State 'War'
Cannell, Kathleen
5/25/40, Paris Couturiers Carry on in Unity
8/3/40, Paris, French Financing an Acrobatic Task
Cantril, Hadley
6/2/40, Impact of the War on the Nation's Viewpoint (W)
5/11/41, Present State and Trends of Public Opinion (W)
Carney, William P.
2/22/38, With the Insurgents on the Teruel Front, Spain, Loyalists Believed Blowing up Teruel
4/6/38, Morella, Spain, Morella Found Normal
5/21/38, Burgos, Spain, Snow Impedes Rebels
7/11/38, Burgos, Spain, Writer Sees 80 Americans Held in Spanish Relief Camp
7/29/38, Saragossa, Spain, Amposta Crossing Balked
9/10/38, Saragossa, Spain, Rebels Report Ebro Gains
12/27/38, San Sebastian, Spain, Steady Gains Reported
1/25/39, With Insurgent Troops before Barcelona, Barcelona Besieged
Carroll, Wallace
11/19/41, Manila, Stalin Invoked God's Aid for U.S. at Kremlin Dinner for Officials
Carstensen, Svend
10/2/39, Copenhagen, U-Boat Torpedoes Unwarned Vessel
3/20/40, Copenhagen, Witness Describes Raid
4/9/40, Copenhagen, Copenhagen Taken (L)
7/15/41, Helsinki, Finland, Finns Make Thrust into Karelian Area
8/25/41, With the Finnish Forces on the Onega Front, Finnish Advance Viewed
8/27/41, With the Finnish Forces on the Karelian Front, Finns' Lake 'Navy' Aids Ladoga Drive
8/31/41, Helsinki, Viborg is Taken by Finnish Army
9/6/41, Somewhere in Finnish Karelia, Viborg is Taken by Finnish Army
Cassidy, Henry C.
3/8/43, Soviet War News Termed Accurate
8/15/43, With the Red Army on the Bryansk Front, Heaviest Barrage Won Orel Victory
9/7/43, With the Red Army, on the Steppe Front, New Nazi Defense in Russia is Bared
Catledge, Turner
9/4/39, Washington, Roosevelt in Plea
9/6/39, Washington, Ban by Roosevelt
9/10/39, Washington, Roosevelt Seeks Unity Before Congress Acts (W)
9/12/39, Washington, Borah Opens Fight Against Revision of Neutrality Act
9/21/39, Washington, On Eve of Congress
9/22/39, Washington, A Solemn Message (L)
10/1/39, Washington, European War is Already Influencing 1940 Election (W)
10/28/39, Washington, Final Vote Swift (L)
11/3/39, Washington, Opponents Routed (L)
1/4/40, Washington, For Unity in Nation (L)
1/5/40, Washington, Expenditures Cut (L)
1/9/40, Washington, Test for Election
2/3/40, Washington, Plea Read in Vain (L)
2/8/40, Washington, Finnish Loan Gains in Senate as House Fires on Soviet Ties (L)
2/16/40, Washington, Denmark Asks U.S. for Export Credit
2/17/40, Washington, Jones is Confident Finland will Live
2/29/40, Washington, Loan for Finland is Voted by House; Roll-Call Dodged
3/3/40, Washington, New Deal Ends 7 Eventful Years with Roosevelt Still its Symbol (W)
4/3/40, Milwaukee, The Wisconsin Primary
5/29/40, Washington, Income Tax Rise in Defense Plans
6/28/40, Philadelphia, Rivals Worn Down (L)
6/29/40, Philadelphia, Senator Drafted (L)
7/18/40, Chicago, By 'Acclamation' (L)
7/19/40, Chicago, President on Radio (L)
9/29/40, Washington, Republicans' Triple Plan (W)
10/27/40, Chicago, War Issue has Taken a New Turn in Campaign (W)
11/4/40, Retain House Grip
12/4/40, Washington, 9 Officials Meet (L)
12/19/40, Washington, Knudsen Key Man (L)
12/30/40, Washington, 'Axis Will Not Win' (L)
12/31/40, Washington, President to Act (L)
1/9/41, Washington, 10.8 Billions Arms (L)
1/10/41, Washington,To Rush Measure (L)
1/11/41, Washington, Goes to Congress (L)
1/14/41, Washington, May Loses Motion (L)
1/15/41, Washington, Hull 1st Witness (L)
1/16/41, Washington, Peril in Quibbling (L)
1/17/41, Washington, 'Crisis Exceeds '17' (L)
1/19/41, Washington, OPM Head for Bill (L)
1/19/41, Washington, Lease-Lend Bill Holds Majority in Congress (W)
1/20/41, Washington, President Cordial (L)
1/21/41, Washington, No Retreat Here (L)
1/28/41, Washington, Changes Discussed (L)
1/29/41, Washington, Spring Blow Seen
3/12/41, Washington, Final Step Swift
3/13/41, Washington, 7 Billions Asked (L)
4/25/41, Washington, 'High Time We Act' (L)
4/30/41, Washington, Can't Define Range (L)
5/2/41, Washington, Washington Shifts Fifty Oil Tankers to British Service (L)
5/4/41, Washington, Battle of Atlantic is Capital's Big Worry (W)
5/7/41, Washington, Sea Crisis is Seen (L)
5/8/41, Washington, House Ranks Firm (L)
5/29/41, Washington, President Explains
6/24/41, Washington, Our Policy Stated
7/11/41, Washington, All Army Included (L)
7/12/41, Washington, Incident in Rescue (L)
7/15/41, Washington, President in Talks (L)
7/22/41, Washington, President is Grave (L)
7/27/41, Washington, Congressmen are Grave Amid Intensified Crisis (W)
8/9/41, Washington, Bill is 'Far Short' (L)
8/15/41, Washington, Another Aid Bill is Seen in Capital
8/17/41, Washington, Dramatic Talks at Sea Spike a Hitler 'Peace' (W)
8/20/41, Washington, Roosevelt Calls for Arms Survey of Allied Needs through 1943
9/17/41, Washington, Russia Separate (L)
9/19/41, Washington, Letter to Rayburn (L)
9/21/41, Washington, Lend-Lease 'Torrent' Only a Trickle Now (W)
10/10/41, Washington, Message is Urgent (L)
10/18/41, Washington, Kearny Attacked (L)
11/3/43, Swing in Country (L)
Caylor, Arthur
9/10/39, San Francisco, Pacific Coast is Worried (W)
8/11/40, San Francisco, California Law Favors Johnson (W)
2/2/41, San Francisco, Talk of Splitting California (W)
8/3/41, San Francisco, San Francisco Aroused (W)
Chamberlain, John
1/21/43, Books of the Times (C)
9/30/43, Books of the Times (C)
10/28/43, Books of the Times (C)
Chamberlin, William Henry
2/16/41, The United States and Japan's New Order, by William C. Johnstone (B)
4/13/41, Japan Unmasked, by Hallett Abend (B)
10/19/41, Moscow Faces Another Crisis (W)
3/22/42, Russo-Japanese 'Peace' Still In the Balance (W)
7/5/42, Russia's Fighting Forces, by Captain Sergi N. Kournakoff, and Russians Don't Surrender, by Alexander Poliakov (B)
2/21/43, Tokyo Record, by Otto D. Tolischus (B)
Childs, Kingsley
10/16/38, New Haven, Conn., 55,000 Watch Yale Conquer Navy
12/1/40, Philadelphia, Pre-Game Parade Upsets Precedent
10/6/41, Washington, Redskins Beat Brooklyn, 3 to 0, on Aguirre's Third-Period Boot
10/12/41, West Point, N.Y., Army Victoroius over V.M.I., 27-20
10/20/41, Cards Easily Defeat Dodgers, 20-6; Reverse is Brooklyn's Third in Row
11/3/41, Milwaukee Nips Americans by 7-6
Churchill, Douglas
6/30/39, Hollywood, Screen News Here and in Hollywood
8/3/39, Beverly Hills, Screen News Here and in Hollywood
9/2/39, Hollywood, Screen News Here and in Hollywood
9/9/39, Hollywood, Screen News Here and in Hollywood
9/23/39, Hollywood, Screen News Here and in Hollywood
10/7/39, Hollywood, Screen News Here and in Hollywood
11/11/39, Hollywood, News of Hollywood
1/1/40, Hollywood, Screen News Here and in Hollywood
1/25/40, Hollywood, Screen News Here and in Hollywood
2/17/40, Hollywood, Screen News Here and in Hollywood
2/23/40, Hollywood, Screen News Here and in Hollywood
2/24/40, Hollywood, Screen News Here and in Hollywood
3/14/40, Hollywood, Screen News Here and in Hollywood
3/23/40, Hollywood, Screen News Here and in Hollywood
3/29/40, Hollywood, Screen News Here and in Hollywood
4/6/40, Hollywood, Screen News Here and in Hollywood
4/20/40, Hollywood, Screen News Here and in Hollywood
4/26/40, Hollywood, Screen News Here and in Hollywood
4/27/40, Hollywood, Screen News Here and in Hollywood
4/29/40, Hollywood, Screen News Here and in Hollywood
5/4/40, Hollywood, Screen News Here and in Hollywood
5/11/40, Hollywood, Screen News Here and in Hollywood
5/17/40, Hollywood, Screen News Here and in Hollywood
5/31/40, Hollywood, Screen News Here and in Hollywood
6/8/40, Hollywood, Screen News Here and in Hollywood
6/14/40, Hollywood, Screen News Here and in Hollywood
6/21/40, Hollywood, Screen News Here and in Hollywood
9/27/40, Hollywood, Screen News Here and in Hollywood
9/30/40, Hollywood, Screen News Here and in Hollywood
11/14/40, Hollywood, Screen News Here and in Hollywood
12/13/40, Hollywood, Screen News Here and in Hollywood
1/17/41, Hollywood, Screen News Here and in Hollywood
3/7/41, Hollywood, Screen News Here and in Hollywood
3/13/41, Hollywood, Screen News Here and in Hollywood
3/21/41, Hollywood, Screen News Here and in Hollywood
3/22/41, Hollywood, Screen News Here and in Hollywood
4/10/41, Hollywood, Screen News Here and in Hollywood
4/12/41, Hollywood, Screen News Here and in Hollywood
5/23/41, Hollywood, Screen News Here and in Hollywood
7/3/41, Hollywood, Screen News Here and in Hollywood
7/26/41, Hollywood, Screen News Here and in Hollywood
8/22/41, Hollywood, Screen News Here and in Hollywood
8/30/41, Hollywood, Screen News Here and in Hollywood
9/27/41, Hollywood, News of Hollywood
10/24/41, Hollywood, Screen News Here and in Hollywood
10/27/41, Hollywood, Screen News Here and in Hollywood
10/29/41, Hollywood, Screen News Here and in Hollywood
10/31/41, Hollywood, News of the Screen (C)
Cianfarra, Camille M.
9/4/38, Rome, Mussolini Uneasy over Czech Crisis (W)
2/10/39, Rome, Death at 5:31 A.M. (L)
2/17/39, Vatican City, German Envoy Urges Cardinals to Elect Pope Favoring Fascists
3/3/39, Vatican City, Hailed by Throngs (L)
4/1/39, Rome, Italians Seize Ports
6/7/39, Vatican City, Pope Seeks to bar Soviet from Pact
10/30/39, Rome, Pope Issues Call to All Christians to Defend Religion
12/25/39, Rome, Pius Warns Europe (L)
12/27/39, Rome, Pope Sends Funds to Catholic Finns
1/29/40, Rome, Mass Shootings in Poland Laid to Nazis by Cardinal
3/18/40, Rome, Meeting at Brenner (L)
3/19/40, Brennero, Italy, Talk's Peace Phase Stressed in Italy
5/26/40, Rome, Vatican Prepares to Shelter Envoys
6/12/40, Rome, Pope is Sorrowful over Italy's Move
6/13/40, Rome, Vatican City Paper Skips Publication
7/1/40, Rome, Italians' Strategy Remains Defenseive
8/10/40, Rome Twin Offensives Predicted
8/11/40, Rome, Italy Aims to Win Arabs by Victory
8/11/40, Rome, Suez Italy's Goal in African Sector (W)
8/14/40, Rome, Rome Press Assails Greece
8/15/40, Rome, Italy is Indignant over British Raids
9/19/40, Rome, Italians Massing for Matruh Siege
10/7/40, Rome, Pope Scores Women's 'Immodesty' and Bowing to 'Tyranny of Fashion'
10/21/40, Rome, Bahrein is Raided
10/27/40, Rome, Clash on Frontier
10/28/40, Rome, Italians Await 'Events'
10/30/40, Rome, Fascisti 'Advance'
11/1/40, Rome,Fascisti Near City
11/16/40, Rome, Axis Army Chiefs Study Joint Push
11/22/40, Rome, British Air Marshall Captured by Italians when his Plane is Forced Down in Sicily
12/25/40, Rome, Pope Voices Plea for 'A Just Peace'
1/22/41, Rome, Axis Plans a Blow Before U.S. Can Aid
3/1/41, Rome, Diplomatic Work Ended
4/14/41, Rome, Pope Pius Asks Ban on Worse Weapons
6/3/41, Rome, U.S. Believed Topic (L)
7/25/41, Rome, 4 British Ships Sunk, Rome Says
10/28/41, Rome, Exiled Arab Mufti Turns Up in Rome
9/24/42, Mexico City, Mexico Increases Strategic Output
10/4/42, The Vatican Faces the Dictators (NY Times Magazine)
3/11/43, Mexico City, Railway Harmony Reached in Mexico
3/21/43, Vatican Adheres to Its War Policy (W)
11/23/43, Mexico City, Spanish Refugees Seek Recognition
Clark, Delbert
12/31/39, Washington, Era of Social Security Begins for the Worker (W)
7/13/41, Washington, Military Secrets Get Out (W)
Clements, Olen W.
1/2/43, Aboard a Bomber over Wake Island, Writer Describes Wake Raid Thrill
Cleveland, Reginald M.
4/25/41, Detroit, Chrysler, Baldwin Finish First Tanks
Commager, Henry Steele
8/30/42, HOW WAR CAME. An American White Paper; From the Fall of France to Pearl Harbor, by Forrest Davis and Ernest K. Lindley (B)
Cortesi, Arnaldo
4/2/38, Vatican City, Vatican Rebukes Bishops of Austria for Nazi Plea
4/18/38, Rome, Rome Enthusiastic
6/29/38, Rome, Britain Asks Italy to Halt Bombings
10/9/38, Rome, 10,000 'Volunteers' in Franco's Forces to Return to Italy
11/13/38, Vatican City, Vatican to Attack Italian Race Law
11/14/38, Vatican City, Mother Cabrini Beatified in Rome; She is First U.S. Citizen So Honored
12/25/38, Vatican City, Pius XI Deplores Fascist Hostility
12/28/39, Mexico City, Mexican Chamber Passes School Bill
7/26/39, Mexico City, Mexican Disorder Grows in Gravity
8/8/39, Mexico City, Mexicans Aroused by Realty Buying
7/8/40, Mexico City, 2 Americans Hurt (L)
4/26/41, Buenos Aires, Argentina to Have Decree Regime; Legislative Boycott is Challenged
8/29/41, Buenos Aires, Argentine Rolls of Nazis shown
2/5/42, Buenos Aires, Argentina Orders Defense Measures
10/10/42, Buenos Aires, Protests by Argentina and Chile Deny Axis-Spy Charge by Welles
3/3/43, Buenos Aires, Argentina to Sell Arms to Britain
4/18/43, Buenos Aires, Argentina is Unmoved by Slights (W)
6/11/43, Buenos Aires, Argentina Ends Code Leaks; Move to Curb Axis Agents
8/13/43, Buenos Aires, Argentina Widens Her War on 'Reds'
12/3/43, Buenos Aires, Argentina Widens 'Communist' Hunt
CougarGA7
10/20/40, The Making of the Atomic Bomb, by Richard Rhodes (B)
12/1/40, Winston's War: Churchill 1940-1945, by Max Hastings (B)
2/9/41, The Road to Victory: The Untold Story of World War II's Red Ball Express, by David P. Colley (B)
4/13/41, Operation Barbarossa and Germany's Defeat in the East, by David Stahel (B)
5/4/41, Pearl Harbor: Final Judgment, by Henry C. Clausen and Bruce Lee (B)
5/18/41, Darkest Hour: The True Story of Lark Force at Rabaul, Australia's Worst Military Disaster of World War II, by Bruce Gamble (B)
6/22/41, The Wannsee Conference and the Final Solution: A Reconsideration, by Mark Roseman (B)
9/14/41, Before Stalingrad: Barbarossa - Hitler's Invasion of Russia 1941, by David M. Glantz (B)
7/11/43, Hitler, by Joachim Fest (B)
Cournos, John
12/1/40, Spanish Characters and other Essays, by Irving Babbitt (B)
Cowles, Virginia
9/10/40, London, Churchill Proud of British Morale
Crider, John H.
3/19/39, Washington, Low Income-Tax Yield Intensifies Tax Issue (W)
7/11/40, Washington, White House Tax Plan Lifts Curb on Profits, Depreciation Write-Off
7/26/40, Washington, Ban Affects Japan (L)
8/5/40, Washington, 'Our Duty' to Help (L)
7/23/41, Washington, Blow is Seen Near (L)
7/26/41, Hyde Park, N.Y., Vast Trade Curbed (L)
7/27/41, Hyde Park, N.Y., Command Unified (L)
8/2/41, Washington, Oil Policy Changed (L)
8/4/41, New London, Conn., President Sails for Week's Rest
8/14/41, Swampscott, Mass., New Course Seen for Democracies
8/17/41, Rockland, Me., President Debarks (L)
9/4/41, Washington, President Names Moscow Mission
9/25/41, Washington, Backs Price Rule (L)
5/26/43, Washington, Sure of Adoption
6/11/43, Washington, Pay-As-You-Go Tax is Signed Into Law; In Effect July 1
7/16/43, Washington, Officials Rebuked (L)
7/17/43, Washington, Revolution Urged (L)
7/24/43, Washington, Roosevelt Says Rome Raid Saved Allied Troops' Lives
7/28/43, Washington, President Speaks on Radio Tonight
8/19/43, Quebec, Eden Joins Quebec Parley; Political Phase is Reached
8/20/43, Quebec, 'Ruthless' Plan Set (L)
8/21/43, Quebec, Quebec Talks End Tuesday; Hull Arrives, 'Big 4' Dine
8/23/43, Quebec, Japan Faces Blows
8/24/43, Quebec, 'Great' Plans Made
8/25/43, Quebec, Conference Ends (L)
9/1/43, Washington, President Brands Columnist a Liar
9/3/43, Washington, Churchill Enters on Military Talks
9/4/43, Washington, Big U.S. Land Blows at Italy Now Expected in Washington
9/5/43, Washington, Soviet to Join Allied Parley; Aids Mediterranean Group
10/28/43, Washington, President Urges Congress to Back Post-War Education of Veterans
10/30/43, Washington, President Joyful (L)
11/29/43, Washington, Congress is Slow on Peace Planning
12/12/43, Washington, Roosevelt Gives Full Plans for Invasion to Eisenhower
12/13/43, Washington, Talk by Roosevelt to Congress on His Parley Trip Considered
Crisler, B.R.
4/6/40, 'It All Came True,' Another Excursion into Gangster Comedy by the Warners, Arrives at the Strand
4/20/40, ''Til We Meet Again,' with Merle Oberon, O'Brien, Brent, Opens at Strand
4/26/40, 'Strange Cargo' Lands at Capitol
4/27/40, Mr.Roach Sets the Clock Back to 'One Million B.C.,' at the Roxy
4/29/40, 'French Without Tears,' at Rivoli
Crocker, A.J.
12/14/41, St. Paul, Minn., Differences Disappear in the Northwest (W)
Crockett, E.H.
5/31/42, With British Forces in the Libyan Desert, Rommel Hindered by Supply Losses
Cronkite, Walter L.
11/28/42, Port Lyautey, French Morocco, Navy Fliers' Help Won Port Lyautey
2/27/43, At a United States Flying Fortress Base in England, Hell 26,000 Feet Up
Crowther, Bosley
5/4/40, John Garfield and Anne Shirley Seen at Strand in 'Saturday's Children'
5/11/40, 'Dark Command,' a Rousing Western, Opens at the Roxy
5/17/40, 'Waterloo Bridge,' with Vivien Leigh and Robert Taylor, Opens at the Capitol
5/31/40, 'My Favorite Wife' a Lively Farce, with Cary Grant and Irene Dunne, at the Music Hall
6/8/40, 'Brother Orchid' Finds Edward G. Robinson in an Excellent Farce at the Strand
6/14/40, 'Our Town,' a Beautiful and Tender Picture, at the Music Hall
6/21/40, 'The Mortal Storm,' a Deeply Tragic Anti-Nazi Film, at the Capitol
7/5/40, 'All This and Heaven, Too,' with Bette Davis and Boyer, at Music Hall
8/2/40, 'Andy Hardy (Mickey Rooney) Meets Debutante' at Capitol
8/9/40, 'Pride and Prejudice,' a Delightful Comedy of Manners, Seen at the Music Hall
8/10/40, 'The Sea Hawk,' a Warners Production, and 'The Return of Frank James,' Both Action Dramas, at the Strand and the Roxy
8/15/40, 'The Great McGinty,' a Rowdy Satire on Crooked Politics, at the Paramount
8/16/40, William Powell and Myrna Loy Back Together in 'I Love You Again,' at the Capitol
8/28/40, "Foreign Correspondent" Review
8/31/40, Melvyn Douglas and Loretta Young in a Satire on Communism ["He Stayed for Breakfast"], at the Roxy Theatre
9/7/40, "No Time for Comedy," a Gay Romance, with James Stewart and Rosalind Russell, at the Strand
9/6/40, 'Boom Town' and 'Lucky Partners,' Star-Studded Films at the Capitol and Music Hall
9/27/40, "The Howards of Virginia," a Fine Historical Drama, at Music Hall
10/9/40, 'The Long Voyage Home,' Magnificent Drama of the Sea, at the Rivoli
10/16/40, 'The Great Dictator,' by and With Charlie Chaplin, Tragi-Comic Fable of the Unhappy Lot of Decent Folk in a Totalitarian Land, at the Astor and Capitol
10/19/40, 'Knute Rockne – All American' a Thrilling Biography of the Great Coach, at the Strand
10/25/40, 'The Westerner,' with Gary Cooper and Walter Brennan, at the Music Hall
11/14/40,Walt Disney's 'Fantasia,' an Exciting New Departure in Film Entertainment, Opened Last Night at the Broadway
12/12/40, Four New Films Open Here: 'Third Finger, Left Hand," With Myrna Loy . . .
12/13/40, W.C. Fields, the Great, Hits His Stride Again in 'The Bank Dick,' at the Palace
12/26/40, 'Comrade X' and 'Chad Hanna' Christmas Entries at the Capitol and Roxy
12/27/40, A Splendid Cast Adorns the Screen Version of 'The Philadelphia Story' at the Music Hall
1/9/41, 'Kitty Foyle' in the Cinematic Flesh at the Rivoli
1/17/41, Emphasis on Defense in "Flight Command" at the Capitol
1/25/41, 'High Sierra,' at the Strand, Considers the Tragic and Dramatic Plight of the Last Gangster
2/7/41, 'Western Union' at the Roxy
2/21/41, Ford's Screen Version of 'Tobacco Road' at Roxy
2/26/41, 'The Lady Eve,' a Sparkling Romantic Comedy, With Barbara Stanwyck and Henry Fonda, at the Paramount
3/7/41, 'Andy Hardy's Private Secretary' Adorns the Capitol
3/13/41, 'Meet John Doe,' an Inspiring Lesson in Americanism, Opens at the Rivoli and Hollywood Theatres
3/21/41, Metro's 'Rage in Heaven' a Solemn Treatment Upon the Theme of Paranoia, at the Capitol
3/22/41, Edward G. Robinson Appears as Jack London's Sadistic 'Sea Wolf' at the Strand
3/27/41, 'I Wanted Wings,' a Stirring Drama of the Army Air Corps, at the Astor
4/4/41, 'That Hamilton Woman,' the Story of a Historic Love Affair, at the Music Hall
4/10/41, Bing Crosby, Bob Hope in 'Road to Zanzibar' at Paramount
4/12/41, Bette Davis Wriggles Out of 'The Great Lie,' at the Strand
5/2/41, Orson Welles's Controversial 'Citizen Kane' Proves a Sensational Film at Palace
5/16/41, 'The Devil and Miss Jones' a Lively Comedy at the Music Hall
5/23/41, Cary Grant and Irene Dunne Play a 'Penny Serenade' at the Music Hall
7/3/41, 'Sergeant York,' a Sincere Biography of the World War Hero, Makes Its Appearance at the Astor
8/22/41, 'The Little Foxes,' Full of Evil, Reaches the Screen of the Music Hall
8/30/41, 'Dive Bomber,' Colorful Film about Flight Surgeons, at the Strand
9/27/41, 'A Yank in the R.A.F.' is a Lively Bit of Romance and Adventure, at the Roxy
10/2/41, 'Hold Back the Dawn,' a Poignant Romance, at the Paramount
10/4/41, 'The Maltese Falcon,' a Fast Mystery Thriller with Quality and Charm, at the Strand
10/24/41, Walt Disney's Cartoon, 'Dumbo,' a Fanciful Delight, Opens at the Broadway
10/29/41, A Beautiful and Affecting Film Achievement is "How Green Was My Valley," at the Rivoli
11/21/41, "Suspicion" a Hitchcock Thriller, at Music Hall
12/26/41, 'Remember the Day,' Featuring Claudette Colbert, Opens at Roxy
1/1/42, 'Louisiana Purchase' Seen at Paramount
1/2/42, 'The Man Who Came to Dinner,' with Monty Woolley, Bette Davis, Arrives in Cinematic Full-Dress at the Strand
1/16/42, "Ball of Fire" a Delightful Comedy, with Gary Cooper and Barbara Stanwyck in Lead Roles, Opens at Music Hall
1/24/42, 'All Through the Night,' Action Film About Gangsters and Nazi Spies, with Humphrey Bogart, Opens at the Strand
1/29/42, Comic Tour in 'Sullivan's Travels' on the Paramount's Screen
2/6/42, 'Woman of Year,' with Katharine Hepburn and Spencer Tracy, at Music Hall
3/7/42, "To Be or Not to Be" (untitled review)
3/26/42, 'To Shores of Tripoli,' Colorful but Implausible Film About a Recruit in the U.S. Marine Corps, is Presented at Roxy
3/28/42, 'The Male Animal,' with Henry Fonda, Olivia De Havilland, at Strand
4/2/42, "My Favorite Blonde" (untitled review)
4/10/42, 'The Courtship of Andy Hardy,' a Comedy-Drama Starring Mickey Rooney at Capitol
4/25/42, Edward G. Robinson Resumes Flashy Underworld Career in Warner Farce Film 'Larceny, Inc.,' Now Showing at Strand
5/8/42, 'Saboteur,' Alfred Hitchcock Melodrama, starring Priscilla Lane, Robert Cummings and Otto Kruger, at Music Hall
5/9/42, 'In This Our Life,' Film Version of Ellen Glasgow Prize Novel, with Bette Davis and Olivia de Havilland, Opens at Strand
5/13/42, "This Above All" (untitled review)
5/30/42, 'Yankee Doodle Dandy,' with James Cagney as George M. Cohan, Opens at Hollywood
6/5/42, 'Mrs. Miniver,' Excellent Picture of England at War, Opens at the Music Hall
7/3/42, 'Eagle Squadron,' Action Film of Americans in R.A.F., with Diana Barrymore, Jon Hall and Robert Stack, at Globe
7/16/42, 'Pride of the Yankees,' a Film Biography of Lou Gehrig, with Gary Cooper and Teresa Wright, on View at Astor
8/28/42, 'The Talk of the Town,' a Smart Comedy, Starring Cary Grant, Ronald Colman, Jean Arthur, Arrives at the Music Hall
9/2/42, 'Wake Island,' a Stirring Tribute to the United States Marines, with Brian Donlevy in the Cast, at the Rivoli Theatre
9/5/42, 'Across the Pacific,' Featuring Humphrey Bogart and Sydney Greenstreet in a Tingling Thriller, Arrives at Strand
9/17/42, 'The Major and the Minor,' a Charming Comedy-Romance, with Ginger Rogers and Ray Milland, at the Paramount
9/24/42, 'Orchestra Wives,' an Indifferent Musical Film, Highlighted by Glenn Miller's Band, Opens at the Roxy Theatre
9/26/42, 'Desperate Journey,' a Futile Chase Through Germany, with Errol Flynn and Ronald Reagan, Opens at the Strand
10/16/42, 'A Yank at Eton,' Starring Mickey Rooney on Playing Fields, at Capitol
10/22/42, 'For Me and My Gal,' a Musical Moving Picture Concerned with Vaudeville, Makes Its Appearance at the Astor
10/23/42, 'My Sister Eileen,' with Janet Blair and Rosalind Russell, at Music Hall
11/12/42, 'Road to Morocco,' with Bing Crosby, Bob Hope, Dorothy Lamour, at Paramount
11/20/42, 'I Married a Witch,' a Thorne Smith Whimsey, with Fredric March and Veronica Lake as Stars, Arrives at the Capitol
11/27/42, 'Casablanca,' with Humphrey Bogart and Ingrid Bergman, at Hollywood
12/4/42, 'You Were Never Lovlier,' with Rita Hayworth, Fred Astaire, Arrives at Music Hall
12/11/42, 'The Palm Beach Story' Brings Claudette Colbert and Joel McCrea to the Rivoli
12/18/42, 'Random Harvest,' with Greer Garson and Ronald Coleman, From James Hilton Novel, Opens at the Music Hall
12/24/42, 'In Which We Serve,' Depicting Cruel Realities of This War, is Presented at Capitol. Noel Coward Heads Cast
1/13/43, 'Shadow of a Doubt' a Thriller, with Teresa Wright, Joseph Cotton, at Rivoli
3/3/43, William Saroyan's First Picture, 'The Human Comedy,' with Mickey Rooney and Frank Morgan, Opens at the Astor
3/6/43, When Gentlemen Meet [Frankenstein Meets the Wolf Man]
3/19/43, 'Keeper of the Flame,' in Which Spencer Tracy and Katharine Hepburn Make Appearance, Arrives at the Music Hall
4/14/43, Eighth Army's Heroic Campaign Recounted in British Fact Film ["Desert Victory"]
4/22/43, 'China,' with Alan Ladd and Loretta Young, Opens at the Paramount – Picture is Called Romance with Topical Theme
4/29/43, 'Crash Dive,' a Romance and Thriller About Submarine Men, with Tyrone Power and Dana Andrews, at the Roxy
4/30/43, 'Mission to Moscow,' Based on Ex-Ambassador Davies's Book, Stars Walter Huston, Ann Harding at Hollywood
5/10/43, 'The OxBow Incident,' Drama of Mob Violence, with Dana Andrews and Henry Fonda in Leads, Opens at the Rivoli
5/14/43, 'More the Merrier,' Sparkling Comedy, Opens at Music Hall
5/22/43, 'Action in the North Atlantic,' Thrilling Film of Merchant Marine, Starring Humphrey Bogart, Opens at the Strand
5/28/43, 'This Land is Mine,' a Moving Drama about Freedom, with Maureen O'Hara and Charles Laughton, Opens at the Rivoli
6/4/43, 'Bataan,' Film of Heroic Defense of Peninsula, Starring Robert Taylor, Robert Walker and Thomas Mitchell, at Capitol
6/17/43, 'Coney Island,' Another Period Musical Film, with Betty Grable and Geo. Montgomery, Opens at the Roxy Theatre
6/25/43, "Stage Door Canteen" [Untitled review]
7/2/43, "Bombardier" [Untitled review]
7/15/43, 'For Whom the Bell Tolls,' a Drama From the Hemingway Novel, with Gary Cooper, Ingrid Bergman, at the Rivoli
8/12/43, 'Heaven Can Wait,' an Amusing Comedy of Manners, with Don Ameche, Gene Tierney and Charles Coburn, Opens at Roxy
8/28/43, 'Watch on the Rhine,' a Fine Screen Version of the Lillian Hellman Play, Opens at the Strand
9/3/43, 'The Sky's the Limit,' Presenting Fred Astaire, Joan Leslie and Robert Benchley, Shows a Flying Tiger on a Furlough
9/10/43, Misses Colbert, Goddard, Lake Seen in 'So Proudly We Hail,' as Army Nurses Who Aid the Wounded Men on Bataan
10/8/43, 'Lassie Come Home,' Drama of a Dog, at Music Hall
10/21/43, 'Corvette K-225,' Thrilling Film of Heroic Service by British and Canadians to Defend Convoys, at Loew's Criterion
11/6/43, 'Princess O'Rourke,' 100 Per Cent American Comedy, with Olivia de Havilland, Robt. Cummings, Chas. Coburn at the Strand
11/12/43, 'Sahara,' an Exciting Picture of Desert War, with Humphrey Bogart as a Heroic Sergeant, Is New Feature at the Capitol
11/18/43, 'Guadalcanal Diary,' a Stirring Action Drama of the Marine Corps, with Wm. Bendix and Lloyd Nolan Opens at Roxy
12/2/43, 'No Time for Love,' a Comedy with Claudette Colbert, Fred MacMurray, at Paramount
12/3/43, 'What a Woman,' a Film Play Presenting Rosalind Russell and Brian Aherne, Opens at the Radio City Music Hall
12/17/43, 'Madame Curie,' Drama of Two Scientists, with Garson and Pidgeon, Opens at Music Hall
12/24/43, 'A Guy Named Joe,' a Variable Fantasy, with Spencer Tracy and Irene Dunne, Begins an Engagement at the Capitol
Cudahy, John
6/6/41, Berlin, Hitler Ridicules U.S. Fears, Holds Nazi Attack Wild Idea
Cunningham, C.R.
11/8/42, Allied Headquarters, in North Africa, Planes Form Umbrella
6/10/43, Aboard a British Cruiser, Off Pantelleria, Isle Seems to Leap Into Air as Missiles Pour Down on It
8/13/43, Headquarters, American Corps, Sicily, Fierce Resistance from Germans Met in U.S. Landing in North Sicily
8/18/43, Messina, Sicily, Americans First to Enter Messina
11/24/43, Algiers, One Apology Described
11/25/43, Algiers, 'Patton's Orders' Rigidly Enforced
Curthoys, Roy L.
1/23/42, Melbourne, Australia, Invasion is Likely
2/14/42, Canberra, Australia, Australia Calls Session in Crisis
3/10/42, Canberra, Australia, Key Straits Lost (L)
3/11/42, Canberra, Australia, Foe's Fleet Raided (L)
3/12/42, Canberra, Australia, Japanese Pounded (L)
3/13/42, Canberra, Australia, Foe Loses 13 Ships (L)
3/17/42, Canberra, Australia, Darwin is Bombed; Big Enemy Fleet Reported on Move (L)
3/20/42, Melbourne, Australia, Missioners Aid Foe (L)
3/22/42, Canberra, Australia, Natives Rise in New Guinea; Allies Bomb Another Cruiser
3/23/42, Melbourne, Australia, Base at Lae Raided (L)
3/24/42, Canberra, Australia, Australian Town is Bombed; Japan Admits Big Sea Loss
3/31/42, Melbourne, Australia, Japanese Checked Above Australia
4/11/42, Melbourne, Australia, Air Forces Mount in Australia Area
Dabney, Virginius
12/18/38, Richmond, Va., Education of Negroes Tested by New Ruling (W)
12/26/43, Richmond, Va., Southern Bolt is Held Unlikely (W)
Daley, Arthur S.
6/16/38, Giants Shut Out Pirates, 2-0, Tobin Permitting Only Five Hits
9/12/38, Pittsburgh, Damask's Aerials Lead Giants to Victory over Pirates by 27-14
10/9/38, West Point, N.Y., Lions Go 80 Yards
12/12/38, Giants Annex Title with 23-17 Victory
6/4/39, Lazzeri Wins Game
6/22/39, Gehrig is Forced to Quit Baseball
9/15/39, Brooklyn Eleven Takes Opener, 12-7
9/21/39, Swift Attack Wins for Dodgers, 23-12
9/25/39, Philadelphia, Champions Check Eagle Eleven, 13-3
10/9/39, Pittsburgh, Danowski and Cuff Down Pirates, 14-7
10/16/39, Second-Half Drive Tops Eagles, 27-10
10/23/39, Third Field Goal by Cuff Wins, 16-13
10/30/39, 34,032 See Strong Win with Kick, 7-6
11/6/39, Detroit, Lions Win by 18-14 with Strong Finish
11/13/39, Leemans's Fine Run Marks 17-7 Victory
11/20/39, Alert Play Helps Beat Pireates, 23-7
11/26/39, Princeton, N.J., Navy Put to Rout, 28 to 0, by Princeton
11/27/39, Long Leemans Run Leads to 28-7 Rout
12/4/39, Referee Attacked as Giants Win, 9-7
12/10/39, Milwaukee, Packers Favored in Play-Off Today
12/11/39, Milwaukee, 32,279 See Packers Take Play-Off, 27-0
12/11/39, Milwaukee, Hail and Farewell (C) 4/24/40, Left-Hander stops Bombers Again, 3-0
5/22/40, Giants Call Off Game with Cards; Hubbell to Face Reds Today
5/29/40, Champions Subdue Senators, 12-4, 3-1
6/5/40, Kuhel's 2 Homers Crush Ruffing, 7-3
6/12/40, Bridge's 5-Hitter Beats Bombers, 6-1
7/3/40, Bees' 2 Homers off Schumacher in Sixth Set Back Giants by 5 to 3
7/17/40, Rigney Triumphs over Yanks, 5 to 1
7/24/40, Giants Belabor Pirates' Pitchers and Triumph, 9-1, Behind Hubbell
7/31/40, Reds' 4 in eighth Down Giants, 6-3
8/21/40, Ruffing, Bonham Victors on Mound
8/28/40, Murphy Wins Again in Relief Role, 5-4
9/16/40, Pittsburgh, Rally Deadlocks Pittsburgh, 10-10
9/19/40, Giants Drop 10th Straight, 6-4, Hack Driving 2 Homers for Cubs
9/30/40, Pittsburgh, Brooklyn Power Checks Steelers
10/14/40, New York Topples Philadelphia, 17-7
10/21/40, Cuff Paces Mates to 12-0 Decision
10/27/40, New Haven, Conn., Navy Overcomes Yale in Bowl, 21-0
10/28/40, Early Drive Halts New York, 37 to 21
11/4/40, Field Goal by Cuff Tops Dodgers, 10-7
11/11/40, Brooklyn Victor on Safety, 16-14
11/17/40, Navy, Columbia Scoreless in Battle at Baker Field
11/18/40, Fumble and Pass Top Green Bay, 7-3
11/24/40, Princeton, N.J., Princeton Triumphs, 26-19, Checking Late Army Drive
11/25/40, Baugh is Stopped as Giants Win, 21-7
12/2/40, 54,993 See Dodgers Win on Passes, 14-6
12/9/40, Washington, Versatile Display Marks 73-0 Rout
1/2/41, New Orleans, Eagles Vanquish Tennessee, 19-13
4/23/41, Camilli's Hits Win for Brooklyn, 7-4
5/7/41, Hubbell Pitches Four-Hit Game as Giants Again Beat Cubs, 5-3
5/14/41, 27,130 See Feller Take Sixth, 2 to 1
5/21/41, Henrich Dash Nips St. Louis, 10 to 9
5/28/41, Terrymen Topple Braves in 9th, 2-1
6/4/41, Reds Vanquished by Carpenter, 7-3
6/11/41, Giants Drop to Fourth in Race as Result of 11-0 Loss to Cubs
6/25/41, Gomez's 5-Hit Game Beats St. Louis, 9-1
7/2/41, Yankee Star Hits 44th Game in Row
7/16/41, Pirates Overcome Giants, 5-1, Scoring Four Times on Errors
7/23/41, 45,227 See Donald Down Indians, 4-3
7/30/41, Tigers Win by 6-3 as 13 Get Passes
9/17/41, Yankees' 41,000 Reserved Seats for World Series Already Sold
9/22/41, Brooklyn Passes Top Detroit, 14-7
9/24/41, Dickey Sets Mark as Yanks Lose, 9-8
9/29/41, Washington, New York Passes Win Game, 17-10
10/6/41, Pittsburgh, Reagan Star Back in 37-10 Triumph
10/13/41, New York Takes Home Opener, 16-0
10/19/41, 56,000 See Cadets Rally to Vanquish Yale by 20-7
10/20/41, Leemans Excels in 28-7 Triumph
10/27/41, Parker Brilliant in 16-13 Triumph
11/3/41, Chicago Eleven Triumphs by 10-7
11/10/41, Leemans is Star of 20-13 Triumph
11/16/41, Philadelphia, Penn Conquers Army, 14-7, with a Second-Half Drive
11/17/41, New York Buries Cleveland, 49-14
11/24/41, Franck's Scores Mark 20-13 Game
12/1/41, Condit, Kracum Pace 35-7 Victory
12/8/41, Manders Excels in 21-7 Triumph
12/15/41, Chicago, 43,425 See Packers Routed, 33-14, by 24-Point Second-Period Drive
12/22/41, Chicago, 13,341 See Chicago Score 37-9 Victory
2/18/43, This One is On the House, Boys (C)
Daniell, Raymond
7/15/38, Hughes Ends World Flight, Setting 3-Day, 19-Hour Mark
9/9/39, Cobh, Ireland, Nazi Submarine Barnacled, Crew Unkempt; Attacker of Olivegrove Believed Long at Sea
9/30/39, London, London Shuns Bait (L)
10/2/39, London, Britain Confident (L)
10/4/39, London, Clash in Commons (L)
10/14/39, London, London is Jubilant
10/15/39, London, Navy Loss is Heavy (L)
10/16/39, London, Many are Injured (L)
10/17/39, London, 35 Defenders Hurt (L)
10/18/39, London, Navy Base Bombed
10/20/39, London, Military Compact (L)
10/27/39, London, German Ships Seized
10/31/39, London, Nazi Tortures Detailed by Britain; Concentration Camp Horrors Told
11/9/39, London, Victory in Sea War Seen by Churchill
11/13/39, London, Reply to Neutrals (L)
11/15/39, London, British Destroyer Sunk by Nazi Mine; 4 Other Ships Lost
11/16/39, London, Allied Naval Lead Sterssed in Book
11/19/39, London, Survivors Landed (L)
11/20/39, London, New 'Weapon' Seen (L)
11/21/39, London, 6 More Ships Sunk; British Weigh Ban on Reich Exports
11/22/39, London, London Hits Back (L)
11/28/39, London, Battle Off Iceland
12/4/39, London, Hits on Reich Base Claimed in London
12/12/39, London, Submarine Escape a Naval Odyssey
12/17/39, London, Talk of Channel Tunnel Revived by Allied Supreme War Council
12/23/39, London, New Rumors in London
12/25/39, London, War Capitals Strive to be Gay on First Blacked-Out Christmas
12/30/39, London, British Battleship is Torpedoed; Reaches Port with Four Missing
12/31/39, London, London New Year to be Restrained
1/6/40, London, Friction is Blamed (L)
1/7/40, London, British Demanding Full Explanation on Hore-Belisha (L)
1/10/40, London, For United Europe
1/13/40, London, British Drive Off 5 Coast Air Raids
1/15/40, London, Britons Must Cut Living Standard
1/21/40, London, Churchill Urges Neutral Nations of Europe to Join Allies in War
1/21/40, London, Air War Comes Nearer as Days Grow Longer (W)
1/22/40, London, 81 Die on Warship (L)
1/25/40, London, Rumania's Choice Difficult
1/28/40, London, British Offensive See by Churchill
1/30/40, London, Bombers Attack Ships
1/31/40, London, 20 Planes Sweep British Coast; Berlin Reports 9 Vessels Sunk
2/1/40, London, Britain's Aim Given (L)
2/2/40, London, Chamberlain Bars Economic Dictator
2/4/40, London, Allies See Blockade of Reich Succeeding (W)
2/8/40, London, Arming of Finland Speeded b British
2/10/40, London, Allies Puzzled at Welles's Visit; Rome Skeptical, Berlin Reserved
2/16/40, London, Britain is Cautious on Aid to Finland
2/17/40, London, See Attempt at Friction
2/18/40, London, 4 Germans Killed (L)
2/19/40,London, London Cites 'Duty' (L)
2/20/40, London, Ship is Torpedoed (L)
2/21/40, London, British Prime Minister is Cheered as He Defends Navy in Commons
2/23/40, London, British Shoot Down Two Heinkel Bombers; Newly Armed Trawlers Repel Nazi Raiders
2/24/40, London, LondonAcclaims Naval Heroes from Cruisers Ajax and Exeter
2/25/40, London, Briton Details Aim (L)
2/28/40, London, Britain Discloses Warship Damages
3/4/40, London, 301 Aboard Vessel (L)
3/19/40, London, British Watch U.S.
3/21/40, London, Raid on Sylt Acts as Tonic to British
3/31/40, London, Churchill Stiffer on Neutral Rights
4/2/40, London, Allies to Tell Oslo to Halt Ore Ships or Navies will Act
4/4/40, London, Churchill Directs Board of Strategy in British Shake-Up (L)
4/5/40, London, Chamberlain Feels '10 Times' More Sure of Stifling Reich (L)
4/9/40, London, Britain Held Set to Assist Norway
4/12/40, London, Fleed Doing Its Job, Churchill Reports
4/13/40, London, Blockade Tighter (L)
4/15/40, London, British See Reich in Bold New Moves
4/28/40, London, New Strategy Set by Allied Leaders
5/3/40, London, Premier Explains (L)
5/4/40, London, Chamberlain Faces Growing Criticism
5/5/40, London, Chamberlain's Power is Likely to Continue (W)
5/6/40, London, Chamberlain Gains Strength for Test
5/8/40, London, House is Hostile (L)
5/9/40, London, Coalition in View (L)
5/10/40, London, Chamberlain Saved by Nazi Blow in Low Countries, London Thinks
5/11/40, London, Coalition Assured
5/12/40, London, Churchill Names War Cabinet of 5
5/14/40, London, Churchill Backed by 'Full War' Vote
5/20/40, London, Prime Minister Steels People for 'Major Battle for Our Island'
5/24/40, London, Mosley Arrested in London; British Concerned in Ireland
5/26/40, London, Britain Settles Down for Last-Ditch Fight (W)
5/27/40, London, London Command Shifted
5/29/40, London, Churchill Warns of 'Heavy Tidings'
5/31/40, London, Ships Aid Rescue (L)
6/3/40, London, 80% of B.E.F. Save, Eden Tells Nation
6/4/40, London, 900 Ships Massed for B.E.F. 'Rescue'
6/5/40, London, Surrender Barred (L)
6/17/40, London, British Resolute
6/19/40, London, Churchill in Plea
6/21/40, London, British Commons Holds War Inquest
6/23/40, London, General summons French to Resist
6/24/40, London, London is Bitter
6/26/40, London, Churchill Bitter
7/2/40, London, Ireland's Defense Worries Britain
7/5/40, London, Churchill Grieved
7/7/40, London, British Hope to Hold Out (W)
7/8/40, London, British Deny Lack of Ait to France
7/18/40, London, A conciliatory Policy
7/20/40, London, Britain is Defiant
7/26/40, London, Liner is Torpedoed
7/27/40, London, 10 of 21 Craft Hit (L)
7/31/40, London, Shipping is Curbed (L)
8/3/40, London, Beaverbrook Put in the War Cabinet
8/4/40, London, London Holds Two (L)
8/11/40, London, Successes in Air War Bolster British Hopes (W)
8/12/40, London, Fights on Channel (L)
8/31/40, London, Krupp Works Attacked
9/1/40, London, Suburbs Damaged (L)
9/2/40, London, 320 Landed Safely
9/4/40, London, British Jubilant
9/6/40, London, Churchill Asserts 'We Can Stand It'
9/8/40, London, Capital is Shaken (L)
9/9/40, London, Assault Resumed (L)
9/11/40, London, London is Harried
9/12/40, London, Palace in London Damaged by Bomb
9/14/40, London, Rulers Unharmed (L)
9/15/40, London, City Wins Respite (L)
9/16/40, London, Raiders Put at 400 (L)
9/18/40, London, Churchill, Serene, Reassures Nation
9/19/40, London, 8 Alarms Sounded in British Capital
9/20/40, London, Huge Bombs Fall (L)
9/21/40, London, Fire Bombs Hit City
9/22/40, London, Respite in Capital
9/23/40, London, Many Killed in Bed (L)
9/25/40, London, London Badly Hit
9/26/40, London, Spares the French (L)
9/29/40, London, London Defense is Firm
9/30/40, London, Nazis Start Fires in Central London
10/4/40, London, Nazis End Attack on London Early
10/5/40, London, 30 City Areas Hit
10/6/40, London, London's East End Battered by Nazis
10/9/40, London, Churchill to Open China's Vital Road
10/11/40, London, 50 Areas Bombed
10/12/40, London, London Bombings are Less Severe
10/13/40, London, London Gets Lull after 200th Alarm
10/17/40, London, Nazi Oil Store Hit
10/18/40, London, R.A.F. and Big Guns Hammer Germans
10/20/40, London, Nazis Raid London in Big Formations
10/21/40, London, Big Guns in Battle (L)
10/22/40, London, Raids Hit at Axis (L)
10/25/40, London, Power Plants Hit
10/26/40, London, Nazi Cities Raided
10/28/40, London, R.A.F. Hits Reich
11/6/40, London, Churchill Sees Rising U-Boat Peril; Urges Eire to Modify Neutrality
11/7/40, London, Result Delights British
11/9/40, London, R.A.F. Night Patrol Keeps Nazis at Bay
11/11/40, London, Chamberlain Dies; Britain Mourning her Former Chief
11/14/40, London, Raid Taranto Base (L)
11/15/40, London, New Taranto Raid is Made by British
11/16/40, London, 'Revenge' by Nazis (L)
11/18/40, London, R.A.F. Unit Formed to Act with Army
11/20/40, London, Attack on Midlands
11/21/40, Coventry, England, Coventry Dead Laid in One Grave; Air Raid Siren is Their Requiem
11/23/40, London, Damage is 'Considerable'
11/24/40, London, 7 Italian Aircraft Downed in Britain
12/7/40, London, Fight in Atlantic
12/11/40, London, Sidi Barrani in Net (L)
12/12/40, London, General Offensive is Seen
12/13/40, London, Churchill Reports Victory
12/15/40, London, The British See their Chance in Italy's Defeat (W)
12/24/40, London, Italians Warned (L)
12/26/40, London, Britain on 'Path of Victory', King Says, Saluting Empire
12/29/40, London, Boulogne Suffers (L)
12/30/40, London, Flames Leap High
1/3/41, London, Nazi Port Blasted
1/10/41, London, U.S. Aid is Decisive, Churchill Asserts
1/17/41, London, Lake of Fire Seen in Wilhelmshaven
1/18/41, London, Our Help Stressed (L)
1/23/41, London, 4,000,000 in Army, Churchill States
2/1/41, London, 4 Attacks by Nazis
2/3/41, London, British Add Vigil to Air Offensive
2/6/41, London, Reich Industry Hit
2/16/41, London, Damage Reported Done by 'Chutists
2/17/41, London, Shipping is Warned (L)
6/4/41, Hartford, Men Who Saw Bombings Abroad Visit Big Air Plant in Hartford
6/15/41, Norfolk, Va., Ships of War Take Shape at Norfolk
3/11/42, London, Eden Asserts Foe Murdered Britons
3/30/42, London, Union is Envisaged (L)
4/1/42, London, Soviet Navy Helps in Arctic Sea Fight
4/9/42, London, Visit a Surprise (L)
4/10/42, London, Planes Get Ships
4/11/42, London, Japanese Dive-Bombers Destroy Carrier Hermes in Bay of Bengal
4/23/42, London, 2-Hour Foray Made (L)
4/27/42, London, Reich 'Opposition' Noted by London (L)
4/30/42, London, York Bombed in 'Baedeker' Raids; Five German Planes Shot Down
5/3/42, London, R.A.F. Offensive Found Gaining Its Objectives (W)
5/11/42, London, Premier Ominous (L)
5/19/42, London, R.A.F. Torpedoes the Prinz Eugen
5/27/42, London, Sky to be 2d Front
6/1/42, London, A 90-Minute Raid (L)
6/3/42, London, Churchill Report on War Cheered
6/12/42, London, A 20-Year Treaty (L)
6/17/42, London, Rome's Fleet Cut (L)
6/18/42, London, Ships at Gibraltar (L)
6/19/42, London, British Link Churchill Trip to Shifts in War Situation
6/20/42, London, Libya Discussed, London Believes
6/27/42, London, British Voters Defeat Churchill Candidate; maldon 'Rebuke' is Laid to Reverses in Libya
6/30/42, London, Battle Rolls East (L)
7/1/42, London, Rommel is Gaining (L)
7/5/42, London, Americans Raid Nazi Bases; One Scrapes Field, Gets Back
7/19/42, London, Battle for Egypt Still In the Scales (W)
7/20/42, London, Prospects Limited for Second Front
7/29/42, London, R.A.F. Chief Warns Germans to Revolt or Risk Air Scourge
8/2/42, London, City on Rhine Fired (L)
8/6/42, London, British Repudiate 1938 Munich Pact
8/7/42, London, American Likely in New Command
8/15/42, London, Convoy Fights Way to Malta; Cruiser Manchester is Sunk
8/16/42, London, No R.A.F. Friction, Eisenhower Says
8/16/42, London, American Soldier Strange to Britons (W)
8/18/42, London, New Strategy Set, London Believes
8/19/42, London, Auchinkeck is Supplanted by Alexander, Burma Chief
8/20/42, London, Hit-and-Run Fight (L)
8/21/42, London, Raid is Assessed (L)
9/3/42, London, East-West Raids Again Strike Reich
9/9/42, London, Premier Sanguine (L)
9/21/42, London, Blow Dealt Saar
9/29/42, London, 3 U.S. Troopships Sunk, Nazis Claim
10/8/42, London, British Announce Plan
10/10/42, London, Heaviest Day Raid
10/24/42, London, Genoa Heavily Pounded
10/29/42, London, Tory Peer Replies to Empire Critics
11/8/42, London, Landing Plan Kept Secret by Writers
11/12/42, London, Casablanca Yields
11/15/42, London, 'Hell, I Can't – I've Got a Date in Berlin' (NY Times Magazine)
11/16/42, London, Tunisian Fight On (L)
11/18/42, London, Pour On Airfields (L)
11/19/42, London, Rout Nazi Patrols (L)
11/20/42, London, Battle in Preparation
11/21/42, London, Tunisia Test Near (L)
11/24/42, London, Darlan Takes Step (L)
11/25/42, London, Allies' Gain Slow
11/26/42, London, Bizerte Hit Twice
11/28/42, London, Blasts Ruin Ships (L)
11/29/42, London, Nazis Blast Roads
12/3/42, London, Nazis Driven Back (L)
12/4/42, London, Nazis Attack Again
12/10/42, London, Final Blow at Nazis in Africa Hastened by Reinforcements
12/11/42, London, Rain Slows Battle
12/12/42, London, Allies Check Foe (L)
12/13/42, London, Fresh Drives Fail (L)
12/20/42, London, Hardest Fighting Ahead in North Africa Drives (W)
12/27/42, London, Assassination Condemned
1/4/43, London, St. Nazaire Bombed; 7 U.S. Planes Lost
1/5/43, London, R.A.F. Bombs Ruhr in First 1943 Blow
1/6/43, London, Britons Notified of New Food Curb
1/10/43, London, Decline of Luftwaffe is Apparent (W)
1/16/43, London, British Bombers Hammer Lorient and Cherbourg in War on U-Boat
1/21/43, London, Day Attack Made (L)
1/22/43, London, British Send Food to North Africans
1/25/43, London, Allied Unity on '43 Strategy Presages Momentous Moves
2/2/43, London, Generals at Talk (L)
2/14/43, London, Luftwaffe Must Fight It Out Soon (W)
2/24/43, London, Second Front Talk Revived in Britain
2/28/43, London, Post of The Times Missing after Wilhelmshaven Raid
2/28/43, London, Grim Struggle Goes On for Mastery of Seas (W)
3/14/43, London, Crushing Air Drive on Nazis Forecast
3/25/43, London, Eaker Holds Air Experiment Over; U.S. Losses are 90 to 356 for Nazis
3/29/43, London, Keynes Proposes World Currency
3/31/43, London, Cloak for Invasion
4/14/43, London, Bracken Assails M.P. Critic of U.S.
4/27/43, London, Polish-Soviet Rift Seen as Nazi Work
4/30/43, London, Eden Gives Soviet Allied View on Rift
5/2/43, London, Bizarre News of U.S. is Favored in Britain (W)
5/9/43, London, Victory Accepted Calmly in Britain
5/11/43, London, Devers Takes Over Andrews Command
5/14/43, London, Allies Decide to Deal in Europe Only with Military Commanders
5/18/43, London, Fliers Drop Mines (L)
5/19/43, London, Ruhr Losses Soar from Burst Dams
5/25/43, London, Air Strategy Having Its Day; Reich Faces Colossal Blows
5/30/43, London, Seven Gateways Lead to Hitler's Fortress (W)
6/1/43, London, Allies Test Air Offensive in May Attacks on Ruhr
6/3/43, London, May U-Boat 'Kills' Set a Record, Alexander Reveals in Commons
6/8/43, London, Goebbels Reveals Worries Over Germans' Endurance
6/9/43, London, Thrust Prepared (L)
6/10/43, London, Invasion May Wait Weeks or Months
6/11/43, London, Eaker Air Force to Double in Fall
6/12/43, London, Victory Opens Way for Our Shipping
6/23/43, London, U.S. Blow in Reich
6/25/43, London, All Fliers Return (L)
7/1/43, London, Prime Minister Warns Axis Allied Attacks are Imminent
7/17/43, London, Italy Long Warned by Britain
7/23/43, London, News of Our Men in Sicily Delayed
8/1/43, London, 'The Fortress Europe' Assailed On All Sides (W)
8/10/43, London, London Doubts Nazi Shift
8/19/43, London, Allied Plans Seen Speeded by Events
8/20/43, London, Softening of Reich Called Above 50%
8/22/43, London, Year of Success for 8th Air Force (W)
8/25/43, London, Nazi Center Fired
Danzig, Allison
10/2/38, New Haven, Conn., Luckman Lions' Ace
10/30/38, Notre Dame Beats Army, 19-7
11/20/38, Princeton, N.J., Cadet Power Wins
11/27/38, Philadelphia, Cadet Rally Wins
10/22/39, New Haven, Conn., Seymour Elis' Ace
10/29/39, Columbus, Ohio, Ithacans in Upset
11/5/39, 75,600 at Stadium
12/3/39, Philadelphia, Middies Carry Day
12/10/39, Knoxville, Tenn., Tennessee Victor over Auburn, 7-0; Accepts Coast Bid
10/13/40, Princeton, N.J., Midshipmen Rally
11/3/40, 76,000 at Stadium
11/17/40, Boston, Georgetown Steak Ended by Boston College, 19 to 18
12/1/40, Philadelphia, Middies Show the Way
10/13/41, Murmuring Piens and Hemlock (C)
10/19/41, Busik Middies' Ace
11/2/41, 76,000 At Stadium
11/9/41, Baltimore, Irish Passes Click
11/30/41, Philadelphia, Middies in Drives
1/2/42, Durham, N.C., 56,000 See Beavers Win 20-16 Thriller
8/14/43, Rye, N.Y., Miss Brough Gains in Eastern Tennis
Darnton, Byron
9/16/41, Milwaukee, Knox Tells Plans (L)
3/18/42, United States Army Headquarters, in Australia, MacArthur Party in 2 Planes Soars Over Japanese Fronts
3/19/42, United States Army Headquarters, in Australia, Brett Says One U.S. Flier Beats 2 of Foe Every Time
3/20/42, United States Army Headquarters, in Australia, MacArthur's Plan of Attack is in Operation in Australia
3/21/42, Melbourne, Australia, General Tells Aim (L)
3/23/42, United States Army Headquarters, in Australia, M'Arthur Works to Unify Command
3/24/42, United States Army Headquarters, in Australia, M'Arthur Outlines Plans for Victory
3/25/42, United States Army Headquarters, in Australia, MacArthur Party Used Boats He Made Navy Try Years Ago
3/26/42, Canberra, Australia, MacArthur to See Leaders
3/27/42, Canberra, Australia, MacArthur Tells Australia Free Men are Now United
3/29/42, Canberra, Australia, M'Arthurs Ways Win Australians (W)
4/4/42, At United Nations Headquarters, Australia, U.S. Fliers Reveal Heavy Toll in Java
4/14/42, At a United Nations Air Base, Southwestern Pacific, Brooklyn Youth, Gunner on Plane, Scores on His First War Mission
5/4/42, Advanced United Nations Base, Southwest Pacific, Lae and Salamaua Thrusts by Enemy Aim at Airfields
5/13/42, Advanced United Nations Base, Southwest Pacific, Japanese Step Up Pacific Air Raids
5/16/42, An Advanced United Nations Base, Australia, New Guinea Raid Spectators Lie Packed in Hole in Ground
5/24/42, Somewhere in Australia, New Guinea War Tests Our New Army (W)
5/26/42, United Nations Operational Base, in Australia, U.S. Flier Tells of Strange Combat with Japanese Plane, Its Pilot Dead
5/28/42, Port Moresby, New Guinea, Japanese, Raiding Port Moresby as They Promised, Get a Surprise
6/8/42, At an Operational Base, in the Southwest Pacific, Messages to U.S. are Sent by Fliers
6/9/42, At an Operational Base, in the Southwest Pacific, Japanese Fighter No 'Wonder Plane'
6/10/42, At an Operational Base, in the Southwest Pacific, American Pilot Battles a Crocodile after Parachuting to Dense Jungle
6/23/42, Somewhere in Australia, M'Arthur Men Hail Jive Gift from U.S.
7/4/42, Melbourne, Australia, Australians Fear Overoptimism in U.S. Toward Their Situation
7/25/42, Somewhere in Australia, Four American Aces in Australia Describe Some of Their Air Battles
7/28/42, Somewhere in Australia, Fortress Fights 15 Zeros at Lae, Downs 3, Reaches Base Riddled
7/29/42, Somewhere in Australia, Japanese Move 'Harassing'
8/2/42, Somewhere in Australia, Japanese Again Seize the Initiative (W)
8/9/42, Somewhere in Australia, Heavy Allied Air Action
8/11/42, Somewhere in Australia, M'Arthur's Fliers Cut Air Aid to Foe
8/13/42, Somewhere in Australia, U.S. Fliers Over Solomons Found Foe Massing Forces
8/15/42, Somewhere in Australia, Japan's Spies Sly in Solomons Area
8/16/42, Somewhere in Australia, Action at Tulagi a Strategic Test (W)
8/18/42, Somewhere in Australia, Foe Bombs Port Moresby
8/19/42, At United Nations Headquarters, Australia, Pacific Command Lacks Full Unity
8/26/42, At United Nations Headquarters, Australia, Allied Fliers Sink Gunboat in Convoy Off New Guinea
8/27/42, At United Nations Headquarters, Australia, Landing is Costly
8/28/42, Somewhere in Australia, Allies Battle Foe on New Guinea Tip
8/29/42, Somewhere in Australia, M'Arthur's Troops Battle Japanese
8/30/42, Somewhere in Australia, Japanese Get Help in Milne Bay Fight
8/31/42, At United Nations Headquarters, Australia, Allies Mopping Up (L)
9/1/42, At United Nations Headquarters, Australia, Allies Mopping Up Foe at Milne Bay
9/6/42, Somewhere in Australia, Pacific Outlook is Improved (W)
9/8/42, Somewhere in Australia, Japanese Advance in New Guinea Fight
9/9/42, Somewhere in Australia, Allies Batter Foe in New Guinea Zone
9/10/42, Somewhere in Australia, Push in New Guinea
9/11/42, Somewhere in Australia, Foe Checked Nearer Port Moresby; Both Sides Lose Heavily in Battle
9/13/42, Somewhere in Australia, M'Arthur's Fliers Smash Up Foe at Buna Airfield in New Guinea
9/13/42, Somewhere in Australia, New Guinea Fight Rages amid Gorges and Jungles (W)
9/17/42, Somewhere in Australia, Worthy Targets are Kenney's Aim
9/22/42, Somewhere in New Guinea, Fliers Drop Clock 'Made in Japan' on Foe at Lae with Varied Insults
9/24/42, Somewhere in New Guinea, Fliers Hurt Enemy in New Guinea Push
9/29/42, Somewhere in New Guinea, Pilot of Fortress Too Happy to Eat
9/30/42, Somewhere in New Guinea, Foe Built Palisade
10/1/42, Somewhere in New Guinea, Brighter 'On Top'
10/3/42, Somewhere in New Guinea, Japanese Leave Dead
10/4/42, Somewhere in New Guinea, Japanese Retreat Studied
10/9/42, Somewhere in New Guinea, Rabaul Workers Accuse Japanese
10/11/42, Somewhere in New Guinea, Tremendous Damage Done
10/21/42, Somewhere in New Guinea, Darnton's Last Dispatch Pictures Life of Correspondent as Less Luxurious Than in 1918, but Rich in Rewards
10/25/42, Somewhere in New Guinea, Jungle War Without Quarter (NY Times Magazine)
11/9/42, Somewhere in New Guinea, New Guinea Drive a Big Move by Air
Davies, Lawrence E.
6/2/40, 35,000-Ton Addition to Navy Launched
5/16/41, Philadelphia, New Dreadnought Joins the Fleet
9/21/41, San Francisco, New Dreadnought Joins the Fleet (W)
10/13/41, Seattle, Wash., A.F.L. Will Hear Racket Analysis
12/9/41, San Francisco, Turn Back to Sea
12/14/41, San Francisco, Exposed Coast Region Awakes to Danger
12/21/41, San Francisco, 3 Pacific Attacks (L)
2/1/42, San Francisco, Coast Radio Wars on Tokyo by Air (W)
2/4/42, San Francisco, Inland California May Get Aliens
2/24/42, San Francisco, Refinery Fired On (L)
2/25/42, San Francisco, West Coast Hunts Daring Submarine
3/4/42, San Francisco, Evacuation Area Set for Japanese in Pacific States
3/11/42, San Francisco, To Guard Property for Coast's Aliens
3/22/42, San Francisco, California Aroused to Danger of Raids(W)
3/25/42, Manzanar, Calif., Drafts Self-Rule for Alien Colony
4/4/42, San Francisco, U.S. Sailors' Heroism Related by 2 Surviving Commanders
4/26/42, San Francisco, Coast Japanese Await New Homes (W)
5/3/42, San Francisco, Northern California Ready to Sacrifice (W)
11/9/42, San Francisco, Malaria Hits Many in the Pacific War
12/12/42, San Francisco, Cruiser San Francisco Home; Took 'Big Ones First' in Fight
6/11/43, Los Angeles, Seek Basic Causes of Zoot Suit Fray
6/13/43, Los Angeles, Los Angeles Group Insists Riots Halt
6/13/43, Los Angeles, Zoot Suits Become Issue on Coast (W)
7/3/43, San Francisco, 'Real Offensive' Now On in Pacific, Knox Says; 'Bulk' of Navy is There
Dawson, James P.
6/23/38, Louis Defeats Schmeling by a Knockout in First
9/19/38, St. Louis, Two Records Made as Yanks Win Flag
12/27/38, Louis Rated No. 1 Boxer of 1938 in Poll Conducted by The Ring
2/28/39, St. Petersburg, Fla., Dickey Accepts Yankees' Terms
5/3/39, Detroit, Lou, Not Hitting, Asks Rest on Bench
4/17/40, Philadelphia, Chubby Dean Tops Ruffing in Box, 2-1
5/8/40, 18-Year-Old Youth Hurls 4-2 Triumph
5/22/40, Cleveland, Indians are Routed by Yankees, 10 to 2
5/29/40, Giants will Use Open Date Today to Get Ready for Dodger Games
7/24/40, St. Louis, Browns Top Yanks in Night Game, 9-5
7/31/40, Detroit, Ruffing Hits First Homer of Year, Capturing No. 10 for Yankees, 8-6
8/8/40, Boston, Red Sox Register an 8-to-3 Success
8/14/40, Conn-Pastor Bout off until Sept. 5
8/21/40, Cincinnati, Reds' Uprising against Lohrman in Ninth Defeats Terrymen, 3 to 2
8/28/40, Chicago, Hartnett named Manager for 1941 as Cubs Turn Back Giants, 3 to 1
9/25/40, Champions Score 6-5, 9-4 Triumphs
9/28/40, Giants Crushed by Phillies, 6 to 0; Limited by Mulcahy to Four Blows
4/30/41, St. Louis, Browns Down McCarthymen, 3-2, on 400-Foot Home Run by Laabs
5/28/41, Washington, DiMaggio, with Four Hits, Stars in 10-8 Triumph Over Senators
6/4/41, Detroit, Tigers Blast Peek for Four Runs in First and Defeat Yankees, 4-2
6/11/41, Chicago, Crosetti Gets Grand-Slam Homer as White Sox are Downed, 8 to 3
6/29/41, Philadelphia, Yanks Triumph, 7-4, Retake 1st Place; Streaks Extended
6/30/41, Washington, Yankees Conquer Senators, 9-4, 7-5
7/9/41, Detroit, Gleeful Mates Lionize Williams in Clubhouse Victory Celebration
7/23/41, St. Louis, Cards Win, 7-6, with 6 in Fourth and Giants Drop to Fourth Place
7/30/41, Cincinnati, Reds Turn Back Giants, 7 to 4, with a Five-Run Rally in Fifth
9/10/41, Pittsburgh, Young's 2 Homers Down Pirates, 4-2
9/17/41, St. Louis, Darkness Forces 10-Inning Tie, 1-1
10/2/41, Bombers Happy, but Hardly Noisy
10/3/41, M'Carthy Points to Day's Breaks
10/6/41, Facetious Pair 'Perfected' Play
10/7/41, Punches, Towels Fly in Profusion
de Luce, Daniel
5/16/42, Calcutta, India, Delay in Accepting Aid of Chinese Held Major Cause of Burma Debacle
5/9/43, Tunis, 8th Army Unit First In
9/6/43, With the British Eighth Army in Italy, Italians Fight Worse on Mainland than They Did in Sicilian Battles
Demaitre, Edmund
4/30/40, Namsos, Norway, Allies Get Planes in Steinkjer Area
Denny, Harold
3/4/38, Moscow, Soviet Aide Asserts Guilt, Again Reversing Himself
10/11/38, Moscow, Soviet Fliers Denounce Lindbergh as 'Hired Liar' for German Nazis
11/27/38, Moscow, Blow to Isolation Talk
12/12/38, Moscow, World Climate Growing Warmer, Say Russians, Citing Arctic Data
3/11/39, Moscow, Stalin Says West Seeks to Foment Soviet-Reich War
5/4/39, Moscow, Ill Health is Cited (L)
6/1/39, Moscow, Appeasing Scored (L)
7/16/39, Moscow, Soviet and Britain on Better Terms (W)
7/27/39, Moscow, New Moscow Talk Brings Optimism
7/30/39, Moscow, Mystery Clothes Talks in Moscow (W)
8/12/39, Moscow, Three-Staff Talks Opening in Russia
9/17/39, Paris, Soviet Moves Puzzling
10/20/39, With the British Forces, in France, British Air Chief Visits France; Finds His Force Superior to Nazis'
10/27/39, With the British Forces in France, British 'Digging In' on Western Front
11/3/39, With the British Forces in France, Two Nazi Planes Downed
11/23/39, With the British Forces in France, Briton Wins Air Duel
12/5/39, With the British Forces in France, King George on Visit to Troops in France; Crosses on Bridge of British Destoyer
12/25/39, With the Finnish Army on the Karelian Isthmus, Christmas Battle to be Finns' Fare
12/26/39, With the Finnish Army, on the Karelian Isthmus, Finns Push Battle over Foe's Border; Menace Rail Line (L)
12/27/39, With the Finnish Army, on the Karelian Isthmus, Bombing of Viborg Misses Objectives
12/28/39, Helsinki, Pierce Soviet Line (L)
1/1/40, Helsinki, Win Major Victory (L)
1/2/40, Helsinki, Seaport is Bombed (L)
1/3/40, Helsinki, Soviet Lost 12,000 in Battle on Lake
1/5/40, Helsinki, Finnish Pamphlets Rain on Leningrad; Reds Bomb Tornea
1/6/40, Helsinki, New Finnish Blows Dealt to Russians
1/7/40, Helsinki, Why the Russian Army has Bogged in Finland (W)
1/8/40, With the Finnish Army, on Karelian Isthmus, Karelian Drive "Frozen Up"
1/9/40, With the Finnish Army, on Karelian Isthmus, Victory is Biggest
1/10/40, With the Finnish Army, on Karelian Isthmus, Finns Make Front Almost Like Home
1/11/40, With the Finnish Army, on Karelian Isthmus, Border Cleared at Fourth Point
1/12/40, Helsinki, Finns Fear Curtailed Aid
1/13/40, Helsinki, Russian Bombers Raid Finnish Cities in Mass Attacks (L)
1/14/40, Helsinki, Helsinki Bombed as Soviet Presses Offensive in Air (L)
1/15/40, Helsinki, Soviet Bombs Hit U.S. Envoy's Home
1/20/40, Helsinki, Red Bases Bombed (L)
1/23/40, Helsinki, Russians Repulsed on Five Fronts in Renewed Offensive, Finns Say
2/1/40, With the Finnish Army, on the Central Northern Front, Soviet Prisoners Deplore Bombings
2/2/40, With the Finnish Army, on Central Northern Front, Finns Drive Foe at Kuhmo
2/5/40, With the Finnish Army, on the Central Northern Front, Rout of Russians at Suomussalmi Described as Finns' Masterpiece
2/9/40, With the Finnish Army, on the Arctic Front, Russians Renew Attack in Arctic
2/13/40, Helsinki, Reds Try to Flank Isthmus Line with Attacks over Ice at Both Ends
2/14/40, Helsinki, Helsinki Alarmed (L)
2/15/40, Helsinki, Soviet Dents Line (L)
2/16/40, Helsinki Russians Widen Area of Drive
2/17/40, Helsinki 22 Positions Fall
2/18/40, Helsinki, Mannerheim is Confident
2/19/40, Helsinki, Finns Find Pressure Eased
2/20/40, Helsinki, Defeat of 18,000 Russians Halts Red Drive to Flank Isthmus Line
4/27/40, London, Hard Norse Task is Seen by British
5/2/40, London, News Lacking in Britain
5/3/40, London, British Silent on Plans
5/7/40, A Scottish Port, Norway Veterans Return to Britain
5/9/40, A Northern British Port, More Allied Norway Units Return; Get Hint They May be Sent Back
5/14/40, With the British Army in Belgium, British Fliers Smash into Nazis; Aim at Air Mastery in Belgium
5/16/40, With the British Army in Belgium, British Fiercely Attacked, Say Line Holds in Belgium
5/17/40, With the British Army in Belgium, Battle at Louvain
5/18/40, With the British Army in Belgium, British Fall Back behind Brussels
5/19/40, With the British Army on the Western Front, British Lines Firmly Held
5/22/40, London, Britain Withdraws Writers with B.E.F.
5/24/40, London, Churchill Admits Fight in Boulogne
5/26/40, London, Bombers Hammer at Nazis' Columns>br> 5/27/40, London, R.A.F. Lists Victory in 4-Hour Air Duel
5/28/40, London, British in Counter-Attacks
6/1/40, London, Britain Hails Men (L)
6/11/40, London, British Navy Guns Hammer at Nazis
6/12/40, London, British are Hoping for New 'Miracle'
6/23/40, London, British Torpedo and Bomb the Scharnhorst; Submarine, Planes Waylay Nazi Battleship
6/27/40, London, Nazi Coast Raided
10/3/40, Washington, Navy Forming New Atlantic Force in One Command for Efficiency
10/4/40, Washington, Parachute Troops Adopted by Army
10/24/40, Washington, U.S. will Dispatch Air Reinforcement to the Philippines
10/30/40, Washingon, Capital Hears of Parleys to Get Vital Raw Materials of Britain
11/21/40, Washington, U.S. Sells Britain 26 Air Fortresses
3/17/41, Freetown, Sierra Leone, De Gaullists Cowed in French West Africa by Purge and Fear of Reprisals on Kin
4/23/41, With the British Army, in the Western Desert, British Stand Off Axis Drive on Suez
4/24/41, With the British Army, in the Western Desert, British Quicken Libyan Offensive; Take Captives in Tobruk Sorties
5/14/41, With the British Forces, in the Western Desert, Nazis Break Off Sortie into Egypt
5/15/41, With the British Forces, in the Western Desert, Tanks and Luck Aid Axis in Egypt
5/20/41, With a British Advanced Striking Force, in the Western Desert, Desert Push Puts British Far Ahead
5/27/41, Cairo, Big Phase of War Balanced in Crete
6/2/41, Cairo, Evacuated from Beaches
6/11/41, With the British Army, in the Western Desert, Nazi Desert Attack Likely
6/18/41, With the British Advance Force, Before Solum, Egypt, British and Nazis on Even Terms at Last in Desert Battle of Tanks
6/20/41, Cairo, German Tank Coup Won Desert Fight
9/28/41, A British Air Base in Egypt, Reporter Flies on Bengazi Raid
10/29/41, With British Forces, in the Egyptian Desert, Three Britons Flee Axis Camp; Walk Week in Desert Till Saved
11/20/41, With a British Armored Force, in the Western Desert, U.S. Tanks Lead Desert Drive
11/22/41, With the British Armored Force, in Libya, British Unopposed in Entering Libya
11/27/41, With the British Forces, Outside Tobruk, Desert Tank War is Hard to Follow
6/3/42, Writer Captured in Libya Tells of Desert Tank Battle
6/4/42, Rommel Lectured Britons on Tactics
6/5/42, Reporter Yielded by Italy to Reich
6/6/42, Life in Berlin Gestapo Jail a Study in Mental Torture
6/7/42, Gestapo's Inquiry Strangely Eased
6/8/42, British are Brave as War Prisoners
6/9/42, Prisoners of War Go Hungry in Italy
6/10/42, Prisoners in Italy Ran a 'University'
7/19/42, We Can Out-Rommel the Rommels (NY Times Magazine)
11/1/42, Desert War Reopened by Big Allied Drive (W)
12/23/43, Madrid, Liberal Trend in Spain Discerned in Arrese's Speech and Amnesty
de Seversky, Maj. Alexander P.
8/15/40, Nazi Air Siege Called 'Main Bout'; result is in Doubt, Seversky Holds
10/20/43, War and Air Power (C)
10/22/43, War and Air Power (C)
10/25/43, War and Air Power (C)
10/27/43, War and Air Power (C)
10/29/43, War and Air Power (C)
11/1/43, War and Air Power (C)
11/3/43, War and Air Power (C)
11/5/43, War and Air Power (C)
11/8/43, War and Air Power (C)
11/10/43, War and Air Power (C)
11/15/43, Air Power and the War (C)
11/17/43, Air Power and the War (C)
11/19/43, Air Power and the War (C)
11/22/43, Air Power and the War (C)
11/24/43, Air Power and the War (C)
11/29/43, Air Power and the War (C)
12/1/43, Air Power and the War (C)
12/3/43, Air Power and the War (C)
12/10/43, Air Power and the War (C)
12/13/43, Air Power and the War (C)
12/15/43, Air Power and the War (C)
12/17/43, Air Power and the War (C)
12/20/43, Air Power and the War (C)
12/22/43, Air Power and the War (C)
12/24/43, Air Power and the War (C)
12/27/43, Air Power and the War (C)
12/29/43, Air Power and the War (C)
Dorris, Henry N.
3/18/38, Washington, Roosevelt to Ask More for Defense
9/21/39, Washington, Congress Leaders Seek to Hold Session to President's Program
12/24/39, Washington, Call to All Faiths (L)
1/5/40, Washington, Harrison Proposes Joint Study by Congress to Adjust Finances
1/14/40, Washington, Both Parties Seek Lynch Bill Credit (W)
3/7/40, Washington, House Group Votes Labor Act Change; New Dealers Balk
6/21/40, Washington, Giant Army is Aim
7/3/40, Washington, Vote for Stimson (L)
7/14/40, Chicago, Convention Keyed to See 'Anything'
7/16/40, Chicago, Four Considered for Second Place
7/25/40, Washington, Army Set-Up Ready for Service Law; To Spare Husbands
8/10/40, Washington, Arms Delays Cited
11/22/40, Washington, Ties with Embassy
12/12/40, Washington, Call to a Veto Vote Going to Congress
1/16/41, Washington, Millions for Navy
2/5/41, Washington, Formula for Unity (L)
2/7/41, Washington, A Republican Coup (L)
2/9/41, Washington, No Vital Changes (L)
2/15/41, Washington, Warplane Output is Doubled in Year
3/20/41, Washington, Curbs are Beaten (L)
5/29/41, Washington, Ways and Means Ends Tax Hearings
7/8/41, Washington, Wider Draft Term to Go to Congress
7/11/41, Washington, House Bans Curbs on Defense Labor
8/5/41, Washington, Final Vote 369-40 (L)
8/23/41, Washington, For Flat 10% Tax at Income Source
12/4/41, Washington, A Sweeping Bill (L)
12/9/41, Washington, Senate, House Groups Vote Bills to Keep All in Service During War
12/13/41, Washington, 19-44 For Fighting
12/22/41, Washington, Knox, Revealing Navy Action, Indicates Blows to Japanese
1/4/42, Washington, Fort Strikes Back (L)
1/8/42, Washington, Historic Budget (L)
1/27/42, Washington, 18 Billion Record is Set in Navy Bill
Dosch-Fleurot, Arno
9/3/39, Buchs, Switzerland, on the Frontier Opposite Germany, Germans Mobilize in Festive Spirits
2/18/40, Mannerheim Plays an Old Role Again (W)
Douglass, Don
6/29/41, San Francisco, Determination to Aid Britain is Stiffened (W)
Downes, Olin
11/12/39, Recital is Given by Rachmaninoff
5/11/40, Zaslawsky Leads Two Symphonies
6/21/40, Stadium Concert Features Serkin
11/14/40, 'Fantasia' Discussed from the Musical Standpoint – Sound Reproduction Called Unprecedented
3/7/41, Montemezzi Work Heard at Concert
2/1/43, Toscanini Changes Verdi's Line in Hymn to Read 'Italy Betrayed'
4/29/43, Lure of Harry James's Trumpet Baffles The Times Music Critic
11/15/43, Bernstein Shows Mastery of Score
12/24/43, Berezowsky Music is Well Received
Drebinger, John
6/16/38, Gehrig Clouts No. 8 at Chicago as Yanks Win Fifth in Row, 6-4
7/7/38, Cincinnati, Effective Pitching and American League Errors Carry Nationals to Victory
10/6/38, Chicago, Yanks Top Cubs, 3-1, in Series Opener as 43,642 Look On
10/7/38, Chicago, Yankees Beat Cubs with Homers, 6 to 3; Lead, 2-0 in Series
10/9/38, 55,236 at Stadium
10/10/38, Yanks Win Series from Cubs by 4-0; Score, 8-3, in Final
2/28/39, Hot Springs, Ark., Giants Seek Trade Involving Ripple
4/18/39, Washington, Rain Washes out Game in Capital; Garner to Hurl First Ball Friday
6/4/39, Cleveland, Murphy Nips Rally
6/11/39, St. Louis, Gehrig of Yankees will Enter Clinic
7/3/39, Giants Win, 6 to 4, after 3-2 Setback
7/5/39, 61,808 Fans Roar Tribute to Gehrig
8/16/39, Hamlin Wins No. 14 for Dodgers, 8 to 5
9/17/39, Club Ties Record
10/5/39, Yankees Top Reds by 2 to 1 in Opener of World Series
10/6/39, Pearson Shuts Out Reds with 2 Hits as Yanks Win, 4-0
10/8/39, Cincinnati, Keller Drives Two
10/9/39, Cincinnati, Yankes Beat Reds by 7-4 in the Tenth to Win Series, 4-0
6/12/40, Chicago, Cubs Bow, 4-0, 3-1, to Great Pitching
6/19/40, Chicago, DiMaggio, Keller Waste Homers in Yanks' 5-3 Defeat by White Sox
6/26/40, Cleveland, Cleveland Downs Yankees by 5 to 3
7/10/40, St. Louis, Home Run by West Marks 4-0 Upset
7/17/40, Chicago, Cavarretta's 2-Run Single in 7th Enables Cubs to Stop Giants, 2-0
8/14/40, Champions Crush Red Sox, 9-1, 19-8
9/11/40, Cleveland, Yanks Bid for Lead in Twin Bill Today
9/25/40, Detroit, Tigers Less Tense as Both Rivals for Pennant Have 2 More Defeats
9/28/40, Cleveland, Rookie Beats Tribe on York Homer, 2-0
10/3/40, Cincinnati, Tigers' 5 in Second Crush Reds, 7 to 2, as Series Starts
10/4/40, Cincinnati, 30,640 Watch Reds Defeat Tigers, 5-3, Tying Series at 1-1
10/5/40, Detroit, Tigers' 2 Homers Down Reds, 7 to 4, as 52,877 Look On
10/6/40, Detroit, Derringer Victor
10/7/40, Detroit, Tigers Crush reds by 8-0 for Newsom; Lead in Series, 3-2
10/8/40, Cincinnati, Reds Even Series, Walters Beating Tigers Again, 4-0
10/9/40, Cincinnati, Reds Triumph, 2-1, over Tigers to Win World Series, 4-3
4/16/41, Dean Tops Ruffing, 3-1, Before 40,128
4/30/41, Four-Run Rally in Fourth Helps Cardinals Vanquish Giants, 5-4
5/14/41, St. Louis, Cooper Subdues Giants, 3 to 2, Brown's Hit Winning for Cards
5/21/41, Pittsburgh, Vaughan's Homer Sinks Giants, 7-5
6/18/41, Pittsburgh, Hubbell Defeats Pirates, 6 to 3, as Danning Paces Giants' Attack
6/25/41, Chicago, Melton Pitch Hits Leiber on Head as Giants Win at Chicago, 3 to 1
7/3/41, Home Run in Fifth Tops Keeler Mark
7/9/41, Detroit, Williams's Homer Decides 7-5 Game
7/12/41, St. Louis, DiMaggio's 4 Hits Help Halt Browns
7/14/41, Chicago, DiMaggio Hits in Both Contests as 50,387 Watch 8-1, 1-0 Sweep
7/16/41, Chicago, Rosar's Triple with Bases Full Helps Yanks Top White Sox, 5-4
7/17/41, Cleveland, DiMaggio Hits 56th Game in Row and Yanks Crush Cleveland, 10-3
7/18/41, Cleveland, Smith and Bagby Stop Yankee Star
8/6/41, Washington, Carrasquel Wins for Senators, 4-3
8/20/41, Washington, DiMaggio Hurt as Yanks Win, 8-3, After Tigers Gain a 12-3 Decision
9/24/41, Pittsburgh, St. Louis Wins, 9-0, After 4-0 Defeat
10/2/41, Yanks Down Dodgers, 3-2, in Opener of World Series
10/3/41, Dodgers Beat Yanks, 3-2, Tying Series at Game Each
10/5/41, 4-Hitter by Russo
10/6/41, Yanks Win in 9th, Final 'Out' Turns into 4-Run Rally
10/7/41, Yanks Win Series as Bonham Beats Dodgers, 3 to 1
10/12/41, The Indestructible Mr. Hein (C)
Duffus, R.L.
6/15/40, The Map of France
7/19/42, North Atlantic Patrol: The Log of a Seagoing Artist, by Lieut. Comdr. Griffith Baily Coale, U.S.N.R. (B)
1/24/43, Guadalcanal Diary, by Richard Tregaskis (B)
Duranty, Walter
7/14/38, Moscow, 3-Hour Stop at Yakutsk
8/2/38, Moscow, Russians Report Routing Japanese in Border Battle
11/27/38, Riga, Latvia, Reich is Extending Empire to Balkans
3/16/39, Moscow, Soviet Army Total is Put at 3,000,000
8/26/39, Paris, French See Hitler Skirting Disaster
10/13/39, With the British Air Force, in France, British 'Hidden Airport' on Western Front is Camouflaged as a Peaceful Farmyard
12/13/39, Stockholm, Finns' Vital Flaw Seen in Man Power
1/7/40, Riga, Latvia, Soviet Held Rival of Reich in Baltic
1/15/40, Riga, Latvia, Soviet is Believed to be Misinformed
1/20/40, Riga, Latvia, Soviet Believed Massing Troops for Heavier Assault on Finland
2/14/40, Moscow. War of Liberation Seen by Russians
2/26/40, Moscow, New Soviet Canal will Go to Latvia
2/13/41, Moscow, Japan Now Eager for Russian Trade
5/2/41, Tokyo, Nazi-Soviet Moves Viewed as 'Dicker'
6/12/41, Stalin is Believed Likely to Yield Further Concessions to Germany
6/17/41, Soviet-Nazi Deal Held More Likely than Clash Despite All Rumors
2/7/43, Stalin's War Seen in Long-Range Aim
Durdin, F. Tillman
4/10/38, Hankow, Chinese in Revolt behind Foes' Lines
5/3/38, Taierhchwang, Shantung Province, China, Times Man Finds China Holding Foe
6/13/38, Hankow, Chinese Attacking Japanese in Flood
6/25/38, Hankow, Japanese Land Near Boom
7/7/38, Hankow, Generalissimo Makes Plea
8/10/38, Hankow, Bitter Fighting Near Yangtze
8/18/38, Hankow, Japanese Checked in Drive to South
10/10/38, Hankow, Razing of Hankow Planned by China
10/12/38, Hankow, Hankow Railway Again Cut
10/21/38, Hankow, Break in Defenses
10/25/38, Hankow, Invaders Close to Hankow
11/27/38, Shanghai, American Charges Japanese Deal in Narcotics in Occupied Nanking, where Addicts Increase
12/23/38, Hanoi, Chinese Transfer Supplies to Burma
2/5/39, Chungking, Chinese Cities Bombed
6/7/39, Chungking, Chinese Expect Big Attack
7/7/39, Chungking, Japanese Again Bomb Chungking; Most Citizens Safely in Dugouts
6/17/40, Chungking, U.S. Warship Rocked by Japanese Bomb
3/6/41, Shanghai, Japanese Land South China Force to Cut Imports, Press Indo-China
5/28/41, Chungking, China, U.S. Agrees to Send More Aid to China
6/2/41, Chungking, China, Hull Statement Reassures China
7/17/41, Chungking, China, Japan Shifts Army from China Areas
7/24/41, Chungking, China, Big Tokyo Convoy Seen Going South
9/11/41, Lashio, North Burma, Burma Road Rains Defied by Trucks
9/30/41, Singapore, British Confident at Singapore Base
10/27/41, Singapore, Malay War Game is Won by British
11/11/41, Singapore, Singapore Prepared for Any Japanese Move; British Naval Base Gets Own Striking Force
11/12/41, Singapore, Singapore Holds Japan 'Missed Bus'
12/3/41, Singapore, 2 Capital Ships Lead Armada into British Base in Far East
12/4/41, Singapore, Singapore Doubts Japanese Threats
12/6/41, Singapore, Only Thai Danger Seen in Singapore
12/8/41, Singapore, Japanese Ships Attacked
12/9/41, Singapore, Malay Thwarts Push by Japanese
12/10/41, Singapore, Japanese Ashore in Force in Malaya
12/13/41, Advanced Army Headquarters, British Malaya, Tokyo Tanks Roll in Malay Jungle
12/16/41, Sungei Patani, North Malaya, Allied Fliers Match Japan's in North Malaya Fighting
12/18/41, Singapore, Japanese Infiltrate British Malaya Lines and Wait in Jungle for Attacks in Force
12/18/41, Singapore, Foe Seeks to Ring Singapore; Plan to Take it Intact Seen
1/6/42, Western Malayan Front, New Malayan Loss
1/9/42, Kuala Lumpur, British Malaya, Kuala Lumpur Feels War Effect; Streets Deserted as Fight Rages
1/13/42, Kuala Lumpur, Malaya, Guerrilla Fighting to Fore
1/14/42, Seremban, Western Malaya, 'Scorched Earth' Cheats Foe of Malay Rubber, Tin Loot
1/15/42, Singapore, British are Intact for Malay Climax
1/16/42, Singapore, Shorter British Malayan Line Can Give Defense in Depth Against Infiltration
1/19/42, Singapore, Oil Depot Blazes
2/5/42, Batavia, Netherlands Indies, Singapore Naval Base Unusable but Island's Defenses are Strong
2/6/42, Surabaya, Netherlands Indies, Surabaya, Unawed, Awaits Japanese Invasion Attempt
2/9/42, Batavia, Netherlands Indies, Japanese Striving to Crush Growing Allied Air Power
2/11/42, Batavia, Netherlands Indies, Fight on Celebes
2/18/42, Batavia, Netherlands Indies, Indies Peril Rises (L)
2/22/42, Batavia, Netherlands Indies, Foe Now Flanks Java at Both Ends
2/23/42, Batavia, Netherlands Indies, Refugees Leave Batavia
4/20/42, Melbourne, Australia, M'Arthur Ordered to Plan Offensive
4/26/42, Sydney, Australia, Offensive Urged in South Pacific
5/24/42, Noumea, New Caledonia, Americans in New Caledonia Ready to Battle the Japanese
5/27/42, Noumea, New Caledonia, Loyalty Stressed in New Caledonia
8/11/42, Auckland, New Zealand, Surprise Reported
8/13/42, Auckland, New Zealand, Solomons Battle Believed Crucial as Possible Key to War's Course
8/14/42, Auckland, New Zealand, Heavy Losses Likely
8/18/42, Auckland, New Zealand, New Zealand's Role
9/10/42, Guadalcanal, Solomon Islands, Marines' Captives Leave Solomons
9/18/42, Guadalcanal, Solomon Islands, It's Never Dull on Guadalcanal
9/23/42, Guadalcanal, Solomon Islands, Marines' Formula Passes War Tests
9/28/42, Guadalcanal, Solomon Islands, Guadalcanal Aces Keep Enemy At Bay
10/4/42, Guadalcanal, Solomon Islands, Solomons May See a Decisive Battle
10/5/42, Guadalcanal, Solomon Islands, Hit-Run Foe Keeps Guadalcanal Busy
10/11/42, Guadalcanal, Solomon Islands, Dead and Arms Left by Japanese in General Retreat on Guadalcanal
10/30/42, At an Advanced South Pacific Base, Scouts in 6 Weeks Fly 500,000 Miles
11/4/42, At an Advanced South Pacific Base, Foe's Best Fliers in Solomons Area
11/6/42, At an Advanced South Pacific Base, Pacific Warfare Sets New Pattern
11/10/42, Advanced South Pacific Base, Foes Pass in Air to Blast Carriers
11/15/42, An Advanced South Pacific Base, Marine Flier Rams Guadalcanal Foe
11/16/42, Somewhere in Australia, Allies In Junction
11/24/42, Somewhere in Australia, Ring Tightens on Buna
11/25/42, Somewhere in Australia, The Japanese Position
11/26/42, Somewhere in Australia, Fighting Most Bitter
11/28/42, Somewhere in Australia, Hard Struggle Forecast
12/3/42, At a New Guinea Base, Air Attacks Aid Allies
12/9/42, With Advance United State Forces, in New Guinea, The Battle of Buna
12/11/42, With Advance United State Forces in New Guinea, Buna Beach Fight Led by Sergeant
12/12/42, With the American Forces in New Guinea, Location of Front Lines
12/15/42, At a New Guinea Base, Was a Battle of Hide-Outs
12/17/42, With Advanced American Forces in New Guinea, Enemy Fled Buna Before Its Capture
12/20/42, An Advanced New Guinea Base, Americans Clear Way
12/21/42, At a New Guinea Base, Australians Took Cape Endaiadere
12/22/42, At a New Guinea Base, Tanks Broke Impasse
12/23/42, At a New Guinea Base, Allied Advance General
12/24/42, At a New Guinea Base, Buna Battlefield Reflects Grim War
12/25/42, Allied Base, New Guinea, American Feat Told
12/26/42, At a New Guinea Base, U.S. Patrol Lives a Buna Area Saga
12/30/42, At a New Guinea Base, Grass Fires as Weapons
12/31/42, At a New Guinea Base, U.S. Scouts Ferret Out Foe at Buna by Entering Lines and Drawing Fire
1/1/43, At a New Guinea Base, Enemy Bands Roam Jungle
1/3/43, At a New Guinea Base, Enemy Loses Concealment
1/4/43, At a New Guinea Base, Storming of Giropa Point
1/11/43, At a New Guinea Base, Air-Borne Army Won Papua Despite Terrible Hardships
2/11/43, Sydney, Australia, Australia is Thrilled
2/24/43, Sydney, Australia, Troops in Pacific Get U.S. Comforts
3/2/43, Somewhere in Australia, Australia Studies Moves
3/4/43, Somewhere in Australia, Wave after Wave in Attack
3/7/43, Somewhere in Australia, Japan Masses Forces Off Australia (W)
3/13/43, Somewhere in Australia, New Enemy Move is Seen in Pacific
3/16/43, Somewhere in Australia, 2 Japanese Troopships Hit by Allies North of Australia
3/17/43, Allied Headquarters in Australia, Japanese Convoy in Aru Area Gone
3/18/43, Somewhere in Australia, MacArthur in Australia One Year; Reviews Moves that Thwarted Foe
3/21/43, Somewhere in Australia, Japanese Seem Ready to Try New Attacks (W)
3/24/43, Somewhere in Australia, Fortresses Punish Rabaul Airdromes
4/14/43, Somewhere in Australia, Blamey's Warning
4/15/43, Somewhere in Australia, Japanese Mass Planes
4/16/43, Somewhere in Australia, Big Fleet at Truk, Knox is Reminded
4/25/43, Somewhere in Australia, G.H.Q., Somewhere in Australia (NY Times Magazine)
6/3/43, Somewhere in Australia, Americans Trained for Jungle War with New Weapons, Garb Tactics
6/14/43, Somewhere in Australia, Allies Are Curbing Malaria in Pacific
7/2/43, Allied Headquarters for Southwest Pacific, Biggest Allied Step
7/3/43, Allied Headquarters for the Southwest Pacific, Vila Base Neutralized
7/5/43, Allied Headquarters for the Southwest Pacific, Stiff Fight Indicated
7/6/43, Allied Headquarters for the Southwest Pacific, U.S. Sector Emerges
7/7/43, Allied Headquarters for the Southwest Pacific, Sea Battle Halts (L)
7/8/43, Allied Headquarters for the Southwest Pacific, Air Base Squeezed (L)
7/9/43, Allied Headquarters of the Southwest Pacific, Enemy Shows Big Decline in Air Strength in Solomons
7/10/43, Allied Headquarters for the Southwest Pacific, Munda Hammered
7/11/43, Allied Headquarters for the Southwest Pacific, Japanese Warships Bombed Off Munda
7/11/43, Allied Headquarters for the Southwest Pacific, Man to Man in the Jungle (W)
7/12/43, Allied Headquarters in the Southwest Pacific, 52 Tons of Bombs Loosed on Munda
7/13/43, Allied Headquarters in the Southwest Pacific, Cruiser and 3 Destroyers Sunk by Allies in Solomons
7/14/43, Allied Headquarters in the Southwest Pacific, Japanese Pressed
7/16/43, Allied Headquarters of Southwest Pacific, Mubo, New Guinea, Taken; U.S. Destroyer Gwin Lost
7/18/43, Allied Headquarters in the Southwest Pacific, 4 Warships Sunk (L)
7/18/43, Allied Headquarters for Southwest Pacific, Americans Are Closing In on Munda (W)
7/19/43, Allied Headquarters in the Southwest Pacific, Allies Smash Foe Off New Georgias
7/20/43, Allied Headquarters in the Southwest Pacific, U.S. Troops Press Munda from East
7/22/43, Allied Headquarters in the Southwest Pacific, Enemy Supplies Halted
7/23/43, Allied Headquarters of the Southwest Pacific, Allies Raid Java; Bomb Naval Base
7/24/43, Allied Headquarters in the Southwest Pacific, Japan Again Loses Ships in Solomons
10/9/43, New Delhi, India, Mountbatten Begins Plans
11/6/43, Allied Headquarters on the Burma Border, Chinese Drive into North Burma to Protect New Supply Route
11/15/43, At a Base on the Burma Border, Big Chinese Force is Created in India
Dynan, Joseph
7/29/42, Americans Saw Doolittle's Attack on Japan; One Bomber Flew Over an Internment Camp
Effrat, Louis
6/16/38, Fans Jam Stands Long Before Game
9/19/38, Washington, Masterson's Kick Brings 16-16 Tie
9/24/38 (in 9/23 thread), Football Pirates Top Dodgers, 17-3
10/30/38, Philadelphia, Penn Holds Navy to Scoreless Tie
6/27/39, Philadelphia, Pippen's Pitching Stops Yanks by 3-2
7/25/39, Browns to Oppose Champions Today
10/9/39, Washington, 27,092 See Farkas and Filchock Pace Redskins to 41-13 Triumph
10/23/39, Dodgers Vanquish Eagles, 23-14 as Kercheval and Manders Excel
11/13/39, Farkas Gets Three Touchdowns as Redskins Rout Dodgers, 42-0
11/20/39, Packers Take Undisputed Lead with 28-0 Victory at Brooklyn
11/27/39, Washington, Redskins Overwhelm Lions, 31 to 7, Scoring 3 Tiouchdonws on Passes
12/4/39, Detroit, Hinkle Touchdown Brings 12-7 Victory
12/11/39, Milwaukee, Fans Pay $83,510, Play-Off Mark, for Precarous, Windswept Seats
4/24/40, Carleton sets Back Bees by 8 to 3 as Dodger Rookies Excel at Bat
5/15/40, 21,535 See Dodgers Take Thriller, 6-5
5/22/40, Brooklyn Victor over Cubs, 4 to 3
5/29/40, 28,918 See Dodgers Halt Phillies, 4-2
6/19/40, New Dodger Star Taken to Hospital
6/26/40, Five-Run Attack Tops Dodgers, 8-3
7/31/40, Sewell of Pirates Tops Brooklyn, 8-2
8/7/40, Fans and Players Will Honor Ott at Dodger-Giant Contest Tonight
8/14/40, Boston, Bees Win with 4 in Sixth, 4 to 1, after Magerkurth Evicts Terry
9/4/40, Oakdale, L.I. , Manhattan Faces Problems in Line
9/11/40, Dodgers Buy Kampouris of Bears for Reported $25,000 and Player
9/16/40, Washington, Redskins Top Dodgers by 24 to 17 Despite Losers' Strong Comeback
9/19/40, Mize Paces 17-Hit Cardinal Attack as Dodgers Lose 4th in Row, 14-7
9/28/40, Philadelphia, Babich Gives 5 Hits to Down Yanks, 6-2
10/13/40, West Point, N.Y., Cornell Routs Army, 45-0, Scoring Seven Touchdowns
10/14/40, Brooklyn Strikes Early to Win, 21-0
10/21/40, Chicago, Maniaci's 32-Yard Run Snaps Tie and Bears Check Brooklyn, 16-7
11/3/40, Philadelphia,70,200 Watch Penn Sink Navy, 20 to 0
11/11/40, Spadaccini Intercepts Two Passes to Top Giants for Cleveland, 13-0
11/18/40, Washington, Washington Overcomes Bears, 7-3; Assured at Least of Tie for Title
11/25/40, Brooklyn Rally Tops Cards, 14 to 9
12/2/40, It was Hein's Day but Parker's Game
4/30/41, Brooklyn Annexes Eighth in Row, 13-2
5/7/41, Walker's 2 Homers Top Pittsburgh, 7-3
6/4/41, Wyatt Gains No. 9, Stopping Cards, 6-0
6/11/41, Squeeze Play Wins for Brooklyn, 4-3
6/18/41, DiMaggio's Streak Reaches 30 Games
7/2/41, Boston, Braves' 6 in Third Defeat Giants, 6-4
7/16/41, Davis and Hamlin Beat Cubs, 7-0, 8-4
8/6/41, Dodgers Buy Chipman and Burge from Atlanta Club for $70,000
8/13/41, Bombers Score 4-to-0 Decision
8/20/41, Davis and Drake Triumph, 9-0, 6-2
9/3/41, Higbe Takes 19th for Brooklyn, 9-2
9/10/41, Henrich Hits 28th to Top Browns, 1-0
9/24/41, Newark, N.J., Royals Top Bears with 2 in 9th, 4-3
10/13/41, Milwaukee, 12 of Isbell's 15 Passes Caught as Brooklyn is Put to Rout, 30-7
10/26/41, West Point, N.Y., Brilliant Play by Cadets Halts Lions at West Point
11/2/41, Philadelphia, Navy Hands Penn its First Defeat
11/3/41, Dodgers Overcome Eagles by 15-6 on 2 Field Goals, Safety, Touchdown
11/10/41, Brooklyn Checks Washington, 13-7
11/17/41, Pittsburgh, Brooklyn is Upset by Steelers, 14-7, on Art Jones's Last-Quarter Dash
11/17/41, Thrills for All in Polo Grounds Duel; Not a Dissenter in Huge Gathering
12/8/41, Tuffy Leemans Receives the Gifts, but Two Dodgers Steal Spotlight
1/2/42, Miami, Fla., Georgia Defeats Texas Christian
Egan, Charles E.
7/27/40, Nazis' Buying Here Reported as Hedge
4/12/41, Buenos Aires, Balkan Gains Aid Nazis in Argentina
3/25/42, Washington, Guthries Charges False, Says Chief
4/29/42, Washington, March Prices Top (L)
12/19/42, Washington, A Sudden Famine (L)
1/20/43, Washington, Holland Displaced in War Plants Post
1/26/43, Washington, Allied Boycott of Argentina Urged as Pressure to Spur Policy Shift
3/20/43, Washington, Allies' African Aid is Key for Europe
5/13/43, Washington, Allied Troops Get New Fuel Sources
Egan, Maj. John C.
8/23/43, An American Bomber Base, in Britain, The Regensburg Shuttle Raid
Egan, Leo
9/29/40, Democrats to Attack (W)
Ehrenburg, Ilya
6/24/42, Moscow, Soviet Using Dogs to Blow up Tanks
7/30/42, Moscow, Nazis Strip West, Russian Declares
Eisenberg, Maurice
10/10/43, Casals and the Bach Suites (Arts and Entertainment)
Enderis, Guido
7/25/38, Berlin, Prague is Warned by Reich General
9/4/38, Berlin, World Watches Nazis' Rally (W)
9/13/38, Berlin, Reich Press Puts Issue up to Czechs
9/15/38, Berlin, Chamberlain Visit Stuns Reich; Hitler Looks to British Fair Play
12/31/38, Berlin, Germany Condemns Failure of U.S. to Disavow Ickes for His Speech
3/3/39, Berlin, Reich is Reserved over New Pontiff
4/29/39, Berlin, Chancellor Hitler Speaks
5/9/39, Berlin, Nazis Say Axis Tie will be Unlimited
8/19/39, Berlin, Reich Holds Time for Words is Past
9/9/39, Berlin, Berlin Envisages Deadlock in West
9/27/39, Berlin, Poland is Topic, Berlin Says
10/7/39, Berlin, Nazi Favors Truce (L)
12/13/39, Berlin, Planes Save Liner
2/24/40, Berlin, Welles Will Meet Hitler Next Week
2/25/40, Berlin, Nazi Sees God's Aid
3/18/40, Berlin, Italy's Role in War Seen as Main Issue
3/19/40, Berlin, Meeting is Cordial (L)
5/20/40, Berlin, Hitler Reclaims Eupen-Malmedy
6/18/40, Berlin, Axis to Fix Truce
6/19/40, Berlin, French Await Note (L)
6/21/40, Berlin, Envoys will Meet (L)
6/22/40, Berlin, Ceremony is Brief (L)
6/23/40, Berlin,Nazi Terms Signed (L)
7/1/40, Berlin, Blows at Britain Surveyed in Reich
7/20/40, Berlin, Speaks as a Victor
8/28/40, Berlin, Axis to Mediate Balkan Crisis
9/28/40, Berlin, Russia Reassured (L)
11/12/40, Berlin, Molotoff in Reich for 3-Day Parley
11/13/40, Berlin, Secrecy on Parley (L)
1/25/43, Berne Switzerland, Gloom Spread in Germany by First Truth on Russia
1/29/43, Berne Switzerland, Reich Labor Draft Drains 'the Barrel'
3/22/43, Berne Switzerland, Nazis Hear Hitler
Erickson, Leif
11/28/43, With United States Army Forces on Makin Island, Conroy was Avenged by Fellow-Officer
Eskelund, K.J.
12/28/39, Helsinki, Russians Attack Just to Get Warm
12/30/39, Helsinki, 3,000 Russians Die as Finns Beat Off Karelian Attacks (L)
1/2/40, Helsinki, Carnage at Aglaejaervi Described
1/4/40, Helsinki, Second Trap is Set
1/5/40, Helsinki, Finns Press Counter-Drive
1/8/40, With the Finnish Army, on the Karelian Isthmus, Soviet Ski Attack Smashed by Finns in Fight for Salla (L)
1/10/40, Viborg, Finland, Russians Inactive on Finnish Fronts
1/12/40, Helsinki, 2 Soviet Attacks Broken, Finns Say; Air Raids Continue
1/24/40, Helsinki, Fierce Red Drives Repulsed by Finns; 19 Die in Air Raid
1/25/40, Helsinki, Reds Pound in Vain to Cut Finns' Trap
1/26/40, Helsinki, Finns Halt Drive to Relieve Enemy
1/27/40, Helsinki, Soviet Attacks are Futile
1/29/40, Helsinki, Finns Holding Off Russian Attempts to Break Up Trap (L)
1/30/40, Helsinki, Red Fliers Kill 104
1/31/40, Helsinki, Raid on Kronstadt Reported by Finns
2/1/40, Helsinki, Russians "Buried" in Lake
2/3/40, Helsinki, Finns Throw Back Russians on Sleds, Kill Parachutists
2/4/40, Helsinki, Reds Bomb Cities (L)
2/5/40, Helsinki, Fierce Red Drive Checked by Finns; Bombs Ruin Cities (L)
2/6/40, Helsinki, Mannerheim Drive Wanes
2/7/40, Helsinki, Finns Hald Tanks as Russians Press Mannerheim Drive (L)
2/8/40, Helsinki, 1,500 Russians Die as Drive is Pushed in East, Finns Say
2/9/40, Helsinki, Finns Report Fresh Gains
2/10/40, Helsinki, Red Drive goes On
2/11/40, Helsinki, Finns' Lines Intact after 10-Day Siege, Defenders Assert
2/12/40, Helsinki, Shields and Flame Fail to Aid Soviet Drive, Finns Say
2/21/40, Helsinki, Finns Undaunted by Red Bombings
2/25/40, Helsinki Finns' Positions Described
3/1/40, Helsinki, Finns Driven Back Steadily
3/4/40, Helsinki, Eastern Front Flares Up
3/5/40, Helsinki, Drive Checked Temporarily
3/7/40, Helsinki, Finns Driving Back Reds' Bay Thrusts
3/8/40, Helsinki, Russians Seize Lake Ladoga Isles and Claim Nautsi in the Far North
3/10/40, Helsinki, Finns Forced Back on Southern Coast
3/12/40, Helsinki, Finns Admit Russian Gains
3/15/40, Helsinki, Army of 100,000 Exiles on March as Sad Finns Leave Ceded Areas
Fair, Philip
9/19/39, Aboard the S.S. Collingsworth, 500 Reported Killed
Fairfax, Warwick
8/18/42, Sydney, Australia, Solomons Battle is Vital to Allies
2/2/43, Sydney, Australia, Australian Hails Casablanca Talks, Emphasizing References to Japan
Farnsworth, Clyde
4/28/43, Somewhere in Iran, Aid to Russia Gluts Iran Artery; Flow of U.S. Supplies Taxes Port (with George Tucker)
Farson, Negley
7/7/42, London, Soviet Oil Supply Held Nazi Target
Fernsworth, Lawrence A.
3/6/38, Barcelona, Nazi Aid to Rebels is Held Increased
9/10/38, Barcelona, Spain, Loyalists Report Firm Ebro Stand
Field, Bryan
9/21/38 (in 9/19 thread), Champion Seabiscuit is Defeated in $6,050 Manhattan Handicap
5/4/41, Louisville, Ky., First by 8 Lengths
5/11/41, Baltimore, Md., 30,000 at Pimlico
6/8/41, Robert Morris 2d
Fine, Benjamin
2/22/41, Un-American Tone Seen in Textbooks on Social Sciences
1/24/42, Dupuy Pictures Complacency Peril
3/28/43, Camp Lee, Va., Thousands of Soldiers Learn to Read and Write (W)
4/11/43, History Study Survey Stirs Education World (W)
6/23/43, U.S. History Study is Being Analyzed
Fitchett, Sergeant Ian
2/2/42, Singapore, No Loss in Retreat
2/5/42, Singapore, More Australians Return
2/9/42, Singapore, Chinese Troops Welcomed
Floyd, Nat
1/20/42, Bataan, Philippine Islands, Some American Civilians in Bataan; Escaped from Manila Before Fall
2/9/42, On the Bataan Peninsula, U.S. Generals' Daring on Bataan Improves Their Troops' Morale
2/10/42, On Bataan Peninsula, Philippines, Foe on Bataan Shuns Direct Drive; Prefers Sniping and Flank Moves
2/14/42, On Bataan Peninsula, Bataan Tanks Crush Japanese Unit Without Single Casualty in Battle
2/24/42, On the Bataan Peninsula, Food on Bataan Now Less Varied; Fresh Vegetables and Fruits Rare
4/18/42, Somewhere in Australia, Writer Tells of Philippine Escape and Stay at Secret U.S. Air Base
4/22/42, Melbourne, Australia, Writer Says Plea on Bataan was for 'Chow' and Planes
Foisie, Sgt. Jack
8/10/43, With American Forces in Northern Sicily, Surprise Attack from Sea Staggers Germans in Sicily
Folkard, Christian
3/9/42, Port Moresby, Papua, New Guinea, Towns are Seized (L)
Forman, Henry James
5/18/41, Darwin, Marx, Wagner: Critique of a Heritage, by Jaques Barzun (B)
Forman, Harrison
6/1/41, Singapore, Singapore Ready to Meet Attack (W)
1/15/42, Changsha, China, untitled report on Changsha battle
1/30/42, Chungking, Japanese Warning Given Free French
2/6/42, Chungking, China, Chinese Battling Foes at Waichow
2/9/42, Chungking, Chungking Fights Huge Price Rises
2/18/42, Chungking, Chinese Pushing South
2/21/42, Chungking, Chinese War Chief Says Japan May Attack Siberia in a Month
3/18/42, Chungking, China Pins Hopes on Allied Drives
3/21/42, Chungking, We Mean Business, Stilwell Asserts
4/4/42, Chungking, Reinforcement of Flying Tigers Now Assured, Leader Declares
4/7/42, Chungking, Mandalay Ruined by Enemy Bombs
4/10/42, Chungking, Sacred Saffron of Priests Aids Foe's Burma Advance
4/19/42, Chungking, Chinese Elated at Word of Raids on Japan; Chungking Celebrates; Cheers U.S. Strength
4/29/42, Chungking, Quaker Unit Takes War Risk in Burma
5/11/42, Chungking, A Trap in Yunan
5/20/42, Chungking, China Calls Allies to Avert Knockout
6/17/42, Chungking, China Asks Allies for Pacific Drive
7/14/42, Chungking, Seaboard Campaign Grows
7/26/42, Chungking, Chinese Are Confident The Can Outlast Foe (W)
8/29/42, Chungking, Two Big Airfields Seized by Chinese
8/30/42, Chungking, Chungking Sees Japan Losing the Initiative (W)
9/5/42, Chungking, 13,000,000 Addicts Laid to Japanese
10/11/42, Chungking, Chinese Welcome Pledge by Allies
Fox, Douglas C.
11/30/41, War Spreads in the Desert (W)
Fraser, Helen
1/19/41, Edinburgh, Housewife's View of British Rations
Frayman, Joseph
8/27/40, London, Capital is Circled (L)
8/28/40, London, Far-Ranging R.A.F. Claims Wide Havoc
Gallagher, Wes
11/8/42, Allied Headquarters in North Africa, Shock Troops Lead
11/10/42, Allied Headquarters in North Africa, 'Well Satisfied,' Says Eisenhower of American Army's Progress
1/4/43, With the American Air Forces in Tunisia, 'Daisy Chain' Flier Glad to Land Again
1/6/43, Allied Headquarters in North Africa, Tunisian Rain Viewed as Bar to Attack Till Late February
Gallup, George
5/2/41, Princeton, N.J., Ship Sinking Held No Cause for War
5/16/41, Princeton, N.J., Florida is in Lead for Intervention
5/30/41, Princeton, N.J., 85% See Us in the War, Gallup Survey Finds
6/11/41, Princeton, N.J., 76% of Voters Favor Strike Ban in Defense Jobs, Gallup Poll Shows
6/15/41, Princeton, N.J., Convoy Sentiment Seen Rising after Roosevelt Emergency Talk
6/27/41, Princeton, N.J., Survey Finds 76% Back Roosevelt
6/29/41, Princeton, N.J., War Trend Found Gaining Slightly
7/9/41, Princeton, N.J., War Sentiment in U.S. Decreases
7/13/41, Princeton, N.J., Victory for Russia Favored in Survey
7/20/41, Princeton, N.J., 45% in Who's Who Want Us in War
7/30/41, Princeton, N.J., 51% in U.S. Want Trainees Kept in Service; But Gallup Finds 50% Oppose Service Abroad
8/3/41, Princeton, N.J., Voters Approve Check on Japan
8/29/41, Princeton, N.J., $30 More is Favored for the Drafted Men
9/21/41, Princeton, N.J., 'Keep-Out-of-War' Party Opposed by Most Voters, Survey Indicates
9/26/41, Princeton, N.J., Majority Favors 'Shoot on Sight'
10/1/41, Princeton, N.J., Plan to Change Neutrality Act Favored by Voters, Survey Finds
10/3/41, Princeton, N.J., 62% Favor 'Shoot-at-Sight' Policy, Final Returns in Survey Disclose
10/4/41, Princeton, N.J., Average American Still Bets a Bit, War or No War, Gallup Survey Finds
10/19/41, Princeton, N.J., Voters Approve Arming U.S. Ships
10/25/41, Princeton, N.J., Jews Listed Fifth in Pro-War Groups
10/26/41, Princeton, N.J., Labor Seen Losing Favor with Public
11/2/41, Princeton, N.J., Law Forbidding Defense Strikes Widely Favored in Gallup Poll
11/5/41, Princeton, N.J., Neutrality Shift Finds More Favor
11/16/41, Princeton, N.J., Strike Ban Urged by 3 Main Groups
11/20/41, Princeton, N.J., 60% are Opposed to Coal Walkout
12/12/41, Princeton, N.J., Voters Wanted Strong Action Against Japan for Years, Gallup Institute Finds
12/13/41, Air Raid Sentiments Sounded in Gallup Poll
12/23/41, Princeton, N.J., Germany is Held Main Threat to U.S.
1/4/42, Princeton, N.J., Change to Daylight Time All Year 'Round Favored by Majority in Gallop Poll
1/11/42, Princeton, N.J., Drastic U.S. Curbs Backed by Voters
1/14/42, Princeton, N.J., Public is Divided on U.S. Sales Tax
1/21/42, Princeton, N.J., At Least Two More Years of War Expected in U.S. Before Defeat of Axis, Poll Shows
1/23/42, Princeton, N.J., 54% of Owners Don't Think Autos Vital, Gallup Finds in Survey on Tire Rationing
2/1/42, Princeton, N.J., Poll Shows Public For 60-Hour Week
2/4/42, Princeton, N.J., Cards of Identity for All Favored
2/13/42, Princeton, N.J., Women Replacing Men in Plants Should Get Same Pay, Poll Finds
2/15/42, Princeton, N.J., Dry Trend Shows Upswing in Nation
2/21/42, Princeton, N.J., 45% for Deduction from Pay for Tax
2/22/42, Princeton, N.J., 72% of Irish in U.S. Want Bases in Eire; 56% in Gallup Poll Favor Joining in War
3/27/42, Princeton, N.J., 69% of Voters Ask Draft for Women
3/28/42, Princeton, N.J., Rise in Army Pay Favored in Poll
3/29/42, Princeton, N.J., 48-Hour Week is Backed in Gallup Poll; Overtime Pay after Only 40 Hours Opposed
4/5/42, Princeton, N.J., Drastic Pay-Price Control Law is Favored by 2 to 1 in Gallup Poll
4/29/42, Princeton, N.J., Public Calls it '2d World War'
5/3/42, Princeton, N.J., Federal Sales Tax of 2% Favored by Majority, Gallup Poll Finds
5/6/42, Princeton, N.J., 70% of Farmers Oppose Lewis's Proposal to Organize Them, Gallup Poll Finds
5/13/42, Princeton, N.J., Roosevelt's Conduct of War Approved by 8 Out of 10 Voters, Gallup Poll Finds
5/22/42, Princeton, N.J., Community Heads Favor Sales Tax
5/27/42, Princeton, N.J., Unified Command Backed by Leaders
5/30/42, Princeton, N.J., Peace Bid to Finns Urged by Leaders
6/24/42, Princeton, N.J., Freeing of Convicts for Army is Favored
7/17/42, Princeton, N.J., Allied Invasion of Europe is Urged
7/24/42, Princeton, N.J., Churchill Popularity at Lowest Ebb, but 78% Still Back Him, Gallup Poll Finds
8/2/42, Princeton, N.J., Law to Mobilize Workers Favored
8/7/42, Princeton, N.J., 64% Wish Military to Direct the War
8/9/42, Princeton, N.J., Airpower is First in Poll of Public
9/6/42, Princeton, N.J., Draft of Youths Backed by Public
9/26/42, Princeton, N.J., Handling of Draft Satisfies Public
10/2/42, Princeton, N.J., Approval Grows for 'Gas' Ration
12/9/42, Princeton, N.J., Mrs. Roosevelt is Both Praised and Blamed for Her Activities
1/10/43, Princeton, N.J., 64% of Voters Call Federal Rationing Fair Despite Some Grumbling, Gallup Poll Finds
1/16/43, Princeton, N.J., Churchill Popularity at Peak in Britain; 93% Back Him on War, Gallup Poll Finds
1/20/43, Princeton, N.J., 81% Favor a Ban on Strikes in War
2/28/43, Princeton, N.J., 51% See 4th Term if War is Still On
4/4/43, Princeton, N.J., Vital Shift Seen in '44 Electorate
4/17/43, Princeton, N.J., Meat Is Hardest to Cut Down On in U.S. Homes, Gallup Poll Finds
4/21/43, Princeton, N.J., Pay-As-You-Go Tax is Favored by 79%
5/2/43, Princeton, N.J., World Police Plan Backed by Public
5/22/43, Princeton, N.J., Australians Would Grant Air Bases to Us After War Has Ended, Gallup Poll Finds
6/6/43, Princeton, N.J., Roosevelt's Fate is Linked to War
6/20/43, Princeton, N.J., U.S. Nearly United on Post-War Role
6/27/43, Princeton, N.J., Dewey, Willkie Still Lead Field
7/14/43, Princeton, N.J., Dewey is Top Choice of the Republicans in 3 Largest States, Gallup Poll Finds
9/15/43, Princeton, N.J., Draft of Fathers Opposed by Public
9/19/43, Princeton, N.J., M'Arthur Strong in Test by Gallup
10/24/43, Princeton, N.J., Poll Sees Willkie Weakest in West
10/27/43, Princeton, N.J., U.S. Voters Want Nazi Army Crushed Even if Hitler Falls, Gallup Poll Finds
11/21/43, Princeton, N.J., Poll Finds Public Hostile to Strikes
12/5/43, Princeton, N.J., Vote of Soldiers Could Decide '44 Election, Gallup Poll Finds
12/29/43, Princeton, N.J., 2-Term Limitation Backed in Survey
Garcia, Frank M.
10/4/39, Rio de Janeiro, Sea Raider Called 'Pocket Battleship'
6/13/41, Rio de Janeiro, Robin Moor Men Resting in rBrazil
1/22/42, Rio de Janeiro, Committees Speed Task
8/23/42, Rio de Janeiro, New Ally in Fight (L)
Garrott, George
9/19/42, 43 Big R.A.F. Raids Smash Nazi Cities
Gedye, G.E.R.
3/18/38, Vienna, Action by Himmler
4/26/38, Prague, Czechs Show Resistance
5/25/38, Prague, Nazi Leader Quits Prague
6/13/38, Prague, Sudeten Vote 90% as Order Prevails in Czech Elections
8/6/38, Prague, Runciman Meets German Loyalists
8/14/38, Prague, Czechs Firm in Face of New Nazi Threat
8/30/38, Prague, Henlein Avoided Runciman Plans
9/8/38, Prague, Henleinists Halt Parlays
9/13/38, Prague, Sudetens Excited; Czechs Firm
1/7/39, Prague, Czechs Shell Town at Hungarian Line; Dozen Die in Clash
3/11/39, Prague, Slovak Plot Fails, Leaders Jailed; Government is Ousted by Prague
3/12/39, Prague, Sidor New Premier in Slovak Cabinet; Reich Radio Active
3/13/39, Prague, Hitler's Support of Slovak Cause is Seen by Prague
3/15/39, Prague, Czechs Taken by Surprise
8/18/39, Moscow, Talks of 3 Staffs in Russia Cordial
8/20/39, Moscow, Russia Discloses Clash in Parley
8/21/39, Moscow, Reich and Soviet in 7-Year Treaty
8/24/39, Moscow, Arrives by Plane
8/31/39, Moscow, Soviet Looks Westward
9/10/39, Moscow, Russians Alarmed at Reich Advance
9/12/39, Moscow, Soviet Seen Ready to Disarm Poles
9/14/39, Moscow, Mobilization for Peace
9/15/39, Moscow, Press Attack on Poland
9/16/39, Moscow Success for Germans
9/23/39, Moscow, Concessions Surprise Russians
9/25/39, Moscow, Russia Shuts Neva; Finns Dig Trenches
9/27/39, Moscow, 2D Ribbentrop Trip (L)
9/28/39, Moscow, Soviet Ship is Sunk (L)
9/29/39, Moscow, Banquet for Ribbentrop
10/5/39, Moscow, New Orders for Saracoglu
10/11/39, Moscow, Lithuania Gets Vilna
10/24/39, Moscow, Finns See Stalin
10/27/39, Moscow, 41 Said to be Held (L)
10/29/39, Moscow, Seized Ship at Sea (L)
11/7/39, Moscow, Peace Soviet's Aim (L)
11/12/39, Moscow, Finns Accused of Stubborn Stand in Deadlocked Talks by the Soviet
11/13/39, Moscow, Soviet Press Warns Finns
11/14/39, Moscow, Finns Quit Moscow as Soviet Refuses to Ease Demands
11/16/39, Moscow, Russians Berate Helsinki Leaders; Finland is Calm
11/27/39, Moscow, Moscow Shows Ire (L)
11/28/39, Moscow, Moscow Rebuffed (L)
11/29/39, Moscow, Crisis Sharpened (L)
11/30/39, Moscow, Molotoff Proclaims Split
12/2/39, Moscow, 'Cabinet' Asks Aid (L)
12/3/39, Moscow, In Finland the Soviets Reveal Their Real Aims (W)
12/5/39, Moscow, Shift in Soviet Aims Seen
12/7/39, Moscow, Demand is Urgent (L)
12/8/39, Moscow, Soviet Encircling (L)
12/16/39, Moscow, Moscow Accepts Expulsion Quietly
12/21/39, Moscow, Stalin's Birthday Eclipses the War
12/23/39, Moscow, Big Soviet Losses Learned in Russia
12/27/39, Moscow, Soviet People Irked at the Failure of Red Army to Conquer Finland
12/31/39, Moscow, Soviet Denies War Led to Censorship
1/7/40, Moscow, Russians Anxious to Appease Japan (W)
1/16/40, Moscow Moscow Reaction Temperate
1/23/40, Moscow, Izvestia Attacks Pope Pius and Roosevelt; Terms Pontiff 'Tool' of Allies in Peace Move
3/13/40, Moscow, Hangoe is Leased (L)
4/18/40, Moscow, Nazi Legation Aide Held Slain for Leading Unit Invading Oslo
6/27/40, Moscow, Russia Abandons 5-Day Work Week
9/13/40, Varna, Bulgaria, Soviet Censorship Aimed at Hiding Facts from World Sympathizers
11/16/40, Istanbul, Turkish Press Still Calm
11/17/40, Istanbul, Stalin Policy Still a Puzzle (W)
12/10/40, Istanbul, Reich Said to Bar Air Help to Italy
1/2/41, Istanbul, Turkey Rounds up Counterfeiters in Plot to Debase the British Pound
1/6/41, Istanbul, Nazis' Propaganda Watched by Turks
1/12/41, Istanbul, Nazis Use Propaganda to Mask Balkan Aims (W)
2/6/41, Istanbul, Exiled Turk Dies 3 Hours after His Return from 20 Years' Absence as a Foe of Ataturk
Gibbs, Sir Philip
10/27/39, With the British Forces, in France, Spirit and Environment of 1914 Enfold British Army in France
11/7/39, With the British Forces, in France, Amateur Actors Found in Ranks of British Troops at the Front
11/9/39, With the British Forces, Young Britons Eager to Show their Prowess with New Arms
12/5/39, With the British Forces in France, [Untitled piece on King George visit to troops in France]
1/31/40, With the British Forces, in France, British Captain is Decorated During Skirmish in Frozen No Man's Land
6/1/40, Paris, Young Britons Valor in Flanders Lauded by General who Led Them
Gilbert, Gama
11/19/39, Swing (NY Times Magazine)
Gilling, Edward
7/11/43, Allied Headquarters in North Africa, Eisenhower Rubs His Seven Lucky-Pieces as Allied Invasion Fleet Approaches Sicily
7/13/43, Somewhere in Sicily, Eisenhower Sees Advance in Sicily
Goette, John
8/8/43, Burma Surgeon, by Gordon S. Seagrave (B)
Gordon, Albert J.
2/18/43, Hartford, Conn., New Navy Plane Shows Its Paces
2/19/43, New Battleship Iowa is Called World's Greatest Fighting Craft
Gould, Jack
6/19/41, Washington, Trammel Calls FCC Move 'Brutal'
Graham, Frederick
2/11/40, Our Aircraft Industry is Expanding Rapidly
3/9/41, Goal for Mid-1942 Set at 37,000 New Planes (W)
7/11/43, London, Allied Bombs Rip French Airfields
7/14/43, London, Alexander Extols Allied Navies' Job
7/23/43, London, Air Troops Barred Invasion Setback
7/25/43, London, Fortresses Raid Trondheim Base
7/31/43, London, Reich Port Rocked
8/1/43, London, Allies Rake Nazis in France after RAF Blow Near Ruhr
8/9/43, London, Milan, Turin Genoa Raided; RAF Meets Weak Defenses
8/13/43, London, Our Fliers Depend on Service Branch
8/14/43, London, Huge U.S. Air Plant Set Up in Ireland
8/18/43, London, U.S. Planes in Shuttle Blow Attack Nazi Fighter Factory
8/21/43, London, RAF's Day Bombers Cut Nazi Strength
8/27/43, London, New-Type Maps Aid U.S. Bombers; Artists Sketch Air View of Target
9/4/43, London, Flying Fortresses Strike
9/6/43, London, Air Blows Pressed on Nazis in West
9/8/43, London, RAF Rocks Munich; Day Raids Step Up
9/20/43, A United States Army Air Force Bomber Station in England, 'Youngsters' Guide U.S. Aerial Tactics
9/24/43, London, Nazi Europe Rocks in 24-Hour Bombing
10/5/43, London, Fortresses Rock Frankfort in Steady Allied Air Blows
10/9/43, London, Fortress Escorts Punish Luftwaffe
10/10/43, London, Danzig is Target (L)
10/11/43, A United States Heavy Bomber Station, in Britain, We Lose 32 Craft (L)
10/16/43, London, Photos Show Results
10/17/43, London, Luftwaffe Throws Its All into a Defensive War (W)
11/7/43, London, Work of Reducing Germany by Air Bombing Goes Ahead (W)
11/14/43, London, Reich Port Rocked
11/20/43, London, Fighter Mastery Over Nazis Shown
11/21/43, London, Leverkusen is Hit (L)
11/21/43, London, Nazi Raids Keep London On Guard (W)
11/28/43, London, RAF Shifts Tactics (L)
12/1/43, London, Fortresses Pound Reich War Plants
12/2/43, London, Morrison Upheld on Mosley Move
12/6/43, London, U.S. Bombers Rock Targets in France
12/12/43, London, Air Battles Fierce (L)
12/13/43, London, Attrition of Nazis in Air Progresses
12/14/43, London, [Untitled article on Nazi secret weapons]
12/27/43, London, Invasion in West Held Not Imminent
12/28/43, London, Tedder Named Eisenhower Aide; Briton Called Top Air Tactician
Green, Clinton
7/16/43, With American Forces in Sicily, 17 Yanks in 2 Jeeps Take Ragusa; Save Wounded Fliers in Hospital
Gruin, Frederick
12/27/42, Outstanding Events and Main Trends of the Year in Review
Guard, Harold
3/7/42, Melbourne, Australia, U.S. Bombers Leave Java, Balked by Lack of Fighters
7/3/42, Somewhere in Australia, Allies Not Ready for Pacific Drive
Gunnison, Royal Arch
10/7/40, Manila, Philippines Offer Invasion Problem
11/27/41, Hong Kong, Japan Reported Willing to Leave China Areas Occupied in 'Incident'
11/29/41, Manila, Stern Chiang Note to Us Reported Against Letdown in Aid to China
12/8/41, Manila, No Bombing of Manila
12/27/41, Manila, Says Manila is Bombed
Gunther, John
8/11/39, Warsaw, Beck Feels Peace is Still Possible
8/19/39, Riga, Latvia, Danzig Crisis Held Preliminary to Reich Showdown with Britain
9/3/39, London, Hitler's Tactics Stiffen British
11/6/41, London, British Go All Out for Aid to Russia
7/13/43, General Montgomery's Headquarters, Montgomery Sees New War Phase
7/15/43, An Allied Force Command Post, George VI Applauded
Hagerty, James A.
11/8/39, Goldstein Winner (L)
4/15/40, Simpson Accepts Dewey Challenge; Seeks Re-Election
6/26/40, Philadelphia, Hoover Challenge (L)
6/27/40, Philadelphia, A Night of Speeches (L)
6/29/40, Philadelphia, Willkie Approves Platform, Opposes Big Campaign Gifts
7/14/40, Chicago, Three Stand Firm (L)
7/16/40, Chicago, Hits Back at G.O.P. (L)
7/17/40, Chicago, Choice Left Open (L)
7/18/40, Chicago, 'Stay Out' Plank
8/10/40, Colorado Springs, Col., Willkie Bars Link to Foreign Policies
8/18/40, Elwood, Ind., Would Aid Britain (L)
9/15/40, Rock Island, Ill., Willkie Says that Roosevelt 'Promoted' the Munich Pact
9/17/40, Coffeyville, Kans., Willkie Predicts Dictatorship Here if Roosevelt Wins
11/1/40, Camden, N.J., Reply by Willkie(L)
11/2/40, Aboard Willkie Special Train, Harrison, N.J., Attacks Estimate
11/3/40, Ovation to Willkie (L)
11/4/40, Pledge by Willkie (L)
11/5/40, Pledge by Willkie (L)
11/4/41, Extra Hour to Vote (L)
11/5/41, O'Dwyer Vote High (L)
Hailey, Foster
5/9/41, San Francisco, Missing Witness Bogs Bridges Case
6/9/41, Los Angeles, Boo Frankensteen (L)
6/10/41, Los Angeles, Bayonets on Coast (L)
12/15/41, Los Angeles, Unexplained Anti-Aircraft Fire and Raid Alarm Stir Los Angeles
1/5/42, Pearl Harbor, Navy Minimizes Battleship Losses
1/6/42, Honolulu, Civilians Called by Hawaii Inquiry
1/19/42, At Sea with the Pacific Fleet, Carrier's Fliers Guard Vast Area
1/29/42, Honolulu, U.S. Units in Hawaii Improvise Defense
2/9/42, Honolulu, USO Mobile Units Cheer Oahu Forces
2/12/42, Honolulu, U.S. Planes Thunder above Pacific to Checkmate Any Threat to Hawaii
2/14/42, Pearl Harbor, Toll of U.S. Raids Detailed by Navy
6/17/42, Honolulu, 'Eyes' of Navy Tell of Job at Midway
6/18/42, Honolulu, Nimitz Commends Men of Carriers
6/21/42, Honolulu, U.S. Fighter Score Off Midway Large
6/22/42, With the Pacific Fleet, at Sea, 'Never a Dull Moment' at Midway, Reporter Watching Battle Found
6/23/42, With the Pacific Fleet, at Sea, Valor at Midway the Casual Brand
6/26/42, Honolulu, Japan's Naval Strength Stressed; Battle of Pacific Held Just Begun
6/29/42, Honolulu, 4 Carriers Sunk
6/30/42, Honolulu, Pound Foe on Isle
9/13/42, At Sea with the Pacific Fleet, Second Round Won in the Solomons
9/17/42, With the Pacific Fleet, at Sea, Yorktown Captain Swam to Aid of Boy
10/8/42, At Sea with the Pacific Fleet, U.S. Marines Were Too Fast for the Enemy in Dash of Reinforcements to Guadalcanal
10/23/42, Honolulu, Guadalcanal Grip Sure, Say Fliers
10/24/42, Honolulu, Our Defense Role Aids Us in Pacific
10/25/42, Honolulu, Halsey is Known as a Fighting Man
10/27/42, Honolulu, Wasp Crew's Battle with Fires to Save Carrier Told by Skipper
11/19/42, Guadalcanal, Solomon Islands, Halsey Defends Battleship's Role
11/29/42, Guadalcanal, Solomon Islands, Japanese Troops Died in Holocaust
12/5/42, Guadalcanal, Guadalcanal Finds Infiltration Cure
12/9/42, Guadalcanal, Guadalcanal Gain is Along Beaches
1/8/43, A South Seas Base, Allies Ready to Strike in Pacific; Lower Solomons Now Held Safe
1/19/43, An Advanced South Seas Base, Child Savagely Hurt by Japanese Finds a Haven with U.S. Marines
1/30/43, At Sea Off Guadalcanal, Guadalcanal Isle of Death for Foe
2/6/43, At Sea Off Guadalcanal, Task Force Fools the Japanese, Then Batters a Base Near Munda
2/19/43, An Advanced South Seas Base, Fortress Cut in Two 3 Miles Up, Tail Gunner Falls into Pacific Idyl
2/24/43, At Sea Off the Solomons, Destroyer Sinking Makes Sailor Cry
3/5/43, An Advanced South Pacific Base, Japanese Servile While Prisoners
3/12/43, At Sea with the South Pacific Fleet, Shells Rained on Solomons Bases in Night Raid by U.S. Navy Ships
5/24/43, A Pacific Base, Green Unit's Fight Held Guadalcanal
5/25/43, A Pacific Base, 164th Met Beauty on Guadalcanal
5/27/43, A Pacific Base, Soldiers of 164th Get Lead Baptism
5/28/43, A Pacific Base, 164th Won Glory at 'Coffin Corner'
5/30/43, A Pacific Base, Attrition Fighting Won Guadalcanal
5/31/43, A Pacific Base, Patrol Job Tough On Guadalcanal
6/1/43, A Pacific Base, 164th Takes Pride in Fearless Dead
6/17/43, With the North Pacific Fleet, at Sea, Japan Shifts Aim in the Aleutians
7/30/43, At an Advance Aleutian Air Base, Shuttle Bombers Wear Down Kiska
8/14/43, Adak, the Aleutians, Two Navy Bases Bombed in Kuriles Raid; Navy and Army Centers Targets
11/7/43, At Sea Off the Aleutians, Navy's Rosendahl Real Hero of Sea
Hall, H. Duncan
1/11/42, Australia a Key Base for War in Far East (W)
Hamilton, Thomas J.
8/14/38, London, British are Uneasy on Vacations (as Thomas Hamilton)
8/26/39, London, Britain Considers Soviet Army Talks
1/14/40, Madrid, France and Spain Agree on Balanced Trade; Pact Covers Big Exchange of Needed Goods
6/19/40, Madrid, Major French Naval Units Join British at Alexandria
7/15/40, Madrid, Bonds with Nazis Defended in Spain
10/25/40, Madrid, Spaniards Warned Die has been Cast
12/8/41, Washington, Japanese Seizure Ordered by Biddle
12/29/41, Washington, All Aid Promised (L)
Hartrich, Edwin E.
4/19/41, Manila, Japanese Invasion Seen in Indies Region
Hatcher, George
12/31/39, Atlanta, Lynchings Reduced to 3 for Whole Country in '39 (W)
Hawkins, Thomas F.
2/12/40, In the Mannerheim Line, Summa Sector, Finns' Summa Line Found Unyielding
Henry, H. Taylor
5/19/40, Paris, Writer Escapes Bombs
11/3/40, Helsinki, Finland, Ryti Denies Links of Finns to Nazis
Hetherington, John A.
10/27/41, Tobruk, Libya, Tobruk Not Quiet, Reporter Learns
11/28/41, With the British Army Corps, in Libya, Axis Thrust into Egypt a Daring Venture, but Damage Caused is Held Only Slight
12/1/41, Tobruk, Libya, Flashes of Gunfire Light Pathway Across No Man's Land to Tobruk
7/2/42, With the British Forces, in Egypt, Bayonets Opened Nazi Desert Trap
7/6/42, With the British Eighth Army, Auchinleck Struck First
Hewlett, Frank
1/26/42, With General MacArthur's Army in the Philippines, MacArthur's Men Say Plane Aid would Drive Out the Japanese
4/12/42, Corregidor, Bataan's 98 Days a Terrible Ordeal
4/18/42, Melbourne, Australia, Troops on Bataan Routed by Malaria
4/20/42, Melbourne, Australia, Priority For Ranks in Leaving Bataan
4/26/42, Melbourne, Australia, Guerrillas Check Foe in Philippines
Hill, Gladwin
2/27/43, At a United States Bomber Statin, in England, Reporters Fly on U.S. Raid; Call Reich Attack 'Efficient'
Hinkel, John V.
11/8/39, Cincinnati, Vatican Deciding on New Catechism
Hinkley, Vern
3/21/38, Honolulu, Hawaii's Defense Faces Severe Test
12/21/41, Honolulu, Honolulu Regains its Normal Poise
Hinton, Harold B.
11/4/39, Washington, Congress is Swift
1/14/40, Washington, Trade Pacts Loom as Issue (W)
6/28/40, Washington, War Danger Marks Neutrality Debate
4/6/40, Washington, All Changes Fail (L)
5/29/40, Washington, House Speeds Aim of 2-Ocean Fleet
6/19/40, Washington, For 2-Ocean Navy
7/23/40, Havana, Transfer Opposed (L)
7/24/40, Havana, Nazi Rule Barred (L)
7/28/40, Havana, U.S. Plan Prevails (L)
10/9/40, Washington, Washington Acts (L)
1/9/41, Washington, Cooperation on Foreign Policy is Invited by Senate Committee
1/12/41, Washington, Time Limit is Urged (L)
1/18/41, Washington, British Fleet Key
1/24/41, Washington, Urges Neutrality (L)
1/29/41, Washington, No Dollars Left (L)
1/30/41, Washington, Four Amendments (L)
2/1/41, Washington, Report from Reich(L)
2/2/41, Washington, Knox Urges Speed (L)
2/7/41, Washington, Air Power the Crux
2/8/41, Washington, New Yorkers Say Civil Uprising Will Come Here if We Enter War
2/13/41, Washington, Spending Curbed (L)
2/15/41, Washington, Isolationists Seek to Forbid Convoys or Navy Transfers
2/19/41, Washington, War is Pictured
3/8/41, Washington, Convoy Ban Beaten (L)
3/9/41, Washington, All Curbs Downed (L)
Hipple, William
5/24/42, Aboard a Warship with the United States Pacific Fleet, U.S. Fliers Had 'Dive Bomber's Field Day' in Raid on Japanese Ships Off New Guinea
11/29/43, With United States Marine Assault Troops at Tarawa Atoll, First Wave of Marines to Land on Tarawa Ran Into a Hail of Fire
Hoeffding, Waldemar
11/16/41, Berlin, Goebbels Appeal a Startling Move
Hollenbeck, Don
9/14/43, Salerno, Italy, Salerno Thoroughly Looted
Holt, Jane
7/23/41 News of Food (C)
8/22/41 News of Food (C)
6/17/43 News of Food (C)
Hornaday, Walter
9/10/39, Dallas, Tex., Southwest Stirred Up (W)
11/24/40, Dallas, Tex., Texas Favors Ban on Japanese Trade (W)
6/29/41, Dallas, Tex., Southwest for Helping Russia to Halt Hitler (W)
9/21/41, Dallas, Tex., Southwest for Action (W)
12/14/41, Dallas, Tex., Southwest People are Impatient for Action (W)
3/22/42, Dallas, Tex., Southwest is Critical of Wartime Policies (W)
5/3/42, Dallas, Tex., Southwest Gives Its Blessing to Program (W)
Horne, George F.
3/7/40, Ship Defies U-Boats (L)
11/19/43, Pearl Harbor, Jaluit is Set Afire
11/20/43, Pearl Harbor, Nimitz Widens War
11/22/43, Pearl Harbor, Beachheads Won (L)
11/23/43, Pearl Harbor, Isle Holds Tighten (L)
11/24/43, Pearl Harbor, Success in Pacific
11/25/43, Pearl Harbor, We Win Gilberts in 76-Hour Battle
11/26/43, Pearl Harbor, One U.S. Carrier Division Downed 46 Planes and Lost 4 in Gilberts
11/27/43, Pearl Harbor, Battle for Tarawa the Hardest in Marine History, Says Carlson
11/28/43, Pearl Harbor, Gilbert Lessons to Aid Next Blow
11/30/43, Pearl Harbor, Tarawa's Captor Reviews Victory
12/2/43, Pearl Harbor, 1,026 Marines Lost in Tarawa Capture
12/7/43, Pearl Harbor, Heavy Task Forces Strike in Pacific
12/9/43, Pearl Harbor, 2 Bases Attacked (L)
12/15/43, Pearl Harbor, Carrier Crewmen Died as Rescuers
12/22/43, Army Headquarters in the Central Pacific, He Visits M'Arthur
Horne, Louther S.
9/10/39, Chicago, Central States Ban War (W)
6/29/41, Chicago, Central States Say 'Dog-Eat-Dog' (W)
9/21/41, Chicago, Central West Sees War (W)
10/19/41, Chicago, Chicago Reports Change (W)
12/14/41, Chicago, Central States Forget About Isolation (W)
3/22/42, Chicago, Midwest Turns from Isolationism to War (W)
5/3/42, Chicago, War-Minded Midwest Ready to Back Plan (W)
10/31/43, Chicago, Midwest Kindly to Moscow Parley (W)
Hulen, Bertram D.
10/12/39, Washington, Moderation is Aim (L)
10/19/39, Washington, 3-Mile Zone Closed (L)
11/5/39, Washington, Trade Bans Set Up (L)
11/30/39, Washington, Hull Acts Quickly
1/5/40, Washington, Canada, U.S. Revive St. Lawrence Plan
1/23/40, Washington, Hints Retaliation (L)
3/30/40, Washington, 'Propaganda' Seen (L)
4/18/40, Washington, Replies to Japan
7/6/40, Washington, Hull Stands Firm (L)
7/12/40, Washington, Nazi Aides Accused (L)
7/17/40, Washington, U.S. Resists Closing of the Burma Road, Hull Makes Clear
8/4/40, Washington, Washington Gets Tokyo Complaint
8/25/40, Washington, Hopkins Resigns from the Cabinet
10/26/40, Washington, Vichy Data Sought (L)
10/27/40, Washington, Petain is Warned (L)
12/8/40, Washington, Note Hails Greeks (L)
12/11/40, Washington, Metals Restricted
2/15/41, Washington, Roosevelt, Nomura Emphasize Anxiety for Peace in Orient
2/19/41, Washington, Welles Cold to Tokyo Plea; Warns Axis of Firm Stand
3/6/41, Washington, More Due in Africa
3/7/41, Washington, Hull Retaliates (L)
3/29/41, Washington, Roosevelt Cables Yugoslavs Backing
4/4/41, Washington, Hull in Blunt Note (L)
4/14/41, Washington, Capital Reserves Judgment on Pact
5/1/41, Washington, Nazi Drive for All Africa Seen; Suez and Dakar Held in Peril
5/16/41, Washington, President Moves (L)
5/31/41, Washington, Critical Situation Keeps Hull at Post
6/6/41, Washington, Nazi Ties Irk U.S. (L)
6/13/41, Washington, U-Boat Hailed Ship (L)
6/15/41, Washington, Neutrality Act is Severely Tried (W)
6/23/41, Washington, Washington Waits
6/26/41, Washington, Pacific Port Free
7/2/41, Washington, Soviet Requests U.S. Help; Offers to Pay for Supplies
7/6/41, Washington, Long-War Preparation Shaped at Washington (W)
7/24/41, Washington, U.S. is Cautious on Pacific Peril
7/25/41, Washington, U.S. Policy Stated (L)
7/31/41, Washington, Apologies Offered
8/27/41, Washington, Tokyo Threat Reported
8/28/41, Washington, Washington Firm (L)
8/29/41, Washington, Accord is Sought (L)
9/10/41, Washington, Crew of 24 Lost (L)
9/13/41, Washington, President Tells Moscow Mission to work Out Aid to Beat Hitler
9/14/41, Washington, Hit by Shell Pieces
10/8/41, Washington, Party of 20 is Held (L)
10/14/41, Washington, President Hopeful (L)
10/19/41, Washington, Washington Sees Lull in Far East
10/23/41, Washington, Rumania Denounces Vienna Pact with Hungary on Transylvania
11/2/41, Washington, Our Stand Clear, Officials Insist
11/7/41, Washington, Soviet Gets Credit (L)
11/15/41, Washington, Issues of Peace or War Now Raised with Japan (W)
11/19/41, Washington, Japanese Envoys Ask Instructions after Hull Talk
11/20/41, Washington, U.S. Aid to French Expected to Stop
11/26/41, Washington, Kurusu Parleys Reveal No Basis for Negotiations
11/27/41, Washington, Move Now Tokyo's (L)
11/28/41, Washington, Talks are Bogged (L)
12/4/41, Washington, No Common Ground
12/6/41, Washington, Japanese Answer (L)
12/8/41, Washington, Hull Denounces Tokyo 'Infamy'
1/16/42, Rio de Janeiro, Brazil, 21 Nations Meet (L)
1/22/42, Rio de Janeiro, Brazil, Argentina Agrees (L)
9/20/42, Washington, Enemy Ships Flee (L)
10/4/42, Washington, Big Convoy is Sent
10/8/42, Washington, Roosevelt Says U.S. Will Join In Investigation of Atrocities
10/11/42, Washington, Flotillas Blasted (L)
12/6/42, Washington, Draft Stops at 38 (L)
1/3/43, Washington, Japan's Plans Long Known, '31-'41 State Papers Reveal
1/5/43, Washington, Berlin Thrown Into Rage by War Guilt Disclosures
1/17/43, Washington, Action in Solomons
1/30/43, Washington, Talks Explained (L)
2/7/43, Washington, 'Moderate' Losses Reported by Knox
2/13/43, Washington, Territory Claims Listed by Russian
2/24/43, Washington, Roosevelt Rejects Inference Russians Will Halt at Border
3/10/43, Washington, Standley Spoke on His Own, Says Welles, Avoiding Stand
3/22/43, Washington, President Aghast (L)
5/29/43, Washington, Standley Offers Resignation in Pique, Washington Hears
6/13/43, Washington, Two New U.S. Submarines Lost; Both Had Bagged Japanese Ships
6/20/43, Washington, Guadalcanal Bag Rises to 94 Planes
7/4/43, Washington, Enemy Ships Flee (L)
7/17/43, Washington, 'Baby Flat-Top' Fights 11 U-Boats; Fliers Sink 2, Probably 8 Others
7/21/43, Washington, Paramushiru Hit
7/25/43, Washington, War Pattern in Pacific Clears in Rising Tempo (W)
8/8/43, Washington, Berlin Evacuation Stirs Washington
9/18/43, Washington, World Blows Near (L)
9/20/43, Washington, 'Mightiest Fleet' in History Created in Navy Expansion
10/13/43, Washington, U.S. to Use Azores, President Affirms
10/30/43, Washington, Post-War Military Accords Reported Settled in Moscow
Humphreys, Alan
4/23/42, Aboard a British Naval Light Craft, Commandos Begin by Ending a Patrol
Hurd, Charles W.
1/25/40, Washington, Senate Body Votes More Aid to Finns
3/23/40, Washington, Billion Farm Bill Passed by Senate; Economy in Peril (L)
8/3/40, Washington, Need of Men Vital (L)
8/6/40, Hyde Park, N.Y., Roosevelt Plans Tour of Defenses
8/10/40, Hyde Park, N.Y., Overseas Duty for Guard Unlikely; President Quotes Odds at 100 to 1
8/24/40, Washington, Against Deferring (L)
8/29/40, Hyde Park, N.Y., Archbishop Visits President at Home
9/3/40, Newfound Gap, Great Smokey Mountains National Park, New Day, New Arms (L)
9/17/40, Washington, 400,000 by Jan. 1
10/4/40, Washington, Roosevelt to Talk on Defense Oct. 12
10/13/40, Dayton, Ohio, Reply to the Axis (L)
10/24/40, Philadelphia, Roosevelt Speaks
10/31/40, Boston, President Moves (L)
11/3/40, Cleveland, Third Term 'Last'
11/4/40, Washington, Goes to Hyde Park
11/5/40, Hyde Park, N.Y., Hyde Park Appeal
11/6/40, Hyde Park, Roosevelt Looks to 'Difficult Days'
2/19/41, Detroit, Tank Production Faces Tools Lag; Priorities Called Key to Problem
5/3/41, Washington, U.S. Junior Pilosts to Fly War Craft
5/15/41, Washington, 21 Bombers Join Hawaii Defenders after Secret Flight from the Coast
7/4/41, Washington, Urgent Need Cited (L)
7/13/41, Washington, Future of Army to be Fixed Soon (W)
7/17/41, Washington, Shifts 20 Generals to Vitalize Army
7/25/41, Washington, Stimson Accuses Wheeler of Actions Near Treason
8/21/41, At Sea with the Atlantic Fleet, Fleet Sails Seas Alert as in War; Guns Ready, No Radio, Lights Out
8/22/41, At Sea with the Atlantic Fleet, Secret Devices Aid Navy Power
8/23/41, At Sea with the Atlantic Fleet, Our Fleet Alert in Perilous Night
8/29/41, Washington, 500 of Our Tanks Sent to British
9/18/41, Washington, Guard All Shipping (L)
10/30/41, Washington, Kearny Crippled in Action Defending Ship Under Fire
11/1/41, Washington, Reuben James Hit (L)
11/5/41, Washington, U.S. Navy Tanker Torpedoed Near Iceland, Reaches Port
11/6/41, Washington, Navy Plows Ahead, Shooting on Sight
11/11/41, Washington, A.F.L. Bans Strike (L)
11/17/41, Washington, Scuttling is Tried
11/26/41, Washington, Stimson Charges Finns Hamper Aid
12/9/41, Washington, 1 Battleship Lost
12/11/41, Washington, First Communiques by U.S. Report Philippines Battles
12/12/41, Washington, U.S. Fliers Score
12/13/41, Washington, Wake and Midway Hold Out, U.S. Communiques Reveal
12/14/41, Washington, Two U.S. Isles Holding Out, but Guam is Believed Lost
12/16/41, Washington, Heroic Acts Cited (L)
12/17/41, Washington, Foe in 2 Attacks (L)
12/18/41, Washington, Defense Shake-Up (L)
12/24/41, Washington, Foe Lands on Wake Island; Garrison Continues Battle
12/25/41, Washington, Heroic Defense of Wake Isle an Epic in Marines' Annals
1/1/42, Washington, Japanese Nearer (L)
1/2/42, Washington, Arc About Manila (L)
1/3/42, Washington, Japanese Pressing (L)
1/6/42, Washington, Our Planes Score (L)
1/9/42, Washington, Enemy Offensive in Philippines Near
1/13/42, Washington, M'Arthur Engages Foe in Gun Duel
1/17/42, Washington, Hart Strikes Foe (L)
1/20/42, Washington, 5 U.S. Planes Bag 9 of Foe at Cost of 2 in Celebes Raid
1/21/42, Washington, Tokyo's Ships Hit (L)
1/22/42, Washington, Cargo Craft Sunk
1/23/42, Washington, 600,000 are Moved
1/26/42, Washington, No American Loss (L)
1/27/42, Washington, Sea Fight Rages On
1/28/42, Washington, M'Arthurs Planes Fell Two of Foe's
1/30/42, Washington, Bataan Line Holds (L)
2/11/42, Washington, Reinforced Foes Driving on Bataan
2/12/42, Washington, M'Arthur Breaks Attack on Bataan
2/15/42, Washington, U-Boat Strategy is Hard to Meet (W) 2/17/42, Washington, Japanese Open Drive on M'Arthur; Pessimism Rises in Washington
2/19/42, Washington, Rain of Bombs Marks Drive on M'Arthur and Refugees
2/21/42, Washington, Bataan Combats Incendiaries; Japanese Landings Explained
2/24/42, Washington, New Bataan Lull Stirs Speculation
2/25/42, Washington, Destroyer is Lost (L)
2/26/42, Washington, Navy Record Told
2/27/42, Washington, Japanese Set Back
3/1/42, Washington, Submarine War Again Rising in Seriousness (W)
3/3/42, Washington, U.S. Top Commands Set Up for Air, Ground and Supply
3/5/42, Washington, Subic Bay Raided
3/6/42, Washington, M'Arthur Reveals Bombs Hit Troops
3/10/42, Washington, King in Top Post in Navy Shake-Up
3/18/42, Washington, General Flies Out (L)
3/19/42, Washington, 4 Cruisers Struck (L)
3/25/42, Washington, Foe in Bataan Uses New Type of Plane
3/26/42, Washington, Bataan, Corregidor Bombed; Japanese Drive Held Near
3/27/42, Washington, 4 Japanese Planes Bagged at Bataan
4/2/42, Washington, Halt in Philippines (L)
4/3/42, Washington, Fighting is Savage
4/4/42, Washington, Big Convoy Raided by 4 U.S. Warships
4/5/42, Washington, The Navy's 'Cominch' (NY Times Magazine
4/7/42, Washington, Advance is Costly
4/8/42, Washington, Drive's Pace Rises (L)
4/9/42, Washington, Defenders Retire
4/10/42, Washington, Defense Crushed (L)
4/11/42, Washington, Navy Men on Isle (L)
4/17/42, Washington, Enemy Widens Grip
4/18/42, Washington, 60,000 Captured by Foe on Bataan
5/5/42, Washington, Washington Stern (L)
5/6/42, Washington, Troops Half-Starved
5/7/42, Washington, Philippines Lost (L)
5/8/42, Washington, We Score First
5/31/42, Washington, U-Boat Raids Challenge Techniques of Our Navy (W)
6/5/42, Washington, Follows Dutch Harbor
6/9/42, Washington, Silence Shrouds Fleets in Pacific
6/11/42, Washington, Claim is Scouted (L)
6/13/42, Washington, Navy Gives Figures
6/16/42, Washington, Air Attacks Go On (L)
6/26/42, Washington, Gen. Eisenhower Takes Up Headquarters in London
7/2/42, Washington, U.S. Carrier Took Planes to Malta
7/8/42, Washington, Gen. Spaatz Named Air Chief in Europe
7/15/42, Washington, Yorktown Was Hit in Midway Melee
7/18/42, Washington, Navy Says Foe Still Holds Three of Aleutian Islands
7/22/42, Washington, U.S. Navy Scores
8/9/42, Washington, Revised Nazi Strategy is Seen in Operation (W)
8/11/42, Washington, Marines On Shore (L)
8/16/42, Washington, Aid to Russia Weighed in Light of Nazi Gains (W)
9/3/42, Washington, Navy to Advance Younger Officers
9/16/42, Washington, Towers Air Chief in Pacific Fleet
9/17/42, Washington, 2 Enemy Cruisers Hit in Solomons
9/20/42, Washington, All of Russia's Loss is Not Hitler's Gain (W)
9/22/42, Washington, Japanese Naval Hesitancy Shown in Solomons Area
9/23/42, Washington, U.S. Fliers Bomb Warship, Attack Bases in Solomons
9/29/42, Washington, 24 Downed in Day (L)
10/3/42, Washington, Submarines Score
10/4/42, Washington, War Fronts Will Feel Winter Soon (W)
10/6/42, Washington, U.S. Blows Dealt (L)
10/7/42, Washington, Planes Get 3 Hits
10/8/42, Washington, No Sign of Enemy (L)
10/9/42, Washington, Carrier In Action (L)
10/13/42, Washington, Sea Battle in Dark
10/14/42, Washington, 30-Minute Combat (L)
10/15/42, Washington, Japanese Striking (L)
10/16/42, Washington, Foe Hits from Air (L)
10/17/42, Washington, Big Attack is On (L)
10/18/42, Washington, All Arms Engaged (L)
10/18/42, Washington, Jungle Island Becomes the Heart of Great Battle for the Pacific (W)
10/20/42, Washington, Fleets are Poised (L)
10/21/42, Washington, Bombings Kept Up (L)
10/22/42, Washington, Ships Sunk by Foe (L)
10/23/42, Washington, Thrust is 'Minor' (L)
10/24/42, Washington, Enemy is Repelled Again in Solomons
10/25/42, Washington, Pacific Command Shake-Up is Laid to Guadalcanal Crisis
10/27/42, Washington, All-Out Push is On (L)
10/28/42, Washington, Battle at Airfield (L)
10/29/42, Washington, U.S. Soldiers Hold (L)
10/30/42, Washington, U.S. Lines Pierced (L)
10/31/42, Washington, Guadalcanal Firm (L)
11/3/42, Washington, U.S. Forces Hit Out
11/4/42, Washington, Foe Lands Troops on Guadalcanal East of Our Force
11/6/42, Washington, Japanese Ashore
11/7/42, Washington, Our Men on Guadalcanal Smash Hard Japanese Counter-Attacks
11/8/42, Washington, New Pacific Clash Awaited
11/9/42, Washington, 4 Points Invaded (L)
11/10/42, Washington, U.S. Losses Light (L)
11/12/42, Washington, Our Men in Drives on Guadalcanal
11/13/42, Washington, Raids on Guadalcanal
11/14/42, Washington, Batters Japanese
11/15/42, Washington, Our Navy in Action (L)
11/15/42, Washington, Japanese May Try Soon for Decision in Pacific (W)
11/17/42, Washington, Foe's Navy Routed (L)
11/18/42, Washington, Joy at Sea Victory
11/20/42, Washington, 5 Sinkings Listed
11/21/42, Washington, 750 Die on Island
11/22/42, Washington, Solomons Sea Victory Staggers the Japanese (W)
11/25/42, Washington, Guadalcanal Foes Cut Off, Knox Says
12/1/42, Washington, U.S. Fliers Bomb Solomons Convoy
12/9/42, Washington, Key to European Air Control Seen in Battles Over Tunisia
12/10/42, Washington, Help Denied to Foe (L)
12/13/42, Washington, Japan Still May Strike Directly at Our Shores (W)
12/18/42, Washington, Fortresses Erase 12 Zero Attackers
12/19/42, Washington, 7 More Japanese Ships Sunk by United States Submarines
12/20/42, Washington, Major Pacific Campaign Lies Ahead (W)
12/29/42, Washington, Guadalcanal Foe Balked in Air Aid
12/31/42, Washington, Guadalcanal Bombers Sink 2 Enemy Ships Near Munda
1/1/43, Washington, Enemy Bases Hit Near Guadalcanal
1/5/43, Washington, Guadalcanal Action Indicates Foe's Destroyers Infest Sea
1/6/43, Washington, 170 Japanese Slain
1/10/43, Washington, Japan is Seen Preparing for Big Blow in Pacific (W)
1/12/43, Washington, List of Losses Names Hornet, 3 Cruisers and 7 Destroyers
1/15/43, Washington, PT Boats Torpedo 2 Destroyers, Rout Flotilla near Guadalcanal
1/21/43, Washington, Guadalcanal Push Slays 1,032 of Foe
1/23/43, Washington, Guadalcanal Foe Reduced to 4,000
1/24/43, Washington, Anti-U-Boat Campaign Resurveyed (W)
1/26/43, Washington, Guadalcanal Drive Takes Enemy Base
1/30/43, Washington, 5 Japanese Ships Sunk or Damaged
1/31/43, Washington, Nazi Reverses in Russia a Problem for Analysts (W)
2/7/43, Solomons Lure Japanese to New Test of Strength (W)
2/10/43, Washington, Foe Quits Island
2/11/43, Washington, U.S. Bombs Blast Bases in Solomons
2/12/43, Washington, Now Guadalcanal is a Springboard
2/14/43, Washington, Value of Guadalcanal To Be Proved (W)
2/17/43, Washington, The Chicago Sunk
2/18/43, Washington, Tokyo Cruiser Believed Sunk, Submarines Get 5 More Ships
2/19/43, Washington, Stimson Reports 'a Sharp Reverse'
2/23/43, Washington, Victims of U-Boats
2/26/43, Washington, 'Clean-Cut Repulse' in Tunisia Dealt to Foe, Stimson Asserts
12/20/43, Washington, Republican Heads Must Pick Issues
12/26/43, Washington, M'Arthur is an Enigma in Political Shuffling
Hurlbut, Sergeant J.W.
9/13/42, Guadalcanal, Big Patrol Action Waged by Marines
Huston, Luther A.
9/26/38, Washington, Roosevelt Makes Appeal (L)
3/3/40, Washington, Census Preparations Set on Gigantic Scale (W)
8/11/40, Washington, Social Security Grown to Giant Size in 5 Years (W)
7/27/41, Washington, Gasoline Rationing Impends (W)
9/27/42, Washington, Carrier Lexington Leaves the Ways
James, Edwin L.
3/5/39, Pius XII Not the Pope Totalitarians Desired (W)
5/21/39, London-Paris-Moscow Treaty Talks Continue (W)
7/16/39, Washington is Tangles on Our Neutrality Act (W)
9/10/39, Germany is Off Again on a War of Conquest (W)
2/25/40, War Still in Low Gear Except on Finn Front (W)
3/3/40, Welles Finds Germany Not Ready for a Peace (W)
4/7/40, Allies Forge Blockade as Chief War Weapon (W)
7/28/40, Hitler Delays Invasion but Keeps Up Bombing (W)
8/4/40, One More Week Passes, and No British Invasion (W)
8/18/40, As Washington Fiddles, Nazis Drive Westward (W)
12/15/40, British Egypt Victory Big Blow to Mussolini (W)
12/29/40, Are Germans Sending Their Troops to Italy? (W)
8/24/41, The Winter in Russia is Always Very Cold (W)
Jarrett, V.H.C.
12/10/41, Hong Kong,Hong Kong Checks Land Invasion; Defense Lines Reported Holding
12/17/41, Hong Kong,Hong Kong Strong and in 'Good Heart'
12/18/41, Hong Kong,British Gunners Score
Jewell, Edward Alden
4/14/43,News and Notes of Art (C)
Johnson, Albin E.
10/26/43,Warsaw Ghetto in Heroic Battle, New Reports on Struggles Reveal
Johnston, Richard W.
11/27/43, With United States Marine Assault Forces at Tarawa,Gilberts Battle is Called Fiercest Fought in Pacific
Johnston, Stanley
6/13/42, Chicago, Witness of Coral Sea Battle Gives Picture from Carrier
6/15/42, Chicago, Two U.S. Carriers Scored on Tulagi
6/16/42, Chicago, Bombs Smothered Japanese Carrier
6/17/42, Chicago, 'Tin Fish' Stitched Sea about Carrier
6/18/42, Chicago, Flames on Carrier Fought to the End
Jones, George E.
6/20/43, Guadalcanal,Eyewitness's Account
8/6/43, Munda Airport, New Georgia Island,Flame Throwers Decisive
Jones, Roland M.
12/11/38, Omaha, Neb., Nebraska 'Little TVA' Moves Ahead (W)
9/10/39, Omaha, Neb. Farm Area for Revision (W)
11/24/40, Omaha, Neb., New Features in Corn Loan (W)
6/29/41, Omaha, Neb., Midwest Undisturbed by New Move (W)
9/21/41, Omaha, Neb., Midwest Tempers Rise (W)
10/19/41, Omaha, Neb., Farmers' Views Altered (W)
12/14/41, Omaha, Neb., Middle West Ready to Face the Storm (W)
3/22/42, Omaha, Neb., Farmers Resent Idea of Complacency (W)
5/3/42, Omaha, Neb., War Grows More Clear to the Corn Belt (W)
Jordan, Philip
2/9/41, London, Wavell, Warrior of the Desert (NY Times Magazine)
4/20/41, London, Desert Fights for Britain in the Defense of Egypt (W)
Kennedy, Edward
11/16/40, Cairo, British Mount Big Guns on Crete; Island to be Eastern Gibraltar
1/24/41, Tobruk, Libya, Italians Give Up to U.S. Reporter
Kelley, Robert F.
11/6/38, Baltimore, Notre Dame Victor over Navy, 15-0
11/12/39, Cambridge, Mass., Harvard Triumphs over Army, 15 to 0
10/26/39, Cambridge, Mass., 40,000 See Crimson Reach Navy's 2-Yard Line in Draw
11/9/41, Cambridge, Mass., Cantabs Brilliant
Kernick, J.W.
6/11/40, Istanbul, Turkey Prepares under Allied Pact
Keys, Henry
7/2/43, Aboard U.S. Flagship of a Destroyer Division, Foe at Munda is Surprised; Destroyers Aid Brilliantly
11/28/43, Pearl Harbor, Vast U.S. Forces Used at Gilberts
Kieran, John
3/28/39, St. Petersburg, Fla. One Man on a Horse (C)
4/1/39, McCarthy's All-Stars (C)
4/19/39, A Red Sox Conference (C)
5/1/39, The Babe Ruth of Tomorrow (C)
5/3/39, A Halt for the Iron Horse (C)
5/16/39, On the Firing Line (C)
5/30/39, All Around the Mulberry Bush (C)
6/22/39, Journey's End (C)
7/3/39, Easier than Pulling Teeth (C)
7/11/39, The Stars in Their Courses (C)
7/12/39, Star Dust at the Stadium (C)
7/18/39, Two Stitches in Jig-Time (C)
8/1/39, A Baseball Suggestion (C)
8/8/39, A Run on the Bank Holiday (C)
8/29/39, Where There Was Some Smoke (C)
10/5/39, Won in the Ninth (C)
10/6/39, Pearson's Peerless Pitching (C)
10/8/39, Crosley Field, Cincinnati, The Carnage at Crosley Field (C)
10/9/39, Crosley Field, Cincinnati, Straight as a String (C)
11/5/39, One More for Notre Dame (C)
12/3/39, Philadelphia, The Service Struggle (C)
4/17/40, Start at the Bottom (C)
5/22/40, A good Price for a Pair of Shoes (C)
8/7/40, Predicting an Early Fall (C)
8/21/40, Sinking Spells in August (C)
8/28/40, Mr. Dykes Overflows (C)
9/28/40, That Stunning Event in New Jersey (C)
10/4/40, Even Up in the Series (C)
10/5/40, Breath by Breath at Briggs Stadium (C)
10/6/40, The Big Day for Oom Paul Derringer (C)
10/7/40, Detroit, Three and Two in the Series (C)
10/8/40, Cincinnati, All Square and One to Go (C)
10/9/40, Red is the Winning Color (C)
11/3/40, Kaydets Pass the Time Cheering One Lost Cause after Another
12/1/40, Executive Order to Recall the Navy Needed with Army Rout Impending
12/8/40, The Redskins and the Great Bears (C)
5/7/41, Life of a Front Office Man in Baseball (C)
5/14/41, Around the Batting Cage (C)
6/4/41, In Memoriam (C)
6/8/41, A Big Day at Belmont (C)
6/18/41, This Way for the Big Show (C)
7/9/41, Detroit Star Gazing by Daylight in Detroit (C)
7/12/41, Just a Matter of Taste (C)
8/13/41, A Flash in the Dark (C)
8/20/41, The Great Uprising in Philadelphia (C)
9/22/41, Out of the Blue for Soldiers, Sailors and Marines (C)
10/2/41, Caught Between the Bases (C)
10/3/41, When the Fun Began (C)
10/4/41, Onkel Franz On the Grill (C)
10/5/41, The Marvelous Ruse of Marius Russo (C)
10/6/41, Killer Keller Knocked them Dead (C)
10/7/41, Please Omit Flowers (C)
11/30/41, Navy is Fooled, but Not for Long
King Harold
5/29/43, Moscow, Stalin Sees Soviet End 'Lie' on Aim to Bolshevize World
Kluckhohn, Frank L.
3/24/38, Mexico City, 1,000,000 in Mexico Hail Oil Seizures
5/21/38, Mexico City, Cedillo's Men Cut Tampico Rail Line
5/25/38, Mexico City, Cardenas Appeals to Rebels to Yield
6/1/38, Mexico City, Four Catholics are Slain in Mexican Clash as Police Rout Rally for Reopening Churches
6/25/38, Mexico City, Unions in Mexico Attack on Jews
9/10/39, Washington, Nazi Secret Police Help Subdue Poles
9/26/39, Washington, Soviet Reported Offering Turks Guarantee Against Reich for Straits Ban on Belligerents
10/6/39, Washington, Warships Sent Out (L)
10/19/39, Washington, Soviet Aids Despite Pact
10/25/39, Washington, Hull Seeks Facts (L)
11/2/39, Washington, Coast Guard and Navy Thwarted in Hunt for Coulmore Survivors
12/19/39, Washington, U.S. Navy Yields 40 Fast Planes to Finns; Gives Priority for Purchase of War Craft
12/20/39, Washington, Luxury Ship Burns (L)
12/27/39, Washington, Americas' Aid Plan is Forming Rapidly
12/29/39, Washington, Finns to Expand Mosquito Fleet
1/21/40, Washington, Washington Angry (L)
2/4/40, Washington, U.S. Acts on Raids by Tokyo's Fliers on China Railroad
2/14/40, Washington, Washington Hears of Soviet Massing
3/23/40, Washington, 2,000 Late Planes for the Allies are Approved by Defense Board
4/7/40, Washington, Germany's Oil Supply a Vital Factor in War (W)
4/15/40, Washington, British Navy Work Eases Washington
5/16/40, Washington, President to Ask Billion to Equip an Army of 750,000
6/2/40, Washington, Waring by General
6/6/40, Washington, Big Stores on Hand
6/16/40, Washington, No U.S. Recognition
6/26/40, Washington, Bessarabia Linked in Red-Nazi Deal
7/13/40, Washington, Training Planned (L)
7/18/40, Washington, Army of 2,000,000 a Minimum Need, Marshall Insists
8/1/40, Washington, Grave Peril Seen (L)
8/6/40, Washington, Bill Up to Senate (L)
8/7/40, Washington, Clash on Draft (L)
8/8/40, Washington, Test vote 47 to 36 (L)
8/9/40, Washington, Bill Voted 71 to 7 (L)
8/10/40, Washington, Clashes in Senate (L)
8/14/40, Washington, Army Plans Upset by Delay in Draft; Wheeler Hits Bill
8/15/40, Washington, Senate Lifts Pay in Army to $30 to Aid Enlisting
8/16/40, Washington, Lee Makes Fight in Senate
8/29/40, Washington, Final Vote 58 to 31 (L)
9/4/40, Washington, Line of 4,500 Miles (L)
9/15/40, Washington, Draft means Big Army Purchases (W)
9/24/40, Washington, U.S. Chides Japan
9/27/40, Washington, Roosevelt Moves (L)
9/29/40, Washington, Japan's Move Follows Our Increasing Curbs (W)
12/18/40, Washington, Aid Plan Outlined (L)
12/27/40, Washington, Talk to be 'Clear' (L)
1/7/41, Washington, Will Lend Arms (L)
1/15/41, Washington, 'Rotten, 'Dastardly', Rossevelt Says of War Charge Made by Wheeler
1/22/41, Washington, No Plan to Convoy, President States
1/24/41, Washington, Roosevelt Sending Aide to Chungking
1/25/41, Washington, Breaks Precedent (L)
1/26/41, Washington, 'Vital Needs Told (L)
2/14/41, Washington, President Denies Any Controversy over More Destroyers for Britain
2/26/41, Washington, President is Firm (L)
2/27/41, Washington, Aid Steps Mapped (L)
3/16/41, Washington, All Must Sacrifice (L)
3/19/41, Washington, President Leaves Today for Fishing Cruise in Yacht with Two Destroyers as Convoy
3/20/41,On Board President Roosevelt's Special Train, President on Way to Florida Vacation; Hears Donovan Report on Europe's Trend
4/11/41, Washington, Agreement Signed (L)
4/21/41, Hyde Park, N.Y., Economies Merged (L)
5/5/41, Staunton, Va., President Sharp (L)
5/15/41, Washington, Big Planes Vital (L)
5/17/41, Washington, Hints at Navy Use (L)
5/28/41, Washington, A Call to Nation (L)
6/11/41, Washington, Roosevelt Urges Delayed Judgment on Sinking of Ship
6/14/41, Washington, U.S. Sees Violation of Pact in the Robin Moor Sinking
6/15/41, Washington, Covers All Europe (L)
6/17/41, Washington, Fifth Column Curb (L)
6/21/41, Washington, 'Piracy' is Assailed (L)
7/5/41, Hyde Park, N.Y., Blasts Appeasers (L)
7/8/41, Washington, Navy Forces Land (L)
8/6/41, Washington, Rumors in Capital (L)
8/7/41, Washington, Hull and Eden Act (L)
8/8/41, Washington, Note is Technical
8/14/41, Washington, Agreement Reported Reached
8/15/41, Washington, Talks Held at Sea (L)
8/16/41, Washington, Bid to Soviet Premier
8/19/41, Washington, Fields Near Dakar (L)
8/20/41, Washington, Roosevelt is Grim
8/26/41, Washington, Tacit Approval by U.S. Indicated in Hull's Comment on Iran Move
8/27/41, Washington, U.S. Army Mission Will Assist China
8/31/41, Hyde Park, Warning on Nazis (L)
8/31/41, Washington, Public Morale Viewed as a Defense Problem (W)
9/2/41, Hyde Park, Output Not Enough (L)
9/6/41, Washington, Navy Ships in Hunt (L)
9/11/41, Washington, Congress is Called (L)
9/12/41, Washington, War Up to Hitler (L)
9/13/41, Washington, To Guard Any Sea (L)
9/21/41, Hyde Park, N.Y., Tokyo Still Firm
9/23/41, Washington, Flew Panama Flag (L)
9/24/41, Washington, Congress Has Say (L)
10/5/41, Washington, Nazis Disillusion 3 Baltic Nations
10/16/41, Washington, Tokyo is Watched
10/17/41, Washington, Marshall and Stark Present at Talk at White House
10/18/41, Washington, Kearny in Limits, Says President
10/22/41, Washington, 36 Men are Missing (L)
10/25/41, Washington, Army Tank Program Doubled under New Arms Expansion
10/29/41, Washington, Nazi Ire over 'Secret Map' is a 'Scream' to Roosevelt
11/3/41, Hyde Park, N.Y., Defense Fortified (L)
11/8/41, Washington, Marines in China May Be Recalled
11/11/41, Washington, Crisis in Far East Now Held Acute
11/15/41, Washington, Roosevelt Orders Marines to Leave 3 Posts in China
11/18/41, Washington, Kurusu and Roosevelt Talk for Hour on Far East Crisis
11/19/41, Washington, U.S. Army to Send Mission to Russia
11/25/41, Washington, Move Protective (L)
11/29/41, Washington, War Seen Closer (L)
12/1/41, Aboard the President's Special Train, President is Grim (L)
12/2/41, Washington, Japanese See Hull (L)
12/3/41, Washington, A Test for Tokyo (L)
12/8/41, Washington, Guam Bombed; Army Ship is Sunk (L)
12/9/41, Washington, Unity in Congress (L)
12/10/41, Washington, 'Serious Setback' (L)
12/12/41, Washington, War Opened On Us (L)
12/23/41, Washington, 2 Leaders Confer (L)
12/24/41, Washington, Churchill Talks
12/27/41, Washington, Congress Thrilled
12/28/41, Washington, Fuse World Front
1/7/42, Washington, 56 Billion in Year
1/24/42, Washington, Report Due Soon on Pearl Harbor
1/28/42, Washington, U.S. Fronts Secret (L)
2/12/42, Washington, Japanese-German Junction in Indian Ocean Held Aim
2/13/42, Washington, Byrd Asks Nation to Center on War; End 'Confusion, Jealousy, Red Tape'
2/18/42, Washington, Foe Speeds Tempo of Drive on Bataan
3/8/42, Washington, Our Move Studied
3/11/42, Washington, M'Leish Accuses Japanese in Spain
3/20/42, Washington, Pacific Strategy Tied to Mid-East
3/22/42, Washington, More War News is Promised (W)
4/4/42, Washington, Foe Bombed 3 Ships (L)
4/17/42, Washington, Leahy May Return (L)
4/22/42, Washington, U.S. Navy to Rule in South Pacific
4/28/42, Washington, Roosevelt Blunt (L)
4/29/42, Washington, Big Forces Abroad
5/8/42, Washington, Foe Says Wainwright Agrees to Full Philippine Surrender
5/9/42, Washington, Fleet is Smashed
5/10/42, Washington, Sea Fight with Japan Marks Rise of Our Power (W)
5/28/42, Washington, Russians Press for a Second Front; Allies Bid Them Admit Observers
6/19/42, Washington, Premier's 2d Visit (L)
6/20/42, Washington, World Plans Made (L)
6/21/42, Washington, Churchill Said to Oppose Call for an Invasion Soon
6/21/42, Washington, War News System Reshaped (W)
7/19/42, Washington, Immediate Attack on Siberia Feared
8/17/42, London, Our Raids on Nazis Mount; Doolittle on Duty in London
8/18/42, At an American Bomber Base, in Britain, Eaker Leads Raid
8/19/42, London, Osnabrueck Hit Again
9/1/42, London, Desert Battle On (L)
9/3/42, London, U.S. Units March in London; Victorious Invasion Pledged
9/6/42, London, Fortresses in Raid (L)
9/6/42, London, British Are Determined to Crush Rommel Now (W)
9/7/42, London, British Farm Drive Opens Social Vista
9/8/42, London, New Fortress Raid Avenges U.S. Loss
9/21/42, London, Pro-German Irishmen Spy on U.S. Troops in Ulster
9/24/42, London, U.S. 'Chutists are Taken for Nazis in Britain Because of Similar Garb
9/30/42, Somewhere in England, American Eagles in U.S. Air Forces
10/1/42, London, Churchill Says Raid on Dieppe Cost Allied Force Losses of Nearly 50%
10/7/42, London, Allied Planes Attack Essen; Mosquitos Raid in Holland
10/14/42, London, General Minimizes A.E.F. Race Friction
10/17/42, London, R.A.F. Bombs Blast Cologne; Day Blows at Nazis Kept Up
11/18/42, An American Parachutist Base, Somewhere in North Africa, New Yorker Leads Chutists' Jump to Capture North African Airfield
12/1/42, At an Advanced Outpost, in Tunisia, Nazis Mass Outside Tunis, Fearing It May Fall Today
12/3/42, At an Advanced Position, in Tunisia, Nazi Tanks, Planes Active
12/6/42, With the Advanced Forces in Tunisia, Men at Front See Tough Tunis Fight (W)
12/13/42, At the Front, in Tunisia, Rangers, Commandos Land Behind Enemy Near Bizerte
12/18/42, Allied Headquarters in North Africa, U.S. Planes Strike
12/22/42, Allied Headquarters in North Africa, Tunisian Bomb Tally
12/24/42, Allied Headquarters in North Africa, Allied Generals in Tunisia Ponder What Rommel's Next Move Will Be
12/27/42, Algiers, Vote is Unanimous (L)
12/30/42, Allied Headquarters in North Africa,P-38s Strike in Tripolitania
12/31/42, Allied Headquarters in North Africa,Pro-Ally Men Held (L)
1/2/43, Allied Headquarters in North Africa,U.S. Fliers Blast Tunisian Bases; 3 Axis Ships Sunk, Destroyer Hit
1/4/43, Allied Headquarters in North Africa,Americans Get 23
1/7/43, Allied Headquarters in North Africa,Infantry, Commandos Storm Hills Dominating Highway Near Mateur
1/8/43, Allied Headquarters in North Africa,Tunisian Heights Regained by Nazis
1/26/43, On the Central Tunisian Front,Enemy in Tunisia Flees Our Attack
1/28/43, On the Tunisian War Front,Americans Await Rommel at Gafsa
2/3/43, On the Tunisian Front, 'Front-Row View' of Sened Battle
2/4/43, On the Tunisian Front, Rommel's Forces Battle Americans
2/8/43, On the Tunisian Front, Effect of Talks Felt at Front
2/13/43, On the Tunisian Front, Brooklyn Troops in Tunisian Caves
2/16/43, On the Central Tunisian Front, U.S. Tanks Tackle Rommel's to Save Encircled Infantry
2/19/43, With American Forces in Tunisia, Flaming Sbeitla Lit Fierce Battle
2/22/43, On the Tunisian Front, How Germans Took Pass at Kasserine
2/23/43, On the Tunisian Front, Rommel's Crack Armored Division Halted by American Combat Team
2/23/43, On the Tunisian Front, Rangers Who Hit Gafsa Want More
2/24/43, On the Tunisian Front, Front in Tunisia Like Valley Forge
2/25/43, On the Tunisian Front, Germans Turn and Streak for Coast as Allies Strike
2/27/43, Allied Headquarters in North Africa, Two Major Lessons Found in Survey of Tunisian Battle
3/1/43, Allied Headquarters in North Africa, U.S. Men and Arms Stand Up in Tunisian Testing Ground
3/2/43, Allied Headquarters in North Africa, Anglo-U.S. Strain in Tunisia Noted
3/3/43, Allied Headquarters in North Africa, Sbeitla Retaken
3/5/43, Allied Headquarters in North Africa, Nazis Gain 4 Miles in North Africa; U.S. Patrols Push Near Faid Pass
3/7/43, Allied Headquarters in North Africa, Rommel Hits Back
3/7/43, Allied Headquarters in North Africa, Tide in North Africa Turns Against the Axis (W)
3/8/43, Allied Headquarters in North Africa, Second Day Duplicates First
3/9/43, Allied Headquarters in North Africa, Retreat in Tunisia (L)
3/17/43, On the Tunisian Front, American Pilots Foil Foe's Patrol
3/19/43, At the Tunisian Front, Returning Americans Find Romantic Gafsa Desolated
3/19/43, On the Tunisian Front, Americans Come with Dawn to Maknassy
3/25/43, On the Tunisian Front, U.S. Wounded Stick to Guns to Beat Off German Thrusts
3/26/43, On the Tunisian Front, Americans Beating Nazis All Round
3/27/43, At the Tunisian Front, American Infantry Battles Axis in Key Passes to Coast
4/7/43, Allied Headquarters in North Africa, First Goals Gained (L)
4/8/43, Allied Headquarters in North Africa, Armies Are United (L)
4/9/43, Allied Headquarters in North Africa, Axis Pushed Back
4/11/43, Allied Headquarters in North Africa, Chase Continues (L)
4/14/43, Allied Headquarters in North Africa, 1st Army Back at Starting Point
4/15/43, Allied Headquarters in North Africa, 3 U.S. Craft Lost (L)
4/16/43, Allied Headquarters in North Africa, First Army Scores (L)
4/17/43, Allied Headquarters in North Africa, Gain Made in North (L)
4/18/43, Allied Headquarters in North Africa, Eisenhower Cites Record of 2d Corps
4/18/43, Allied Forces Headquarters in North Africa, Allies Now In Position for the Kill in Africa (W)
4/19/43, Allied Headquarters in North Africa, Algiers is Bombed (L)
4/20/43, Allied Headquarters in North Africa, U.S. Fliers Bag 58 (L)
4/21/43, Allied Headquarters in North Africa, Height is Stormed
4/22/43, Allied Headquarters in North Africa, British Drive On
4/30/43, Allied Headquarters in North Africa, Germans Hit Back
5/1/43, Allied Headquarters in North Africa, Tunisia Line Afire
5/2/43, Allied Headquarters in North Africa, Americans Push On
5/3/43, Allied Headquarters in North Africa, Allies Inch Ahead
5/4/43, Allied Headquarters in North Africa, Foe Withdraws (L)
5/5/43, Allied Headquarters in North Africa, Pincers Peril Base (L)
5/6/43, Allied Headquarters in North Africa, 3 Drives Converge
5/7/43, Allied Headquarters in North Africa, Enemy Reels Back (L)
5/8/43, Allied Headquarters in North Africa, Twin Drives Score (L)
5/9/43, Allied Headquarters in North Africa, Thousands Give Up (L)
5/9/43, Allied Force Headquarters in North Africa, Victorious Americans in Tunisia Now Veterans (W)
5/10/43, Headquarters in North Africa, Navy Joins Battle (L)
5/11/43, Allied Headquarters in North Africa, Navy Rings Cape (L)
5/12/43, Allied Headquarters in North Africa, 'Last Tank Battle'
5/13/43, Allied Headquarters in North Africa, African War Over (L)
9/6/43, Somewhere in Australia, Japanese Trapped
9/7/43, Somewhere in Australia, M'Arthur in Plane
9/8/43, Somewhere in New Guinea, Allies Closing In on Enemy at Lae
9/14/43, On the Lae Front, New Guinea, Japanese Morale Lower
9/15/43, With U.S. Paratroopers Outside Lae, New Guinea, American Paratroopers Stalk Foe in High Jungle Grass Outside Lae
9/18/43, Allied Headquarters in the Southwest Pacific, Lae Falls in Allied Drive; Japanese Fleeing into Trap
9/18/43, Somewhere in New Guinea, War in Lae Area Differs Markedly from Fighting in European Zones
9/19/43, Allied Headquarters in New Guinea, Tactics Used at Lae Give Speedy Victory (W)
9/24/43, Somewhere in New Guinea, 'Enemy' Armada was Ours
9/26/43, Allied Headquarters in New Guinea, M'Arthur's Issue One of Strategy (W)
10/8/43, Allied Headquarters in Southwest Pacific, Foe's Air Power Recedes
10/9/43, Allied Headquarters in the Southwest Pacific, Night Sea Battle (L)
10/14/43, Aboard a Bomber, Over Rabaul, Ships in Rabaul Bay Scurry but are Bombed into Flames
10/15/43, Allied Headquarters in the Southwest Pacific, Allied Blockade Now Faces Rabaul
10/17/43, Allied Headquarters in the Southwest Pacific, Flanking Tactics Held Key to Pacific Victories (W)
10/18/43, Allied Headquarters in the Southwest Pacific, Fight at Oro Bay (L)
10/19/43, Allied Headquarters in the Southwest Pacific, Japanese Fail in Attempt to Land Men to Regain Finschhafen Base
10/20/43, Allied Headquarters in Southwest Pacific, 60 Planes, 3 Ships Ripped at Rabaul
10/21/43, Allied Headquarters in Southwest Pacific, Foe Bends Back New Guinea Trap; Loses 17 More Planes in Solomons
10/23/43, Allied Headquarters in the Southwest Pacific, 221 Tons of Bombs Hit New Guinea Foe
10/24/43, Allied Headquarters in the Southwest Pacific, Foe Thrown Back in New Guinea Bid
10/26/43, Allied Headquarters in the Southwest Pacific, Rabaul Hit Again/i>
10/28/43, Allied Headquarters in the Southwest Pacific, New Rabaul Blow Wrecks 58 Planes
10/31/43, Allied Headquarters in the South Pacific, Allies Increasing Hold on Solomons
10/31/43, Allied Headquarters in New Guinea, Air Blows Herald Pacific Attacks (W)
11/1/43, Admiral Halsey's Headquarters in the South Pacific, Americans in Battle on Choiseul; Allies Hit Rabaul, Bag 45 Planes
11/2/43, Guadalcanal, Big Jump in Pacific
11/4/43, Allied South Pacific Headquarters, Near Japanese 'Vitals'
11/6/43, A South Pacific Base, Bougainville Gripped
11/7/43, Admiral Halsey's Advanced Headquarters in the South Pacific, Offensive to Smash Japan Gets Under Way in Pacific (W)
11/8/43, Allied Headquarters in the Southwest Pacific, Allies Lash Rabaul Again, Probably Hit Heavy Cruiser
11/10/43, Allied Headquarters in Southwest Pacific, Marines in Action (L)
11/13/43, Allied Headquarters in the Southwest Pacific, A Carrier Assault (L)
11/16/43, Allied Headquarters in the Southwest Pacific, Our Fliers Hit Cruiser Off Rabaul; 1,000-Pounder Explodes Inside Her
11/17/43, Allied Headquarters in Southwest Pacific, Scant Force Cited by M'Arthur Aide
11/25/43, Allied Headquarters in the Southwest Pacific, U.S. Naval Victory
11/27/43, Allied Headquarters in the Southwest Pacific, Australian Drive Wins Sattelberg
12/3/43, Somewhere in Australia, Australians Hail Results at Cairo
12/9/43, Allied Headquarters in the Southwest Pacific, Record Blow Hits Cape Glouchester
12/10/43, Allied Headquarters in the Southwest Pacific, Australians Seize Wareo, Pursue Foe in New Guinea
12/17/43, Aboard the Flagship of the Seventh Amphibious Force, off New Britain, New Britain Landing Made in Eerie, Thunderous Dawn
12/18/43, Advanced Allied Headquarters in New Guinea, Japanese Hit Back (L)
12/19/43, Allied Headquarters in New Guinea, Blow at New Britain is Well Timed (W)
12/21/43, Advanced Allied Headquarters in New Guinea, Arawe Air Strip Won by Us; Cape Gloucester is Smashed
12/28/43, With U.S. Marines on New Britain, Marines Hit Shore Cheering in Cape Gloucester Attack
12/31/43, Advanced Allied Headquarters in New Guinea, Japanese Crushed
Knauth, Percival
8/28/39, Danzig, Reich Fliers' Garb Common in Danzig
9/13/39, Berlin, Germans Advance (L)
9/23/39, Berlin, Big Slice to Soviet
9/24/39, Berlin, Final Victory Won in East, Nazis Say
10/20/39, Berlin, First Phase of War Ended, Nazis Claim
11/17/39, Berlin, End of Britain as a World Power is Proclaimed as Germany's Goal
12/18/39, Berlin, Decision at Berlin
12/25/39, Berlin, War Capitals Strive to be Gay on First Blacked-Out Christmas
2/4/40, Berlin, Nazis Say English are 'White Jews'
2/14/40, Berlin, New Baltic Threat by Germany Seen
5/22/40, Berlin, Anti-Tank Defense Aids Nazi Advance
5/27/40, Berlin, Drive Near Dover
6/1/40, Berlin, New German Drive Near, Berlin Hints
6/2/40, Berlin, Germans Advance
6/3/40, Berlin, Germans Close in on Allied Pocket
6/4/40, Berlin, Berlin Sees Raids Opening New Drive
6/5/40, Berlin, Berlin is Exultant over Raid on Paris
6/6/40, Berlin, Nazis Aim at Havre
6/7/40, Berlin, Berlin is Reticent
6/8/40, Berlin, Drive Progresses, Germany Reports
6/9/40, Berlin, Berlin Confident
6/19/40, Munich, Munich is Gay as Dictators Meet; Peace Hope Adds to Crowd's Joy
7/6/40, Berlin, Nazis Delighted by French Action
7/7/40, Berlin, Hitler Welcomed by Frenzied Berlin
8/5/40, Berlin, Beer Faces Doom as the German Drink; Nazis Look for Non-Alcoholic Substitute
8/11/40, Berlin, Nazis Urge Spartan Habits (W)
8/18/40, Berlin, Huge German Air Force Put to Its Great Test (W)
8/19/40, Berlin, Nazis Again Bomb London Air Bases
8/28/40, Berlin, Nazis Say Britain Lost 1,055 Planes
8/29/40, Berlin, Berlin Night Raid Lasts for 3 Hours
8/31/40, Berlin, Nazi Center is Hit
9/2/40, Berlin, Berlin Unscathed in Raid, Nazis Say
9/7/40, Berlin, R.A.F. in Battle over Nazi Capital
9/9/40, Berlin, Marshal in France
9/10/40, Berlin, Goering Sends out Waves of Raiders
9/11/40, Berlin, Raid Nazi Capital (L)
9/13/40, Berlin, Reich Army Chief on French Coast
9/14/40, Berlin, Berlin Says Havoc in Britain Mounts
9/16/40, Berlin, Nazis See London Hard Hit by Raids
9/19/40, Berlin, Parley Talked of as Crucial
9/26/40, Berlin, Berlin is Hit Again
9/29/40, Berlin, More Nazi Planes Join British Raids
10/2/40, Berlin, Long Winter Drive Now Seen by Reich
10/24/40, Berlin, Parley at Border
11/9/40, Berlin, Hitler Forswears 'Any Compromise'
11/10/40, Berlin, Molotoff to visit Hitler this Week
11/20/40, Berlin, Midland City Fired (L)
12/3/40, Berlin, Bristol Reported Target
12/4/40, Berlin, Mass U-Boat Raid Reported by Nazis
1/18/41, Berlin, The Malaya Hit, Nazis Hold
2/14/41, Berlin, Germans Report Sinking of 13 British Ships; Several 'Liners' Said to Have Been in Convoy
2/23/41, Berlin, U.S. Flag Masked British Ship Sunk by Nazis, They Charge
2/27/41, Berlin, First Libyan Clash Reported by Nazis
2/28/41, Berlin, Nazi Fliers Report 16 Convoy Ships Hit
Kovacs, Eugen
7/16/39, Bucharest, Rumania, Balkans Feeling Pressure of Axis (W)
9/23/39, Bucharest Rumania, Scores Executed in Rumanian Plot
6/29/40, Bucharest, Rumania, Russians Start Occupying Area
6/30/40, Bucharest, Rumania,Line is Preserved (L)
7/1/40, Bucharest, Rumania, Reds Hasten Drive (L)
7/2/40, Bucharest, Rumania,Reich Prestige Up (L)
8/29/40, Bucharest, Rumania, Attack on Rumania is Laid to Hungary
9/6/40, Bucharest, Rumania, Assailed by Iron Guards
6/18/41, Reich and Russia Long Set to Fight
Krock, Arthur
10/30/38, Washington, New Deal Foes Suspect Defense Plan is a Ruse (W)
9/10/39, Washington, America is Mobilized as a Watchful Neutral (W)
12/31/39, Washington, Political Outlook Still Dominated by One Man (W)
10/1/40, Washington, Both Sides are Evading Real Neutrality Issue (W)
1/21/40, Washington, Republican Defeatism is Noted in the East (W)
5/12/40, Washington, Are We Nearer War? – Debate in Capital (W)
7/18/40, Chicago, 'Draft' of Roosevelt is Traced to Inner Circle of the New Deal
9/22/40, Willkie's 'Lost Chance' Held Gain for Nation (W)
11/6/40, Big Electoral Vote (L)
11/7/40, A 5,000,000 Margin (L)
4/6/41, Washington, Question of Convoys Must be Faced Soon (W)
6/15/41, Washington, Ship Sinking Highlights Nazi-American Clash (W)
10/8/41, Washington, The War in Pictures (C)
10/22/41, Washington, Army Contracts First (C)
10/29/41, Washington, 'America Attacked' (C)
11/12/41, Washington, Immunities of Congress (C)
11/19/41, Washington, Philippines as a Fortress (C)
11/26/41, Washington, Lewis for New NLRA (C)
12/3/41, Washington, U.S. Aid to Soviet is Found Lagging
12/8/41, Washington, Unity Clicks into Place (C)
12/10/41, Washington, Vulnerability of Hawaii (C)
12/17/41, Washington, Hull Warning Unheeded? (C)
12/24/41, Washington, Churchill's Visit (C)
1/7/42, Washington, Spirit a Key to Victory (C)
1/14/42, Washington, Divided Authority (C)
1/21/42, Washington, Ten Critical Days (C)
1/28/42, Washington, Pearl Harbor Issue (C)
2/4/42, Washington, Policy on Loans to China (C)
2/8/42, Washington, Public Slow to Grasp Spirit of War Urgency (W)
2/11/42, Washington, Admiral Land's Task (C)
2/18/42, Washington, Bettering American Unity (C)
2/25/42, Washington, Acute Problem for Steel (C)
3/4/42, Washington, National Talent Pool (C)
3/11/42, Washington, Faith in 'Sea Otter' (C)
3/18/42, Washington, Guthrie's Resignation (C)
3/25/42, Washington, WPB Regional Plan (C)
4/1/42, Washington, Detroit's Achievement (C)
4/8/42, Washington, Our War Problem of Transport (C)
4/22/42, Washington, Brake on War Program (C)
4/29/42, Washington, Work Week in Industry (C)
5/6/42, Washington, Admiral Leahy's Return (C)
5/13/42, Washington, Henderson and Wages (C)
5/20/42, Washington, Aim of New A.E.F. (C)
5/27/42, Washington, Lease-Lend for Russia (C)
6/3/42, Washington, 'Sealing' East Coast (C)
6/10/42, Washington, Keeping Cars on the Road (C)
6/17/42, Washington, Our Coastal Patrol (C)
6/24/42, Washington, A Restive Congress (C)
7/1/42, Washington, Inflation Camel (C)
7/8/42, Washington, White House Hazard (C)
7/15/42, Washington, Ford Plant Slowdown (C)
7/22/42, Washington, The Higgins Ship Case (C)
8/5/42, Washington, The Higgins Short Cut (C)
8/12/42, Washington, WPB Just Goes Ahead (C)
8/26/42, Washington, Vargas's Statesmanship (C)
9/9/42, Washington, President's Powers (C)
9/16/42, Washington, Sales Tax Not Dead Yet (C)
9/23/42, Washington, Hope in New WPB Set-Up (C)
9/30/42, Washington, Censorship Conflict (C)
10/7/42, Washington, WPB Gets Into Stride (C)
10/14/42, Washington, Interest in Willkie Keen (C)
10/28/42, Washington, Government View of AP (C)
11/4/42, A National Trend (L)
11/18/42, Washington, New Survey of '42 Vote (C)
11/25/42, Washington, War Machine Studied (C)
12/2/42, Washington, Debate on Panama (C)
12/9/42, Washington, Hull Reassures Fighting French (C)
12/16/42, Washington, How Big an Army? (C)
12/23/42, Washington, Nevada Issues Left Open (C)
1/6/43, Washington, Prosperity for Iceland (C)
1/13/43, Washington, Seizure of Utilities (C)
1/20/43, Washington, Marcantonio Rebuff (C)
2/3/43, Washington, The Frozen Wealth of France (C)
2/10/43, Washington, Government's Magazine (C)
2/17/43, Washington, Tinder in WPB Set-up (C)
2/24/43, Washington, Manpower Flaw (C)
3/3/43, Washington, Collective Security (C)
3/10/43, Washington, Standley's Position (C)
3/17/43, Washington, Army and Coal (C)
3/24/43, Washington, Senate Post-War Plans (C)
3/31/43, Washington, 4th Term Strategy (C)
4/7/43, Washington, Uncertainty on Labor (C)
4/14/43, Washington, Double Press Censorship (C)
4/28/43, Washington, Need for Balance (C)
5/5/43, Washington, That House in R Street (C)
5/12/43, Washington, Reckoning Ship Tonnage (C)
5/19/43, Washington, Strategy Senate Issue (C)
5/26/43, Washington, Axiom Again Proved (C)
6/2/43, Washington, Nazis Seen Weakening (C)
6/16/43, Washington, Over-all Food Control (C)
6/23/43, Washington, Effect of Subsidies (C)
6/30/43, Washington, Wallace's Attack (C)
7/7/43, Washington, BEW-RFC Peace 'Urged' (C)
7/14/43, Washington, OWI Wins on U-Boats (C)
9/1/43, Washington, Amity with Russia (C)
9/15/43, Washington, Disbanding in Canada (C)
9/22/43, Washington, Decision Awaited on Marshall Shift
9/29/43, Washington, New Ickes Dispute (C)
10/13/43, Washington, Azores Vital to Allies (C)
10/20/43, Washington, A Quandary for Quezon (C)
11/3/43, Washington, Moscow and the Senate (C)
11/10/43, Washington, Pact a Product of U.S. (C)
11/17/43, Washington, Counting the Soldier Vote (C)
11/24/43, Washington, Pledges On Ballot Bill (C)
12/7/43, Washington, In the Nation: An Opportunity to Justify States' Rights (Editorial)
12/8/43, Washington, Navies Plan Peace Patrol (C)
12/15/43, Washington, Tests for Dewey (C)
12/22/43, Washington, Silence on Parleys (C)
Kuhn, Ferdinand Jr.
2/16/38, London, Austria Capitulates to Germany
3/9/38, London, British to Court Ribbentrop Today
4/18/38, London, Britain May Push Deal with Reich
4/28/38, London, Britain and France Agree on a Defensive Alliance
5/3/38, London, British Gesture to Italy
8/14/38, London, Britain Facing Arab Rising
8/17/38, London, Halifax Dejected on Outlook
8/22/38, London, Franco Rejects Proposal to Withdraw Volunteers
8/30/38, London, New British Warning Likely
9/8/38, London, British Wavering
9/13/38, London, Britain Now Fears Prolonged Strain
9/15/38, London, Chamberlain Flying to Reich
9/17/38, London, London Still Sees Danger
9/19/38, London, Powers Draw Plan (L)
9/28/38, London, New Deadline Reported (L)
9/29/38, London, Hitler Agrees to Parley (L)
10/1/38, London, 'Peace with Honor,' Says Chamberlain
11/22/38, London, Tanganyika is Open (L)
12/14/38, London, Premier Unmoved (L)
12/31/38, London, British Annoyance Spurred
1/21/39, London, Another Nazi Coup Feared by Britain
2/16/39, London, British Increase Program
3/3/39, London, London Sees Gain for Cause of Peace
3/14/39, London, British Hold Aloof from Czech Affair
3/16/39, London, Chamberlain Sees Munich Flouted; Cancels Trade Parleys in Berlin
3/31/39, London, Britain Decides
4/11/39, London, British Ships Weigh Anchor
4/14/39, London, Anglo-French Pledge Widened
4/27/39, London, Reserves on Call
6/13/39, London, British Push Negotiations
7/5/39, London, Soviet Pact Talks are Snagged Anew
8/1/39, London, Chamberlain Firm (L)
8/9/39, London, British Defenses Repel Air 'Enemy' Raiding in Waves
8/18/39, London, Britain Rules Out a 4-Power Parley
8/22/39, London, London Staggered
8/23/39, London, Commons is Called (L)
8/24/39, London, Britain Acts Fast
8/27/39, London, British Stand Firm (L)
8/31/39, London, London Note Blunt (L)
9/1/39, London, British Mobilizing
9/4/39, London, First Nazi Planes Approach England
9/8/39, London, Raid on Nazi Fleet Called big Victory
9/15/39, London, Chamberlain Bars Slaughter
9/19/39, London, Navy is Hard Hit
4/7/40, The French Yellow Book: Diplomatic Documents (1938-1939) (B)
12/1/40,Winston Churchill, by Rene Kraus (B)
Kumlein, Gunnar D.
11/9/43, Stockholm, Sweden, 'Ghost Army' of Allied Fugitives Harasses Germans Below Rome
LaCoss, Louis
10/19/41, St. Louis, New Feeling in St. Louis (W)
Lardner, John
3/27/42, United Nations Headquarters, in Australia, Reporters Daunt Army in Australia
Laurence, William L.
5/30/40, 11,000 Times Speedier Way Found to Obtain Atomic Power Element
9/21/40, Chicago, Chart Vitamin K in Clotting Role
9/8/42, Buffalo, War Spurring Discoveries 20 Years Ahead of Peace
5/12/43, Detroit, Guadalcanal 'Hell' Told to Doctors
6/24/43, Akron, Ohio, Army Reveals Anti-Aircraft Gun Good at 60,000 Feet, a 50% Gain
10/22/43, Philadelphia, New Dressing Omits Tourniquet, May Save Many Lives, Says Army
Lawrence, W.H.
7/31/41, Washington, Warns in Message (L)
9/11/41, Washington, Broad Survey Set
10/26/41, Washington, Key to the Federal Defense Organization (W)
11/16/41, Washington, 53,000 Told to Quit (L)
11/17/41, Washington, Refuse Union Shop (L)
11/18/41, Washington, President Defied (L)
11/19/41, Washington, Union Held Safe (L)
11/23/41, Washington, Dr. Steelman Chief (L)
12/21/41, Washington, Britain-U.S. Confer
2/24/42, Washington, President Speaks
4/1/42, Washington, Roosevelt Says Pacific Body Fights Power of Darkness
4/21/42, Washington, Navy Takes Over (L)
5/20/42, Washington, Airman Decorated
6/6/42, Washington, U.S. Warns Japan
6/10/42, Washington, Two Boards Set Up (L)
6/12/42, Washington, U.S., Soviet Agree
6/15/42, Washington, Ceremonies at White House
6/23/42, Washington, Leaders in Accord (L)
6/27/42, Washington, Litvinoff in Parley
6/28/42, Washington, Report on Parleys
8/13/42, Washington, U.S. Forces Dig In (L)
8/14/42, Washington, Air Blow at Italy from Malta Seen
9/8/42, Washington, Time Ultimatum (L)
9/11/42, Washington, 'Danger' in Rubber (L)
9/15/42, Washington, President Warns Our Production is Only Little Past 'Half-Way Mark'
9/19/42, Washington, Hull Sternly Jogs Japan on Captives
10/2/42, Washington, An 8,754-Mile Tour
10/13/42, Washington, May Draft Labor (L)
11/1/42, Washington, Damaged Ship Lost (L)
11/11/42, Washington, Allies In Accord
1/8/43, Washington, To Disarm the Axis (L)
1/12/43, Washington, A 210 Billion Debt (L)
1/16/43, Washington, War Council Plan of Allies Evolving with Russia, China
2/3/43, Washington, President Implies 1943 Invasion Plan
2/13/43, Washington, Hard Blows in '43 (L)
2/18/43, Washington, Mme. Chiang Guest of the President
2/19/43, Washington, Delay Aids Enemy
3/11/43, Washington, Post-War Program (L)
3/13/43, Washington, Briton in Capital (L)
3/14/43, Washington, Lend-Lease In Favor on Its Second Birthday (W)
3/15/43, Washington, Senators in Move
4/9/43, Washington, Acts on Inflation (L)
4/21/43, Monterrey, Mexico, Meet in Monterrey (L)
5/12/43, Washington, Invasion One Topic (L)
5/15/43, Washington, Blows in Europe and the Far East Promised in Churchill Broadcast
5/20/43, Washington, Cities to Be 'Ashes' (L)
5/22/43, Washington, Staffs Reach Strategy Decisions; Roosevelt, Churchill Study Them
5/29/43, Washington, 'High Speed' is Aim (L)
6/9/43, Washington, President Solemn
6/26/43, Washington, Congress Rebels (L)
8/3/43, London, 8th Air Force Gets 'Home Folks' Visit
8/6/43, London, Strategy Meetings of Chiefs Unlikely
8/25/43, London, Germany Still First Target for Allies, London Believes
9/12/43, London, 22 Ships at Malta (L)
10/14/43, Moscow, Moscow Bars Talk on Boundaries; Puts Victory First as Parley Topic
10/22/43, Moscow, Anglo-U.S. Hopes Rising in Moscow
11/2/43, Moscow, Accord in Moscow (L)
11/6/43, Moscow, Russian Maps Show Huge Gains in Offensives to Expel Invaders
11/17/43, Moscow, Izvestia Praises Allied War Deeds
11/29/43, Kiev, Russia, 50,000 Kiev Jews Reported Killed
11/30/43, Kiev, Russia, Speed of Nazi Exit Helped Spare Kiev
12/4/43, Moscow, Cossack Loses Horse by Saving an Ostrich, but All ends Well, Thanks to the Infantry
12/13/43, Moscow, Pact with Czechs Signed in Moscow
12/17/43, Moscow, Kharkov Slayers Tried by Russia
12/18/43, Moscow, Nazis Admit Trumping Up Charges to Execute Soviet War Captives
12/29/43, Moscow, Kiev Offensive Fans Out
12/30/43, Moscow, Rusians Gain in Seesaw
Lee, Clark
1/19/42, With the Sixtieth United States Coast Artillery, on the Bataan Peninsula, P.I., MacArthur's Anti-Aircraft Experts Keep Japanese High in the Air
2/4/42, With the United States Forces, in Bataan, Philippines, Bataan Vigilance Balks Japanese in Attack under Bright Moonlight
2/8/42, With General M'Arthur's Force in Western Bataan Peninsula, Tanks Aid Mop-Up of Foe on Bataan
2/9/42, On the Bataan Peninsula, Difficulties in Bataan Travel
2/10/42, On Bataan Peninsula, Sights on Bataan
2/16/42, On Bataan Peninsula, Bataan 'One-Man Army' Kills 116 on Raids Behind Japanese Lines
4/11/42, Melbourne, Australia, Bataan Fall Laid to First Air Blow
4/15/42, Melbourne, Australia, Cebu's Defenders Short of Weapons
4/16/42, Melbourne, Australia, Planes on Bataan Wrought Wonders
9/19/43, An Advanced Allied Command Post, Two U.S. Officers Risked Death to Visit Badoglio on Invasion Eve
Lee, John E.
10/8/43, With the British Home Fleet, Nazis Heavily Hit in Raid on Norway
Lee, Paul Kern
7/22/43, Aboard a British Cruiser Off Catania, Sicily, British Navy Guns Aid Catania Fight
9/6/43, Behind the Enemy Lines, in Italy, Commandos Seize 200 Men in Italy
Leiper, Henry Smith
6/8/42, Churchmen Who Defy Hitler-I: Bishop von Galen of Germany
6/9/42, Churchmen Who Defy Hitler-II: Bishop Berggrav of Norway
6/10/42, Churchmen Who Defy Hitler-III: Archbishop de Jong of Holland
6/11/42, Churchmen Who Defy Hitler-IV: Patriarch Gavrilo of Yugoslavia
6/12/42, Churchmen Who Defy Hitler-V: Cardinal van Roey of Belgium
6/13/42, Churchmen Who Defy Hitler-VI: Karl Barth of Switzerland
Leurquin, Robert
9/4/38, Paris, 'Crust' of Gunpowder Guards France (W)
Leviero, Anthony H.
6/22/38, U.S. Jury Indicts 18 as Spies in Reich Government's Pay
9/29/40, Fort Dix, N.J., Field Service Welds Guard (W)
11/25/40, Fort McClellan, Ala., Old 69th Joined by Private Mouse
Levy, Joseph M.
7/3/38, Jerusalem, Palestine Events Increase Despair (W)
8/6/38, Jerusalem, Palestine Division Rises in New Form
9/11/38, Jerusalem, Arabs in Palestine Greet War Threat
9/15/38, Jerusalem, Arab Nations Lose Zeal on Palestine
10/4/38, Jerusalem, 21 Slain by Arabs in Palestine Raid
12/2/38, Jerusalem, Arab Group Offers Aid to the British
5/21/39, Jerusalem, Jerusalem Disappointed (W)
11/12/39, Cairo, The Near East is Prepared (W)
2/13/40, Suez, Egypt, Van of ANZAC Army Debarks at Suez; Force Put at 30,000
6/23/40, Cairo, Alexandria Fights First Italian Raids
7/5/40, Cairo, Raider over Kamaran
7/21/40, Cairo, British Raid Bases of Italy in Africa
8/6/40, Cairo, British Claim Five Planes
8/7/40, Cairo, French Somaliland a Base
8/8/40, Cairo, Fascisti Get Zeila
8/10/40, Cairo, 15 Italian Planes Reported Downed by R.A.F. in Libya
8/11/40, Cairo, Italians' Advance Harried by R.A.F.
8/12/40, Cairo, Italians Continue Drive
8/17/40, Cairo, R.A.F. Intensifies Bombing in Africa
9/17/40, Cairo, British Engage Foe in Egyptian Battle
9/20/40, Cairo, Italians in Egypt Shelled from Sea
9/23/40, Cairo, Egyptian Masses Wish No War Now
9/25/40, Cairo, R.A.F. Pounds Italian Bases
10/5/40, Cairo, Nazi Move by Sea to Libya Foreseen
10/10/40, Cairo, Reported to Spurn Help
10/21/40, Cairo, 250 Americans Imperiled
10/27/40, Cairo, Power of British in Egypt Growing
5/27/41, Arabs' Prejudices Big Factor in Iraq
12/2/41, Cairo, U.S. Tanks Finest in Libya; Rout Heavier Nazi Machines
12/3/41, Cairo, Tobruk Line is Cut
12/4/41, Cairo, Battle in Africa Marking Time
12/5/41, Cairo, R.A.F. in Libya Pounds Axis Units
12/6/41, Cairo, British Defeat Axis Units in Heavy Fighting, but Lose Gambut
12/8/41, Cairo, Battle of Tanks Reopens in Libya
12/9/41, Cairo, Nazis Thrust Back in Libyan Fighting
12/10/41, Cairo, Germans in Libya Retire Westward
12/11/41, Cairo, Libyan Port Freed
12/12/41, Cairo, Nazi Withdrawal in Africa Goes On
12/13/41, Cairo, British Push West in Libyan Advance
12/14/41, Cairo, British Pound Foe Retiring in Libya
12/15/41, Cairo, Axis Forces Fight Pursuers in Libya
12/16/41, Cairo, British Unchecked in Libyan Advance
12/17/41, Cairo, Last Axis Tanks Fighting in Libya
12/19/41, Cairo, Retreat in Africa
12/20/41, Cairo, British Take Derna Airport and Press Pursuit in Libya
12/31/41, Cairo, Axis Tank Sortie in Libya Smashed
1/18/42, Cairo, Middle East Expects Blows (W)
1/24/42, Cairo, Germans in Libya Retake Agedabia
1/25/42, Cairo, Battle is Joined Beyond Agedabia
1/27/42, Cairo, Germans in Africa Go 45 More Miles
1/29/42, Cairo, Germans' Libyan Drive Checked as RA.F. Exacts Increasing Toll
1/30/42, Cairo, Axis Reaches Er Regima
2/1/42, Cairo, Upset in Libya Shows Woes of a Desert War (W)
2/3/42, Cairo, Germans in Libya Still Drive Ahead
2/5/42, Cairo, Rommel Advances
2/16/42, Cairo, Kittyhawks Win Libyan Air Battle
2/19/42, Cairo, Nazis Fade Back on Libyan Front
2/24/42, Cairo, Rommel Bolsters His Libyan Front
3/23/42, Cairo, Hard Blow Dealt Germans in Libya
3/27/42, Cairo, Fierce Air Raids on Malta Continue
4/3/42, Cairo, Indian Ocean Held Vital Battle Zone
5/15/42, Cairo, Nazi Troops in Air Fought R.A.F. Blow
5/29/42, Cairo, 2 Thrusts in Libya (L)
6/1/42, With British Forces, in the Western Desert, Nazis Held in Libya
6/2/42, With British Forces, in Libya, British in Libya Rip Nazis' Power Myth
6/3/42, With British Forces, in Libya, Grant and Lee Tanks Firing 75s a Big Factor in Repelling Rommel
6/4/42, Cairo, Battle in Desert is Centered on Axis Salient in Mine Field
6/5/42, Cairo, Planes Pound Axis Units in Libya; British Recapture a Strong Point
6/7/42, Cairo, Axis in Libya Hit
6/7/42, Cairo, Desert War Still Indecisive (W)
6/9/42, Cairo, British Guns Halt Nazi Push in Libya
6/12/42, Cairo, Bir Hacheim Falls to Axis in Libya; Free French Retire after 16 Days
6/13/42, Cairo, Nazis Strike Out from Bir Hacheim
6/14/42, Cairo, Axis Libyan Army Closer to the Sea
6/15/42, Cairo, British Still Hold Off Foe in Battle for Tobruk Road
6/16/42, Cairo, Tank War Raging to Climax in Libya
6/17/42, Cairo, Nazis Spring Trap in Libya but Find Quarry has Fled
6/19/42, Cairo, Desert Units Split
6/20/42, Cairo, Libyan Units Dig In
6/23/42, Cairo, Axis Tanks Pause at Egypt's Border
6/25/42, Cairo, Rommel's Forces Swing from Coast
6/27/42, Cairo, Egypt Crisis Near
7/9/42, British in Egypt Seen in Dire Peril
12/20/43, Ankara, Turkey, Balkan Sentiment Seen Cool to Kings
Lewis, Herbert
6/29/41, St. Paul, Wheat Country Feels Cross-Currents (W)
10/19/41, St. Paul, Northwest is Uncertain (W)
3/22/42, St. Paul, Northwest's Farmers Voice Complaints (W)
5/3/42, St. Paul, Farmers of Northwest Voice Some Dissent (W)
Leysmith, W.F.
6/3/39, London, Tapping is Heard (L)
8/11/39, London, England Has Greatest Black-Out Since the War, With London Dark
3/26/40, London, End-the-War Move Appears in Britain
4/27/40, London, London Art Prices Suddenly Soar above Levels at Peak of 1919 Boom
8/10/40, London, Nazi Plane Losses Now Placed at 60
8/11/40, London, Guernsey Bombed in Wide R.A.F. Raids
8/15/40, London, Big Manhunt is On (L)
8/16/40, London, Factories Target (L)
8/17/40, London, Italy Again Raided by British Planes
8/21/40, London, Single mass Raid Made on England
8/22/40, London, Heavy Bombs Used (L)
8/23/40, London, City's Suburbs Hit (L)
8/25/40, London, Worst Damage Yet (L)
8/26/40, London, Attack Scale Cut
8/28/40, London, 2 London Attacks
8/30/40, London, London Attacked; R.A.F. Repels Raids
Lincoln, Charles M.
7/30/39, Time is Britain's Ally in Rush to be Ready (W)
Lissner, Will
6/28/42, Invaders Confess (L)
8/11/43, Quebec, Conferences Begin (L)
8/14/43, Quebec, U.S. Staff Chiefs in Quebec; Major Parleys Open Today
Lochner, Louis P.
5/21/40, With the Western German Armies, On the Attack
5/24/40, With the German Armies on the Western Front, Swastika Flies on Channel Coast; Nazis Eager to Invade England
5/17/42, Lisbon, Italy Embittered by War; Germans Also Losing Faith
Lodge, J. Norman
1/3/43, With the United States Fleet, in the South Pacific, Halsey Predicts Victory This Year
Logan, Walter
1/27/43, Casablanca, French Morocco, President Pays Surprise Visit to U.S. Troops in Morocco
Long, Tania
9/3/42, 3 British Women's Units Cleared of Drunkenness and Immorality
Lucas, Sgt. James G.
12/4/43, Tarawa, Grim Tarawa Defense a Surprise, Eyewitness of Battle Reveals
MacCormac, John
9/3/39, Ottawa, Canada Confident on British Course
9/6/39, Ottawa, Canada Not Listed in Embargo Order
11/8/40, Washington, Needed for Arming (L)
1/9/41, Washington, Treasury Sums Up Deficit Financing
5/19/41, Washington, Defense Vital Now (L)
12/3/41, Washington, British Dominions are Watching U.S.-Japanese Parleys Intently (L)
1/10/42, Washington, Malay War Means More Lease-Lend
4/11/42, Washington, Marshall Seeking an Offensive Now
5/22/42, Washington, A Withholding Tax of 10% is Proposed by the Treasury
7/12/42, Washington, Oil Held Key to Hitler's Strategy (W)
12/7/42, Washington, Agencies Merged (L)
12/20/42, Washington, Wider Social Security a Major Roosevelt Aim (W)
8/22/43, Washington, New and Heavier Load Ahead for Taxpayers (W)
12/3/43, Washington, Allies Not Agreed on Stabilization
MacDonald, James
11/24/39, London, Mines Wreck 5 More Merchantmen, Bringing Total to 22 for 6 Days
1/15/40, London, Peril Kept Secret (L)
1/24/40, London, 5th British Destroyer Sunk; Crew, 175 or More, All Lost
2/4/40, London, Raid British Coast
2/18/40, London, Altmark Captives Relate Sufferings
2/29/40, London, British Fliers Soar over Berlin Again
3/2/40, London Nazis Raid Convoy; Say Ships Were Hit
3/18/40, London, Foes Exchange Raids
3/23/40, London, British Submarine Sinks German Ship
5/20/40, London, British Again Raid Nazis' Oil Supplies
5/29/40, London, Six German cities Attacked by R.A.F.
6/8/40, London, Nazi Planes Raid 12 British Counties
6/17/40, London, British Take Toll from Italy's Navy
6/20/40, London,England is Raided
6/21/40, London,British Raid Reich
6/22/40, London, Britain is Bombed
6/23/40, London, Arms Plant is Hit
6/24/40, London, France to Disarm (L)
6/30/40, London, British Fliers Set Big Fires in Reich
7/1/40, London, Britons and Nazis Continue Bombing
7/3/40, London, Scharnhorst Hit
7/4/40, London, Raids in Wide Area
7/5/40, London, 20 Nazi Bombers Raid British Naval Base; Sink Three Ships and Injure Vacationists
7/8/40, London, Kiel and Bremen Bombed
7/11/40, London, Nazis Raid in Force
7/12/40, London, Coasts Attacked
7/13/40, London, Wide Areas Raided
7/14/40, London, British Defenders Bag 12 Nazi Planes
7/19/40, London, Nazi Bombs Smash Scottish Tenement, Hit near Trolley
7/20/40, London, 150 Planes Battle over British Coast
7/21/40, London, Sky Battles Fierce (L)
7/22/40, London, Raid is Broken Up (L)
7/25/40, London, British Beat Back Five Nazi Raids
7/26/40, London, R.A.F. Fliers Fight Hundreds of Nazis
7/28/40, London, R.A.F. Raids France
7/28/40, London, Britain's Hope Based on Her Air Defenses (W)
7/29/40, London, R.A.F. Fights Raids, Pounds Nazi Bases
7/31/40, London, French Help R.A.F. to Bomb Germany
8/1/40, London, Battle High in Sky
8/3/40, London, Savage Raids by R.A.F.
8/4/40, London, Nazi Bases Bombed
8/5/40, London, Raids Widespread
8/14/40, London, Plane Loss Heavy (L)
8/15/40, London, Raid Milan, Turin
8/16/40, London, Reich Oil Supplies Bombed by British
8/19/40, London, British Claims are Held Reliable; American Note Check at Air Base
8/20/40, London, Italian Cities Hit
8/21/40, London, R.A.F. Pounds Bases
8/23/40, London, Nazis Rain Shells at British Convoy
8/24/40, London, Big British Guns and Planes Reply to Nazi Artillery
8/25/40, London, British Pound Foe
8/26/40, London, British in Wide Raids
8/27/40, London, R.A.F. Lists Berlin Among Places Hit
8/29/40, London, Axis Bases Attacked
9/1/40, London, Berlin Battered 3 Hours
9/2/40, London, City Pounded, British Say
9/3/40, London, Targets in Munich Bombed by British
9/5/40, London, Woods are Bombed
9/7/40, London, Danubian Oil Port Raided
9/8/40, London, R.A.F. Raids Blast Reich War Plants
9/9/40, London, Bases for Invasion Battered by R.A.F.
9/10/40, London, R.A.F. Retaliates
9/12/40, London, Navy Helps R.A.F. (L)
9/15/40, London, Nazi Docks Bombed
9/17/40, London, Ports Fired Anew
9/18/40, London, Blow to Invasion (L)
9/19/40, London, Invasion Bases Hit (L)
9/20/40, London, Storm Helps R.A.F. to Block Invasion
9/21/40, London, Nazi Bases Struck (L)
9/22/40, London, Channel is Lighted (L)
9/23/40, London, R.A.F. Bombers and Storm Pound the 'Invasion Ports'
9/26/40, London, Channel Bases Hammered
10/1/40, London, Nazi War Plants Battered
10/2/40, London, 'Bertha' Bases Hit (L)
10/3/40, London, Arms Plant is Hit (L)
10/4/40, London, Hamburg is Raided 2 Hours by British
10/6/40, London, Large Fires Seen (L)
10/7/40, London, 'War Machine' Hit (L)
10/10/40, London, Reich Heavily Hit
10/12/40, London, French Port Afire (L)
11/7/40, London, Nazis in Force Raid London for Hours
11/9/40, London, R.A.F. Bombs Rain upon U-Boat Base
11/11/40, London, New Air Blow Seen as Hitler Revenge
11/12/40, London, Nazis Lose 14 Craft (L)
11/20/40, London, 3-Hour R.A.F. Raid Blasts Oil Plant
11/21/40, London, Arms Plant Fired, R.A.F. Men Report
11/29/40, London, Raid on Port Heavy
12/9/40, London, Bombs Rain on City
12/23/40, London, Strike Near Venice (L)
12/30/40, London, Battle in Atlantic
1/5/41, London, Night Raids Major Problem (W)
1/10/41, London, Nazi Sea Bases Struck
1/18/41, London, Nazis Bomb Town in South of Wales
2/9/41, London, Fires Set in Port
2/10/41, London, Fires Set in Port (L)
2/12/41, London, Hanover Set Afire
2/16/41, London, British Fight off Mass Nazi Raiders
2/24/41, London, 8 Axis Ships Sunk in Mediterranean
2/26/41, London, R.A.F. Raids Brest, Attacking Berth of Reich Cruiser
2/28/41, London, Cologne Fires Set in Big R.A.F. Raid
3/5/41, London, Nazis Again Pound Wide British Area
3/9/41, London, Searing Night Raid Strikes at London
3/10/41, London, Nazis Strike Hard at London Again
3/14/41, London, R.A.F. Strikes Hard (L)
3/15/41, London, Nazi Bombers Range Britain as Defenses Take Rising Toll
3/17/41, London, British Girls, Men Drafted for Work
3/24/41, London, Plane Record Set
5/9/41, London, Raids Widespread (L)
5/11/41, London, Nazis Bomb Widely (L)
5/12/41, London, Reich Port Seared
6/9/41, London, Airfields Blasted
6/16/41, London, R.A.F. Bombs Fire Cologne Factories
7/17/41, London, R.A.F. Bombs Ships and Big Industries
7/20/41, London, British Open 'V' Nerve War; Churchill Spurs Resistance
7/21/41, London, 'V' Signal Rallies Peoples in Europe
7/27/41, London, Biggest Bombers Raid Reich Cities
7/28/41, London, London Bombed after Long Lull
8/4/41, London, Nazi Capital Bombed Hard; Hamburg and Kiel Targets
8/10/41, London, R.A.F. Sears Kiel, Hamburg; Bags 18 Nazis in Day Raids
8/11/41, London, R.A.F. Hammers Nazis on Coast
8/14/41, London, British Bomb a Vast Area; Raiders Defy Bad Weather
9/9/41, London, Visit Arctic Isles
9/24/41, London, Maisky Says Foe Lost 3,000,000 Men
9/30/41, London, Raiders Fly Far (L)
10/11/41, London, Britons Training to Invade Europe
10/23/41, London, Many Nazi Bases are Hit by R.A.F.
11/13/41, London, Sea Toll Reduced
11/14/41, London, Britain Welcomes Ship Bill Decision
11/22/41, London, Brett Views Libya as U.S. Plane Test
12/11/41, London, Blow Staggers London
1/3/42, London, Serbian Prelate Charges Killing of 180,000 in Nazi-Invaded Croatia
1/19/42, London, Official Detained
1/27/42, A Northern Irish Port, Secret Trip Made (L)
2/15/42, London, Foe Moves on City
2/16/42, London, British Capitulate (L)
2/17/42, London, Japanese Report Capture of 60,000 at Singapore
3/12/42, London, British Hit at Ship
3/20/42, London, Battle Developing in Central Burma
3/21/42, London, Fight at Toungoo
5/21/42, London, Big Bomber Force Raids South Reich
6/9/42, London, R.A.F. Centers Big Attacks on Germans' Channel Front
6/13/42, London, King Asks Good-Will in Message to India; Gandhi Seeks to Oust U.S.-British Forces
6/21/42, London, R.A.F. Raids Emden; Pounds Nazi Bases
7/2/42, Londonderry, Northern Ireland, U.S. Constructs Large Naval Base in Ireland for Battle of Atlantic
9/7/42, London, Heaviest U.S. Raids
9/18/42, London, Wiesbaden Target
10/5/42, Somewhere in Sussex, Sussex Villagers Run War Factory
10/11/42, London, U.S. Bombers' Toll at Lille 48 Planes and 38 'Probables'
10/26/42, London, Desert Gain Held (L)
10/31/42, London, Egypt Drive Gains
11/1/42, London, Biggest Day Raid on Britain in 2 Years Hits Canterbury
11/5/42, London, British Sweep On (L)
11/7/42, London, 110 Miles from Starting Point
11/9/42, London, General Giraud Emerges to Urge French in Africa to Join Allies
11/22/42, London, Italy's Worst Raid
11/23/42, London, Tunis Airfield Hit
11/25/42, London, Himmler Program Kills Polish Jews
11/29/42, London, 1940 Order Behind Scuttling of Toulon Ships, Vichy Says
11/30/42, London, Allies Cut Road and Rail Line Linking Tunis and Bizerte
12/4/42, London, 7 Axis Ships Sunk on Way to Tunisia
12/5/42, London, Allies Lose Towns (L)
12/6/42, London, Africa Aid Rushed
12/6/42, London, Italian Peace Seen Only by Conquest (W)
12/7/42, London, Camel Corps Takes Heights; Fierce Tunisia Battle Rages
12/8/42, London, Our Line Unbroken (L)
12/9/42, London, Enemy is Hit Hard (L)
1/18/43, At an R.A.F. Bomber Station, Somewhere in England, Fires Rage in City (L)
1/23/43, London, Big Allied Air Attacks in Europe Follow New R.A.F. Raid on Ruhr
1/28/43, At a United States Bomber Station, in England, Big Bombers Score (L)
1/29/43, London, 'Thunderbolt' Raid Hists Duesseldorf
1/31/43, London, Two Blows in Day (L)
2/4/43, London, Allied Air Armada Wrecks Rebuilt Plants at Cologne
2/5/43, London, Fortresses and R.A.F. Raid Reich Around the Clock
2/6/43, London, R.A.F. Blasts Turin, Lorient and Ruhr
2/13/43, London, Wilhelmshaven Raided Hard by R.A.F. in War on U-Boats
2/14/43, London, India Stays Calm as Gandhi Fasts (W)
2/15/43, London, U-Boat Lair Raided
3/3/43, London, R.A.F. Strikes Hard (L)
3/13/43, London, Lorient 'Bullseye' for U.S. Bombers
5/9/43, London, Invasion Fears Hang Over the Axis (W)
5/17/43, London, British Bells Hail Victory in Tunisia
5/22/43, London, Sinclair Calls Air Victory Short-Cut
6/14/43, London, Britain Forms Tactical Air Force in Preparation for the Offensive
6/20/43, London, Duesseldorf Plants Razed in Biggest Ruhr Raid June 11
6/21/43, London, Escort Carrier Helps Convoys Win Five-Day Battle with U-Boat Packs
7/6/43, London, British Go Ashore on Crete, Raid Airfields and Retire
7/20/43, London, British Press is Solid in Support of Bombing War Targets in Rome
8/1/43, London, Heightened Air War Has a Fourfold Aim (W)
8/21/43, London, Civil Air Plan Set, Beaverbrook Says
11/4/43, London, Britons with Hearty Appetites Find 'Pubs' and State Restaurants Best
MacDonald, W.A.
6/5/38, Holds Federal Aid Vital to Education
MacLennan, Nancy
1/8/43, Washington, Women in House Divided in Views
2/20/43, Washington, Mme. Chiang Poises as If for Flight
Mallon, Winifred
11/6/43, Washington, Explains Halting of FCC Unit Shift (In Moview Review post)
Manly, Chesly
12/4/41, Washington, Goal is 10 Million Armed Men; Half to Fight in AEF (L) (Chicago Daily Tribune)
Martin, John
12/1/40, Ballet Gives 'Les Presages' (Dance review)
5/22/43, 'Wanderer' Given by Ballet Theatre
Matthews, Herbert L.
3/14/38, Barcelona, Rebels in Alcaniz, 45 Miles from Sea
3/30/38, Barcelona, Rebel Push Slows
4/6/38, Barcelona, Holding a Big Rebel Force at Bay, 150 Men Covered Gandesa Flight
8/17/38, Barcelona, Rebels Set Back on Almaden Front
11/27/38, Barcelona, Terror Increases in Barcelona Raids
12/2/38, On the French-Spanish Frontier, American Fighters Leave Spain Today
12/27/38, Barcelona, Writer Finds No Advance
2/5/39, Perpignon, France, Figueras being Evacuated
5/9/39, Rome Italy Calls People to Back Alliance
5/21/39, Rome, New Tie to Reich Troubles Italians (W)
7/5/39, Rome, Italy Holds Aloof in Danzig Dispute
7/30/39, Rome, Fascism Resumes Home Jobs (W)
8/8/39, Rome, Italy's War Games End Abruptly, with Mussolini Strangely Absent
8/9/39, Rome, Pope's Key is Renunciation
8/14/39, Rome, Rome Sees a Victory
8/17/39, Rome, Italy Warns Poles Not to Fight
9/4/39, Rome, Italy Fails to Act as Her Ally Fights
10/28/39, Rome, First Encyclical
11/4/39, Rome, U.S. to Enter War, Rome Writer Says
11/11/39, Rome, Pope Voices Hope for World Unity
11/12/39, Rome, Pius XII Criticizes Lack of Religion in Schools of U.S.
11/12/39, Rome, Danger Rising in Balkans (W)
11/16/39, Rome, Mussolini Bids Students Keep Rifles Handy; 'Not a Cowardly Peace but an Armed Peace'
11/19/39, Rome, Pius XII: Militant for Peace (NY Times Magazine)
12/23/39, Rome, Himmler as Envoy
12/31/39, Rome, Pope Works Constantly for Peace (W)
1/15/40, Rome, Italy is Disturbed by Neutrals' Fear
1/25/40, Rome, Vatican Continues Atrocity Charges
1/30/40, Rome, Prelate Gives Interview
2/25/40, Rome, Vatican Works for Future Peace (W)
2/26/40, Rome, Welles in Rome; Greeting is Mild
2/27/40, Rome, Rome Talk Cordial (L)
3/10/40, Rome, Ribbentrop to See Pope Tomorrow; Pontiff is Likely to Urge Peace
3/11/40, Rome, Nazi Envoy's Visit held Fruitless So Far, as Coal Accord Ends Crisis
3/12/40, Rome, Nazi Conciliatory
3/13/40, Rome, Ribbentrop's Visit in Rome a Failure
3/19/40, Rome, Germany is Said to Propose Peace on Basis of Old Four-Power Pact
3/23/40, Rome, Advice of Italians Sought by Teleki
3/25/40, Rome, Pontiff Condemns Injustices of War
5/7/40, Rome, Pius Sees Humbert (L)
5/20/40, Rome, Italian War Move Indicated by Ciano
5/27/40, Rome, Italy's War Entry after June 10 Seen
6/11/40, Rome, Duce Gives Signal (L)
6/12/40, Rome, Rome Awats News of Mussolini's War
6/15/40, Rome, Italians in Clash on French Border
6/16/40, Rome, Invasion of Savoy by Italy Reported
6/21/40, Rome, French Ask Italy for an Armistice
6/25/40, Rome, Halt at 12:35 A.M. (L)
7/4/40, Rome, Britain Promises Not to Bomb Rome
7/13/40, Rome, New Sea Victory Claimed by Italy
7/14/40, Rome, Sea Lane Held Cut
7/17/40, Rome, Warning to Britain by Hitler Expected
7/19/40, Rome, Russia is Warned not to 'Trick' Axis
8/1/40, Rome, British 'Knockout' is Held Unlikely
8/6/40, Rome, Fierce Air Fights Rage over Africa
8/25/40, Rome, Italians Pressing Air Raids in Egypt
9/13/40, Rome, Fighting in Africa (L)
9/16/40, Rome, Italy's Army Goes Deeper into Egypt
9/18/40, Rome, Sidi Barrani Taken
9/19/40, Rome, Rome Parley Today
9/30/40, Rome, Rome Talk is Near
10/4/40, Rome, Dictators on Way (L)
10/5/40, Rome, Meet at Brenner (L)
10/8/40, Rome, Times Reporter Expelled by Italy
11/24/40, Rome, Italy Welcomes Rumania
11/25/40, Rome, Pope Asks Peace, but is Pessimistic
12/4/40, Rome, Christmas Truce Proposed by Pope
12/7/40, Rome, Fascist Gets Post (L)
12/12/40, Rome, Ferment in Italy
12/14/40, Rome, British Advance Conceded in Rome
12/23/40, Rome, Marshal is Frank
12/24/40, Rome, Italy May Print Speech
12/30/40, Rome, Axis Spurns Peace by U.S. Mediation
1/3/41, Rome, Rome Calls Fliers Back from France
1/8/41, Rome, Rome Sees Axis Tie Tightened by Loss
1/12/41, Rome, Rome Claims Hits
1/13/41, Rome, Italians Claim Sinking of Cruiser in Fight with British off Sicily
1/19/41, Rome, Dictators to Meet in Germany Today to Map New Moves
1/29/41, Rome, 2 More Ministers to Fight for Italy
2/7/41, Rome, Italians Warned to Live Up to War
2/24/41, Rome, Duce Pledges Push (L)
3/4/41, Rome, Rome Says British Land at Salonika
3/9/41, Rome, British Fall Back to Tobruk in Libya
4/15/41, Rome, Koritza Retaken, Italians Declare
5/10/41, Rome, 6 British Warships Hit, Italy Reports
5/26/41, Rome, Rome Reports on Battle
5/30/41, Rome, Italians Land on Crete
6/2/41, Rome, Pope Asks Opening of Land to Settlers in a 'New Order'
6/16/41, Rome, Swift Rome Reply
6/18/41, Rome, Italy Issues Writ Blocking U.S. Funds
6/19/41, Rome, Rome Reports Victory
6/27/41, Rome, Italy Sending Expeditionary Force to Aid Nazis in Attack on Russia
6/30/41, Rome, Pope Keeps Silent on Axis 'Crusade'
8/8/41, Rome, Bruno Mussolini Dies in Air Crash
9/17/41, Rome, Pope Said to Bar Roosevelt Plea to Call War Just
9/23/41, Rome, Raid Toll 3 Ships, Says Rome; British Torpedo 2 Big Liners
10/1/41, Rome, Curbs Stun Italy, Stocks Sag; New Radical Steps Forecast
10/4/41, Rome, Pope Denounces Curbs on Marriage and Deplores 'Mania for Divorce'
10/29/41, Rome, Mussolini Warns He Will Crush Us
11/19/41, Rome, Italians Arrest American Rector
11/26/41, Rome, Axis Sees British Blocked in Libya
11/29/41, Rome, Italians Surrender Gondar, Last East African Outpost
12/9/41, Rome, Rome Backs Japan, Dodges War Issue
5/17/42, Lisbon, Italy Embittered by War; Germans Also Losing Faith
9/4/42, New Delhi, India, Fiery Pamphlets are Issued in India
10/5/42, Somewhere in Eastern India, U.S. Training Given to Chinese in India
11/23/42, New Delhi, India, Viceroy's Decision is Called Unwise
1/12/43, New Delhi, India, Appetite of Yanks Cuts Food in India
2/18/43, New Delhi, India, 3 Aides of Viceroy Quit Over Gandhi
2/22/43, New Delhi, India, U.S.-British Talks on India Progress
3/30/43, Benaires, India, College Students Unruly in India
5/16/43, Kabul, Afghanistan, Afghanistan Sees Isolation Ending; Primitive Land Awaits War Role
5/25/43, New Delhi, India, Food Lack in India Eclipses Politics
5/27/43, Calcutta, India, India's Moslems Win Control in Northwest Frontier Province
7/2/43, Srinagar, Kashmir, Ruler of Kashmir Lives in Splendor
7/12/43, Allied Headquarters in North Africa, Invaders Press On
7/14/43, Allied Headquarters in North Africa, Junction is Major Gain
7/15/43, Allied Headquarters in North Africa, Foe's Sicilian Lines Ravaged as Allies Destroy 42 Planes
7/16/43, Allied Headquarters in North Africa, Biscari Captured
7/18/43, Allied Force Headquarters in North Africa, Allies in Sicily Follow Path of Conquerors (W)
7/20/43, Allied Force Headquarters in North Africa, Raid is Explained
7/21/43, Allied Force Headquarters in North Africa, Damage to Shrines is Kept to Minimum
7/22/43, Allied Force Headquarters in North Africa, Eisenhower Sees Slower Advance
7/23/43, Allied Force Headquarters in North Africa, Marsala Reached (L)
8/3/43, Seventh Army Headquarters, Sicily, PT Boats Battle Sea for 2 Nights
8/7/43, On the Sicilian Front, Fierce Battle for Troina Viewed by Correspondent
8/9/43, Troina, Sicily, Troina a Town of Horror, Americans Find on Entry
8/19/43, Messina, Sicily, Americans' Way Lit by Full Moon on Last Night of Battle for Messina
8/23/43, Allied Headquarters in North Africa, City Now Isolated (L)
8/27/43, Allied Headquarters in North Africa, P-38's Blast Foggia
9/9/43, American Seventh Army Headquarters, Sicily, Armistice Cast Shadow in Sicily
9/17/43, With U.S. Fifth Army, Fifth Army Beats Germans Soundly
9/18/43, With the American Fifth Army in Italy, Americans Go Hunting
9/19/43, With the American Fifth Army in Italy, Germans Continue Their Withdrawal
9/24/43, With the Fifth Army in Italy, Germans in Italy are Using Tactics of Demolition Employed in Sicily
10/1/43, With the Fifth Army in Italy, Naples Line Abruptly Melted, Pouring Allies Onto the Plain
10/2/43, Naples, Naples Goes Mad with Joy as Grim Allied Push Ends
10/3/43, Naples, Naples Showers Gifts on Allies
10/6/43, Naples, Italian Navy Officers Led Battles against Germans inside Naples
10/11/43, Naples, Time Bomb Kills Twelve in Naples Just before Clark Goes to Mass
10/28/43, Benevento, Italy, U.S. Hero Outwits Foe to Take Hill, Then is Killed by Stray Mine Blast
11/6/43, Naples, Naples Students Cry 'Down With King' but Street Crowds Cheer Victor Emmanuel
11/18/43, With the Fifth Army in Italy, Weather Aids Germans
11/21/43, Naples, Allies Ease Curb on Italian Press
11/29/43, With the Fifth Army in Italy, Salerno Secured by 45th Division
12/1/43, With the Fifth Army, in Italy, Fifth Army Flanks Germans
12/3/43, With the Fifth Army in Italy, Americans Battle the Mud in Italy
12/4/43, With the Allied Fifth Army in Italy, General Clark Caught in German Barrage on Fifth Army Front but Escapes Injury
12/5/43, With the Fifth Army, in Italy, New Drive in Italy (L)
12/11/43, With the Fifth Army in Italy, Italians in Action against Germans
12/18/43, With the Fifth Army in Italy, Italians Take Hill in San Pietro Area
12/21/43, With the Fifth Army, in Italy, Germans Badly Punished
12/24/43, At an Advanced Command Post in Italy, Eisenhower Holds War in Italy Sound
Maynard, Theodore
10/3/43, Gilbert Keith Chestorton, by Masie Ward (B)
McCarthy, Francis
11/14/43, Aboard a United States Aircraft Carrier Off Rabaul, Carrier Hellcats Chewed Up Enemy
McCormick, Anne O'Hare
3/3/39, Berlin, New Pope Praised Fight on 'Heresies'
7/21/40, Chicago, The New Deal is the Issue, Conventions Reveal (W)
6/22/42, The Problems of Lasting Peace, by Herbert Hoover and Hugh Gibson (B)
8/18/43, In the Strait Between Scylla and Charybdis (Editorial)
McDaniel, C. Yates
2/11/42, Singapore, British Fall Back
2/12/42, Singapore, Smoke Hides Sun in Singapore as War Waxes on City's Outskirts
2/22/42, Batavia, Netherlands East Indies, Reporter Depicts Singapore Escape
McDougall, W.H.
3/3/42, United Nations Headquarters, Java, Foe in Java Slinks Through Jungles
3/4/42, United Nations Headquarters, Java, Dutch Tank Force Leads Raid in Java
McGowen, Roscoe
6/16/38, 40,000 See Vander Meer of Reds Hurl Second No-Hit, No-Run Game in Row
2/28/39, Clearwater, Fla., Dodgers Reach Clearwater, Drill 2 Hours; Pressnell, Hamlin Expected to Sign Tonight
6/4/39, Cubs Beat Dodgers with 6 in 8th, 10-5
6/19/39, Chicago, Dean Wins, 1-0, on Hartnett Homer, Then Cubs Crush Dodgers by 9-1
8/22/39, 14 Hits Aid Hamlin in 15th Victory, 7-1
5/1/40, Cincinnati, Dodgers Top Reds for 9th in Row, 3-0
6/12/40, Pittsburgh, Casey, Shoulder Ailing, is Sent by Dodgers to Visit Specialist
7/3/40, Philadelphia, Carleton Pitches 3-Hit Triumph, 4-1
7/10/40, St. Louis, Jubilant Victors Reconstruct Game
7/17/40, Pittsburgh, Pirates' 2 in Eighth Halt Brooklyn, 5-3
7/24/40, 40,583 See Fists Fly in Dodger Debacle
8/21/40, St. Louis, Brooklyn downed Twice, 3-0 and 4-3
9/25/40, Dodgers Overcome Giants, 5 to 4, and Clinch Second Place in Race
4/16/41, Terrymen Pound Wyatt to Win, 6-4
5/28/41, Philadelphia, Casey Victor, 6-0, with 7-Hit Effort
6/18/41, Chicago, Wasdell's Homer Beats Cubs in 10th
6/25/41, Pittsburgh, Davis of Brooklyn Halts Pirates, 8-0
7/2/41, Dodgers Lose, 6-4, to Phils in Tenth
7/23/41, Cincinnati, Reds' Five in Ninth Halt Brooklyn, 5-4
7/30/41, St. Louis, Camilli's Homers Mark 7-All Draw
8/13/41, 39,145 See Giants Prevail by 8-5, 2-0
9/10/41, Chicago, Dodgers Lead Cubs, 1-0, when Rain Washes Them Into Twin Bill Today
9/17/41, Cincinnati, Werber's Single Downs Casey, 4-3
9/24/41, Boston, Higbe and Wyatt to Face Braves in Dodgers' Rush to Clinch Title
10/2/41, Brooklyn Squad Angered by Loss
10/3/41, Manager is Irked by Rivals' Taunts
10/5/41, Dodgers Gloomy over Fitz's Fate
10/6/41, Dodgers Stress Luck of Rivals
10/7/41, Bombers Lauded by Dodger Scout
10/19/41, Boston College Tops Manhattan
McHale, Captain W.A.
4/26/40, At Dock, Trondheim, Diary of American Ship Captain Tells of Trondheim's Occupation
McLaughlin, Kathleen
4/10/39, Easter Throngs Brave Wind to Parade in Fifth Ave. Sun
5/1/39, Many Feminine Touches Revealed as Women Analyze Attractions
7/17/40, Chicago, Women Win Voice in Policy Making
7/18/40, Chicago, Feminine Demands Change Platform
4/14/41, 300,000 Paraders Jam Fifth Ave.; Brilliant Pageant Ties Up Traffic
6/14/41, Ottawa, Canada Expects Roosevelt Soon
McMillan, Richard D.
5/2/41, With the British Evacuated from Greece, via Cairo, Fierce Battle with Parachutists was Last Fight of B.E.F. in Greece
7/16/42, With the British Eighth Army, west of El Alamein, Egypt, Vain Axis Assault Fires Desert Night
7/23/42, With British Tank Forces, in Egypt, U.S.-Made Tankis Join in Charge in Egypt as Imperial Guns Blast Path Through Foe
12/19/42, New U.S. Gun Turned Tide in Libya; Ripped Tanks Apart at Long Range
McMurtry, Charles
11/30/42, With the U.S. Fleet in the Southwest Pacific, Carrier Fight Cost Enemy 50 Planes
2/21/23, An Advanced Base in the South Pacific, Heroic Fight Made by Doomed Chicago
Meltzer, Julian
5/23/43, Jerusalem, Palestine Zionists Find Outlook Dark (W)
Mengert, H.R.
10/30/38, Columbus, Ohio, Ohio Puzzled by Campaign (W)
Merillat, 2nd Lieut. H.L.
8/30/42, Guadalcanal, Solomon Islands, Strong Opposition Met in Solomons
Michael, Charles R.
2/7/41, Washington, Willkie Seeks Unity on Aid Bill among Republicans in Congress
Middleton, Drew
9/26/42, London, Nazi Plans Held Disrupted by Soviet Stalingrad Stand
9/29/42, London, Mosquito Bomber is Invasion Threat
10/3/42, London, Fortresses Strike
10/8/42, London, Osnabrueck Attacked
10/10/42, London, Nazi Shift Viewed as Sign of Alarm
10/12/42, London, U.S. Bombers' Victory Held New Step to Invading Europe
10/21/42, London, 530 U-Boats Bagged, Briton Says; Two Battleships Join Royal Navy
11/14/42, With United States Troops East of Algiers, Resistance to U.S. Troops Slight at Most Objectives Near Algiers
11/17/42, At Advanced Allied Headquarters in Algeria, Allies in Tunisia to Keep Initiative
12/5/42, With Allied Forces on Djedeida Front, Tunisia, Allies Put to Test in Djedeida Fight
12/5/42, With the United States Armored Force in Djedeida Sector, Tunisia, Tanks Battle Amid Groves
12/10/42, In the British Front Line, near Medjez-el-Bab, Tunisia, All Arms Battle for Tunisian Prize
12/21/42, With Advance Forces, in Tunisia, Silence Shrouds Front in Tunisia
12/24/42, An Advanced R.A.F. Fighter Station, in Tunisia, R.A.F. in Tunisia Hails Americans
12/25/42, With the Allied Armies, in Tunisia, Nazi Column Ambushed
1/3/43, With the Allied Forces, in Tunisia, Big-Scale Battle Needed in Tunisia
1/9/43, Allied Headquarters in North Africa, U.S. Fliers Pound Tunisian Targets
1/10/43, Allied Headquarters in North Africa, Tunisian Base Hit (L)
1/11/43, North Africa, Air Pincers Move Over Libya Opened
1/13/43, Allied Headquarters in North Africa, Libyan Strong-Point Raided by Flying Forts from West
1/14/43, Allied Headquarters in North Africa, Bomb Score Heavy (L)
1/17/43, Allied Headquarters in North Africa, 23 Enemy Planes Downed over Tunisia in 24 Hours
1/17/43, With the Allied Forces in North Africa, Allies Fight Hard for Mediterranean Mastery (W)
1/20/43, Allied Headquarters in North Africa, British in Tunisia Repulse Two Thrusts and Push On
1/26/43, Allied Headquarters in North Africa, Amercans' Sortie in Tunisia Answers Dare of Germans
1/27/43, Casablanca, French Morocco, Leaders Go by Air (L)
1/31/43, Allied Headquarters in North Africa, A Bitter Battle Looms to Break Axis in Tunisia (W)
2/1/43, Allied Headquarters in North Africa, French Line Yields
2/2/43, Allied Headquarters in North Africa, Maknassy Periled
2/3/43, Allied Headquarters in North Africa, Americans 'Mop Up' Village, Gain at Tunisia Mountain Cut
2/4/43, Allied Headquarters in North Africa, Sened Held Firmly
2/5/43, Allied Headquarters in North Africa, Giraud Releases 27 Red Ex-Deputies
2/6/43, Allied Headquarters in North Africa, Nazi Posts Found Superior on Much of Tunisian Front
2/7/43, Allied Headquarters in North Africa, New War Theatre
2/8/43, Allied Headquarters in North Africa, New Giraud Moves Backed by Envoys
2/9/43, Allied Headquarters in North Africa, Sardinian Bases Pounded
2/10/43, Allied Headquarters in North Africa, Tunisia Air Offensive Grows, Raises Losses of Axis to 625
2/12/43, Allied Headquarters in North Africa, British Land, Air Sea Chiefs to Serve Under Eisenhower
2/14/43, An Air Force Rest Camp, North Africa, American Fliers Recall R.A.F. Men
2/14/43, Allied Headquarters in North Africa, Eisenhower Preparing to Rout Axis in Tunisia (W)
2/16/43, Allied Headquarters in North Africa, Americans Retire (L)
2/17/43, Allied Headquarters in North Africa, Rommel Repulsed
2/18/43, Allied Headquarters in North Africa, Battle at Sbeitla (L)
2/19/43, Allied Headquarters in North Africa, Americans Retire (L)
2/20/43, Allied Headquarters in North Africa, Rommel is Raided
2/21/43, Allied Headquarters in North Africa, Patrols Probing Allied Lines Beaten Off in Tunisian Hills
2/21/43, Allied Headquarters in North Africa, Our Men in Tunisia Meet Famed German 'Blitz' (W)
2/22/43, Allied Headquarters in North Africa, Germans Advance (L)
2/23/43, Allied Headquarters in North Africa, 16-Mile Axis Gain (L)
2/24/43, Allied Headquarters in North Africa, Tunisia Lines Hold (L)
2/25/43, Allied Headquarters in North Africa, Allies Press Foe (L)
2/26/43, Allied Headquarters in North Africa, Allies Attack to North
2/27/43, Allied Headquarters in North Africa, Allies Pursue Foe (L)
2/28/43, Allied Headquarters in North Africa, Battles Rage On (L)
2/28/43, Allied Headquarters in North Africa, Stage Set in Tunisia for Our Big Offensive (W)
3/1/43, Allied Headquarters in North Africa, Planes Harry Foe (L)
3/2/43, Allied Headquarters in North Africa, Beja Thrusts Fail
3/6/43, Allied Headquarters in North Africa, Nazi Thrust Fails
3/11/43, Allied Headquarters in North Africa, Allies in Tunisia Probe Foe's Lines
3/12/43, Allied Headquarters in North Africa, 8th Army Unit Drives North, Beats Off a Rommel Column
3/13/43, Allied Headquarters in North Africa, Rommel Loses Desert Battle; French Imperil Mareth Line
3/14/43, Allied Headquarters in North Africa, Rommel is Preparing One More Big Attack (W)
3/17/43, Allied Headquarters in North Africa, Victory, Long Retreat and Counter-Attack: Story of the 55-Mile Battle in Mid-Tunisia
3/19/43, Allied Headquarters in North Africa, U.S. Units Keep On (L)
3/20/43, Allied Headquarters in North Africa, U.S. Force at Pass (L)
3/21/43, Allied Headquarters in North Africa, Axis Reaction Seen
3/22/43, Allied Headquarters in North Africa, Sened Recaptured (L)
3/23/43, Allied Headquarters in North Africa, Rommel in a Vise (L)
3/24/43, Allied Headquarters in North Africa, Allies Pressing On (L)
3/25/43, Allied Headquarters in North Africa, Axis Thrust Fails (L)
3/26/43, Allied Headquarters in North Africa, Rommel Hangs On (L)
3/28/43, Allied Headquarters in North Africa, Allied Air Superiority is Telling in Tunisia (W)
4/23/43, Allied Headquarters in North Africa, Allied Ring Holds (L)
4/24/43, Allied Headquarters in North Africa, Key Hills Reached (L)
4/25/43, Allied Headquarters in North Africa, U.S. Push Resumed (L)
4/26/43, Allied Headquarters in North Africa, 14 Tanks Smashed (L)
4/27/43, Allied Headquarters in North Africa, Mateur Menaced (L)
4/28/43, Allied Headquarters in North Africa, First Army Gains
4/29/43, Allied Headquarters in North Africa, All Lines Advance (L)
5/2/43, With the United States Second Corps, In Tunisia, Hill 609 Battered by American Guns
5/2/43, Allied Headquarters in North Africa, We Learn in Tunisia How to Invade Europe (W)
5/3/43, With an American Infantry Division, in Tunisia, Americans in North Tunisia 'Professional' Soldiers Now
5/6/43, With the Second United States Corps, in Tunisia, Hill 609 a Jagged Monument to Yanks Who Made History
5/7/43, At Advanced American Headquarters, Outside Mateur, Americans' Drive Up Peak Weakens Bizerte's Gateway
5/9/43, Tunis, Tunis is Deliriously Happy as British Tanks Rumble In
5/10/43, Tunis, Tunis, Delivered from Evil, Rises to Allied Bugles' Blare
5/12/43, British First Army Headquarters, Tunisia, Flow of Captives Taxes First Army
5/13/43, Tunis, Prisoners Flock to British Forces
5/14/43, British First Army Headquarters, Von Arnim Refused Surrender Terms
5/15/43, Allied Headquarters in North Africa, Italian Islands Hit
5/16/43, Allied Headquarters in North Africa, Americans Bomb Both Ends of Italy-Sardinia Supply Line
5/20/43, Allied Headquarters in North Africa, 100 Tons of Bombs Rock Pantelleria
5/21/43, Allied Headquarters in North Africa, Americans Batter Sardinia and Sicily in Air Offensive
5/22/43, Allied Headquarters in North Africa, Record Day in Air (L)
5/25/43, Allied Headquarters in North Africa, Italian Isle Raked
5/30/43, Allied Headquarters in North Africa, Italian Oil Center is Left in Flames
6/2/43, Algiers, Action is Surprise
6/4/43, Algiers, French Establish an Empire Regime; Will Drop Nogues
6/5/43, Allied Headquarters in North Africa, Navy Guns Rake Pantelleria for 4th Time Since Sunday
6/5/43, Algiers, Giraud's Retention of Army Post Remains at Issue in French Group
6/6/43, Allied Headquarters in North Africa, Churchill and Allied Chiefs Fix Details of Next Blows
6/7/43, Allied Headquarters in North Africa, Hitler Not an Idol to Young Soldiers
6/10/43, Allied Headquarters in North Africa, Ultimatum Defied (L)
6/12/43, Allied Headquarters in North Africa, Island is Occupied (L)
6/13/43, Allied Headquarters in North Africa, One-Day Triumph (L)
6/14/43, Allied Headquarters in North Africa, Linosa Gives Up
6/17/43, Allied Headquarters in North Africa, Six Bases Raided (L)
6/19/43, Allied Headquarters in North Africa, Allies Hit Naples, Sicilian Airfields
6/20/43, Allied Headquarters in North Africa, Big Drive Resumed
6/26/43, Allied Headquarters in North Africa, Greek Base Raided
6/27/43, Allied Headquarters in North Africa, Sicily Lifeline Hit
6/29/43, Allied Headquarters in North Africa, Naples Also Raided
6/30/43, Allied Headquarters in North Africa, Italian Naval Base Battered by 100 Planes in 9 minutes
7/2/43, Allied Headquarters in North Africa, Big Allied Armies Train for Invasion
7/4/43, Allied Headquarters in North Africa, Italian Bases Hit
7/5/43, Allied Headquarters in North Africa, Sicilian and Sardinian Bases Suffer Heavy New Poundings
7/6/43, Allied Headquarters in North Africa, Six Axis Airfields in Sicily Scourged
7/7/43, Allied Headquarters in North Africa, 7 Italian Isle Bases Raided; 56 Axis Fighters Destroyed
7/9/43, Allied Headquarters in North Africa, Allied Airmen Severely Lash Sicily; Raid Gerbini 20 Times in One Day
7/10/43, Allied Headquarters in North Africa, Several Landings (L)
7/11/43, Allied Headquarters in North Africa, First Round is Won (L)
7/11/43, Allied Force Headquarters in North Africa, Finest Allied Army Leads Invasion of Sicily (W)
7/12/43, At Allied Headquarters in North Africa, Air-Borne Force was First to Attack Enemy in Sicily
7/13/43, Allied Headquarters in North Africa, Ragusa is Menaces (L)
7/14/43, Allied Headquarters in North Africa, Foe's Communication Lines in Sicily Paralyzed from Air
7/15/43, Allied Headquarters in North Africa, Americans' Job Toughest
7/16/43, Allied Headquarters in North Africa, Big Raids Reduce Messina to Ruins
7/17/43, Allied Headquarters in North Africa, 20,000 Captured
7/18/43, Allied Headquarters in North Africa, Agrigento Seized
7/18/43, Allied Force Headquarters in North Africa, Invasion Charts the Future (W)
7/19/43, Allied Headquarters in North Africa, Americans Push On
7/20/43, Allied Headquarters in North Africa, Rail Centers Hit (L)
7/21/43, Allied Headquarters in North Africa, U.S. Troops Gaining (L)
7/24/43, Allied Headquarters in North Africa, Italians Cut Off (L)
7/25/43, Allied Headquarters in North Africa, Marsala is Seized (L)
7/25/43, Allied Force Headquarters, North Africa, Supplies For Our Invasion Armies (W)
7/25/43, Allied Headquarters, North Africa, Eisenhower Plans Minutely, Then Strikes (N.Y. Times Magazine)
7/26/43, Allied Headquarters in North Africa, British Eighth Army Opens New Drive to Take Catania
7/27/43, Allied Headquarters in North Africa, Americans Drive for Eastern Sicily
7/28/43, Allied Headquarters in North Africa, Axis Counter-Blow Repulsed in Sicily
7/29/43, Allied Headquarters in North Africa, American Forces in North Sicily Battle Germans Near Etna Line
7/30/43, Allied Headquarters in North Africa, 7th Army Strikes (L)
7/31/43, Allied Headquarters in North Africa, Americans and Canadians Gain On a Wide Front in Sicilian Drive
8/2/43, Allied Headquarters in North Africa, British Break Axis Line
8/3/43, Allied Headquarters in North Africa, 2 Key Towns Taken (L)
8/10/43, London, Nazi Air Defense Lags
8/12/43, London, British See Russians Aiming for Decision by Next Spring
8/13/43, London, Exiles Perturbed Over French Issue
8/15/43, London, Slow Death of Luftwaffe Points to Defeat (W)
8/19/43, London, Russian Offensive in Critical Stage
8/29/43, London, RAF in Big Battle (L)
8/29/43, London, Bombing Berlin is Air War At Its Toughest (W)
9/2/43, London, 1,800 Tons Fall on Berlin; 47 Bombers Lost in Attack
9/4/43, London, Britons Confident of Result in Italy
9/7/43, London, Britons Approve Churchill's Plea
9/10/43, London, Peak Air Attacks Rake Nazis' Bases
9/15/43, London, London is Anxious
9/16/43, London, Fifth Army Must Rely on Own Effort to Expand Foothold, London Says
9/18/43, London, London Sees Nazis at Crisis in Russia
9/26/43, London, German Retreats Upset Allied Plan
9/27/43, London, Cripps Sees Peril in Spurning Soviet
9/28/43, London, P-47's Fly 600 Miles to Aid Fortresses in Emden Attack
10/3/43, London, Russians Overcome Transport Problems (W)
11/2/43, London, Reich Peace Plea in the Winter Seen
11/4/43, London, Our Top Air Blow
11/6/43, London, Gelsenkirchen Hit in Daylight Blows
11/9/43, London, Italy Called 'Holding Operation' with West Becoming Major Arena
11/10/43, London, Premier is Grave
11/12/43, London, Two-Way Bombings (L)
11/14/43, London, Luftwaffe Now Showing Less Fight (W)
11/17/43, London, Air Drive Widened
11/18/43, London, Allied Warning to French Lists 37 Bombing Targets
11/19/43, London, Reich is Hammered
11/20/43, London, 2,500-Ton Bombing (L)
11/21/43, London, Allies Still Face Hardest Campaign (W)
11/23/43, London, Soviet Upset Foe by 18 Offensives
11/24/43, London, Aim is End of Berlin
11/25/43, London, Flames Guide RAF (L)
11/27/43, London, Air Blows Mount
11/28/43, London, Red Armies Launched on a Triple Offensive (W)
12/2/43, London, Fortresses Strike at Solingen Again
12/5/43, London, Huge Soviet Drive to Usher Invasion
12/7/43, London, First Quarter of 1944 Likely to See Fruition of the Teheran Strategy
12/11/43, London, Sofia Rocked Anew
12/12/43, London, Winter to See Climax of Air War on Reich (W)
12/14/43, London, Long-Range Attack
12/17/43, London, Nazi Capital is Hit
12/20/43, London, Rommel Assigned to Halt Invaders
12/21/43, London, Reich Port Bombed (L)
12/22/43, London, 800 Planes Strike (L)
12/23/43, London, Air Battles Waged (L)
12/29/43, London, Bomb Accuracy in Clouds Mastered by 8th Air Force
12/30/43, London, City Burning Again (L)
12/31/43, London, 1,300 Craft Strike
Miller, Robert C.
8/29/42, Marine Headquarters, Guadalcanal Island, the Solomons, Tulagi Won in 48 Hours; T.N.T. Buried Foes in Caves
9/18/42, Marine Headquarters, Solomon Islands, Trapped Foe Fired Rifles at U.S. Tanks
Miller, Webb
12/21/39, With the Finnish Army in the Mannerheim Line, Six Finnish Planes Fight Off 11 Bombers in Furious Melee Over Mannerheim Line
Mohr, Oscar
10/2/39, Amsterdam, Low Countries Arm (W)
11/11/39, Amsterdam, Dutch Ask Inquiry (L)
3/29/40, Amsterdam, One of Plane's Crew Killed – Two Hurt as Craft Accused of Neutrality Violation is Forced to Earth in Flames
5/11/40, Amsterdam, Hollanders Firm (L)
5/12/40, Amsterdam, Strategic Town Recaptured
5/14/40, Amsterdam, Look to Allied Help
5/22/40, The Hague, Dutch People Try to Find New Life
Mokler, Capt. Lynn H.
7/25/43, Somewhere in England, 'Missing' Bombers Took Toll of Foe
Monks, Noel
7/15/43, Aboard a Destroyer, Off General Montgomery's Sicilian Headquarters, Gen. Patton Waded Ashore to Battle
Morin, Relman
9/16/43, With the American Fifth Army in Italy, 'Triangle Battle' Victory of Allies
Moroso, John A. 3d
5/19/42, A Northern Ireland Port, Warships and Planes Blast U-Boats Out of Convoy Path
Morris, John D.
12/28/42, Washington, Army Needs Heavy (L)
3/29/43, Washington, Japanese Go West
5/31/43, Washington, Foe in Suicide Rush (L)
6/14/43, Washington, U.S. Fliers Down 25 Zeros of 50 in Solomons Battle
Moscow, Warren
1/5/39, Albany, Urges New Laws
1/9/40, Albany, Party's Hands Off Albany Majority
2/13/40, Albany, Ask Education Cut (L)
2/29/40, Albany, Republicans Adopt Own Budget Plan; Cuts at $5,625,000 (L)
11/17/39, Albany, Martin is Cleared by Senate, 28 to 19, in Removal Vote (L)
3/5/40, Albany, A Veto Threatened (L)
3/26/40, Albany, Bills Permit Pay Cuts
3/31/40, Albany, New Truce is Made (L)
4/1/40, Albany, Lehman Signs Bill for City Control of Transit Board (L)
4/2/40, Albany, Pari-Mutual Bill is Signed by Governor; Paves Way for Opening of Racing April 15
6/29/40, Philadelphia, Hamilton Status Yet to be Decided
8/10/40, Utica, N.Y., State Republicans Fix Harmony Rule
12/23/42, Albany, Urges Continuing State War Council
Mundy, W.S.
4/8/42, In the Burma Front Lines, Prome Retreat Depicted
5/18/42, On the Assam-Burma Frontier, A.V.G. Blow Impels Chinese to Victory
Munro, Ross
9/9/41, With the Canadian Spitsbergen Expedition, Spitsbergen Move Without Incident
8/21/42, With the Canadian Raiding Force, Returning from Dieppe, Canadians Traversed Inferno at Dieppe, Witness Reveals
2/13/43, With British Commando Troops, on the Tunisian Front, Commandos Raided in Bizerte Region
7/12/43, With Canadian Troops in Sicily, Canadians Smash Pachino Defenses
7/13/43, With the Canadians in Southeast Sicily, Canadians 'Folded' Coastal Defenses
7/14/43, Ispica, Sicily, Canadians Push On at Amazing Speed
Musel, Robert
12/1/43, London, Forced Labor for Germans Reported as Aim of Stalin
Natson, Robert C.
3/22/42, Portland, Ore, Oregon Region Restive Under Inaction
Neuberger, Richard L.
10/30/38, Portland, Ore., Oregon Republicans Swing Left (W)
6/22/41, Portland, Ore., Northwest Backs Ban on Oil to Japan (W)
6/29/41, Portland, Ore., Pacific Area Split on Communism (W)
8/3/41, Portland, Ore., Wide Unity in Northwest (W)
12/14/41, Portland, Ore., Grim Intensity Marks Popular Reaction (W)
5/3/42, Portland, Ore., Northwest Relieved at Roosevelt Firmness (W)
Newton, Marshall E.
5/24/39, Portsmouth, N.H., Open Valve Cause (L)
5/25/39, Portsmouth, N.H., Naquin Hails Men's Performance, They Praise His Resourcefulness
1/11/41, Fort Dix, N.J., Fort Dix Buildings Ready but Vacant
Nichols, Joseph C.
10/16/38, Cambridge, Mass., Army Vanquishes Harvard, 20 to 17
10/1/39, West Point, N.Y., Army Shows Drive to Top Furman, 16-7
10/20/40, Cambridge, Mass, Harvard, in Rally, Ties Army, 6 to 6
5/24/41, Washington, 35,000 See Bomber Triumph on a Foul
10/3/42, Undefeated Boxer Gains 36th Victory
Nichols, Lewis
4/1/43, 'Oklahoma!' a Musical Hailed as Delightful, Based on 'Green Grow the Lilacs,' Opens Here at the St. James Theatre
6/25/43, "Stars On Ice" [The Play in Review]
11/6/43, "Artists and Models" [The Play in Review]
Nickerson, Hoffman
9/14/41, The Reconstruction of Europe: Taleyrand and the Congress of Vienna, 1814-1815, by Guglielmo Ferrero. (B)
Nickerson, Jane
11/17/43, Ithaca N.Y., Calls Food Export 'All We Can Spare'
Novaro, Octavio
9/26/43, London, Shaw Says Reich May Disappear as a Nation as Result of the War
Nugent, Frank S.
3/11/38, Warners Start the Southern Cycle with 'Jezebel' at the Music Hall
5/13/38, Errol Flynn Leads His Merry Men to the Music Hall in 'The Adventures of Robin Hood'
6/24/38, A New Version of 'Holiday' Comes to the Music Hall
7/19/38, First Rate Entertainment is 'Algiers' at Music Hall
7/22/38, Favorite Neighbors are Back in 'Love Finds Andy Hardy' at the Capitol
8/6/38, The Roxy Plays Host to 'Alexander's Ragtime Band,' a Twentieth Century Tribute to Irving Berlin
9/2/38, One of the Best is 'You Can't Take It With You,' the music Hall
9/9/38, 'Boys Town,' Metro's Tribute to Father Flanagan, Shown at the Capitol
9/23/38, Aptly Titled is 'Carefree' the Rogers and Astaire Film at the Music Hall
11/26/38, 'Angels With Dirty Faces,' Racy Guttersnipe Drama, with James Cagney, Comes to the Strand
12/8/38, G.B.S. Makes Debut as Screen Writer in 'Pygmalion' at Astor
12/23/38, 'A Christmas Carol' is the Music Hall's Salute to the Yule Season
2/17/39, In the Best of Humors is 'Made for Each Other,' at the Music Hall
3/3/39, A Ford Powered 'Stagecoach' Opens at Music Hall
3/11/39, James Cagney Rides the Plains in 'Oklahoma Kid,' at the Strand
3/17/39, 'Love Affair,' a Bitter-Sweet Romance, Opens at the Music Hall 3/31/39,Astaire and Rogers Repeat the Tragic Story of the Castles at the Music Hall
4/1/39, The Founding of the Wrong-Number Industry Well-Dramatized in Roxy's 'Alexander Graham Bell'
4/8/39, Errol Flynn Restores Law and Order to 'Dodge City,' the Wild and Woolly Horse Opera at the Strand
4/14/39, Goldwyn Presents Film of 'Wuthering Heights' at Rivoli
4/21/39, Bette Davis Scores New Honors in 'Dark Victory'; Geroge Brent also is Seen in the Music Hall Feature
4/26/39, The Warners Look Through the Past to the Present in 'Juarez,' Screened Last Night at the Hollywood
4/29/39, The Warners Make Faces at Hitler in 'Confessions of a Nazi Spy'
5/16/39, Metro's London-Made Version of 'Goodbye, Mr. Chips' Has its Premiere at the Astor Theatre
6/3/39, Twentieth Century-Fox's 'Young Mr. Lincoln' is a Human and Humorous Film of the Prarie Years
6/30/39, Ginger Rogers and Charles Niven Featured in 'Bachelor Mother' at Music Hall
7/14/39, On the Long Side is Edward Small's Production of 'The Man in the Iron Mask' at the Music Hall
8/12/39, Zoe Akin's 'The Old Maid' Reaches the Strand as a Mature, Engrossing and Poignant Drama
8/18/39, 'The Wizard of Oz,' Produced by the Wizards of Hollywood, Works its Magic on the Capitol Screen
9/2/39, Fog-Bound Thriller is Roxy's 'Adventures of Sherlock Holmes,' with Basil Rathbone as the Sleuth
9/8/39, "Golden Boy" review
9/9/39, With the Merest Nod to Louis Bromfield, the Roxy Offers a Version of His Novel, 'The Rains Came'
9/15/39, "The Real Glory" review
9/22/39, 'The Women,' Clare Booth's Witty Comedy of the Deadlier Species, Opens at the Capitol
9/23/39, 'Espionage Agent,' a Melodrama of the Spy Menace, is Shown at the Strand
10/6/39, Ingrid Bergman of Sweden Makes Her Hollywood Debut in 'Intermezzo' at the Music Hall
10/7/39, The Warners Regenerate John Garfield Again in the Strand's 'Dust Be My Destiny'
10/12/39, Laughton Obscures Hitchcock in 'Jamaica Inn' at the Rivoli
10/20/39, Frank Capra's 'Mr. Smith Goes to Washington' at the Music Hall Sets a Seasonal High in Comedy
11/4/39, John Ford's Film of 'Drums Along the Mohawk' Opens at the Roxy
11/10/39, 'Ninotchka,' an Impious Soviet Satire Directed by Lubitsch, Opens at the Music Hall
11/11/39, The Warners Look Back on 'The Roaring Twenties' at the Strand
11/23/39, Paramount Finds Comedy in 'The Cat and the Canary'
11/24/39, Post-Turkey Repot on 'Another Thin Man' at the Capitol
11/30/39, Marlene Dietrich Reaches a High in Horse Opera with 'Destry Rides Again,' at the Rivoli
12/2/39, Errol Flynn Catches a Tudor in Strand's Film of 'Private Lives of Elizabeth and Essex'
12/10/39, "Gone With," etc. – or the Making of a Movie (NY Times Magazine)
12/20/39, David Selznick's 'Gone With the Wind' Has its Long-Awaited Premiere at Astor and Capitol, Recalling Civil War and Plantation Days of South – Seen as Treating Book with Great Fidelity
1/1/40, 'Hunchback of Notre Dame,' with Charles Laughton, Opens at Music Hall
1/12/40, Frenzied's the Word for 'His Girl Friday,' a Distaff Edition of 'The Front Page, at the Music Hall
1/13/40, David Niven Plays an Unruffled 'Raffles' at the Roxy
1/19/40, Comedy-Melodrama Arrive[s] in 'The Amazing Mr. Williams' at Loew's
1/22/40, Alexander Korda Presents an Exciting Propaganda Film in 'Lion Has Wings' at Globe
1/25/40, Twentieth Century-Fox Shows a Flawless Film Edition of John Steinbeck's 'The Grapes of Wrath,' with Henry Fonda and Jane Darwell, at the Rivoli
1/26/40, Ernst Lubitsch Offers James Stewart and Margaret Sullivan in a Genial and Tender Romance in 'The Shop Around the Corner' at the Music Hall
1/27/40, The Old Cagney Formula Still Prevails at the Strand in the Warner Film 'The Fighting 69th
2/8/40, 'Pinocchio,' Walt Disney's Long-Awaited Successor to 'Snow White,' has its Premiere at the Center Theatre
2/16/40, 'I Take this Woman,' with Spencer Tracy and Hedy Lamarr, at the Music Hall
2/17/40, Hal Roach Presents a Splendid Film Version of John Steinbeck's 'Of Mice and Men' at the Roxy
2/23/40, The Music Hall Celebrates Washington's Birthday with a Brilliant Edition of Sherwood's 'Abe Lincoln in Illinois,' with Raymond Massey and Ruth Gordon
2/24/40, Another Fine Biographical Film arrives Here in 'Dr. Erlich's Magic Bullet' at the Strand
3/8/40, Hair-Raising's the Word for 'Northwest Passage' with Spencer Tracy, at Capitol
3/14/40, Posting a Proceed-with-Caution Sign on Paramount's 'Road to Singapore'
3/15/40, An Amusing, Algerish Biography of 'Young Tom Edison,' Featuring Mickey Rooney, is Presented by Metro at the Music Hall
3/16/40, W.C. Fields and Mae West are Seen in 'My Little Chickadee,' at the Roxy
3/29/40, Splendid Film of du Maurier's 'Rebecca' is Shown at the Music Hall
3/23/40, 'Primrose Path' with Ginger Rogers at Roxy
8/24/41, Loco Boys Make Good (NYT Magazine)
O'Brien, Charles T.
9/21/41, Denver, Mountain States Split (W)
O'Connor, Hugh
5/30/42, West Point, N.Y., Cadets Cheer Him (L)
10/12/42, Field Headquarters of the Second Army, Lebanon, Tenn., Tanks Found Slow in Tennessee Blitz
Oechsner, Fred C.
6/11/42, Bitter Feud Split Chief Hitler Aids
Owen, Russell
10/22/39, Scapa Flow Mine Fields Mapped from Air for U-Boats, Experts Say
1/18/42, U-Boats Return to Our Shorews (W)
Packard, Reynolds
9/15/43, With the Fifth Army, in Italy, Gen. Clark Went Ashore in Italy
9/16/43, With the Fifth Army in Italy, Germans Digging In (L)
9/18/43, With the United States Fifth Army in Italy, 5th Army Retakes All Lost Ground
10/3/43, Naples, Italian Snipers Wiped Out
Palmer, Sgt. Chester D., Jr.
2/9/43, Bogota, Colombia, Navy Plane Hops Andes on Malaria Mission to Fight Colombian Outbreak Fatal to 5,000
Palmer, Col. Frederick
10/1/39, Early Peace Seen as Real Prospect
1/4/43, Washington, MacArthur Mastery Seen Proved Once Again in Success at Buna
Park, Ken C.
10/30/38, Lansing, Mich., Strike Policy Up as Michigan Issue (W)
Parker, A.R.
8/18/39, Maehrisch-Ostrau, Bohemian-Moravian Protectrate, Germans Prepare in Czech Regions
Parker, Ralph
1/2/42, Kuibyshev, Russia, Trains Westward Show Soviet Gain
1/18/42, Moscow, Soviet Army Puts On Skis (W)
1/30/42, Moscow, Ukraine Areas Liberated
2/8/42, Moscow, Soviet Winter Tactics Harry German Retreat (W)
2/11/42, Moscow, Red Army Battles Reinforced Nazis
2/14/42, Moscow, Leningrad Ring Pierced
2/18/42, Moscow, Kharkov Evacuation Awaited
2/20/42, Moscow, Town Near velizh Taken
2/21/42, Moscow, Ferocity of Fighting Grows
2/22/42, Moscow, Rival Nazi Church Assailed in Russia
2/27/42, Moscow, Red Army Tightening Ring on Base that Held 96,000
3/12/42, Moscow, Moscow Claims Air Superiority
3/17/42, Moscow, Moscow Deflates Nazis' Reports of Huge Soviet Forces at Front
3/25/42, Moscow, Nazis Hurl 500,000 Against Red Army
3/30/42, Moscow, Nazis Lose Battle on Kalinin Sector
4/20/42, Kuibyshev, Russia, Nazis Said to Lose Their Best Fliers
4/23/42, Kuibyshev, Russia, Red Army Balks German Tanks by Cutting Off Their Support
4/25/42, Kuibyshev, Russia, Soviet Detention of Fliers Accepted
4/27/42, Kuibyshev, Russia, Soviet Heartened by Hitler Speech
5/3/42, Kuibyshev, Russia, Political Commissars Aid Red Army (W)
5/11/42, Moscow, Red Army Gaining in Kalinin Sector
5/12/42, Moscow, Russians Surging to Battlefields
5/14/42, Moscow, Drive Viewed as a Prelude
5/16/42, Moscow, Nazis Hurled Back (L)
5/17/42, Moscow, Tanks Crush Nazis (L)
5/18/42, Moscow, Salient Deepened (L)
5/19/42, Moscow, Battle is Fiercer (L)
5/20/42, Moscow, Germans Hit Back (L)
5/21/42, Moscow, Tank Units Clash (L)
5/22/42, Moscow, Axis Belt Pierced (L)
5/23/42, Moscow, 15,000 Nazis Killed as Russians Check Foe Near Kharkov
5/24/42, Moscow, Russians Claim Some Gains
5/26/42, Moscow, Savage Combat On (L)
5/27/42, Moscow, Nazis Pound Flank (L)
5/28/42, Moscow, Russians Advance in Fierce Battles
5/29/42, Moscow, Russians Press Offensive; Fight Off Attacks in South
6/1/42, Moscow, Nazis' Lines Seized in Kalinin Fighting
6/8/42, Moscow, Sevastopol Checks Nazi Drive; Planes and Artillery Blast Foe
6/9/42, Moscow, Soviet Anticipates Abundant Harvest
6/10/42, Moscow, Soviet Base Holds
6/11/42, Moscow, New Front Opens
6/12/42, Moscow, Pact is Welcomed by Russian People
6/14/42, Moscow, Red Army Checks Two Nazi Drives
6/15/42, Moscow, Sevastopol Beats Off Nazis; German Kharkov Push Held
6/17/42, Moscow, Red Army Strikes
6/19/42, Moscow, Soviet Ratifies Pact with Britain; Molotoff Pledges 'Mighty' Blows
6/21/42, Moscow, Soviet Confident as War Year Ends
6/22/42, Moscow, Red Army Retires
6/23/42, Moscow, City Hard Pressed
6/26/42, Moscow, Russians Give Up Rail Hub to Nazis
6/27/42, Moscow, Further Advance Stemmed
6/28/42, Moscow, Red Army Checking Nazi Ukraine Push
6/29/42, Moscow, Von Bock is Checked
7/1/42, Moscow, Russians Hold Broken Lines
7/2/42, Moscow, Soviet Gives Bonus of Month's Pay to Seamen Reaching Murmansk with Supplies for War
7/3/42, Moscow, Nazis Widen Front in Russian Drives
7/5/42, Moscow, Russians Retreat in Kursk Fighting
7/6/42, Moscow, At Don, Foe Claims
7/7/42, Moscow, Voronezh in Peril (L)
7/8/42, Moscow, Red Army Retires Under Tank Blows
7/10/42, Moscow, Foe Widens Front (L)
7/11/42, Moscow, Germans Slash On (L)
7/13/42, Moscow, Red Army Retires (L)
7/14/42, Moscow, Germans Roll On (L)
7/15/42, Moscow, Opinion in the Soviet
7/16/42, Moscow, Soviet Army Hits Back
7/17/42, Moscow, Russians Stiffen
7/19/42, Moscow, New Drive by Enemy
7/20/42, Moscow, Nazis' Pace is Cut (L)
7/21/42, Moscow, Foe Nearer Rostov (L)
7/22/42, Moscow, Nazi Units Cut Off (L)
7/23/42, Moscow, Red Army Retires (L)
7/26/42, Moscow, Nazis Win Toehold (L)
7/27/42, Moscow, Nazis Forge Ahead (L)
7/29/42, Moscow, Some Sectors Holding
7/30/42, Moscow, Red Army Stiffens
7/31/42, Moscow, Red Army Gaining (L)
8/2/42, Moscow, Nazis at Soviet Rail Towns; Stalingrad Defenders Hold
8/3/42, Moscow, Peril at Salsk Grave
8/4/42, Moscow, Red Army Holds Firm
8/5/42, Moscow, Reverses Alarm Moscow
8/6/42, Moscow, Nazis Move on City (L)
8/7/42, Moscow, Threat to Volga Grave
8/8/42, Moscow, Oil Field Menaced (L)
8/9/42, Moscow, Nazis Close In on Maikop; Black Sea Trap Tightened
8/10/42, Moscow, Non-Russian Citizens of the Soviet Face Thralldom as Germans Gain
8/11/42, Moscow, Rear Guard Falls Back
8/12/42, Moscow, Germans Stab Into Circassia; Second Oil Field Menaced
8/13/42, Moscow, Nazis Drive Ahead
8/14/42, Moscow, Germans Nearer Oil City; Russians Firm Elsewhere
8/15/42, Moscow, Red Line is Dented
8/16/42, Moscow, Nazis Await New Forces
8/16/42, Moscow, Moscow Braves a Week's Bad News (W)
8/17/42, Moscow, Caucasus Force Intact
8/19/42, Moscow, Russians Report Gains
8/20/42, Moscow, German Pressure Ominous
8/21/42, Moscow, Don Battles Go On
8/23/42, Moscow, Strong Defense Maintained
8/27/42, Moscow, Russian Push is On
8/28/42, Moscow, Red Army Gains
8/29/42, Moscow, Nazi Tanks Halted
8/30/42, Moscow, Nazi Gains Halted (L)
9/2/42, Moscow, Defense Stronger in North
9/3/42, Moscow, Red Army Wavers (L)
9/4/42, Moscow, Reich Drive Shifts
9/5/42, Moscow, 'Red Verdun' Holds (L)
9/6/42, Moscow, Nazis Held for Three Days
9/8/42, Moscow, Battle is Widened
9/9/42, Moscow, General Assault May Impend
9/10/42, Moscow, Russian Defense Difficult
9/11/42, Moscow, Soviet Retreat Orderly
9/12/42, Moscow, Defense Ordered to Stand
9/13/42, Moscow, Battle in Fourth Week
9/13/42, Moscow, Russians See Stalingrad as Key to the War (W)
9/14/42, Moscow, Russians Are Optimistic
9/16/42, Moscow, Nazis Press General Assault
9/17/42, Moscow, Nazis in Caucasus Seek Manganese
9/18/42, Moscow, City's Rubble a Battlefield
9/20/42, Moscow, Battle Tide Fluctuates
9/21/42, Moscow, Positions Improved
9/22/42, Moscow, Nazi Salient Smaller
9/23/42, Moscow, Stalingrad Bolsters Defense
9/24/42, Moscow, Nazi Lines Dented
9/25/42, Moscow, Forty-Mile Front is Held
9/28/42, Moscow, Russians Pushed Back
9/29/42, Moscow, Nazi Losses Severe
9/30/42, Moscow, Nazis Hurled Back
10/1/42, Moscow, Fresh Units Gain
10/2/42, Moscow, Loss in North, Gain in South
10/3/42, Moscow, Battle Picture Confused
10/4/42, Moscow, Russian Line is Strong Despite Nazi Assaults (W)
10/5/42, Moscow, Soviet Drives Gaining
10/7/42, Moscow, Nazis Pushed Back (L)
10/8/42, Moscow, Push Into City Slowed
10/9/42, Moscow, Battle in Workers' District
10/10/42, Moscow, Thrust to Volga Repulsed
10/14/42, Moscow, Attack on Factory Fails
10/16/42, Moscow, Caucasus Contest Widens
10/17/42, Moscow, Battle Rages Through Night
10/18/42, Moscow, Germans Widen Salient
10/18/42, Moscow, Winter Returning as Russians' Ally (W)
10/20/42, Moscow, Red Army Yields Block, Then Holds
10/21/42, Moscow, Weather Gives Some Relief
10/22/42, Moscow, New Tactics in Air Evolved in Russia
10/23/42, Moscow, Germans Lose Momentum
10/24/42, Moscow, Russian Initiative Grows
10/25/42, Moscow, Strong Nazi Attacks Fail
10/25/42, Moscow, Germans Drive Hard for Caucasus (W)
10/26/42, Moscow, Enemy Forced Back
10/27/42, Moscow, Nazis Reach Factory
10/28/42, Moscow, Stalingrad Hails General as Savior
11/1/42, Moscow, Interest Shifts to Caucasus
11/1/42, Moscow, Soviets Rely on Themselves (W)
11/3/42, Moscow, Both Wary at Stalingrad
11/4/42, Moscow, Caucasus Positions Precarious
11/5/42, Moscow, Stalingrad Onslaughts Crushed
11/6/42, Moscow, Stalingrad Offensive is Futile
11/7/42, Moscow, Moscow is Decorated for Fete; Soviet's 25th Anniversary Today
11/8/42, Moscow, Rommel's Defeat Linked to Nazis' Caucasus Push (W)
11/17/42, Moscow, Big Red Ski Forces Ready for Winter
11/19/42, Moscow, Crucial Sector Frustrates Foe
11/20/42, Moscow, Winter Transforms Front
11/22/42, Moscow, Red Army Makes Ready for Hard Winter War (W)
11/25/42, Moscow, Nazis Retreat, Some in Panic, Leaving Rumanians in Lurch
11/26/42, Moscow, Russians Roll On (L)
11/27/42, Moscow, Don Net Tightened (L)
11/28/42, Moscow, Russians Close In on Trapped Nazis
11/29/42, Moscow, Red Star is Jubilant
12/3/42, Moscow, Red Army Punches New Holes in Lines
12/4/42, Moscow, Invisible Bridge Aids Soviet Drive
12/5/42, Moscow, Russian Reports Confident
12/6/42, Moscow, Gains Menace Nazi Supplies
12/6/42, Moscow, Red Army is In Shape for Winter Offensive (W)
12/13/42, Moscow, Seesaw Battles Raging
12/16/42, Moscow, Russian Resistance Massive
12/17/42, Moscow, Russians Nip Nazi Coup
12/19/42, Moscow, Russians in Byelyi Area
12/20/42, Moscow, Threat to Stalingrad Salient
12/20/42, Moscow, Russians Finding Out Where Nazis are Weak (W)
12/21/42, Moscow, Merger of Drives Likely
12/22/42, Moscow, Nazis Leave Scorched Earth
12/24/42, Moscow, Russian Advance Audacious
12/25/42, Moscow, Russians Crush Resistance
12/26/42, Moscow, Operations on a Grand Scale
12/28/42, Moscow, Ukranians Hail Success
12/29/42, Moscow, Russians Improve Positions
12/31/42, Moscow, Southern Advance is Rapid
1/1/43, Moscow, Parallel Drives Lengthen
1/3/43, Moscow, Nazi Hub Menaced (L)
1/4/43, Moscow, Battered Germans Reorganize
1/7/43, Moscow, Voluntary Retreat Doubtful
1/8/43, Moscow, Trap Closing on Salient
1/9/43, Moscow, Gains Widen Rostov Front
1/13/43, Moscow, Cossacks Re-enter the Kuban
1/14/43, Moscow, Russians Harry Nazi Retreat
1/15/43, Moscow, Caucasus Advance is General
1/16/43, Moscow, Strong Resistance Continues
1/17/43, Moscow, Don Successes Continue
1/17/43, Moscow, Russian Infantry Masses for Attack (W)
1/20/43, Moscow, City's Spirit Defied Conquest
1/21/43, Moscow, Leningrad Aisle Widens
1/22/43, Moscow, Soviet Superiority Prevails
1/24/43, Moscow, Advance Toward Black Sea
1/24/43, Moscow, Soviet's Mettle Proved at Leningrad (W)
1/26/43, Moscow, Cossacks Sweep On in Kuban
1/27/43, Moscow, German Losses Monumental
1/28/43, Moscow, Victory on Volga Opens Rail Routes
1/30/43, Moscow, Nearing Kursk-Kharkov Line
1/31/43, Moscow, Bold Russian Blow Traps Axis Hordes
2/5/43, Moscow, Russians Near Vital Highway
2/10/43, Stalingrad, Stalingrad Ruins Record Hard Fight
2/11/43, Stalingrad, Stalingrad Battle Held Classic Feat
2/14/43, Moscow, Donbas Stronghold Crumbling
2/16/43, Moscow, Large Nazi Forces Fighting Russians
2/18/43, Moscow, Nazis at Kharkov Caught Off Guard
2/19/43, Moscow, Donets Successes Multiply
2/21/43, Moscow, Red Army Grows in Power (W)
2/25/43, Moscow, Ukraine Wedges Widen
2/26/43, Moscow, Donets Battle Shifts
3/1/43, Moscow, Donets is In Peril
3/3/43, Moscow, Hard Task for Timoshenko
3/4/43, Moscow, Nazis Fail in Counter-Attacks
3/5/43, Moscow, Stand West of Rzhev Fails
3/9/43, Moscow, Russians Continue Big Drives
3/9/43, Moscow, People Have Some Knowledge
3/10/43, Moscow, Allied 'Misinterpretation'
3/12/43, Moscow, Nazi Plan to Trap Kharkov Armies Failed by Thin Soviet Rear Guard
3/14/43, Moscow, Russians Repel Tank Blows
3/15/43, Moscow, Moscow Report on Kharkov
3/16/43, Moscow, Russians Fight Beyond Kharkov
3/17/43, Moscow, Kharkov's Flanks Hold Firm
3/19/43, Moscow, Russians Press Air Battle
3/20/43, Moscow, Fight Rages in Donets Hills
3/22/43, Moscow, Nazis Forced to Change Tactics
3/23/43, Moscow, Strain of Winter Ends for Moscow
3/24/43, Moscow, Donets Line Holds Firmly
3/25/43, Moscow, Russians Push Beyond Dnieper
3/26/43, Moscow, Air Fighting at Leningrad
3/27/43, Moscow, Yartsevo Line Faces Siege
3/29/43, Moscow, Red Army Poised for Next Big Push
3/31/43, Moscow, Fierce Nazi Blows Fail on Donets; Russians Press Toward Smolensk
4/2/43, Moscow, Red Army Deepens Wedge in Caucasus
4/3/43, Moscow, Caucasus Pressure Grows
4/4/43, Moscow, Russians Reveal Front Line; Menace Nazi Bases in North
4/27/43, Moscow, Poles Denounced
5/2/43, Moscow, Russians Probe Lines to Learn Nazi Plans (W)
5/6/43, Moscow, Soviet Premier Offers Tie with Poland after War (L)
5/10/43, Moscow, Russia Recovers in Vyasma's Ruins
5/20/43, Moscow, Davies in Moscow with Stalin Note
5/23/43, Moscow, Red Parties Freed (L)
5/28/43, Moscow, Air Mastery Still Contested
10/10/43, Moscow, Germans, Expecting a Lull, Attacked on the Dnieper (W)
10/16/43, Moscow, Heavy Toll Paid for Zaporozhye
10/17/43, Moscow, Liberation of Ukraine a Major Russian Goal (W)
10/24/43, Moscow, Valor of Poles Praised
10/24/43, Moscow, Russians Winning Back More Devastated Land (W)
10/31/43, Moscow, Russians Threaten Foe Everywhere (W)
11/5/43, Moscow, Donbas Industries Wrecked
11/6/43, Moscow, World Premiere Heard (In Movie Review post)
11/9/43, Moscow, German 'Shuttle' Wrecked
11/15/43, Moscow, Boldness Won Zhitomir
11/16/43, Moscow, Nazis Squirming in a Bag
11/17/43, Moscow, Front Wheeling Westward
11/20/43, Moscow, Russians Outgeneraled Foe in Capturing Korosten and Rechitsa by Brilliant Tactics
11/21/43, Moscow, Major Russian Blows Aimed at the Center (W)
11/25/43, Moscow, Russians Absorb Heavy Blows
11/26/43, Moscow, German Offensive Lags
11/27/43, Moscow, Nazis Near Gomel Caught Off Guard
12/1/43, Moscow, Zhlobin's Peril Increases
12/2/43, Moscow, Communications at Stake
12/6/43, Moscow, Lessons of Kursk Aid Russians Now
12/13/43, Moscow, Russians' Mobility Increased by Cold
12/13/43, Moscow, Russians' Mobility Increased by Cold
12/15/43, Moscow, River City is Prize (L)
12/26/43, Moscow, German Massacre of 15,000 Detailed
12/26/43, Moscow, Germans Still Strong along Russian Fronts (W)
12/28/43, Moscow, Reward for 2-Month Fight
12/31/43, Moscow, Nazi Armies Flee (L)
Parr, Grant
11/7/42, Cairo, Debut of U.S. Tank Aids British; New General Shermans Praised
11/8/42, Cairo, Prisoners' Morale at New Low
12/6/42, Cairo, U.S. Bombers Blast Naples, Sink Cruiser, Hit a Battleship
12/12/42, Cairo, Enemy at Agheila Reported Jittery
12/15/42, Cairo, Libya Foe Harried
12/16/42, Cairo, Speculation on Axis Stand
12/17/42, Cairo, Columns Smashed (L)
12/18/42, Cairo, Desert Trap Shut (L)
12/19/42, Cairo, Retreat Harassed
12/20/42, Cairo, British Push Foe Deeper Into Libya
1/18/43, Cairo, Tripoli Next Goal
1/19/43, Cairo, Allied Planes Smite Rommel as 8th Army Gains in Libya
1/20/43, Cairo, Desert Units Gain
1/21/43, Cairo, Rommel Pounded
1/22/43, Cairo, Libyan City Raided (L)
1/23/43, Cairo, Tanks in Small Battle
1/24/43, Cairo, Rommel is Pressed (L)
2/6/43, Cairo, Churchill Thrills Eighth Army with a Flying Visit to Tripoli
2/9/43, Cairo, Italian Harbor Hit
Peffer, Nathaniel
10/30/38, Japan's Gains Doubtful as the Chinese Fight On (W)
7/7/40, Japan Seeks to Speed Hegemony in East Asia (W)
9/14/41, Truce, but Not Peace, is Visible in Far East (W)
5/24/42, Japan Must Risk All to Try for a Knockout (W)
Persson, Goesta
4/28/40, Swedish-Norwegian Border, Trondheim is a Disputed Prize
5/6/40, Swedish-Norwegian Frontier, 100 Reich Planes Seen Headed North
Pertinax
6/13/39, Paris, Formula Again Has Wide Scope
8/11/39, Paris, Italian Doubts are Seen
11/30/39, Paris, Restoration of Imperial Russian Frontiers, with Rumania Next, is Thought Soviet Aim
4/1/40, Paris, Two Policies Uppermost
10/8/40, Soviet Seen Balked by Nazi Move; Drive to Straits Held Delayed
1/3/41, Indecision Seen in Hitler's Delays; Plans on Vichy, Spain Held Awry
4/12/41, Washington, Vichy Africa Seen Open to Nazi Drive
6/20/41, Washington, Russian Passivity on Turks a Puzzle
6/27/41, Washington, Stalin Concessions Spurned by Hitler
8/6/41, Washington, Vichy-Nazi Accord Not Yet Ruled Out
9/12/41, Washington, Soviet Air Mission Asks for Quick Aid
1/28/42, Washington, Free French Grant to Allies Use of Islands in the Pacific
3/11/42, Washington, Nazis Said to Get Fuel in Martinique
9/2/42, British Must Hold Corridor in Egypt
11/12/42, Rommel Reported Building Axis Defense In Tunisia
12/12/42, Jibuti Likely to Go with De Gaulle Soon
8/19/43, Allies Ready to Move
9/22/43, London Said to Bar Sforza from Italy
11/12/43, Reich Plane Output Reported Cut 60%
11/26/43, 'Big 4' Suggested as Parley Result
Peters, C. Brooks
8/8/39, Berlin, Nazi General Asks Labor to be Calm
8/12/39, Berlin, Danzig Main Issue (L)
10/1/39, Berlin, Vessels Cautioned (L)
11/22/39, Berlin, Pair Seized Nov. 9
11/23/39, Berlin, Gestapo Signs Off with 'Silly' Britons
11/24/39, Berlin, Nazis Lay Pre-War Ship Sabotage to British; Arrested 'Agent' is Said to Have Confessed
11/25/39, Berlin, Nazis Doubt Diplomatic Good-Will of Dutch over Border 'Incident'
12/19/39, Berlin, Germans Claim Victory
1/7/40, Berlin, Hitler's Men Who Run Reich (W)
2/18/40, Berlin Reich Press Irate
4/4/40, Berlin, Goering Predicts 'Blow in the West'
4/13/40, Berlin, Nazis Warn British of Major Air Raids
4/14/40, Berlin, Reich Says Fliers Beat British Fleet
4/15/40, Berlin, Berlin Renews Threat to Britain, Charging Air Bombing of Bergen
4/16/40, Berlin, Nazis See Way Open to Attack Britain
4/18/40, Berlin, Nazis Raid British from New Bases
4/24/40, Berlin, Nazis Claim 11 Planes
6/10/40, Berlin, Nazis Widen Front as Advance Gains
6/12/40, Berlin, Berlin Confident, but News is Vague
6/13/40, Berlin, Nazi Ring Closing on Paris; Van 12 ½ Miles from City
6/14/40, Berlin, New German Drive
6/15/40, Berlin, 2 Forces Take City (L)
6/16/40, Berlin, Verdun Forts Fall (L)
7/7/40, Berlin, As Berlin and London View the Great Battle (W)
8/9/40, Berlin, 34 British Planes Claimed by Nazis
8/12/40, Berlin, Nazis See Success
8/13/40, Berlin, Berlin Hails Gain
8/14/40, Berlin, Biggest Nazi Raids Bomb Coast Areas
8/15/40, Berlin, Weather Forces Lull
8/16/40, Berlin, Nazis Range Afar
8/17/40, Berlin, Berlin is Exultant
8/25/40, Berlin, Nazis Claim Hits on British Bases
8/26/40, Berlin, Planes over City (L)
8/27/40, Berlin, Full Attack Begun in Air, Reich Says
8/30/40, Berlin, Raids Anger Reich (L)
8/31/40, Berlin, 80 British Planes Downed, Nazis Say
9/5/40, Berlin, Talks of Invasion (L)
9/8/40, Berlin, Reich 'Retaliating'
9/12/40, Berlin, Berlin Threatens New Fury in Raids
9/15/40, Berlin, London Surrender Demanded by Nazis
9/17/40, Berlin, Secrecy in Berlin Hints at Surprise
9/29/40, Berlin, "Satisfies" Berlin
10/1/40, Berlin, Axis Woos Russia
10/5/40, Berlin, Strategy Stressed at Talks, Nazis Say
10/23/40, Berlin, 'New Order' Near (L)
11/19/40, Berlin, Hitler Holds Talks
11/24/40, Berlin, Slovakia is Next (L)
12/1/40, Berlin, Italian Reverses Cause Reich Worry (W)
12/11/40, Berlin, Hitler Challenges World Democracy
12/25/40, Berlin, Channel Belittled
12/28/40, Berlin, Nazis Bid U.S. Shun Eire in Sending Aid
1/1/41, Berlin, Hits Democracies
1/20/41, Berlin, Meeting Reported
1/21/41, Berlin, Axis Chiefs Draft Next Move in War
1/30/41, Berlin, Hitler Talk Today May Score Aid Bill
1/31/41, Berlin, Holds Foe Beaten
2/2/41, Berlin, Nazis Cite Hitler on Gas Reprisal
2/14/41, Berlin, Yugoslav Inaction Sought by Hitler
2/15/41, Berlin, Statesmen Meet (L)
2/25/41, Berlin, March is Time Set (L)
3/1/41, Berlin, Vienna Signing Due (L)
3/17/41, Berlin, Derides U.S. Help (L)
3/23/41, Berlin, Big Atlantic Loss (L)
3/26/41, Berlin, Belgrade in Axis
3/27/41, Berlin, Matsuoka Greeted Royally in Berlin
3/29/41, Berlin, Nazis Await Reply
4/1/41, Berlin, Fear for "Private Property"
4/6/41, Berlin, Germans Charge Plot
4/9/41, Berlin, Nazis Push West
4/10/41, Berlin, Nazis Smash Lines (L)
4/12/41, Berlin, Nazis See Debacle
4/13/41, Berlin, Nazis Doubt Help of U.S. to Balkans
4/14/41, Berlin, Reich Now Claims Fall of Belgrade
4/16/41, Berlin, British in Greece Broken, Nazis Say
4/17/41, Berlin, Berlin Hails Gains
4/19/41, Berlin, Nazis Claim Break in Defense Lines
4/20/41, Berlin, Germans Drive On (L)
4/21/41, Berlin, Trikkala is Taken
4/22/41, Berlin, Berlin Sees a Rout (L)
4/23/41, Berlin, Germans Driving South in Greece
4/24/41, Berlin, Stukas Sink Ships
4/26/41, Berlin, Germans Push On (L)
4/27/41, Berlin, Swift Final Drive Made by Germans
4/28/41, Berlin, Greek Ports Fall
4/29/41, Berlin, Nazis Mopping Up Greek Resistance
5/16/41, Berlin, Meat Allowances Reduced in Reich
5/21/41, Berlin, Germany is Vague on Drive in Crete
5/24/41, Berlin, 3 More Warships Claimed in Berlin
5/30/41, Berlin, Axis Squeeze is On (L)
5/31/41, Berlin, Germans See Rout (L)
6/1/41, Berlin, Axis Planes Active
6/2/41, Berlin, Nazis List Captives in Crete at 10,000
6/19/41, Berlin, A Ten-Year Treaty (L)
6/22/41, Berlin, Bad Faith Charged (L)
6/23/41, Berlin, Germans Withhold Details
6/25/41, Berlin, Hitler Goes to Soviet Front; Reports Invasion 'Success'
6/26/41, Berlin, Nazis See Victory Assured in Drive
6/29/41, Berlin, Reich to Announce Big Victory Today
6/30/41, Berlin, Nazis See Victory (L)
7/1/41, Berlin, Berlin Lists Gains
7/2/41, Berlin, Drive for Moscow Speeded by Nazis
7/3/41, Berlin, Berlin Sees Sweep
7/6/41, Berlin, Invaders Press On
7/8/41, Berlin, Nazis Claim Break in the Stalin Line
7/9/41, Berlin, Berlin News Scant
7/13/41, Berlin, Nazis Drive Ahead (L)
7/13/41, Berlin, Goebbels's Network Covers Reich (W)
7/14/41, Berlin, Germans Foresee Red Army's Doom
7/17/41, Berlin, Germans Describe Beating Back Foe
7/18/41, Berlin, Forts Delay Nazis (L)
7/19/41, Berlin, Smolensk Passed, Germany Asserts (L)
7/20/41, Berlin, Nazis Drive Ahead (L)
7/21/41, Berlin, Berlin Cites Traps
7/22/41, Berlin, Nazis Claim Traps Doom Soviet Units
7/23/41, Berlin, Red Army Split Up, Germans Declare
7/24/41, Berlin, Invasion Checked
7/26/41, Berlin, Nazi Spearheads Hit by Russians
7/27/41, Berlin, Nazis Still Say Struggle Rages
7/29/41, Berlin, Smolensk Fight Won, Nazis Claim
7/30/41, Berlin, Berlin Confident of Soviet Defeat
7/31/41, Berlin, Berlin Concedes Defensive Stand
8/1/41, Berlin, Germans Vague on Russian Front
8/2/41, Berlin, 45,000 Captured, Germans Assert
8/6/41, Berlin, Nazis Widen Smolensk Gap in Moscow Push, They Say
8/7/41, Berlin, Nazis Depict Havoc
8/8/41, Berlin, Kiev Encircled, Germans Assert
8/9/41, Berlin, Drive Upon Odessa
8/10/41, Berlin, Big Ukraine Gain Claimed by Nazis
8/12/41, Berlin, Odessa Trap Seen
8/13/41, Berlin, Berlin Cites Gains
8/14/41, Berlin, New 'Dunkerque' is Seen at Odessa
8/15/41, Berlin, Nazis Gain in South
8/16/41, Berlin, Nazis Grow Vague on Ukraine 'Trap'
8/18/41, Berlin, Nikolaev is Seized (L)
8/19/41, Berlin, Nazi Guns Shell Dnieper Retreat
8/20/41, Berlin, Bitter Ukraine Battles Continue as Axis 'Mops Up' Resisting Foe
8/21/41, Berlin, Nazis Attack Bridgeheads
8/22/41, Berlin, Nazis in Key Cities
8/23/41, Berlin, Nazis Say Crisis Looms in Russia
8/25/41, Berlin, Nazis Press Foe on Dnieper River
8/26/41, Berlin, Russian Attacks Parried by Nazis
8/27/41, Berlin, Nazis Claim Dniepropetrovsk and Control of Dnieper River
8/28/41, Berlin, Germans Claim Zaporozhe, See Donets Basin Menaced
8/29/41, Berlin, Nazis Reported Near Leningrad
8/30/41, Berlin, Duce Meets Hitler (L)
8/31/41, Berlin, 60 Vessels Sunk in Tallinn Flight
9/2/41, Berlin, Nazis Fight Off Russian Thrusts
9/3/41, Berlin, Germans Close In
9/4/41, Berlin, Nazis Concede Pause in Drives
9/5/41, Berlin, Germans See 'Trap'
9/6/41, Berlin, Pound Soviet City
9/8/41, Berlin, Leningrad Area Raided by Nazis
9/9/41, Berlin, Leningrad's Doom Sure, Berlin Says
9/10/41, Berlin, Leningrad Siege Begun, Say Nazis
9/11/41, Berlin, Berlin Reticent on War in East
9/12/41, Berlin, Berlin Concedes Losses in Center
9/17/41, Berlin, Nazis Claim Rout of 3 Red Armies Below Leningrad
9/18/41, Berlin, Tanks Push South
9/19/41, Berlin, Moscow 'Menaced'
9/20/41, Berlin, Nazis Slash Ahead (L)
9/23/41, Berlin, Red Warships Hit
9/25/41, Berlin, Nazis Stress Stiff Defenses
9/28/41, Berlin, '5 Armies' Caught (L)
9/29/41, Berlin, Berlin is Reticent (L)
9/30/41, Berlin, Elias Taken to Berlin
1/12/42, Washington, Americans Strike
1/26/42, Washington, Bataan Coup Won
2/9/42, Washington, 2 Flanks Attacked
2/16/42, Washington, M'Arthur Expects Big Enemy Attack
2/22/42, Washington, Gun Duel is Heavy in Bataan Battle
2/23/42, Washington, Igorots Astride Tanks in Bataan Wipe Out a Japanese Regiment
3/1/42, Washington, U.S. Submarines Score
3/12/42, Washington, Admiral King Promises Offensives; Hart Lays Defeat to Lack in Air
3/15/42, Washington, Houston is Lost (L)
3/22/42, Washington, Bataan Flares Up (L)
3/29/42, Washington, Wainwright's Men Counter Enemy Blows in Philippines
3/30/42, Washington, Japanese Attack
4/5/42, Washington, Action Near Java (L)
4/6/42, Washington, Luzon Fight Rages
4/12/42, Washington, Fighting on Island (L)
4/15/42, Washington, Cebu Battle Heavy
4/26/42, Washington, Occupy Vital Isle (L)
5/11/42, Washington, Fires Set in Japan
6/8/42, Washington, Report by Admiral King
6/22/42, Washington, New Landing Made
6/28/42, Washington, Japan Bombed with 20-Cent Sight; Arnold Gives D.F.C. to 23 Raiders
8/1/42, Newport News, Va., Aircraft Carrier Launched by Navy
8/9/42, Washington, Washington's Report
8/10/42, Washington, Our Units Fight On (L)
8/18/42, Washington, Foe's Ships Routed (L)
8/21/42, Washington, Marines Have Captured Islands in Solomon Group, Navy Asserts
8/26/42, Washington, Fleet is Crippled (L)
8/27/42, Washington, Isles Firmly Held (L)
8/28/42, Washington, Japanese Retreat (L)
8/29/42, Washington, Public is Warned on Solomons Fight
8/30/42, Washington, Japanese Destroyer Sunk, 2 Others Hit in Solomons
Petersen, Anne
11/17/43, Bethpage, L.I., 3 Women Serve as Test Pilots for Navy Hellcats and Avengers
Petroff, Eugene
7/18/41, Moscow, Red Writer Tells of Fight in Baltic
7/21/41, Moscow, Russian Describes His Town's Battle
7/23/41, Moscow, Reds See a Defect in German Armor
9/6/41, With the Russian Army, Reds See a Defect in German Armor
7/14/42, Red Navy Ship Ran Gantlet of Bombs to Aid Sevastopol
Philip, P.J.
8/14/38, Paris, Two Sides in Spain Same in Manpower
8/30/38, Paris, French Disturbed by Tour of Hitler
9/5/38, Bordeaux, France, Bonnet Asks U.S. to Help in Peace
9/13/38, Paris, Paris Sees Respite in Hitler's Speech
12/6/38, Paris, Ready to Complete Accord (L)
12/7/38, Paris, Peace Declaration Signed (L)
3/11/39, Paris, Refugees Termed a Peril to France
3/19/39, Paris, What is Hitler Up To? A Frantic Europe Asks (W)
5/16/39, Paris, French See Il Duce Trapped by Errors
6/28/39, Paris, Daladier Fearful of Summer Crisis
7/16/39, Paris, Birth Rate Worries France (W)
8/5/39, Paris, Paris Anxious Over Pact
8/23/39, Paris, France Prepares to Stop Germany
8/24/39, Paris, France Mobilizes; Now Expects War
9/1/39, Paris, Ministers Stand Firm
9/7/39, Paris, French See Reich Invaded This Time
9/10/39, Paris, Vast Differences from 1914 are Noted by Paris (W) 10/4/39, With the French Armies, on the German Frontier, War in the West Found Leisurely
10/11/39, Paris, France Skeptical (L)
10/26/39, Paris, Quiet Winter Seen on Western Front
11/24/39, Paris, Air Battles Rage over West Front
12/4/39, Paris, League Committee Meets Today
12/10/39, Geneva, League Indicates it Will Brand and Expel Russia as Aggressor
12/12/39, Geneva, Reply Today Asked (L)
12/13/39, Geneva, Soviet Reply Curt (L)
12/15/39, Geneva, Geneva Unanimous
12/25/39, Paris, War Capitals Strive to be Gay on First Blacked-Out Christmas
12/30/39, Paris, Europe Must Unite, Daladier Asserts
1/7/40, Paris, Finns Spur Neutrals
1/23/40, Paris, French See Lesson in Raids on Finns
1/25/40, Paris, Reich-Soviet Deal Said to Give Nazis Rumanian Wedge (L)
2/24/40, Paris, Chautemps Lauds Welles on Mission
2/28/40, Paris, Press Censorship is Lifted in France
3/10/40, Paris, French Justify Actions
3/21/40, Paris, Unity is Paris Aim (L)
3/22/40, Paris, Reynaud Presents Enlarged Cabinet; 5 on War Council (L)
4/24/40, Paris, Allies Plan Moves
5/19/40, Paris, Nazi Dive Bombers Terrify Refugees
5/20/40, Paris, Command Changed
5/21/40, With the French Armies, On the Defense
5/22/40, Paris, Premier is Candid
5/25/40, Paris, Nazi Losses Called High
5/26/40, Paris, Flanders Battle Seen near Climax
5/31/40, With the French Armies in Eastern France, French Town Behind Front Blasted by Nazis; Bombings There Halt after Allied Reprisal
6/1/40, With the French Armies in the East, French at Front See Final Victory
6/4/40, Paris, 17 Craft Downed (L)
6/7/40, On the Edge of the Fighting Area, Front Lines Swirl in New Kind of War
6/10/40, Paris, Many Flee Paris, but Hope Persists
6/14/40, Tours, France, Urgent Pleas to Us
6/19/40, Bordeaux, France, Hitler's Terms Awaited
6/20/40, Bordeaux, France,Terms are Awaited
8/14/40, Riom, France, War Guild Charge Lodged in France
11/7/40, Ottawa, Canada Sees Gain for Joint Defense
12/22/40, Ottawa, Petain Role that of France's Savior (W)
5/7/41, Ottawa, 11 U.S. Ferry Fliers Lost in Atlantic Sinking by Nazis
8/9/41, Ottawa, 6th Army Division Planned in Canada
11/6/41, Ottawa, U-Boats Roaming Labrador Coast
1/21/42, Ottawa, Draft Plebiscite Studied in Canada
5/12/42, Ottawa, Ottawa Gets Bill on Full Draft; Quebec Leader Quits Government
6/11/42, Ottawa, Right to Ship Men is Asked in Canada
6/22/42, Ottawa, Vancouver Island Shelled; Northwest Coast Dims Out
10/16/42, Ottawa, Another Ship Sunk in St. Lawrence River as U-Boat Penetrates Farthest Upstream
11/15/42, Ottawa, Debt Trend to U.S. Feared in Canada
5/30/43, Ottawa, War Issues Delay Voting in Canada
8/11/43, Quebec, Share of Canada in Parley Marked
8/13/43, Quebec, Moehne Raid Hero Seeks Japan Job
8/20/43, Quebec, Quebec Parley is Depicted as News Sahara; Bracken Refers to Its Leaders as 'Oysters'
8/24/43, Quebec, Canada Pact Seen on Base to Britain
8/26/43, Ottawa, President is Grim (L)
8/30/43, Quebec, Churchill Fishes and Catches Ideas
9/15/43, Ottawa, Canada Explains Cut in Home Army
Phillips, R. Hart
6/3/39, Havana, 907 Refugees Quit Cuba on Liner; Ship Reported Hovering Off Coast
6/6/39, Havana, Cuba Opens Doors to 907 on St. Louis
6/7/39, Havana, Cuba Recloses Door to Refugees; 48-Hour Limit on Offer Expires
1/20/43, Havana, Germany's Defeat Feared in Hungary
Pointer, John
9/24/39, Hitler's Heirs (NY Times Magazine)
Pol, Heinz
5/18/41, 'German Lawrence' Stirs Revolt (W)
Pope, Virginia
7/18/40, Fall Hats Shown by Two Designers
Porter, Russell B.
5/1/39, Nations in Parade (L)
11/2/40, Ovation in Kings (L)
6/21/41, Portsmouth, N.H., Wreckage Sighted
9/7/43, Cambridge, Mass., Churchill Urges Post-War Alliance for World Peace
Post, Robert P.
3/3/39, London, Chamberlain Aids Palestine Parley
3/5/39, London, War Fear Dominates Palestine Discussion
5/12/39, London, British Stand Firm (L)
5/18/39, London, British Issue Plan to Make Palestine Independent by '49
5/21/39, London, Palestine Plan Irks Both Arabs and Jews (W)
8/5/39, London, British Negotiator to Leave Moscow Without an Accord
9/16/39, London, Fight Against U-Boats Effected by Wide Sea and Airplane Patrol
10/2/39, London, 4 British Planes Downed in Battle
10/20/39, London, Nazi Fliers Adrift Since Scapa Flow Raid Reach British Coast in Collapsible Boat
10/22/39, London, British Save Ships (L)
10/31/39, London, British Flotilla Fights off Raid
11/19/39, Portsmouth, England, British Navy Depot Shows Sea Might
11/23/39, London, 8 German Planes Shot Down in Day
11/29/39, London, Intense Sea Hunt On for Nazi Raider
12/5/39, London, Scheer Sank Ship, London Believes
12/16/39, London, London Gets News of Sea Fight Loss
12/18/39, London, 72 Britons Killed in Graf Spee Fight
12/19/39, London, Sharp Naval Blow
1/6/40, London, Stanley in Office that Father Held
4/1/40, London, Anglo-French 'Nation' Forecast After War; Would Solve Problem of Balancing Reich
4/3/40, London, 'Driven Off,' Say British
4/5/40, London, Churchill's Role is Little Changed
4/11/40, London, Ports Recaptured
4/12/40, London, Four-Day Naval Battle Rages over Vast Area in the North Sea
4/14/40, London, Allies Hold Port (L)
4/14/40, London, The Far-Flung British Navy (W)
4/19/40, London, Stavanger Raided
4/28/40, London, British Challenge Berlin's Charges
5/7/40, London, Warships Bombed by German Fliers
5/11/40, London, Reich Aircraft Attacked
5/19/40, London, London Claims Aerial Hits on Fuel Tanks in Germany
5/21/40, London, R.A.F. Claws Back at Larger Forces
5/22/40, London,British Planes Active
5/23/40, London, Germans Pounded by British Fliers
6/4/40, London, R.A.F. Reply Seen
6/6/40, London, Fuel Tanks Raided by British Planes
6/7/40, London, Britons Bomb Foe in Four Countries
6/9/40, London, Converted Liner is U-Boat Victim
6/13/40, London, British Raid Turin
6/28/40, London, British Digging In
7/11/40, London, Sea Fight Results Disappoint British
7/13/40, London, Burma Road Curb Pledged by Britain to Appease Japan
7/14/40, London, Navy's Task is Put First in Defense of Britain (W)
7/16/40, London, Burma Road Offer Linked by Britain to Peace in Orient
7/17/40, London, Too Late, British Think
7/19/40, London, Churchill Defends Burma Road Pact
7/21/40, London, Removal of Children a Live Issue in Britain (W)
7/25/40, London, R.A.F. Expects of Us 3,000 Craft a Month
8/6/40, London, British See Blow within 2 Weeks; R.A.F. Raids Bases
8/8/40, A British Airport, British Bomber Crews Spirited in Attacks on Targets in Reich
8/9/40, London, Convoy is Target
8/13/40, London, Portsmouth is Hit (L)
8/14/40, London, British Disperse German Warships
8/20/40, London, Fascisti March In (L)
8/21/40, London, Isle Leases Urged (L)
8/25/40, London, First London Raid Starts Fire; Populace is Calm under Bombing
9/3/40, London, Attack up Thames
9/5/40, London, London Attacked by 3 Nazi Waves
9/15/40, London, New Hit on Palace by Nazi Time Bomb
9/17/40, London, Heart of City Hit (L)
9/19/40, London, Big London Stores Wrecked by Bombs
9/24/40, London, Nazis Foiled, British Hold
9/28/40, London, London Badly Hit
10/1/40, London, R.A.F. Night Fliers Repel Nazi Planes
10/8/40, London, Raiders at London Every 10 Minutes
10/9/40, London, London Chief Goal
10/10/40, London, Fires Rage in City (L)
10/13/40, London, New Berlin Raid Staged by British
10/16/40, London, Spee's Conqueror Battles off Sicily
10/17/40, London, Nazis Give London Lull for 24 Hours
10/19/40, London, Nazi Ships Blasted (L)
10/24/40, London, Nazis Pass London to Hit at Midlands
10/25/40, London, Hard Nazi Raiding Hits at Midlands
10/26/40, London, Nazis Again Strike Heavily at London
10/27/40, London, Scattered Raiders Batter at Britain
10/31/40, London, London Reveals Mining
11/17/40, London, Raiders of London Driven off Early
12/9/40, London, R.A.F. Bombs Pound Duesseldorf Again
12/11/40, London, Two German Spies Hanged in London
12/16/40, London, Border is Crossed
12/22/40, London, Italy's Path is Harsh; Duce's Dreams Fading (W)
12/30/40, London, Address is Spur to British Hopes
12/31/40, London, Havoc in 'The City'
1/7/41, London, Roosevelt Pledge Hailed by British
1/15/41, London, 3 British Warships Hit in Axis Attack in Mediterranean
1/16/41, London, Nazis Raid Britain after 2-Day Lull
1/30/41, London, Prospects in Summary
2/10/41, London, Hope Put in U.S. Aid
2/11/41, London, Action by London (L)
2/12/41, London, British Ships' Guns Set Fires in Ports
3/4/41, London, British Await Further News
3/7/41, London, Raiders in Norway Sank Eleven Ships
3/12/41, London, Week's Sinkings 29
3/13/41, London, British Grateful
3/16/41, London, Crucial Sea Campaign is On in the Atlantic (W)
3/17/41, London, London Sees Tonic
3/19/41, London, Sinkings Revealed
3/26/41, London, British Skeptical of Nazis' Pledge
3/28/41, London, Churchill Vows Help to Yugoslavs; Hails Our Role in 'Common Cause'
3/30/41, London, Fascist Ship Sunk (L)
3/31/41, London, French Guns Fire
4/6/41, London, War Proves Air Power Needs the Aid of Ships (W)
4/7/41, London, Forces in Greece, Britain Confirms
4/11/41, London,British Depressed by Balkan Events
4/17/41, London, Battle Off Tripoli (L)
4/18/41, London, British Still Dig in Ruins for Victims of Worst Raid
4/22/41, London, British Not Upset
4/23/41, London, Churchill Silent on Greece, Libya
4/28/41, London, Premier Confident (L)
4/29/41, London, Anzacs are Going (L)
5/3/41, London, All-Day Fighting
5/6/41, London, Big R.A.F. Bombs Hit 2 Nazi Battleships
5/10/41, London, Biggest R.A.F. Raid (L)
5/12/41, London, London is Hard Hit (L)
5/13/41, London, British Astounded (L)
5/21/41, London, Churchill Announces Move
5/25/41, London, Hood is Blown Up (L)
5/26/41, London, Fleet Bent on Avenging Hood; Second Ship Hit, Berlin Says
5/27/41, London, Air Arm Makes Contact
5/28/41, London, The Hood Avenged
6/2/41, London, Island Abandoned (L)
6/4/41, London, Unrest in Britain over Crete Rises; Action Demanded
6/11/41, London, Crete is Explained
6/12/41, London, Russian-Nazi 'Rift' Reported in London
6/23/41, London, Churchill Promises to Aid All Who are Hitler's Foes
7/2/41, Lonson, General is Moved
7/16/41, London, Russia is an Ally, Churchill Asserts
7/21/41, London, Bracken Succeeds Duff Cooper as British Information Chief
7/25/41, London, British Ready to Back U.S. to Hilt in Any Action Taken Against Japanese
8/19/41, London, Churchill Home, Plans Radio Talk; Cheered by Convoy, Visited Iceland
8/22/41, London, Troops on Border (L)
8/25/41, London, Premier is Blunt (L)
8/26/41, London, Iranians Struggle (L)
8/29/41, London, British worried over War Output
9/15/41, London, Air Unit in Russia (L)
10/1/41, London, 3 New Perils Seen (L)
11/11/41, London, Our Stand Backed
11/19/41, London, Dill Retiring as British Army Chief; Brooke Gets Post in wide Shake-Up
11/23/41, London, British in Libya Test a New Army (W)
11/27/41, London, New Tanks in Field
11/28/41, London, Britain Projects Sweeping Draft
11/29/41, London, British Claim 71 Axis Ships
1/28/42, London, Challenge to Opponents
2/13/42, London, Nazis Run Gantlet (L)
2/14/42, London, Nazi Navy is Peril
2/16/42, London, Premier is Somber
2/20/42, London, War Leader Yields (L)
2/21/42, London, Churchill Critics Await New Shifts
2/23/42, London, Margesson is Out (L)
2/27/42, London, British Cripple German Cruiser
3/1/42, London, Nazi Post Seized
3/27/42, London, Heavy Raids Made
4/7/42, London, New Delay on India Buoys British Hopes
4/9/42, London, Axis Libyan Columns Move; British Think Offensive is On
4/14/42, London, Ships Menace India (L)
4/24/42, London, Chinese in Danger
5/13/42, London, Nazi Bomber Raids Destroy Warships in Mediterranean
5/16/42, London, British Remnants Elude Burma Trap
5/19/42, Somewhere in Northern Ireland, Convoy is Largest (L)
5/27/42, London, Briton Sees Gain in Mediterranean
5/28/42, London, Action in Desert (L)
5/30/42, London, Desert War Rages
6/3/42, London, Essen is Hit Hard (L)
6/12/42, London, No Secret in Pact, British are Told
6/14/42, London, British are a Match for Nazis in Libya (W)
6/27/42, London, Huge Fires Rage at Bremen in 1,000-Plane R.A.F. Raid
12/23/42, London, 12 of Raiders Lost
1/5/43, London, U.S. Camera Men Cut Off by Tanks
1/9/43, London, Sea Battle Saved Convoy for Russia
1/11/43, London, Convoy Rides Out 35 U-Boat Attacks
2/9/43, London, American Reporters in Britain Take Up High Altitude Flying
Pratt, Fletcher
5/3/42, Victory Through Air Power, by Major Alexander de Seversky (B)
7/5/42, Strategy for Victory, by Hanson W. Baldwin (B)
Prescott, Orville
11/16/42, Books of the Times (C)
3/22/43, Books of the Times (C)
5/12/43, Books of the Times (C)
5/17/43, Books of the Times (C)
6/11/43, Books of the Times (C)
7/12/43, Books of the Times (C)
8/9/43, Books of the Times (C)
Railey, Hilton H.
6/16/41, Fort Oglethorpe, Ga., Big Armored Unit Ready to Attack in First Such Army Manoeuvre
6/17/41, Bell Buckle, Tenn., Tries Fear Tactic in Tennessee 'War'
6/19/41, Manchester, Tenn, Says We Will Lead in Armored Forces
Raskin, A.H.
3/25/41, Bethlehem, Pa., Violence at Gates (L)
3/26/41, Bethlehem, Pa., Picketing Ceases (L)
4/3/42, Detroit, All-Welded Tank Built in 47 Days; Fisher Body Sets the Speed Mark
Reston, James B.
10/18/39, London Hitler Held Duped by His Propaganda
10/23/39, London, One of Nazi Planes Downed over Sea
11/13/39, London, Churchill Taunts Hitler to Combat
11/23/39, London, Blown Up at Port (L)
11/24/39, London, Mines Parachuted (L)
11/25/39, London, Few Hours' Tie-Up
11/27/39, London, 10 Die in Polish Ship
12/7/39, London, Britain is Sending Arms to Finland
12/12/39, London, Four Ships Vanish Near Tip of Africa
12/19/39, London, Knockout Blow Held Aim
1/5/40, London, Allies Discuss Scandinavian War; Ready to Fight to Protect Flank
1/7/40, London, A Fair Nazi Back in England (W)
1/12/40, London, Nazi Fliers Range Wide British Area
2/20/40, London, Finns Again Ask for Military Aid
2/25/40, London, "Lord Haw Haw" (NY Times Magazine)
2/28/40, London, Nazi Bombers Downed
3/2/40, London, British Bare Study of Magnetic Mines
3/6/40, London, London Stand Firm (L)
3/8/40, London, London is Aroused
3/9/40, London, British Would Act
3/10/40, London, Allied Plan Ready
3/13/40, London, British Feel Blow
3/14/40, London, Anger in Commons
3/25/40, London, Nazi Ship is Sunk; Allies Open Drive to Cut Ore Route (L)
4/15/40, London, Assured on Radio (L)
4/16/40, London, Troops Go Ashore (L)
4/17/40, London, Aid in South Asked
4/18/40, London, Nazi Airport Fired (L)
4/22/40, London, Transport Line Attacked
4/25/40, London, 100 British Planes Raid Nazi Airports
4/26/40, London, London Concedes 2 British Retreats
4/27/40, London, Set Up Air Bases
5/13/40, London, Arrests in Britain
5/23/40, London, Bill Quickly Voted
5/24/40, London, Fliers Range Far
5/25/40, London, 1,500 Nazi Planes Lost, British Claim
6/20/40, London,Britain will Send Children Overseas
7/4/40, London, Fight as Ship Sinks
7/5/40, London, Battle off Oran (L)
7/12/40, London, Britain Firm on Blockade
7/15/40, London, Bars Submission (L)
7/16/40, London, 22 Nazi Airdromes Raided by British
7/20/40, London, Sea Battle Fought in Mediterranean
7/23/40, London, British Intensify Air Raids on Reich
7/26/40, London, German Designs on Azores Seen; Spanish-Portuguese Rift Held Aim
7/30/40, London, Nazis Beaten Off (L)
8/1/40, London, British Ship is Hit; Nazi Raider Flees
8/17/40, London, 5 Suburbs Raided (L)
8/19/40, London, Damage Minimized (L)
8/26/40, London, Big British Bases Found Little Hurt
9/4/40, London, R.A.F. Repels Raids
9/6/40, London, Thames Area Hit
9/7/40, London, Nazis Strike Hard (L)
9/8/40, London, War's Key Question: 'Can Britain Hold Out?' (W)
9/10/40, London, Big Buildings Hit (L)
9/12/40, London, London Guns Roar
9/13/40, London, Nazi Bombs Fewer
9/15/40, London, Four Men for Britain Put Drive in the War (W)
9/25/40, London, R.A.F. Sinks Ships in Channel Raid
9/27/40, London, R.A.F. Pounds Reich
9/30/40, London, Nazi Bases Bombed (L)
10/2/40, London, Respite from Raids Enjoyed in London
10/3/40, London, 1,000 Nazi Planes Spar over Britain
10/7/40, London, London Night Lull Delight to People
10/15/40, London, Nazis Hit 63 Areas
10/18/40, London, Kent Bears Brunt
10/21/40, London, Nazi Fighter Raid Drums on London
10/22/40, London, Nazis Widen Raids on British Plants
10/23/40, London, Nazi Fliers Foiled by London's Smoke
10/28/40, London, De Gaulle Forming Free 'Government'
11/7/40, London, Irish Will Refuse to Give Britain Bases; Political Issue is Too Risky for De Valera
11/10/40, London, Britain Faces Grave Crisis at Sea (W)
11/18/40, London,,I. Nazi Formations Smashed by R.A.F.
11/21/40, London, Industry is Target (L)
11/27/40, London, Japanese Broaded Indo-China Demand
11/29/40, London, Fight off Sardinia (L)
11/30/40, London, Battle in Channel
2/20/41, Washington, Funds for Samoa (L)
6/8/41, Washington, British Position 'Extremely Grave' but Not Disastrous, Winant Says
7/22/41, Washington, Three Plans for Holding Army Urged in Stormy Senate Debate
9/10/41, Washington, British Promise to Cut Exports
10/2/41, Washington, U-Boat is Blamed (L)
10/30/41, Washington, Japan Asks Truce with Us on Trade
11/8/41, Washington, Ballot is 50 to 37 (L)
11/9/41, Washington, Washington Faces Question of Declared War (W)
11/14/41, Washington, Last-Minute Move (L)
12/1/41, Washington, 4 Powers Ready, Washington Says
12/9/41, Washington, Capital Swings Into War Stride; Throngs Cheer for the President
12/11/41, Washington, Tirpitz Rumored in Malayan Fight
1/4/42, Washington, Briton in Top Post
1/8/42, Washington, Allied Agents Report Plot of Army to Depose Hitler
1/25/42, Washington, Raid Signs Ignored (L)
2/3/42, Washington, Heavy Loss to Foe (L)
2/16/42, Washington, Washington Sees Dire Blow in East
5/11/42, Washington, Anti-Hitler Revolt is Viewed as One of Churchill's Aims
6/1/42, Washington, To Draft Program for Allied Victory
9/18/43, London, Molotoff Stresses His Need for Stalin's Aid at Meeting
9/22/43, London, Dual Blow Coming
9/27/43, London, Russia is Forcing Issues as We Delay Post-War Plan
10/1/43, London, Chief of Staff Will Head Allied Forces in Britain
10/8/43, London, Three Powers Bar 'Spheres,' Plan Joint Watch on Europe
10/23/43, London, London's Defense Revived by Nazis
11/9/43, London, British and Turks Renew Cairo Talk
11/16/43, London, Earlier 'Big 3' Talks Possible as War Pace is Accelerated
11/17/43, London, Earlier 'Big 3' Talks Linked to Final Assault
11/26/43, London, Chiang Kai-shek is Invited to Join Roosevelt-Churchill-Stalin Talk
12/4/43, London, Decisions Varied (L)
12/6/43, London, Plan Many Fronts
12/19/43, London, Churchill Stands as a Symbol and a System (W)
12/25/43, London, Invasion Leader Pleases British
Reston, Sally
9/29/43, London Churchill Warns War May See 1945
Richards, Robert
5/28/43, United States Bomber Base Somewhere in Britain, George, Elizabeth Visit U.S. Air Bases
Richardson, William D.
10/23/38, Baltimore, Princeton Rallies Twice to Deadlock Navy, 13-13
11/13/38, Two Long Drives by Navy Overcome Columbia, 14-9
11/27/38, Durham, N.C., 52,000 See Blocked Kick Decided in Favor of Duke
6/13/39, West Conshohocken, Pa., Great Shot at 4th Helps Nelson Win
10/22/39, Cleveland, Notre Dame Team Stops Navy, 14-7
11/12/39, Annapolis, Md., Columbia Passes Down Navy, 19-13
11/26/39, South Bend, Ind., Fighting Irish Bow
11/10/40, Baltimore, Irish Win in Rally
12/1/40, Boston, Boston College Wins, 7-0; Will Play in Sugar Bowl
1/2/41, Dallas, Third-Period Drive Checks Rams, 13-12
6/8/41, Fort Worth, Texas, Victor by 3 Shots
11/23/41, Princeton, N.J., Navy Turns Back Princeton, 23 to 0
1/2/42, New Orleans, Rams Triumph, 2-0, on a Blocked Kick
Robertson, Douglas
2/19/38, Peiping, Japan Shifts Push to Shansi Sectors
5/17/38, Peiping, Victory 'a Matter of Hours'
1/13/39, Peiping, Chinese Cut the Peiping-Tientsin Railway; All Traffic is Halted by Guerrilla Attack
1/17/41, Shanghai, Nazis to Increase Raiding in Pacific
2/2/41, Shanghai, Japanese Tighten Grip on Indo-China
7/31/41, Shanghai, Shanghai Germans Sell Supplies to British Navy and Soviet Army
11/19/41, Shanghai, U.S. Civilians Stay at Shanghai Jobs
11/28/41, Shanghai, U.S. Marines Sail from Shanghai with Farewell of Rain and Tears
12/8/41, Shanghai, U.S. Gunboat Lost in Shanghai Blow
Rosinski, Herbert
8/4/40, Descent upon England a Strategists Puzzle (W)
Ruch, Walter W.
11/18/41, Philadelphia, Catholics in U.S. Put at 35,000,000
12/8/42, Philadelphia, Dreadnought Tops 26 Ship Launchings
Russell, Ned
11/11/42, Algiers, Algeria, Algiers Taken Over by Americans Despite Sporadic Axis Bombings (with William Stoneman)
8/6/43, Catania, Sicily, Catania Explodes in Hysteria of Joy
Sargint, H.J.J.
9/29/41, London, Catholics Assail Nazis in Holland
11/13/41, London, Austria Declared Nazis' Foe Within
Sauerwein, Jules
5/9/39, Paris, Pope Calls for Parley
8/21/39, Berlin, Italo-Reich Parleys Now Going On Seen as Determining Peace or War
12/27/39, Bucharest, Rumanian Appeals for Neutral Unity
Schedler, Dean
4/11/42, Corregidor, Dazed, Weary Troops Reach Corregidor under Foe's Fire
4/12/42, Corregidor, Corregidor Most Bombed
5/7/42, At United Nations Headquarters, Australia, Wainwright Stays to End by Choice
Sedgwick, A.C.
10/28/40, Athens, Border is Crossed (L)
11/5/40, Athens, 5 Hills Occupied
11/6/40, Athens, Greek Advance Continues
11/19/40, Athens, Greek Wounded Arrive
11/24/40, Athens, New Italian Bases Menaced in Drive
11/25/40, Athens, Greek Gains Wide (L)
11/26/40, Athens, Greeks Closing In
11/27/40, Athens, Greeks Progress Steadily
11/28/40, Athens, Greece Announces a General Advance
11/29/40, Athens, Air Activity Reported
12/3/40, Athens, Retreat Called General
12/4/40, Athens, Port Threatened
12/5/40, Athens, Premedi Captured
12/7/40, Athens, Final Victory Held Closer
12/8/40, Athens, Greeks Push Drive, Capture New Base
12/9/40, Athens, Vital Base Falls (L)
12/10/40, Athens, Greeks Now Hold Fourth of Albania
12/13/40, Athens, Greek Advance General
12/14/40, Athens, Gain in All Sectors
12/15/40, Athens, More Greek Gains in West Reported
12/16/40, Athens, Greeks Retain Initiative
12/17/40, Athens, Cold and Terrain Slow Greek Drive
12/18/40, Athens, Greeks Push Gains through Icy Peaks
12/20/40, Athens, 600 Italians Taken in Greek Advance
1/23/41, Athens, Italian Attack Checked
1/30/41, Athens, Metaxas Credited for Greeks' Gains
2/17/41, Athens, Advance by Greeks Reported General
2/18/41, Athens, R.A.F. Aids Greeks in Mountain Push
3/1/41, Athens, 30 Italian Planes Bagged in Albania
3/9/41, Athens, Greek Pass Forced (L)
4/13/41, Athens, Nazi Blow Recoils (L)
7/20/41, Beirut, Syria, Beirut Discloses Nazi Effort There
7/31/41, Tartus, Lebanon, Vichyites in Syria Hostile to British
2/7/42, Jerusalem, Deaths of Hunger on Rise in Athens
2/25/42, Ras En Nakurah, Palestine, New Railway Aids Allies in Levant
6/25/42, Jerusalem, Confidence Urged in Mid-East Press
7/4/42, Somewhere in Egypt, British Stand Puts Stop to Foe's Rush
7/6/42, With the British Eighth Army, Hopes Soar at Desert Base on Wings of Allied Air Might
7/7/42, El Alamein, Egypt, El Alamein Called Grave of Nazi Hope
7/8/42, With the Eighth Army, in Egypt, Both Sides Avoid Big Risks in Egypt
7/9/42, With the British Army, in Egypt, British Watch a Battle Brewing across Bleak Egyptian Desert
7/13/42, With the British Eighth Army, in Egypt, Australians Push Ahead in Egypt, Acting on Pleas to 'Give 'Em Hell'
7/14/42, With the British Eighth Army, in Egypt, Axis Forces Harassed
7/17/42, With the British Eighth Army, in Egypt, Doleful Italians and Morose Nazis Taken Prisoner in Desert Fighting
7/18/42, With British Armored Units, in Egypt, Tank Battle Indecisive
7/22/42, With British Eighth Army in Egypt, German Endurance Fails
7/23/42, With British Eighth Army, in Egypt, U.S. Hospital Unit Under Desert Fire
7/30/42, With British Eighth Army, Britons from Tobruk Who Roamed 35 Days in Desert Tell Epic Story
8/26/42, With British Eighth Army, Nazi Move in Egypt Believed Started
9/3/42, With British Eighth Army, in Egypt, Axis Tanks Unable to Hide at Night
9/4/42, With British Eighth Army, in Egypt, British Armor Holds Firm
9/8/42, With British Eighth Army, in Egypt, Axis is Reinforcing Its Front in Egypt
9/10/42, With British Eighth Army, in Egypt, Desert's Cruelties to Machines Delay Allies' Offensive in Egypt
9/27/42, With British Eighth Army, Time-Out Periods Mark Desert War (W)
10/18/42, Cairo, Egypt, Allies Build Power for Blow in Egypt (W)
10/22/42, With Advance R.A.F. Fighter Squadrons, in Egypt, Air War in Desert Pressed by Allies
10/27/42, With British Eighth Army, in Egypt, First Objectives Won
10/30/42, Cairo, Egypt, Four Allied Arms Join in Egypt Push
11/2/42, With British Eighth Army, British Guns Play Big Role in Egypt
11/3/42, With British Eighth Army, in Egypt, Axis Desert Loss Marked by Ironies
11/4/42, With British Eighth Army, in Egypt, Advance by Allies in Egypt Depicted
11/5/42, With British Eighth Army, in Egypt, Tanks Roar Ahead in Dust and Flame
11/10/42, With British Eighth Army, in Egypt, Reporters Injured in Desert Fighting
11/12/42, With British Eighth Army, in Egypt, 8th Army Goes On Past War Wrecks
11/14/42, With British Eighth Army, Brief Fight Won Rugged Halfaya
11/20/42, With British Eighth Army, Axis Battle Wreckage in Cyrenaica Testifies to Allied Striking Power
12/15/42, With British Eighth Army, in Libya, Rommel Retreat Mystifies British
12/16/42, Brega, Libya, Advance Hindered (L)
12/28/42, With Forward Elements of the British Eighth Army, in Tripolitania, Sirte Guards Fled British Van
1/3/43, With British Eighth Army, in Libya, Germans Fortify Position in Libya
3/24/43, At the Mareth Line, British Engineers 'Pick Rommel's Lock'
3/25/43, With British Eighth Army, Engineers Fight On Job at Mareth
3/26/43, With British Eighth Army, British Shell Mareth Forts to Pulverize Rock Defenses
4/2/43, With British Eighth Army at Gabes, A Work of Death is Shown in Gabes
4/25/43, Cairo, General 'Monty's' Brotherhood (NY Times Magazine)
7/1/43, Nicosia, Cyprus, Allies' Nerve War Affects Them Too
8/2/43, Cairo, Egypt, Ploesti Smashed (L)
8/9/43, Cairo, Egypt, Athens of Today is Shown in Film
8/15/43, Jerusalem, Jews in Palestine Angered by Briton
8/18/43, Jerusalem, Palestine Issues Sharpen at Trial
8/28/43, Jerusalem, Arabs' Unity Plan to Get More Aid; Transjordan Chief to Visit Egypt
10/30/43, Cairo, Egypt, Partisans Breach Railroad
Seidenfaden, Erik
4/15/40, Stockholm, Soldiers and Peasants Halted Invaders' Drive at Elverum Just when Government was Prepared to End Resistance
Semitjow, Vladamar
5/5/40, Roeros, Norway, Norwegians Fight Nazis Near Roeros
Sforza, Count Carlo
10/13/40, Col. House and His Part in World Politics, by Arthur D. Howden Smith (B)
10/3/43, The Fruits of Fascism, by Herbert L. Matthews (B)
Shalett, Sidney M.
5/22/42, Detroit, Willow Run Plant a Wonder of War
1/1/43, Aberdeen, Md., Says New Weapons Make Us Toughest
1/4/43, Washington, U.S. Battleship's Green Crew Bags 32 Planes, 4 Warships
3/4/43, Washington, Tunisia Protection Lessons Aid Troops in Training Here
3/17/43, Washington, Joint Drive is Set (L)
3/20/43, Washington, Air Defenses of Battleships Called '100 Times' Better
3/21/43, Washington, Kiska Gets the Attention of Our Air Force (W)
3/30/43, Washington, U.S. Strategy Set for Pacific 'Action'
4/3/43, Washington, Navy Builds New Drydocks to Repair Warships at Sea
4/9/43, Washington, Guadalcanal Raid
4/10/43, Washington, Allied Destroyer Included in Toll of Japanese Raid
4/16/43, Washington, Aid Promised to MacArthur, but Secretary Implies Rebuke
4/17/43, Washington, U.S. Navy Now Has Seven Fleets, with Two in Pacific, Says Knox
4/18/43, Washington, New Offensive Appears to be Shaping in Pacific (W)
4/21/43, Washington, The Hornet Was 'Shangri-la' for Doolittle's Tokyo Raid
4/23/43, Washington, Only Military Targets Hit, Tokyo Raid Fliers Declare
5/8/43, Washington, Aleutian Advance
5/19/43, Washington, Squeeze on Enemy (L)
5/20/43, Washington, Foe Now In Pocket
5/21/43, Washington, Naval Guns Hit Foe (L)
5/22/43, Washington, Attu Foes to Be 'Liquidated' if They Fight On, Knox Says
5/23/43, Washington, Strategy of Offensive in Pacific Area Posed (W)
5/25/43, Washington, U.S. Aleutian Fliers Down Five of 16 Raiding Bombers
5/26/43, Washington, Foe's Bombers Lose Heavily in Fighter Trap Over Attu
5/29/43, Washington, Fighting in Clouds
5/30/43, Washington, Attu Valuable as Base for Blockading Kiska (W)
6/1/43, Washington, Tokyo Raid Backed by the Enterprise
6/18/43, Washington, Best Pacific Score (L)
6/19/43, Washington, Guadalcanal Raid Damage Minor; 25 Americans Killed, 22 Missing
6/27/43, Washington, Mammoth Cave, Washington, D.C. (N.Y. Times Magazine)
7/1/43, Washington, 2-Pronged Drive (L)
7/2/43, Washington, Viru Bay is Seized
7/3/43, Washington, Navy Planes Hit Savagely at Foe on Munda and Vila
7/6/43, Washington, Clash in Kula Gulf (L)
7/11/43, Washington, Japanese Reeling Back Before Drive in Pacific (W)
8/8/43, Washington, Munda a Major Gain in Pacific War (W)
8/17/43, Washington, Invasion of Italy Soon Held Likely
8/22/43, Washington, Island Evacuated (L)
8/22/43, Washington, Surrender of Kiska New Japanese Tactic (W)
9/8/43, Washington, Reviews War Pace (L)
10/24/43, Washington, Army Expects Germans to be Stubborn in Italy (W)
10/31/43, Washington, Driving Nazis from Italy a Tough Job for Allies (W)
11/6/43, Washington, Reich in Fright over Russians, Exchanged Prisoner Reports
11/11/43, Washington, Destroyer Sits Astride U-Boat as Crew Battles Nazis to Death
11/14/43, Washington, Japanese Seen Afraid to Risk Big Sea Fight (W)
11/17/43, Washington, Navy Spokesman Says Foe is Outclassed at Rabaul
11/18/43, Washington, Navy's 45,000-Ton Plane Carriers Tremendous Fighting Machines
11/26/43, Washington, Detials on Patton Asked by Stimson
11/28/43, Washington, Navy Aims New Blows at Foe from Gilberts
12/5/43, Washington, Japan Knows She Faces Fight to a Finish Now (W)
12/12/43, Washington, Invasion of Marshalls Near, All Signs Indicate (W)
12/17/43, Washington, Nazis Sank 17 Ships in Bombing of Bari
12/29/43, Washington, Army Held Redy to Man Railroads
Shapiro, Henry
12/22/42, With the Red Army, on the Stalingrad Front, Confidence of Russia's Fighters at Highest Point Since War Began
12/24/42, With the Red Army, on the Stalingrad Front, Stalingrad Chief Lays 'Miracle' to Red Army's Refusal to Retreat
12/27/42, With the Red Army, on the Stalingrad Front, Soviet Equipment Superior to Foe's, Front Writer Finds
2/9/43, Stalingrad, All of Stalingrad Ruined by Battles
2/10/43, Stalingrad, Von Paulus Linked to Atrocity Cases
6/28/43, Leningrad, Leningrad Lives and Fights amid Wreckage and Shelling
6/29/43, Leningrad, 100,000 Died in Leningrad Siege; People Fought Off 300,000 Nazis
Shapiro, L.S.B.
9/14/43, In the Salerno Area, Hard Fight Rages in Salerno Itself
9/16/43, Fifth Army Headquarters, Salerno Area, Italy, Americans and British Stand Firm
Shaplen, Joseph
5/1/43, Lewis is Unshaken (L)
5/3/43, On Job Tomorrow (L)
Sheean, (Lt. Col.) Vincent
8/17/40, London, Flier is Brought Down
6/20/43, Washington, New Air Arm Born in War in Tunisia
6/21/43, Washington, African Air Force Immense Weapon
Sheehan, Joseph M.
11/13/38, West Point, N.Y., Army Eleven, Off to Fast Start, Overcomes Chattanooga, 34-13
11/18/40, Brooklyn Routs Cleveland, 29-14
Shuster, George N.
6/22/41, Berlin Diary: The Journal of a Foreign Correspondent, 1934-1941, by William L. Shirer (B)
10/19/41, I Paid Hitler, by Fritz Thyssen (B)
Sinnott, Edmund W.
4/11/43, New Haven, Conn., Yale to Teach Farm Science (W)
Smith, Hugh
7/19/38, Dublin, Corrigan Flies to Dublin
12/25/39, Dublin, Irish Terrorists Raid Dublin Fort; Steal Munitions
1/7/40, Dublin, Keeping Neutral a Strain to Eire (W)
8/27/40, Dublin, 4 Irish Towns Hit
1/3/41, Dublin, Fears of Irish Rise (L)
6/12/42, Dublin, Eire is in Crisis on Clothes Ration
Speers, Leland C.
12/11/38, Army Lists its Many Needs (W)
1/19/39, Washington, President Backs Fortifying Guam
5/14/39, Our New Army Chief (NY Times Magazine)
11/5/39, Washington, $1,300,000,000 Bill for Navy Will Ask 95 New Warships
1/4/40, Washington, For Emergency Use
1/11/40, Washington, New Cruiser Fleet, Best in the World, is Planned by Navy
1/12/40, Washington, Our Propposed Navy Considers Chance of Allies' Defeat
1/13/40, Washington, Washington Plans 2 Liners Designed as Plane Carriers
4/14/40, Washington, Vast Secret Fleet in Japan Reported
9/10/40, Washington, Navy Signs Orders to Build 201 Ships for 2-Ocean Fleet
9/30/40, Washington, Navy Must Treble its Personnel, Lacks Funds to Man Larger Fleet
1/1/41, Washington, All Navy 'Games' Off for this Year; Fleet Kept a Unit
1/9/41, Washington, One for Atlantic
1/13/41, Washington, Secretary Opposes Fleet Depletion; Destroyers Essential to 'Balance'
Standish, Harry A.
12/26/42, With the British Advance Forces in Burma, Mud Slows British in Burma Advance
Stark, Louis
1/17/39, Washington, Projects Wider Aid (L)
7/30/39, Washington, Unemployment Remains Major Economic Worry (W)
10/3/39, Cincinnati, A.F.L. Urges Repeal of Embargo; Holds it Will Keep Us Out of War
6/21/40, Washington, Assails Proposal for Youth Training
8/4/40, St. Louis, Auto Union Vote Censure of Soviet
1/23/41, Washington, 'Brains' of Country Indexed in Defense
2/5/41, Washington, NLRB Adopts Rules Barred by Madden
2/17/41, Miami, Fl., Printing Unions Ask Curb on Radio, with drastic Cut in 'Commercials'
3/19/41, Washington, Leaders Get Hint (L)
3/22/41, Washington, Patience is Ending (L)
3/27/41, Washington, OPM Into Action (L)
4/3/41, Detroit, Pickets Leaving (L)
5/3/41, Washington, G.M. Resumes Talks with Union Itself
6/7/41, Washington, To Act in Few Days (L)
6/11/41, Washington, New Crisis Eased (L)
6/15/41, Washington, Labor's Communist Issues Brought into Open (W)
10/26/41, Washington, Deadline Passes (L)
10/27/41, Washington, Asks for Loyalty (L)
10/28/41, Washington, Roosevelt is Firm (L)
10/29/41, Washington, Roosevelt Shifts (L)
10/30/41, Washington, Lewis in Parleys (L)
11/13/41, Washington, Coal Truce Sought (L)
11/15/41, Washington, President is Stern (L)
7/1/42, Washington, WLB Extends Rule Beyond War Works
9/15/42, Washington, M'Nutt Rules Jobs (L)
1/13/43, Washington, Petrillo Refuses to Clarify Ban Aim (in movie review thread)
2/17/43, Washington, Racketeering Bill Stirs Sharp Clash
4/30/43, Washington, Deadline is Fixed (L)
5/2/43, Washington, Ickes In Control (L)
6/2/43, Washington, Pay Demand is Cut (L)
6/3/43, Washington, Summons Leaders (L)
6/4/43, Washington, WLB Kept in Power (L)
6/19/43, Washington, WLB Bans Strikes (L)
6/20/43, Washington, New Parley Today (L)
6/21/43, Washington, Ickes Acts Today (L)
6/22/43, Washington, WLB Warns Ickes (L)
6/23/43, Washington, Wage Rates Stand (L)
6/24/43, Washington, For Non-War Duty (L)
10/14/43, Boston, AFL Votes to Admit Lewis Mine Union
11/4/43, Washington, Pact Goes to WLB (L)
12/24/43, Washington, Two Unions Accept (L)
12/28/43, Washington, War is Put First (L)
12/29/43, Washington, 3 Unions Waiting (L)
Starzynski, Stefan
9/23/39, Warsaw, Mayor of Warsaw Describes Slaughter of Civilians and Destruction of Capital
Stassen, Harold E.
5/23/43, Blueprint for a World Government (N.Y. Times Magazine)
Steinkopf, Alvin J.
8/12/41, Smolensk, Russia, Hitler's Conquerors of Smolensk Hold a Heap of Ashes and Rubble
Stewart, Ollie
10/1/39, It's Not All Swing in Harlem (NY Times Magazine)
Stirling, Yates Jr.
6/10/40, Present Battle Held Not Decisive from Point of View of the Allies
7/1/40, U.S.-British Accord with Japan on East Asia is Urged by Stirling
8/10/40, Destroyer Sale Urged by Admiral
8/13/40, Pacific is Stressed in U.S. Naval Policy
Stone, Shepard
5/29/38, Background of Czechoslovak Crisis
Stoneman, William
11/11/42, Algiers, Algeria, Algiers Taken Over by Americans Despite Sporadic Axis Bombings (with Ned Russell)
11/13/42, Somewhere in Algeria, Algeria 'Cinched' within Half Hour
Strauss, Noel
7/5/40, Stadium Premiere for New Cantata
3/27/41, Recital is Offered by Edna Bockstein
Streeter, Edward
10/31/43, Here is Your War, by Ernie Pyle (B)
Strunsky, Simeon
6/30/40, On Polling the Public's Opinion (W)
11/23/41, Roosevelt: Dictator or Democrat?, by Gerald W. Johnson (B)
Struther, Jan
8/30/42, Mr. Miniver (NY Times Magazine)
Sulzberger, Cyrus L.
12/17/39, Budapest, Rumania is Beset by Many Worries (W)
1/7/40, Belgrade, Yugoslavia, Rumania Weights Her Might (W)
2/2/40, Belgrade, Yugoslavia, Turkey Admits Lack of Neutrality on Eve of Balkan Entente Parley
7/27/40, Belgrade, YugoslaviaSoviet Said to Plan a Bloc in Balkans
8/14/40, Belgrade, Yugoslavia, Albanian Revold Reported
10/11/40, Belgrade, Yugoslavia, Supply Ships Seen (L)
10/20/40, Belgrade, Yugoslavia, Soviet Friendly to Turks
11/6/40, Salonika, Greece, Salonika Morale High under Raids
11/10/40, Athens, Invaders Trapped (L)
11/11/40, Athens, Fascisti Fall Back
11/12/40, Athens, Invaders Retreat
11/13/40, Athens, Albanian Ports Ravaged
11/14/40, Athens, Albanian Ports Bombed
11/15/40, Athens, Big Battle Raging (L)
11/16/40, Athens, 700 Italians Taken as Greeks Push On
11/17/40, Athens, Greeks Press Foe (L)
11/18/40, Athens, Italians Rush Aid (L)
11/19/40, Athens, Italian Resistance Slows Greek Drive
11/20/40, Athens, Greek Gains Widen in Albanian Drive
11/21/40, Athens, Greeks Smash Lines on Wide Front; Much Booty Seized in Italian Rout
11/22/40, Athens, Advance is Steady (L)
11/23/40, Athens,Much Booty taken (L)
11/28/40, With the Greek Armies in Albania, Italian Columns are Reported Isolated; 3,000 Fascisti Trapped Near Argyrokastron
12/1/40, Athens, Push on in Albania (L)
12/2/40, Athens, General Advance Claimed by Greeks
12/3/40, Athens, Key Roads in Greek Hands
12/6/40, Belgrade, Port is Reported Taken
12/29/40, Athens, Laden Troopsheps Hit by Submarine
1/2/41, Athens, Italians Fall Back in Klisura Region
1/8/41, Athens, Ships is Bold Raid
1/9/41, Athens, Attack by Greeks Opens in Albania
1/30/41, Athens, Gen. Metaxas Dies; Greeks Keep Policy
2/6/41, Athens, Greeks Take Town in Albania Battle
2/11/41, Belgrade, Extension of War Feared in Balkans
2/14/41, Sofia, Bulgaria, Sofia Yields Right (L)
2/22/41, Belgrade, Balkan Rumor Rife (L)
3/6/41, Athens, United on Balkans (L)
3/21/41, Athens, Optimism Voiced in Athens
3/23/41, Athens, British Move to Block Hitler in the Balkans (W)
3/30/41, Athens, Serbs Aid the Democracies (W)
4/3/41, Belgrade, Nazi Troops Mass at Border Points
4/5/41, Belgrade, Reich Army Moves (L)
4/6/41, Belgrade, Nazi Units Crowd Yugoslav Border
4/14/41, Athens, Retreat of Serbs Related by Writer
4/15/41, Athens, Yugoslavs Smash Drives of Germans
4/16/41, Athens, Nazis Push South (L)
4/18/41, Athens, Greeks Fight Hard (L)
4/23/41, Smyrna, Turkey, Huge Tanks Beat Back British Harried by Swarm of Planes
5/16/41, Ankara, Turkey, Nazis at Air Bases
5/17/41, Ankara, Turkey, R.A.F. Raids Fields
5/18/41, Ankara, Turkey, Syrian Bases Bombed
5/20/41, Ankara, Turkey, Nazi-Soviet Deal on Iran Reported
5/23/41, Baghdad Capture by British is Seen
5/31/41, Ankara, Turkey, British Surrounding Iraqis
6/2/41, Ankara, Turkey, British Expected to Move on Syria
6/5/41, Ankara, Turkey, R.A.F. Raids French (L)
6/6/41, Ankara, Turkey, Amman is Bombed
6/12/41, Ankara, Turkey, Two Columns Gain (L)
6/15/41, Ankara, Turkey, More Troops Mass
6/16/41, Ankara, Turkey, All Soviet Troops Reported Called
6/19/41, Ankara, Turkey, Turkish People Astonished
6/20/41, Ankara, Turkey, Demobilizing of Red Army Said to Be German Demand
6/21/41, Ankara, Turkey, Tension Increased
6/24/41, Ankara, Turkey, Sea Fight Reported
6/25/41, Ankara, Turkey, French Retreat Hinted
6/29/41, Ankara, Turkey, Nazis in a Race Against Time to Win the War (W)
7/2/41, Ankara, Turkey, Famine Spread Menaces Greece; Cholera Outbreak is Reported
7/30/41, Moscow, New Soviet Blows (L)
8/1/41, Moscow, Budenny Urges 'Scorched Earth'
8/2/41, Moscow, Russians Push Nazis Back Farther in a Growing Counter-Offensive
8/3/41, Moscow, Red Army Strikes
8/4/41, Moscow, Diversion Attempted
8/7/41, Moscow, Air Force is Active
8/8/41, Moscow, Nazis Pushed Back (L)
8/9/41, Moscow, Soviet Positions Maintained
8/10/41, Moscow, Nazis Reported Held
8/10/41, Moscow, Guerrillas Scorch Earth for Nazis (W)
8/11/41, Moscow, Russians Report Invader Checked in Most Sectors (L)
8/12/41, Moscow, Nazis Aim at Bases
8/14/41, Moscow, Red Forces Retire
8/15/41, Moscow, Russians Give Up 2 Ukraine Towns
8/16/41, Moscow, Bitter Combats On
8/20/41, Moscow, Germans Drive On
8/21/41, Moscow, Nazi Thrusts Continue
8/22/41, Moscow, Leningrad Girds; Gomel Yields
8/23/41, Moscow, 2,000,000 in Old Czarist Capital Vow to Defend City to the Last
8/24/41, Moscow, Appeal by Voroshiloff
8/24/41, Moscow, Russia Holds Off Axis as Allies Marshal Aid (W)
8/25/41, Moscow, Karelian Push Renewed
8/27/41, Moscow, Protest Answered (L)
8/29/41, Moscow, Dnieper Let Loose
8/31/41, Moscow, Nazi Trap Avoided
9/1/41, Moscow, Red Army Drive in Center Gains
9/2/41, Moscow, Russians Hold Firm
9/3/41, Moscow, Red Army Gaining (L)
9/4/41, Moscow, Red Army Pushes On
9/5/41, Moscow, Drive on Kiev Called Failure
9/6/41, Moscow, German Positions Captured
9/7/41, Moscow, Kiev Defense Firm
9/9/41, Moscow, 8 Nazi Divisions Reported Cut Up
9/10/41, Moscow, Nazis Pushed Back
9/12/41, Moscow, Russians Drive On
9/13/41, Moscow, Russians Lose City
9/14/41, Moscow, Two Drives Go On (L)
9/15/41, Moscow, Kremenchug Lost
9/23/41, With the Red Army on the Central Front, Smolensk Front a Litter of Ruins
9/25/41, With the Red Army on the Central Front, Air War is Waged Night and Day over the Central Front in Russia
9/26/41, With the Red Army on the Central Front, Ruin Now Marks Field of Elnya
9/28/41, With the Red Army on the Central Front, Russians Make Ready for Winter Campaign (W)
9/29/41, Moscow, Red Fleet Strikes
10/1/41, Moscow, Russians Retake a Northern City
10/3/41, Moscow, Four Villages Recaptured
10/4/41, Moscow, Soviet Counters Drive for Donets
10/5/41, Moscow, Nazis Lose Ground (L)
10/6/41, Moscow, Hitler is Disputed (L)
10/8/41, Moscow, Great Battles On (L)
10/9/41, Moscow, Soviet Fights Hard
10/10/41, Moscow, People Warned of Peril
10/11/41, Moscow, Situation Remains Serious
10/12/41, Moscow, Retreat Admitted
10/13/41, Moscow, Moscow Admits More Nazi Gains
10/14/41, Moscow, Soviet Town Falls
10/15/41, Moscow, New Threat to Capital
10/24/41, Kuibyshev, Russia, Zhukoff is a Strategist
10/26/41, Kuibyshev, Russia, Russians Battle New Nazi Drives
10/28/41, Kuibyshev, Russia, Russians Repel Moscow Thrust
10/30/41, Kuibyshev, Russia, Moscow's Army, Braving Big Guns, Repels Nazi Push
11/4/41, Kuibyshev, Russia, Moscow Raids Incessant
11/5/41, Kuibyshev, Russia, Moscow Combat at Savage Pitch
11/9/41, Kuibyshev, Fabled Russian Winter Closing In on Invaders (W)
11/10/41, Kuibyshev, Litvinoff's Mission Vital war Factor
11/13/41, Kuibyshev, Nazis, Bulgarians Carving Up Greece
11/14/41, Kuibyshev, Losses severe in Tulz Zone
11/15/41, Kuibyshev, Nazis Find Winter is Formidable Foe
11/16/41, Kuibyshev, Winter and Russians Rob Hitler of Victory (W)
11/26/41, Kuibyshev, First British Tanks Praised
12/2/41, Kuibyshev, Second Victory for Timoshenko
12/4/41, Kuibyshev, Soviet Propaganda Seeks Rift in Germany's Allies in Russia
12/6/41, Kuibyshev, Germans Massing Moscow Forces
12/9/41, Kuibyshev, Soviet Sees Gains in New Diplomacy
12/12/41, Kuibyshev, Von Bock Relieved on Moscow Front
12/14/41, Moscow, Germans Pursued
12/14/41, Moscow, Moscow is Depot for Soviet Drive
12/15/41, Moscow, Moscow Relieved and Gay After Beating Off Nazi Tide
12/19/41, With the Red Army, Northwest of Moscow, Soviet Columns Chasing Foe Wind over Snowy Wasteland
2/1/42, Jerusalem, Axis Radio Blankets Islam(W)
2/2/42, Baghdad, Iraq, Iraqi War on Axis Indicated by Nuri
2/3/42, Baghdad, Iraq, Allies Keep Check on Pulse of Arabs
2/3/43, London, Nazi War Loss of 4,000,000 Men Computed from Insurance Data
2/17/43, London, Reich Vulnerable in Oil of Rumania
3/6/43, London, Eclipse of Hitler is Seen in Change in German Army
3/27/43, Allied Headquarters in North Africa, Allies Rule in Air (L)
3/28/43, Allied Headquarters in North Africa, Fondouk is Goal
3/29/43, Allied Headquarters in North Africa, Big Push Started (L)
3/30/43, Allied Headquarters in North Africa, Main Forts Taken (L)
3/31/43, Allied Headquarters in North Africa, 8,000 Are Captured (L)
4/1/43, Allied Headquarters in North Africa, Two Towns Taken (L)
4/2/43, Allied Headquarters in North Africa, Nazis Make Stand
4/3/43, Allied Headquarters in North Africa, Allied Blitz Continues
4/4/43, Allied Headquarters in North Africa, Longer German Retreat Seen
4/4/43, Algiers, Our Soldiers in Battle Soon Learn Art of War (W)
4/5/43, Allied Headquarters in North Africa, French Take Town
4/6/43, Allied Headquarters in North Africa, Italian Ships Hit (L)
4/8/43, With the Second United States Corps, in Tunisia, Americans and British Meet Beneath Frowning Djebels
4/10/43, At the Tunisian Front, Mahares Yielded
4/12/43, Allied Headquarters in North Africa, La Hencha is Taken (L)
4/21/43, Cairo, Egypt, Germany's Gamble on Tank and Dive-Bomber Held Lost
5/7/43, Jerusalem, Allies Try to Ease Middle East Strain
5/9/43, Beirut, Lebanon, Arab World Plans a New Future (W)
5/16/43, Cairo, When Will the War End? (N.Y. Times Magazine)
5/28/43, Moscow, Stalin Sends Reply to Roosevelt; 'Agreeable,' Says Davies, Returning
5/29/43, Moscow, Germans Face Grave Threat
5/31/43, Moscow, Germans Regroup 218 Divisions for Supreme Gamble in Russia
6/5/43, Moscow, New Red Army, at Peak of Power, Evolved to Master Nazi Menace
6/6/43, Moscow, Russians Note Decline of Mighty Wehrmacht (W)
6/13/43, Moscow, Red Army, in Peak Form, Eager for Battle Test (W)
6/17/43, Moscow, Red Army Infantry Still Bears Brunt
6/19/43, Moscow, Soviet Guns Have Edge on the Axis as Huge Duel is About to Start
6/20/43, Moscow, Russians Weigh Chances of German Offensive (W)
6/26/43, Moscow, Soviet NKVD Plays Special War Roles
7/7/43, Cairo, Egypt, Voronezh is Seen as Nazi Objective
7/11/43, Cairo, Egypt, Nazis Strike at Russia in Third Great Gamble (W)
7/18/43, Cairo, Egypt, Axis Must Face New Blows (W)
8/1/43, Cairo, Egypt, Palestine Faces Clash After War
8/3/43, Cairo, Egypt, Palestine Arabs Fear Loss of Land
8/19/43, Istanbul, Turkey, U.S. Ploesti Fliers Feted in Rumania
9/4/43, Cairo, Egypt, Nazis Said to Hold Balkan Grip Vital
10/4/43, Cairo, Egypt, Germans Attack Kos in the Aegean
10/5/43, Cairo, Egypt, Big German Force is Gaining on Kos
10/7/43, Cairo, Egypt, Allies Say Battle for Kos Goes On
10/20/43, Cairo, Egypt, Bulgaria Assured by Soviet on Raids
10/28/43, Cairo, Egypt, Serbs Massacred in Nazi Reprisals
10/29/43, Cairo, Egypt, Yugoslav Factions Attacked by Nazis
11/5/43, Cairo, Egypt, Good Soviet Crops Aid Food Outlook
12/2/43, Cairo, Egypt, All-Out War Set (L)
12/7/43, Cairo, Egypt, Attack Plans Set (L)
12/8/43, Cairo, Egypt, Unity is Stressed (L)
12/18/43, Cairo, Egypt, Nazi Drive Halted by Tito Partisans
12/27/43, Cairo, Egypt, Soviet Influences Partisan Leaders
12/28/43, Cairo, Egypt, Rail Line Marks Tito's Economy
Summers, Harry
3/19/43, Somewhere in Australia, Japan Shifts Aim against Australia
Szapiro, Jerzy
3/18/38, Warsaw, Poland Sends an Ultimatum
5/29/38, Warsaw, Firm Polish Stand in Crisis is Lauded
8/14/38, Warsaw, Poland Denies 'Buffer-Bloc' Plan
5/6/39, Warsaw, Reply Held Final (L)
6/28/39, Warsaw, Poles Shoot Down German Plane over Naval Base Facing Danzig
8/17/39, Warsaw, 3 Border Incidents
8/19/39, Warsaw, Reich Atrocities Charged by Poles
8/21/39, Warsaw, East Border Freed (L)
8/22/39, Warsaw, Poland Unshaken; Still Would Fight
8/23/39, Warsaw, Poles Doubt Help to Reich in Accord
8/26/39, Warsaw, Poles are in State of Full Readiness
8/27/39, Warsaw, Poles Don't Expect an Immedate War
8/28/39, Warsaw, Poles Dig Trenches and Watch Soccer
8/31/39, Warsaw, Poles Mobilizing Army of 2,500,000
9/1/39, Warsaw, 'Republic is Menaced'
9/1/39, Warsaw, Hostilities Begun
9/2/39, Warsaw, Warsaw Raided 4 Times in Day
9/10/39, Somewhere in Southeastern Poland, Defense is on Madrid Model
Taubman, Howard
8/10/40, Lenox, Mass., Berkshires Scene of Chamber Music
7/2/43, 20,000 at Stadium Hear Robeson Sing
Taves, Brydon
9/4/40, Aboard a British Destroyer in the North Atlantic, Writer on British Destroyer Sees U-Boats in Raids and One Sunk
Taylor, Henry J.
7/9/42, Somewhere in Egypt, Bostons Outfight Stukas in Desert
7/11/42, With the British Forces, in Egypt, Egypt Battles Led from Trailers; Fliers Report to Chief in Desert
7/25/42, Ankara, Turkey, Neutrality Basic, Says Turkish Chief
8/25/43, Quebec, M'Arthur Absent Again at a Parley
Thompson, Craig
9/23/40, Boston, Executive Committee Acts
3/15/41, London, Reich Ports Raked (L)
3/20/41, London, Nazi Naval Bases Blasted by R.A.F.
3/22/41, London, Plymouth Bombed for Second Night
3/25/41, London, R.A.F. Guns Troops of Foe in France
4/11/41, London, Britain to Recruit Women in Service
4/20/41, London, Nazis Fly In Low
4/20/41, London, Britons in a Grimmer Mood (W)
5/1/41, London, Churchill Reports
5/8/41, London, Many Raiders Lost
5/16/41, London, Hess's Inquisitors Submit Report; Hitler Said to Have Known of Flight
5/22/41, London, Battles on Island (L)
5/24/41, London, Battle at Maleme (L)
5/25/41, London, Island Battle Hot
5/27/41, London, Push East Begins
5/28/41, London, Churchill Reveals Nazi Gains in Crete
5/29/41, London, Canea Loss Not Denied
5/30/41, London, Crete Evacuation is Seen in London
6/8/41, London, Britain Maintains Secrecy on Hess
6/18/41, London, Nazi Planes Found by Radiolocator
7/14/41, London, Pact Quickly Made (L)
7/24/41, London, Britain Stresses Indo-China Peril
7/25/41, London, Flying Fortresses in R.A.F. Raids Score Hits on Nazi Battleships
7/30/41, London, U.S. Aid Extolled
8/31/41, London, British Navy 'Outboxes' U-Boats for Prize if Convoys in Atlantic
9/1/41, London, British Air Patrol Plays Falcon to U-Boat Hawks in the Atlantic
10/25/41, London, George VI Reviews American Fliers
11/15/41, London, Ark Royal Sunk Near Gibraltar by Axis Torpedo
11/21/41, London, Axis Line Skirted (L)
11/24/41, London, Libyan Posts Fall (L)
11/25/41, London, Desert Army Gains
11/30/41, London, 8 Nazi Ships Sunk in Arctic Convoys
12/9/41, London, Britain Joins U.S. Against Japanese
12/12/41, London, Axis to Get Lesson, Churchill Warns
12/22/41, London, Nazi Shift Renews Talk of Invasion
12/26/41, London, British Garrison Ends 16-Day Siege
1/27/42, A Northern Irish Port, U.S. Troops Land in a Trouble Spot
3/4/42, London, Patrol Skirmishes Break Burma Lull
3/20/42, London, Seed and Animals for Europe Asked
3/29/42, London, Failure, Nazis Say (L)
4/26/42, Somewhere in Southern England, Tanks Doom Feudal Village Near English Invasion Coast
4/27/42, London, British Widen Air Offensive; Nazis Raid Bath in Reprisal
5/1/42, London, Burma Town Afire (L)
5/2/42, London, Foe Pushes Up Burma Road; Chinese Send New Forces
5/8/42, London, Burma Invaders Reported in India
5/9/42, London, Chinese Win Fight
5/17/42, London, Premier Confident
6/1/42, London, Nazis Reported Trapped
6/16/42, London, Survey Shows Gain in British Output
6/22/42, London, 'Disaster' is Seen in Tobruk's Fall
Thompson, Ralph
2/19/40, Books of the Times (C)
2/16/42, Books of the Times (C)
Thuermer, Angus
12/27/40, Berlin, Wodehouse Works on New Book in 'Padded Cell' at German Camp
Tilton, Captain J.H.
8/31/39, Aukland, New Zealand, Clipper at New Zealand
Tolischus, Otto D.
2/5/38, Berlin, Hitler Assumes Control of Army
2/14/38, Berlin, Berlin Hopeful of Accord
3/18/38, Berlin, Hitler Speech Awaited
4/26/38, Berlin, Reich Press Tells Czechs to Give In
11/9/38, Berlin, Nazis Ask Reprisal in Attack on Envoy
11/11/38, Berlin, Bands Rove Cities (L)
11/12/38, Berlin, Nazis Defend Wave of Terror
11/13/38, Berlin, New Decrees against Jews (L)
11/24/38, Berlin, Reich Levies 20% on Jews' Property
11/27/38, Berlin, Nazis in Final Phase of their War on Jews (W)
12/14/38, Berlin, German Paper Tells Two Powers to Keep Out of the Memel Affair
12/31/38, Berlin, Reich to Build Submarines Up to Parity with Britain (L)
9/2/39, Berlin, Reich is Closing In
1/21/39, Berlin, Berlin Surprised by Removal
1/23/39, Berlin, Nazi Order Erases Old Officer Caste; Ties Army to Party
1/31/39, Berlin, Backs Rome in War (L)
3/16/39, Berlin, Germany Grasps Rich Reich Booty
3/14/39, Berlin, Reich Ultimatum (L)
4/26/39, Berlin, Reich Orders out Jews it Released
5/9/39, Berlin, Deal with Stalin Sought by Hitler
5/18/39, Berlin, 3 Nations Reject Reich Pact Offer
5/23/39, Berlin, Alliance is Sealed in Berlin
7/26/39, Berlin, Reich Press Hails Submarine Fleet
7/30/39, Berlin, 'Have-Not' Powers Seeking New World Order (W)
8/9/39, Berlin, Angry Reich Press Threatens Poland with Mailed Fist
8/11/39, Danzig, No Danzig Surprise (L)
8/14/39, Danzig, Ports of Danzig and Gdynia Rivals in dramatic Race to Bring In Arms
8/17/39, Berlin, Price is Increased (L)
8/18/39, Berlin, Issue Held Grave (L)
8/21/39, Berlin, An 'Appease Stalin' Move
8/22/39, Berlin, Germans Elated (L)
8/23/39, Berlin, Ribbentrop on Way
8/25/39, Berlin, Nazi Talks Secret (L)
8/26/39, Berlin, Berlin Talks Held (L)
8/27/39, Berlin, Nazis Rush Arming
8/29/39, Berlin, Envoy Sees Hitler (L)
8/30/39, Berlin, Germany is Milder (L)
8/31/39, Berlin, Goering Chairman
9/1/39, Berlin, Hitler Gives Word (L)
9/3/39, Berlin, Soviet in Warning
9/4/39, Berlin, Hitler with Army on Eastern Front
9/6/39, Berlin, Germans Report Control of Silesia
9/7/39, Berlin, Cracow Claimed by Germans
9/8/39, Berlin, Nazis Press Poles (L)
9/9/39, Berlin, German Hopes Exceeded
9/10/39, Berlin, Poles Holding City (L)
9/11/39, With the German Armies in Poland, Poles Unprepared for Blow So Hard
9/14/39, Berlin, Nazis Blame Poles (L)
9/16/39, Berlin, Polish Resistance Firm in 2 Battles
9/18/39, Berlin, Nazi Drive in East Yields 3 Key Points
9/20/39, Danzig, Fuehrer at Danzig (L)
9/29/39, With the German Army, Before Warsaw, Last Warsaw Fort Yields to Germans
11/12/39, Berlin, Nazis Boast Army Fills Entire West Ready for Attack
12/22/39, Berlin, Hitler Felicitates Stalin on Birthday
12/31/39, Berlin, Nazi Aim Revealed
1/1/40, Berlin, Reich Looks to New Air Weapons, Holding Deadlock is Temporary
1/3/40, Berlin, Germans Prepare Military Attack
1/4/40, Berlin, Molotoff Reported Going to Berlin; Germans Consulting on Finland
1/5/40, Berlin, Reich Names Staff for War Economy
1/7/40, Berlin, Nazis View Shifts as Sharpening War
1/14/40, Berlin, Germany Waging 'Population War'
1/21/40, Berlin, To Attack or Not: Hitler's Heavy Problem (W)
1/25/40, Berlin, Nazi Chiefs Emphasize Offensive; Reported Rift Now Believed at End
1/26/40, Berlin, U-Boats Put at 60 with Lag in Output
1/30/40, Berlin, Reports Heard in Berlin
1/31/40, Berlin, Reich Held Ready (L)
2/3/40, Berlin Germans Hold U.S. Faces Gold Crisis
2/18/40, Berlin Japan is Attacked in the Nazi Press
2/28/40, Berlin, Reich Public Expects Big Effort; Victory Arches Already Planned
3/1/40, Berlin, No Nazi Peace Plan
3/2/40, Berlin, Berlin Bars Peace
3/3/40, Berlin, Nazi Restates Aim (L)
3/9/40, Berlin, Nazi to Visit Rome (L)
4/4/40, Oslo, Scandinavians See Respite from War
4/9/40, Stockholm, Sweden Takes Measures
4/10/40, Stockholm, Sweden Neutral, She Tells Reich
4/12/40, Stockholm, Invaders Set Back
4/14/40, stockholm, Haaken is Warned
4/15/40, Stockholm, King Urges People to Fight
4/17/40, Stockholm, Allied Moves Hidden
4/19/40, Stockholm, Allies Land More (L)
4/20/40, Stockholm, 'Death' Unit Loses (L)
4/2140, Stockholm, Skirmishes Go On (L)
4/23/40, Stockholm, Nazis are Pressed (L)
4/24/40, Stockholm, Nazis Flankng Foe (L)
4/25/40, Stockholm, British Fall Back (L)
4/27/40, Stockholm, Nazis Thrust Rapid (L)
4/28/40, Stockholm, Rail Link in Peril
4/29/40, Stockholm, Rail Link is Held (L)
4/30/40, Stockholm, Major Fight Rages (L)
5/1/40, Stockholm, German Units Join (L)
5/2/40, Stockholm, Nazis Quit Towns (L)
5/3/40, Stockholm, Reich Claims Rout
5/4/40, Stockholm, Nazis Get Big Area (L)
5/8/40, Stockholm, Allied Gains Seen in Narvik Fighting
5/12/40, Stockholm, Nazi World Revolution is Hitler's Objective (W)
6/10/40, Stockholm, War in North Ends
6/16/40, Stockholm, Soviet Move Seen Directed at Reich
6/17/40, Stockholm, 2 Soviet Invasions
7/19/40, Stockholm, Swedes Alarmed by Nazis in North
8/3/40, Stockholm, Gustaf Stresses Swedish Defenses
8/10/40, Stockholm, Finns Defend Curb on Soviet Backers
2/18/41, Tokyo, Tokyo Urges Peace (L)
2/28/41, Tokyo, Japan Sets Terms
4/3/41, Tokyo, Japan's New Party Announces Reform
4/7/41, Tokyo, Japanese 'Regret' Yugoslav Invasion
5/25/41, Tokyo, Japanese Debate Whether to Assist Axis if U.S. Fights
5/26/41, Tokyo, Reich Warns U.S. (L)
5/28/41, Tokyo, Japan Notes Navy is Ready to Fight
5/30/41, Tokyo, Japanese Pressing East Indies on Pact
6/5/41, Tokyo, Japanese Claim a Great Victory
6/16/41, Tokyo, Big War Coup Soon Seen by Japanese
6/22/41, Tokyo, Japanese Ponder War on America (W)
6/23/41, Tokyo, Japan is Worried by German Attack
7/3/41, Tokyo, Tokyo Chiefs Vote New Secret Plan
7/9/41, Tokyo, U.S. Nearing War, Japanese Believe
7/11/41, Tokyo, Japan Hails Idea of U.S. Fleet Move
7/17/41, Tokyo, Konoye Regime Out
7/25/41, Tokyo, Press Prepares Public
7/26/41, Tokyo, Japanese Bitter over U.S. Stand
8/3/41, Tokyo, Japan is Seen Bound to Her Course in Asia (W)
8/5/41, Tokyo, 600 Americans Stranded in Japan as She Holds Her Vessels in Port
8/6/41, Tokyo, Early Attack Seen
8/7/41, Tokyo, New Thai Reports Anger Japanese
8/12/41, Tokyo, Japan Widens Economic Rule; Its Envoy Warns U.S. is Ready
8/18/41, Tokyo, Japan Now Fears Push from North
8/27/41, Tokyo, Japanese Chiefs Study Next Step
9/3/41, Tokyo, Konoye Considers Program to 'Defend' Japanese Waters
9/4/41, Tokyo, Premier Emphatic
9/12/41, Tokyo, Hirohito Directs New Army Set-Up
9/20/41, Tokyo, Manchukuo Held to Need Our Help
10/2/41, Tokyo, Nazi Economics Scored in Japan
10/12/41, Tokyo, Hard Facts Restrain the Japanese (W)
10/15/41, Tokyo, Japanese Chiefs Report to Ruler
10/16/41, Tokyo, Tokyo Navy Sees Clash with U.S.
10/17/41, Tokyo, U.S. Tokyo Target (L)
10/18/41, Tokyo, Military is Ascendant
10/19/41, Tokyo, New Premier Declares the Policy of Japan Remains Unchanged
10/25/41, Tokyo, Japan Surprised by Call for Diet
10/27/41, Tokyo, Japan to Go Ahead, Tojo Reiterates
11/2/41, Tokyo, Japanese Warn War Seems Sure
11/3/41, Tokyo, Tokyo Time Limit on U.S. Forecast
11/5/41, Tokyo, Japanese Ask Us to Reverse Stand or Face Conflict
11/6/41, Tokyo, Diplomat is Flying (L)
11/8/41, Tokyo, Loan to Moscow Painful to Tokyo
11/11/41, Tokyo, Minister Says Japan Aims to Rid Asia of U.S., Britain
11/12/41, Tokyo, Japanese Irate at British Stand
11/17/41, Tokyo, Tojo Sets Terms, Demands We End Curbs on Japan
11/18/41, Tokyo, Showdown Held Nearer in Tokyo
11/19/41, Tokyo, Japan is Pledged to Fixed Policies
11/27/41, Tokyo, Hirohito Receives Tokyo Ministers
11/28/41, Tokyo, Japan Sees End of Negotiations
11/29/41, Tokyo, U.S. 'Ultimatum' is Seen by Japan
11/30/41, Tokyo, Japan Marks Anniversary
11/30/41, Tokyo, Japan's Policy is Based on Her Wants, Not 'Face' (W)
12/1/41, Tokyo, U.S. Principles Rejected by Japanese as 'Fantastic'
12/2/41, Tokyo, Japan Now Looks to U.S. for Reply
12/3/41, Tokyo, Japan Still Says U.S. Must Give In
12/5/41, Tokyo, Domei Gives Stand
12/7/41, Tokyo, Nipponese Face War They Thought Impossible (W)
7/27/42, Lourenco Marques, Portuguese East Africa, Writer Tells of Tortures Japanese Used on Captives
7/29/42, Lourenco Marques, Portuguese East Africa, Tokyo Terrorists Led Japan to War; Emperor in Peril
8/11/42, Rio de Janeiro, Brazil, Japanese Seek World Rule by 'Divine Appointment'
8/15/42, Rio de Janeiro, Brazil, Japanese 'Justice' Reverts to Reign of Terror
8/16/42, Rio de Janeiro, Brazil, U.S. Victims Detail Japanese Torture
8/26/42, Japan's War Plot is Laid to Clique
8/27/42, Japan's Military Has Supreme Rule
8/28/42, Tokyo Clique's '100-Year Holy War' Involves Exploitation of East Asia
8/29/42, Tokyo War Clique Bolsters Powers
Tollet, Marcus
10/11/39, Helsingfors, Finland, Finns Evacuate Border
11/6/39, Helsinki, Helsinki Not Alarmed
11/11/39, Helsinki, Helsinki Anxious
11/13/39, Helsinki, Finns May Go Home
11/14/39, Helsinki, Cabinet to Seek Solution
Trumbull, Robert
6/5/42, Honolulu, U.S. Isle is Bombed (L)
6/6/42, Honolulu, Our Fliers Excel (L)
6/7/42, Honolulu, Sea Fight Goes On (L)
6/8/42, Honolulu, Engagement Ends (L)
6/12/42, With United States Army Air Forces, Hawaii, Big Bombers Won
6/13/42, Pearl Harbor, Foe's Midway Loss in Carriers Rises
8/7/42, Honolulu, Flying Fortress Over Wake Took 6 Japanese Fighters in Its Stride
8/9/42, Pearl Harbor, Pacific Battle On (L)
8/22/42, Pearl Harbor, 670 Japanese Slain (L)
8/28/42, Pearl Harbor, Marines Wiped Out Japanese on Makin Isle in Hot Fighting
9/16/42, Pearl Harbor, Japanese Not 'on Run,' Nimitz Warns Navy Men
9/27/42, Pearl Harbor, Halsey Decorates Heroes of Pacific
10/14/42, Pearl Harbor, Tokyo Fleet Missed Chance after Sinking Four Cruisers
10/15/42, Pearl Harbor, Nimitz Confident After Pacific Trip
11/17/42, Pearl Harbor, Nimitz is Elated
11/21/42, Pearl Harbor, Navy Fliers' Part in Solomons Told
12/1/42, Pearl Harbor, U.S. Submarine Visits Japan, Sees Horse Races, Sinks 8 Ships
12/19/42, Pearl Harbor, Mortally Wounded U.S. Destroyer Torpedoed Japanese Battleship
12/31/42, Pearl Harbor, Destroyer with Makeshift Stern Reaches Hawaii from Solomons
1/2/43, Honolulu, Heaviest Air Blow in Pacific Hit Foe at Wake by Surprise
2/1/43, Pearl Harbor, Knox Bombed in Pacific Trip; Americans 'Masters' There
2/2/43, Kaneohe Naval Air Station, Hawaii, Knox Decorates Fliers in Hawaii
2/10/43, Aboard the U.S. Submarine Wahoo, at a Pacific Base, Wahoo Blew Up Destroyer with Last Torpedo, Sank 2 Cargo Ships, Transport and Tanker the Next Day
2/22/43, Pearl Harbor, Vengeance Came Swiftly
3/7/43, Honolulu, Halsey Bars Correspondents from Travel by Plane in the South Pacific War Zone
3/29/43, Pearl Harbor, Major Air Stations Built in Solomons
4/19/43, Pearl Harbor, Japanese Believed Weighing Blow in 1 of 3 Pacific Areas
5/19/43, Seventh Army Air Force Headquarters, Hickham Field, Hawaii, Big U.S. Planes Bomb Isle with Special Block-Busters
5/23/43, Pearl Harbor, 'Dead' Ships Rise at Pearl Harbor; Miracle in Salvage Cuts Loss to 3
7/6/43, Pearl Harbor, Big Sea Area Goal in Pacific Attack
7/15/43, Pearl Harbor, Pacific Initiative Safe, Nimitz Says
7/30/43, At a United States Army Bomber Base in Hawaii, Stronger Defense Now Guards Wake
9/2/43, Pearl Harbor, 'Real Offensive' in Pacific Believed Opened at Marcus
9/9/43, Pearl Harbor, Foe's Marcus Loss 80%, Nimitz Says
9/20/43, Pearl Harbor, U.S. Forces Raid Gilberts, Hit 2 Central Pacific Bases
9/25/43, Pearl Harbor, Leaders in Raid on the Gilberts Stress Great Damage to Targets
10/7/43, Pearl Harbor, Air Base Battered (L)
10/11/43, Pearl Harbor, 61 Enemy Planes Wrecked at Wake
10/22/43, Pearl Harbor, Japanese Air Base on Tarawa Bombed
10/28/43, Honolulu, New Pacific Drive Pledged by Nimitz
11/28/43, With the 165th Infantry on Makin Atoll, Enemy Ended Makin Fight in Weird Suicide Attacks
12/1/43, Betio, Tarawa, Gilbert Islands, Two Allied Flags Hoisted at Betio
12/6/43, With the 165th Infantry, on Makin Atoll, Queen of Makin Appears on Atoll
12/19/43, Pearl Harbor, Tarawa 'Proved' Marines' Mastery
Trussell, C.P.
12/8/41, Washington, Congress Decided
12/10/41, Washington, Navy Criticized as Caught Asleep
12/12/41, Washington, Senate is Bitter in Hawaii Debate
1/18/42, Washington, Navy Scores Again
1/25/42, Washington, Setback in Bataan
2/2/42, Washington, Many Ships Sunk (L)
2/7/42, Washington, Spy Data Sought from 1940 Census
4/14/42, Washington, War Labor Policy Needed, Says Land
9/24/42, Washington, Warning of a Veto (L)
9/30/42, Washington, 48 to 43 For Rise (L)
10/3/42, Washington, Sept. 15 Rates Set (L)
10/4/42, Washington, New Era Ordered (L)
11/8/42, Washington, U.S. Meets 'Threat' (L)
4/22/43, Washington, Navy Called Slow in Submarine War
6/30/43, Washington, Battle in Public (L)
7/7/43, Washington, Won't Investigate BEW-RFC Dispute
7/9/43, Washington, Corn Ceiling Lost (L)
9/2/43, Washington, Marcus is Shelled (L)
9/4/43, Washington, Third of Japan's Shipping Sunk, Chiefly by Submarines, Says Knox
9/29/43, Washington, Wheeler Assails Bureau 'Slackers'
10/21/43, Washington, Southerners Kill School Aid Bill as Discrimination Bar is Adopted
11/6/43, Washington, World Stand Made (L)
11/25/43, Washington, Report on Patton Asked of Stimson
11/27/43, Washington, Eisenhower Gives Report on Patton
Tucker, George
4/28/43, Somewhere in Iran, Aid to Russia Gluts Iran Artery; Flow of U.S. Supplies Taxes Port (with Clyde Farnsworth)
Tucker, Martha
6/8/41, Arab World Upset in Face of War (W)
Vadnay, Emil
2/28/38, Vienna, Nazis Drop March as Austria Rings Graz with Steel
3/16/39, Prague, Czech Area Seized (L)
Valery, Bernard
9/16/41, Stockholm, Sweden, Sweden Warned on Reich 'Insult'
12/17/41, Stockholm, Sweden, Typhus Outbreaks Menace Germans
12/28/41, Stockholm, Sweden, Hitler as General Faces Hard Tasks (W)
6/16/42, Stockholm, Sweden, Vilna Massacre of Jews Reported
Van Gelder, Robert
8/11/40, Ernest Hemingway Talks of Work and War
2/23/41, Author of "Captain Horatio Hornblower"
Vosser, Harry
2/13/42, London, Singapore Holding
2/14/42, London, Enemy is Shelled (L)
5/2/43, London, Trainbusters Add to Woes of Nazis (W)
Wales, H.G. Quaritch
1/4/42, Malayan Terrain Governs Battles
1/18/42, Japanese Reveal Indies Strategy (W)
Warren, Lansing
12/22/39, Paris, Paris Yellow Book Charges Hitler Gave Czech President '3d Degree'
10/1/40, Paris, Swiss Prepare Defenses (W)
6/5/40, Paris, Paris Toll 254 Dead, 652 Hurt; 20 Children among Bomb Victims
6/25/40, Bordeaux, France, French Criticize Britain
7/13/40, Clermont-Ferrand, France, Era of Mutual Aid Now Seen as Dead
8/3/40, Vichy, Court in France Dooms De Gaulle
9/24/40, Vichy, Fleet Shells Port (L)
9/25/40, Vichy, Warships in Battle (L)
11/11/40, Vichy,French-German Peace Negotiations Barred until War against Britain has Terminated
11/18/40, Vichy, Gamelin, Blum and Daladier Moved to Riom; Early Trial is Presaged by Formal Arrest
12/15/40, Vichy, Petain Nips 'Plot'
12/16/40, Vichy, Petain to Create Advisory Council
1/24/41, Vichy, Japan's Mediation Accepted by Vichy
3/11/41, Vichy, London is Warned
8/22/41, Vichy, Zone in Paris is Encircled for a Round-Up by Police
9/6/41, Vichy, France Protests U.S. Press Charge
9/17/41, Vichy, Germans Shoot 10 Paris Hostages, but Two More Nazis are Fired On
9/21/41, Vichy, Curfew Silences French Capital as Reprisal Toll Mounts to 35
10/21/41, Vichy, Nazi Commander Slain at Nantes
10/22/41, Vichy, Hostages are Shot
10/23/41, Vichy, Frenchmen Slay a German Major
10/24/41, Vichy, Reprisals Mount
10/25/41, Vichy, 54 More French Killed by Nazis
4/15/42, Vichy, Wide Power Likely (L)
6/15/42, Vichy, French are linked Closer to Reich
10/12/42, Vichy, French 'Explain' Draft to Workers
Wavell, General Sir Archibald
3/16/41, The Art of Generalship (NY Times Magazine)
Wellard, James
9/13/43, Valletta, Malta, Italian Surrender Cheered in Malta
Werden, Lincoln A.
9/18/39, Wood, Field and Stream (C)
11/5/39, Philadelphia, Penn Downs Navy on Power, 13 to 6
11/3/40, Newton, Mass., Boston College Tops Manhattan
11/17/40, Philadelphia, Alert Penn Team Routs Army, 48-0
11/23/41, West Point, N.Y., Army Registers 7-to-6 Decision
11/23/41, Boston, Eagles Subdue Holy Cross in Last 90 Seconds, 14-13
8/14/43, Wood, Field and Stream (C)
Werth, Alexander
7/17/43, Moscow, Biggest Nazi Failure Seen
7/20/43, Moscow, Germans Alter Tank Tactics
7/27/43, Moscow, Germans Throw In More Troops
7/29/43, Moscow, Nazis Destroy as They Flee
7/30/43, Moscow, 'Iron Crab' Introduced by Nazis as Two-Man Underground Fort
8/6/43, Moscow, Joyful News for Moscow
8/8/43, Moscow, Russian Arms Prove Superior to German (W)
8/17/43, Orel, Russia, 12,000 Died in Orel Under Nazi Rulers
8/20/43, Moscow, Kharkov Flanked on South
8/24/43, Moscow, Channel Invasion Best, Pravda Says
8/29/43, Moscow, Russians Meeting Fierce Resistance (W)
9/10/43, Moscow, Freeing of Donbas Thrills Russians
9/11/43, Moscow, Nazi Horror Raged in Donbas Retreat
9/12/43, Moscow, Ukraine Battle Sapping Nazis' Dnieper Defense (W)
9/16/43, Moscow, Russian Aims Seen in Smolensk Push
9/20/43, Moscow, Germans Vulnerable in Crimea; Their Communications Imperiled
9/21/43, Moscow, No Commitment Seen
9/26/43, Moscow, Russia Wins Rich Area but Faces Huge Tasks (W)
West, George P.
10/30/38, San Francisco, Lines are Drawn by Californians (W)
Wheeler, Keith
7/21/42, At Sea with the Pacific Fleet, U.S. Bombs Killing Foe's Alaska Hope
White, John W.
3/22/39, Montevideo, Uruguay Parley Curbed by Police
12/14/39, Buenos Aires, Prey of 3 Cruisers (L)
12/15/39, Montevideo, British Rebuffed (L)
12/16/39, Montevideo, Uruguay Sets Time (L)
12/17/39, Montevideo, Warship Repaired (L)
12/18/39, Montevideo, Raider Blown Up (L)
12/27/39, Montevideo, Exeter Fought Spee Till Dusk, New Reports on Battle Reveal
3/2/40, Montevideo, Big Reich Warship and 2 U-Boats are Reported Off Southern Brazil
3/8/40, Buenos Aires, Argentina Ousts Provincial Regime
5/6/40, Montevideo, British Experts are Dismantling Graf Spee; Many Shells are in Unexploded Magazine
6/10/40, Montevideo, Argentina Drafts Stiffer News Gag
9/29/40, Nazi Menace Met in South America (W)
10/4/40, Buenos Aires, U.S. Seeks South American Bases for Joint Defense of Hemisphere
10/14/40, Buenos Aires, Coasts Defended (L)
11/22/40, Montevideo, Uruguay, Uruguay's Senate Bars Ceding Bases
White, W.L.
10/17/40, London, Fear and Heroism in London Bombing
2/12/41, Nazi Gliders Seen as Invasion Factor
7/11/43, Thirty Seconds Over Tokyo, by Capt. Ted Lawson (B)
Whitehead, Don
3/30/43, With the British Eighth Army, West of Gabes, 'Impossible' Waste Crossed by British Flanking Column
7/25/43, Palermo, Sicily, Palermo Crowds Turn Out to Welcome Seventh Army
12/20/43, San Pietro Infine, Italy, Battle for San Pietro the Bloodiest since Landings below Salerno
Whitney, Robert F.
10/15/41, Washington, U-Boat it Hunted Attacked Greer
11/18/41, Washington, Bishops Condemn Nazis and Reds
3/4/42, Washington, Carrier Routs Foe (L)
3/26/42, Washington, M'Arthur Gets U.S. Hero's Medal
9/16/42, Washington, Island Bombarded (L)
11/8/42, Washington, How Navy Drafts Its Communiques (W)
9/3/43, Washington, Other Invasions This Year Anticipated in Washington
Wilkins, H. Ford
11/24/40, Manila, Fear of Japanese Felt by Filipinos (W)
3/1/41, Manila, Manila Lays Plans to Guard Civilians
4/3/41, Manila, Singapore's Chief Confers in Manila
10/19/41, Manila, Philippines Rush Defense Effort (W)
11/29/41, Manila, Quezon Accuses U.S. on Defenses
12/9/41, Manila, Philippines Pounded All Day as Raiders Strike at Troops
12/11/41, Manila, Philippines Fight
12/12/41, Manila, Blocked in Luzon
12/14/41, Manila, Lingayen Retaken (L)
12/16/41, Manila, Olongapo Base is Bombed
12/17/41, Manila, Philippine Forces Holding Japanese
12/19/41, Manila, Japanese Bomb Philippine Port
12/22/41, Manila, Battle is Begun
12/23/41, Manila, Defender Were Ready
12/30/41, Manila, Corregidor is Attacked
Williams, Michael
3/3/39, Vatican City, Conflict is Faced
3/5/39, Vatican City, Neo-Paganism Gravest Problem for New Pope (W)
Williamson, S.T.
5/4/41, United We Stand! Defense of the Western Hemisphere, by Hanson W. Baldwin (B)
5/17/42, Eight U.S. Commanders on Our Far-Flung Fronts (N.Y. Times Magazine)
5/2/43, Four-Star Fighting Men (N.Y. Times Magazine)
Wilson, Richard C.
7/24/42, Lourenco Marques, Portuguese East Africa Transport Hinders Enemy
Wolfe, Henry C.
3/1/42, Japan Holds Up Her End of Axis (W)
Wolfert, Ira
12/25/41, St. Pierre, Take Vichy Colony
11/28/42, From a Base in the Guadalcanal Sector, Solomons Battle a Fiery Spectacle
6/29/43, Guadalcanal, Japanese Radio Attacks Morale of Men on Guadalcanal with Tales of Home Folk
Wood, Lewis
5/24/40, Washington, Alien Registering Asked in Defense
4/19/42, Washington, Attack on 'Axis-Line' Press (W)
7/28/42, Washington, To Sit Tomorrow (L)
7/30/42, Washington, Case Not Complete (L)
8/9/42, Washington, Clemency for Two
2/3/43, Washington, Big Enemy Effort (L)
2/4/43, Washington, Big Battle Denied
2/5/43, Washington, Pacific Frays Go On
2/6/43, Washington, U.S. Troops Pass Tassafaronga in Drive to West on Guadalcanal
5/15/43, Washington, Army Storms Isle
7/23/43, Washington, Submarine Triton Listed as Lost; Took Heavy Toll of Japanese Ships
7/29/43, Washington, Value of Tank Training Proved in Sicilian Invasion, Expert Says
8/26/43, Washington, Capital Convinced Welles Resigned
Woodford, Frank B.
7/27/41, Detroit, Auto Men Worried Over 1942 (W)
Worden, William L.
5/8/43, An Aleutian Army Base, Alaskan Combat Scouts Led Men in Midwinter Move at Amchitka
11/23/43, Aboard a Liberator Returning from Tarawa, As Seen from a Bomber
11/25/43, With the Seventh Army Air Force in the Central Pacific, Foe Driven Into Sea by Marines on Betio
Wouk, Herman
12/7/41, "Rhyme of the BB-66" (New York Times Magazine)
Wright, Sgt. Richard T.
10/9/42, A United States Outpost, in the South Pacific,Marine Tank Man Battles 65, Lives
10/30/42, Somewhere in the South Pacific,Japanese Flying Truce Flag Kill 28 of 30 Marines Who Honor It
Yahner, Rice
8/20/42, United States Ranger Headquarters, Somewhere in Britain,Taught by Commandos
Young, Eugene J.
9/4/38, Hitler Fails to Crack Morale of Opponents (W)