---
To: freedom44
http://www.guardian.co.uk/worldlatest/story/0,1280,-4734852,00.html

Ebadi: I Won't Obey Iran Court Summons

Saturday January 15, 2005 9:31 AM


By ALI AKBAR DAREINI

Associated Press Writer

TEHRAN, Iran (AP) - Nobel peace laureate Shirin Ebadi said Saturday she won't obey a summons by the hard-line Revolutionary Court even though she could be arrested, a challenge to the powerful body that has tried and convicted many intellectuals.

Ebadi, the first Iranian and the first Muslim woman to win the Nobel peace prize, received the summons Thursday.

``The manner in which the summons has been arranged is illegal. I won't go to the court,'' Ebadi told The Associated Press. ``A summons has to specify the reason. That a summons is issued for somebody without specifying the reason and subject is illegal.''

Mohammad Ali Dadkhah, one of three lawyers to represent Ebadi if she is charged, said the Revolutionary Court can arrest Ebadi for disregarding the order. Though a reason wasn't specified, Dadkhah said she had been summoned to testify as a witness, not as an accused.

The summons was issued Wednesday, ordering her appearance within three days. However, because she received the summons Thursday, Dadkhah said the deadline was Sunday.

In Washington, the State Department has warned it is watching the situation, with spokesman Richard Boucher saying Friday that arresting ``proponents of moderation, pluralism, and political reform'' violates international human rights standards.

``We will continue to follow closely the (Iranian) government's actions against Ms. Ebadi and others,'' Boucher added.

Dadkhah, who co-founded the Center for Protecting Human Rights with Ebadi and several other lawyers, said Friday that his center does not recognize the Revolutionary Courts because ``they are not mentioned in the constitution.''

``Even if there was a need for these courts, it was only in the early years of the 1979 Islamic Revolution. A revolutionary court 26 years after the revolution seems irrelevant,'' Dadkhah said.

The Revolutionary Courts deal with security crimes. Many political activities, intellectuals and writers have been tried at the court on vague charges of endangering national security and discrediting the ruling Islamic establishment.

Ebadi, who won the Nobel Peace Prize in 2003, is known to oppose the hard-liners, whose political strength has grown since last year's legislative elections.

---
To: knighthawk; McGavin999; SJackson; tet68; sionnsar; Stultis; river rat; risk; F14 Pilot; ...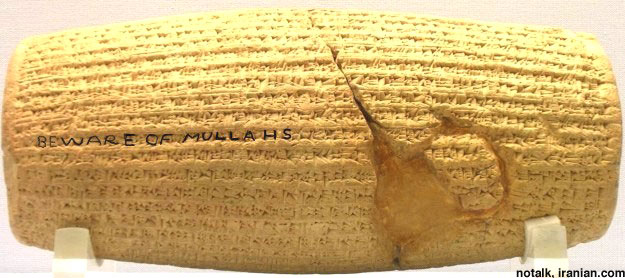 Cylinder of Cyrus the Great.
---
FreeRepublic.com is powered by software copyright 2000-2008 John Robinson