---
FReepers'Support The Troops float at Greely Stampede Parade
July 4, 2006 | Janinco


Posted on 07/04/2006 6:40:18 PM PDT by jan in Colorado

The theme for the Independence Day Greely Stampede parade was "Define the daily grind."

FReepers Weldgophardline and Fire engine red created a float dedicated to our brave troops serving in Iraq. Fire engine red singlehandedly worked for 27 days to present a float for the annual parade in Greely, Colorado. Weldgophardline said, "She does all the work, I just promote it."

My daughter and I were honored to be invited to ride on their float, and following are some pictures and observations from the parade.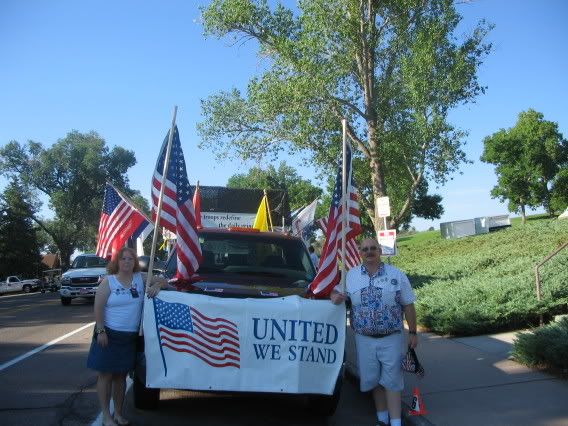 Fire engine red and Weldgophardline before the parade.
Natalie and Jan in Colorado
Weldgophardline requested photos from the troops families from the Northern Colorado area and he received twenty-five responses.
A heart shaped collage was made to display the troops pictures. Eleven of the 25 are currently, or soon to be, serving in Iraq.
In the center of the collage was a picture of Tyler MacKenzie who died November 2, 2005 from a roadside bomb.His mother, Julie rode on the float and during the parade she videotaped the reaction of the crowd. I had the pleasure of getting to talk to her about her beloved son. "He died doing what he believed in," she said fighting back tears yet glowing with pride for her son.
Tyler joined the Army January 19, 2005.Tyler had wanted to be in the army since he was six years old. He was adamant that we stay the course, that we finish what we started and told his mother that we are fighting them over there so that we DON'T have to fight them here! Through Mrs. MacKenzie's grief I couldn't help but see the pride she has in her son and what he wanted to accomplish. She said today, like every day, is difficult and she has to take one day at a time. She is sending a copy of the video to the troops in Iraq so they can see the support they have from the wonderful residents of Greely, Colorado. I have no doubt Tyler is very proud of his mother and how she is honoring him.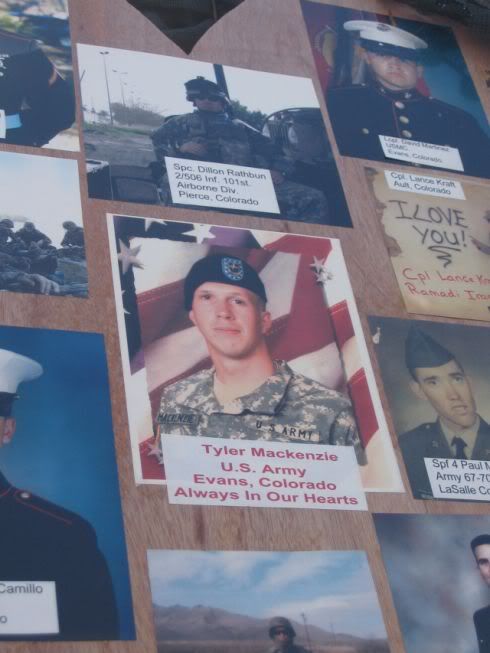 Rest in Peace Tyler Mackenzie.
The float also had many pictures taken in Iraq by Fire engine red and weldgopharline's son, who is currently serving in Iraq. His FReeper screen name is Victor. Many of the pictures are of Iraqi children and Victor has told his father that is why we are here...for the children!
The parade begins!
Servicemen walked on each side of the float as well as behind the float.
The crowd stood and applauded as the float approached.
Jan in Colorado,Weldgophardline and Lurker Jeff
(front row)Fire engine red and Lurker Paula
---
TOPICS: Activism/Chapters; News/Current Events; US: Colorado; War on Terror
KEYWORDS: aar; colorado; freedom; greely; greelystampede; independenceday; iraq; parade; supportourtroops; supportthetroops; waronterror
---
Navigation: use the links below to view more comments.
first 1-20, 21-30 next last
---
---
---
---
---
---
---
---
---
---
---
---
---
---
---
---
---
---
---
---
---
Navigation: use the links below to view more comments.
first 1-20, 21-30 next last
---
---