---
A Divided Jerusalem? The Nightmare ILLUSTRATED
various sources | Monday, October 8, 2007 | Cinnamon Girl


Posted on 10/08/2007 11:22:49 AM PDT by Cinnamon Girl

HEADLINE: Israel May OK Division of Jerusalem

Israeli Prime Minister Ehud Olmert (AP Photo)
Summary of Six Day war from BBC: After a period of relative peace in the Middle East(?), Palestinian guerrilla groups, supported by Egypt and Syria, started a series of attacks on the Israeli border in 1965.
These were followed by Israeli reprisals and a gradual build-up of Arab military forces around Israel's border.
The Second Arab-Israeli war that began on 5 June 1967 ended on 10 June and became known as the six-day war - it changed the face of the Middle East conflict.
At the end of the war Israel had succeeded in almost doubling the amount of territory it controlled.
Israel seized Gaza and the Sinai Peninsula from Egypt in the south and the Golan Heights from Syria in the north. It also pushed Jordanian forces out of the West Bank and East Jerusalem.
Pre-1967 borders: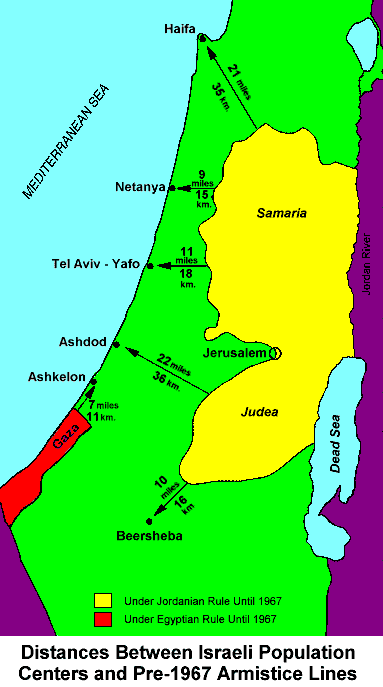 post Six Day War:
Israel Generals Rabin, Dayan, and Narkis enter Jerusalem.
Soldiers at the Kotel (Western/Wailing Wall) after Six Day War
Quote from Yitzchak Rabin: "There was one moment in the Six Day War which symbolized the great victory: that was the moment in which the first paratroopers under Gur's command reached the stones of the Western Wall, feeling the emotion of the place; there never was, and never will be, another moment like it."
The arab history with the Kotel includes building slum housing around it and dumping sewage in front of it.
Yitzchak Rabin in address to Knesset 1995: "I said yesterday, and repeat today, that there are not two Jerusalems; there is only one Jerusalem. From our perspective, Jerusalem is not a subject for compromise. Jerusalem was ours, will be ours, is ours and will remain as such forever."

---
TOPICS: Israel; Your Opinion/Questions
KEYWORDS: islam; islamofascism; israel; jellyfish; jerusalem; jews; temple; wot
---
Navigation: use the links below to view more comments.
first 1-20, 21-25 next last
---
---
---
---
---
---
---
---
---
---
---
Comment #11 Removed by Moderator
---
---
---
---
---
---
---
---
---
---
Navigation: use the links below to view more comments.
first 1-20, 21-25 next last
---
---