---
Gadhafi son reappears in Tripoli, claims father is safe
CNN ^ | August 22, 2011


Posted on 08/22/2011 5:52:34 PM PDT by MinorityRepublican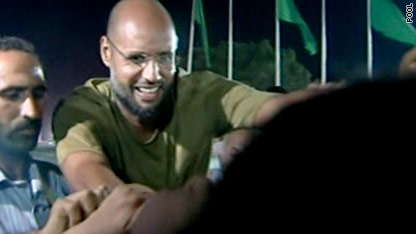 Tripoli, Libya (CNN) -- Two of Moammar Gadhafi's sons, who had been reported captured over the weekend, were free early Tuesday as forces loyal to the embattled Libyan leader battled rebels trying to consolidate their hold on Tripoli.
Saif al-Islam Gadhafi showed up at the Rixos Hotel, one of the remaining strongholds of pro-Gadhafi forces, in a convoy of armored Land Cruisers. In a brief interview with CNN's Matthew Chance, he said his father and several of his sisters were safe in Tripoli, and that loyal troops had "broken the back" of the rebels who moved into the capital over the weekend.
Saif al-Islam Gadhafi, who is wanted on war crimes charges by the International Criminal Court in The Hague, had been reported captured on Sunday along with two of his brothers. Another of those siblings, Mohammed Gadhafi, was reported to have escaped Monday, according to the Libyan ambassador to the United States.
There was no immediate explanation from the National Transitional Council, the rebel leadership that had announced their capture Sunday.
The younger Gadhafi said news of his arrest had been a trick by the rebels, and that he had been traveling around Tripoli in his armored convoy the entire time. He said that government forces had lured the rebels into a trap in the capital, and that Gadhafi loyalists "have broken the spines of those rats and those gangsters."
Luis Moreno-Ocampo, the ICC's chief prosecutor, had said Sunday that he would seek Saif al-Islam Gadhafi's extradition following his capture. Asked about the warrant for his arrest, Saif al-Islam Gadhafi told reporters, "To hell with the ICC."

(Excerpt) Read more at cnn.com ...
---
TOPICS: Breaking News; News/Current Events; Politics/Elections
KEYWORDS: arabspring; escape; gahafi; israel; libya; middleeast; msm; obama; oil; rebel; tripoli
---
Navigation: use the links below to view more comments.
first 1-20, 21-37 next last
---
---
---
---
---
---
---
---
---
---
---
---
---
---
---
---
---
---
---
---
---
Navigation: use the links below to view more comments.
first 1-20, 21-37 next last
---
---