---
Jim Jonesí Sinister Grip on San Francisco (Peoples Temple Cult Leader Ensnared Harvey Milk, Dems)
Salon.com ^ | Tuesday, May 1, 2012 | David Talbot


Posted on 05/06/2012 1:34:50 PM PDT by DogByte6RER

Jim Jones' sinister grip on San Francisco

How the Peoples Temple cult leader ensnared Harvey Milk and other progressive icons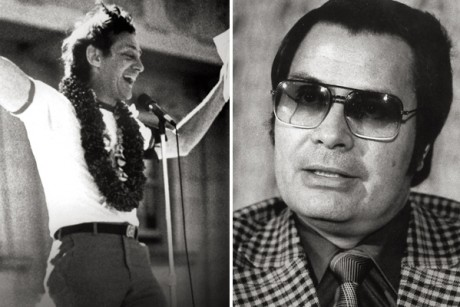 "Season of the Witch," the new book by Salon founder David Talbot, tells the story of the wild and bloody birth of "San Francisco values." The following excerpt – Part 1 in a three-part series -- recounts one of the darker dramas before the ultimate triumph of those values.
Jim Jones, the strange and charismatic leader of Peoples Temple, proved a master at politically wiring San Francisco in the mid-1970s. The driven preacher had begun his climb up the political pyramid by planting roots in the Fillmore district, the city's devastated black neighborhood. Jones moved into the Fillmore at its most vulnerable moment. Urban renewal czar Justin Herman – the Robert Moses of San Francisco — had "literally destroyed the neighborhood," observed community activist Hannibal Williams, "[and] people were desperate for solutions, something to follow. Jim Jones was another solution. He had a charismatic personality that won the hearts and souls of people. And people followed him to hell. That's where Jim Jones went. That's where he took the people who followed him."
Jones's flock, ignored and scorned by society, was electrified by the preacher's vision of a new Eden. Everybody was exalted in his services, even the lowliest recovering drunks and addicts. "He made us feel special, like something bigger than ourselves," said one temple member. "Total equality, no rich or poor, no races," said another. "We were alive in those services," testified one more. "They had life, soul power."
Jones — an oddball and renegade his entire life, someone who never felt at home in his own skin —

(Excerpt) Read more at salon.com ...
---
TOPICS: Crime/Corruption; Culture/Society; Foreign Affairs; Miscellaneous; Politics/Elections; US: California
KEYWORDS: ameritopia; bltheology; communism; communityorganizer; cult; deathcult; democrats; diannefeinstein; dystopia; georgemoscone; guyana; harveymilk; jerrybrown; jimjones; liberals; liberationtheology; lifeinhell; marxism; paradise; peoplestemple; progressives; recenthistory; sanfrancisco; sanfranciscovalues; socialism; socialutopia; suicide; ussharveymilk; utopia; williebrown
---
Navigation: use the links below to view more comments.
first 1-20, 21-40, 41-60, 61-72 next last
---
---
---
---
---
---
---
---
---
---
---
---
---
---
---
---
---
---
---
---
---
Navigation: use the links below to view more comments.
first 1-20, 21-40, 41-60, 61-72 next last
---
---