---
Marc Faber "You Don't Own Gold And You Are In Great Danger"
TMO ^ | 2-1-2013 | Goldcore


Posted on 02/01/2013 5:02:25 AM PST by blam

Marc Faber "You Don't Own Gold And You Are In Great Danger"

Commodities / Gold and Silver 2013Jan 31, 2013 - 08:06 PM GMT
By: GoldCore

Today's AM fix was USD 1,674.50, EUR 1,234.88, and GBP 1,058.47 per ounce. Yesterday's AM fix was USD 1,666.25, EUR 1,230.70, and GBP 1,057.20 per ounce.

Silver is trading at $32.08/oz, €23.76/oz and £20.40/oz. Platinum is trading at $1,677.50/oz, palladium at $736.00/oz and rhodium at $1,200/oz.

Cross Currency Table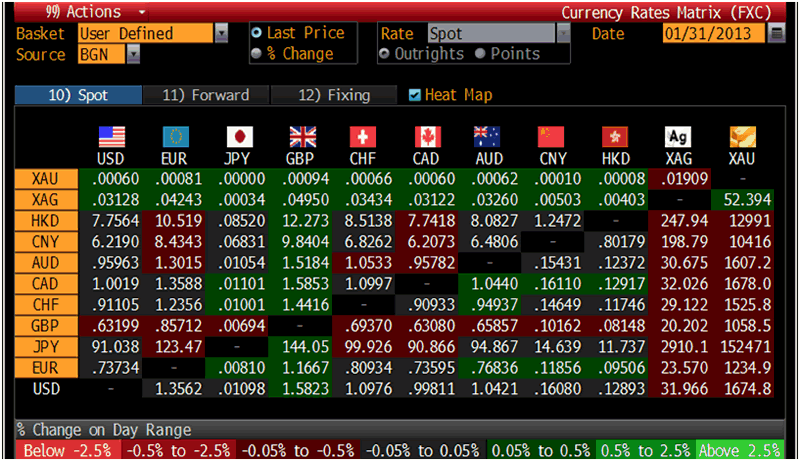 Gold rose $13.80 or 0.83% in New York yesterday and closed at $1,676.50/oz. Silver slipped to a low of $31.24 in the morning, but it then ran up to a high of $32.24 and finished with a gain of 2.01%.
Gold hovered nearly unchanged after surprise GDP figures showed that the U.S. economy contracted and the U.S. Federal Reserve maintained asset purchases. Platinum is on track for its most stellar month's performance in a year.
The U.S. GDP was -0.1% for Q4 and it was expected at 1%. This was its largest drop since 2Q 2009 as U.S. military defence spending plummeted. The Fed left their $85 billion bond-buying stimulus plan intact, citing the monetary stimulus was critical to decrease unemployment, however mentioned this lull in the U.S. economic recovery was temporary.
Investors will be watching the nonfarm payrolls data out tomorrow.
Gold reached multi year highs in Japanese yen again overnight.
TOCOM's December contract, reached a record 4,944 yen a gram or 153,000 yen per ounce. Gold as climbed more than 6% this year on a weakening yen after Prime Minister Shinzo Abe called on Japan's central bank to ease policy even more aggressively.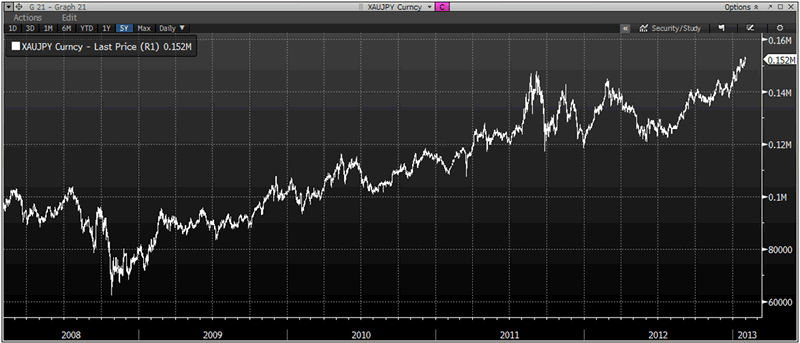 XAU/JPY 5 Year
Reuters reported a dealer in Tokyo saying "Of course a weaker yen attracts buyers, but I think we shall wait for the price to hit 5,000 yen before we see some selling."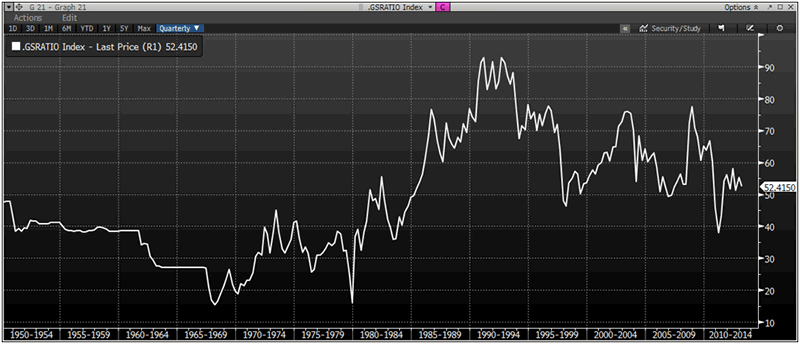 Gold Silver Ratio, Quarterly
India's government announced it does not have plans to for additional taxes or curbs on imports of gold as it waits to see the impact of recent tax increases, said a finance ministry official yesterday.
Respected CNBC financial journalist Maria Baritromo interviewed Marc Faber, a contrarian Swiss investor and publisher of the Gloom Boom and Doom Report.
"You said a minute ago that markets go up and down, doesn't gold go up and down too?" said Baritromo.
"Yes it does go up and down but I am fearful of a systemic crisis, wars and so on and it is because I am fearful that I own gold," said Faber.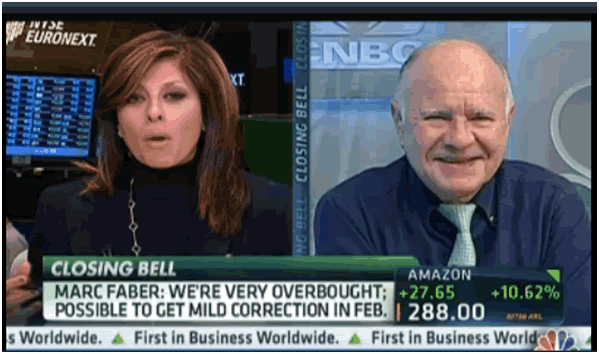 Maria Baritromo and Marc Faber
Faber then asked Baritromo if she owned any gold. Her response was that I own earrings and jewellery.
Faber relied, "Sorry to say you are in great danger because you don't own any gold...but you have a golden personality!"
This tiny snippet of an interview highlights what research at GoldCore has been saying for years. Although many people think gold is a huge bubble like the housing market that burst, it is simply not the case.
How many people do you know that diversify their portfolios with precious metals like silver and gold bullion? Systemic risk is defined as "financial system instability, potentially catastrophic, caused or exacerbated by idiosyncratic events or conditions in financial intermediaries". This is akin to the effect of the proverbial pebble when dropped in the pond, it ripples outward.
The global marketplace is interconnected and potential danger across the pond such as the Lehman Brothers catastrophe affects investors across the world. Bullion investment is a proven hedge to diversify against systemic risk.

---
TOPICS: News/Current Events
KEYWORDS: commodities; gold; recession; silver
---
Navigation: use the links below to view more comments.
first 1-20, 21-27 next last
---
---
---
---
---
---
---
---
---
---
---
---
---
---
---
---
---
---
---
---
---
Navigation: use the links below to view more comments.
first 1-20, 21-27 next last
---
---