---
President Obama: There Is No Debt Crisis
Yahoo News ^ | 13 Mar 2013 | Jonathan Karl


Posted on 03/13/2013 10:24:15 AM PDT by mandaladon
---
Navigation: use the links below to view more comments.
first previous 1-50, 51-56 last
---
To: mandaladon
Well, he's right. There is no debt crisis right now and with the deficit coming down more and more there won't be one in the foreseeable future.
51
posted on
03/14/2013 7:33:55 AM PDT
by
ksen
(". . . organized greed always defeats disorganized democracy" - Matt Taibbi)
---
To: mandaladon
And I never passed gas or burped since I was a baby, RIGHT?!!!
Or wait Mr. President, are you saying that pigs fly?!!!
---
To: lodi90
I know a woman whose deductable has tripled and her co-pay has increased from $25 to $63. What the idiots who vote for democrats can't seem to get through their heads is they're gonna' get screwed just like everybody else.
53
posted on
03/15/2013 4:43:20 PM PDT
by
Terry Mross
(How long before America is gone?)
---
To: mandaladon
. . . and the band played on.
---
To: SoFloFreeper
YES, WHY INDEED !
---
To: mandaladon
You want the framework behind everything Obama is doing?
Freedom From War, Publication 7277, State Dept. 1961.
Reducing nuke stockpile. Internal security forces - ie "we need a civilian military AS STRONG as ou military". Cutting regular military down - a sizeable part of which is operating under UN command or fulfilling UN objectives. Disarming citizens. The latest UN small arms treaty crap. Destroying the last superpower by killing the economy and creating economic crises by printing money like water. Getting ready to Cyprus our 401k's into "government bonds" and private bank savings into "stock/equity in the bank" your money's in - worse than FDIC-insured. Not far fetched as he hates America, walked around for months with the Post-America book he was reading, has all national intelligence assets looking at anyone who is "anti-government" (anti-Obama) as a threat. (And in case you didn't know, Freedom From War, the UN treaties do not allow civillians to remain armed - which means confiscation, by force if necessary.)
Do not think they will not take your supplies as well, as these emergency orders will also allow them to take any of your property they need. Once they disarm you it won't be hard.
This is what it's all about. In its "Second Annual Report to Congress" (February 1963), the ACDA presented a simple graphic depiction (see top of next page) demonstrating its proposed three-stage disarmament process:
U.S. THREE-STAGE DISARMAMENT PLAN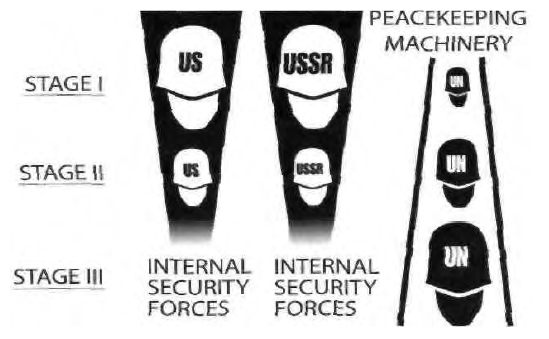 56
posted on
03/30/2013 3:06:03 PM PDT
by
Secret Agent Man
(I can neither confirm or deny that; even if I could, I couldn't - it's classified.)
---
Navigation: use the links below to view more comments.
first previous 1-50, 51-56 last
---
---
FreeRepublic.com is powered by software copyright 2000-2008 John Robinson