---
In the Italian, "the odour of the sheep," is "avere l'odore delle pecore" which sounds to me to be better translated: "have the smell of sheep"... in other words, to be right there so you take on the same smell as them.

---
To: markomalley
**Tend the flock of God**
Very close to Christ's words to St. Peter: "Feed my shee; Tend my sheep; Feed my lambs."
2
posted on
09/19/2013 7:13:26 AM PDT
by
Salvation
("With God all things are possible." Matthew 19:26)
---
To: markomalley; metmom
Pope Francis: Church can't 'interfere' with gays
"(CNN) - Pope Francis said the church has the right to express its opinions but not to "interfere spiritually" in the lives of gays and lesbians, expanding on explosive comments he made in July about not judging homosexuals."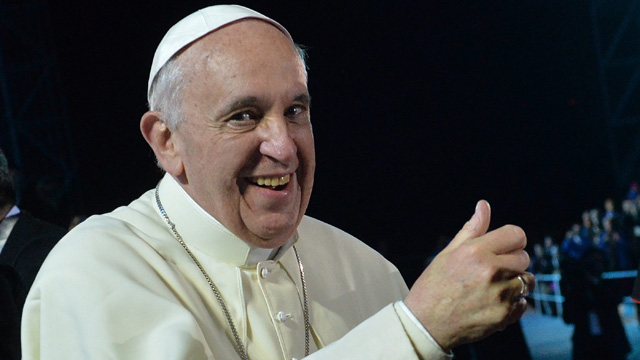 ------------------------------------------
"24 Therefore God gave them over in the sinful desires of their hearts to sexual impurity for the degrading of their bodies with one another. 25 They exchanged the truth about God for a lie, and worshiped and served created things rather than the Creator—who is forever praised. Amen. 26 Because of this, God gave them over to shameful lusts. Even their women exchanged natural sexual relations for unnatural ones. 27 In the same way the men also abandoned natural relations with women and were inflamed with lust for one another. Men committed shameful acts with other men, and received in themselves the due penalty for their error. 28 Furthermore, just as they did not think it worthwhile to retain the knowledge of God, so God gave them over to a depraved mind, so that they do what ought not to be done.
Romans 1: 24-28
__________________________________________________________________________
Pope Francis assures atheists: You don't have to believe in God to go to heaven
"Francis wrote: "You ask me if the God of the Christians forgives those who don't believe and who don't seek the faith. I start by saying – and this is the fundamental thing – that God's mercy has no limits if you go to him with a sincere and contrite heart. The issue for those who do not believe in God is to obey their conscience. "Sin, even for those who have no faith, exists when people disobey their conscience."
--------------------------------------------------------
"12 All who sin apart from the law will also perish apart from the law, and all who sin under the law will be judged by the law. 13 For it is not those who hear the law who are righteous in God's sight, but it is those who obey the law who will be declared righteous. 14 (Indeed, when Gentiles, who do not have the law, do by nature things required by the law, they are a law for themselves, even though they do not have the law. 15 They show that the requirements of the law are written on their hearts, their consciences also bearing witness, and their thoughts sometimes accusing them and at other times even defending them.) 16 This will take place on the day when God judges people's secrets through Jesus Christ, as my gospel declares.
Romans 2: 16-16

---
To: markomalley; Tax-chick; GregB; Berlin_Freeper; SumProVita; narses; bboop; SevenofNine; ...
And from Rome Reports ...
Pope to new bishops: Don't become 'airport bishops.' Be involved in your diocese
September 19, 2013. (Romereports.com)
Pope Francis met with newly appointed bishops who took part in an assembly in Rome organized by
the Congregation for Bishops and the Congregation for the Eastern Churches
. During his speech, the Pope asked them to
avoid the "trap of careerism" and the "psychology of princes."
He advised them to be close to the people in their diocese to avoid becoming '
airport bishops
.'
He used that term to refer to bishops who spend too much time away from their dioceses. The Pope also reminded them about the
importance of collegiality
.
POPE FRANCIS
"This forms a 'unique body' that gives you direction in your daily work and presses you to ask yourselves: 'How do I live the spirit of collegiality and collaboration in the Episcopate? How can I build communion and unity in the Church the Lord has entrusted me.'?' The Bishop is a man of communion and unity, the 'visible principle and foundation of unity.'"
The Pope also spoke about the need to be closer to the marginalized, both geographical and existentially. The bishops, he added, must walk with his flock. He urged them not to forget about priests in their diocese, advising them to have an open line of communication with them while tending to their needs, especially in challenging situations.
5
posted on
09/19/2013 9:53:55 AM PDT
by
NYer
( "Run from places of sin as from the plague."--St John Climacus)
---
FreeRepublic.com is powered by software copyright 2000-2008 John Robinson