---
Demoralizing
Washinton Free Beacon ^ | 3 Apr 13 | Adam Kredo


Posted on 04/04/2013 7:05:14 AM PDT by SkyPilot

Demoralizing

Hagel tells military to prepare for cuts, 'appreciate' its 'limits'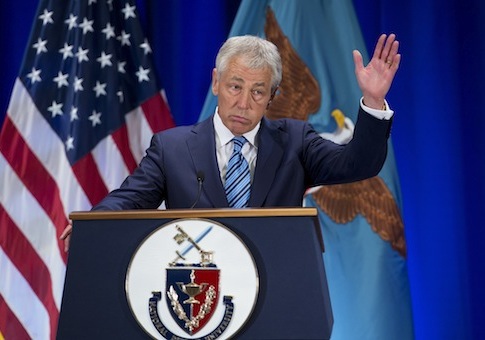 Secretary of Defense Chuck Hagel tried to mollify worried military leaders Wednesday, speaking publicly for the first time about the Defense Department's pressing budgetary woes.
Widespread cuts to the defense budget have led DoD to impose furloughs on civilian employees, defer critical maintenance projects, and consider cutting benefits to military families.
Military employees who attended Hagel's speech at the National Defense University did not hesitate to express their fears, pressing Hagel to explain why benefits and salaries have been placed on DoD's chopping block.
"Why are we still furloughing?" asked one anxious civilian employee during a question and answer session with Hagel. "In case your advisers haven't told you, it is affecting morale."
"I wish I didn't have to answer that question," Hagel responded, saying the department is facing a $41 billion funding shortfall. "I wish we had other options."
"We've tried to be fair and analyze where we take those cuts, and we take them because we have no choice, and trying to minimize the hurt and the pain that these cuts are causing across our entire range of responsibilities," Hagel added. "Morale will be affected but [there are] tough decisions that will have to be made."
"Our readiness and capabilities must come first," Hagel said, adding that this was "not a good answer."
As DoD grapples with nearly $500 billion in defense cuts known as sequestration, it will have to put military benefits and health packages on the chopping block, Hagel said.
"We need to challenge all past assumption and put everything on the table,"

(Excerpt) Read more at freebeacon.com ...
---
TOPICS:
KEYWORDS: cuts; defense; defensebudget; defensecuts; derelictionofduty; dod; dodbudget; hagel; hagelspeech; hollowmilitary; military; nationarysecurity; obamaoutofcontrol; secdefhagel; secdefhagelspeech

Wow.

If anyone had any doubts that the fears that Hagel would be Obama's wrecker of an already beleaguered Dept of Defense, this speech was your confirmation.

Hagel and Obama will dismantle the military piece by piece. Also, in case someone cannot read between the lines: active duty and veteran's healthcare is about to eviscerated even further.

Why, for the love of God, did Hagel deliver this speech when North Korea is poised for all out war?
The US military is reeling. $487 Billion in cuts that began in 2011. Another $650 Billion in cuts due to Sequestration. And now this.

---
To: SkyPilot
Bring back American manufacturing.
China is not the solution.
China is the problem.
---
To: Cringing Negativism Network
Bring back American manufacturing.
I agree. As a bookend to your comment, the Sequester is doing a number on domestic US firms in the areas of Aerospace and Aviation.
We have become a largely service based and Government taking based economy.
No nation can long survive that.

---
To: SkyPilot
China now has gained the upper hand.
China exports more, and sells more, than America.
China runs a trade surplus. With America.
We need to stop our trade with China, and bring back US manufacturing.
Now.
Not that I expect anyone to listen.
But then again, who knows?
:D
---
FreeRepublic.com is powered by software copyright 2000-2008 John Robinson