---
Ruger American Predator Review
Am Shooting Journal ^ | 10/30/2018 | J Watt


Posted on 10/30/2018 5:14:46 AM PDT by w1n1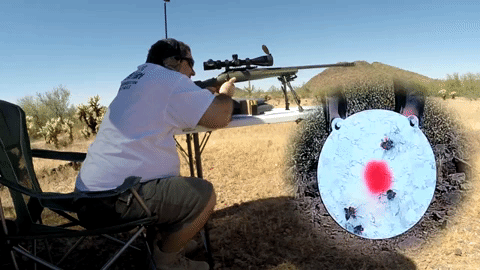 1000 Yard Rifle for less than $500
There are many rifles that can shoot at 1000 yard, here's a few popular ones thats out there:
.300 Winchester Magnum
338 Lapua Magnum
408 CheyTac
50 BMG
Oh, wait a minute, we're looking for something under $500 range.
Well, check out Ruger American Predator rifle.
Its true that most F-class shooters rigs are customized and goes well into the thousands of dollars.
With the Predator, you can customize it till your broke or you can just get this at the bare minimum. This Predator can reach out and touch something at 1000 yard out.
Here's the Predator specs:
-Barrel Length: 22 inches. 1:8"RH Twist. 5/8"x24 Muzzle Threads
-Overall Length: 42 inches
-Length of Pull: 13.75 inches
-Trigger Pull: Ruger Marksman Adjustable Trigger™
-The rifle tested measured 3# 6.5oz from the factory
-Capacity: Detachable Rotary Magazine: 3+1
-Weight: 6.6 Pounds. As tested with scope and muzzle brake: 8.4 pounds
-Stock: Lightweight synthetic with Power Bedding® integral bedding block system and soft rubber recoil pad. Also includes sling swivel studs.

Here's the overall impression of shooting a Predator from a scale of 1 to 5, 5 being the best:
Ergonomics – 4/5
The rifle has a very trim feel to it. There are some raised and textured ridges on the forearm and grip that provide for a positive grip. The recoil pad is very soft and grippy so it doesn't slip on your shoulder. The bolt is easy to operate from the bench or other positions without lifting your head off the stock.

Accuracy – 5/5
Ruger fans can attest its reputation that this this gun shoots very well out of the box. Whatever else Ruger is doing, they are building great barrels for the American Predator series of rifles. To have a box stock rifle shoot ½ MOA groups with factory ammo and no break in is incredible. ?Read the rest of this Ruger American Predator Review.

---
TOPICS: Hobbies; Outdoors
KEYWORDS: banglist; blog; blogpimp; clickbait; getaneditor; horriblewriting; longrange; momsbasement; pimp; plagiarist; rugerpredator; sixthgrade
---
---
---
---
---
---
---
---
---
---
---
---
---
---
---