---
.58 Caliber Flintlock
Am Shooting Journal ^ | 3/14/2019 | M Nesbitt


Posted on 03/14/2019 4:44:43 AM PDT by w1n1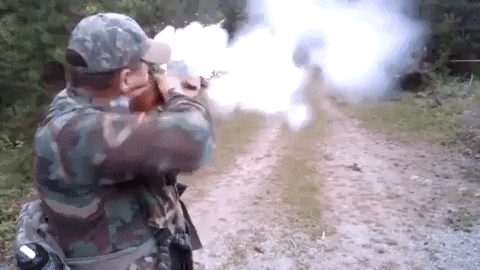 It wasn't the game that the author expected to take with it, but his big .58-caliber flintlock still performed well in the woods.
Let me begin this tale by reviewing some background and a few technicalities. The rifle that is the real centerpiece of this story is a .58-caliber flintlock, in the fullstock Hawken style. That was the last rifle made for me by the late Dave Dolliver. It was my second .58-caliber rifle, but compared to some of the other muzzleloading calibers, I had very little experience with the .58s. Getting more experience with the .58s was something I did set out to do and when that experience came, it came in good measures. The design for this rifle came from two original Hawkens, which are both featured in John Baird's book, Hawken Rifles: The Mountain Man's Choice. From the lock to the muzzle, it copies an original full stock Hawken that has a 39-inch barrel. From the lock to the butt plate, my new rifle follows the lines of the Modena Hawken and the Modena-style patch box is included. There is one difference, however.
While both of these originals are percussion rifles, my gun is a flintlock. No original Hawken mountain rifles have been found with flintlock ignition, but I do believe some were made.
This rifle was finished in late summer, now more than a few years ago. Then it was taken to the range to be sighted-in and that took just a few shots. I'd fire a group of three shots, then file down the front sight to bring up the point of impact. That was repeated five times and with just 15 shots fired, the rifle was hitting very close to center at 25 yards. Then it was tried at 50 yards with the powder charge raised from 60 grains (which was used at 25 yards) to 80 grains. The target at 50 yards was very good too.
THE NEXT WEEK was spent camped with Les Miller high in central Washington state's Cowiche, on the eastern slopes of the Cascade Mountains, looking for deer and elk, during the early season. There was plenty of meat taken by other camps but that kind of luck just didn't shine on me. However, I did make one rather good and lucky shot.
That took place on Thursday, our fifth day of hunting. It looked like we'd have a dry day, unlike previous ones with rain and snow. In the morning I grabbed the .58-caliber Hawken and headed out to a favorite ridge where I could sit and just watch the hillside below.
Les was going into the canyon with hopes of making something move for me. I picked a good sitting spot, but the wind shifted so I moved. At my new spot I caught a glimpse of what looked like a dark, round critter running downhill, away from me. Read the rest of 58 caliber muzzleloader.

---
TOPICS: Hobbies; Outdoors
KEYWORDS: 58cal; banglist; blogpimp; momsbasement; muzzleloader; readtheresthere
---
---
---
---
---
---
---
---
---
---
---
---