---
Windows spotted flashing its unmentionables in a Chicago clothier (BSODs Behaving Badly)
The Register ^ | Apr 3, 2020 | Richard Speed


Posted on 04/03/2020 10:54:58 AM PDT by dayglored

This season's colours are blue, white and bork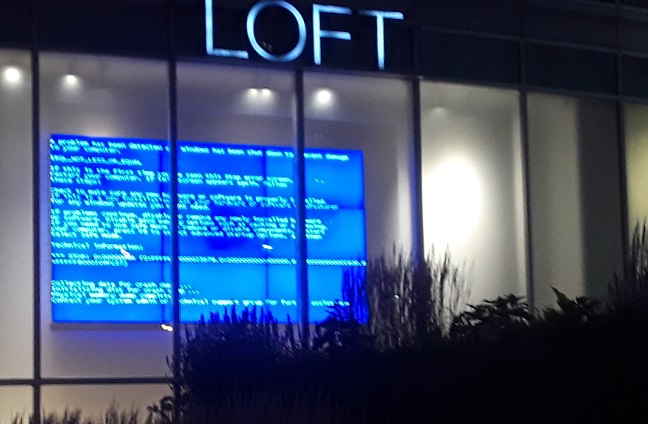 Bork!Bork!Bork! Chicago! A town famed for what some might regard as a jumped-up quiche masquerading as pizza and home of the first skyscraper. Could there be a better venue for today's bork?
We like Chicago, although we're less keen on the landing approach to the city's O'Hare airport, which left this hack feeling a tad poorly on one occasion as Boeing's finest tumbled through the turbulence.
Also unwell, and snapped by a Register reader, is this example of digital signage, caught borking in the window of LOFT, a women's clothing emporium. Sadly, a jaunt to the Windy City isn't on the cards at the moment, but we reckon that the store in question is located at 150 W Roosevelt Road.
LOFT itself recently celebrated its 20th anniversary, having been launched in 1998, and has 650 stores and outlets over North America. The brand has its roots in the Ann Taylor chain of clothing stores, which itself dates back to 1954. As such, the apparel slinger for ladies has been somewhat of a fixture in American life for some time.
As, to be honest, has a good old-fashioned BSOD.
Americans, and indeed the global village, have enjoyed screens of purest blue for a good few decades, despite the odd incursion by Doctor Watson every now and again.
While BSOD-themed blankets, throws, cushions and T-shirts have long been a thing, we can but applaud its arrival upon a screen normally used to encourage Chicago's purchasers of female fashion to splash the dollars on new apparel.
Unless, of course, the retailer is dumping the florals for a distinctly edgier NOT_LESS_OR_EQUAL emblazoned across the front of this season's outfits. Or maybe everyone's favourite: crash dump.
Seen some software struggling, or a bit of hardware throwing a wobbly where it probably shouldn't? The Register is waiting to hear from you. ®

---
TOPICS: Business/Economy; Computers/Internet; Hobbies
KEYWORDS: bsod; microsoft; windows; windowspinglist
---
Navigation: use the links below to view more comments.
first 1-20, 21-38 next last
---
---
---
---
---
---
---
---
---
---
---
---
---
---
---
---
---
---
---
---
---
Navigation: use the links below to view more comments.
first 1-20, 21-38 next last
---
---