---
Olney, Md - Navy Vet Thanks Us - Week 302, Nov. 05, 2011
Posted on 11/11/2011 11:38:30 AM PST by trooprally
For 302 Weeks patriots have been supporting our military in Olney. This Saturday a Navy Vet stopped by to THANK US with a bag of WARM egg 'n cheese bagels. While it was not extremely cold, there was a chill and the warmth of the bagels was welcomed. Probably more welcome was eating the bagels while the "quackers" looked on.
BELOW: Lurker Jim, a Vietnam Vet himself, thanks Navy Vet for the bagels.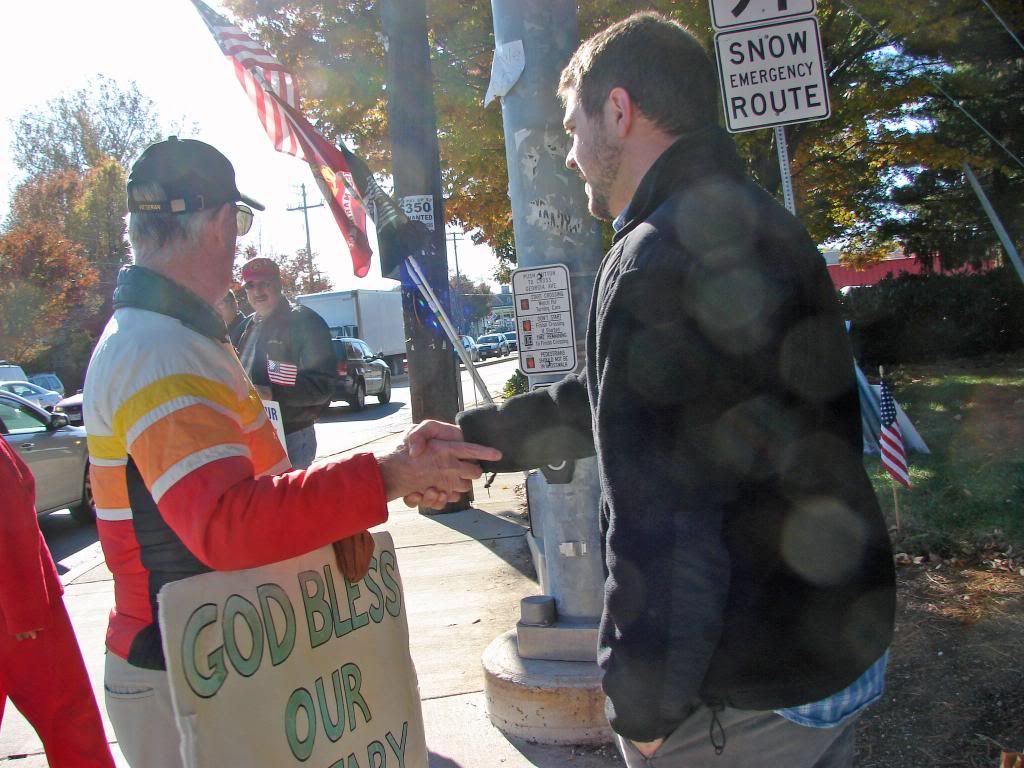 Patriots in Olney on this Week 302: Legionnaires Glenn (USMC - Iwo Jima) and Carl (Army - Vietnam) along with Lurkers Bill and Jim, and FReepers GunsAreOK, [Mrs] T and myself.
BELOW LEFT: Carl in cold weather gear. He is ready for the snow. BELOW RIGHT: GunsAreOK is back after a short absence. FYI - I am reaching for my lighter to relight my cigar. Guns kept me so occupied that my cigar went out.
BELOW: Glenn holding up to the chill. Not bad for someone in their late 80s. Even Lurker Bill is bundled up today. The God Bless Our Military signs were a common theme this Saturday.
OUR SUPPORTERS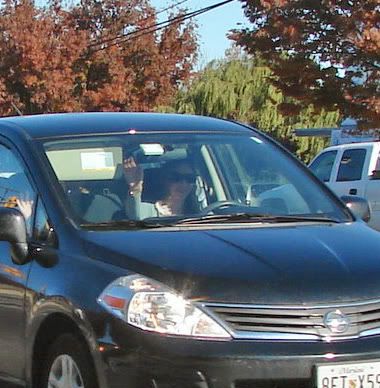 *******************************************************
WARNING TO FREEPERS ATTENDING OLNEY
Some new money making have been installed on north bound Georgia Avenue right before you enter the main business district. Slow your speed after the light at King William Drive.
And a new one has been placed just south of Brookeville, between Brookeville and the Longwood Community Center.


REMEMBER
Next Saturday, same place, Georgia Avenue, MD Rte. 97 and MD Rte. 108 in Olney
NEW TIME - 10:15 AM to 11:45 AM


As always, the D.C. Chapter's rules for protesting will be in effect. Briefly, they are: No violence, no profanity, no racism, no provocations, obey the law and treat all law enforcement officers with respect.

---
TOPICS: Activism/Chapters; Free Republic; US: Maryland; US: Virginia
KEYWORDS: aar; military; mobilizingmothers; moonbats; opinfinitefreep; patriotism; peaceactionmc; rally; supportourtroops
---
---
---
---
---
---
---
---