---
UK Based F-15Es Flew A Secret Long-Range Mission Over Africa On Monday
Foxtrot Alpha ^ | 5/27/15 | Tyler Rogoway


Posted on 05/29/2015 6:15:15 AM PDT by sukhoi-30mki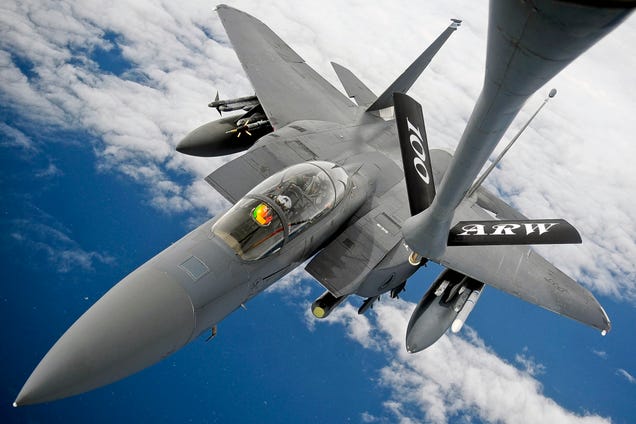 A pair of RAF Lakenheath based USAF F-15E Strike Eagles that were bristling with live bombs and air-to-air missiles, along five KC-135R tankers, flew on a secretive and grueling 12 hour mission over the Southern Mediterranean on Monday, May 25th, Memorial Day.
Multiple radio interceptors and plane spotters state that four F-15E's, callsigns ABLE 01 through 04, took off from their home base at RAF Lakenheath laden with yellow banded (live) AIM-9M sidewinders, AIM-120 AMRAAMS and no less than seven 500lb Joint Direct Attack Munitions (JDAMs). These aircraft were accompanied by five KC-135Rs tankers, callsign QUID 91 through 95, that launched out of their base at RAF Mildenhall, just as the Lakenheath based F-15Es were departing.
After forming up over the UK, ABLE 01 and 02 and QUID 91 through 95 headed south, while ABLE 03 and ABLE 04 turned around and landed back at Lakenheath, their pylons still full of weapons. These two aircraft were clearly air spares, a common technique used for ensuring success during critical missions. Complex combat aircraft are notoriously prone to technical issues that may allow them to continue flying just fine but will greatly limit their effectiveness in combat. These issues can be as simple as a defective radio or targeting pod, or a serious as a malfunctioning engine or environmental system. They also often manifest themselves once the aircraft has 'warmed up' and is underway. By adding airborne spare aircraft to a mission plan the chances of mission completion greatly increase. Because of America's aging and ever more complex air combat fleet, this is a common practice for everything from long-distance re-deployments to critical missions aimed at taking out high-value targets.

(Excerpt) Read more at foxtrotalpha.jalopnik.com ...
---
TOPICS: Egypt; Foreign Affairs; Israel; News/Current Events; Syria; United Kingdom
KEYWORDS: 201505; 20150525; aerospace; africa; algeria; argentina; burkinafaso; chad; cyprus; egypt; eritrea; f15e; falklands; gibraltar; isis; israel; lebanon; libya; mali; mauritania; mediterranean; morocco; niger; nigeria; senegal; sinai; sudan; syria; tunisia; uk; unitedkingdom; usaf
---
---
---
---
---
---
---
---
---
---
---
---
---
---
---
---
---