---
Argentina Negotiates with France to Buy 12 Combat Aircraft
La Nacion ^ | June 14, 2016


Posted on 06/17/2016 6:18:31 AM PDT by sukhoi-30mki
Although it was recently phased out by France and Spain, its two European operators, the Dassault Mirage F-1C fighter remains an effective fighter, but its in-flight refueling capability could be seen as a potential threat to UK sovereignty over the Falkland Islands. (French AF photo)
PARIS --- Argentina is negotiating with France to purchase 12 Mirage F-1 combat aircraft, and possibly Mirage 2000s, as well as engines to equip the twenty Pucarás that are currently grounded, Argentine Defense Minister Julio Martinez told La Nacion.
Passing through Paris, where he came to attend the Eurosatory armaments exhibition, Martinez was today received for an hour by his French counterpart Jean-Yves Le Drian, with whom he discussed in detail the possibility of that purchase.
"The transaction provides excellent value, and under very favorable conditions," he said. The context of the acquisition has evolved favorably due to the two ministers' agreement to undertake the operation on a "government-to-government" basis, thereby avoiding intermediaries while taking advantage of the new climate of trust established between the two countries.
"The Argentine Air Force cannot do without supersonic aircraft. Our pilots must be able to train in modern aircraft," said the minister.
Martinez refused however to specify amounts, modes of operation and payment deadlines because "negotiations are not finished." He also acknowledged that even if the United States has offered to sell Argentina their supersonic F-16 fighter, the "French option" is more consistent with the needs of the country:
"The operating cost of the F-16 makes them almost prohibitively expensive," he said. Chile, which has 24 of the aircraft, cannot fly them because every hour in the air costs $ 17,000.
Moreover, considering that the Argentine pilots have known the Mirage for decades, the country would save the costly process of adaptation to a new technology.
Martinez said that "other countries have also proposed their own planes. For example, Italy".
La Nacion knows that the Swedish company Saab has also offered Gripen NG fighters, which will be manufactured under license in Brazil, with technology transfer included.
The minister also pointed out the importance of buying new Astazou engines from Turbomeca -- now called Safran Helicopters Engines -- to retrofit to the twenty [FMA IA-58] Pucara aircraft that are presently grounded. These aircraft could be used for the "surveillance of the northern border, the main transit region for drugs".
"You cannot perform this mission with supersonic aircraft," said Martinez, "but the Pucara is perfectly suited for it."
If successful, these acquisitions would surely lift the spirits of young air force pilots for years, as like their counterparts in the army and navy they lack proper equipment and see their income shrinking, as La Nacion reported yesterday.
"Yes, it is true, the salaries of the armed forces are half those of the metropolitan police. And it is also true that many NCOs will leave for that reason," admitted the minister of defense.
(EDITOR'S NOTE: The previous Argentine government had opened initial negotiations to buy 24 or 36 Saab Gripen NGs from the final assembly line that Embraer in preparing in Brazil. This project had however run into considerable opposition from the United Kingdom and the United States, which can both veto Gripen NG exports as they supply the aircraft's engine and major subsystems. Argentina had also discussed the purchase of the Kfir C-10 Block 60 fighter developed by Israel Aerospace Industries, and an agreement had almost been concluded last fall before being dropped when the Argentine government was voted out of office. The sale of Mirage F-1Cs could also be opposed by the UK, which faces continued territorial claims by Argentina over the Falkland Islands, as these aircraft can be refueled in flight and could thus pose an increased threat to British sovereignty there.)
-ends-

---
TOPICS: Foreign Affairs; News/Current Events; United Kingdom
KEYWORDS: argentina; falklands; france; mirage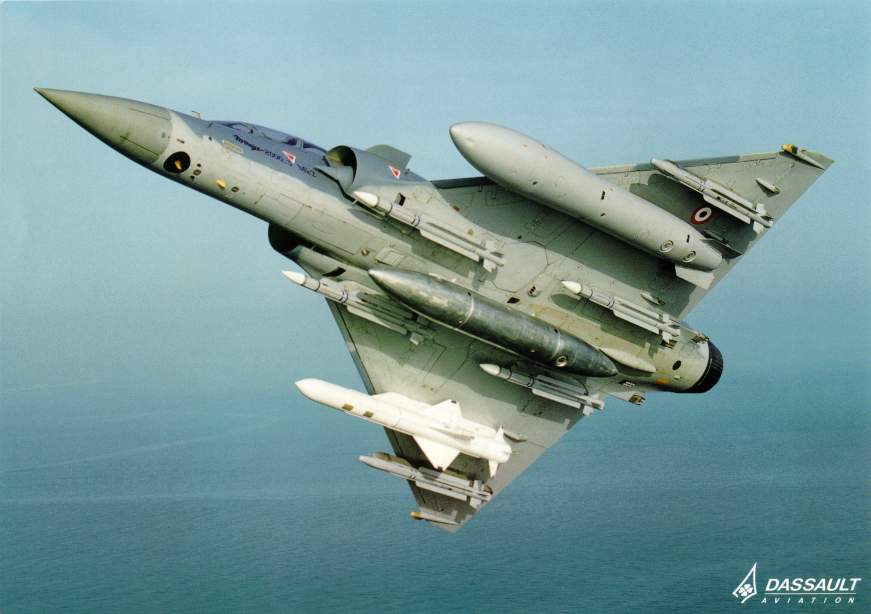 Mirage-20005

---
To: sukhoi-30mki
Afraid the UK is going to attack again?
2
posted on
06/17/2016 6:33:05 AM PDT
by
SkyDancer
("They Say That Nobody's Perfect But Yet Here I Am")
---
To: sukhoi-30mki
Do the Argentines still use the exocet missile?
3
posted on
06/17/2016 7:12:21 AM PDT
by
rfreedom4u
(The root word of vigilante is vigilant!)
---
To: sukhoi-30mki
If England hasn't considered making that shipment mysteriously blow up in transit, they'd d@mn well better do it. Their economy is in rotten shape for another conflict that far away, and if the Argies get handed enough Exocets they might actually win assuming they can get enough Western-trained pilots (or mercenaries) for the planes.
Hell, I'd kind of relish sending them a few thousand pounds of f*ck-you for still considering us little more than a colony of runaway servants who got lucky.
---
To: sukhoi-30mki
France should be sure to get cash...in advance....used bills...major currency.
---
FreeRepublic.com is powered by software copyright 2000-2008 John Robinson