~ The FReeper Canteen Presents ~
~ Remembering Our Troops!! ~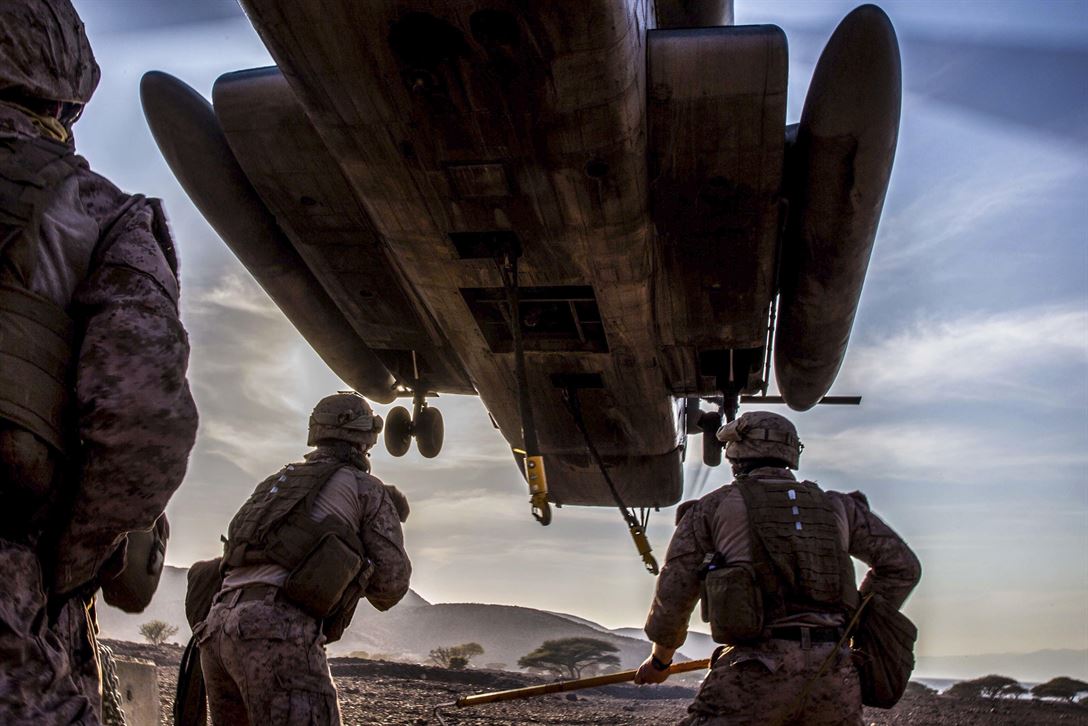 STALLION OVERHEAD
Marines prepare to attach a concrete barrier to a CH-53E Super Stallion during helicopter external load training at Arta Beach, Djibouti, Feb. 16, 2017. The Marines are assigned to Combat Logistics Battalion 11, and the Stallion and crew are assigned to Marine Medium Tiltrotor Squadron 163 (Reinforced), 11th Marine Expeditionary Unit. Marine Corps photo by Lance Cpl. Brandon Maldonado







Canteen Mission Statement
Showing support and boosting the morale of
our military and our allies' military
and family members of the above.
Honoring those who have served before.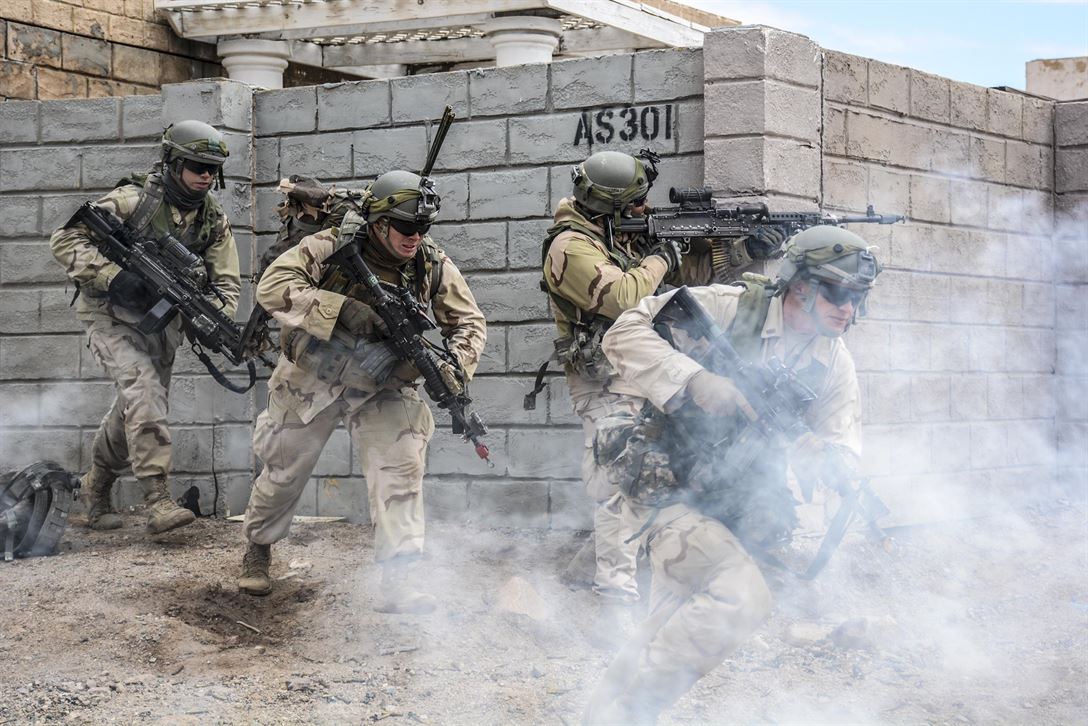 RECAPTURE TRAINING
Soldiers maneuver through the town of Barasu in the National Training Center at Fort Irwin, CA, Feb. 20, 2017, while attempting to recapture the city held by the 1st Cavalry Division's 2nd Armored Brigade Combat Team. Army photo by Pvt. Austin Anyzeski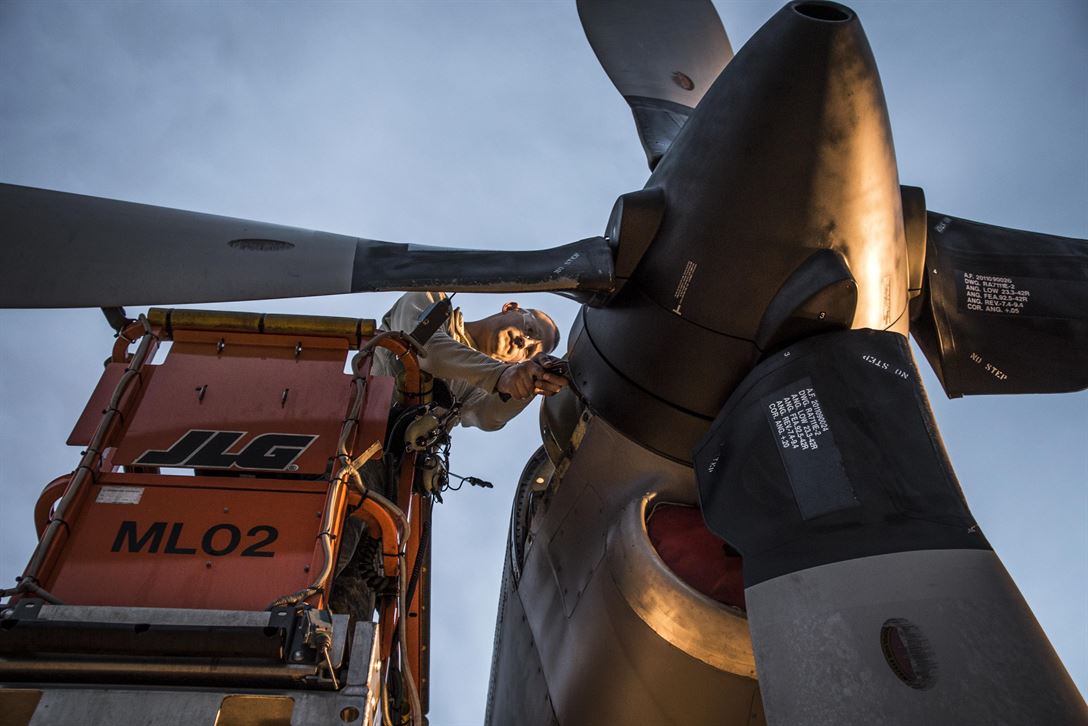 SUNRISE WORK
An airman works on the engine of a C-130H Hercules as the sun rises over the 179th Airlift Wing in Mansfield, Ohio, Feb. 21, 2017. The wing's airmen respond to community, state and federal missions. Air National Guard photo by 1st Lt. Paul Stennett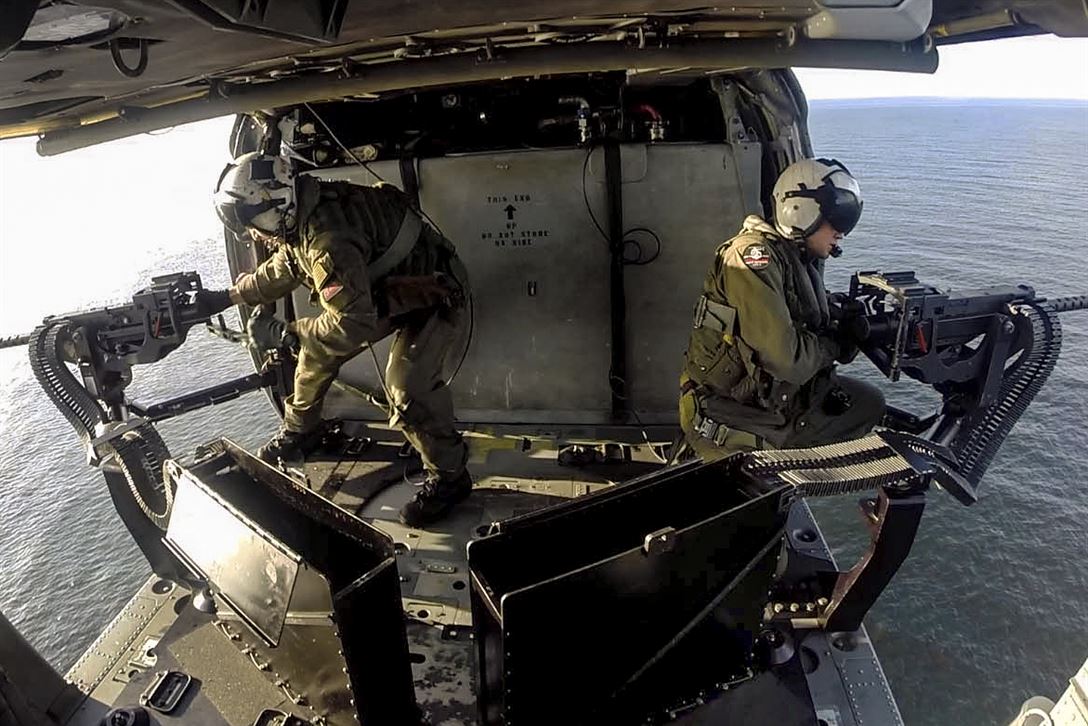 SEAHAWK EXERCISE
Navy Petty Officer 1st Class Derik Richardson, right, and Petty Officer 2nd Class Kevin Brodwater conduct a live-fire exercise from an MH-60S Seahawk helicopter over the South China Sea, Feb. 21, 2017. Richardson and Brodwater, both naval aircrewmen (helicopter), are assigned to the USS Coronado. The littoral combat ship is a fast and agile warship, providing the U.S. 7th Fleet with flexible capabilities. Navy photo by Petty Officer 2nd Class Amy M. Ressler

MOVEMENT DRILLS
Soldiers conduct individual movement drills at Fort Stewart, GA, Feb. 14, 2017. The event helped determine who would represent the battalion at the 11th annual Best Sapper Competition at Fort Leonard Wood, MO. The soldiers are assigned to the 3rd Infantry Division's 9th Brigade Engineer Battalion, 2nd Infantry Brigade Combat Team. Army photo by Spc. Joshua Petke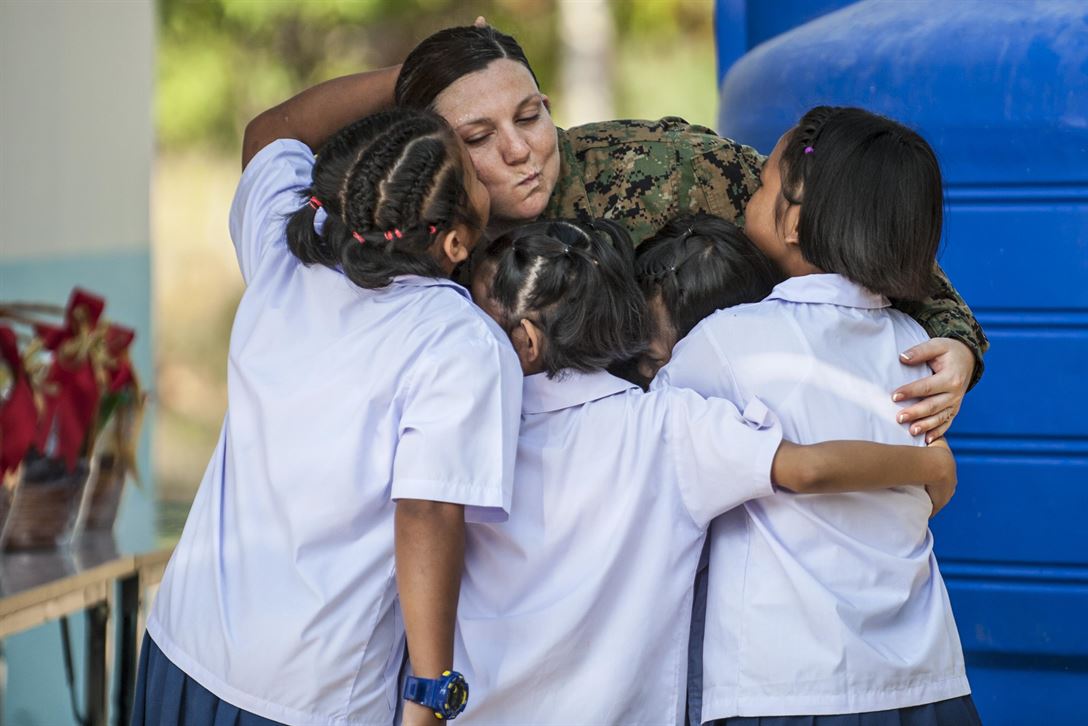 ARMFULL FAREWELL
Navy Petty Officer 1st Class Samantha Clark bids farewell to Thai students during a ceremony to mark the completion of a school expansion project as part of Cobra Gold 2017 in Rayong province, Thailand, Feb. 21, 2017. The exercise focused on advancing regional security and ensuring effective responses to regional crises by bringing together a multinational force to address shared goals and security commitments in the Indo-Asia-Pacific region. Clark is a hospital corpsman assigned to the 1st Marine Expeditionary Force Headquarters Group. Navy photo by Petty Officer 2nd Class Markus Castaneda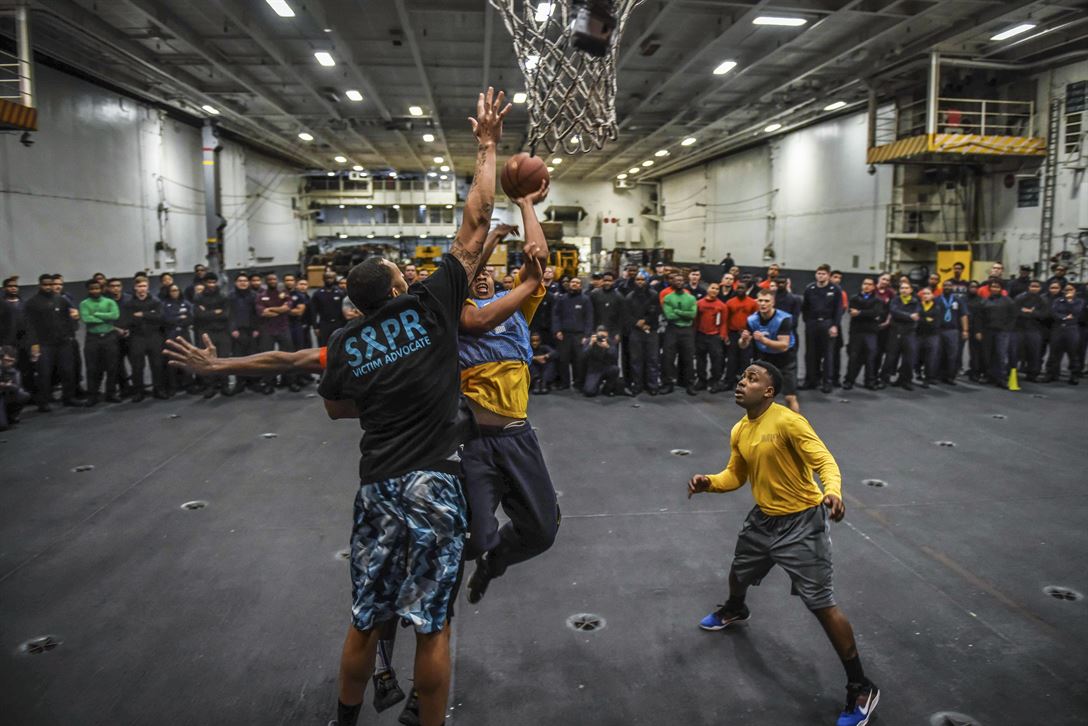 HANGER BAY BASKETBALL
Sailors compete in the final round of a three-on-three basketball tournament in the hangar bay of the USS Theodore Roosevelt in the Pacific Ocean, Feb. 19, 2017. The Theodore Roosevelt is off the coast of Southern California conducting routine training operations. Navy photo by Petty Officer 3rd Class Spencer Roberts

Please remember that The Canteen is here to support
and entertain our troops and veterans and their families,
and is family friendly.