The Chinese regime is exploiting the unrest across America to attack the United States and divert attention away from its tightening grip over Hong Kong, experts say.
Over the past few days, Chinese diplomats and state-run media have taken to social media, heaping criticism on the United States over its handling of ongoing protests over the police custody death of George Floyd, which have recently descended into violence in dozens of cities across the country.
Floyd died on May 25 after a police officer pressed his knee against Floyd's neck.
Chinese foreign ministry spokesperson Hua Chunying on May 30 responded to a tweet by the U.S. State Department decrying the regime's encroachment into Hong Kong by writing: "I can't breathe," quoting what Floyd was caught on video saying before he died.
"I can't breathe." pic.twitter.com/UXHgXMT0lk

— Hua Chunying 华春莹 (@SpokespersonCHN) May 30, 2020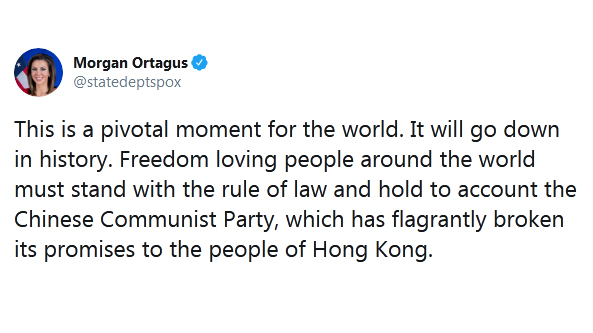 Hua's message came one day after President Donald Trump announced that the administration would be revoking Hong Kong's economic privileges as a result of the regime imposing a national security law on the city. The move, Trump said, showed that the regime had broken its word to allow Hong Kong a high degree of autonomy when sovereignty was transferred from Britain to China in 1997.
Beijing has not yet formally responded to Trump's decision, but state-run outlets have ramped up their coverage of the U.S. protests, quick to make comparisons between the U.S. protests and the ongoing pro-democracy movement in Hong Kong.

Hawkish state-run newspaper Global Times on Saturday ran a commentary titled: "Watch out! 'Beautiful sight' in HK is spreading across the U.S." The headline was a dig at remarks made by House Speaker Nancy Pelosi last year