---
Itís Beer Thirty FReepers! Time For The Homebrewing / Wine Making Thread #3 June 15,2012
Free Republic | Red_Devil 232


Posted on 06/15/2012 3:30:28 PM PDT by Red_Devil 232

Good afternoon/evening FReepers. Yep, it is Beer Thirty Time!

Happiness is a bubbling airlock!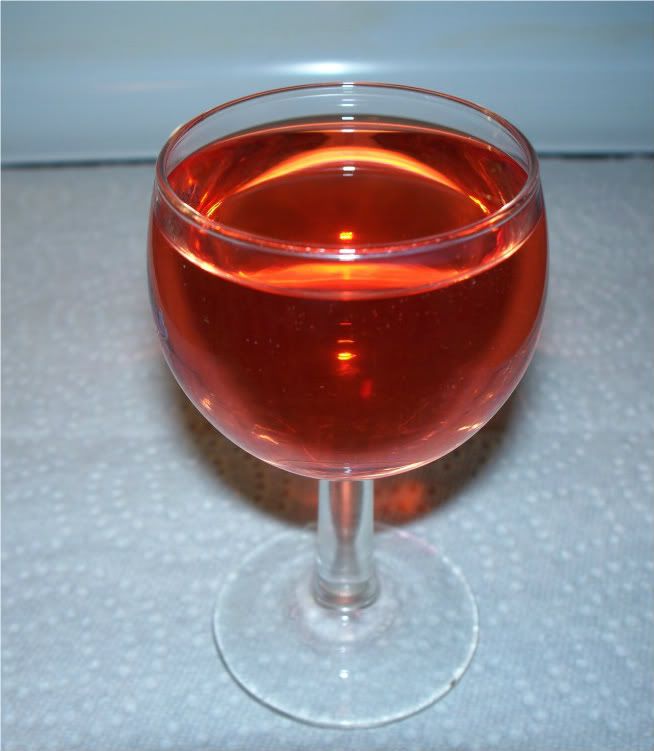 GLASS OF MY CRANBERRY MEAD – MELOMEL – HONEY WINE
While we all enjoy a mug or glass of our favorite beer or wine I thought we could discuss the most important ingredient we all need to make our homemade beers or wines.
Yeast
I have used both Wyeast and White Labs liquid yeasts and also dry yeasts mostly Safale 05 and 04 for fermenting my homebrews. I always keep at least one or two of the Safale yeast packs in the fridge as a backup, just incase. Last summer the heat during shipping did in a smack pack of Wyeast I had ordered and the backup dry yeast I had in the fridge saved my beer. If you use the liquid yeasts it is advised you use your supplier's cold pack shipping option, especially during the warm months. If you don't have a local homebrew store near you, having a backup yeast supply is essential. I also keep at least 1 lb of Dry Malt Extract around so I can make a yeast starter.
Use a yeast starter
Some experts recommend pitching at least 192 to 200 Billion yeast cells into a five-gallon wort of a medium gravity ale. Higher gravity ales and lagers will require more yeast cells. Both of the liquid yeast brands mentioned above only contain 100 billion cells and the 11.5 gram dry yeast packs of Safale only have 70 billion cells. A yeast starter will boost your cell count to the proper range suggested for a quick start and efficient fermentation and reduce your costs for yeast. Below is a link to why BeerSmith recommends making a starter;
Making a Yeast Starter for your Home Brew Beer
Here are some basic guidelines and instructions, from Midwest Supply:
1. Activate a Wyeast pack and allow it to swell. Wait until the yeast package has swelled to at least 1 inch thick. Or shake up a room temperature White Labs vile. Dry yeast packs just need to be at room temperature.
2. Heat 4 cups water in a saucepan and when hot, dissolve 1 cup Dry Malt Extract (DME) in the water. If you have any yeast nutrient available, you can add ½ tsp to the mix. It's ok to leave out the nutrient. Lightly boil the wort for 20 minutes. The goal is to create a starter about 1.040 in specific gravity.
3. Sanitize your flask, growler, mason jar etc.
4. When the boil is complete, gently pour the hot wort into the sanitized container. Cover the opening of the flask with aluminum foil. Be careful when doing these steps, use a pot holder to move the flask.
5. Cool the flask in an ice bath. It helps to gently swirl the flask and periodically add ice to the bath to hasten cooling.
6. When the starter wort has cooled to around 70°F (the flask is cool to the touch), shake the flask vigorously to introduce oxygen, and then pitch the yeast. Attach the stopper and airlock.
7. Ferment the starter around 70°F for 24-36 hours for maximum cell growth. Do not expect to see a vigorous fermentation or layer of foam as you would see in a primary fermentation. To increase cell growth, you may wish to agitate the starter periodically to introduce oxygen and remove carbon dioxide. Stir plates are an excellent way to significantly increase the culture's population. The starter may be refrigerated for up to a week before using, if need be. If refrigerated, allow the yeast to warm up before pitching on brew day.
8. Pitch yeast starter into cooled, aerated wort. Agitate the flask to get the yeast into suspension before pitching. Alternatively, you can drop the yeast by refrigerating the yeast starter for a few hours and decant the fermented starter liquid leaving the yeast cake on the bottom. Add a few ounces of boiled and cooled water and swirl to create a slurry. Then, pitch the slurry into your wort. Some brewers prefer this method to leave the fermented starter wort out of their batch or to do a subsequent, larger starter to generate an appropriate pitching rate for high gravity beers or large.

Another thing I have found helpful especially at bottling time and to help determine if a beer is carbonated. I like to use one PET bottle when bottling. I can squeeze the PET bottle and feel the carbonation level. If it is firm and hard to squeeze, I know it is ready.
I hope this was useful info for some of you. Now let's get brewing! Please let the thread know what yeast you prefer and why and how you use it.

---
TOPICS: Hobbies
KEYWORDS: beer; homebrewing; weekly; wine
---
Navigation: use the links below to view more comments.
first previous 1-20, 21-40, 41-60, 61-80, 81 next last
---
---
---
---
---
---
---
---
---
---
---
---
---
---
---
---
---
---
---
---
---
Navigation: use the links below to view more comments.
first previous 1-20, 21-40, 41-60, 61-80, 81 next last
---
---