---
The Best and Worst of 2009 Part II
Flopping Aces ^ | 01-02-10 | Mike's America


Posted on 01/03/2010 11:33:21 AM PST by Starman417

May through July saw the stirrings of renewed conservative momentum!

In Part I of this review of 2009 we traced the early signs of crumbling of the Obama fantasy. The unraveling of what Bill Clinton called the "Fairy Tale" of Obama began shortly after he took office. By mid march, many conservatives and GOP pundits who got caught up in "hoax and chains" were already admitting their mistake. Soon, moderates and independent voters who were key to Obama's election victory would begin deserting as it became all too clear they felt he ran as a centrist but was governing as a radical liberal.

Some of the highlights, and lowlights from this period:

Air Farce One: Obama's $375k Photo Op Panics New York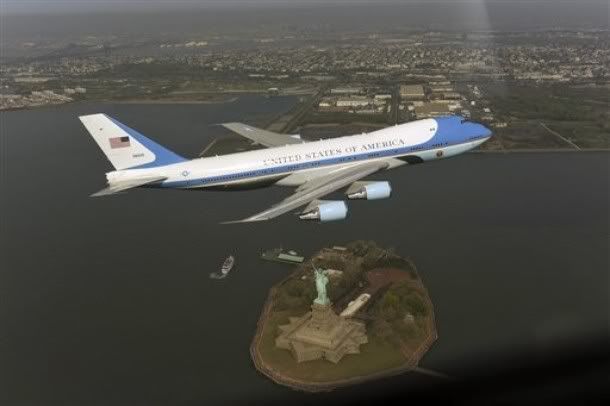 Photos from the April 27th Air Force One flyover which panicked New York City were released in May. $375,000 of your tax dollars at work.
But this was chicken feed compared to Barack and Michelle's big date night in New York City at the end of the month which required a full mobilization of the President's helicopters, cars, security and additional planes. Barack's promise to take Michelle out in New York was the one campaign promise he kept. What about the carbon footprint on that trip?
House Speaker Pelosi LIES About CIA Lying!
May was also a big month for Nancy Pelosi. First she insisted that the CIA had lied to Congress about informing them of the enhanced interrogations of a handful of the worst terror suspects. When caught lying, she kept at it. CIA logs were released showing that members of Congress were informed.
Former Speaker Newt Gingrich, who was held to a very dear standard for truth during his speakership, made one of the most blistering statements (audio here) of Pelosi. Gingrich used words like 'lied,' 'despicable,' 'dishonest,' 'vicious,' 'trivial' to describe Pelosi.
This video captures the bumbling Speaker Pelosi perfectly:
[VIDEO AT SITE]
On a related matter, it was March when we saw the flight logs detailing the many, MANY trips Pelosi and fellow Dems were taking at taxpayer expense.

Obama Plays Robbing Hood for Auto Unions While Subsidizing Porn and Checks to Dead People
In May we also learned that Joe the Plumber was right when he suspected Obama of wanting to "distribute the wealth." The auto deal which handed control of Chrysler to the United Auto Workers Union (no coincidence that they contributed over $4 million to Obama's election) did so by overriding the property rights of Chrysler investors and creditors.
This episode was one of the keys to waking up Independent and moderate voters who had been told during the campaign that Republican concerns on matter such as this were nothing but scare tactics.
Also during this period we...
(Excerpt) Read more at floppingaces.net ...

---
TOPICS: Government; Politics
KEYWORDS: 2009; best; worst



---
FreeRepublic.com is powered by software copyright 2000-2008 John Robinson