---
Art Appreciation/Education "class" #6: Dada and Surrealism
7/1/05 | republicanprofessor


Posted on 07/01/2005 4:13:38 PM PDT by Republicanprofessor

As the sixth class in this mini-art appreciation set of lectures, it's time to consider Dada and Surrealism. The roots for this movement of art fantasy goes back to Henri Rousseau and de Chirico in the late 19th and first decades of the 20th century. These unusual, dream-like settings provoke our imagination more than the emotion of Expressionism and the intellectual structure of Cubism.
Henri Rousseau Sleeping Gypsy and de Chirico Mystery and Melancholy of a Street
Note in the street images, how the long shadows create a mysterious, imminent mood, and that the "girl" is only a shadow of a girl.
Then we had the horrors of trench warfare and WWI. Dada was a nonsense movement in reaction to that waste (when 20,000 men could die to gain a few yards of land). Artists in New York, Paris, Berlin and Switzerland created nonsensical art that reacted against the previously rational art that had led to WWI.
Dada either means hobbyhorse or the first words a baby speaks. Or, it is said, perhaps what happened is this: a blindfolded representative opened a dictionary and stabbed the first word. Either way, it is still (purposely) nonsensical.
In Switzerland, Hans Arp at first tore up his earlier drawings and then dropped the pieces of paper onto another piece of paper, purportedly gluing the paper where it fell. Now, we don't know how high the little pieces of paper were held. It is easier to believe in the workable compositions below if the paper only fell a couple of inches instead of three feet.
Arp a collage with torn paper
This is also the time when Marcel Duchamp, a French artist visiting the U.S., exhibited Fountain below. This was in 1917. In 1913, his Nude Descending the Staircase had been the shocking work at the Armory show. [Side bar: the U.S. artists were a bit backward at this time, and I'll show more of this in the next "class" on early American Modernism, with Georgia O'Keeffe and Arthur Dove and others. But in 1913, some of the dark Ash Can School artists had brought over the most avant-garde and adventuresome European art (including Cezanne, Picasso, and one Kandinsky) to introduce the Americans to really contemporary European art in the infamous NYC Armory show. Ironically, instead of having the Ash Can school's own work look progressive, their dark paintings looked quite backward compared to the Europeans, and Duchamp stole all the attention in his Nude Descending the Staircase below.]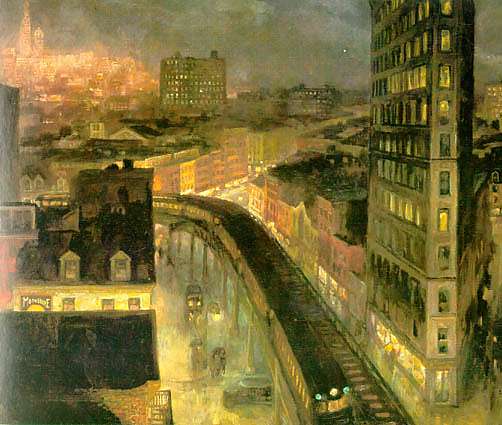 John Sloan Ashcan artist The City from the Greenvich Village 1922 Marcel Duchamp Nude Descending the Staircase 1913
To further emphasize his disgust with the traditional world, Duchamp took a postcard of the Mona Lisa, added a goatee and mustache and titled it LHOOQ. If one says this quickly in French, it means "she's got a hot ass." So he is making the most famous painting of all time into a prostitute. (Or is it a transvestite prostitute?...)
So, in 1917, there was a show that was supposed to accept all the submitted artworks. So clever, iconoclastic Duchamp exhibited Fountain, signing it R. Mutt. (A dog reference?) Duchamp called these works "readymades," and asserted that art was created in the mind of the artist, not with the facile gestures of a practice hand. [I'll bet some Freepers will have trouble with that idea. Here are a couple of more of his pieces. Can you get his clever word-play? Brilliant, n'est-ce pas? (Sarcasm…..)]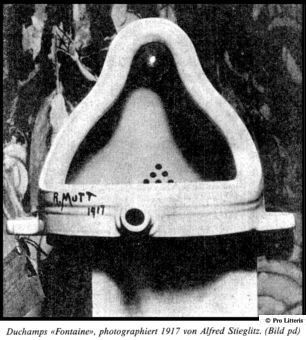 Duchamp Fountain In Advance of the Broken Arm Fresh Widow
It is undoubtedly Duchamp's influence that can be seen in the work of Jasper Johns, Robert Rauschenberg and Andres Serrano's Piss Christ… more about them all later.
Coming from New England, I actually like the second one. But since many of these "original" works have been lost, another issue comes to hand. Can curators legitimately go to a hardware store, buy a shovel, and exhibit as a Duchamp work? Then how much is that shovel worth?
Okay, that's more than enough on Dada and Duchamp (although, believe me, I could ramble on and on about Duchamp particularly. The art world love to do so.) I wonder if he's only a lot of hot air and a few clever ideas. There's no heart to his work. I think heart and soul are what make the great works survive. But each to his own….
Now, let's look at Surrealism. Andre Breton was the brain behind the philosophy of this movement. In 1925, he wrote an essay on the importance of dreams and the subconscious in our lives and in the arts. He was thus developing some of Freud's ideas, and the real movement of Surrealism (from sur-realite: over and beyond reality) developed. These artists are working from the impetus of dreams, or from our hidden, subconscious motives, as they create one of two different styles of art.
The most recognizable style of art is what I call Magic Surrealism. There are other names for this most-realistically based style. Salvador Dali (1904-89) is the most famous of these artists, especially for The Persistence of Memory, or what we might think of as the "melted clocks." It's been said that Dali dreamed this after a dinner of particularly ripe, soft Brie cheese. I also think that funny character in the middle is Dali himself. There is something of his mustache in those eyelids. Note all the weird things: the bugs who are on usually hard watches, as if they were soft food. The square block with the tree coming out of it. The super clear sky and background light. Definitely something "above" normal reality.
Another of his images that I love is in the Wadsworth Atheneum in Hartford. This is the oldest public museum, established by Daniel Wadsworth shortly before 1850. This piece, on the left, is a good-sized piece. Students never wrote a really good paper about it if they didn't mention the dog. You should see the dog (hindquarters, nose as beach, eye as cave, etc.) as well as the fruit bowl and face. You may not notice in this small image, but the eyes of the face are really an overturned bowl and a (dead?) baby. I think Dali echoed Freud a great deal in his obsession with death and with sex. I also like the Civil War and beans image on the right. I think it captures the pain of civil war very well; obviously the Spanish Civil War (1937-39, I think) in this instance.
Dali Apparition of a Face and Fruit Bowl on a Beach and Premonition of Civil War 1936
Another imaginative Magic Surrealist artist is Magritte. Quite often his images look normal, but then again……
Magritte Time Transfixed and Rape The latter is a very powerful piece, I think.
The second main stream of Surrealism is what I call Biomorphic Surrealism. This is when the artists draw from their inner subconscious in less recognizable ways. One may see bits and pieces of a dog or hammer or ear or ladder, but they don't make sense in the usual way.
Juan Miro (1893-1983) is the best of these artists. He began working in the teens or so, and his early works are in a cubist vein. Then his Farm and Tilled Field become more abstract until we no longer recognize the cow, or dog, or barn or other images. The way that he combines the ladder and the eye, and other circus like imagery in Harlequin's Carnival is what makes him Surreal, in the use of dream-like imagery.
Miro The Village
Miro The Farm c. 1925 A footnote of interest is the Ernest Hemingway bought this painting soon after it was finished, I think for about $100. Do you see any aspects of Spain in here that we see also in his novels?
Miro The Tilled Field late 1920s
Miro Harlequin's Carnival
I had an accountant who had prints of Miro's work all over her office. I was surprised and asked what intrigued her. She responded that she appreciated the happy attitude, despite living through the horrors of two world wars and some personal tragedies, he was still upbeat in his work. What is also fun is that I don't see all the things that Leni sees in that other posted work by Miro, but that doesn't matter. It is joyful and imaginative, and that's what's important. Each of us can see different things, and that's fine.
Another fine, childlike Biormorphic Surrealist is Paul Klee (1879-1940). Of course, he is older than the others and had already explored abstraction before the Surrealists were really established. But because there was (recently) another fine thread about his work, I mention him here too.
Paul Klee Ad Parnassum
There are some fun sculptures as well. This one is colloquially called the "fur-lined teacup." It always makes my mouth do funny things if I think about drinking tea from it.
Meret Oppenheim Object (Fur-lined Teacup)

---
TOPICS: Arts/Photography; Education; History
KEYWORDS: art; dada; dechirico; duchamp; klee; magritte; miro; oppenheim; rousseau; surrealism
---
Navigation: use the links below to view more comments.
first 1-20, 21-32 next last
---
---
---
---
---
---
---
---
---
---
---
---
---
---
---
---
---
---
---
---
---
Navigation: use the links below to view more comments.
first 1-20, 21-32 next last
---
---