---
Stanford Routs Southern California and Boosts Claim for Rose Bowl Game (10/27/40)
Microfiche-New York Times archives, Monterey Public Library | 10/27/40 | Arthur J. Daley


Posted on 10/27/2010 5:02:38 AM PDT by Homer_J_Simpson

1
2
3
4
5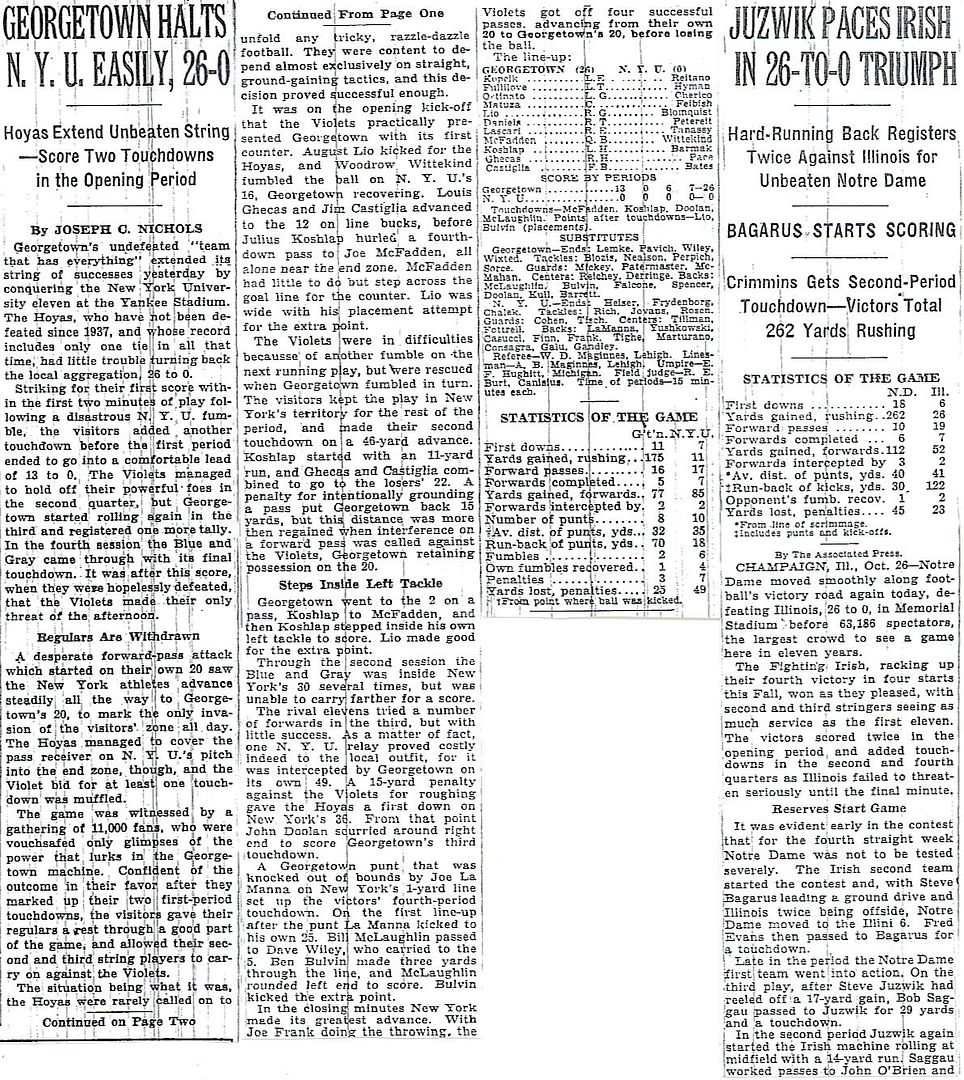 6
---
TOPICS: History; Sports
KEYWORDS: football; realtime

Free Republic University, Department of History presents

World War II Plus 70 Years: Seminar and Discussion Forum

First session: September 1, 2009. Last date to add: September 2, 2015.

Reading assignment:

New York Times

articles delivered daily to students on the 70th anniversary of original publication date. (Previously posted articles can be found by searching on keyword "realtime" Or view

Homer's posting history

.)

To add this class to or drop it from your schedule notify Admissions and Records (Attn: Homer_J_Simpson) by freepmail. Those on the Realtime +/- 70 Years ping list are automatically enrolled. Course description, prerequisites and tuition information is available at the bottom of Homer's profile.
---
To: r9etb; PzLdr; dfwgator; Paisan; From many - one.; rockinqsranch; GRRRRR; 2banana; henkster; ...
Strong Finish Wins for Stanford, 21-7 – 2
Navy Overcomes Yale in Bowl, 21-0 – 2-3
Lafayette's Late Drive Beats Army, 19-0, in Their First Football Clash in 47 Years – 3
62,992 See Minnesota Win, 34-6, Franck Starring in Rout of Iowa – 4
Indiana Defeated by Northwestern – 4
Georgetown Halts N.Y.U. Easily, 26-0 – 5
Juzwik Paces Irish in 26-to-0 Triumph – 5-6
Nebraska Topples Missouri by 20-7 – 6
Tennessee Victor over Florida, 14-0 – 6

2
posted on
10/27/2010 5:05:13 AM PDT
by
Homer_J_Simpson
("Every nation has the government that it deserves." - Joseph de Maistre (1753-1821))
---
To: Homer_J_Simpson
The Trojans' loss to the Farm was disappointing. I was really rooting for them to round up those high-flying Indians.
Next weekend, we have a bye which should give us some time to regroup and reload before the Golden Bears lumber into town. Here's hoping we can extend our winning streak over UC Berkeley to three games.
---
FreeRepublic.com is powered by software copyright 2000-2008 John Robinson